Borrowed Memories, a free knitting pattern from Knitty.com. Free knitting pattern for an asymmetric lace shawl.
INTRODUCTION
Borrowed Memories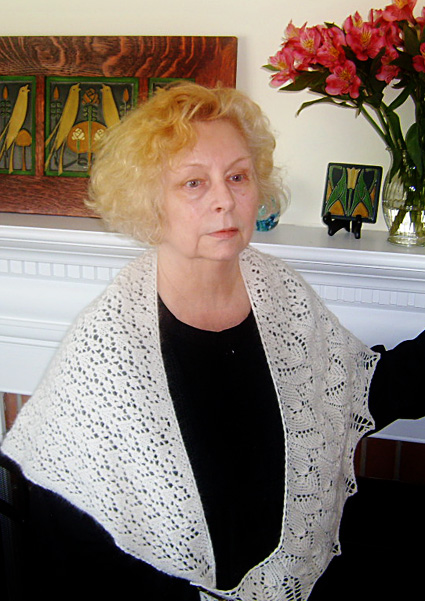 I designed this shawl to honor the many traditions of lace knitting.  As I designed the shawl, I imagined the multitudes of knitters from the past:  professional  guild knitters, cottage knitters augmenting family incomes, and the many knitters who clothed their families with their handiwork.  Using elements from Estonian and Shetland heirloom designs, I "borrowed"  memories from past knitters to develop a new stitch pattern which remains visually reminiscent of traditional origins. 
To contrast traditional and current, the shawl is structured as a modern asymmetric triangular shawl.  Instructions are provided for altering finished size; the design can be made in a smaller version as a scarf or expanded for a generous wrap.  The size as written covers shoulders and back and is appropriate for day or evening wear.
This design is intended for the experienced lace knitter.  The first pattern stitch has variable stitch counts in pattern repeats.  For this reason, I don't recommend using stitch markers for the pattern repeats.  However, a lifeline can be most welcome for any lace pattern.  The second stitch pattern is less complicated and contains a lovely cluster stitch which is explained below.

model: Kathy Crowell

photos: Don Crowell
FINISHED MEASUREMENTS
Long edge: 56 inches /143 cm
Diagonal edge: 57 inches/145cm
Short edge: 42 inches /107cm
MATERIALS
Yarn


KnitPicks Bare Hare [80% wool, 20% angora; 219yd/203m per 1.77 oz/50 g skein]; color: Bare Hare; 3 skeins

Recommended needle size
[always use a needle size that gives you the gauge listed below - every knitter's gauge is unique]


US #6/4mm circular needle, 20-32 inches long


US #9/5.5 mm straight needle or DPN for bind-off

Notions


blocking wires or equivalent (such as fishing line)


yarn needle
GAUGE
22 sts/25 rows = 4 inches/10 cm in stockinette stitch, after blocking
Columns 25-44 of Chart B are 4 inches/10cm after blocking
Note: Gauge not critical; however significant variation will impact yardage required and size of finished piece.
PATTERN NOTES
[Knitty's list of standard abbreviations and techniques can be found here.]
Shawl size may be customized by working fewer or more Chart A and/or Chart B full repeats.
5-st cluster (used in Chart B): Slip 2 stitches together (as if to k2tog) to right needle; knit next 3 stitches together; pass both slipped stitches over the k3tog. Return this stitch to left needle; without releasing this stitch, work (k1, YO, k1, YO, k1) into the stitch, then release from left needle.
CDD: Slip 2 sts together (as if for k2tog), k1, pass 2 slipped sts over.
DIRECTIONS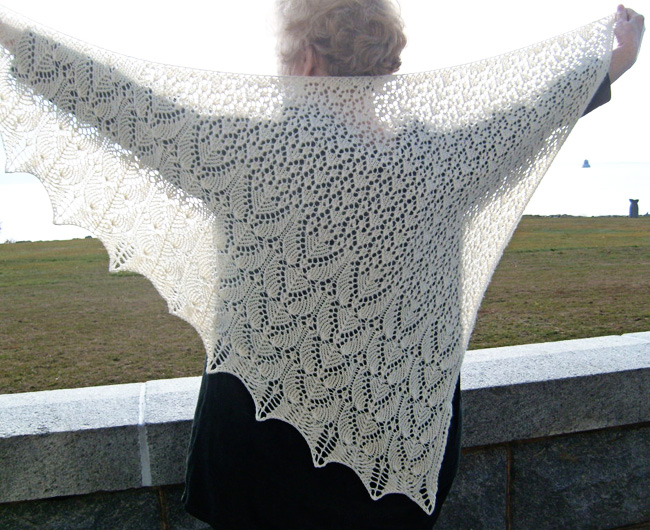 CO 11 sts.
Setup row [WS]: K to last st, sl 1 wyif.
Next row [RS]: Work Setup Chart across.
Work as set until Row 18 of chart is complete.
Next row [RS]: Work Chart A across.
Note: WS row is not charted because of variable stitch count. All WS rows of Chart A are worked the same: K1, p to last st, sl 1 wyif.
Work all 24 rows of Chart A 7 times in total, adding three more repeats of the marked stitches with each set of chart rows completed.
Next row [RS]: Work Chart B across.
Work all 16 rows of Chart B four times in total, adding one more repeat of the marked stitches with each set of chart rows completed.
Next row [RS]: Work Chart C across.
Work as set until Chart C is completed.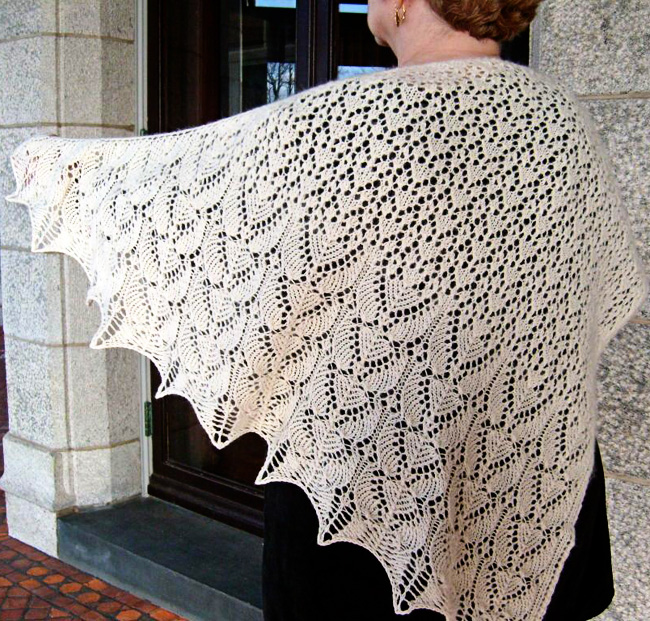 FINISHING
Bind off as follows, using larger needle in right hand to work stitches: *K2tog; return st to left needle, repeat from * until all sts have been worked. Cut yarn and pull through final st to secure.
Wet block, pinning out points at double YOs along bind-off row. Use blocking wires or an equivalent along the straight eyelet borders.
Weave in ends.
ABOUT THE DESIGNER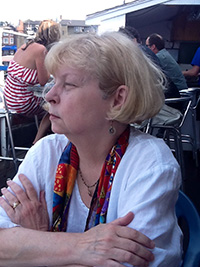 After four decades working in healthcare, Kathy changed careers to textile design. She is a KnitPicks Independent Designer and Craftsy designer; she is also active on Ravelry, where her patterns are offered in the HappyKat Design Studio.
She lives in Connecticut with her very supportive husband.
Pattern & images © 2017 Kathy Crowell. Contact Kathy