Dingle, a free knitting pattern from Knitty.com. Free knitting pattern for a slouchy colorwork beanie.
INTRODUCTION
Dingle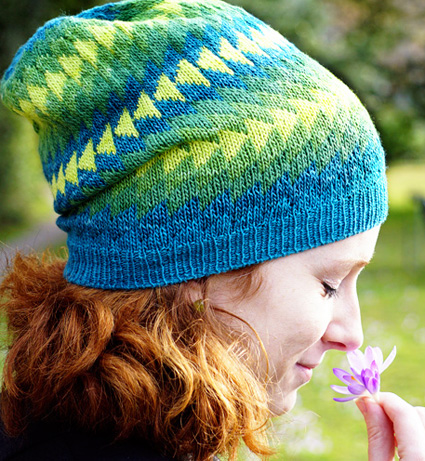 In Ireland, not only the grasses are greener, but also the houses are more colorful. When I traveled through Ireland in 2015, this place hit me the most. Dingle is a charming place on the peninsula of the same name with many colored houses. Since the colors give the traditional houses a modern twist, the Dingle hat interprets the traditional Fair Isle knitting in a modern way.
The slouchy hat is knitted in the round from the bottom up. For the geometric pattern, no more than two colors are worked in a single round. 
The pattern is suitable for mini skeins or leftovers. I worked mine with a gradient set of five colors. It also works with a gradient set of four (MC-CC3) and a pop color (CC4). Or play with random semi-solid colors to make your own unique Dingle.

model: Sabrina Schumacher

photos: Beat Hiss
SIZE
Adult Small[Medium]
shown in adult medium with 2 inches/5 cm of negative ease
FINISHED MEASUREMENTS
Circumference: 17.5[19.5] inches/ 44[50] cm
Depth: 9.5[11.5] inches/ 24[29] cm
MATERIALS
Yarn
Spinnwebstube Bio Merino Cablé Fine Minis set [100 % Merino superwash; 382 yd/350m per 100g set; 5 mini skeins of 20g each];


[MC] 20g


[CC1] 20g


[CC2] 20g


[CC3] 20g


[CC4] 20g
Note: the yarn used doesn't label the individual skeins. I used the darkest as MC, and progressively lighter skeins for CC1-CC4.

Recommended needle size
[always use a needle size that gives you the gauge listed below - every knitter's gauge is unique]


US #2.5/3mm 16-inch circular needle


US #4/3.5mm 16-inch circular needle


US #4/3.5mm needles for small circumference in the round

Notions


stitch marker


yarn needle


optional: waste yarn for cast on
GAUGE
30 sts/42 rounds = 4 inches/10 cm in stockinette stitch with larger needles
32 sts/32 rounds = 4 inches/10 cm in stranded colorwork on larger needles
PATTERN NOTES
[Knitty's list of standard abbreviations and techniques can be found here.]
For a neater look, I recommend using the provisional tubular cast on as outlined below. If you prefer, use a stretchy CO like the long-tail method.
Tubular Cast On:
Knot the working yarn and the waste yarn together in an overhand knot. Hold the knot and needle in your right hand, using your index finger to hold the knot against the needle. With your left hand, hold the yarn in slingshot position (as for long tail cast on), with waste yarn over your left thumb and the working yarn over your index finger. You can find a photo tutorial here.
Step 1: Reach over the top of waste yarn and scoop the working yarn forward (like doing a yarnover).
Step 2: Reach under the waste yarn, over the top of working yarn under and in front of waste yarn.
Repeat Steps 1 and 2 until you have cast on the desired stitches. Turn work and drop the waste yarn.
Setup row [RS]: With the working yarn, [sl1 wyif, k1] to end of row. Place marker and join for working in the round.
Round 1: [P1, sl1 wyib].
Round 2: [Sl1 wyif, k1].
Rep Round 1 once more.
Next round: [P1, k1] around. After a few rounds, pull waste yarn out of the beginning row.
DIRECTIONS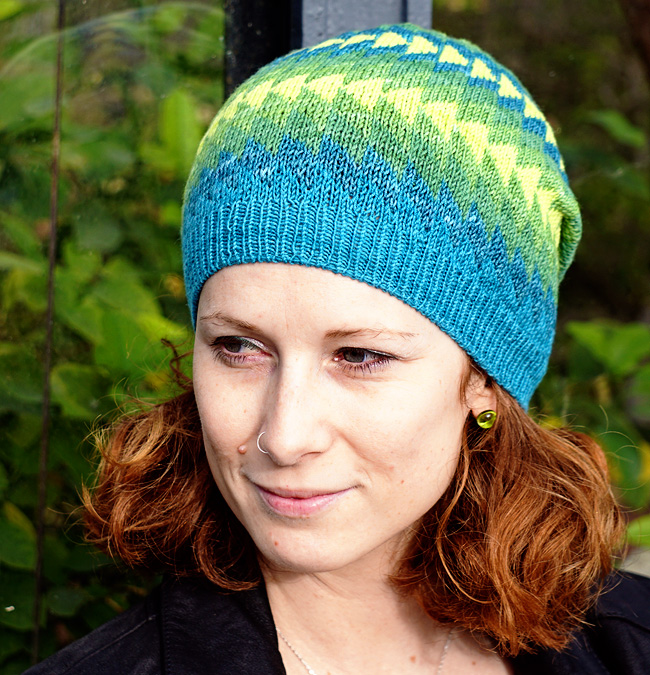 Set up
Worked in the round on circular needle, switch to double pointed needles when needed.
With MC and smaller circular needle, CO 126[140] sts.
Ribbing round: [K1, p1] around.
Work ribbing as set for 1.25 inches/3 cm.
Switch to larger circular needles.
Next round, increase: [K 9[7] , m1l]. 140[160] sts.
Next round, establish chart pattern: Work chart pattern 14[16] times around.
Work rounds 1 to 66[86] , working decreases as indicated.
When work gets too small to work comfortably on the circular needle, change to your preferred small circumference method.
Final round: K2tog around. 7[8] sts.
Cut yarn and pull through final sts to secure.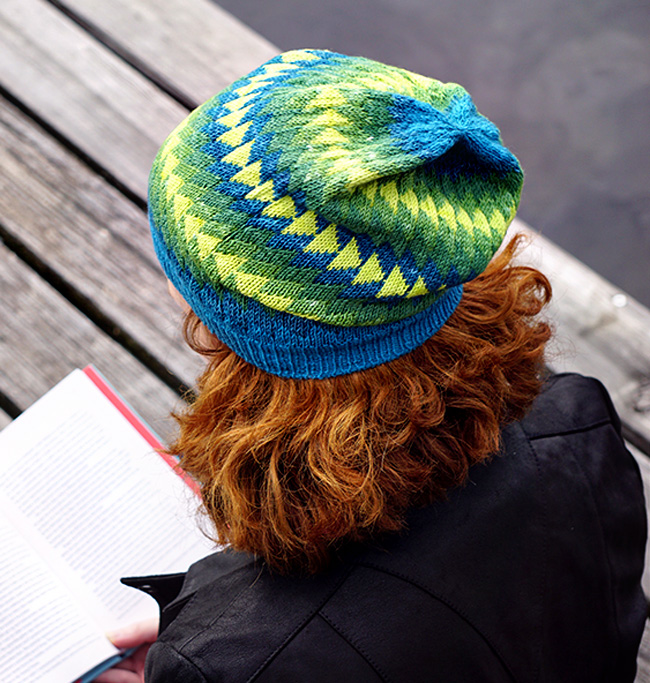 FINISHING
Block and weave in ends.
ABOUT THE DESIGNER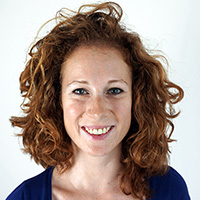 Sabrina is an architect by day and a knitaholic by night. In 2008 she picked up the knitting needles and taught herself to knit. From that day on, she's fallen completely in love with knitting and haven't slowed down since. 2013 she decided to take her passion to the next level and began designing her own knitwear garments and accessories. Her design style is primarily focused on texture, color and geometric patterns. She finds inspiration in nature and architecture. Her patterns are mostly named after places that she knows from kite surfing or paragliding.
Find her on Ravelry or at her own website.
Pattern & images © 2017 Sabrina Schumacher. Contact Sabrina