Feature: Cool stuff
Cool stuff
SR [Finished chest measurement for sweaters] = the smallest chest measurement to the largest chest measurement we could find in the book. There may be only one pattern with the smallest or largest size, but it's in there. Books are softcover unless noted otherwise. All prices USD unless noted.
When you click on an Amazon affiliate link below and make a purchase, you're supporting Knitty. We thank you!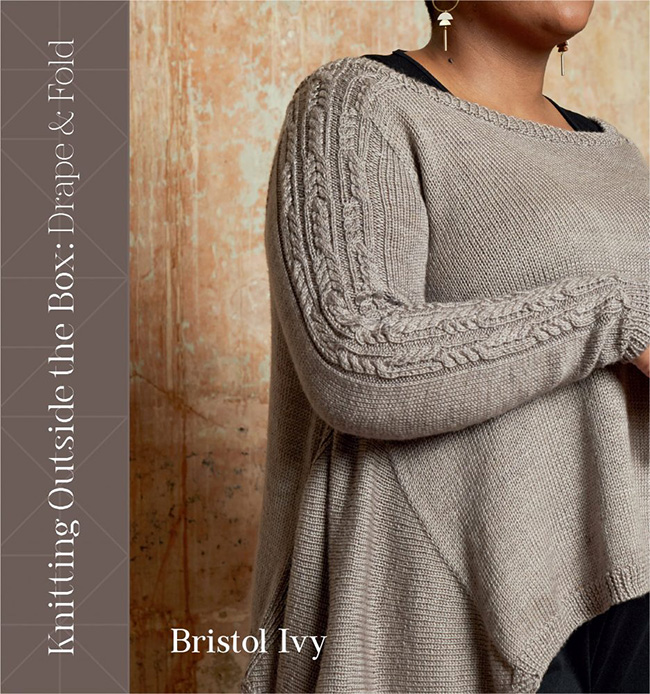 Knitting Outside the Box: Drape and Fold
by Bristol Ivy
Pom Pom Press
£19
SR= 34-65.5"
Available from Pom Pom

This latest entry in what looks to be a master series from the mind of Bristol Ivy is everything I was hoping it would be, except longer. I preordered my copy the day the book was available and waited. When it came I made a cup of tea and settled in. This is the type of book that Bristol writes, book to be anticipated and books to be savored.
Knitting Outside the Box: Drape and Fold explores manipulating knitted cloth after it's been knit. This allows and encourages the fabric to swell and fall in ways that increases and decreases do not.
Like the first Knitting Outside the Box book, Bristol walks you through the genesis of these ideas (origami and groundbreaking designers with a penchant for pleating and draping), how it applies to knitwear (making a 2D shape 3D), the techniques she uses in the book illustrated with photos and drawings, and then the patterns.
The six patterns in the book are delectable, sweaters, shrugs, and cowls that are seamed, pleated, twisted and folded to become garments that swing, puff, and cocoon the body in wholly unexpected and beautiful ways.
JM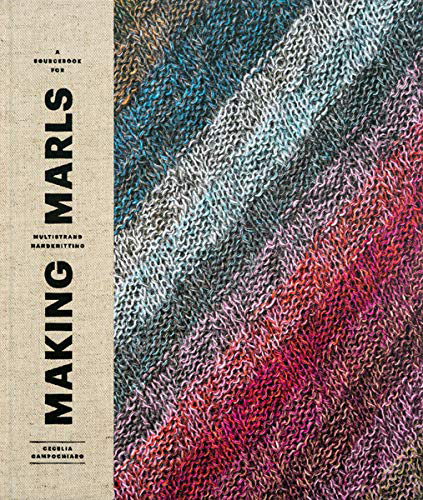 Making Marls
by Cecelia Campochiaro
Chroma Opaci Books (distributed by Schoolhouse Press)
$60, hardcover
Available at Schoolhouse Press
Marl yarns are simple idea that knitters have been using for a long time, but in the hands of Cecelia Campochiaro they become lavish and multifaceted.
Marl yarns are typically yarns that are two (or more) colors usually of high contrast held or plied together. They are also called barberpole, peppermint stick, and ragg yarns. Spinners have been using marls since the beginning of spinning, but in the knitting world they are having another heyday. They are used to mix and shift colors through a progression.
Like with her first book Sequence Knitting, Cecelia walks a knitter through making and knitting with marl yarns in a systematic and scientific way.
She describes in detail what marl yarns are, the recent history of marling and how to make a marl yarn, including sampling, with a particular emphasis on blending colors. Of course there are patterns that beautifully illustrate her different styles of marled yarns.
Scientific and mathematical knitters will rejoice in the charts and methodical processes and descriptions used in the book. Intuitive knitters may feel a bit overwhelmed and intimidated. I am in the more intuitive camp, though I approach sampling and swatching with glee. This book can be worked in order, or it can be dipped into, at the point you have interest. With Sequence Knitting I knit a pattern before going back to work through the book; you could do the same here.
I would encourage you to do some color sampling along with this book. I'll bet you have a gradient yarn pack in your stash that would be perfect for swatching. Cecelia works though color choices, using micro swatches, tiny swatches just to get the idea of a color or a color flow. It's fun and it's hard to stop.
How you create a marl yarn is easy, just hold two or more yarns together and knit, but at the hands of Cecelia Campochiaro, a simple process becomes the beginning of a better understanding of color, layering, and infinite variation.
JM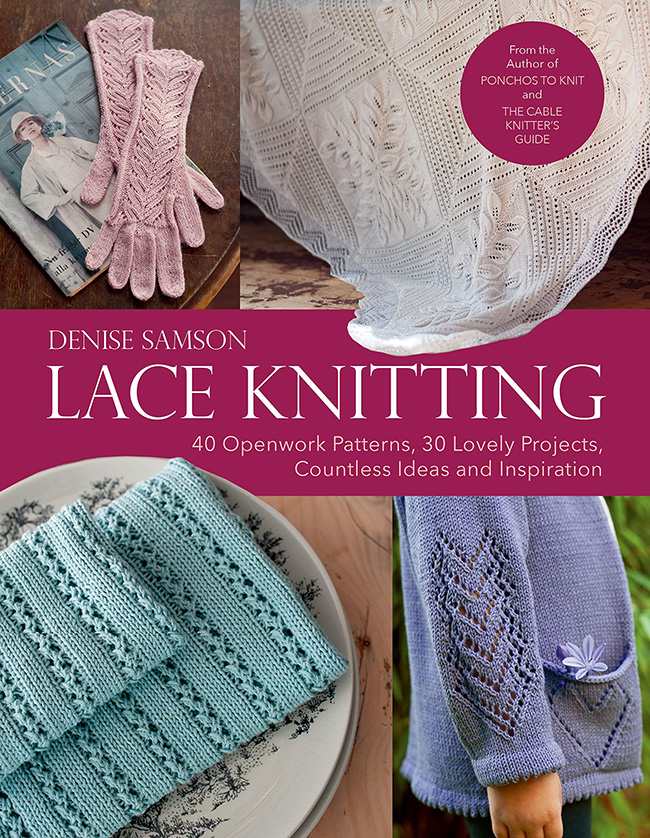 Lace Knitting: 40 Openwork Patterns, 30 Lovely Projects, Countless Ideas & Inspiration
by Denise Samson
Trafalgar Square Books
SR= 31-48"
$24.95, hardcover
Available at Amazon
Lace Knitting is a good book for knitters moving into lace. There are 30 patterns for a variety of accessories and garments, and a surprising variety of gauges. The designs are straightforward with the lace taking center stage, even when it's just an edging. The goldmine in this book is the lace pattern dictionary of 40 different lace designs. It is a lovely and varied offering of lace stitches, with none too difficult and none too large or complex to be easily popped into a design.
If you are newish to lace or intrigued by lace, how these pattern pages are set up will excite you. The book gives enough space to have the stitch pattern and the swatch, on facing pages, large enough to each take up a whole page. This is one of the few stitch dictionaries with the swatches big enough that you can see and study exactly how stitches are made into lace, and study the flow of the lace pattern. For me that is the base I need to better understand lace, customize existing stitch patterns and design my own stitch patterns.
JM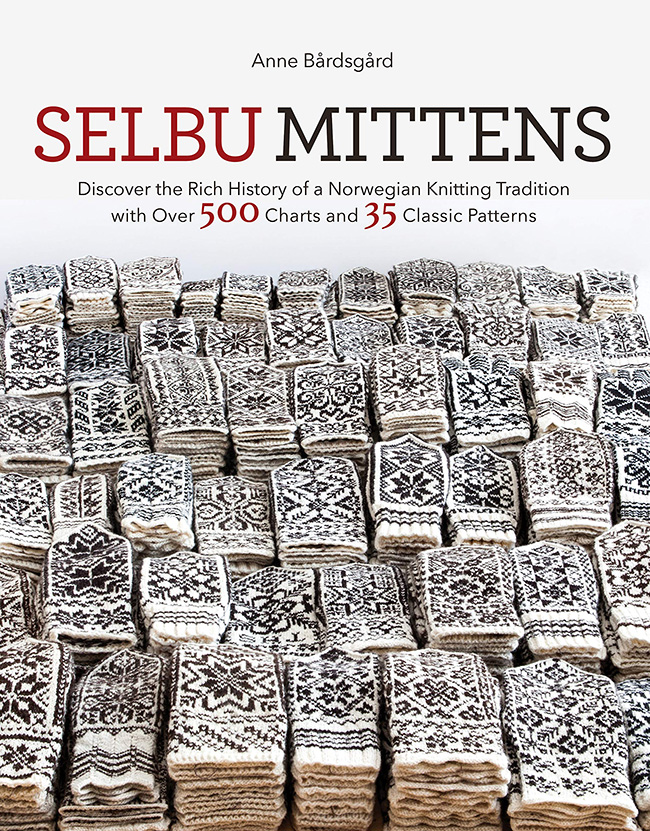 Selbu Mittens
by Anne Bårdsgård
Trafalgar Square Books
$39.95, hardcover
Available at Trafalgar Square Books
Selbu Mittens is a book of remarkable research, history, hard work and a whole lot of gorgeous knitting. This book is a companion to an exhibition of gloves and mittens from Selbu at the Sverresborg Trøndelag Folkemuseum. It traces the history of Selbu Mittens, how the design changed over time, how the knitting brought the community together, and how the work brought economic growth to woman and the region.
There are more than 500 different mitten patterns and motifs in this book. The photographs are stellar and the story of how the book and the exhibit came to be shows how handcrafts can bring a community together when they are treasured. When the stories of the design or motif are known, they are included in the book. The photos are a mixture of historic, newly photographed historic mittens from museums and newly knitted mittens based on historic patterns.
This is a book that cultural historians, textile historians and knitters would love equally. Selbu Mittens is a masterpiece of a knitting book.
JM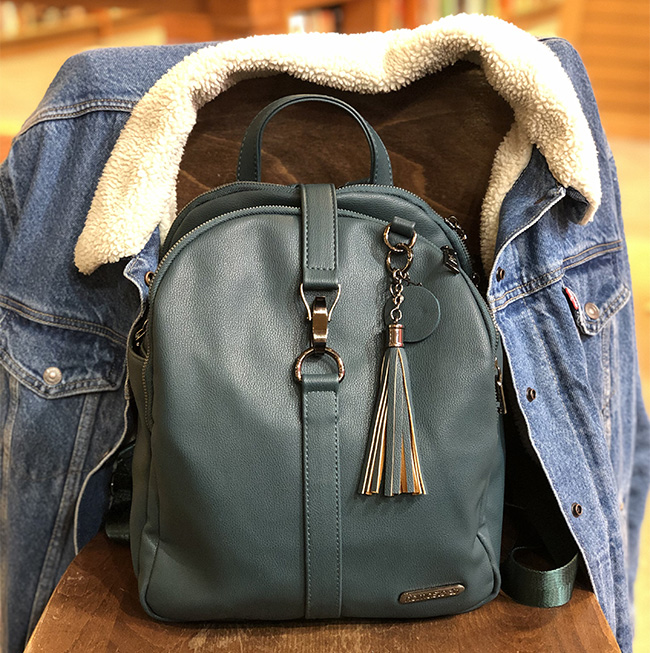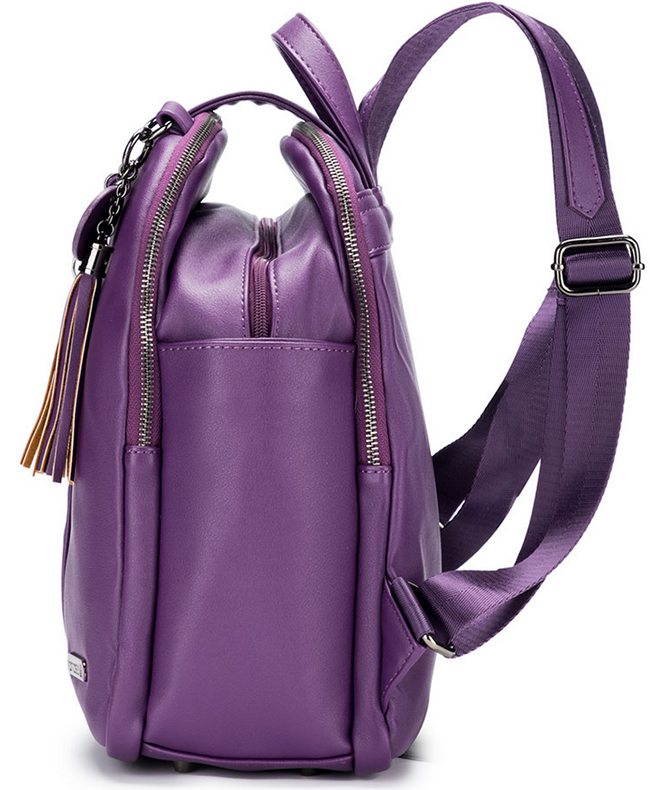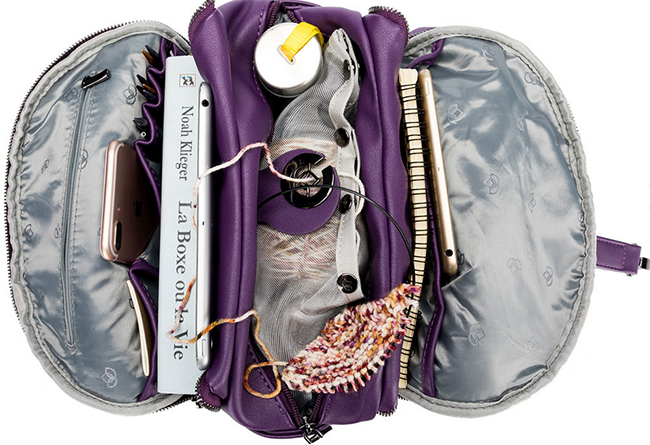 Maker's Mini Backpack
by Namaste
Shown in teal (top) and purple (bottom)
Available in 8 colors
12" tall X 10" wide X 8" deep
$125
Available at Jimmy Beans Wool
This is a very unique backpack, and I really like it. It's made of soft polyurethane (aka vegan leather), comes with three huge pockets, adjustable straps and the pretty lotus attached to the removable tassel on the front doubles as a stitch marker!
The front and back pockets are relatively slim, but expand to hold just about whatever you need. The middle pocket is perfect for your knitting - a sock or other small project; even a sweater part. And the strap that clips to the front keeps the bag from being floppy or sloppy as you carry it, but easily opens to give you full access to all the pockets. There are also two side pockets, perfect for almost any size phone. My iPhone X slides down and sits securely there; it wouldn't be easy for anyone to pluck it out. If you prefer, there's also a phone-sized zippered pocket on the back wall of the bag, where you could put your phone, or other items you don't want to go missing while you're out.
Right now, this bag is my daily carry. I use the front pocket for my wallet and small necessities, the middle pocket carries my winter gloves and makeup case, and my back pocket is where I put large papers, a protein bar or two, and my notebook. I have more room in this bag than I can use, and that means it's very handy when shopping...I don't need another bag to hold small purchases. It's comfortable to wear, and I think it's quite stylish. I'm between knitting projects right now, but it'll be easy to move the middle compartment stuff to the back to make room for whatever I cast on.
AS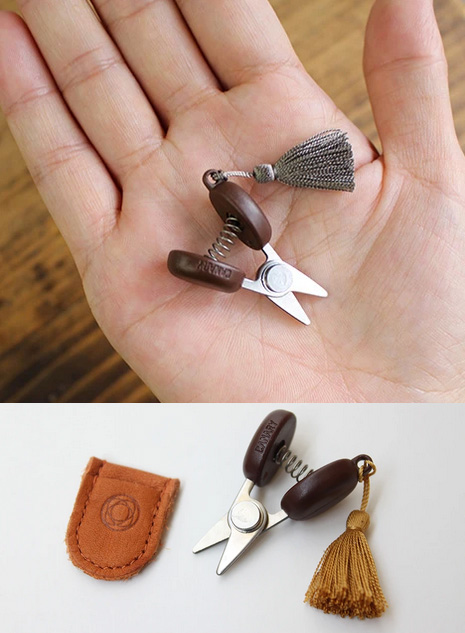 Seki Mini Scissors
by Cohana
Available with 5 different colored tassels
$17.50
Available at Brooklyn Haberdashery

I cannot help being enamored with perfect, tiny things. These snips are both perfect and tiny, and functional to boot! The scissors are solidly made in Japan, and beyond aesthetically pleasing. They come with a perfectly sized leather pouch, which keeps them securely closed until you need them again. They're perfect for snipping threads or yarns.
These mini scissors are made in Seki, Japan, where cutlery making is the specialty. They are made with the same time-tested, reliable craftsmanship as the best fabric shears. The small silk tassels are carefully handmade by Imasato, a specialist in tassels and knots, founded in 1907. For over 100 years, Imasato has been making tassels for ornamentation of traditional handicraft items such as paper lanterns.
Pincushion
by Mini Masu
available in 5 colors
$18.50
Available at Brooklyn Haberdashery

What you are looking at is a perfect, tiny wooden sake cup, handmade in Japan by artisans. It is has been turned into a perfectly exquisite and functional pincushion, while remaining one of the most beautiful accessories I've ever seen.
The wood is Japanese cypress, and the little cup is built with perfect, precision dovetails. It's just over a half-inch square. The fabric used is a high-quality linen, woven in Hamamatsu. And finally, the pincushion comes with a perfect glass-headed pin, color matched to the linen fabric.
AS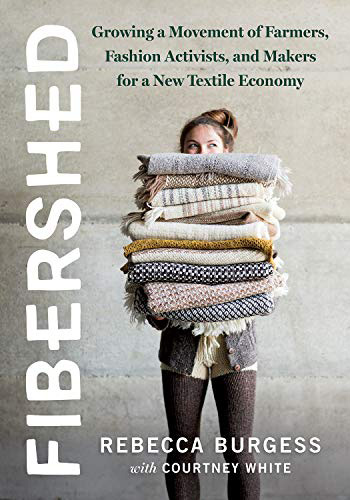 Fibershed: Growing a Movement of Farmers, Fashion Activists, and Makers for a New Textile Economy
by Rebecca Burgess and Courtney White
Chelsea Green Publishing
$29.95
Available at Amazon
There is a lot of talk about Fibersheds in the textile community. There are currently many different Fibersheds around the world, each working towards making clothing more sustainable and educating people on fast fashion and the politics of their clothes closets.
Rebecca Burgess is the mother of the California Fibershed movement, the largest and most vibrant Fibershed in the country. This book is her story. It begins with the why – the politics of fashion, the human and environmental cost of fast fashion. She talks about her own Wardrobe Challenge of sourcing her clothes locally for a year.
The bulk of the book is about what can happen to our clothing through Fibersheds. Think of Fibersheds as the equivalent of the Slow Food movement, but much more complex. This book explains in detail just how complex local fashion is. Much has been said lately, in part because of Rebecca Burgess, about the negative impact of fast fashion, so I was less interested in that portion of the book.
The part that drew me in and has made me an advocate for this book are two chapters, Implementing the Vision with Plant-Based Fibers, and Implementing the Vision with Animal Fiber. In both of these chapters, Rebecca demonstrates that earth- and human-friendly fashion can happen by profiling businesses that are currently, successfully, making it happen.
This book gave me hope that we can reverse the trajectory of fast fashion and the wasteful and harmful manufacture of textiles, if we get back to the basics of making cloth. After all, Fibersheds are "focused on the source of the raw material, the transparency with which it is converted into clothing, and the connectivity among all parts, from soil to skin and back to soil."
JM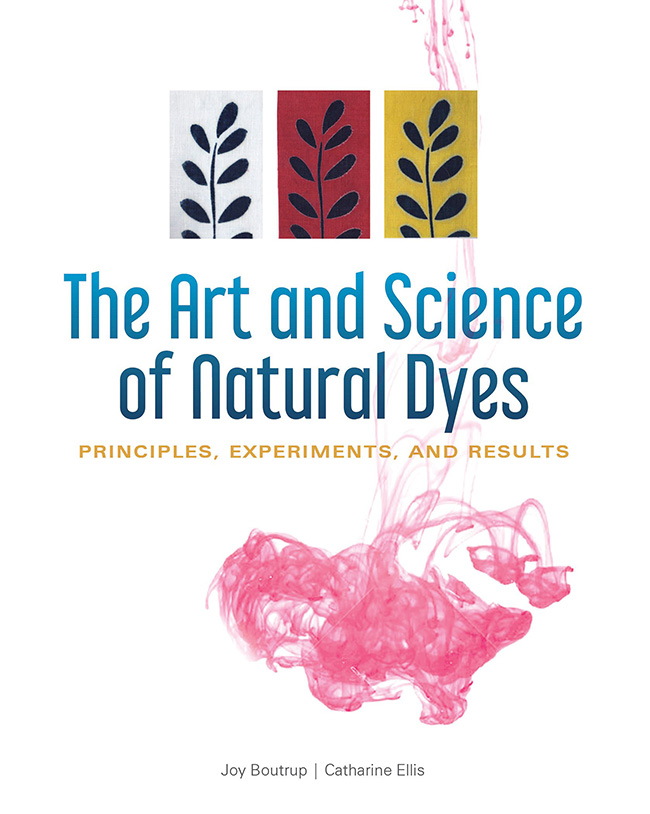 The Art and Science of Natural Dyes: Principles, Experiments, and Results
by Joy Boutrup and Catharine Ellis
Schiffer
$60, spiral-bound
Available at Amazon
A scientist and a textile artist walk into a dye studio and - create an amazing book of depth and detail on natural dyeing. This is a book on natural dyeing for the folks who want to know the why of it all, the ones who want to see the process behind the curtain of getting those colors. There are over 450 samples in this book, as it walks you through the how-it-works of natural dye including, mordents and dye recipes. There's a deep section on indigo, and discussion on, printing, light fastness and finishing.
The detail in this book is dizzying and fascinating.
With this kind of exuberant science and detail, you can't doubt what these women are teaching will work every time. This is an excellent reference for natural dyers.
JM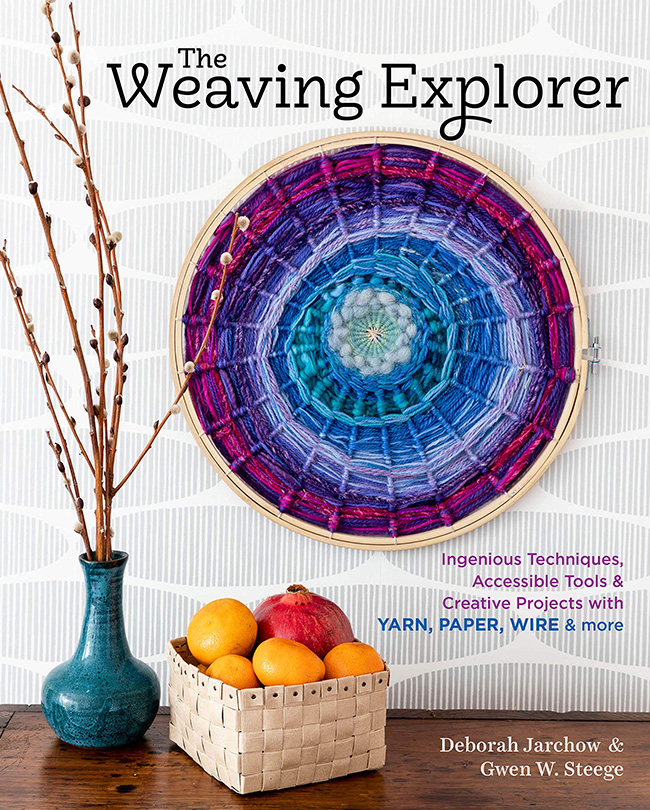 The Weaving Explorer: Ingenious Techniques, Accessible Tools & Creative Projects with Yarn, Paper, Wire & More
by Deborah Jarchow and Gwen W. Steege
Storey Books
$29.95, hardcover
Available at Amazon

The Weaving Explorer delivers exactly what it promises: discovery and fun while dabbling with weaving.
Weaving has taken hold of the craft world; it's creative, can be quick and uses a lot of yarn. But there is a lot more types of weaving than just sitting at a loom. This book explores smaller types of weaving, and different types of materials and projects. The directions for the projects which range from a God's Eye-type weaving on two crossed sticks, to jewelry, bags, wearables and home décor, are extremely well photographed and easy to follow. An adventurous beginner could follow most of the projects, and a determined beginner could follow all of them.
If you are interested in weaving, even just a teeny bit, this is a great book to start trying different styles and types of weaving. The amazing photography, will draw you in very quickly. I really like that the authors include aspirational and inspirational profiles of professional weavers and weaving teachers like Rebecca Mezoff (tapestry) and John Mullarkey (backstrap weaving), showing newer weavers excellence in weaving. If you already weave, this book with its dozen or so styles of weaving may push you to be expand your skills in ways you hadn't thought of, and try your hand in other media.
This would be a great book to have on hand for a summer vacation, or for when you get the itch to try something new with your yarn stash.
Come and play with weaving, you might just get hooked.
JM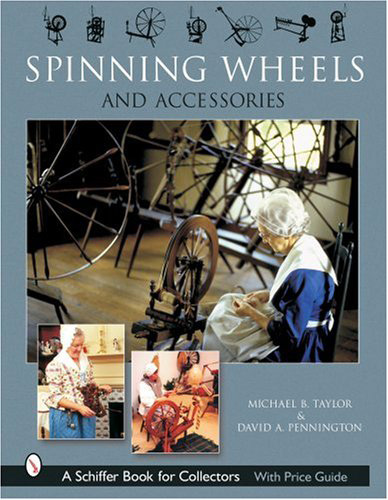 Spinning Wheels and Accessories
by David Pennington and Michael B. Taylor
Schiffer Books
$60, hardcover
Available at Amazon

I'm starting to look at historic spinning wheels with more a curious eye, and have begun reading more about old wheels. I came across this book published in 2004.
This book was written by passionate collectors and wheel restorers. It focuses on American wheels from 1775-1900, with fantastic clear photography of wheels mostly in private collections. There are Shaker wheels, Irish castle wheels, chair wheels, double flyer wheels, and a section on antique accessories and spinning tools. There is a great appendix that lists over 1,000 makers and their marks. If you are a collector or just find yourself wondering about those wheels you keep seeing in antique shops, this is definitely a book to peruse.
JM