Feature: Knittyspin
INTRODUCTION
Knittyspin
Marvelous Marls: Single and Double Marls

Marled knitting has been getting a lot of press in the past few years. Stephen West has been creating wildly marled knitting, dyers have been making marled yarns, and Cecelia Campochiaro has written a very detailed book on creating and knitting with marled yarns.
Spinners have been making marled yarn since the very first days of spinning. Anytime two or more colors combine, usually in a ply it's a marl. It's also called ragg, peppermint stick, and barberpole.
In knitting, solid colors are plied or held together to create marls. Even painted yarns are plied together, like the popular Spincycle Dream State yarns.
In spinning we can do the same, but choosing exactly how we want our colors to marl, including drafting colors together.
When I teach color spinning classes we always do marls. I talk about marls in several ways, including as single and double marls, which I want to clarify a bit here.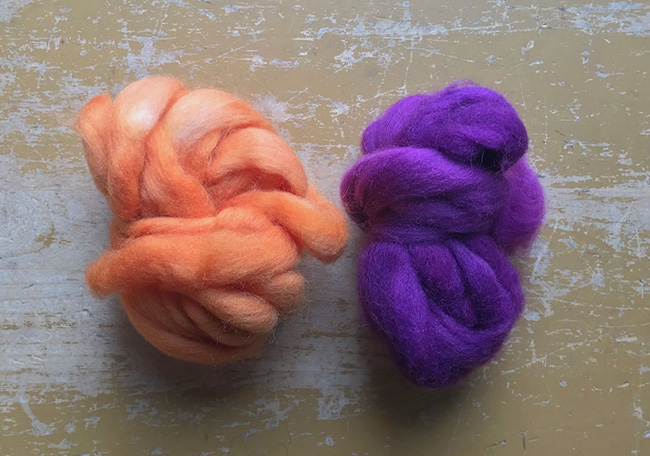 Orange and purple waiting for their marling adventure
The easiest way to talk marls is with solid colors. My first samples here are all two color and 2-ply, and that makes it easy to talk about. You can always add more colors and more plies for more interesting and blended effects.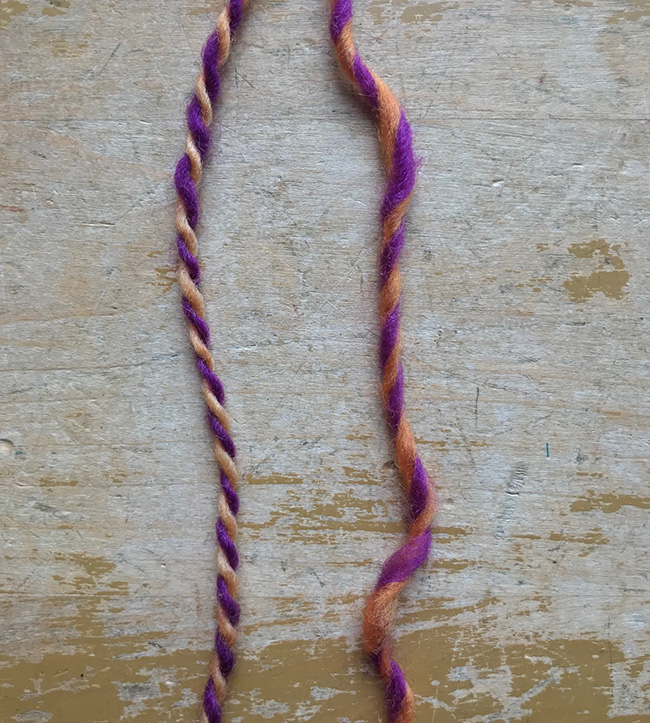 Single marl yarns, 2-ply on the left and a singles on the right

What I call a single marl is colors combining once, in one layer, usually in the ply. Two colors are spun into singles separately and plied together with the colors crossing at regular intervals. Two colors can also be drafted together (sometimes called combo drafting) into a singles that will stay a singles. In this instance the colors still mix just once, in the draft.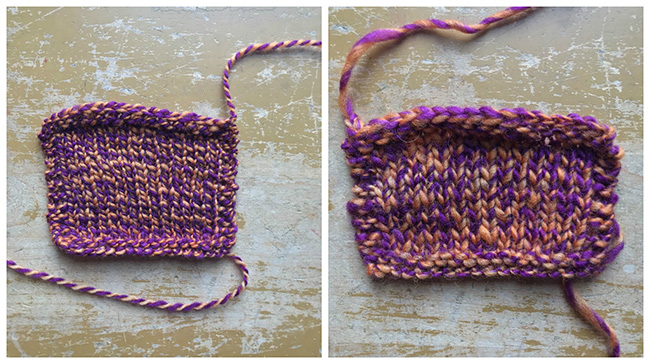 Single marl knitted swatches, 2-ply on the left and a singles on the right

In knitting, it gives the fabric some motion visually. The drafted-together single marl on the right looks a little more mixed up in where the color lands. A lot of how marls look, and how much you might like them, depends on how much contrast there is between the two colors. Many folks who say they don't like marled yarn don't like high-contrast marled yarn, like black and white. I'm one of those spinners/knitters. I like my marled colors closer in value, like black and grey, or shades of the same color. The colors I chose for these samples are pretty high contrast, so you can see what's going on.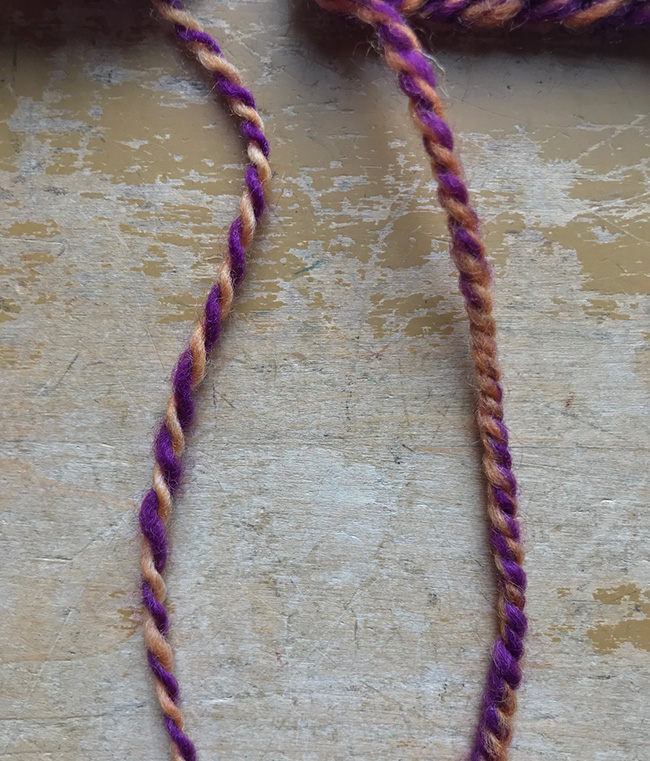 Single marl 2-ply yarn on the left, double marl 2-ply yarn on the right

A double-marl yarn in my world is one where colors cross twice: once in the draft and once in the ply. Two drafted-together singles, plied together. You can see the difference in the yarn in the photo above. The single marl has even distribution of color, and the double marl has an irregular distribution of colors.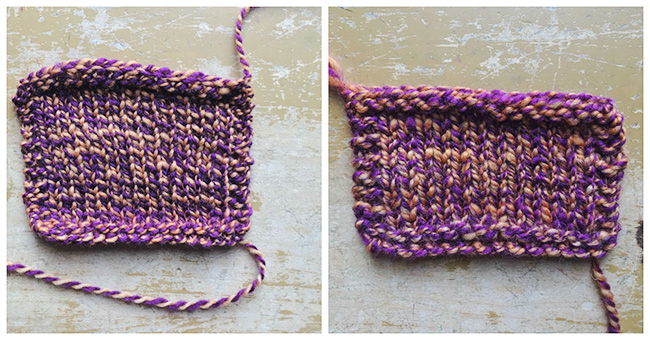 Single marl 2-ply swatch on the left, double marl 2-ply swatch on the right

You can see how the even vs. irregular distribution of color plays out in the knitted swatches. The double marl looks random, and has more texture, visually, to my eye. I really like it. I've heard spinners that don't care for it call it uneven.

Remember that these are contrasting colors. A double marl done in two shades of the same color looks like kettle-dyed yarn.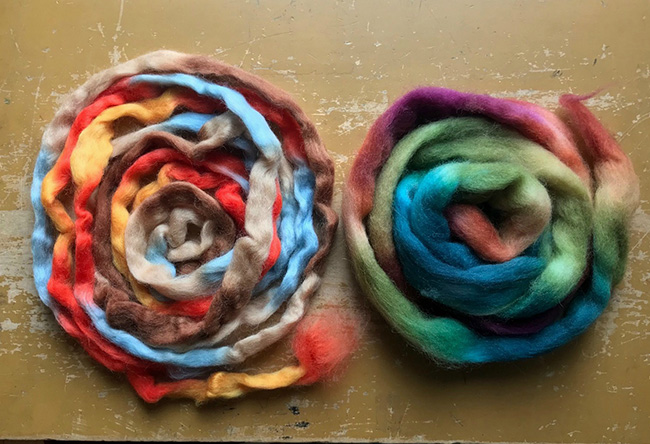 Two painted braids, ready to marl

Of course you can marl braids. It stretches your fibers and makes unique yarn and projects. The whole idea of Combo Spinning that is so popular is all about marling braids – 6-8 of them in a variety of combinations to make a sweater.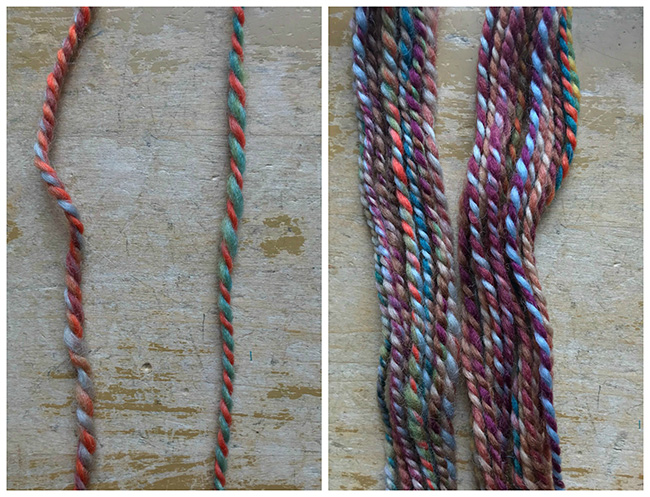 Left photo: double marl 2-ply yarn on the left and single marl 2-ply yarn on the right.
Right photo: double marl 2-ply yarn open braid on the left and single marl 2-ply yarn open braid on the right

The individual marled yarns look similar to the two-color marls, but appear much more complex due to many other colors added to the mix. In the open braid photo on the right, I can see how the overall color is toned down in the double-marl yarn from so many colors mixing.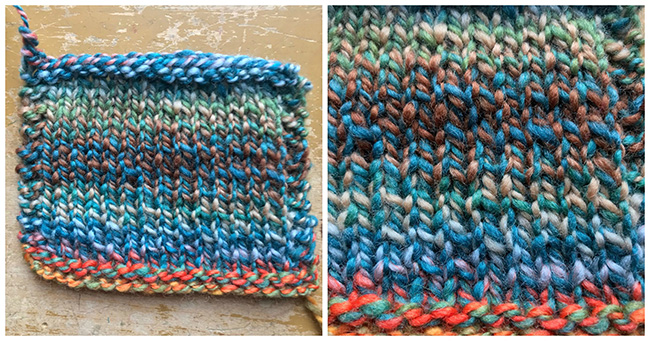 Single marl painted braid swatch, and swatch up close
It's hard to catch all of the colors used when combining braids without knitting a whole skein of yarn. I like how the colors combine in bigger bites of color, twisting around each other. The two braids I chose are not dyed by the same dyer and aren't the same fiber, making it even more interesting.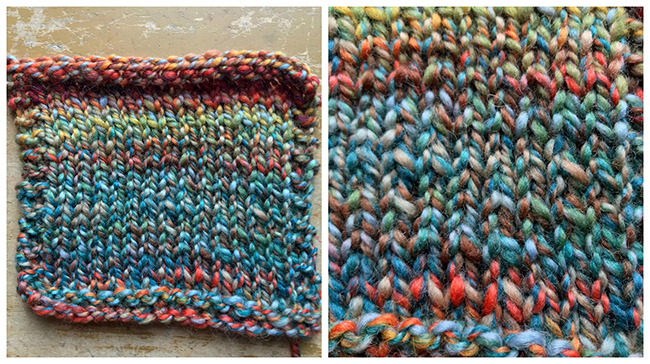 Double marl painted braid swatch, and swatch up close
In the double-marl swatch, the colors are softened by the layering of color in the single and ply. Looking at the close up of the swatch, I can see all kinds of colorplay going on. It makes exciting fabric and great depth of color. I am always surprised how interesting drafted-together fibers are.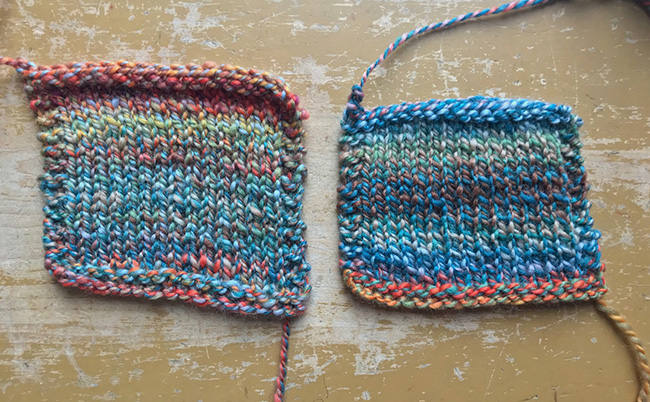 Double marl painted braid swatch, left and single marl painted braid swatch, right
Comparing the two methods in knitting, the single marl has stronger colors, and may stripe. The double marl has the overall color palette turned down in intensity, and colors are more mixed and random with subtler striping.
The colors and rhythms of marls change when adding more plies and more colors. I haven't figured out what to call those marls yet. Anyone have a good idea?
Marls are never boring, and you can always find something in your stash to use: solids, semi solids, ombre, gradient, and patterned fibers all work.
Handspun marls look amazing in knitting patterns written for commercial yarns, and as a spinner you have much more control over when, where and how much marling happens.
ABOUT THE AUTHOR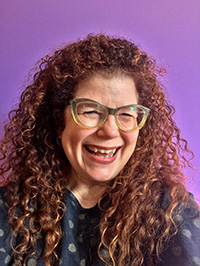 Jillian Moreno is the editor of Knittyspin and Catalyst for Knitty. She's the Developmental Editor for PLY Magazine and PLY Books. A couple years ago, she wrote the best-selling spinning bookYarnitecture: A Knitter's Guide to Spinning: Building Exactly the Yarn You Want. Now she's writing another spinning book and trying hard not to start weaving.
She lives in a house packed with fiber and books and blogs over here.
Pattern & images © 2020 Jillian Moreno. Contact Jillian