Cool Stuff - Knitty's opinions on products and books we like. We don't publish reviews of things we don't like.
SR [Finished chest measurement for sweaters] = the smallest chest measurement to the largest chest measurement we could find in the book. There may be only one pattern with the smallest or largest size, but it's in there. Books are softcover unless noted otherwise. All prices USD unless noted. We are provided with samples to review for free, and we do not publish reviews of products that do not perform well in our testing. We are not paid to review any product.
Browse the whole list of books reviewed this issue at Bookshop which gives 10% of their profits to independent bookstores across the US, and a 10% commission to Knitty for every purchase.
We also provide links to purchase on Amazon, and they give us a commission when you purchase as well. Thank you for supporting Knitty!


Contest alert!
In 2005, we ran the first TOM BIHN/Knitty bag design contest, and it's time for another!
Click here to read all about it and enter the contest! (We're very excited...can you tell?)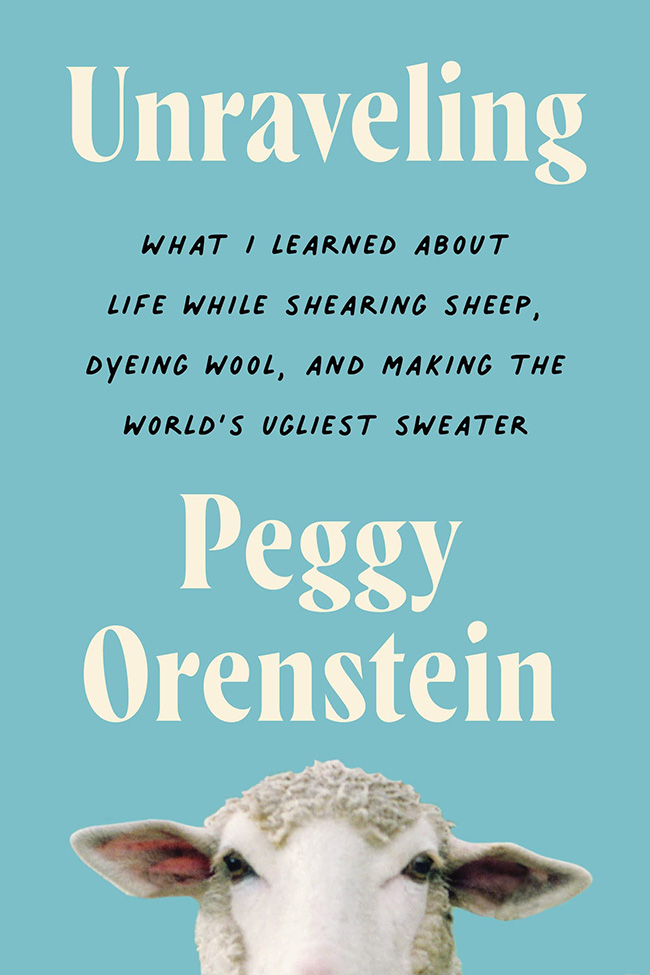 Unraveling: What I Learned About Life While Shearing Sheep, Dyeing Wool, and Making the World's Ugliest Sweater
by Peggy Orenstein
Harper
$28, hardcover
Buy now at Bookshop.org | Amazon

First I have to say that Peggy Orenstein's sweater is not ugly, not even a little bit. However, it does weigh three pounds, which is a lot for a handspun sweater. Everyone who has ever made yarn or even bought not quite the right yarn for a sweater has probably made a hefty sweater like Peggy's.
This is a pandemic memoir and much more. Peggy decided in the grips of the 'must do something' that overtook us all during lockdown that she would knit a sweater with yarn that she dyed, spun, and even sheared from the sheep. She is a lifelong knitter, but had never dyed, spun or sheared a sheep. She finds herself mentors, spends a lot of time on YouTube, learns and does all of the things.
The making of the sweater is one path of this book. A deeper path is the ruminating that this work allowed her to do. There is worry over the pandemic, the wildfires, fast fashion, the government, an ailing father in another state, a mother who has recently died, a daughter getting ready to leave for college, and the various worries of approaching middle age.
This isn't a how to book. It doesn't have directions to shear, spin, or dye and there is no pattern for her sweater. This is a book about how relaxing into being a beginner at something can help us untangle thoughts, as our body learns to make something new.

JM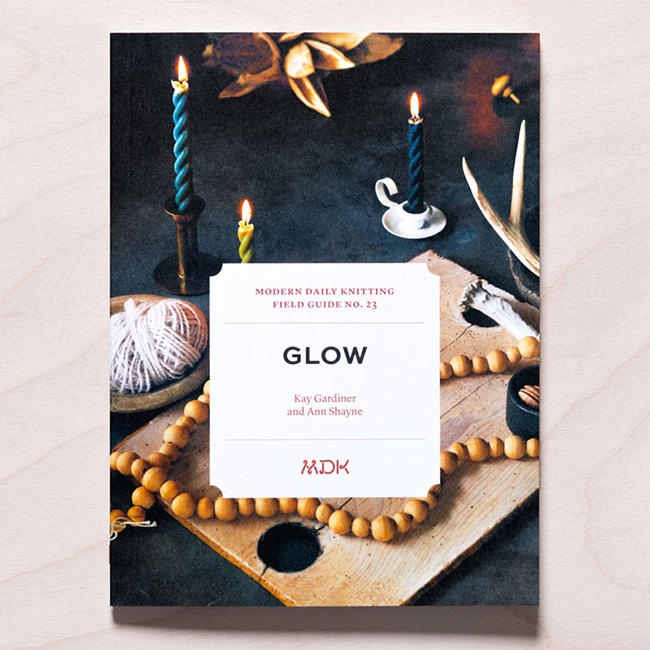 Modern Daily Knitting Field Guide No. 23: Glow
by Kay Gardiner and Ann Shayne
Patterns by Arne and Carlos
$9.95-$15.95
SR=35-69"

Buy now at Modern Daily Knitting
I can't think of anything better for the middle of a grey winter in the northern hemisphere than the joy that Arne and Carlos bring to knitting. The latest Field Guide from Modern Daily Knitting has four patterns: a hat, a pullover, mittens, and a cowl. All the patterns are knit from a new yarn – Norwegian Wool – that's a collaboration between Rowan and Arne and Carlos.
The patterns and all the beautiful clear colors they are knit from are full of knitting happiness. Shapes are classic and the motifs are inspired by traditional Norwegian knitting, but have a modern twist. The Rosy Mittens are my favorite pattern in this collection. I love the swirling motif and the optional embroidery.
This Field Guide has a beginning lesson on stranding for colorwork and a delightful and delicious short essay on Scandinavian coffee breaks, kaffepause or fika. It's all about sharing coffee and cake with a friend.

JM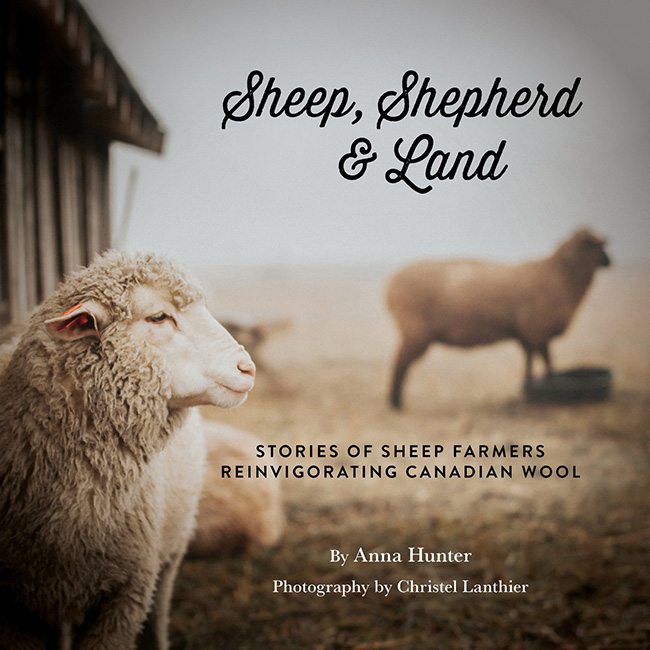 Sheep, Shepherd, and the Land: Stories of Sheep Farmers Reinvigorating Canadian Wool
by Anna Hunter
Nine Ten Publications
$25-44.95 CAD

Buy now at Nine Ten Publications
If you are into wool at all, you have definitely heard of Anna Hunter of Long Way Homestead in Manitoba, Canada. Anna, through her farm and writings, is a crusader for Canadian wool, particularly small-scale breed-specific sheep farms like her own.
This book spans the breadth of Canada from coast to coast, visiting 11 sheep farmers and their sheep. Along the way you learn how farmers choose their breeds to suit their location, and even more importantly, how they are raising their flocks in alignment with the land.
The book is filled with beautiful photos by Christel Lanthier that capture each location and breed with respect and admiration.
If you are newly curious about sheep and wool, Anna does a great job introducing breeds, and why the way sheep are raised in conjunction with the land they live on is important. Through the book Anna weaves her own story, and her hopes for the growth of Canadian wool industry one farm at a time.
This is a beautiful book celebrating the diversity of Canadian wool and the tenacity of Canadian sheep farmers.

JM

Neons and Neutrals
by Aimée Gille
Laine Publishing
$36, hardcover
SR= 32-72"

Buy now at Laine Publishing
Wasn't it just a minute ago that Aimée published her first book, showcasing her new worsted yarn? She's already back with a great new collection that is full of patterns made from exciting combinations of yarns and colors. 16 different designers took the theme of mixing different types of yarns in each design. There are no particular brands named in the patterns – just yarn weights, gauge, some description, and yardage.
It's really exciting to look at patterns without feeling like I need to buy new yarn. I'm sure I have enough in my stash to knit most of the book. Of course, if I want to buy new yarn, I'm sure Aimée will have kits in her gorgeous yarns.
The title of the book describes the colors of the designs. Many of them are a mixture of neon and neutral yarns. Some are all bright and some are all softly colored.
The designs are fun, modern, and wearable. They are the type of designs that make your outfit. Give yourself a plain-ish base outfit, then toss on one of these sweaters or shawls, and you will turn heads.
There is a lot of subtle texture mixed in the with colorwork, which I really like. There are sweaters, wraps, and hats – each one with a little extra something, or maybe several somethings. A lot of these patterns are the type that, if I were to see them in the wild, I would make friends with the owner and discuss how they made it. Some of them are in your face wonderful like Xiao Mai and Videira; others are subtly complex like Ferrule, my favorite sweater in the book, which uses marling and texture stitches.

JM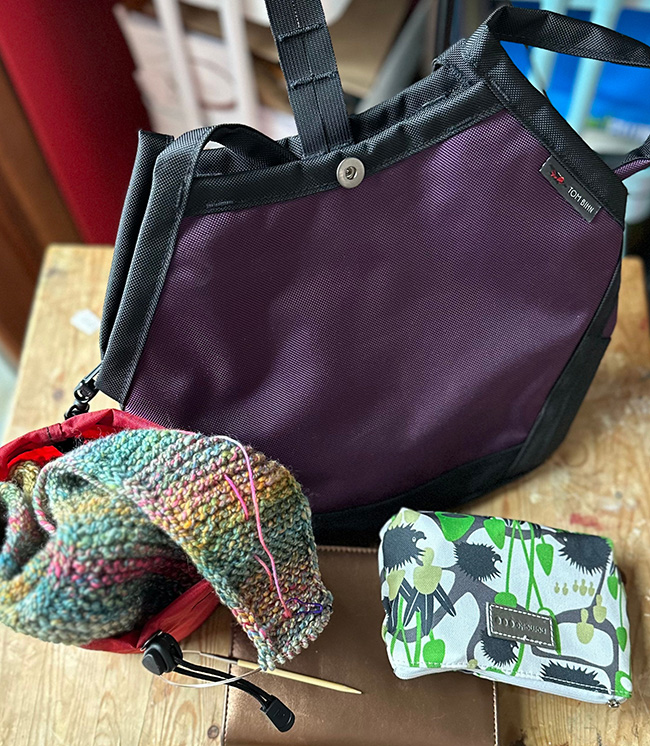 Little Swift
by Tom Bihn
11" x 9.5" x 6" / 280 x 240 x 150 mm
Handle Length: 22" / 560 mm
$85
Buy now at TomBihn
The Little Swift is back! Tom Bihn has rereleased a limited number of Little Swifts. The Little Swift is half the size of the regular Swift, and is pretty perfect as a small knitting bag or an everyday carry along.
I will admit to using my Little Swift as a purse a lot of the time. It perfectly holds my phone, wallet, keys, a hardcover book, and my tea-filled Yeti, with room leftover. When I take knitting in this bag, it's usually a small project or part of a bigger project. I've been making handspun Sophie Scarves and my wip and (much too much) extra yarn fits in the stuff sack that comes with the Little Swift. I swap out my book for my knitting stuff sack, and add my knitting notions pouch. I have plenty of room for a spindle and fiber along with my knitting, and still have room in case I need to carry (or buy) more yarn.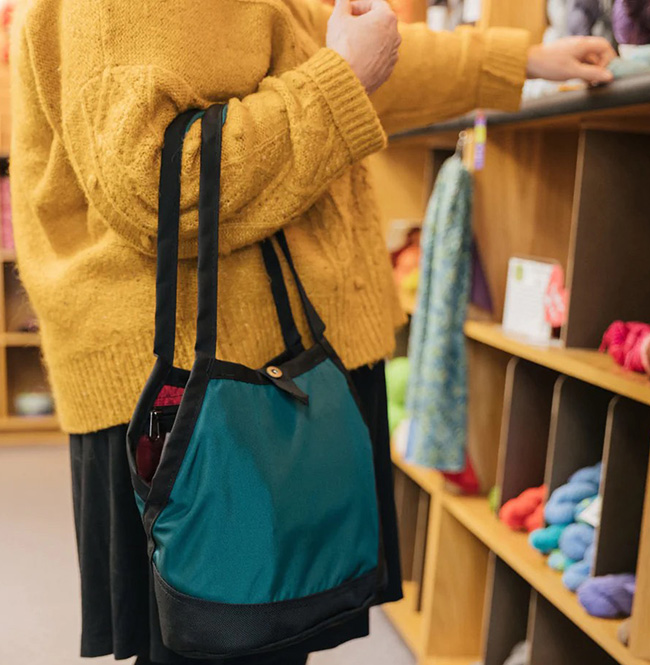 There are two big, clear, zippered pockets inside the Little Swift. I usually put my phone and wallet in one, and a copy of my pattern in the other. There are two o-rings to clip smaller Tom Bihn organizer bags to, and a clip for keys.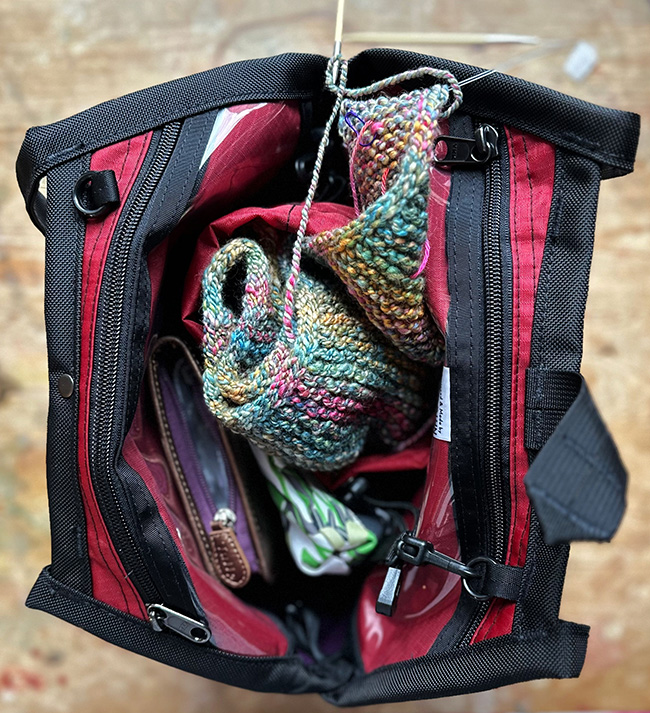 My full-size Swift is great, especially if I'm knitting a sweater, but the Little Swift has a special place in my heart, it's just so easy to perfectly organize it for knitting and life.

JM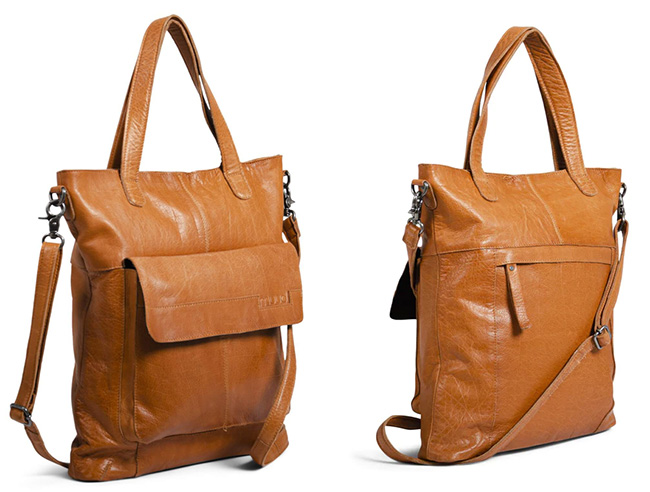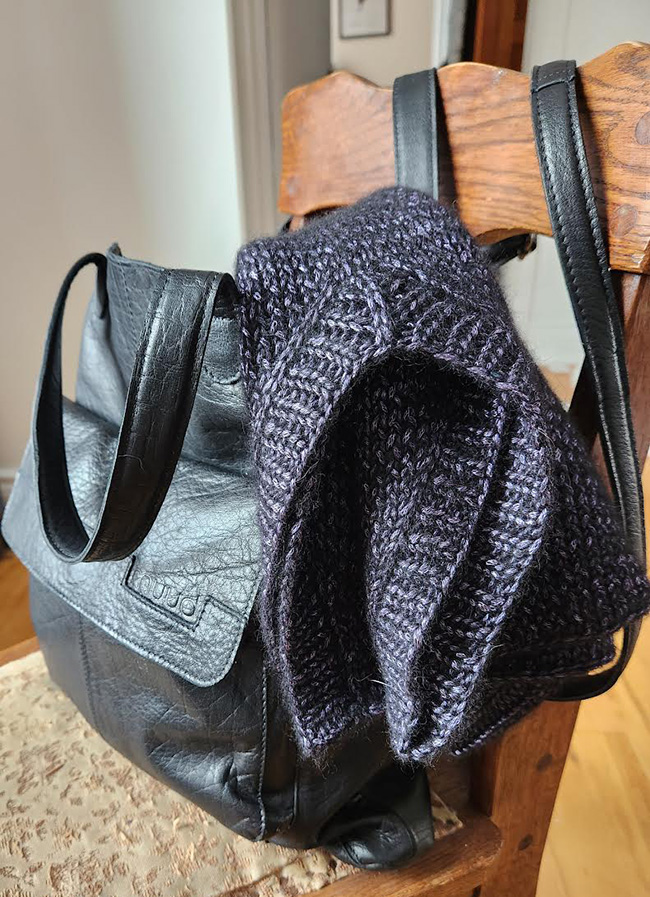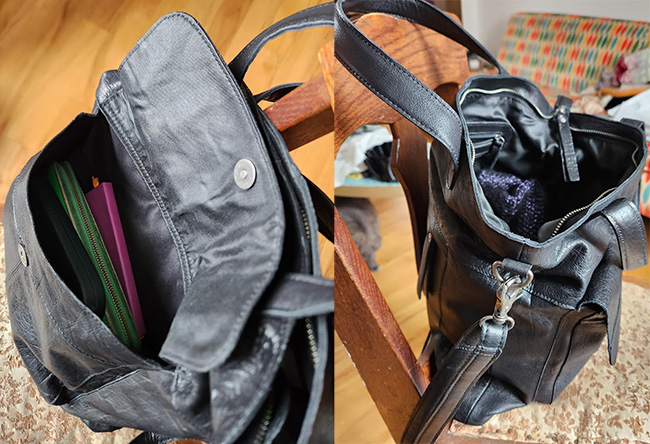 Arendal
by Muud
13.75" / 35 cm tall by 13.25" / 34 cm wide
Genuine leather exterior/smooth poly fabric interior
available in whisky and black
$165

Buy now at Universal yarn
Everyone has a knitting bag, whether that's a repurposed tote or a purpose-designed one, and
there are plenty of offerings available. Before I tested the Arendal from the Danish company
muud, I thought that the last thing I needed was another bag. However, this bag has managed
to integrate both the functions of a purse and the utility of a project bag.
Using leather sourced from Indian dairy cows, which are not confined to a factory and allowed
to roam freely, muud has an extensive line of knitting bags. To the average eye, the Arendal
looks like a stylish regular nice-sized bag. It has a long adjustable strap, which is removable, as
well as shorter handles, which make it easy to grab and go. On a recent trip, I took the Arendal
as my only purse/knitting bag and had absolutely no regrets.
The main compartment closes with a zipper and contains a zippered pocket as well as two other
pockets that are sized for a cell phone or small notebook. I was working on a slouchy sleeveless
sweater at the time and was easily able to carry both the WIP as well as an additional cake of
worsted-weight yarn (100g skein for size reference). There are two exterior pockets – one that
zips and lies flat and a bellow pocket that closes with a magnetic button. The latter pocket was
where I kept my wallet, eyeglasses, and a small notebook. It was nice to have easy access to
those things. Too often I find myself rummaging under my knitting to locate my wallet and
frequently end up doing something bad to my knitting in the process. This is not something I
will worry about any longer.
The Arendal ticks a lot of boxes and looks great doing so.
CBM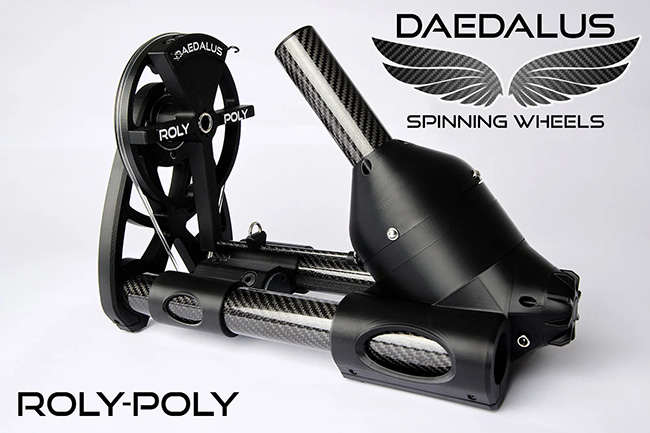 Roly-Poly Ball Winder
by Daedalus Spinning Wheels
$690

Buy now at Daedalus
From the folks that make all of those beautiful electric spinners that are named after birds (Starling, Magpie, Sparrow, Falcon) comes an amazing electric ball winder. I have never owned an electric ball winder and have always wanted one, so getting this for review was extra exciting.
What else is exciting is that this ball winder doesn't wind into cakes, but into balls like a niddy noddy. They are so cute.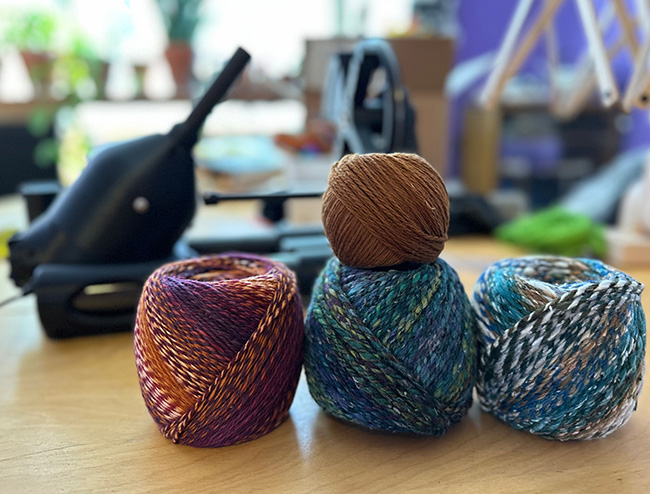 It is easy to use, but it took me a few skeins to figure out how to make it work the best for me. I wanted to set it up, turn it on as fast as it goes and just go off and do other things while my yarn was magically wound. I'm not sure any electric ball winder works that way.
I used my regular swift and wound mostly handspun yarn. (Their electric skeiner/swift, developed at the same time as this, will be reviewed in the next issue.) My issue was getting the tension exactly right. If I let it go fast-fast, there was a lot of tension on the ball as it wound and it makes a very tight ball (and stretches out your yarn). One of my first balls was wound under so much tension that it felt like a baseball, but I had to try.
There are several ways to adjust the tension with this ball winder, including letting it wind slower than rocket speed. There are different ways to thread the yarn that help with tension, and I even manually helped the tension by moving my swift with my hand rather than letting the winder just pull the yarn.
Once I got my tension and rhythm right, you know I ran around the house looking for skeins to wind. I wound yarns from laceweight to chunky and the Roly Poly did not hesitate. It does have a different core for very fine yarns, which made my laceweight yarn wind so smoothly!
If you aren't a spinner or aren't familiar with the Daedalus brand, they make exceptional equipment from carbon fiber and 3D printed ABS plastic. The motor is powerful, and the winder runs smoothly and quieter than I expected.
Since I unpacked this great tool, I haven't used my other ball winder, and I have a feeling it's going to get a little dusty. The Roly Poly is a great and useful tool, especially since I'm starting to get arthritis in my hands.
After an afternoon of practice winding I can now set the Roly Poly up, walk away, and let the ball wind. I keep an eye on it, but I can go make a cup of tea and return to a beautifully wound ball of yarn.

JM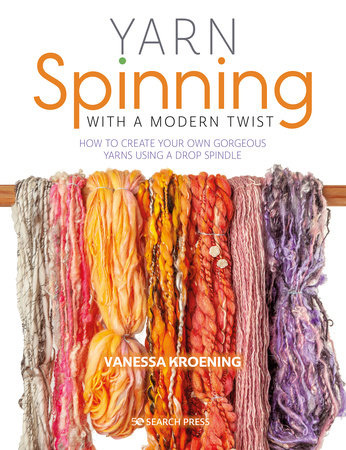 Yarn Spinning with a Modern Twist: How to create your own gorgeous yarns using a drop spindle
by Vanessa Kroening
Search Press
$23.95

Buy now at Bookshop.org | Amazon

This is a spinning book for beginners. It would be a good read for someone that isn't quite sure if they want to spin or not, but are curious about everything that goes into the craft. The basics of spinning and plying on a suspended spindle are here. The directions are set out in a photo essay. Really clear and up-close photos make the instructions easy to follow. There are even directions for some textured yarns.
The front half of the book is all about fleece – washing and preparing it to spin. Choosing a fleece and washing a fleece are here at their most basic. The fiber prep is all woolen using handcards, a blending board, and a drum carder to make rolags, batts and roving. All of these methods are shown in in close photographs. The book closes with some dyeing a building your own colorway techniques.
Are you curious about spinning, or do you want to grab a fleece, and jump into the basics? This book will walk you through.

JM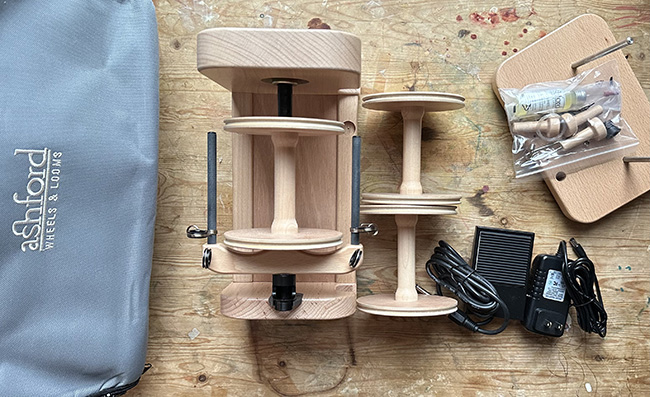 Electric Espinner 3
by Ashford
$850
Buy now from your local Ashford dealer.
I've noticed that these Ashford espinners are hard to keep in stock because they are so popular. This, of course, made me want to get my hands on one even more. I wasn't disappointed.
This is a rock-solid spinner at a great price. The motor isn't as powerful some of the Daedalus wheels or the Hansen Pro, but it easily spun all the yarns for me. I spun laceweight to bulky, woolen and worsted, and even some textured yarns. The motor starts slowly, the yarn guides are smooth and easy to slide, and the bobbins are easy to switch out.
It was so easy to use. Everything is where you expect it to be and all of the knobs and switches are labeled clearly. It has a Scotch-tension set up. The only thing that I want to change, and is easy to change, is the brake band. I'd like something thinner and little more flexible.
I recently taught a quickie 'try spinning' session at my local library and brought this as well as spindles. Of course, all of the newbies wanted to try the spinner, and not one of them got lost as far as the mechanics of how the wheel works. These are people who don't spin on the regular (yet), and it speaks a lot to how intuitive this wheel is.
The Espinner 3 is a great value for a wooden electric wheel, here's the list of what comes with it:
3 single drive lacquered jumbo bobbins
tensioned lazy kate
wooden threading hook
15mm to 10mm orifice reducer bush
learn to spin booklet

padded carry bag with shoulder straps

bottle of oil
on/off foot controller
12v power cord

It comes with a bag! And everything fits in it, including the extra bobbins. I think every spinner should come with a bag. It's about the size of a loaf of bread and only weighs 4.4 pounds. It's a great wheel to just grab and go.

JM