Looking for something to create with odd bits of leftover Koigu or some favorite sock yarn? Here's a funky take on the wrist watch band.
Using an old timepiece or an inexpensive, lightweight, fun version found at a discount store, and a small amount of Koigu or other cool sock yarn, you can make a last-minute gift for just about anyone in a flash.
This simple unisex pattern outlines sizes from age two through adult, and only requires about a half skein of Koigu KPPM for the largest size.

models: Wendy Bernard and Chuck Tan [the dog]

photos: Theron Tan
2-4 Years[4-6 Years, 6-8 Years, Women's Small, Women's Medium, Women's Large/Men's Small, Men's Medium, Men's Large]
Length: 1.5[2, 2, 2, 2, 2, 3, 3] inches
Circumference: 3.5[4, 5, 6, 7, 8, 9] inches
Note: This wristband is worked in 1x1 Rib, and is very stretchy; choose a size that measures 0.5 - 1 inch smaller than actual wrist measurement.

[MC] Koigu Wool Designs KPPPM [100% Merino Wool; 175 yd/160m per 50g skein]; color of your choice (or whatever is left over!) Less than one skein required, even for the largest size


[CC] Odd bits of wool in the same gauge, in contrasting color for stripes, if desired

1 set US #1/2.25mm double-point needles
OR


2 US #1/2.25mm circular needles
OR


1 US #1/2.25mm circular needle, 32 inches or longer
Note: Wristband is worked in the round; use double-point needles, 2 circulars, or magic loop technique, whichever you prefer.

Stitch marker


Tapestry needle (use a needle small enough to fit between watch face, and bars from watch band)


Lightweight or novelty watch face
When selecting a timepiece, look for something that is lightweight, can be removed easily from its band, and has two horizontal bars that can be used to attach it to the wrist band. Have fun and get creative! You can even use those freebie watches some restaurants give away in kid's meals.
44 sts/28 rows = 4 inches in 1 x 1 ribbing, unstretched
[Knitty's list of standard abbreviations can be found here]
1x1 Rib (Worked over an even number of sts):
Round 1: [K1, p1] to end.
Every round is the same.
Alternate Construction Note:
Another option is to cast on using a provisional cast on, to omit the bind off, then to graft the first and last rows together at the end.
Solid Version
Using MC, loosely CO 38[44, 54, 66, 76, 88, 98] sts.
Distribute sts between needles, place marker and join to begin working in the round, being careful not to twist.
Work in 1x1 Rib until work measures 3.5[4.5, 4.5, 4.5, 4.5, 4.5, 6.5, 6.5] inches.
Loosely BO all sts.
Striped Version
Using MC, CO and begin working as for Solid version.
When work measures 1[1.75, 1.75, 1.75, 1.75, 2.5, 2.5] inches, drop working yarn but do not cut.
Work 1 round using CC. Break yarn.
Work 1 inch using MC, drop yarn.
Work 1 round using CC. Break yarn.
Cont in patt, using MC, until work measures 3.5[4.5, 4.5, 4.5, 4.5, 4.5, 6.5, 6.5] inches.
Loosely BO all sts.
Weave in ends securely, making note of right and wrong sides.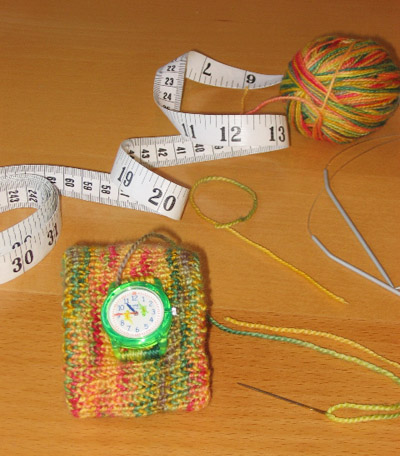 To finish, turn the tube inside out. Fold the cast-on edge and the bound off edges of the tube to the inside center, so the two ends meet in the middle. Whipstitch the two edges together. Keep in mind that the wearer will need to stretch the band to get it over their hand; be sure the seam can stretch.
Turn right side out. Attach timepiece using tapestry needle and yarn, or an embroidery needle if the tapestry needle is too large.
Weave in remaining ends.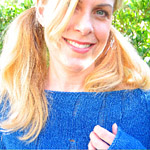 Wendy picked up the needles almost four years ago, and hasn't been able to put them down since.
A mother and wife to her beloved daughter, Girlfriend, and her funky husband, He Who Wears Versace, you can read all about her knitting adventures, triumphs and spectacular failures at knitandtonic.typepad.com.