Letters From The Editors
The scoop from the editors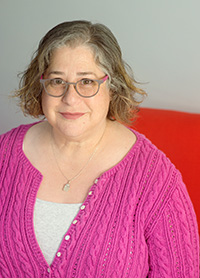 photo:
Pam Lau
A 15-year sprint
I've been told I'm a bit of a hurrier. Well, somehow I've rushed my way into 15 years' worth of Knitty. How the heck did that happen?
I'm glad it did. I've met some of the most dear people in my life through this magazine. I've heard stories that some of you have had the same experience. Plus there's the patterns and stuff.
To celebrate 15 years of Knitty, we're going to throw some serious tributes out for y'all: patterns that take their inspiration from another in our archives. In this issue, you can see tributes to Monkey, Vinter Lue, Nymphalidea, Abrazo and Serrano. We have more coming throughout the next 3 issues. Plus a whole bunch of patterns that are inspired by we-don't-know-what-but-we-like-it.
We also have something special for you to celebrate this huge milestone. Wanna see? Check this out.
---

Our beloved Chris Gernon, SysAdmin of wonder and light, is on family leave for the forseeable future. We miss him terribly and send so much love.
---
Making this a little easier to take is our new friend, Steve Laundrie, who comes to us with an impeccable pedigree and the personal recommendation of my new day-job boss. He's stepped into Chris' shoes admirably and now is working on getting Knitty fully SSL'd.
Steve doesn't knit. I'm okay with that. He's a whiz with the servers, and we're very happy to have him on our team. Welcome, Steve.
---
It's more true than ever now: we only continue to exist because of our Patrons who carry 3/4 of the financial load of supporting Knitty. We are also grateful for the Advertisers who choose to place their messages on our pages. If you can, please support them when you need to make a purchase. We all take care of each other, right? A reminder: ads now start as low as $60 per issue! To learn more about advertising with Knitty, pop over to our Rate Card.
If you're not already a Patron, please consider joining us. We won't survive without ongoing support from our readers, and lots of little donations make such a huge difference in keeping us here! Life happens and Patrons come and go according to their own personal situations. So if you haven't joined us yet, we'd love to welcome you. This system only works if we can hold the number of Patrons steady.
---
Keep in touch with us!
Twitter | Ravelry | Patreon 2-way news feed (for Patrons only)


Amy Singer
[editor, Knitty]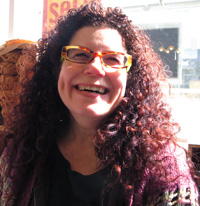 photo:
Amy Singer
The path...
Knitty is older than my youngest kid. I still remember my nerves the first time I submitted my first pattern to Knitty for the very first issue. But nothing beats the day that my first Knittyspin column came out in the Spring+Summer 2013 issue. Many thanks to Amy who offered me that job, because it very much set me on a path that I love.
It was with that column that my part-time spinning became my focus. I gave myself permission to admit how much I enjoy and think about spinning. Especially helping other spinners understand all the aspects of spinning, how to spin with intention and love their yarn. Since that column came out in Knitty, I have published articles in Spin Off, helped to start PLY Magazine, taught all over the US and published my book, Yarnitecture. My favorite part? Meeting spinners in person at festivals, retreats and in my classes.
Over the past five years, it has become clear to me just how passionate spinners and all fiber people are, and what a creative and welcoming community we have. I can't wait to see what the next five years bring.
Thank you for letting me part of your spinning life. I am truly grateful!
---
If you have an idea for a project or article for knittyspin write me. Knittyspin submission guidelines are here.
If you have fiber, spindles, books, or other spinny products or tools that you'd like us to review, you'll find information how how to get your products in to the hands of our reviewers here. I love to talk about it all.

Jillian Moreno
[editor, Knittyspin]