Feature: Cool stuff
Cool stuff
SR [Finished chest measurement for sweaters] = the smallest chest measurement to the largest chest measurement we could find in the book. There may be only one pattern with the smallest or largest size, but it's in there. Books are softcover unless noted otherwise. All prices USD unless noted.
When you click on an Amazon affiliate link below and make a purchase, you're supporting Knitty. We thank you!
Jump to... Other Crafty Things

Surprise reviews! (October 2018)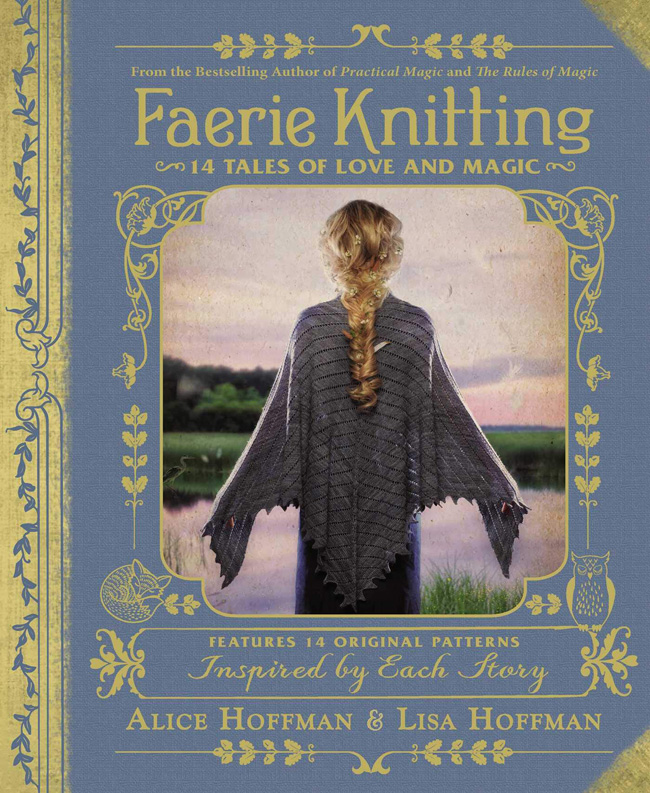 Fairy Knitting: 14 Tales of Love and Magic
by Alice Hoffman & Lisa Hoffman
Adams Media
$26.99, hardcover
Buy now at Amazon
This book is a delightful collaboration between author Alice Hoffman and her cousin, Lisa Hoffman, who is a knitting designer.
The 14 original fairy tales are dreamy, with strong girls and woman at their center, and they weave knitting and enchanted knitted objects into the stories. The patterns are for accessories rooted in the stories: a magical amulet, a protective blanket, a shawl that transforms the wearer into a blue heron. The patterns and stories mesh wonderfully each enriching the other to create a timeless collection. The photographs are the third partner in this collection.
The Hoffman collaboration started as a column for Faerie Magazine, and they have enlisted the same photographic talent to illustrate this book. The photography lifts the book to an otherworldly realm, full of mist and magic.
This is an imaginative book that can be used to knit or read some enchantment into your life.
JM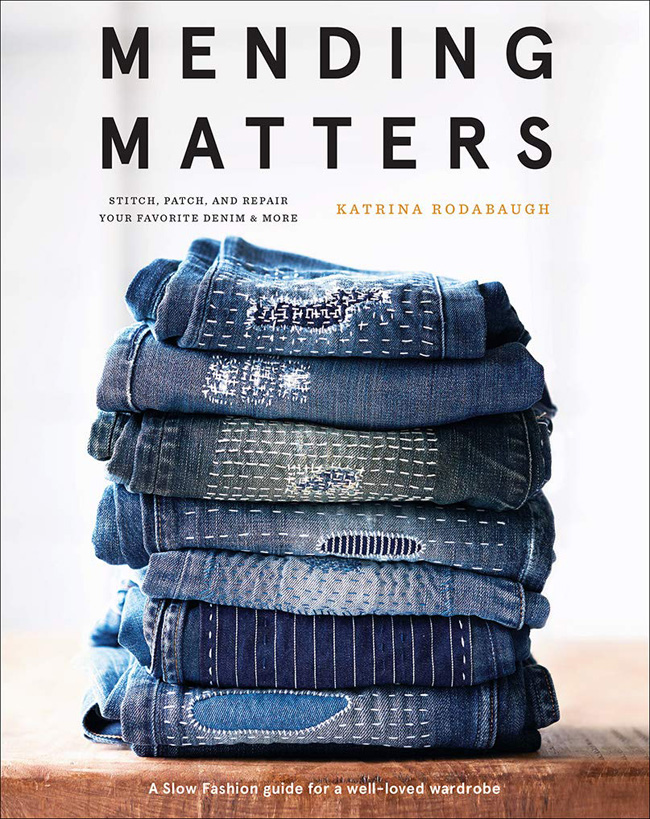 Mending Matters: Stitch, Patch and Repair Your Favorite Denim and More
by Katrina Rodabaugh
Abrams
$24.99, hardcover
Buy now at Amazon
Mending Matters will teach you how to mend your denim and woven cloth clothing, with detailed descriptions and step-by-step photos. The instruction is written in such a way that it brushes aside any tendencies you might have to matching or perfectionism in your repair, and encourages you see the beauty in mending and preserving your favorite clothing.
Mending Matters will inspire you to rethink your wardrobe through beautiful photography of mended clothing and thoughtful quotes from other makers and leaders of the slow fashion movement.
If you let it, Mending Matters can transform your thinking about clothing. The essays by author Katrina Rodabaugh are not to be missed. They trace her own journey from her first steps with Make Thrift Mend, not buying any new clothing for a year, to a shining light in the Slow Fashion movement, inspiring thousands of people to make and mend and truly consider where their clothing comes from.
This is an amazing and insightful book. If you are interested in mending or Slow Fashion, make sure this book gets onto your bookshelf.
JM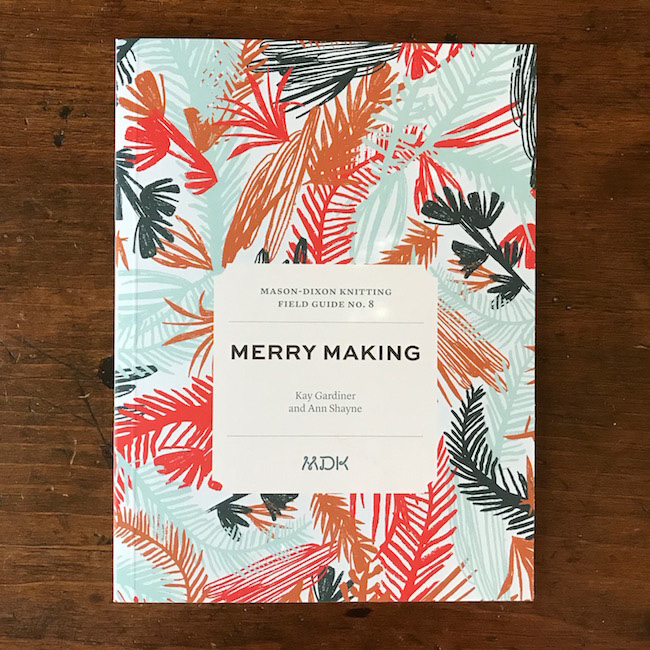 Mason Dixon Knitting Field Guide No 8: Merry Making
Kay Gardiner and Ann Shayne. Patterns by Thea Colman
$9-$14.95
Buy now at Mason Dixon Knitting
Please welcome another irresistible set of patterns and fun from the women at MDK with their guest designer, Thea Colman of Baby Cocktails. Please thank all of these women when you are seized with the urge to knit a winter gift at the last minute and can make any one of these patterns in a focused afternoon or a couple of evenings. I know you have yarn that will suit in your stash.
The five patterns are classic Thea, textured (even when there's color), easy to follow knitting with an interesting twist (but not so interesting that there can't be cocktails) and 1000% wearable. I firmly believe that Thea's accessories are those most borrowed and never returned by friends and family.  There's the Chalice Cowl, a bulky yarn halo of squish with a cable nestled in garter stitch.  Appleseed Mitts, a looks-harder-than-it-is trellis-style cable set against stockinette. Appleseed Coasters have the same cable pattern in a coaster that allows us to simultaneously sip cocktails in the vicinity of a nice wooden table. The Slip-Stitch Cap is the perfect storm of texture, color and cush; you will want to knit this hat for everyone (it comes in 6 sizes so you can). The Stranded Diamond Hat is a little bit of stranded knitting to soothe you. How irresistible are these patterns? I've already bought the yarn to make two projects.
Of course there's a drink recipe, Thea's Merry Sangria. There's also a quick, easy and festive way to wrap by Ann using tissue paper and washi tape. This is one Field Guide that could just save the day come gift-giving time.
JM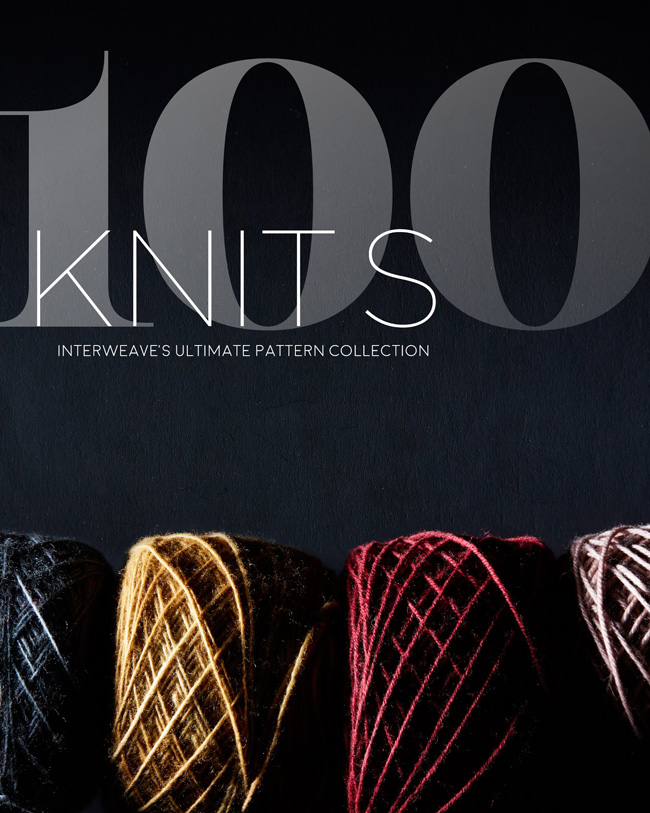 100 Knits: Interweave's Ultimate Pattern Collection
by Interweave Editors
Interweave
$45, hardcover
SR=35-54"
Buy now at Amazon
This is the biggest greatest-hits collection Interweave Knits has yet to publish. All of these adult patterns have been published before in Interweave Knits, knitscene, special issues and Interweave books, and they are gathered together in a lovely hardback book. Before you ask, the breakdown is 21 cardigans, 26 pullover sweaters, 26 scarves, cowls, shawls, and wraps, 16 hats and socks, and 11 tanks and tees of popular patterns. Included are the 5 most knitted Interweave patterns according to Ravelry statistics: Dahalia Cardigan by Heather Zoppetti, Lucy hat by Carina Spencer, Central Park Hoodie by Heather Lodinsky, Koolhaus hat by Jared Flood, and Evelyn A. Clark's Swallowtail Shawl.
The photography is all from the original source, but they all hang together well. It surprised me how many of the designs I remember and how well they were chosen. With few exceptions, the designs are classic – mostly texture and lace with a few colorwork patterns, and could be wardrobe (or gift) staples.
This is a book that would be great to put on your holiday gift list. Any knitter would be happy to knit from it for many years to come.
JM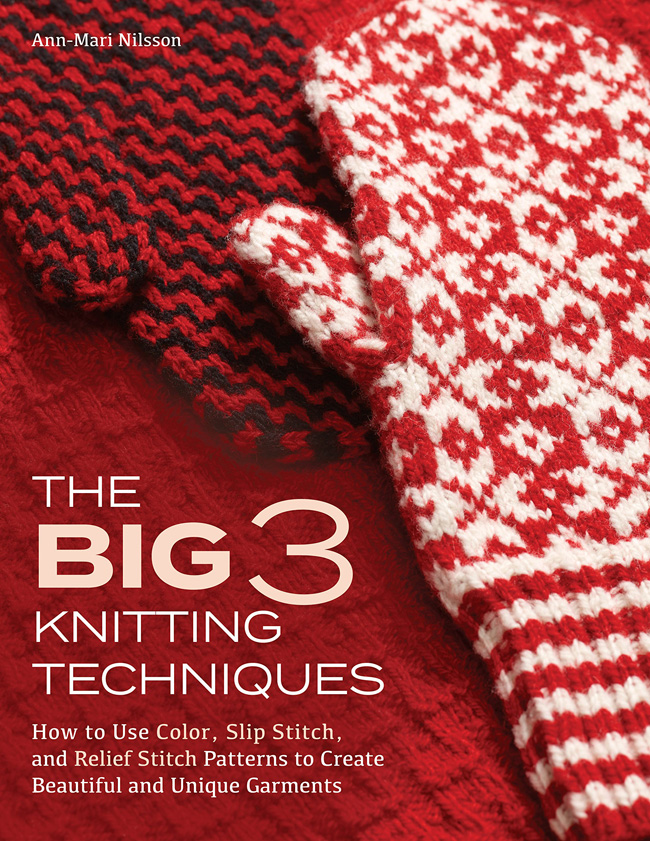 The Big 3 Knitting Techniques: How to Use Color, Slip Stitch, and Relief Stitch Patterns to Create Beautiful and Unique Garments
by Ann-Mari Nilsson
Trafalgar Square
$22.95, hardcover
SR= 33-45"
Buy now at Amazon
This is the perfect book for knitters who want to do a little plug and play type of designing, or any knitter that collects stitch dictionaries. At its heart this book is a dictionary of 80 different stitch patterns divided into three styles: two-color slip stitch, two-color stranded knitting, and textural knit and purl stitches, called Relief Stitches in the book.
The stitch patterns are knit in high contrast and are rendered in charts only, but they're big charts that don't need enlarging. The stitch patterns reminded me that there is no need for complexity to make something very pretty. It was the simplest of patterns in bold colors that really called to me. I wasn't surprised to see that the author designs for Ikea. While most of the patterns are not specifically Scandinavian, I recognized many of the stitch patterns from other Scandinavian knitting books.
There are four knitting patterns included in the book: a hat, mittens, a pullover vest and a short jacket. These are very basic patterns in limited sizes, written for the fine wool yarn Ann-Mari uses for her swatches. They are a blank canvas to plug the stitch patterns into.
Like so many stitch dictionaries, I'm looking forward to swatching the patterns in the book, experimenting with combining patterns and using different weights of yarn. If you are a knitter who likes to play with their stitch patterns, this book will please you.
JM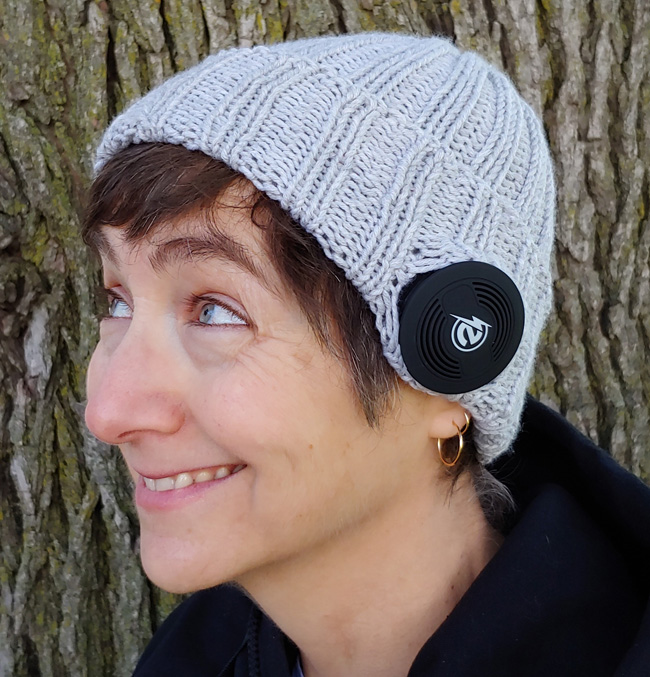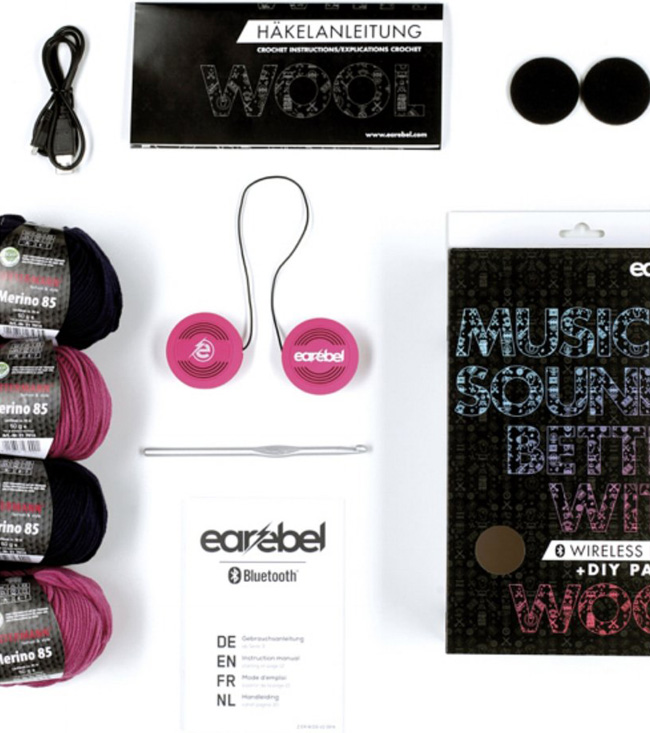 Bluetooth Wireless Headset
+ DIY Package
by Earebel
Crochet version shown includes:
4 balls of Austermann Merino 85 (2 navy, 2 pink)
6mm aluminum crochet hook
Earphones in either pink (shown), white or black + miniUSB charging cable
Instructions in 4 languages
Bluetooth earphones (without kit) now available at Jimmy Beans Wool online, and at their booth at Stitches SoCal Nov 1-4, 2018
$49.95
Editor's note: we were provided the full kit to review. We don't have a source to purchase this kit at the moment, but the Bluetooth earphones are available at the Jimmy Beans Wool link above.
This is a one-a-kind and fun package for the audiophile crafter. The kit contains the hardware for a wireless Bluetooth headset, and yarn and instructions (in German, English, French and Dutch) to make a hat to hold the two earphones.
The earphones themselves are about 2" across, lightweight, and are joined by a thin wire that's easily hidden in the brim of a hat. They are of a surprisingly good quality, and Bluetooth pairing was very simple – one button operation. The convenience of not having to fit a headband under a hat makes these pretty cool. You just pick a suitable hat pattern that covers your ears and make a buttonhole on each side to hold the earphone. No worries about them falling off your head or falling out of your ears.
Unlike many novelty/accessory kits on the market, the yarn is of great quality – 100% superwash Merino. The one that I tested was the crochet version, and came with a crochet hook, but I wanted to knit up a hat instead. It was easy enough to find a knitting pattern for a hat that matches the yarn, and just make oversized buttonholes for the actual earphones. There is a knit version available, too, so you won't have to invent your own hat if you don't want to.
Each kit contains enough yarn, in two colors, for two hats. (Or play with colorwork!)
KA + AS

Knitting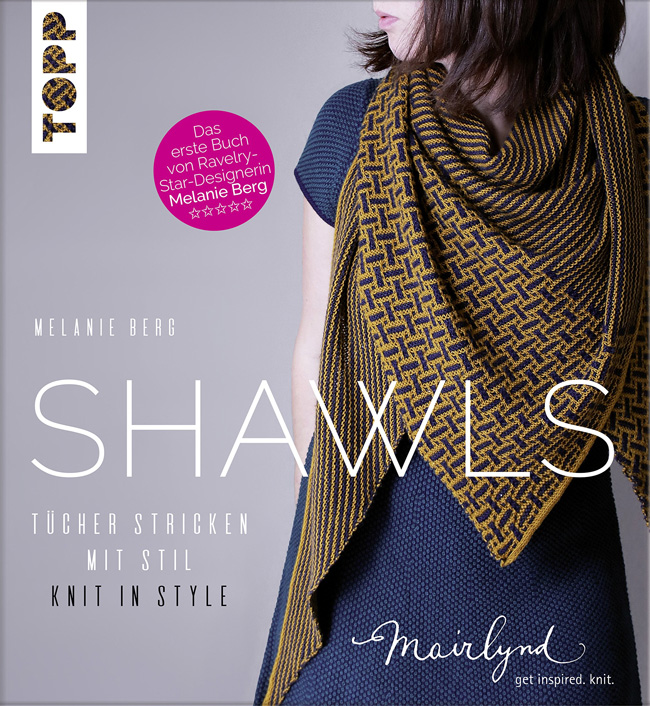 Shawls: Knit in Style | Tücher stricken mit Stil.
by Melanie Berg
Frechverlag
$29.95, hardcover
Buy now at Amazon

Fifteen shawl patterns from Melanie Berg in her signature infinitely wearable, can't-knit-just-one, stunning mix of color and texture style of design. Some may look familiar. 12 have been published before and 3 are new for this book.

The shawls are nicely shot and wonderfully packaged in a bilingual (German and English) hardcover book. The photos are large with an emphasis on showing what makes the shawl unique rather than a whole shawl shot. The patterns are easy to follow with the charts in the back of the book, if you're hunting for them.

I've never knit one of Melanie's shawls before so my want-to-knit list from this book is just about every shawl in the book. The first ones going on my knitlist are Abuelito (polka dots with a lace edge), Perhaps, Perhaps (alternating garter stripes and lace), Decemberist (chunky lace), and the stunning cover shawl, Midnight in Berlin.

A great surprise, almost hidden in the back of the book, is a round up of the shawls in the book knit by fans of Melanie's designs. Each has a little description of the yarn used and their own story of knitting the shawl. It's a delightful addition I've never seen in a knitting book before.

JM

The Knitter's Dictionary: Knitting Know-How from A to Z
by Kate Atherley
F+W Media/Interweave
$19.99 Hardcover
Pre-order now at Amazon

Kate Atherley has done it again. Her newest book, The Knitting Dictionary, is a comprehensive reference of all things knitting in a concise 126 pages! This is a good tool for every knitter, both those new to the language and those who have been working with it for years. New knitters will delight in the second chapter, "Getting Started with Patterns" which builds on its promise and gives tips for how to successfully work a pattern (while experienced knitters will wish for a time machine).
The heart of this book, "A-Z of Knitting", is a cross between a dictionary and an encyclopedia. It cross references skills, terms, and tools with clear definitions, over 150 illustrations, and many helpful tips.
This is a wonderful guide for that moment when a knitter is faced with doubt for working a technique, heard something at knit night and didn't want to admit ignorance, or is simply curious. I think it's also a helpful guide to hand to a knitter's partner who wants to be able to improve communication (see the term yarn barf and illustration of a ball winder, as examples).
Kate's years of experience come through in this valuable volume and the illustrations by Julie Levesque (http://symposi.com) are beautiful and work in symbiosis with the text. Together they make this a comprehensive and concise reference book.
This book holds a coveted spot in my knitting bag!

PSG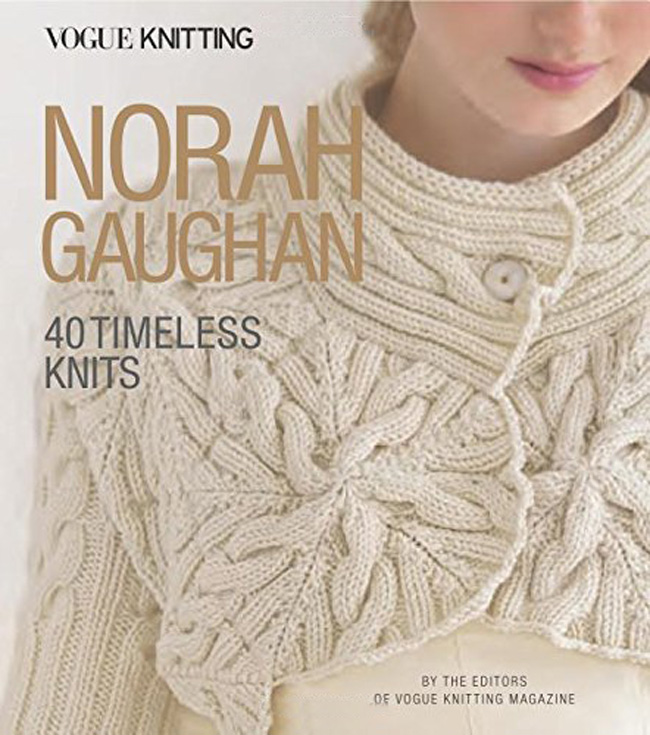 Norah Gaughan: 40 Timeless Knits
by Norah Gaughan
Sixth&Spring
$24.95, hardcover
SR=33-52"
Buy now at Amazon

Watch the brain of Norah Gaughan unfold like a time lapse video of a flower blooming. Every step is beautiful and interesting in its own way, and unmistakably part of the knitting legend that Norah has become.
From her first published pattern for Vogue Knitting in 1987, a cable vest, to a 2018 brightly colored yoke sweater, this book has 40 out of more than 120 patterns that Norah has designed for Vogue Knitting. A quick glance at Ravelry shows more than 900 designs including the fabulous Beatnik Pullover from Deep Fall 2010 Knitty.
Because Vogue is a fashion knitting magazine and follows current trends, it's obvious to see what styles were popular at the time of each design. It's also obvious that Norah has always been head and shoulders above other designers, making sweaters 100% original, while referencing the catwalk, rather than mimicking it.
You can see it begin in 1997 when she starts going her own way with cables, and in 2006 when she starts her amazing organic shaping of garments (her book Knitting Nature came out in 2006). This book has 40 beautiful and cleverly designed patterns and shows the development of one of the most ingenious minds in knitting.

JM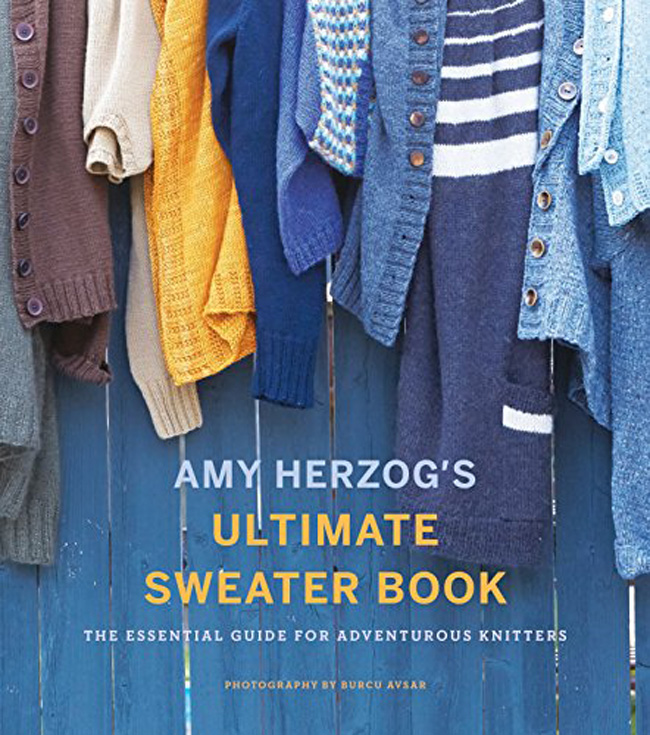 Ultimate Sweater Book: The Essential Guide for Adventurous Knitters
by Amy Herzog
Abrams
$24.99
SR= 32-64"
Buy now at Amazon

Through all of her books, Amy Herzog aims to teach knitters the skills they need to make sweaters for their bodies that they'll love to wear. She teaches about shape, fabric, size, style and fit. Her new book will thrill you if you are a knitter that has worked through her books, taken her classes, or are just ready for more.
You see, the whole time you were knitting along with Amy, she was making you a better knitter for your body and style. Whether you knew it or not, she has helped you develop into a knitter that can recognize, choose and modify a knitting pattern. This book is your next adventure: design your own sweater.
Like all of Amy's books you may take it at any level you'd like. Go all in, starting with your measurements and developing your sweater in one of four different styles: drop shouldered, raglan, yoke ,or set in sleeve. Not quite up for that? You can design elements that are your own to add to four basic sweater patterns or add embellishments (pocket alert!) to basic sweater patterns.
Amy always recognizes that sometimes we just want to knit, and this book also has eight sweater patterns you can knit from start to finish.
This is a book that a knitter could spend years with, growing their design skills. This book gives a knitter the power to suit themselves.

JM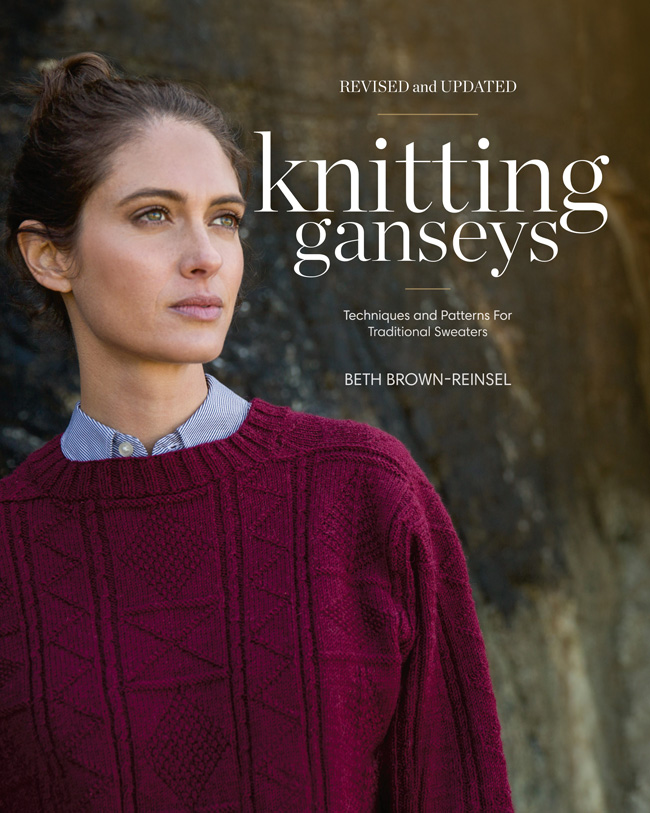 Knitting Ganseys Revised and Updated: Techniques and Patterns for Traditional Sweaters
by Beth Brown-Reinsel
Interweave
$29.99, Hardcover
Buy now at Amazon

It's been 25 years since the first edition of Knitting Ganseys was released, and boy-oh-boy is this update amazing. The original book was a workshop in making a gansey, utilizing a mini sweater to knit along with the construction details, with the option of designing your own full sized garment. The photos were black and white and none too clear, the finished patterns were half for kids, half for adults.
The difference between the old and the revised edition is like putting on your first pair of glasses after squinting for years: WHOA! Everything is crisp and clear and bright, there is more white space and color. The book is still set up in the same excellent workshop style, but it is easier to read and to understand.
When working through the construction elements, the instructions for the mini sweater and a full-sized sweater are side by side (or right after each other). There are nine adult patterns, three are based on designs that were in the original book, but are so reworked I'd call them new. The photography is beautiful and beachy, a perfect foil for the color-saturated ganseys. If I had to pick a favorite, I'll just say my mouth dropped open when I saw the gansey dress, Alouette.
For the past 25 years, Beth has continued to study knit and teach about ganseys and that depth of experience is demonstrated in the reworking of the text and addition of more gansey history and lore.

JM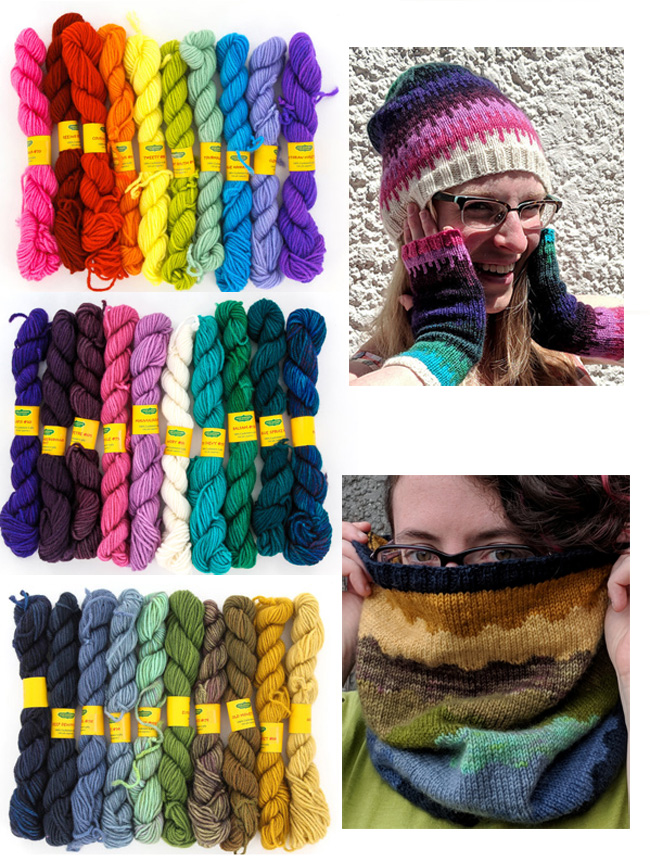 Coloring Box Kit: 100 gm cashmere yarn and a pattern of your choice
by Jade Sapphire
Shown above, top to bottom left: Madcap, Bridget's Delight, Trail Mix
$100
Buy now at WEBS

Luxurious yarn paired with easy knitting, this is a knitting kit I can really enjoy! The Coloring Box Kit includes 10 colors of Jade Sapphire, in 10 gram/33 yard skeins of hand-dyed, 4-ply, DK weight, Mongolian cashmere.
Many poorly made cashmere yarns use very short fibers and spin them loosely; this makes puffs of fiber fly everywhere while knitting and leaves you with a fabric that will pill almost instantly. Jade Sapphire has the largest offering of cashmere yarns and cashmere blends that I've seen, and they know how to make a cashmere yarn. The yarn in the kit is perfectly spun, tight enough to not pill easily, but loose enough to be otherworldly soft with a light halo.
There are three color stories to choose from: Madcap, a modern rainbow; Bridget's Delight, light pink, purple and aqua grounded with darker values of the same colors; and Trail Mix, rich earth tones with a pop of sunlight. Each kit comes with your choice of two patterns The Drip Hat and Mitt set (shown above top) or the Wobble Cowl (shown above bottom). I'm currently knitting the Wobble Cowl in the Madcap colorway, and it's a breeze. The pattern is easy with a twist (two rows of stranded color work for every 12 rows) I can happily knit it while watching tv, but the yarn is the star. I can't quit wanting to knit, just to touch the yarn and see the next color.

JM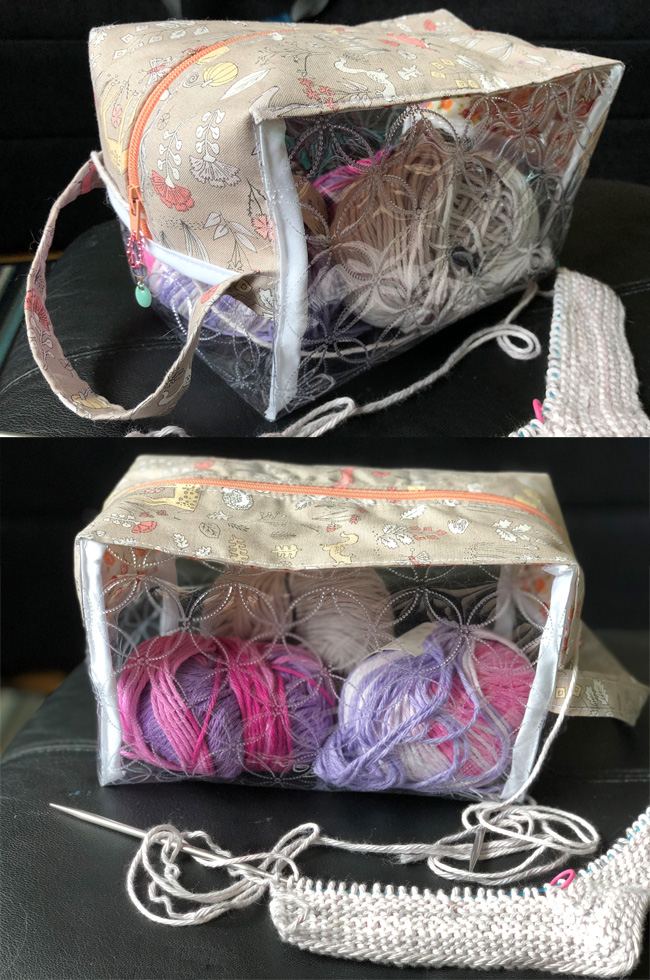 Clear Deja Vue Box Bag
by Tika Bags
5: wide, 12" long, 5" tall
$29
Various prints available
Buy now from Tika Bags

This bag is rather perfect. It's a box bag, right? What's so special about it? Let me list the ways...
1. It's clear everywhere except for the top, so you always know what's inside, and you get to enjoy the sight of your project nestled safely even when you're not working on it. I really like the imprinted pattern on the vinyl, too. It's pretty.
2. The clear part is on the bottom of the bag, and it's vinyl, so it's slippery. Wind your yarn in a ball and watch it literally ooze out into your hands as you pull a new length to knit. Seriously – no woven fabric bag I've ever seen can do this.
3. It has a super-fine zipper. A zipper? Yes. A super-fine one, so that the yarn just oozes past it, as well. I knit for days with my cotton yarn in this bag and never got it snagged on the zipper once, not even a tiny bit.
4. The finish is elegant and professional. The fabric inside the top of the bag complements the fabric on the outside, but they're delightfully different. All sewn edges are neatly bound, the zipper is perfectly installed and it's just a lovely thing to bring with you wherever you go. Which I have been doing. By the way - the zipper pull is something I added to make the tab easier to grab in a hurry.
Kudos, Tika Bags. You've come up with something really special that goes well beyond aesthetics. It makes knitting easier.
PS: Let me know when you start making a larger version of this bag and I'll be the first in line to buy it.

AS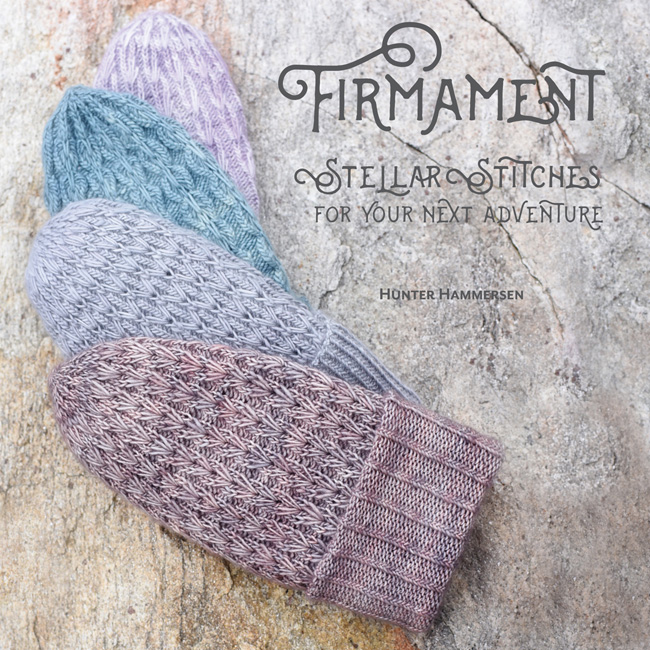 Firmament: Stellar Stitches for Your Next Adventure
by Hunter Hammersen
Pantsville Press
$19.95
Buy now from Hunter Hammersen

Firmament is the best kind of book, one that grew from a fascination with a single stitch. I have never hid my esteem for Hunter Hammersen's knitting brain and how her knitting infatuations lead her and her legion of fans to gorgeous accessories.
The stitch that entranced Hunter is a dip stitch. Dip stitch is a stitch where you dip down several rows and pull a loop or loops through a stitch. I've seen these type of stitches in Japanese stitch dictionaries, but they looked complex. Nope, Hunter walks us through them step by step with huge illustrations that make it easy to grasp and easy to knit.
This little book has four dip-stitch patterns and hats knit out of them. All of the patterns are multi-size and multi-gauge (squee!). You can see all four hats on the cover of the book. There are directions to make cowls from the dip stitches and a mini stitch dictionary of variations on the dip stitches.
Ready to warm the heads and necks of your loves this fall while keeping your brain occupied? This book is all you need.

JM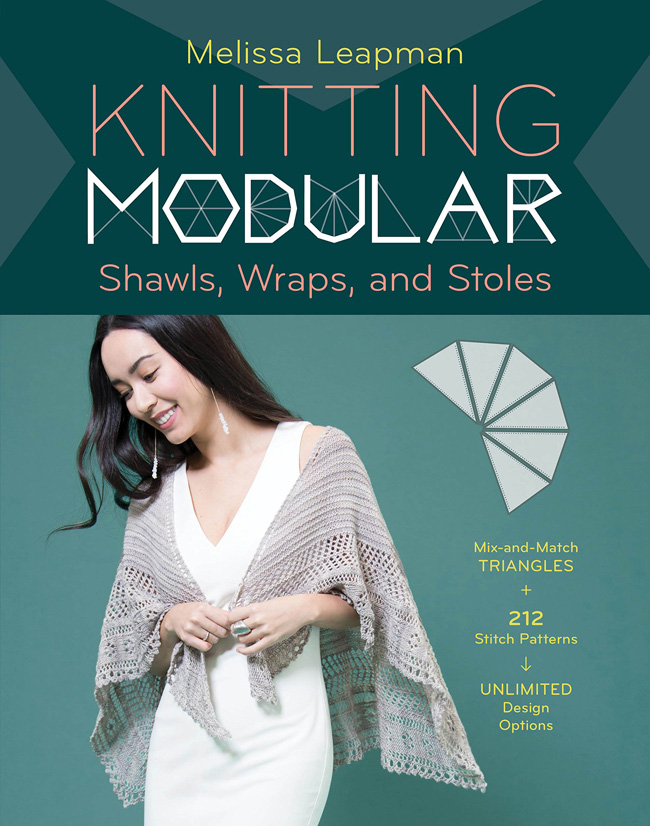 Knitting Modular Shawls, Wraps, and Stoles: An Easy, Innovative Technique for Creating Custom Designs, with 185 Stitch Patterns
by Melissa Leapman
Storey Publishing
$32.00 hardcover, also to be released as an ebook
288 pages
Pre-order now at Amazon

It can be overwhelming if you want to begin designing your own shawls. Melissa Leapman's newest book – a combination master class on shawl design and dictionary of over 200+ knitting stitches – will help you begin.
Her customizable technique steps the knitter through the different parts of a shawl to create unique new designs by building on wedges, stitch/texture, cast-on, border/edging, and bindoff. The first part of the book explains how to shape a shawl by combining different key parts. In addition, tips on yardage, lifelines, and charts to help determine which stitch multiples are best used for different silhouettes are included to help create success.
The second part is a stitch dictionary which is both written and charted. It is organized by the part of the shawl where the stitch will be used from edgings, wedges of different stitch counts, insertions, and borders. The complete designs that appear are explained and the various steps used are detailed. This is a valuable resource for the knitter looking to learn how to combine skills in new ways.

PSG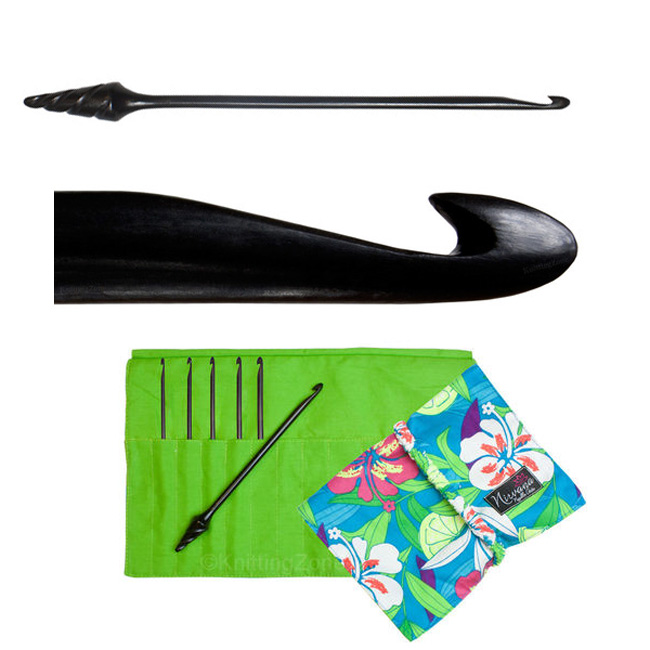 7" Ebony Crochet Hook Set
by Nirvana Needle Arts
$94
Buy now from HiyaHiya North America

I've been using the same aluminum crochet hook set I received as a birthday present when I was nine, so it was a delight to receive the Nirvana Needle Arts 7" Ebony Crochet Hook Set to review!
They are beautiful hooks that are lightweight and comfortable to hold and durable enough for intense stitching sessions. I found the satin finish on the wood plays nicely with a range of fibers and the inline open throat design made working a variety of stitch patterns enjoyable. The spiral finial adds a little special style that helped motivate me to continue working and not set a project aside.
The set includes hooks in sizes F/3.75mm; G/4mm; GH/4.5mm; H/5mm; I/5.5mm; J/6mm and comes in a case designed by Nirvana Needle Arts and manufactured by della Q. It has 12 pockets and a flap to keep all of my 7" items protected and secured with the elastic band. The 7" hooks are also available individually in sizes from E/3.5mm to PQ/12mm.
This is a great gift for the crocheters in your life.

PSG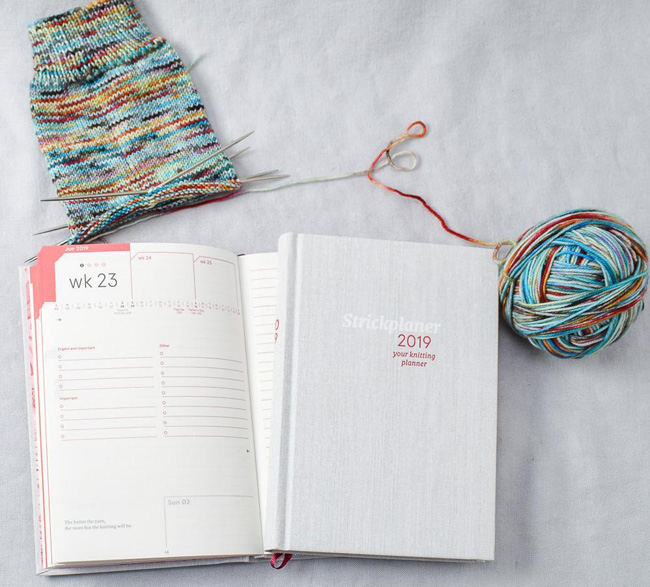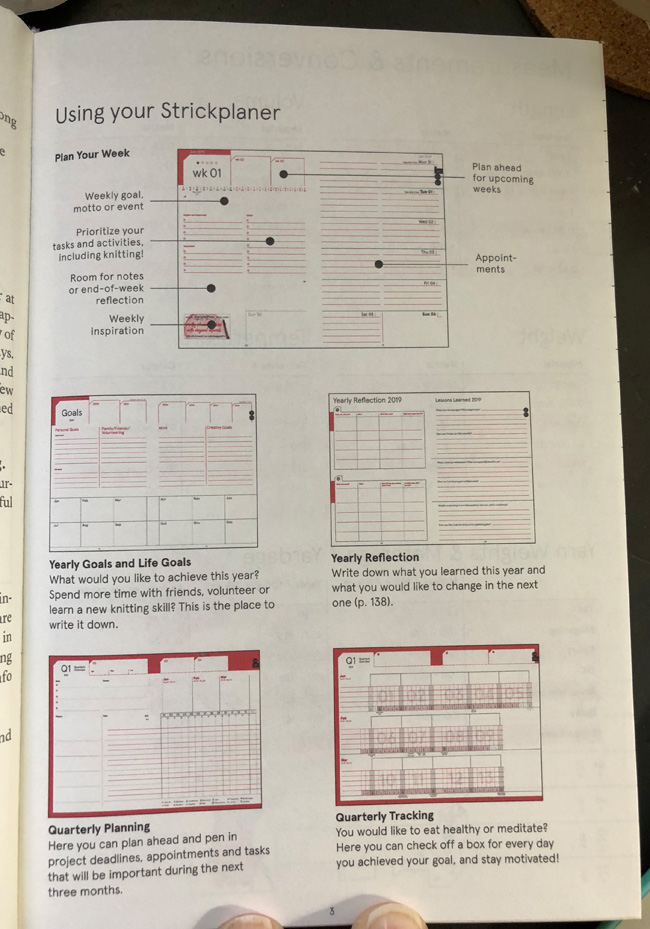 Strickplaner
by Strickmich (Martina Behm)
4.8 wide x 7.2 inches tall
€18.90 (Strickmich)
$24USD (Miss Babs)
Buy now from Strickmich in Europe | Miss Babs in the US
Ever tried to review a product that has so many features, you're not even sure where to start? That's where I am.
Do I tell you about this brilliant knitter-focused, compact, hardbound book that allows you to track and schedule your knitting projects as well as every aspect of your non-knitting life?
Do I instead discuss the functional layouts included in the Strickplaner that give you options to plan your 2019 week by week; set goals from short to long term; break down your year into quarters; handle your weeks in more detail, all with a little bullet journal flavor?
Do I bring up the little inspirational quotes on each weekly spread; the knitting project overview page (your 2019 knitting year laid out in summary) that then points to a full or half page where you can make notes on each project in more detail? Like if you knew how to set up a journal efficiently, except that Martina has done it for you?
I mean, this thing is crazy clever. It's beautifully designed with enough room to actually write in what you need to. Fountain pen people (like me): it's fountain pen friendly. No bleeding and it dries quickly. If you speak German, there's a version in your language, too.
Take a look at the photo above: it shows the main layouts and what you can use each for. There's so much to this wonderful book, I can't begin to convey it all. There's more on the Strickmich website. Go. You need to see this thing.

AS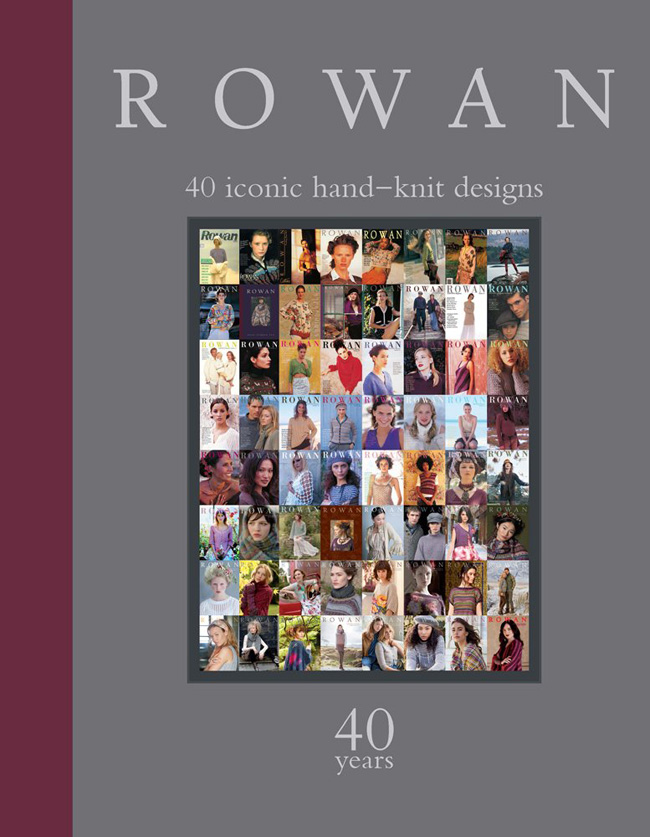 Rowan: 40 Years: 40 Iconic Hand-Knit Designs
Sixth&Spring Books
$27.95 , hardcover
SR-34-50" (many of the patterns that were not reknit only go to up to 40" finished bust)
Buy now at Amazon

This book makes me officially an old knitter. I remember most of these designs and have almost all of the books they came out of. This is a great and unique approach to this type of greatest hits book with a company with so long a history. 20 patterns (almost all sweaters) reprinted exactly as they were in the original seasonal books (with notes to watch out for discontinued yarns), and 20 patterns reknit in current yarns and reshot. I was pleasantly surprised to see that there are several sweaters knit in Rowan cottons. To answer two of your questions, yes Kate Moss is in here, and yes there are archival photos of the reknits as well as new photos.
I was surprised (not really) that my tastes in Rowan hasn't changed in all these years. My favorites from this collection are oversized texture or easy color: Fickle (hi there, young Kate Moss), Wentworth (Kaffe Fassett and Kid Silk Haze FTW), Brandon Mably's Gameboard Jacket, and Sharon Miller's Bressay Hap Shawl reknit is a riot of bright colors.

JM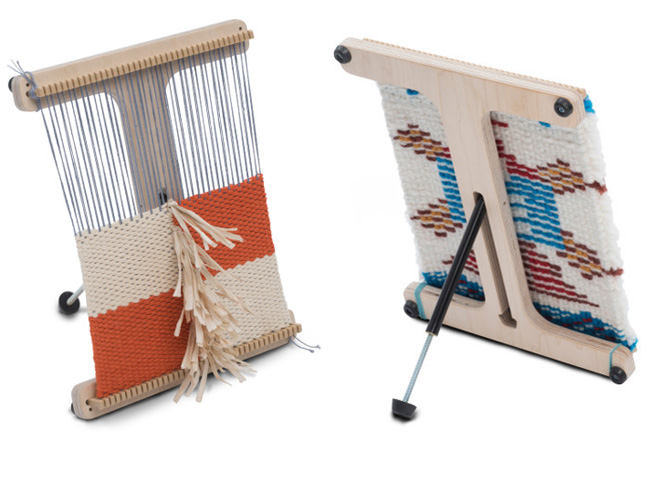 Easel Weaver
by Schacht
6", 8", 10" width
$38, $41, $45
Buy now from The Woolery

Schacht has entered the little loom market with a fun small loom. The Easel Weaver is an i-shaped wooden loom that has a kickstand on the back. It comes in three widths 6",8", and 10", and is easy to warp at 6 or 12 epi.
I received a 6" wide one to review and I couldn't wait to start playing on it. It's fantastic to weave small art pieces, jewelry or pieces of fabric that will be later joined.
I found it particularly good for sampling. I used it see how yarns would look together and to try out different techniques like knots, loop and fringe. It gave me a great spot to practice weaving with roving and wild fat handspun yarns, before committing to a bigger project.
The easel part of the loom is a kickstand on the back to prop up your loom to weave at an angle or to use to display your weaving. I used mine most frequently for the walk-by when experimenting with techniques. You know that thing when you're not sure if something works, so you leave it out for a few days and look at it every time you walk by? That. The easel was particularly good for that.
I was impressed with how substantial the Easel Weaver felt. It's sturdy enough to toss in a bag or share with a fiber loving kiddo. My 6" weaver fit easily into most of my knitting project bags. Now I can have a little on-the-go weaving along with my knitting and spinning.

JM