Feature: Cool stuff
Cool stuff
SR [Finished chest measurement for sweaters] = the smallest chest measurement to the largest chest measurement we could find in the book. There may be only one pattern with the smallest or largest size, but it's in there. Books are softcover unless noted otherwise. All prices USD unless noted. We are provided with samples to review for free, and we do not publish reviews of products that do not perform well in our testing. We are not paid to review any product.
Browse the whole list of books reviewed this issue at Bookshop which gives 10% of their profits to independent bookstores across the US, and a 10% commission to Knitty for every purchase.
If you're outside the US, we also provide links to purchase on Amazon, and they give us a commission when you purchase as well. Thank you for supporting Knitty!
Surprise reviews! (October 2021)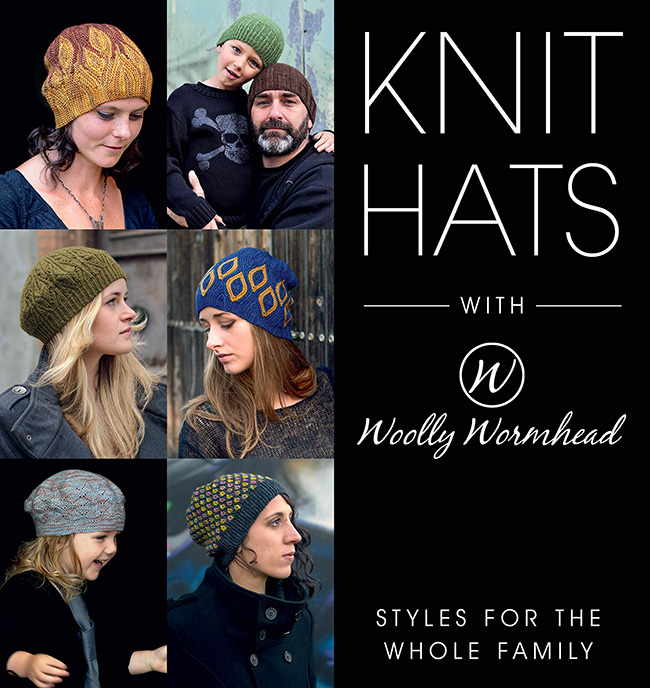 Knit Hats with Woolly Wormhead: Styles for the Whole Family
by Woolly Wormhead
Stackpole
$24.95
Buy now at Bookshop.org | Amazon

I hope, as a knitter, you know Woolly Wormhead. She is an expert at all things hat, and one of the most original designers working today. She follows her own path, rather than be guided by anything popular, and the results are superb.
This book is a greatest hits of Woolly's patterns. All have been published, but not gathered together until this book. There are 22 patterns from mellow in knit and construction (but still not suitable for a brand new knitter) to patterns that tease your brain and knitting to pay good attention. The patterns are gendered in their organization of the book, but every hat has five different sizes, and every hat will work for almost everyone who wants to wear it or knit it.
The pattern designs show the broad range of Woolly's work and creative thinking. Some are plain(ish) and knit from the bottom up, some knit side to side, and some are knit flat and seamed with intricate short rows.The patterns are easy to follow and I found when I had a question about a technique, the answer was waiting for me in the back of the book with photos to help.
The hat photography is gorgeous and clear the hats are shot at the perfect spot – far enough away to see the whole hat and how it sits on the model's head, but close enough to see the the interesting bits of construction.
Woolly knows more about hats than designing beautiful ones. There is a section in the back that answers questions about things like hats and glasses, hats and hair, what size, what shape. Important things I didn't even realize I fret about when making a hat.
Her short-row hats have the perfect balance of complexity-to-payoff that I know will have me making many. Plus I keep thinking how gorgeous they'll be in handspun yarn.

JM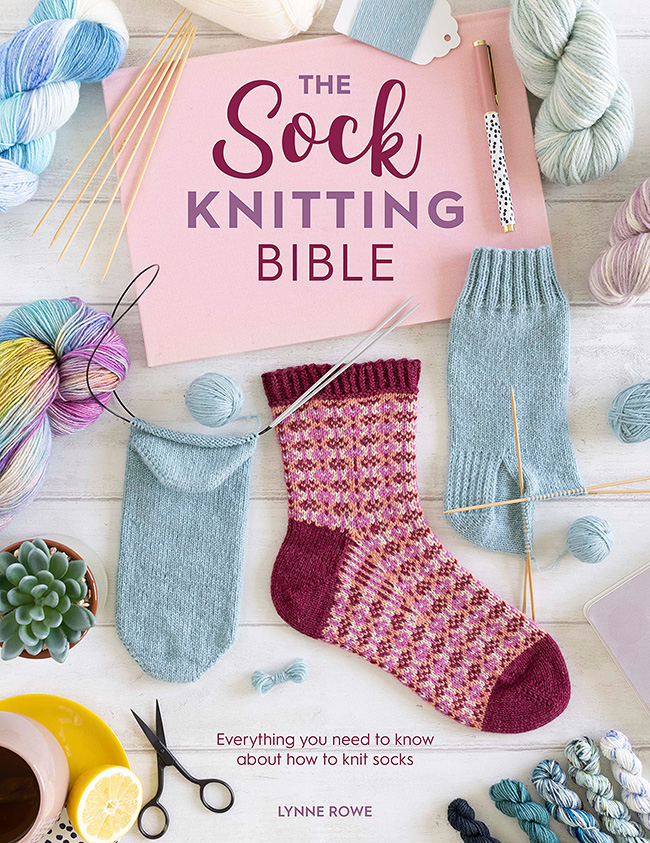 The Sock Knitting Bible: Everything you need to know about how to knit socks
by Lynn Rowe
David and Charles
$24.99
Buy now at Bookshop.org | Amazon

I tend to be skeptical of book that claims to be all the things on a knitting topic, but this book is packed with good information. The author is a designer and a tech editor, so the info digs deeper than a lot of knitting books. There are 10 patterns to knit, which leaves about 120 pages to learn so much about knitting socks.
The book has the things you might expect, like gauge, tool, and yarn information. It goes on to teach about customizing socks and getting socks to fit your feet. Especially important is instruction on measuring your feet for a good fit. There is a big chapter on Sock Elements, different cuffs (6), heels (9) and toes (5) – material not just on different types, but how they affect the look and fit of your socks.
There are three basic sock recipes: plain vanilla socks that you can customize with the sock elements, top down, toe-up and knit flat and seam (which I rarely see, but not everyone likes knitting in the round!).
Even the topics that most sock books have go into greater detail in here. In the Knitting in the Round section, there is information on five different needle types and set-ups. The author doesn't just tell you to swatch; she shows you three different ways, and discusses how each effects tension. The visuals in the book are spot on – a mixture of step-by-step photography, getting close up to see what is going on, and excellent illustrations of techniques.
This book hits for a wide variety of knitters. Brand-new knitters can work their way through the whole book, and seasoned sock knitters can certainly learn to make their socks fit their feet better.

JM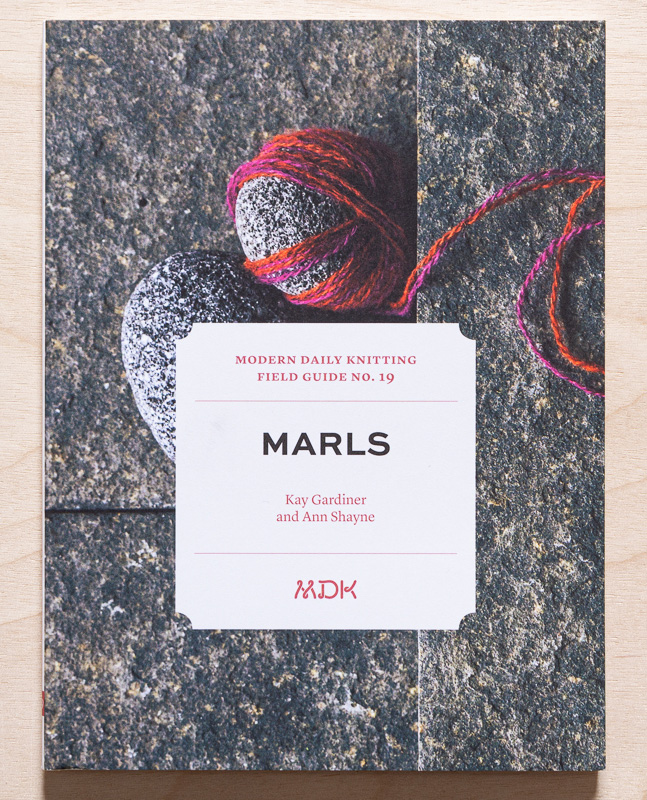 Modern Daily Knitting Field Guide No 19: Marls
by Kay Gardiner and Ann Shayne
Patterns by Cecelia Campochiaro
$9.95-$15.95

Buy now at Modern Daily Knitting
Marling is combining two or more yarns, usually for color play. Spinners do it all the time and some designers – I'm looking at you Stephen West – design incredible patterns using marls. I am an enormous marl fan; the possibilities are huge and it can take a boring yarn and elevate it to something fantastic and fun. Cecelia Campochiaro wrote an amazing book about knitting marls, Making Marls, which is an encyclopedia of marling. While I love that book, that much detail and depth is not everyone's cup of tea, or you may not be sure if it's your cup of tea.
Cue the ingenious women at Modern Daily Knitting. Their latest Field Guide, No 19, is Marls with Cecelia Campochiaro. It is a marling appetizer, just enough for you to figure out if you want to dive deeply into marls or if you are happy exploring the concept through the five patterns in the Field Guide.
The patterns are Striped Marled hat, Marlogram scarf/cowl, Spectra sweater, Swarf (an updated cool dickie), and Color Explosion Throw. You have a choice to dip a toe in with the hat, combine Sequence knitting with marling with the scarf/cowl, or dig in deeper with marling and construction with the throw and sweater. Along the way you will learn about Cecelia's ingenious concept of micro-swatching to sample color combinations. Whichever path you take, you can't go wrong with this way to knit joyously with color.

JM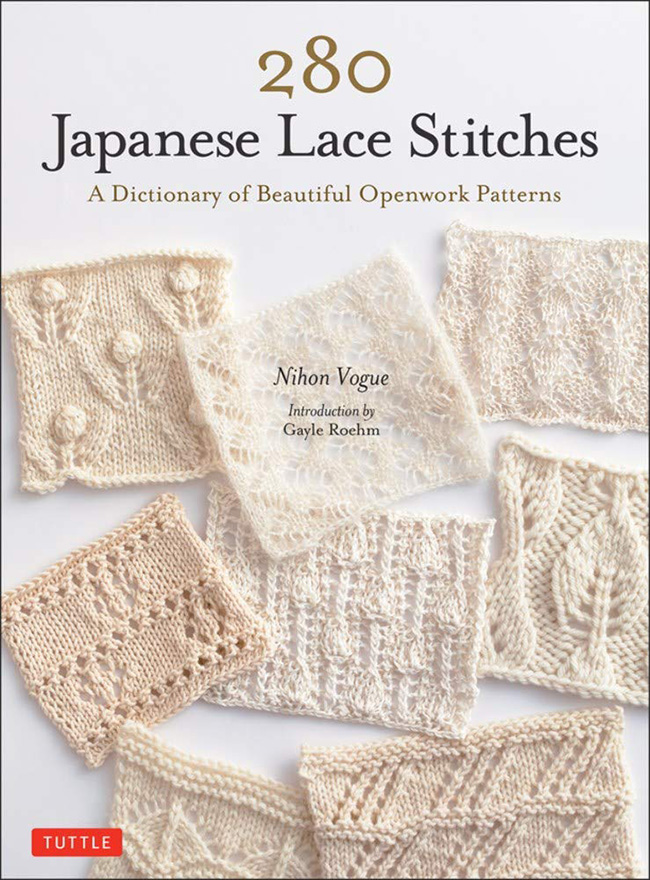 280 Japanese Lace Stitches: A Dictionary of Beautiful Openwork Patterns
by Nihon Vogue
Translated by Gayle Roehm
Tuttle Publishing
$19.99
Buy now at Bookshop.org | Amazon

My very favorite stitch pattern book is 300 Lace Stitches from Nihon Vogue. My copy is held together with rubber bands. I think it's out of print now, and I was hoping that this book would be a reprint/translation. It's not, but it's better. There are some stitch patterns from 300 Lace Stitches, and some new ones. Like 300 Lace Stitches, these patterns are all charts. There is better photography and explanation on how to use the patterns and how to do the stiches. There are even 11 accessory patterns that use the patterns from the book. If you are interested in using these stitch patterns in your own designs, studying the charts for the accessory designs is a great place to start.

The explanation of how to read and use the stitch charts is detailed and excellent. Be sure to read the introduction, especially the part about edge adjustments, before you use the stitch charts in a design. This book even has something I want in every stitch pattern book published, something simple, but almost no one does it – a table of stitch patterns by number of repeats.

JM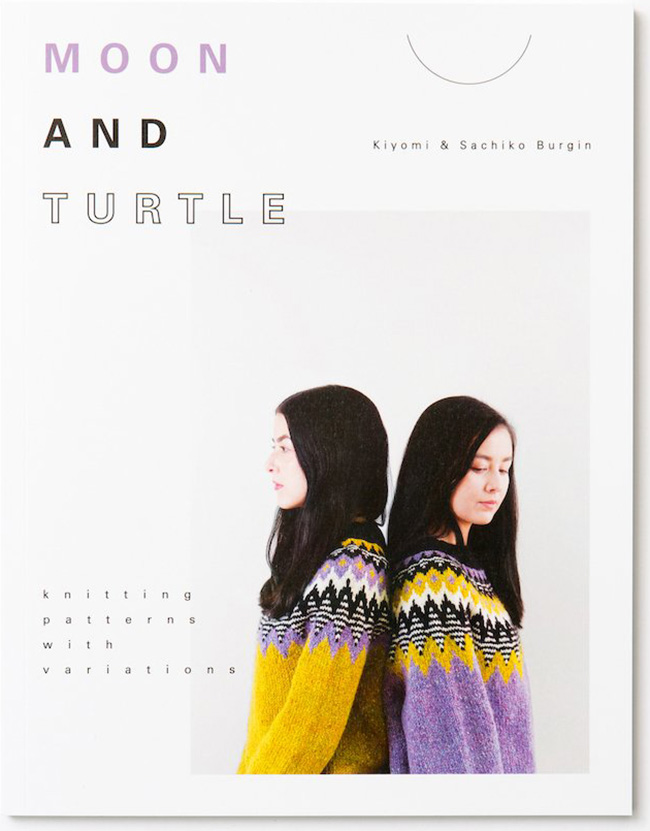 Moon and Turtle: Knitting Patterns with Variations
by Kiyomi and Sachiko Burgin
PomPom Press
£21.50: print + digital
£18.50: digital only
SR= 33-62"
Buy now at PomPom

I can't get enough of this book. Given infinite time and yarn I would make all of the patterns in here in different variations. There are nine gender neutral designs, four garments (that go up to 62" in the chest) and five accessories. Each garment has two body and sleeve length options, as well as color variations, and even a pullover-to-cardigan variation. The accessories have length and color options, and the Triyonix shawl gets a chart for adjusting the wingspan in two different yarns.
The style of the patterns is simultaneously modern and timeless. The shapes are easy to wear, and the colors and colorwork are grounded in saturated neutrals with bright accents, except for the stunning Kordy pullover (the cover sweater) which is deliciously bright. The Ginsan cardigan has me rethinking pocket construction, and wondering what yarn I have in my stash that will work for it right now. I never wanted a striped short-sleeved wool sweater until I saw Kinsan, and now I'm pretty sure I need one.
The designers are twin sisters and the all of the writing in the book, the pattern descriptions, introduction, and the biography that they wrote for each other, feels like a wonderful, inspired conversation.
This is the rare knitting book that is creative, unique, and has interesting and beautiful things to knit for a wide variety of people.

JM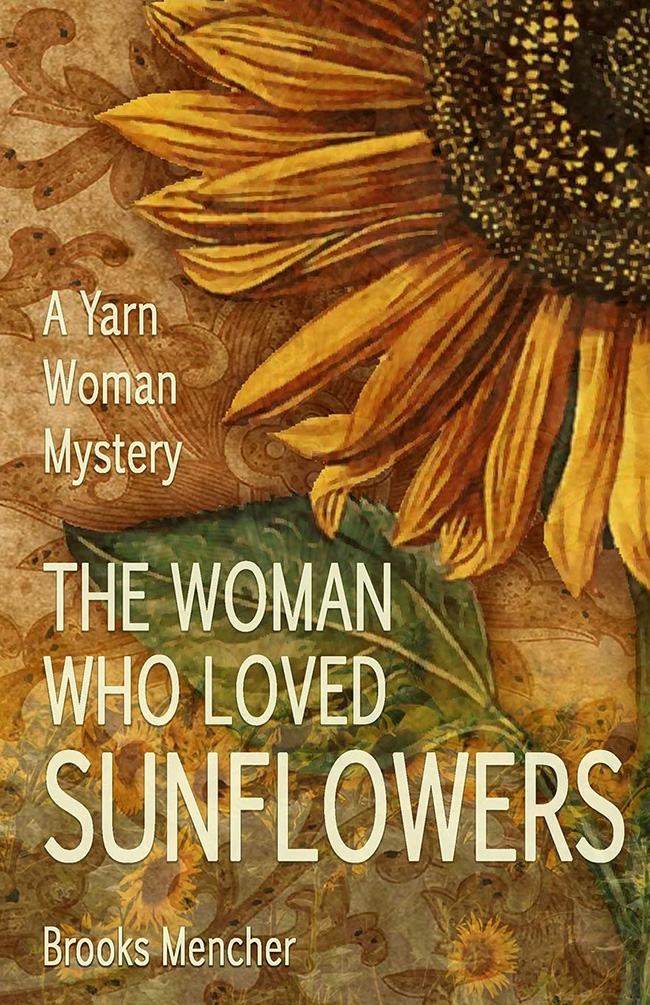 The Woman Who Loved Sunflowers: A Yarn Woman Mystery
by Brooks Mencher
Early Morning Press
$15.99
Buy now at Bookshop.org | Amazon

I have read the Yarn Woman mysteries from the beginning, and they only get better. This mystery revolves around a missing woman who is a mystery herself. Because every Yarn Woman mystery is built on layers, this one includes government conspiracy, and immigrants in California. It is hard to say more without giving things away.
This book has the least amount of textile discussion in the series so far, though what there is, revolving around linen, canvas, and tapestry, is very interesting.
I really enjoy that these books are never wrapped up in a neat bow. The main mystery is always solved but there are always questions left unanswered. The twists and turns of the mysteries and the writing step up with every new adventure.
I came for the textiles, but stayed for the mystery.

JM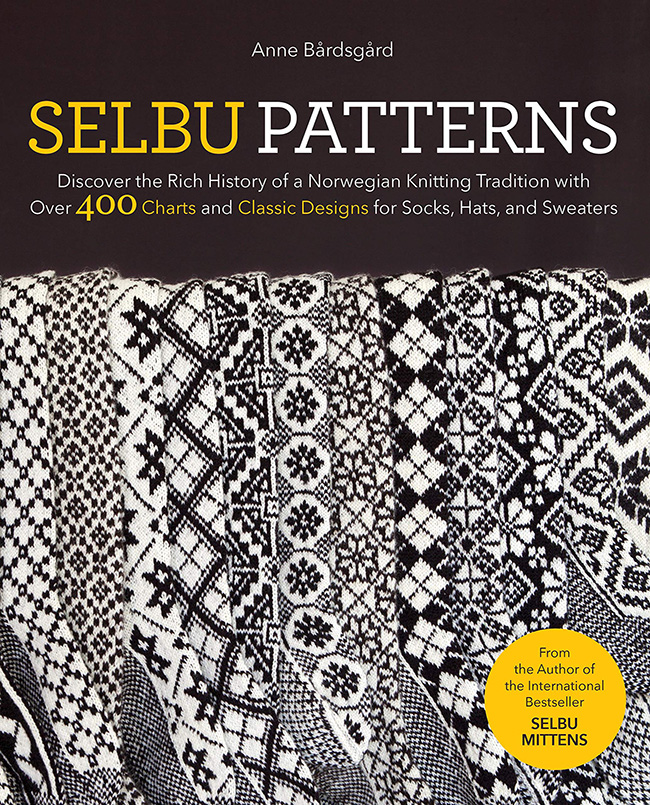 Selbu Patterns: Discover the Rich History of a Norwegian Knitting Tradition with Over 400 Charts and Classic Designs for Socks, Hats, and Sweaters
by Anne Bårdsgård
Trafalgar Square Books
$39.95, hardcover
Buy now at Bookshop.org | Amazon

I doubt anyone know the depth and bredth of Selbu knitting better than artist, designer and scholar, Anne Bårdsgård. Selbu Patterns is an amazing follow-up to her best-seller Selbu Mittens – there is no sophomore slump here.
This book focuses on Selbu socks, hat , and sweaters. It seems to be mostly sweaters, but it could be that I am most excited about them. There are skeleton patterns for a hat, socks, and two sweaters, where you can plug in the motif of your choice. These are not for the faint of heart or a beginning knitter. However, you can plug many of the motifs in the book into patterns that you already know. Did I say motifs? 450 at least. They are big enough to see, but most would need an enlargement to knit easily from.
The history is what I love about this book. Anne has done exhaustive research, talked to knitters, examined vintage and modern knits, and combed through masses of paper patterns, and knitters' notes. For example, the historic photos of happy people in their knits, maybe socks or a whole group of skiers each in a sweater with a unique design: most authors would just use the photos, which are amazing in their own right. But Anne goes further, and for most photos she has identified the main motif in and shows it in a chart on the facing page.
There is great information on the wool used in Selbu knitting, a discussion of the breeds of sheep. For knitter that want to add more color to the traditionally high-contrast Selbu patterns, Anne will teach you about that too.
This is a wonderfully exhaustive book. It definitely has a spot beside my knitting chair, so I can keep learning and trying motifs.
JM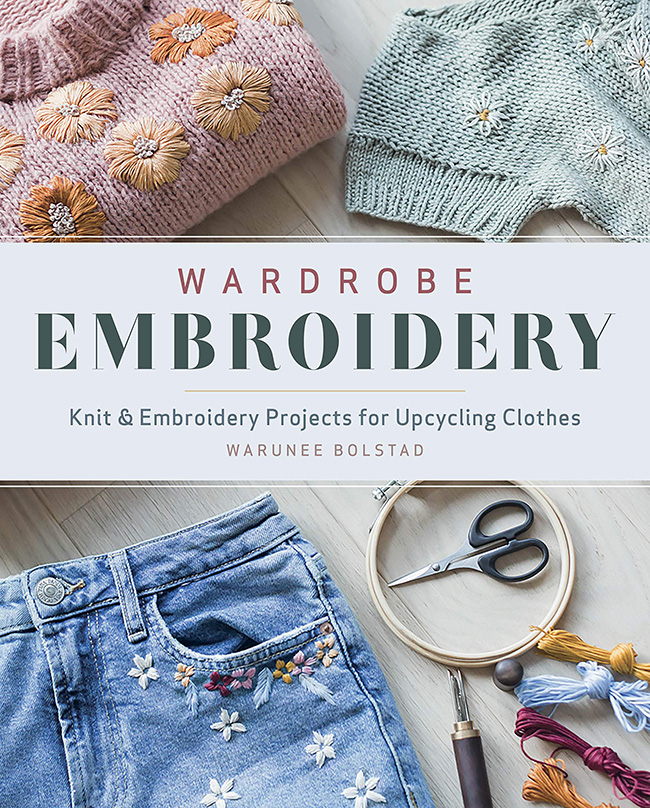 Wardrobe Embroidery: Knit & Embroidery Projects for Upcycling Clothes
by Warunee Bolstad
Zakka Workshop
$24.99
SR= 38-49"
Buy now at Bookshop.org | Amazon

This is one of the few embroidery books for clothing that includes both woven and knitted fabric, and it is a delight. There is a simplicity and a joy to these 18 projects. Some embroidery books for clothing are heavy handed in the precision or quantity of the embroidery. Warunee takes a light and joyful approach, a flowers bouquet or garland, or tiny hearts sprinkled around. All of the designs could be mixed and matched or broken apart. I am so happy to report that the embroidery templates in the back of the book are full size, making it easier to do your own thing.
The embroidery on fabric is done on clothing and accessories that are purchased or found in your closet. There are bags, jeans, shirts and dresses, The embroidery for knitting includes a knitting pattern: three pullovers, two cardigans, a jacket, a headband, and a neck warmer. The shapes and designs are simple, but become something quite special with added embroidery.
The book begins with the necessary information to get you started, lists of materials, and techniques. The information about transferring patterns is particularly good, and the instruction for embroidery stitches is excellent with close-up photos.
The book ends with a gallery showing ideas of more and different projects to inspire you.
JM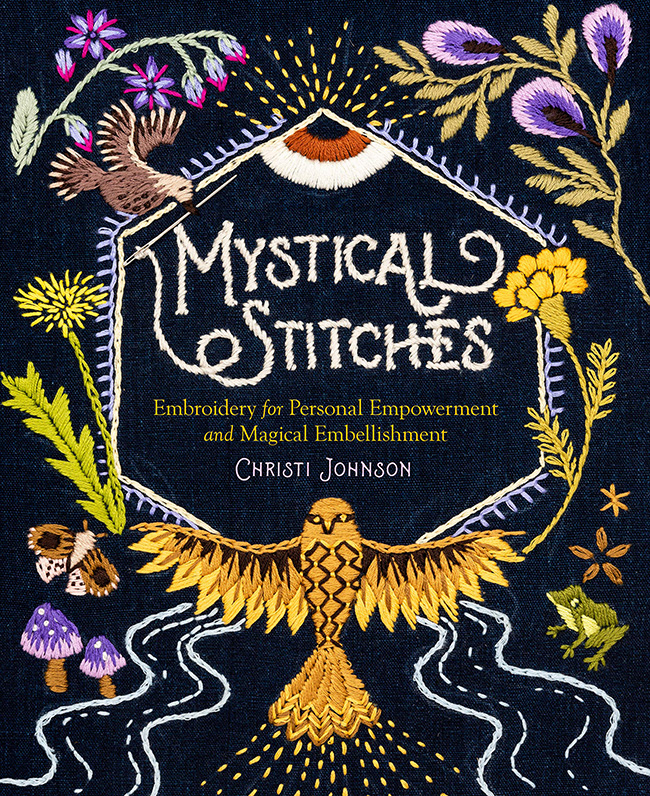 Mystical Stitches: Embroidery for Personal Empowerment and Magical Embellishment
by Christi Johnson
Storey Publishing
$24.95, hardcover
Buy now at Bookshop.org | Amazon

If you like your stitching with a side of symbolism and the magic of the divine (whatever that is to you), take a peek at Mystical Embroidery.
Of course, this book teaches you the basics of embroidery, threads, tools, and stitches. It shows you how to best use a hoop and how to transfer patterns. The chapter on Stitch Methods is very clear and shows how to do basic embroidery stitches with big (even giant) illustrations.
What sets this book apart for me is the intention and the unique designs. Christi Johnson is clear that stitching is part of her personal spiritual practice and she does so in a way that is gentle and genuine. With this book she offers you any path you'd like to take: stitching as magic, stitching as meditation, or to skip the mystical and just stitch cool designs. I'm in the stitching as meditation group.
My favorite chapter is the one on symbols. Each symbol is shown, stitched, and described individually, and there are projects that combine symbols. If you want to design your own grouping, there are chapters showing how to create your own talisman and your own rituals around stitching.
This book works for new and experienced stitchers, and I recommend it highly for anyone wanting to bring intention to their stitching practice.
JM