Letters From The Editors
The scoop from the editors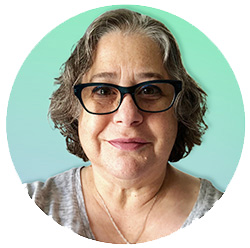 photo:
Amy
I lied.
In my last editorial, I promised both you and me that I'd finish the Tigerwheet tank I've been trying to knit since casting on a year ago. I lied.
It wasn't intentional. I did pick it up a month ago. And when I did, I read my haphazard, contradictory notes written by my recently diagnosed ADHD-impaired brain. And I had no idea what to do next. So, as is my habit, I turned to Twitter, and told everyone I was lost and had no idea how to continue.
Turns out, there are a lot of us who do this (ADHD or not). We write notes that make sense as we're working on a project, but are complete gibberish when we look back at them some time in the future. They are not helpful. Maybe we were fooling ourselves...just writing down something felt like an accomplishment, but if it's not a useful note, what were we really doing?
I take two things from this.
If writing a simple note showing what changes we made to a pattern is so hard for so many of us, think about the skill and dedication it takes to write a pattern clearly enough so that others can follow it. Take a moment and appreciate, please, the designers who create the patterns we love and use thanks to the hard work of the designer and tech editors who made it easy for us. There would be no Knitty (or any patterns) without them.
Beating myself up for doing something I've been doing for decades isn't helping anyone, especially me. If I stop and go back to the original pattern, I have live stitches to count and I can figure it out. And maybe next time, I'll take better notes.
As Jillian writes in her editorial below, things continue to be a combination of normal-life-hard and pandemic-life-hard and that's not going to change for the forseeable future. So cutting ourselves some slack is essential. The beforetimes rules can't apply any more. Now we need to make self care a priority at the same time as we try to function and keep on keeping on. I think we can get there. Let's keep trying.
---
This issue is full of the creativity of the kind of people I mention in bullet point 1 above. We've got all sorts of things for you to knit with ease (although some will require more concentration than others, like the new Spot On gloves by Jeny Staiman!). Kate teaches us how to cast on provisionally, 3.5 ways. And Jillian continues her really inspiring process tutorial on how to spin the yarn so she can knit herself a Que Sera sweater in her Knittyspin column.
---
Keep Knitty alive: Our Patrons carry the bulk of the weight of supporting Knitty, keeping it free for everyone. They fund our operating costs, and every single dollar they contribute helps. We'd love you to join them, and we need your help! If you like rewards, you can get them starting at the $5 per issue level on Patreon! If you just want to support Knitty with no frills, this page lays out all the options.
We are also grateful for the Advertisers who choose to place their messages on our pages. They're all small businesses just like Knitty is, and welcome you to visit their shops. If you can, please support them when you need to make a purchase. To learn more about advertising with Knitty, pop over to our Rate Card.
---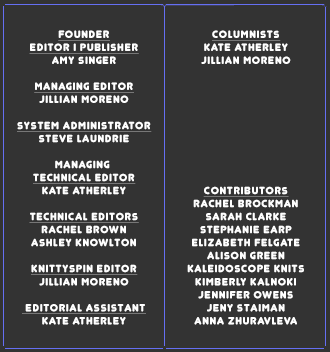 Here's how you can keep in touch with us:
Twitter |Instagram | Facebook | Patreon


Amy Singer
[editor, Knitty]


photo:
Jillian
Please Yourself
I recently wrote an essay for PLY Magazine about consistency. I talk about how so many spinners equate it with perfection, which I think is so, so wrong. I find it's actually harmful to your spinning, not to mention your stress level. It hit a nerve with people, especially those who stress about getting it all exactly right.
Any spinning you do should have an aspect that makes you happy. Spinning should be done to please yourself. Sometimes new things can be tricky and even irritating, but when I get frustrated, I remember that I'm learning the new thing to make a yarn that will make me happy. I also enjoy everything else I learn along the way.
Since it seems the world is going to keep being hard and stressful on top of regular life, it's even more important to find a spot – your spot – where you can step out and away from all of that. Peacefully.
My Knittyspin column this issue continues my series about spinning for a project. This time it's about moving from default yarn to a specific project yarn. My default yarn has my heart, but I also get satisfaction in matching a yarn for a project.
Another thing that pleases me in my spinning is to work with a range of numbers rather than one absolute number when I'm making yarn for a project. A single number stresses me out. As soon as I figured out that I could hit a knitting gauge with a wpi that spanned two or three numbers, I never looked back.
Over the next few months, I urge you to find out what things you really like about spinning, and spend time spinning exactly there.

Jillian Moreno
[editor, Knittyspin]