Watermelon Snow, a free knitting pattern from Knitty.com.
INTRODUCTION
Watermelon Snow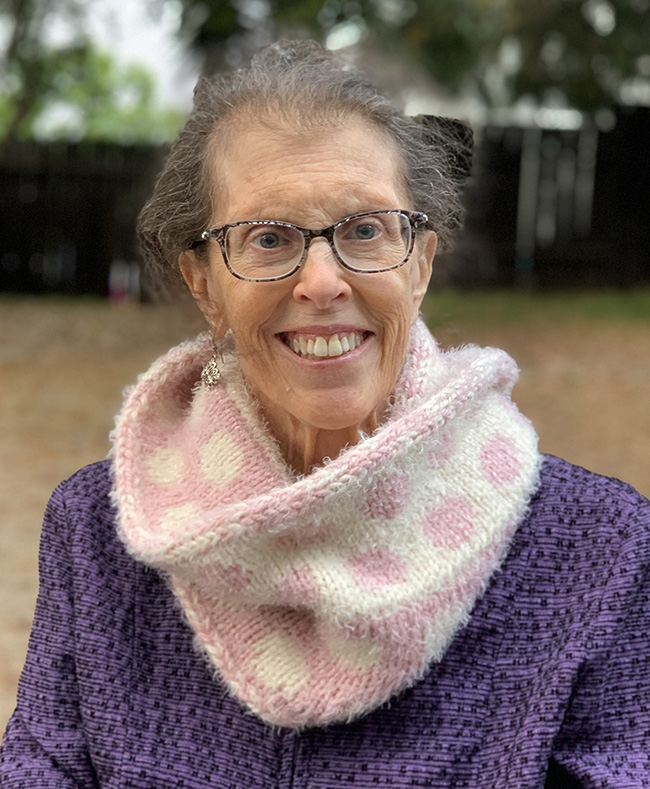 by Kimberly Kalnoki

This cozy pink and white cowl is fun to knit and fun to wear. The name Watermelon Snow refers to the naturally-occurring phenomenon of pink snow that is caused by cryophilic algae.
Cat Bordhi's Moebius Knitting class was one of the first online courses that I took when I returned to knitting after more than a decade hiatus. The moebius has been my favorite construction for cowls ever since, and I greatly admire Ms. Bordhi for having devised such an ingenious cast-on, in addition to her many other contributions to the knitting community.
This cowl was designed to make the best possible use of the moebius shape by employing double knitting to create a perfectly reversible fabric. The pattern begins with the moebius cast-on, after which the double knitting is immediately established and each round is worked outwards from the cast-on stitches in both directions.
The cheerful polka dot design is staggered across the central cast-on line by working an odd number of pattern repeats in each round (which, in moebius knitting, is twice the cowl's circumference). Working the colorwork design as two-color double knitting removes the issues with floats that would occur if the motif were worked as stranded colorwork, in addition to producing an extra thick and cushy fabric that is perfect for keeping warm in cold weather.
The cowl's i-cord bind-off is likewise reversible, so the end result of the pattern is an accessory that is equally attractive from all angles, and is sure to confound and beguile knitters who are uninitiated in the ways of moebius knitting.

model: Kathi Kalnoki

photos: Amy Kalnoki, Andrew Kalnoki
FINISHED MEASUREMENTS
Circumference: 25 inches/64 cm
Length: 8 inches/21 cm
MATERIALS
Yarn
Red Heart Hygge Yarn [70% acrylic, 30% nylon; 212 yd/194 m per 227g skein];


[MC] Powder; 1 skein


[CC] Pearl; 1 skein

Yarn Characteristics:
The sample shown uses a bulky-weight yarn that consists of an acrylic base plied together with a nylon fur pile. The yarn is soft, drapes well, and is cozy.

Recommended needle size
[always use a needle size that gives you the gauge listed below - every knitter's gauge is unique]


1 US #9/5.5 mm circular needle, 40-inch/100-cm or longer


1 US #13/9 mm needle for bind-off

Notions


stitch marker(s)


tapestry needle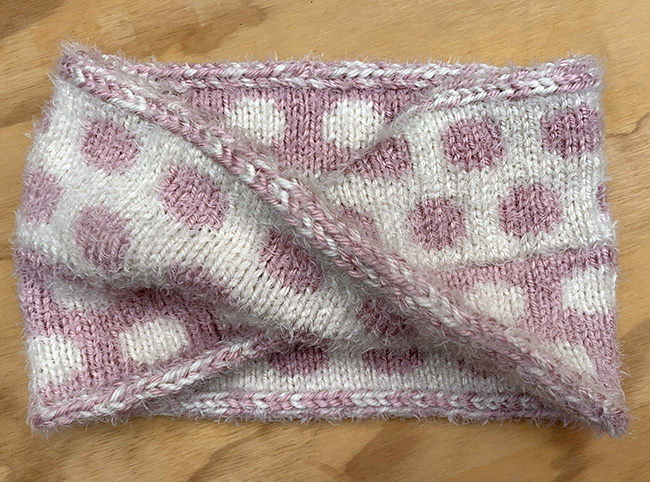 GAUGE
13 sts/15 rows = 4 inches/10 cm in St st with a US #10.5/6.5 mm needle
Approx 16 sts/20 rnds = 4 inches/10 cm in pattern stitch
PATTERN NOTES
[Knitty's list of standard abbreviations and techniques can be found here.]
Try to avoid twisting the MC and CC strands together while working the CO; rather, maintain a neat path for each color as when working stranded colorwork.
Once the double knitting sts have been established by working the set-up rounds, the rest of the cowl can be worked one of two ways:
You can work with both colors at the same time, as described in the chart key. Each box of the chart represents the knit st from the layer of sts that faces the knitter while working, and the purl st from the layer that faces away from the knitter while working. Holding both MC and CC yarns as you would for stranded colorwork, knit and purl each pair of sts as indicated by the charted colorwork motif. Both yarns should be moved for each stitch, so that the unused yarn is carried between the layers of sts. Keep both yarns in back when knitting, and bring both yarns to the front when purling.
As an alternative, you can work each round in two passes, using only one color at a time, as you did for the set-up rounds. With this method, work the first pass with MC only, working the MC sts as charted and slipping the CC sts; then work a second pass, working the CC sts as charted and slipping the MC sts. Always slip unworked purl sts wyif and slip unworked knit sts wyib, so that the yarn is always held to the interior between the two layers of sts.
If desired, the circumference of the cowl may be modified by increasing or decreasing the st count for each round by a multiple of 16 sts (by casting on a multiple of 8 sts). The height of the cowl may be modified by working more or fewer rnds of the patt as desired.
More advanced knitters may wish to substitute an alternate colorwork pattern, or work two different colorwork patts on each layer of the double knitting, so that the motifs visible across the central cast-on will be different.
Cat Bordhi's Moebius Cast-on: 
video tutorial | Craftsy class
Grafting: photo tutorial | video tutorial
Polka Dot Pattern
Each box on the chart below represents a stitch in both layers of the double knitting; work each box as indicated in the key. See pattern notes for further details.
CHARTS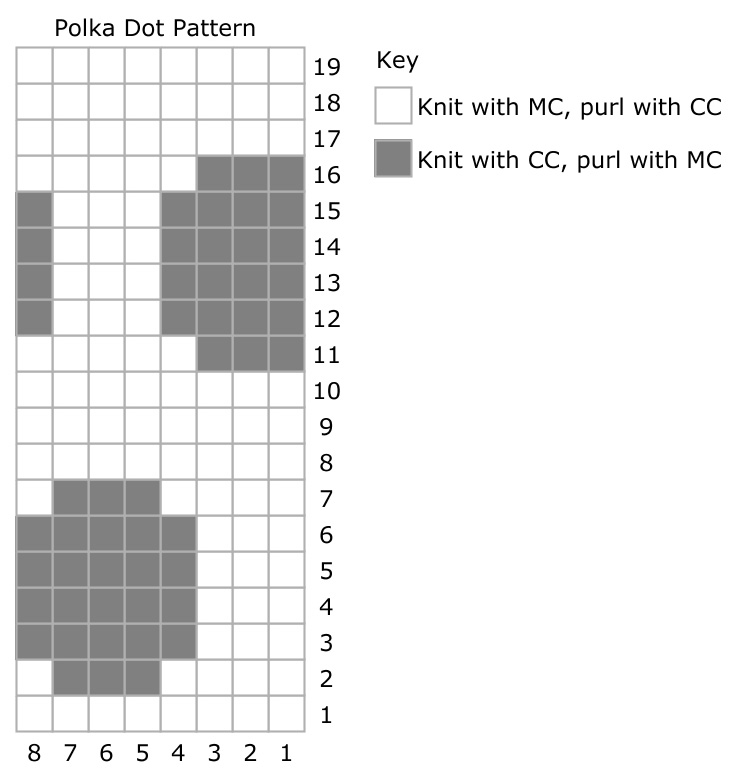 DIRECTIONS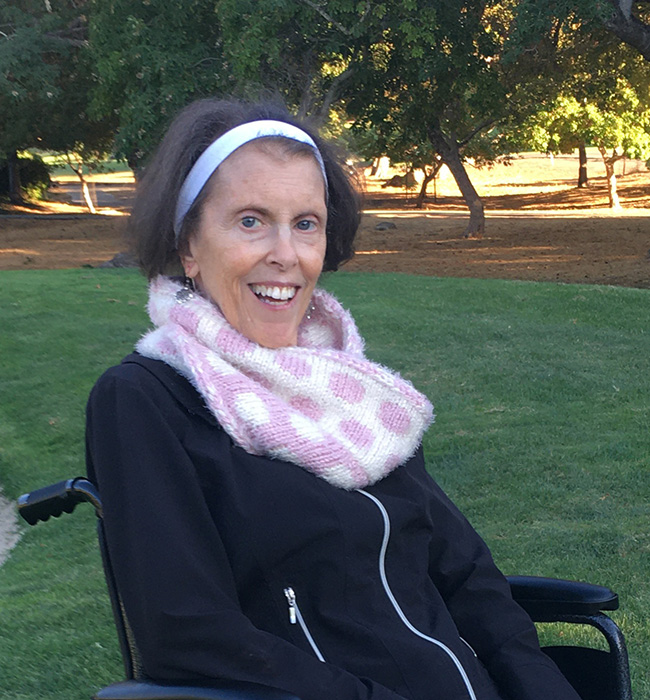 Using Cat Bordhi's moebius cast-on method, CO 100 sts (200 sts per round) with MC and CC held tog. Ensure that the needles are oriented with the proper amount of twist, place marker, and join for working in the round.
Set-up Round A: With MC, k all of the MC CO sts and sl the CC sts purlwise wyif.
Set-up Round B: With CC, p all of the CC CO sts and sl the MC sts purlwise wyib.
Next round: Work Polka Dot Chart 25 times around.
Work as set until Chart is complete.
Bind-off
Switch to larger needle.
With MC and CC held tog throughout, work a 3-st i-cord BO as follows: CO 3 sts. *K2, then join the i-cord and both layers of double-knitting sts tog by working a k3tog tbl. Return these 3 sts back to left needle without twisting; rep from * until all sts have been bound off and only 3 sts of i-cord remain.
Cut both yarns, leaving a 12-inch/30-cm tail.
FINISHING
Graft the final 3 i-cord sts to the 3 CO sts for a smooth join. Weave in all ends. Wash cowl and lay flat to dry.
ABOUT THE DESIGNER
Kimberly learned to knit from a book as a teenager, then took a hiatus from knitting for about a decade, before returning to it with a passion in her late 20s. As a longtime vegan, she doesn't knit with any animal fibers, which motivated her to learn all that she could about yarn substitutions and eventually begin designing her own patterns.

Find her on Ravelry.

Pattern & images © 2021 Kimberly Kalnoki