Knittyspin, a column on spinning for knitting by Jillian Moreno
SR [Finished chest measurement for sweaters] = the smallest chest measurement to the largest chest measurement we could find in the book. There may be only one pattern with the smallest or largest size, but it's in there. Books are softcover unless noted otherwise. All prices USD unless noted. We are provided with samples to review for free, and we do not publish reviews of products that do not perform well in our testing. We are not paid to review any product.
Browse the whole list of books reviewed this issue at Bookshop which gives 10% of their profits to independent bookstores across the US, and a 10% commission to Knitty for every purchase.
We also provide links to purchase on Amazon, and they give us a commission when you purchase as well. Thank you for supporting Knitty!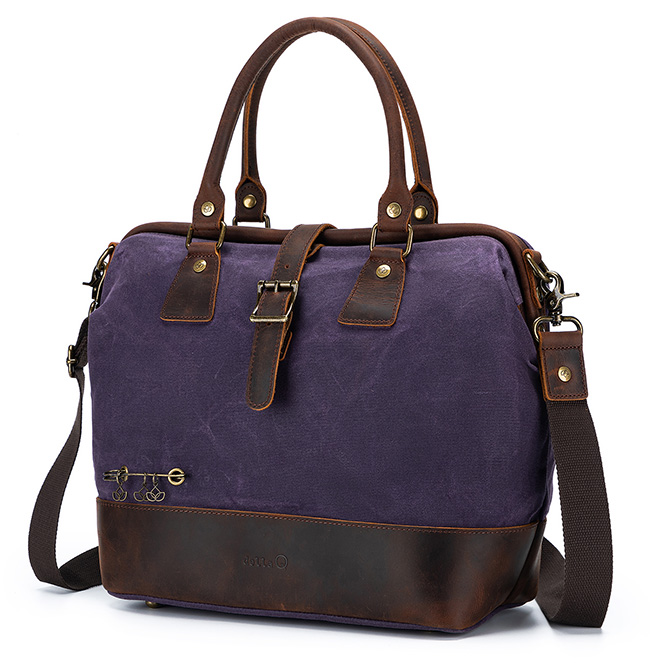 The Maker's Satchel, Knitty Anniversary Edition
by della Q (in collaboration with Knitty's editor, Amy)
Size: 13" long, 7.5" deep, 10" tall (closed), 7.5" handle drop, 29-54" shoulder strap (detachable)
Materials: purple waxed canvas, mahogany leather trim, cotton webbing strap with leather details
Bag: $150
Cubbies (set of 2): $28
Limited quantity available to ship now; pre-orders will open when they sell out

Buy now at Jimmy Beans Wool

Our Cool Stuff page is where we write honest reviews about stuff we think is great, like books and bags and cool fiber-related stuff. We're not paid to review anything, and if we get something to review that we don't like, we don't write about it.
Well, this is our 20th Anniversary issue, and we hope you'll permit this indulgence, because this bag...I helped design it. So clearly I'm not objective about it in the least. When it came time to find a bag to celebrate this huge milestone, I wanted to work with someone new. For a few years now, I dreamed of a waxed cavas bag with leather details in the style of a plumber's satchel. And it had to be richly colored. When it comes to great waxed canvas bags for crafters like us, I knew who to ask...we've reviewed several bags from della Q (a Jimmy Beans Wool brand) already on these pages, and we've loved them. It's also their 20th Anniversary this year...and so Laura (the head honcho) was up for it right away! I got to work with Shannon, the goddess of all things bag at JBW. We swapped inspiration images, talked about what did and didn't make a great bag for knitters, crocheters and spinners, and worked through several prototypes till we got just what we wanted.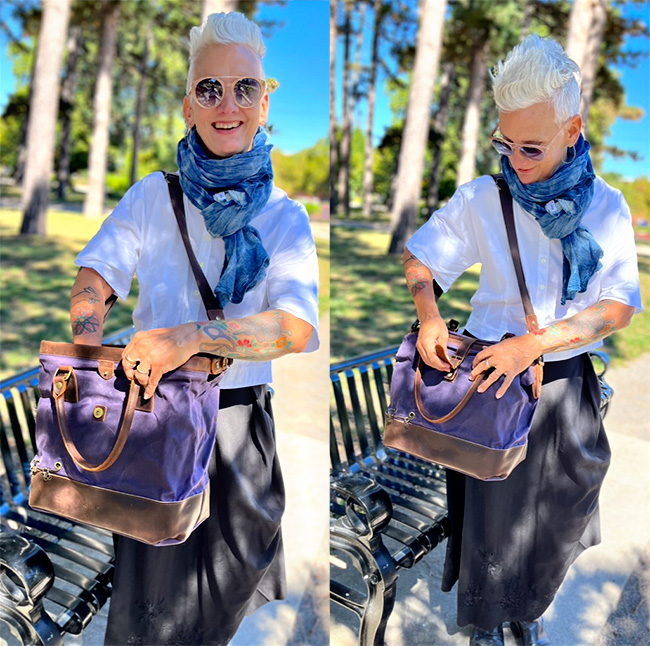 I have the honor of introducing the Maker's Satchel, brand-new at JBW. It comes in a variety of colors, but the special Knitty Anniversary edition is a rich grape purple with mahogany leather accents and trim. It's a generously sized bag with a leather-trimmed top that opens wide-wide-wide so you can see every inch of what's inside. The photos above show it on my friend Claudia who's about 5' 8" tall. The color above looks paler than it is...all the other photos are color accurate. It's a very deep grape color.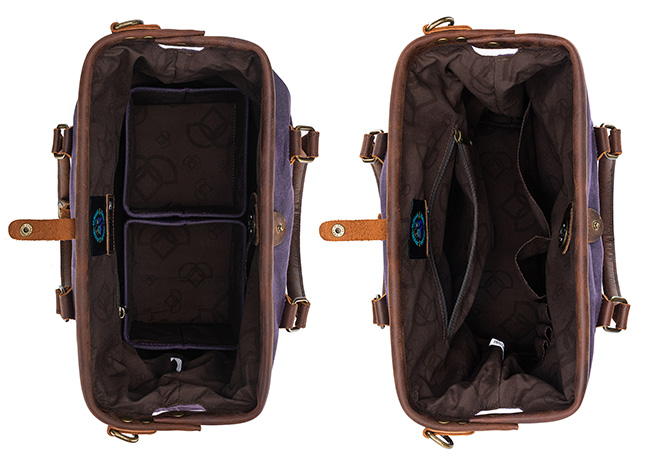 You can see the inside of the bag above. It's got a whole wall of pockets on one side (big enough for phone, wallet, and tools or pens) and a big zippered pocket on the other side. In a stroke of genius, Shannon came up with the optional cubbies: the little square rigid-sided cubes that give extra shape to the bag, if you want that, and allow you to compartmentalize whatever you put inside (shown above and below left). The cubbies can be collapsed flat so you can use them when you need to, and store them in the bottom of the bag without taking up almost any room if you need the big open space. They're made with the same waxed canvas as the main bag on the outside, and have the same deep brown della Q logo fabric lining.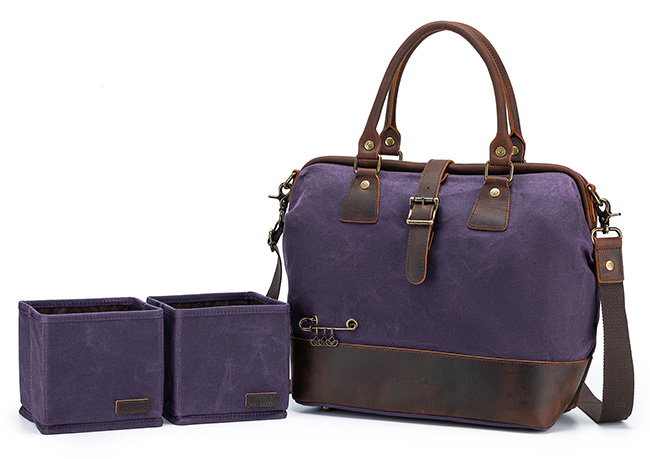 And my favorite touch: every Knitty Anniversary Edition of the Maker's Satchel comes with our 20th Anniversary Logo label sewn inside.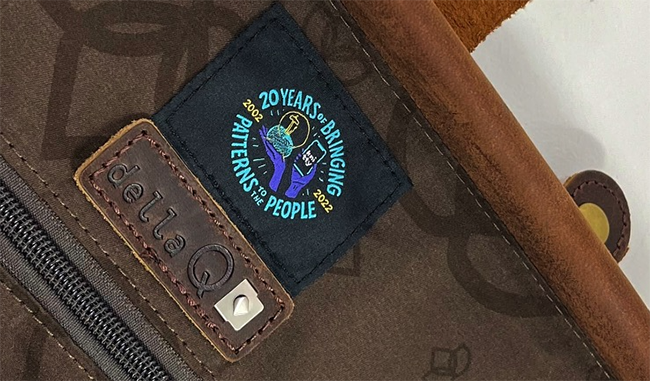 This bag is big but not oversized. I think of it as a daily carry, suitable for sweater parts and the yarn that goes with, as well as the usual necessaries of daily life (phone, wallet, keys, and all that). It holds my 10" iPad easily even when the cubbies are in place, with room on either side (so a small laptop or larger iPad would also fit). It would hold an EEW Nano wheel in one of the cubbies and lots of fiber in the other. I can't think of many projects that wouldn't fit in this bag. Maybe a nearly finished queen-sized afghan? A big bulky sweater already sewn together? Check the measurements above to see if it works for the kind of things you take around with you.
When the final sample arrived, I was pretty excited. I showed it to Claudia who is a knitter and sewist and she was instantly enamored. She thought it was "aesthetically on point with a cool retro feel and super functional. I thought I had enough bags, but I'm buying this one because it's perfect."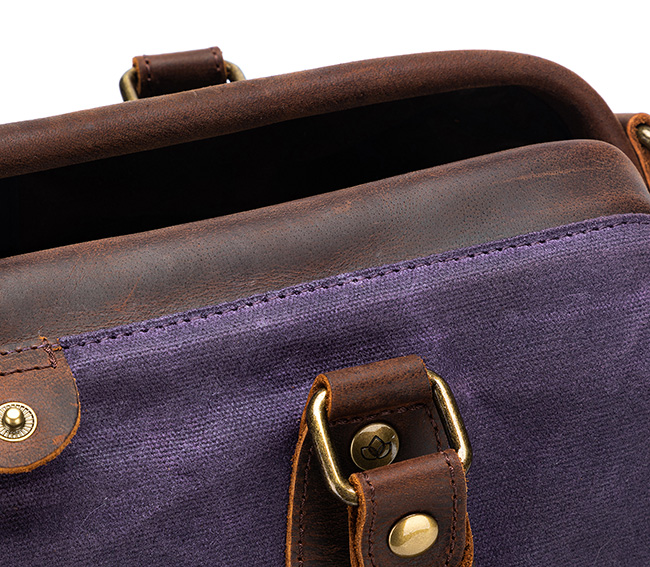 The picture above shows the leather and waxed canvas up close. The fabric is solid and rich, and the leather is smooth and lovely. There are two closures on this bag: the little snap that you see above has a matching small strap on the other side to keep the bag from easing open when stuffed full. The snap and strap also give you something to pull on to open the bag wide without fuss. Then there's the decorative strap that looks like it buckles, but is actually hiding a magnet closure. It's nice to have options.
So that's what I've been doing on my summer not-vacation. Helping design a bag that we think is so great, it's now part of della Q's Maker's Canvas line. Grab your bag now; limited quantity is available. Once they're gone, you'll be able to pre-order the bag and the optional cubbies for delivery in December 2022.
Full disclosure: I worked with JBW to design this bag and they did all the prototyping and will be selling the bags directly. Knitty was part of the creative process, but we didn't lay out any funds and we won't be profiting from the sale of the bag. This is how I like to work when we do special editions of products: we don't want any commission; we just want to help create something great. I'm honored to have helped design this bag, and I hope it's a great success for della Q. As a knitter and new crocheter, I'm excited to be able to use this bag in my daily life and I really hope you like it, too.
Wanna win one of these beauties? It's simple. Join our mailing list here, and then sign up for Jimmy Beans Wool's list here. Once you've done that, head over to the entry form, and we'll give one of the Knitty Anniversary edition della Q Maker's Satchels in purple (with a set of the optional cubbies) to a lucky reader! Good luck!

Editor's Note: Congratulations to our lucky winner, chosen at random from all entries that were signed up to both mailing lists –  Lorysa C from Ontario!

AS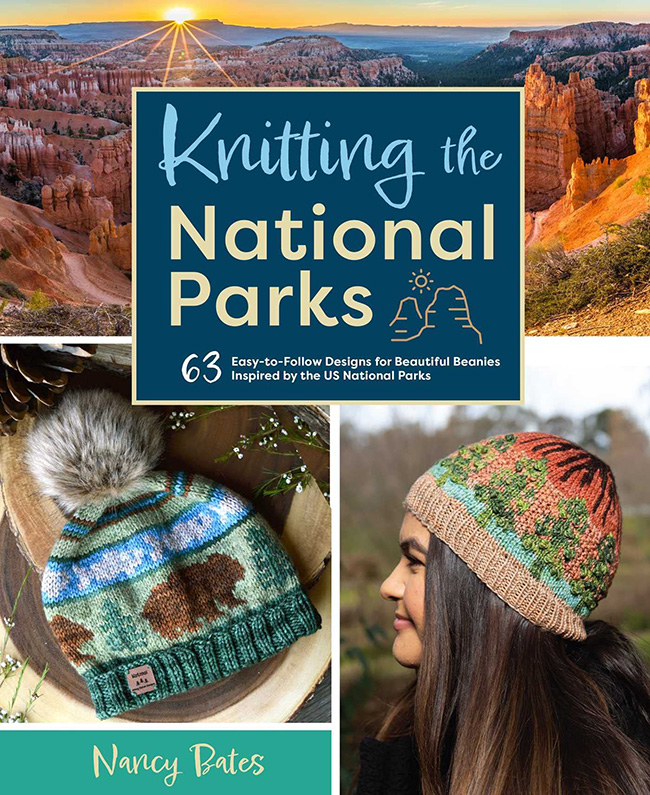 Knitting the National Parks: 63 Easy-to-Follow Designs for Beautiful Beanies Inspired by the US National Parks
by Nancy Bates
Weldon Owen
$35, hardcover

Buy now at Bookshop.org | Amazon
Knitting the National Parks is an ode to the national parks in the United States. There is a hat that represents each and every national park, either a specific vista or with just a feeling. The hats are all stranded knitting, knit from worsted-weight yarn (except one), and could be knit over a weekend. The designs are clearly inspired by being in the parks and are filled with respect and admiration for the outdoors. All of the hats are shot beautifully and clearly in outdoor settings, and there is at least one shot of the respective park.
I can't wait to spend time with this book when the snow is piling up outside. Just looking at the designs for Saguaro, Grand Canyon, and Arches will warm me through. My favorites designs are from parks I've been to. They really capture the feeling of the park, both through design and color choices.
The design of the book is open and easy to read, each hat is given four pages. It's bound in a hardcover format that stay open, so there's no need to photo copy designs to knit them.
Spending time knitting from this book will allow you to relive great trips, or help you get ready for your next adventure.

JM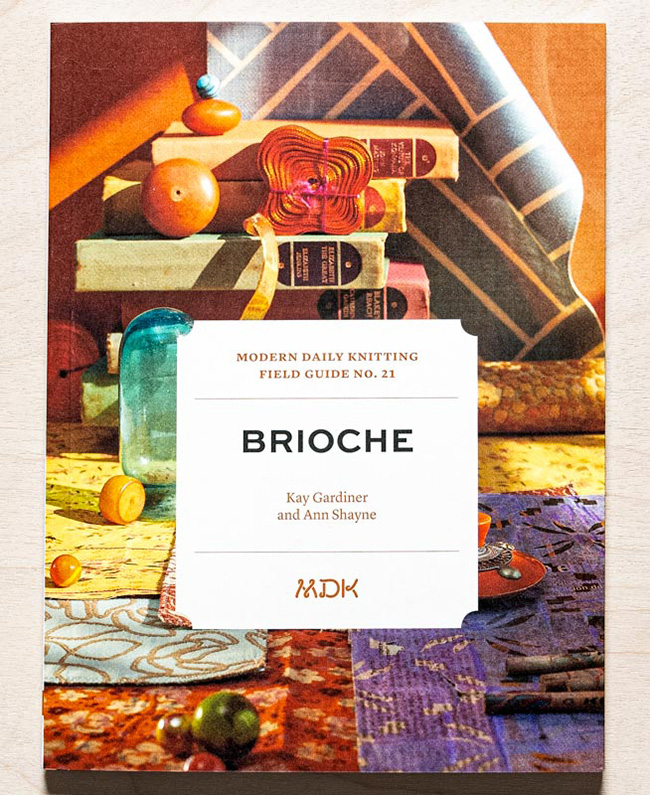 Modern Daily Knitting Field Guide No. 21: Brioche
designs by Nancy Marchant
$9.95-$15.95

Buy now at Modern Daily Knitting
This little gem is the perfect introduction to brioche knitting from the goddess of brioche herself, Nancy Marchant. There are four patterns, a cowl, a scarf, wrist warmers and a top that range from easy to a little less than easy. They are the type of patterns that make me want to knit multiples to keep, to give, to experiment with different yarn textures and colors. There is a pretty perfect, very basic intro to knitting brioche over six pages that will get you up and Brioching quickly. I am a brioche newbie and these intro pages made more sense than lots of directions and explanations I've read.
Don't forget to check the Modern Daily Knitting blog for more tips. Our own Kate Atherley has posts on making the wrist warmers and fixing a common brioche mistake.

JM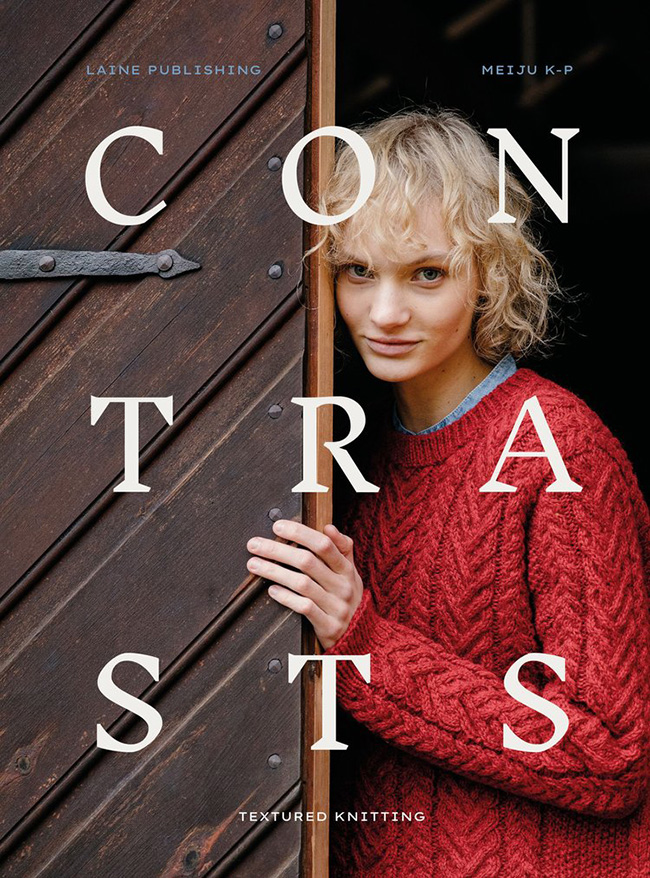 Contrasts
by Meiju K-P
Laine
39,90€, hardcover
SR= 30-60"

Buy now at Laine
Knitting texture is my favorite knitting. I was so very excited when this book hit my desk. I will admit I wasn't familiar with the Finnish designer Meiju K-P, but now I'm a big fan. There are 22 patterns – mostly for sweaters, which has become rarer to find in knitting books.
Patterns are presented both in line-by-line instructions and chart format. I will grumble a little about how hard it is for my ageing eyes to read the patterns. They are printed in a very small font, and the charts are printed in colors that are low contrast and tend to fade. Neither of those things, however, will keep me from knitting from this book.
The photography (done by the author's brother) is beautiful. It gives full shots of the sweaters and detail shots. Most of the patterns are shot on two women: a young model and the designer herself, who looks so happy and relaxed.
I don't think there is one pattern I don't like in this book. Clearly, I'm hungry for texture and sweaters that aren't all yokes. There is a variety of texture stitches, cables, some lace, some big bold and chunky with bobbles and deep cables, and some of them a little quieter with meandering lines.
The designs that have had me online looking to order yarn or looking for substitutions for Finnish yarns are Long Road Pullover (the cover sweater, it's also a cardigan!), Voulle (stranded colorwork and cables), and Dreamy Road (all-over lace).
These are not weekend knits, but garments to sink into and slowly enjoy the process.

JM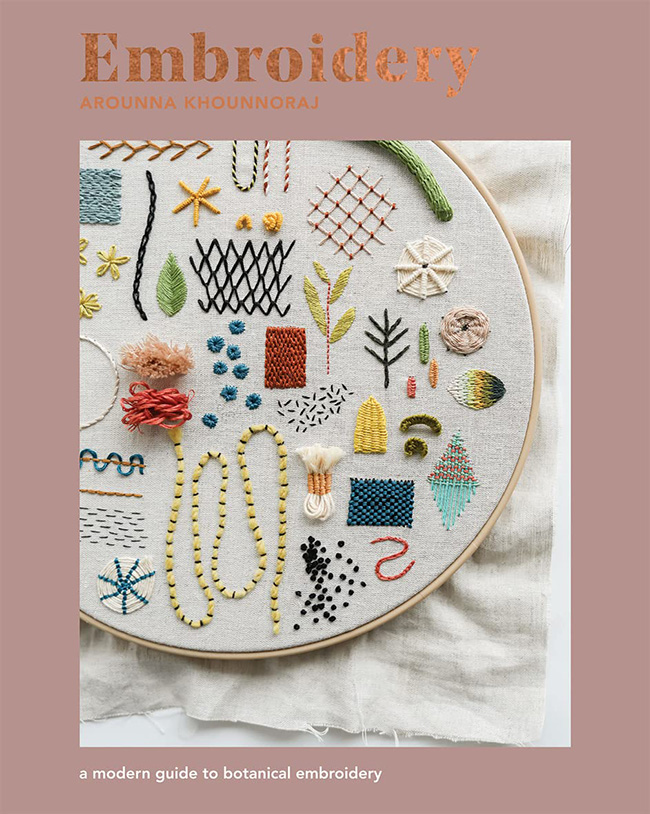 Embroidery: A Modern Guide to Botanical Embroidery
by Arounna Khounnoraj
Quadrille Publishing
$22.99

Buy now at Bookshop.org | Amazon
I need to start by saying I am a big fan of Arounna Khounnoraj. I own all of her books, I buy her kits, use her bags, and hope one day to take a class from her in person.
With that out of the way, I can also say – after my years in the fiber-publishing industry –  this woman knows how to write a book.
The layout and photography are rich, easy to see and use, and she has put additional things that didn't fit in the book on her website. The information is just enough. She knows that a reader is here to make things. That readers may have considered skipping some bits just to get to the making, so she keeps it clear and concise, exactly what you need to know. She understands that most makers, especially those newer to a craft, are visual learners and so much of her books are photo essays when it comes to the how to. Her language is inspiring and encouraging. I never have a doubt that when I make something from her books that they will turn out beautifully.
The projects in this book are very approachable. Most include a bit of sewing as well as embroidery. There are buttons, bags, pillows, embellishment for garments (both woven and knitted), and beautiful things to hang on your wall and admire.
The designs are simple, many times just a single flower or plant, but Arounna has shown us again and again that there is great beauty in simplicity and the natural world around us.

JM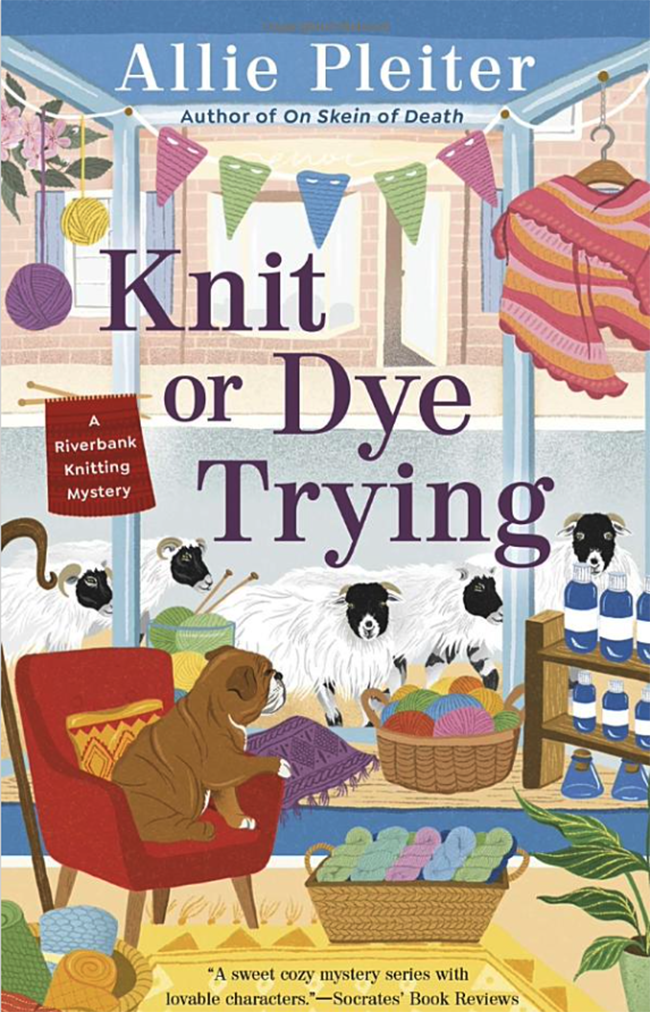 Knit or Dye Trying: A Riverbank Knitting Mystery, Book 2
by Allie Pleiter
Berkley Books
$8.99

Buy now at Bookshop.org | Amazon

I have generally shied away from knitting-themed works of fiction. I've frequently found them to try too hard to make connections to knitting that distract me from the plot. When I was given the opportunity to review Knit or Dye Trying by Allie Pleiter, I was initially hesitant. I didn't need to be.
Pleiter has managed to write a cozy mystery that reminds me of my beloved Midsommer Murders television show. The apparent murder of an artisan fibre dyer, who had plenty of enemies due to her vocal rejection of animal-based fibres, immediately drew me in. Our main character, Libby Beckett, runs the local yarn store and is a bit of a Jessica Fletcher (from Murder, She Wrote) type – you know, solving mysteries not because she's in law enforcement but because she's smart. Trying to solve the mystery while managing both an overbearing mother and the edges of a renewed romance with her high school boyfriend (now mayor of the town) allow Pleiter to create believable characters and maintain a good pace to the novel.
This is the second installment of her Riverbank Knitting Mysteries. While I haven't read the first one yet (On Skein of Death), I have found myself returning in my mind to Collinstown (where the mysteries are set) and coming up with my own murder-related knitting puns. I can't wait to see what Pleiter comes up with next.

CBM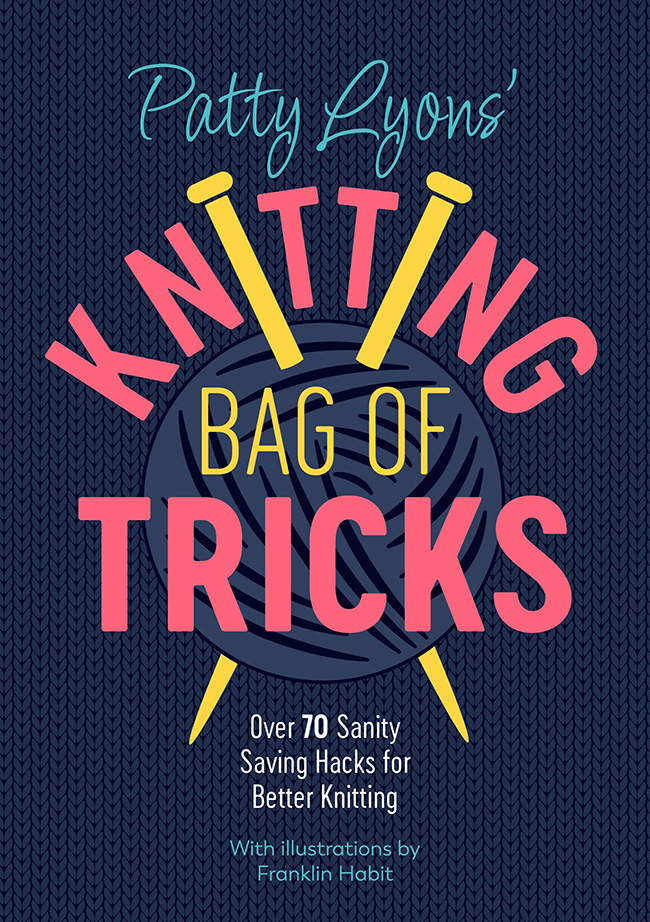 Patty Lyons' Knitting Bag of Tricks: Over 70 sanity saving hacks for better knitting
by Patty Lyons
David & Charles
$22.99

Buy now at Bookshop.org | Amazon
If you don't know Patty Lyons, you are missing out on a lot of great knitting knowledge. This book just scratches the surface of what Patty knows and teaches. You get a good sense of her encouraging style of teaching and her great sense of humor.
Don't come here if you are just learning to knit. This is less about the how to do things than the why; why does knitting do that, and how can I make it work for me. She goes over a lot in a small space: how knitting stitches work, gauge, the secrets of patterns, casting on and binding off, increases and decreases, finishing, and my favorite chapter Pesky Problems and Secret Solutions. Franklin Habit's illustrations are the perfect complement for Patty's engaging and informative style.
This book is full of quick hints to make your knitting better, and to help you understand knitting, which makes everything better.

JM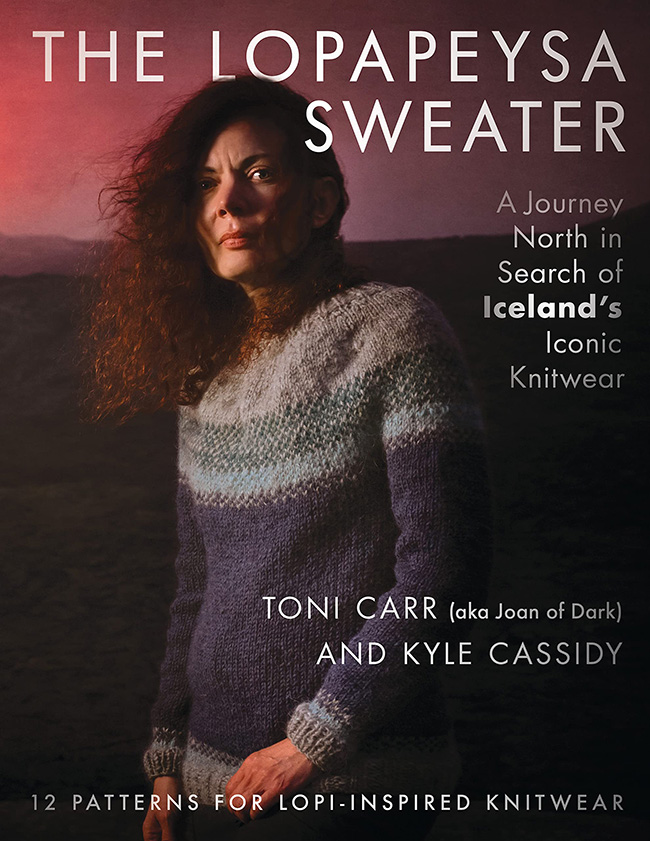 The Lopapeysa Sweater: A Journey North in Search of Iceland's Iconic Knitwear
by Toni Carr and Kyle Cassidy
Stackpole Books
$29.95
SR= 34-60"

Buy now at Bookshop.org | Amazon
No one really goes to Iceland for just a trip. Iceland is all about adventures, no matter what you are interested in, and this book captures that perfectly. This book is all about the adventures Toni and Kyle had when they explored the ubiquitous Lopapeysa sweater in Iceland. There is knitting, there are horses, rock stars, yarn, sheep, beautiful scenery, and that type of transcendence that happens when you travel and let yourself be swept away. Really, if this this book doesn't make you want to hop a plane to somewhere (it doesn't have to be Iceland), I may worry about you.
The dynamic duo – Toni knitting, designing and writing about knitting, and Kyle taking glorious photos, writing about their trip, and learning to knit – circumnavigate Iceland to find out the origins and lore of the Lopapeysa sweater. They do the best thing a traveler can do; they have a question and they ask everyone they meet. One answer leads to another person, over and over again until they have more than just academic answers, they have personal history, interesting stories, and many different answers to the same question.
Toni's 12 patterns are the perfect foundation to build this book on. All are inspired by Iceland, and some were designed there. Some look like they were designed by Iceland's legendary designers; some run it through her more personal funky style. All were shot on their trip, many by folks they met there.
This is an absolutely unique and dynamic approach to the Lopapeysa sweater. Tthere are certainly no people more creative and interesting than those who travel well, and you will be happy to have gone on this trip.

JM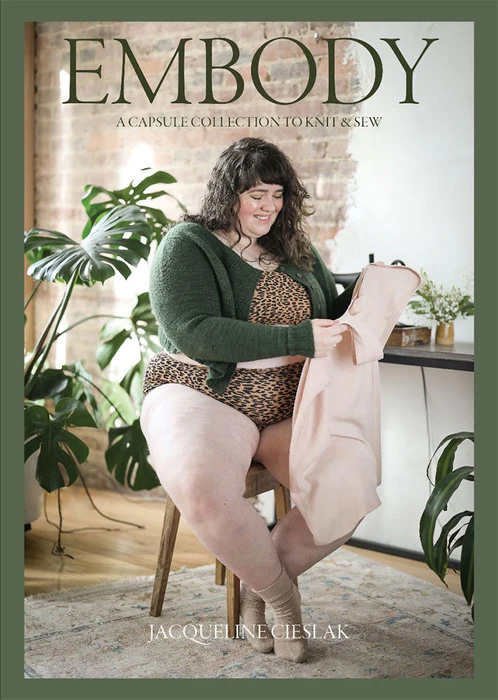 Embody: A Capsule Collection to Knit & Sew
by Jacqueline Cieslak
Pom Pom Press
Digital: £16.50
Digital + Print: £19.50
SR for Knitting: 32-67.75"
SR for Sewing: 32-64.5"

Buy now at Pompom
We're not sure how we missed reviewing this great book when it came out last year, but better now than not at all!
This is not a typical pattern book, and as someone with a fat body, I have a special appreciation for the challenges in writing patterns to fit all the variations bodies come in. Jacqueline Cieslak has been an outspoken advocate for loving the body you're in (small or large), and in Embody, she helps each of us create a capsule wardrobe with key staples – some knit, some sewn – that actually fit us well. The two knitting patterns are classic designs: Deren is a long-sleeved scoop neck cardigan that can also be made with a cropped body, or as a simple pullover (body length adjustable here too), or a short-sleeved tee. You could make multiple versions of this pattern and each would look very different, just by your choice of sleeve length, open or closed front, and body length. Deren is laid out so you can customize almost every aspect to your own measurements, with worksheets for adjustments to the biceps, body/hips, and sleeves. I really can't convey how customizable each pattern is, but trust me...Jacqueline seems to have thought of every possibility.
There's also a beautiful wrap that's exceptionally generously sized, meant to show off your yarn choice through changes in texture.
The sewing pattern, Woolfork, is so customizable, you only need underwear (and maybe a pair of leggings, pants or a skirt) to make a full wardrobe from this one pattern. There are varations to the dress that include a tunic (with or without sleeves), a full dress (sleve options again here), a tee, and a crop top. As with many patterns these days, the pattern is a print-at-home or print-at-a-copyshop deal. One involves lots of tape, the other (if you use a large-format printer) will cost you a few dollars. The pattern is simply constructed, and everything you need to know to lay it out on fabric, and sew it well is included in the instructions.
Embody is an impressive achievement, and well worth the cover price. Do check out Jacqueline's blog for more Embody content including test knitting and sewing round ups and video tutorials.

AS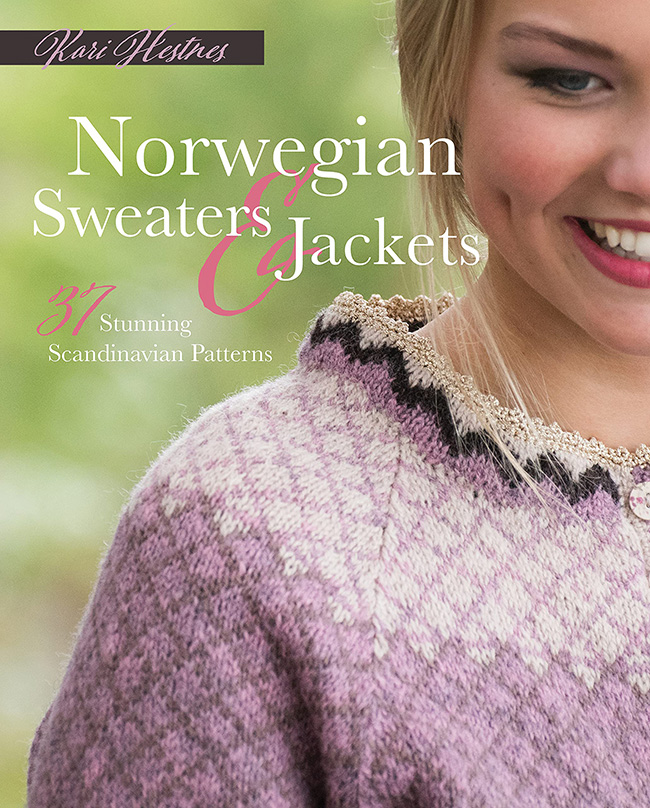 Norwegian Sweaters and Jackets: 37 Stunning Scandinavian Patterns
by Kari Hestnes
Trafalgar Square Books
SR = 32-48"
$29.95, hardcover

Buy now at Bookshop.org | Amazon
If fine-colorwork Scandinavian knitting excites you, take a look at this new Norwegian knitting book. At first glance it may look similar to other books on the topic, but this one has charm that the others don't. The patterns are everyday wearable, and have interesting twists and patterning. The designer does take her broad cues from traditional Norwegian knitting, but she is also a nature photographer and I can see botanic elements snuggled in between the elements I expect to see.
Where nature, particularly flowers, really impact these designs is in the colors. Kari Hestnes' photography is used throughout the book, even side by side with the sweater it inspired. Many of the color combinations are brighter and more exciting than the usual color stories for Scandinavian knitting, like in Conifer Forest which has a bright green main color, with gold and raspberry. Sometimes it's the shaping that's unique, like in Olivia, where the interest is all in the side panels, that look like accordion tree bark.
It's wonderful to have a book full of lovely sweaters that also encourage you to look a little at the natural world and its colors a little deeper.

JM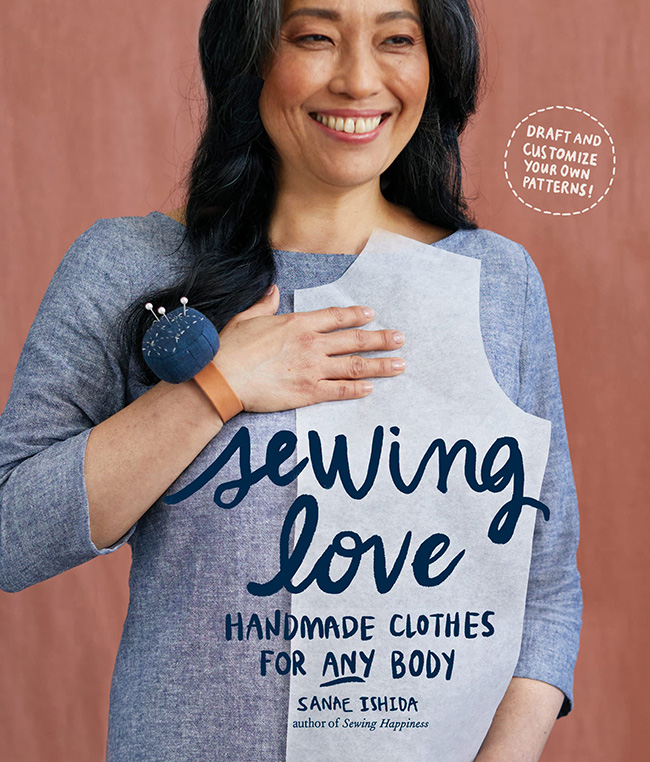 Sewing Love: Handmade Clothes for Any Body
by Sanae Ishida
Sasquatch Books
$29.95

Buy now at Bookshop.org | Amazon
I am a beginning sewer, a bit reluctantly. One of the reasons I don't sew more is fit, or more pointedly the relationship of a pattern to the shape of my body. I'm short, round and rounder in some spots than others. I am skeptical that I can make something that I want to wear that fits me in a way I like. That is until I read Sewing Love.
This is the kindest book on sewing that I've read. The author shares her own struggles with her body and why she sews. She speaks from the heart about accepting your body and its changes and how sewing clothes that you like and fit your body well are a way of honoring and accepting yourself. Sewing Love assumes no experience with sewing and gently and thoroughly walks the reader through basic sewing, pattern drafting and fitting. There are no printed patterns. By making your own slopers (just three), you can make the 15 patterns in the book, plus variations. (A sloper is a basic pattern developed on paper, then in cloth, to test the fit of a pattern.)
The directions for everything are fantastic. There are step-by-step illustrated directions, detailed but not overwhelming. I never thought of making a sloper or knew how to use one, but after reading this book I feel confident that I could. Never one time did I feel overwhelmed while reading.
The patterns are basic, capsule-wardrobe-style patterns. They remind me of the company FLAX, with whom I spend too much money. The patterns make a minimalist wardrobe, but the designs can easily be funked up with fabric choices and embellishments – so many are calling out to be embroidered! Simple is usually the best place to start. A bonus for all of us, these designs all would look great with knitwear.

This book doesn't just teach you how to sew for yourself, it teaches how that act is really a way to care for yourself.

JM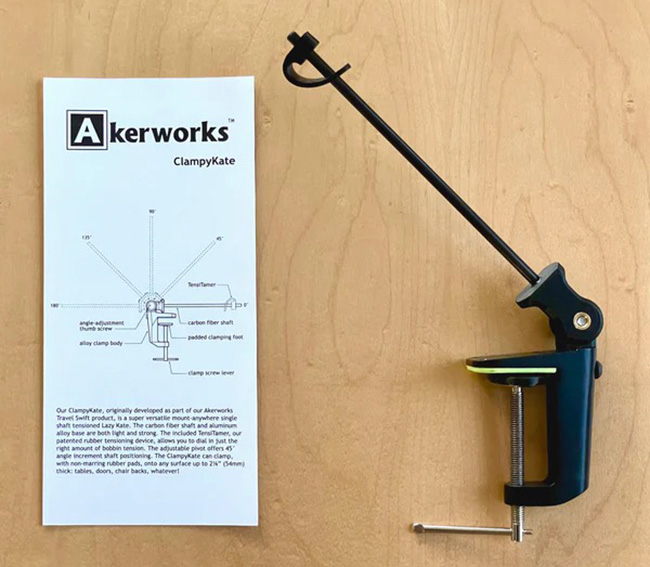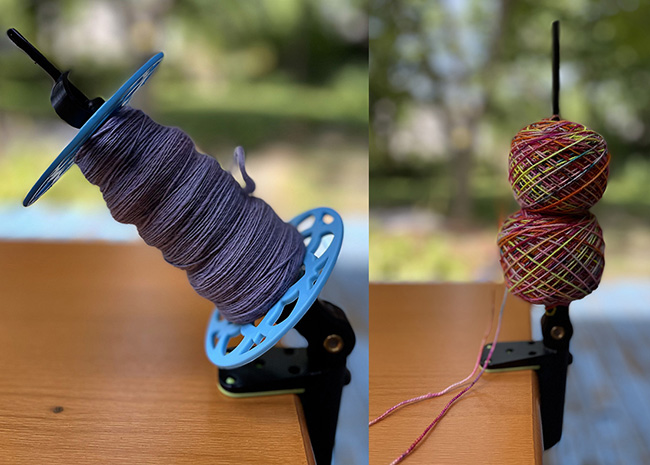 Clampy Kate
by Akerworks
$36

Buy now at Akerworks
This is a nifty gadget that works equally well for knitters and spinners. Spinners can use it as an extra hand for plying, for chain plying or for adding one more ply that your usual Lazy Kate can hold. Knitters can use it to hold one or two yarn cakes while knitting.
It's made to clamp to a solid, flattish object. The clamp is large enough that it can clamp even to a pretty thick table top, and it is coated so it won't mar surfaces. The shaft is smooth to ensure easy spinning of a bobbin and the smooth spooling of a yarn cake. The shaft can be set in any position from vertical to horizontal, so you can get the right angle to tension your yarn. I was happy to find out that it is long enough to hold very large bobbins for plying, and more than one yarn cake if you're knitting two socks or two sleeves at the same time.
It folds down flat, and comes in its own bag and can easily slip into your knitting or spinning bag.

JM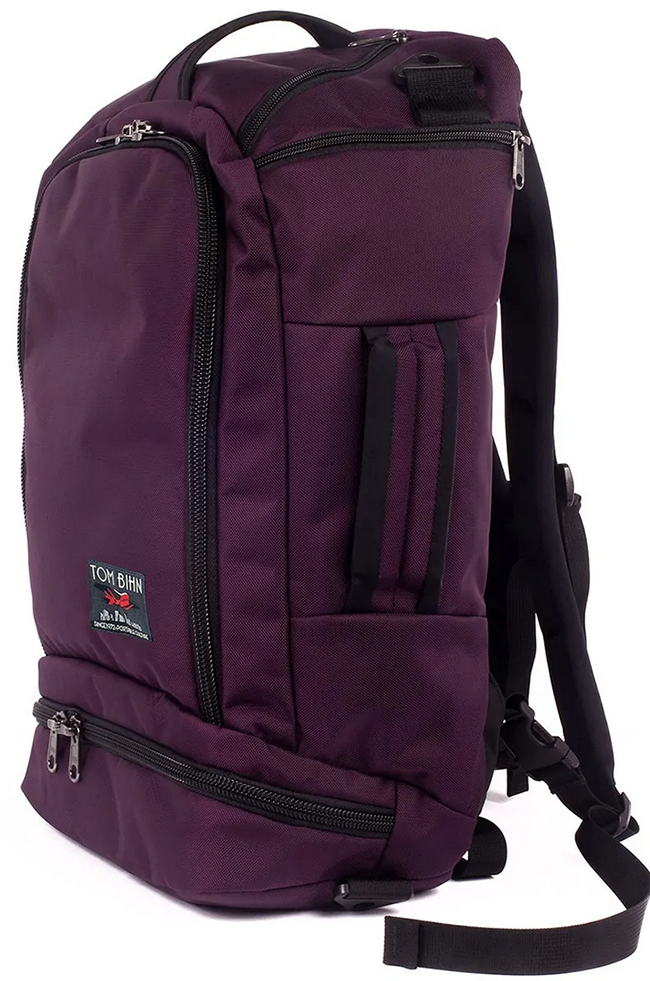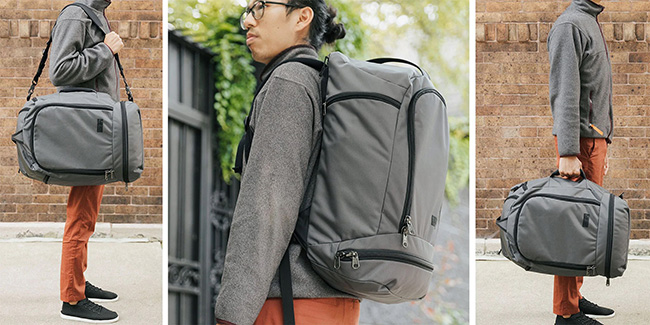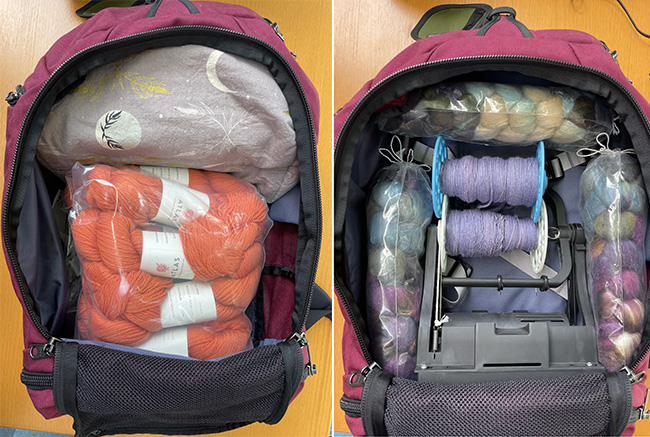 Techonaut 30
by Tom Bihn
19.7 w x 12.6 h x 8.0 d (inches)/ 500 w x 320 x 205 d (mm)
Available in an assortment of colors and durable fabrics
$380.00

Buy now at Tom Bihn
This is the Techonaut 30, the smaller version of the new multi-style carryon from Tom Bihn. You might think this is overdoing it for a craft bag, but I know I've wanted to take along multiple big knitting projects or multiple craft projects on vacation or even to craft night and did not want them spread out over multiple bags. The thing I dream about doing with this bag is taking it to a big fiber event like Rhinebeck. It can be carried like a duffle or a shoulder bag, but it has backpack straps too, which would be perfect so you could wear it when filled with fibery goodies. Those handy backpack straps tuck away when you don't want them.
The bag has a big compartment with straps for cinching, three outside pockets, and a hidey spot for a laptop or tablet.
If you travel, it is an amazing bag. I use it as a carry on, and it holds just enough and is the right size to keep me from overpacking – I don't really need to take three hardback books do I? It has a luggage handle pass through so it can be attached on top of a rolling suitcase for strolling through the airport. When it's packed full (I always have to fill it!), it is the perfect height for me to use as a foot rest on a plane. My lower back thanks Tom Bihn very much.
Like all Tom Bihn bags, the Techonaut 30 is made from super-durable fabric that not only holds its shape and color, but resists wear. Our own collection of Tom Bihn bags made in the same careful way in the same tough fabrics, some more than 15 years old, still look brand new. If you need even more space, check out the Techonaut 45 – still carryon-able on larger planes (it fits in the overhead compartment) where airline regulations permit.

JM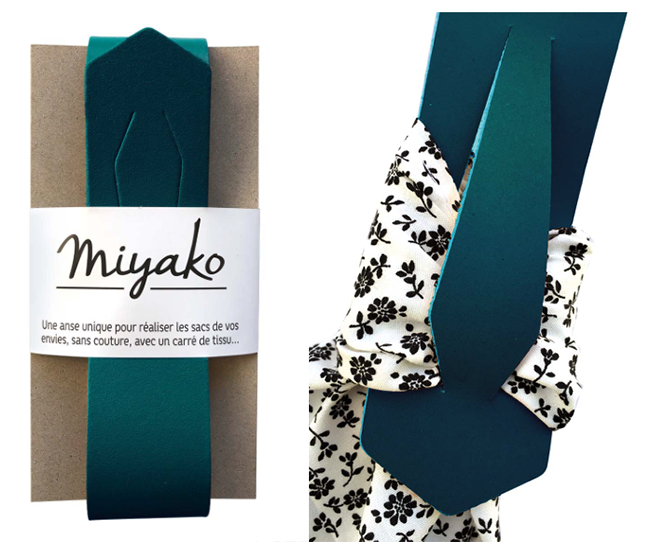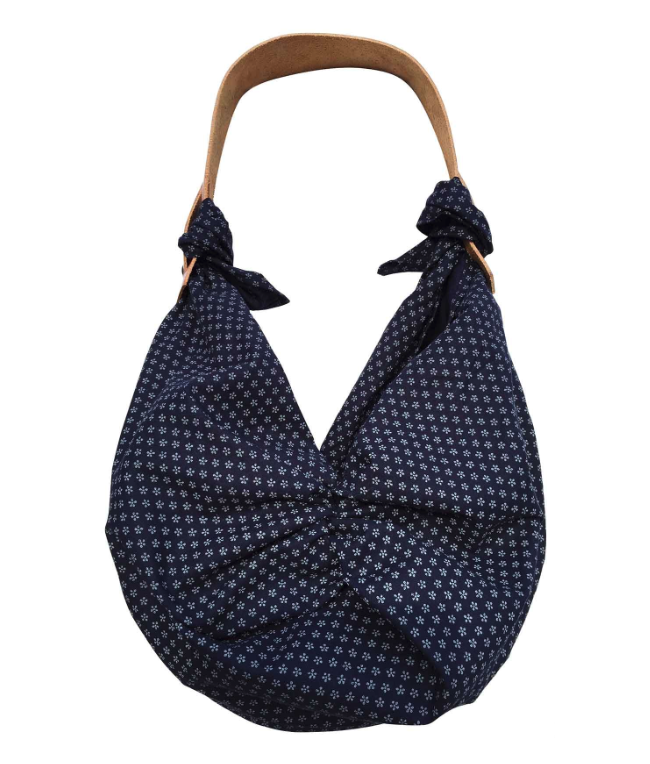 Leather bag handle
by Miyako
comes in a variety of colors, styles and lengths
Miyako classic shown above
17,00€

Buy now at Miyako
I love most everything Japanese, and this made-in-France product has a lovely Japanese inspiration. Based on the concept of furoshiki (using squares of cloth to wrap gifts), this handle allows you to turn any piece of fabric 35"/90cm square – or larger – into a functional and unique bag. The handle has a tab on either side into which you insert one end of the fabric after knotting the other two corners (here, watch this video – it shows exactly how to do it), and you end up with the most unique bag possible, and one that you can change depending on your mood for the day and the size of your fabric stash!
The handles come in a variety of colors from subdued to bright and vibrant, and are packaged with a lovely printed manual on the back.I spotted these cool handles at the recent h+h Americas trade show in Chicago, and brought a sample home with me to experiment on. Because I wanted to know...would the fabric stay in place? How usable is the bag?
They also show how, by using a pair of their medium-sized handles, you can turn a knitted, crocheted or woven sac into a really cute tote bag (see below).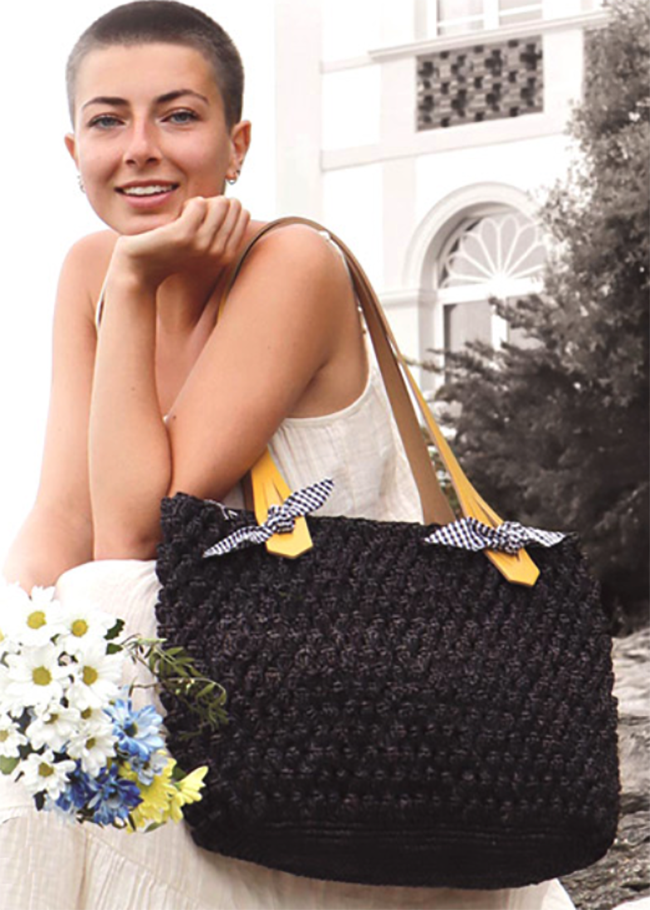 The site is worth a browse. There are extra-long variations of the Miyako strap, super-short ones with simple metal rings to secure the fabric in place, and even kits that come with a handle and coordinating fabric. And yes, they ship worldwide.

AS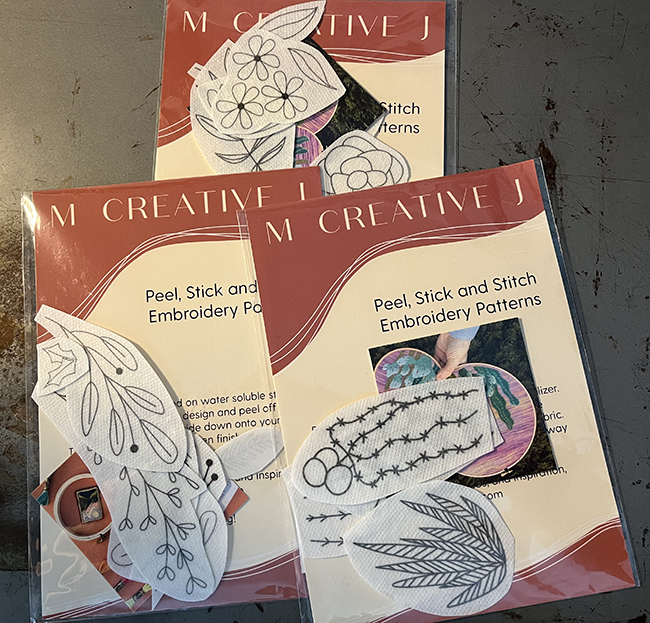 Peel, Stick and Stitch Embroidery Patterns
$12.00

Buy now at M Creative J

Such cleverness. These little embroidery transfers are printed on water-soluble transfer fabric, so you simply peel, stick to your desired location, and embroider. When you're done, rinse the fabric away! Although the different themes (there are 8 different sets) are shown in traditional embroidery-hoop layouts on their site, I can't wait to use them to decorate a tank top that's much too boring as it is, and my denim jacket that could use some visual interest, Even a pair of high-top canvas shoes or my fabric ukulele case would be a great place to use a transfer or two.

Each set has a different number of images included, and it comes with insturctions and a full-color card that shows how they might look when embroidered, idea starters, really. Super easy to use, and hassle free!

AS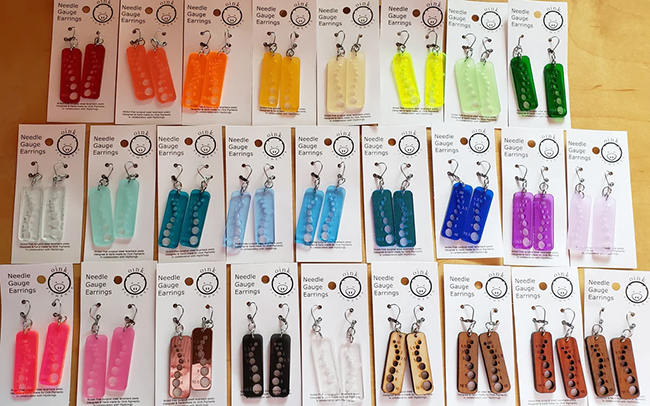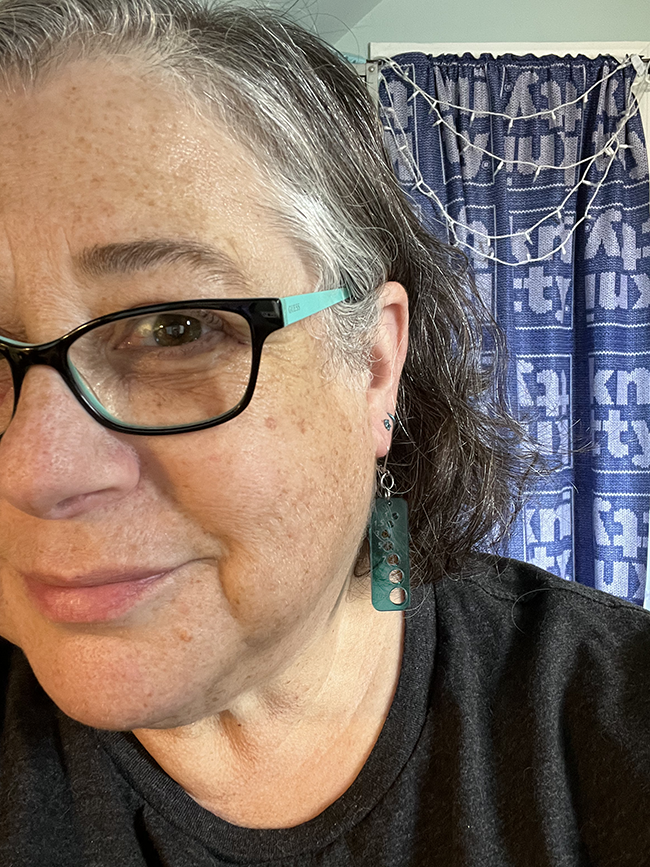 Needle Gauge Earrings
available in a huge variety of colors, finishes and materials
$18.00/pair

Buy now at Oink Pigments

Super adorable acrylic or wood earrings made with a functional and highly decorative set of needle-gauge holes, these are too cute to pass up. Created in collaboration with HipStrings, they come in lots of colors of shiny, matte or metallic acrylic and a variety of wood types. Measure needles from size US#00-10 (sizes are engraved into the surface, so you don't have to guess) and look cute at the same time!
At time of writing, they're sold out on the website, but they will be restocking soon.

AS