Myr, a free knitting pattern from Knitty.com.
INTRODUCTION
Myr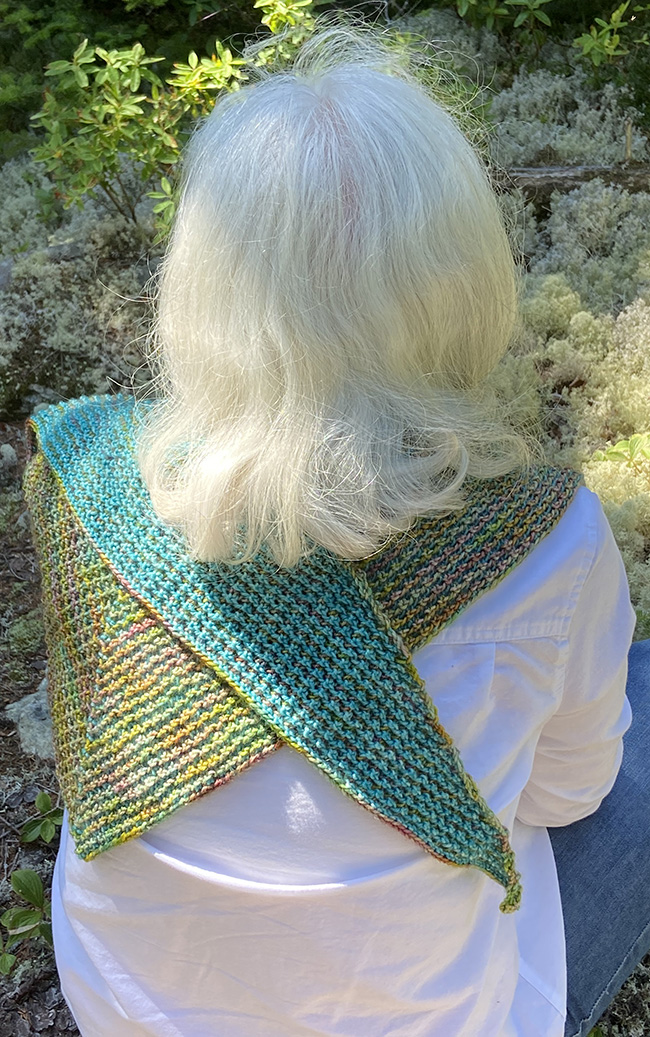 by Alma Beck and Jacie Clark

This scarf design came about when I sought to create a multi-color garter stitch fabric without the dotted lines that usually show up on the back. One experiment resulted in a fabric that not only lacked the dotted lines, but also had two very different sides, each with a different color dominating. It seemed perfect for a relaxing knit and a striking shawl.
The stitch pattern is simple and repetitive, making it easy to memorize and perfect for meditative knitting. The pattern is also quite adaptable. This sample is knit with worsted-weight yarn, but you can use any size yarn; just choose a needle size recommended on the yarn label, or even one a bit smaller. You can stop knitting sooner, to make a small scarf for a child, or keep going to make a larger shawl. The ends of the scarf taper more quickly than a typical triangular shawl, making the most of a small amount of yarn.
Myr is the Ukranian word for "peace". May knitting this scarf bring a bit of peace to your life, and, should you share the finished project, perhaps to others, as well.

model: N. Babineau; Alma Beck

photos: Jacie Clark; Eve Wiseman
SIZE
One size. Work to desired size or until your yarn is used up.
FINISHED MEASUREMENTS
Width: 60 inches/152 cm
Depth: 15 inches/38 cm
MATERIALS
Yarn
Shirsty Cat Designs BFL DK [100% Blue Faced Leicester; 246 yards/225 m per 100 g skein];


[Color A] Kaput; 2 skeins


[Color B] Gaia; 2 skeins
Note: sample used approximately 1.25 skeins of each color; you can work smaller or larger as you wish.
Yarn Characteristics


Sample shown is knit in DK-weight wool yarn; however, we have also successfully used both fingering and worsted weights, using needle sizes a bit smaller than that called for on the yarn label. Sample made with one variegated colour and one semi-solid. See suggestion in Pattern Notes for colourway consideration.
Recommended needle size
[always use a needle size that gives you the gauge listed below - every knitter's gauge is unique]


US #5/3.75mm circular needles, 24 inch/60cm or longer

Notions


2 stitch markers
GAUGE
25 sts/32 rows = 4 inches/10 cm in stockinette stitch
25 sts/40 rows = 4 inches/10 cm in pattern stitch
PATTERN NOTES
[Knitty's list of standard abbreviations and techniques can be found here.]
Construction method: Scarf must be worked on circular needles. You work 2 rows with one yarn, push all the stitches to the other end of the circular needle, and work two rows from that side with the other yarn. Essentially, you are working the same two rows with each yarn, but from two different directions. The result is a scarf where Color A stands out on one side, and Yarn B stands out on the other side.
Colorway choice: For this sample, a semi-solid was used for one yarn and a variegated for the second. The contrast lets each yarn create a distinct look on its dominant side. Using two different solid or semi-solid colorways would give a strong contrast between the sides; two different variegated colorways would fight each other and mute the difference between the sides.
Techniques:
DIRECTIONS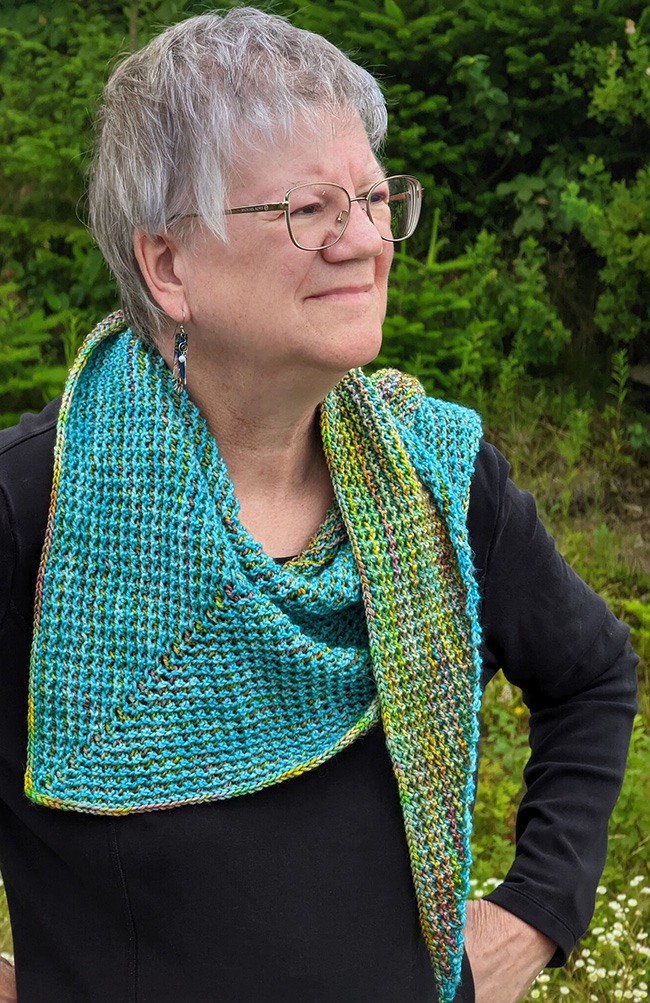 Set Up
Row 1 [Side A]: With Color A, CO 5 sts using a circular cast-on: Form a slip knot and work into it (k1, yo, k1, yo, k1). Turn.
Row 2 [Side B]: Knit to end of row. Drop Color A and slide all stitches to the other end of the needle.

Join Color B, leaving a tail long enough to weave in.

Row 3 [Side B]: (K1, yo) 4 times, k1. 9 sts. Turn.
Row 4 [Side A]: K4, pm, k1, pm, k4. Slide stitches to the other end of the needle.

Body of Scarf
Leave both yarns attached throughout.
Row 5 [Side A]: With Color A, CO 2 sts by knitting on. (K1, yo) two times, (k2tog, yo) to marker, sl m, k1, sl m, yo, k1, (yo, k2tog) to last st, yo, k1. 6 sts increased. Turn.
Row 6 [Side B]: Knit. Drop Color A and slide stitches to the other end of needle.

Row 7 [Side B]: With Color B, CO 2 sts by knitting on. (K 1, yo) two times, (k2tog, yo) to marker, sl m, k1, sl m, yo, k1, (yo, k2tog) to last st, yo, k1. 6 sts increased. Turn.
Row 8 [Side A]: Knit. Drop Color B and slide stitches to the other end of needle.
Repeat Rows 5-8 until scarf is desired size, carrying the unused yarn up the side until it is used again. End after either Row 6 or 8.
Bind off using conventional bind off with the last colour used. Do NOT use a stretchy bind off; it changes the look of the fabric.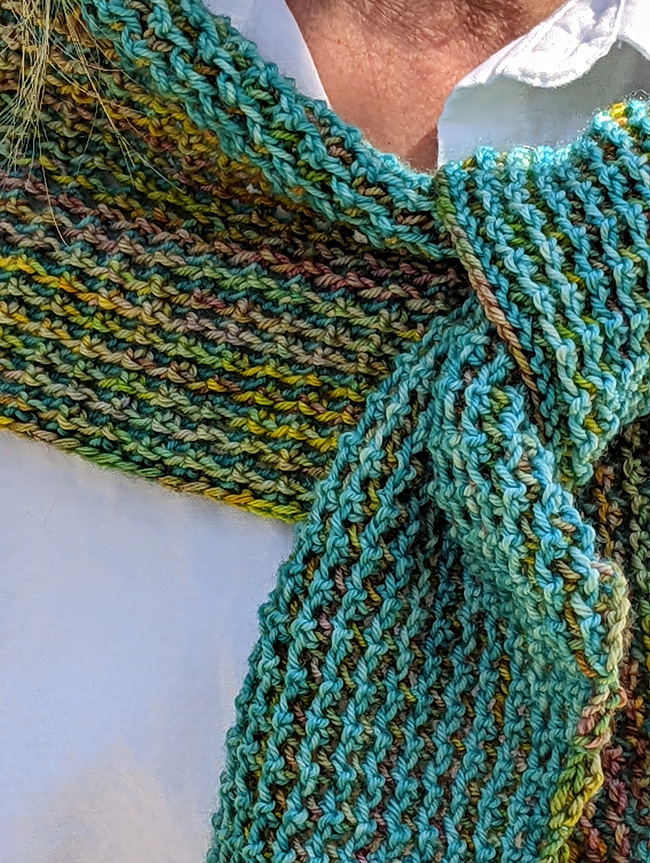 FINISHING
Wash scarf, and gently squeeze out excess water without twisting the fabric. Roll scarf in a bath towel, then squeeze the towel (or step on it) to press additional water out. Place the damp scarf on a flat surface, smoothing it out, and leave to dry. For maximum visual difference between the two sides, do not stretch fabric when blocking. After scarf is completely dry, weave in ends.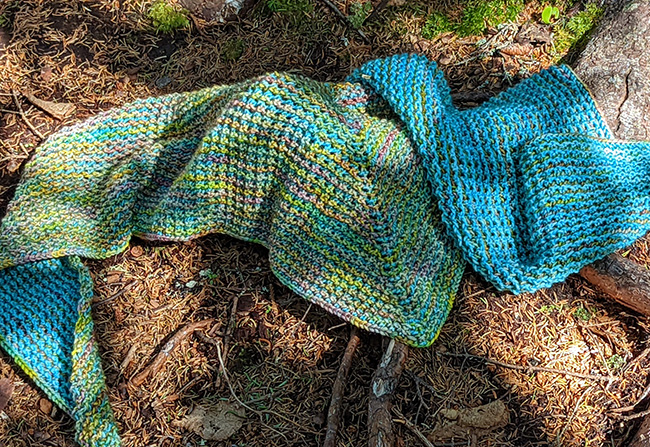 ABOUT THE DESIGNER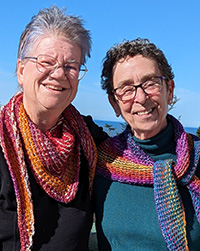 Alma Beck (left) is a retired Canadian-American social worker who knits and crochets as therapy, so she prefers relaxing patterns with soothing stitch rhythms. She loves the mathematical challenge of pattern design, trying new stitches, and wrapping up in a cozy shawl.
Jacie Clark (right), Alma's tester/collaborator, is a retired ballet teacher and Red Cross Coordinator. She spends her time in the garden, and playing with words, grandchildren, and yarn. She is happiest when she is digging in the dirt, solving a puzzle, or making things for others.
Pattern & images © 2022 Alma Beck