Substitution Solutions, a column where a spinner uses her knowledge of fiber, yarn construction and knitting to substitute yarns by Jillian Moreno
INTRODUCTION
Substitution Solutions
How to substitute yarn in a pattern
It's so important for a knitter to feel comfortable substituting a yarn. More and more designers are offering substitution ideas in their patterns, or at least a description of the type of yarn to look for when choosing a substitute, and you'll find helpful descriptors of Yarn Characteristics in every Knitty pattern starting with Winter 2021.
In this column, I walk you through substituting yarn for a couple of patterns in the current issue. There is absolutely nothing wrong with the great yarns that our designers have chosen for their projects. I'm just giving my opinion on other yarns to use, based on how I – as a spinner – look at a yarn and a pattern, making choices based on what I know about fiber, yarn construction, and knitting. Even if the recommended substitution yarns are discontinued one day, my hope is that the information below will make the process of choosing an alternate yarn less daunting, and help you knit projects that give you joy in the knitting and wearing.
A little change of texture
There are many reasons that you might want to substitute yarn for a project. Maybe the yarn isn't available near you, it could be too expensive for your budget, or it may only come in colors you don't like. One of the reasons I like to substitute yarns is to change the texture. I may want a yarn that is shiny and mostly silk, nubbily and tweedy, or fuzzy.
The projects I picked for this issue are getting a bit of a texture makeover with my suggested substitutions.
Winter Holiday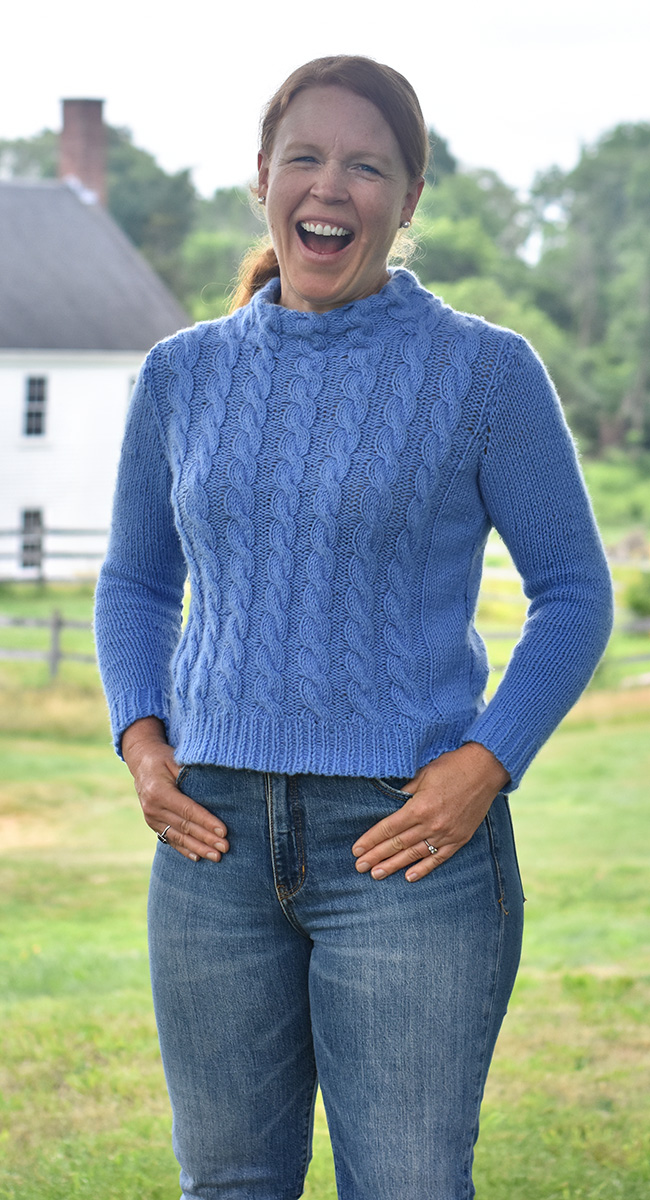 Winter Holiday by Alexis D'Arcy
Description of the project:
Winter Holiday is a cold-weather sweater with thick cables running up the front. It's knit from 100% cashmere giving the sweater extra warmth, the most softness, and a matte finish to the color.
What is important about this design:
The cables have soft stitch definition rather than a carved crispness, but they are still beautifully twisted and robust.
What elements of yarn construction should we think about?:
If you want the softness of cashmere but can't fit it into your budget, think about yarns that are Merino, Cormo, and another fine wools, or consider blends that include silk, alpaca, and other luxury fibers. Look for a yarn that has two or more plies; the more plies the more stitch definition your cables will have.
Substitution Solution:
The yarn I would use as substitute is Rowan Felted Tweed Aran. It's soft with a halo. It has a little more structure due to the wool used in the fiber blend, and it's tweedy, which will give the sweater a bit of a different visual feeling.


L: Winter Holiday original yarn: Clinton Hill Cashmere
R: Substitution Solution: Rowan Felted Tweed Aran
Yarn Specified in the pattern:
Name: Bespoke Clinton Hill Cashmere
Fiber: 100% cashmere
Type of Spin: Worsted
Ply: 3+ ply
Length/ Weight: 99 yd / 1.75 oz | 90m / 50g)
Ballband Gauge: 6 stitches = 4 inches/ 10 cm in stockinette stitch
Pattern Gauge: 15 sts / 20 rows = 4 inches/ 10 cm in stockinette stitch, 19.2 sts / 23 rows = 4 inches/ 10 cm in cable stitch
Substitution Solution:
Name: Rowan Felted Tweed Aran
Fiber: 50% wool/25% viscose/ 25% alpaca
Type of Spin: worsted
Ply: 2-ply
Length/ Weight: 87m/95yds, 50 gms
Ballband Gauge: 16 sts/ 23 rows to 4 inches/10cm
Spinning Solution:
For spinning, I'm going to one of my favorite luxury blends: camel and silk. The camel is incredibly soft, no matter how you spin it, and the silk gives the yarn a lovely sheen.
Fiber of choice:
Name: Greenwood Fiberworks
Fiber: 50% baby camel down / 50% silk
Weight: 4 ounces
Preparation: combed top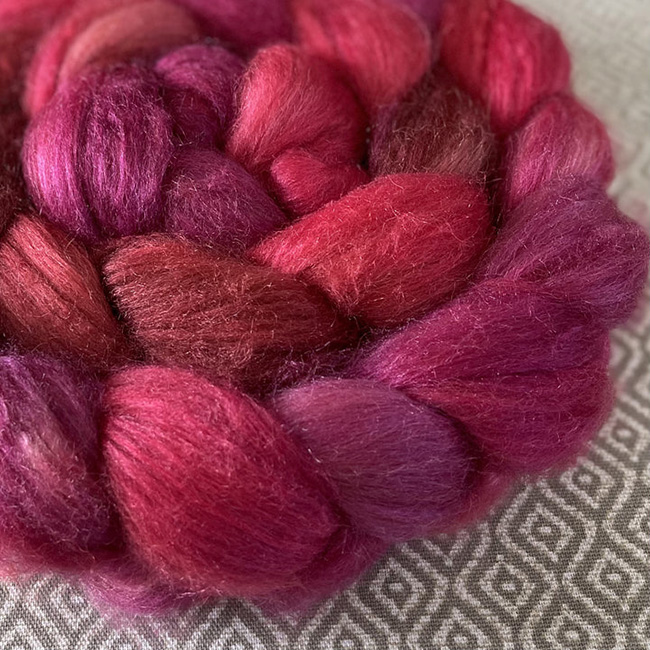 How I would spin it: Many spinners would spin this into finer singles and ply up to size, but I want to spin this as a fat single, with a bit of loft.
I would set up my wheel that I can treadle the slowest with its biggest whorl, so I can work with low twist. I would spin it worsted with control. For me that means no sweeping long draw. I would finish it with a bit of fulling to stabilize the single just a bit, moving the yarn from hot to cold water a few times.

Angus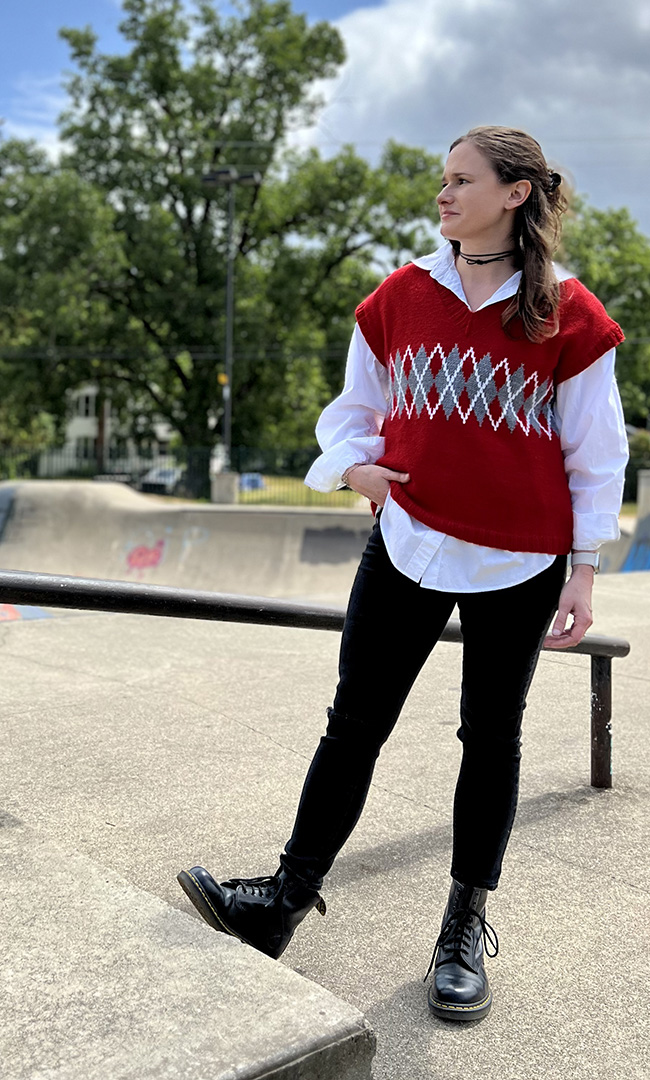 Angus by Renee Kulling
Description of the project:
Angus is a classic argyle vest, shaped for an oversized '90s look. It's an easy piece to customize the look by changing the colors and textures of the yarns. You could go neon or pastel. My choice for a substitute yarn would give the vest a moodier look with shaded colors and texture from tweedy bits.
What is important about this sweater:
The argyle pattern is everything in this vest. You, as a knitter, get to decide if you want bright contrasting color, or a more muted color combination. You can also decide if you want a clearness in the color transitions, or something softer, more like Fair Isle knitting.
What elements of yarn construction should we think about?
If you want a cleanness in color transitions, you'll want to choose a 3+-ply yarn. If you like your colors to fade into each other, go for a 2-ply or a single ply yarn.
Substitution Solution:
My version of Angus will be more subtle and tweedy using Jill Draper's Kingston yarn.
It's a woolen spun, 2-ply yarns which gives and overall softness to stitches. The colors in her palette are rich, but lower contrast. Both the ply structure and the color palette will make the argyle look more like a Fair Isle pattern. The tweediness will give it an organic quality, and some texture.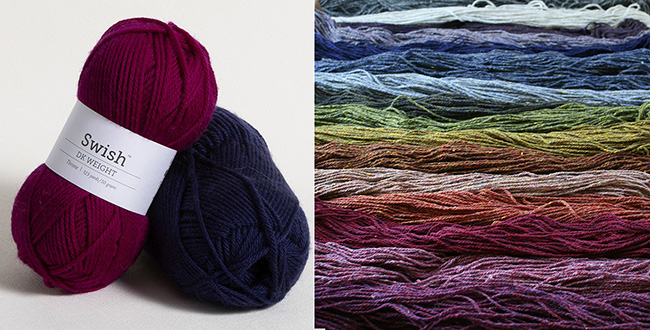 L: Angus original yarn: Knitpicks Swish DK
R: Substitution Solution: Jill Draper Makes Stuff Kingston
Yarn Specified in the pattern:
Name: Knitpicks Swish DK
Fiber: 100% superwash Merino
Type of Spin: worsted
Ply: multi, likely 3-ply
Length/ Weight: 123yd/112m per 50g skein
Ballband Gauge: 22 sts/32 rows 4 in/10 cm in stockinette
Pattern Gauge: 22 sts/32 rows/rounds 4 in/10 cm in stockinette flat and in the round

Suggested replacement yarn:
Name: Jill Draper Makes Stuff Kingston
Fiber: 100% Targhee
Type of Spin: woolen
Ply: 2-ply
Length/ Weight: 270 yds / 247m , 4oz/113 gms
Ballband Gauge: 5-6sts/in
Spinning Solution:
The idea of spinning for Angus makes me want to go bright and smooth. I would choose an easy to spin fiber that comes in lots of colors. DM Fibers Corriedale is available in lots of yarn shops that sell fiber.
Fiber of choice:
Name: DM Fibers Dyed Corriedale Top
Fiber: 100% Corriedale
Prep: combed top
Weight: 8oz bags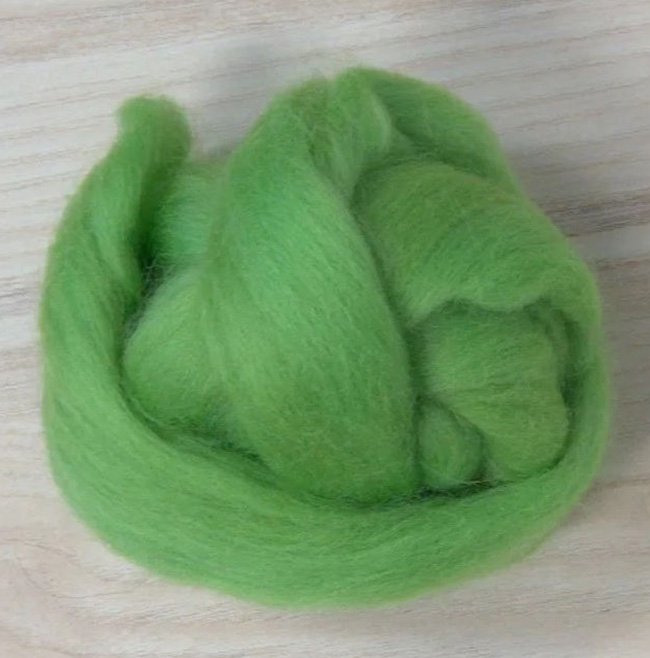 How I would spin it: My spin for this would be worsted drafted, 3-ply, very much like the original commercial yarn. Corriedale is not as fine or soft a fiber as Merino, which will make the bright colors I want to choose (hello lime, orange, and purple!) even bolder.

ABOUT THE AUTHOR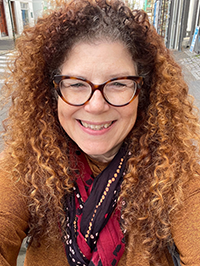 Jillian Moreno is Knitty's Catalyst and Spinning editor. She's the Developmental Editor for PLY Magazine and PLY Books. A couple years ago, she wrote the best-selling spinning bookYarnitecture: A Knitter's Guide to Spinning: Building Exactly the Yarn You Want. Now she's writing another spinning book and trying hard not to start weaving.
She lives in a house packed with fiber and books and has a hand-spinning Patreon over here.
Winter Holiday image © Alexis D'Arcy; Angus image © Renee Kulling; all other images courtesy the yarn and fiber dyers as listed with the image. Contact Jillian