Letters From The Editors
The scoop from the editors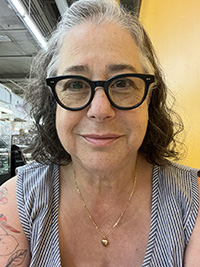 photo:
Amy
They weren't kidding.
Covid got me. This issue should have been out two weeks ago. Then I got what felt like the flu, but the body aches were out of this world. A simple at-home test told me it was actually Covid, and boom. Bed. For a week. Then I got better! Then I got bad again. Worse, actually. Anyway, everything they've said about Covid is true, and this is from someone experiencing a case that was safely managed out of the hospital.
Please stay safe. I stopped masking this summer after being fastidious for years, and I shouldn't have.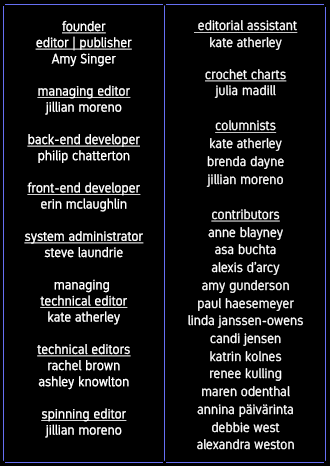 Luckily, most of the heavy lifting on the issue was done when I first got sick, and I've snuck a little working in on the days when I was not completely bed bound. The world doesn't stop for the self employed when they get sick, and I'm grateful for the great Knitty staff that got everything to me in plenty of time.
---
So here you have it. A lovely Deep Fall issue of warmth in the form of cushy sweaters, a divine plaid coat, and lots of extremity warming accessories.
This issue's theme was Rom-Com Revival, a tribute to the movies, music, and fashion we loved in the 1990s. We've got everything just short of shoulder pads and frilled collars for you, and we hope you find something that you love. Our Inspiration Goddess for this issue, Meg Ryan, would likely look awesome in all of it!
Off you go, then.
---
I mentioned launching a big new feature in the last issue, and it just wasn't ready. Then it was ready, and I got sick.
I'm better now, and so it's time! If you're a Knitty Patron – one of the lovely folk who support Knitty financially every issue – you already know about it! What is it? It's called knitty+ and you can read about it here.
We're rolling out the beta to a small group of our Patrons at a time to prevent things from getting crazy while we stamp out bugs and make changes as necessary. We expect all eligible Knitty Patrons to have access to this amazing new thing well before our Winter issue goes live in December.
Can't stand the suspense? Become a Patron and get the whole story! Can't afford to be a Patron? Sign up as a Follower for free, and you'll still get to hear all about it so you can join when it works with your budget.
---
The only reason we're still here is our Patrons! That's how we're able to publish 4 times per year. Our Patrons fund 75% of our operating costs, and every single dollar each Patron contributes helps. We'd love you to join them! If you like rewards, you can get them starting at the $5 per issue level on Patreon! If you just want to support Knitty with no frills, this page lays out all the options.
We are also grateful for the Advertisers who choose to place their messages on our pages. They're small businesses just like Knitty is, and welcome you to visit their shops. If you can, please support them when you need to make a purchase.
To learn more about advertising with Knitty, pop over to our Rate Card.
---
Here's how you can keep in touch with us:
Facebook | Instagram | Bluesky | Patreon


Amy Singer
[editor, Knitty]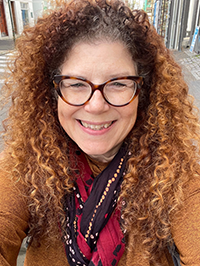 photo:
Jillian
Fall is on its way!
I'm writing this in August and it's still 80-90 most days, but this morning I found a leaf on the sidewalk that turned red before it fell.
Fall is peak fiber season in the northern hemisphere. I can feel all of the knitters, spinners, crocheters, weavers, and other fiber artists getting excited for our season. We're planning and gathering before winter.
There are things I like to do to get ready for the cocooning of winter. I like to travel at least one time in fall with fiber people. Huge bonus if it's to a sheep and wool festival or a yarn store shop hop.
I want to see new things and think about the possibilities of things I can do over the winter. Are there new yarns I want to try, or a new craft I want to learn?
I make sure to gather with other fiber folk, especially ones I don't see on a regular basis. I like to hear other crafters opinions and learn everything I can from them.
Something I've learned over time, and because of a decades-old overflowing stash, is to do a little planning before winter hits and before I head out to those last fiber shows with my friends.
I check my stash, my knitting queue, and my spinning idea journal. I make myself a very loose and broad plan for what I want to spin and knit. I note if there is anything I want to learn or fine tune over the winter: this year it's tapestry weaving and brioche knitting (I know – late to the party!).
I check my stash so I don't duplicate things I already have, and it helps me not to get caught up in the whirlwind that happens when friends shop together. If you know, you know.
When I look at patterns I want to knit and/or spin for I consider how I might want to change the look with a different yarn. This issue's Substitution Solution tackles that idea. I can choose a yarn that ticks all of the boxes for a substitution technically, but when I change the color palette or texture of the yarn, it changes my project into something more me.
Enjoy the run up to a cozy winter with festivals and friends!
Happy knitting and spinning,

Jillian Moreno
[editor, Knittyspin]