Feature: Cool stuff
Cool stuff
SR [Finished chest measurement for sweaters] = the smallest chest measurement to the largest chest measurement we could find in the book. There may be only one pattern with the smallest or largest size, but it's in there. Books are softcover unless noted otherwise. All prices USD unless noted.
When you click on an Amazon affiliate link below and make a purchase, you're supporting Knitty. We thank you!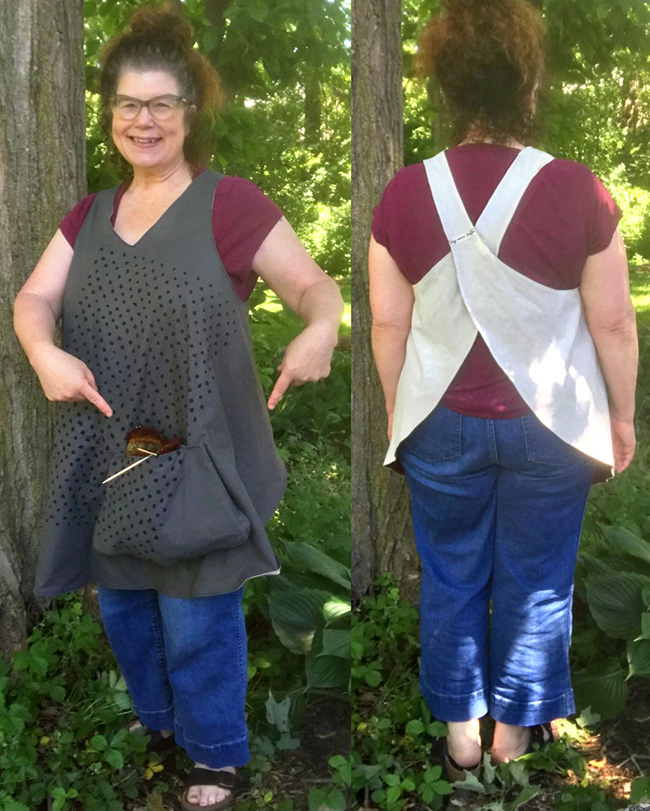 Knitter's and Spinner's Aprons
by Tracey Anne Martin
Spinner's apron [left], knitter's apron [right]
$98

These aprons are fantastic! They are beautiful, useful and fun to wear. They are made by someone who is clearly an excellent seamstress and is both a knitter and a spinner.
They are made of two layers of 65% organic linen/35% cotton blend fabric. They are a design that criss-crosses in the back and just drops over your head, nothing to tie. They are both reversible.
They are sized S-XXL. I am wearing a XL in the photos and wear a size 16 on top and 12-14 on the bottom. I am about 5'3".
The cut and sizing is generous, and the two layers of fabric create weight that makes the apron hang well and less liable to get caught on things when passing by. It is a swingy apron, and the first thing I did when I put it on was twirl.
Pockets! Both designs have clever pockets with each craft in mind. The pockets are on only one side of the reversible apron.
The Knitter's Apron has one deep tapered pocket like a project bag on your hip. It's angled so it's easy to knit from and easy to quickly tuck your knitting inside, if you need your hands. If you stand or walk and knit, this is a great feature. I wore mine to cook one night and was happy to have my knitting in a pocket instead of the counter for when I could sneak in a round or two.
The Spinner's Apron has two pockets: one on each hip on the side, but not in-seam. They are big enough for a small spindle, fiber, or spinning tools. I wore mine to stand and spin on a phone call. I've never been great with a wrist distaff, so the pocket was perfect for me. The pockets were far enough to the side that I could reach pocketed tools while sitting and spinning.
The Spinner's Apron is light on one side and dark on the other, which is helpful when, you need contrast for spinning. The ruler screen-printed on the front is to scale and I used it surprisingly often. The double thickness of fabric will allow you to use a flick lightly. It will protect your legs, but the fabric will get marred.
If you are in the market for a Knitter's or Spinner's Apron, these are definitely worth a look!

JM

Big Book of Kids Knits: Over 45 Distinctive Scandinavian Patterns
by Jorik Linvik
Trafalgar Square Books
$27.95, hardcover
With bright colors and unique motifs this book is a twist on Scandinavian patterns with kids in mind.
In the book there are 45 patterns for sweaters and accessories for children with the basic shape, style and design of tradition Scandinavian knits. The author clearly has knit for many children, the colors and motifs are perfectly energetic and bright. While there may be a snowflake or two, there are also tractors, kittens, ponies, skiing teddies, and a giraffe. The patterns are all rated experienced by the designer, they are all stranded knitting in the round.
Most of the patterns come in more than one size, and while there are measurements, there are not schematics. Instead for mittens and socks there are scale drawings of the finished size. You can measure the drawing or compare it to a sock or mitten that currently fits the child you are knitting for, I think that's a smart idea. Different sizes are achieved by changing yarn sizes.
Another great idea are the blank charts in the back of the book for socks, mittens and hats. This allows you to chart and image of whatever it is that your child adores the most right now, and knit it in to something they will love to wear.

JM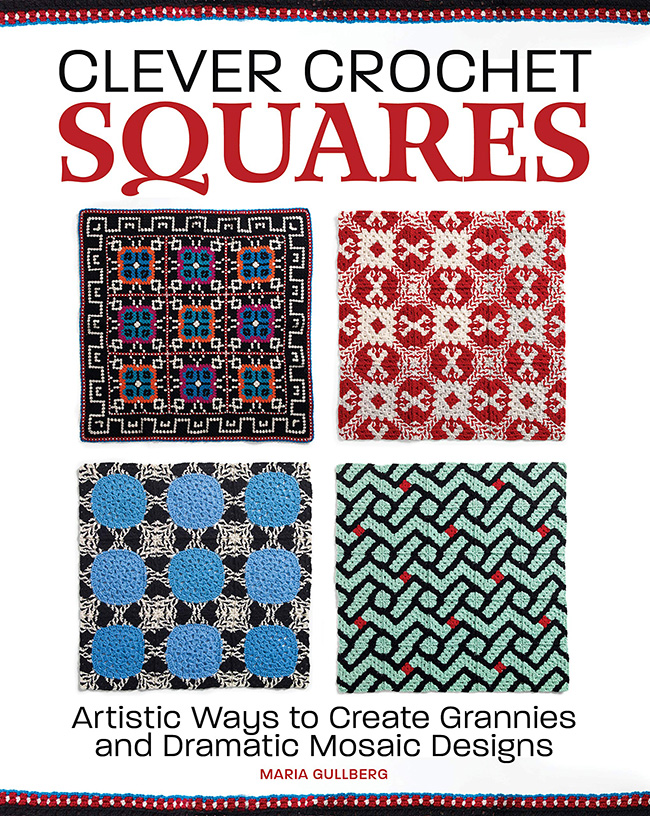 Clever Crochet Squares: Artistic Ways to Create Grannies and Dramatic Mosaic Designs
by Maria Gullberg
Trafalgar Square
$22.95, hardcover
I am very much a beginning crocheter, but this book blew me away. The book is set up around six projects: a coverlet, two pillow covers, two bags and wrist warmers. Having a project as my goal really helps me to take those intimidating steps in trying new grannies. And the granny squares in this book are spectacular and quite unique. The shape and form are regular square, but what happens in between those edges is not.
The designs are inspired by weaving and printed fabrics. Sometimes it's the movement of the stitches that makes the square innovative, sometimes it's the use of color. The author, who is also a graphic designer, notes what has inspired each square.
There are 19 original squares in the book: 8 easy, 1 easy to intermediate, 5 intermediate, 4 intermediate to experienced, and one hilariously rated ' difficult for even experienced crocheters'.
The design of the book is outstanding, what I always hope for from any how-to book. It has clear, color photography, including close ups. It has a spiral, lay-flat binding, and giant full color charts and illustrations. It all adds up to patterns that are easy to see and easy to follow while crocheting.
This is exactly the type of crochet I'd like to do and this is exactly the book I need to help me step up my crochet skills.

JM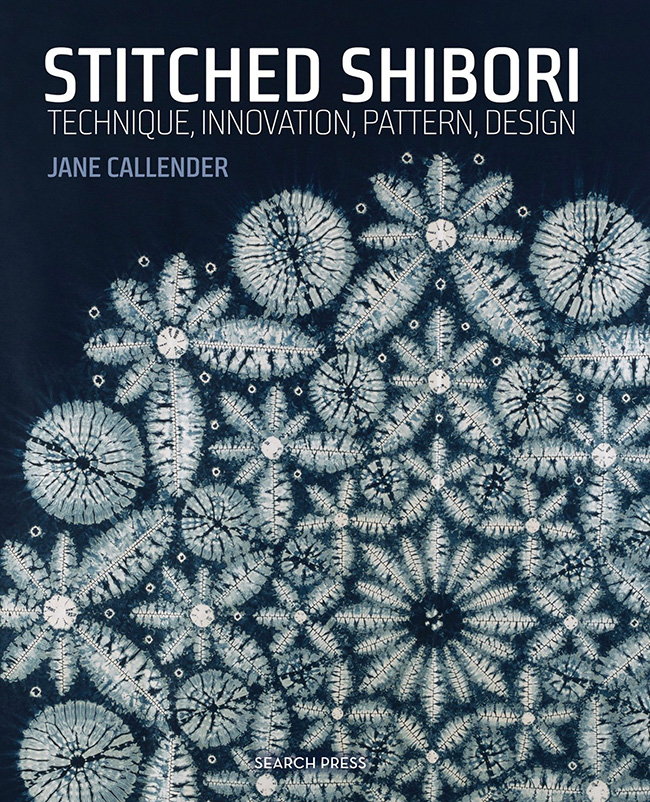 Stitched Shibori: Technique, Innovation, and Pattern Design (2017)
by Jane Callender
Search Press
$35
This is not a new book – it's three years old. I wanted to bring it to everyone's attention because it is so good. It seems that most folks with an interest in dyeing have an indigo pot in their backyard, balcony or garage. Now that so many people have the skills to use indigo, the focus is turning to making unique cloth. Shibori, a stitch resist technique, is one beautiful way.
Over 100 pages of this book are devoted to the techniques of Shibori: stitch lengths, shapes, different effects, layers, pleating, etc. The techniques are shown in close-up photography, clear illustration, and color photography of the technique on finished cloth. The techniques range from simple stitches to more complex combined techniques.
The pattern section teaches how to design a cloth, how to place lines and patterns, and using stencils.
There is information on tools, dyes and dyeing, natural and synthetic, including recipes and safety considerations.
This is an exhaustive and comprehensive book on Shibori. If you are interested in the technique, this is the book to buy.
JM