Feature: Knittyspin
INTRODUCTION
Knittyspin
Stash Dive!

I think this is a good time to work with the stash we have. Fiber festivals are mostly canceled, no one I know is feeling flush, so I think a good old stash dive for the summer would be fun..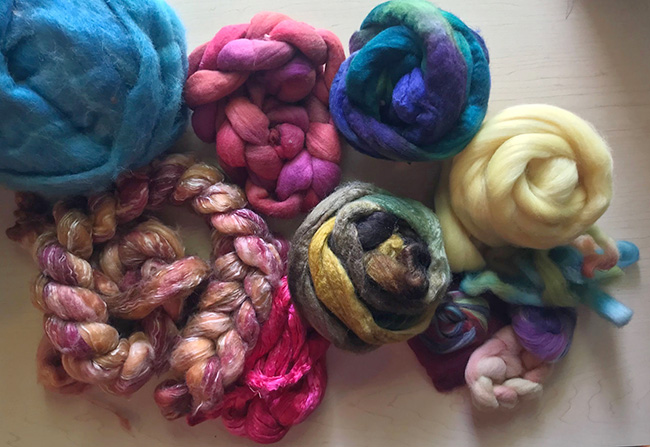 L to R: Some of my less-loved stash
I'm diving deep into my stash for some of the most unloved stash, the ones that are shopworn, compacted, colors that are unliked, and fibers that there just aren't enough of. Most of my stash is braids, so that's what I'm using here.
My pile of fibers consists of:
Some small bits, including the samples of fiber from goodie bags and those included as a thank you and enticements with fiber orders. Plus some leftovers from projects, not enough to be anything on their own.
A braid of Merino/Tencel that has been roughed up in my stash.
A braid that is compacted and wouldn't be impossible, but would be annoying to spin.
A braid of colors I loved when I bought it, but I'm not so wild about anymore.
A random assortment of add-ins, including silk, threads, and sparkle.

Here are some of the things I do with my deep lesser stash. I like to work combining and transforming my unloved fibers with mostly a pair of hand cards. Sure, I mix and combine in draft and ply, but I've talked about that a lot.
Yes, I have combs, and a drum carder that I can use, but there is something so quick and easy about using hand cards. I don't have to commit a lot of fiber like a drum carder, or worry about a special set up (I tend to be clumsy with combs).
Hand cards feel like playing to me, sampling smaller amounts of new combinations and colors. If I like it, great I can do more (I can even move to my drum carder); if I don't, it's only a few grams of fiber and a fiber lesson learned.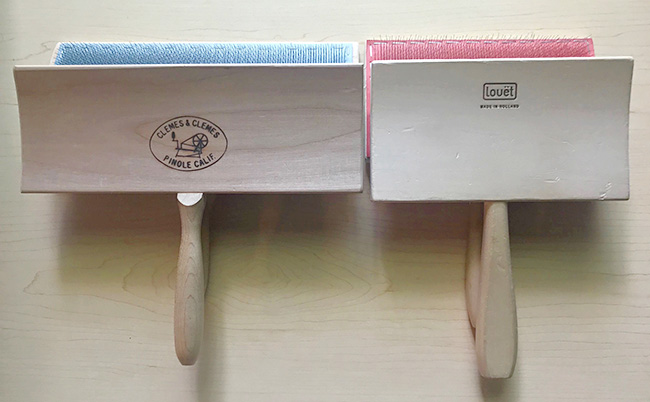 Cotton hand cards by L: Clemes and Clemes; R: Louet
I use cotton cards. I always wanted to love hand carding but never really did until Beth Smith put a pair of cotton cards in my hands. Lightning struck, and carding was easy. Cotton cards tend to be light, with fine springy teeth. I mostly card already prepared fibers, making new colors and blends rather than hand carding a whole fleece, these are great for that, especially since there are no locks to open.

There are thee main reasons why fiber tends to stay in my stash: condition, color, and quantity.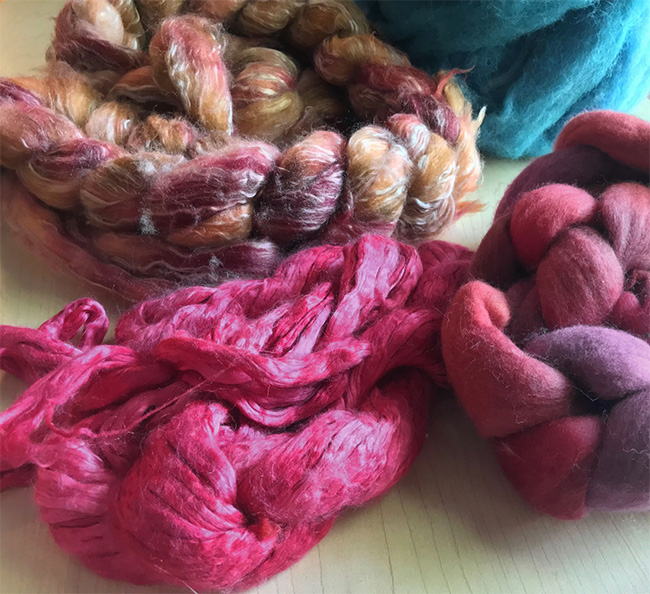 Compacted and shopworn fibers
Compacted fibers are those that have more or less deflated, and are a bit stuck together. They are on their way to felting, but not quite there yet.
Shopworn fibers are the ones that are looking kind of scraggly. It happens a lot with finer fibers or blends – they get roughed up in my stash and the surface of the braid isn't smooth any more. The term 'shopworn' comes from my many years in retail, and describes the merchandise we usually put on sale because it was dented, scratched, scuffed, or otherwise not new looking anymore – worn out from being in the shop.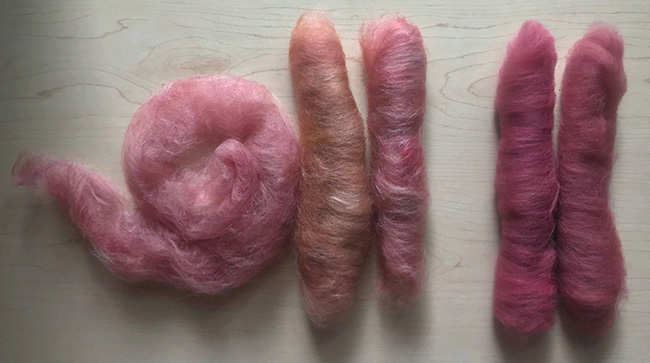 Fresh rolags from compacted fiber. Far left: a rolag pulled into roving.
My number one thing to do with compacted and shopworn fiber is to card it into rolags. Most of the time it only takes 2-3 passes on my cards to get the fiber fluffy again. Remember not to overfill your cards. That makes working with fiber harder.
If you don't feel like you have good control spinning from a rolag or just don't like it, you can always pull your rolag into roving. Pull starting from one end and working your way down the rolag, remember to go slowly so the fiber doesn't separate.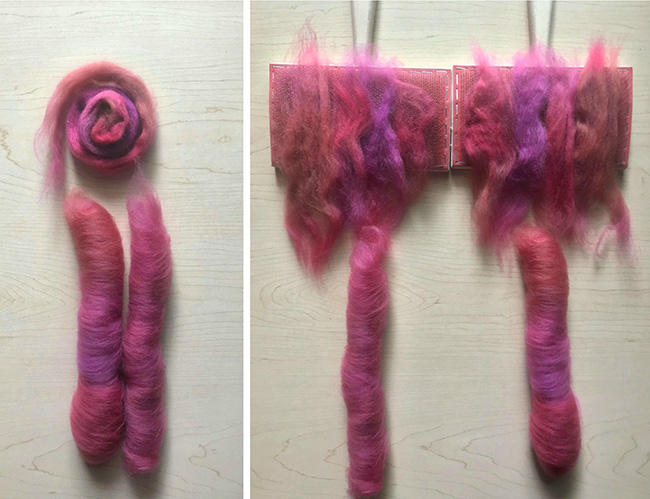 Far left and far right: rolags and card loaded to preserve color stripes. Middle: rolags and card loaded to blend colors.
If you are carding a braid that has of different colors in it (gradient, patterned, random, not speckled), you have choices! You can blend all colors together, or keep them separate(ish).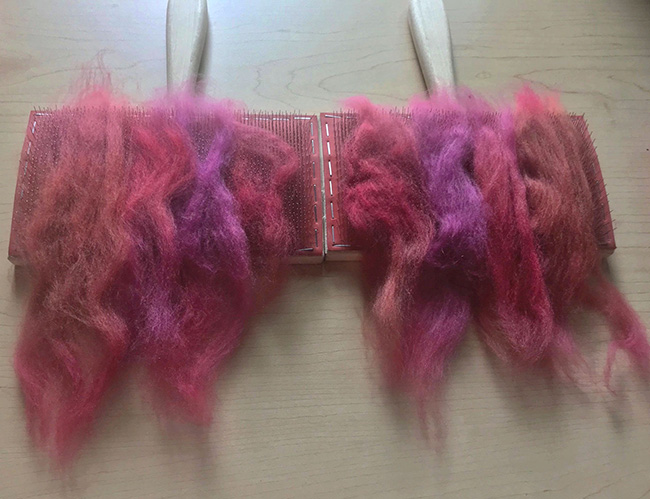 Cards loaded for – L: a blended rolag R: a rolag with stripes
It's all in how you load your cards. To have colors in an order, load the fiber in stripes next to each other, keeping colors separate as you build up your card. Card slowly, trying not to move your cards side to side as you work. If you want to blend the colors, layer them in thin layers of color. In the photo I have offset the layered colors just for the picture; in real life, each color is completely covered with the next.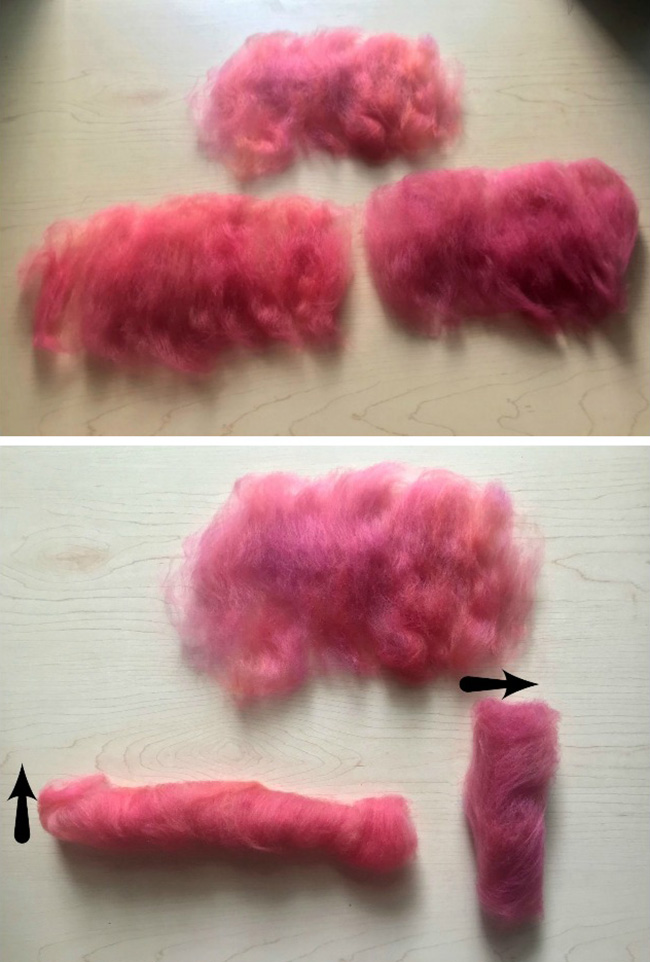 You can spin your carded fiber without rolling it, rolling it from bottom to top, or side to side.
When you are done carding, there are choices too. You can remove the fiber from the card (it's called a lap in this preparation) and spin from the flat piece. You can roll your rolag longways (bottom to top or top to bottom) or shortways (side to side). The fibers are oriented differently as you spin, even though both are woolen. Rolling longways makes rolags that are spun against the grain of the carded fiber, so loftier fiber. Rolling shortways gives you a rolag that is spun with the grain of the carded fiber, slightly less lofty. This direction is like spinning a stripped batt.
Sometimes I diz my fiber off of my cards, straight to roving, no pulling needed.

Color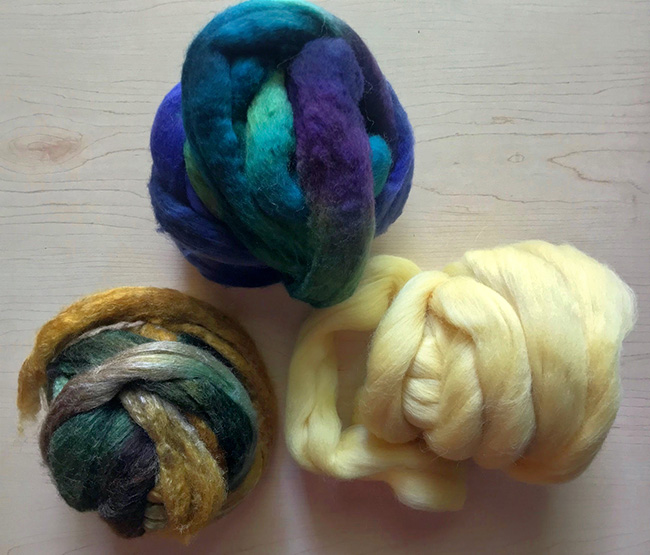 Three fibers I'm having color disagreements with
Sometimes (ok, many times) I go off a color. There are always colors that I have trouble with (yellow), but I also rotate through colors I like. There are always braids in my stash that languish because I'm just not into one of the colors in it or the combination of colors. Most of the time, I draft or ply this no-longer-liked color or colorway with other colors or colorways to make a new pretty yarn, but I do two other things on the regular.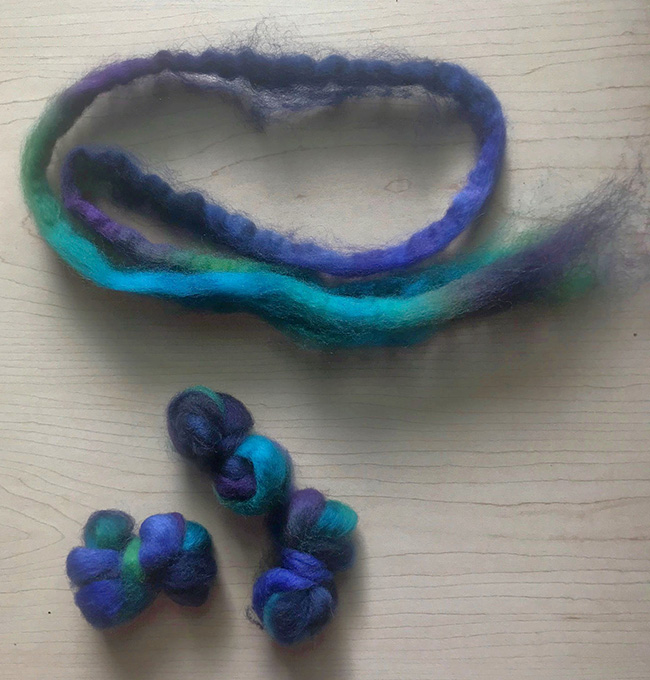 All hail the mini!
I make minnies. Minnies are about .25 of an ounce of fiber. Lots of dyers sell them already stripped and wound into irresistible bundles.
To make your own, strip a braid four times lengthwise, then split each of those lengths into fourths, and wrap into little bundles. Do this with several braids and spin them randomly. It's fun and really freeing color-wise. I did a #samplealong on my blog if you want to read more about it and see what the yarn looks like. You can make bigger than .25 ounce bundles of fiber. I also like to spin with single ounces of braids that I think go well together.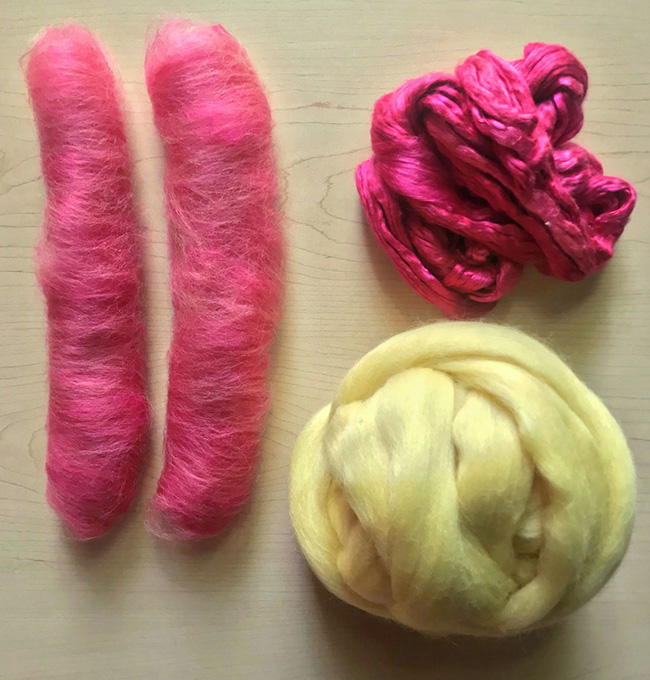 My favorite way to spin yellow: blended with something else.
Sometimes when I'm binging tv (right now it's Psych), I sit on the couch and just blend colors. I like to blend colors that I don't really like, or like anymore, into colors I can't wait to spin.
For me the pink silk was a little hot (colorwise), and I wasn't in the mood for spinning 100% silk. Blended with a yellow that I really don't like (60% yellow/ 40% pink), it made this great flamingo pink that I really like.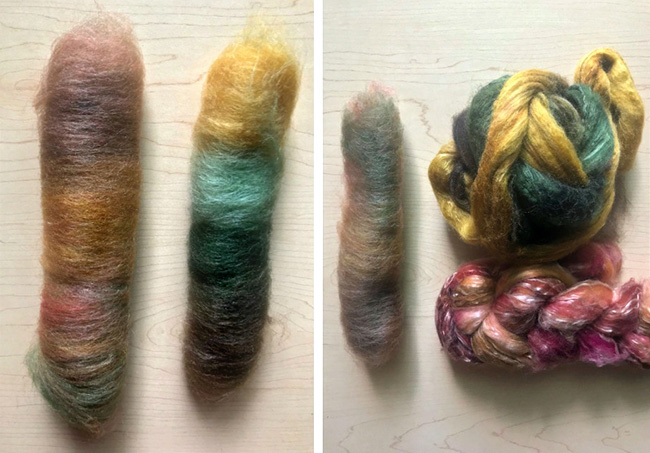 Green and gold blended with pink and brown
I do it with braids, too. This green and gold braid is worn and I'm not really feeling the colors today. I know if I blend it all together it will just be flat and muddy. So I mixed it with my shopworn pink and brown braid, making layers, and keeping the greens and golds in stripes. I made a layer of the pink/brown randomly across the card, then a striped layer of the green/gold, then repeated it a couple of times. I carded to keep the stripes in order.
The result is a little bit of striping (the stripes in the combined rolag are, from the top, brown/gold/green) and a lot of glowing brown/pink/greens. I like the colors so much better (I am a fan of shades of dirt – it's different from mud, really), and keeping the stripes in there, even faintly, will give my yarn and knitting a visual rhythm.
Quantity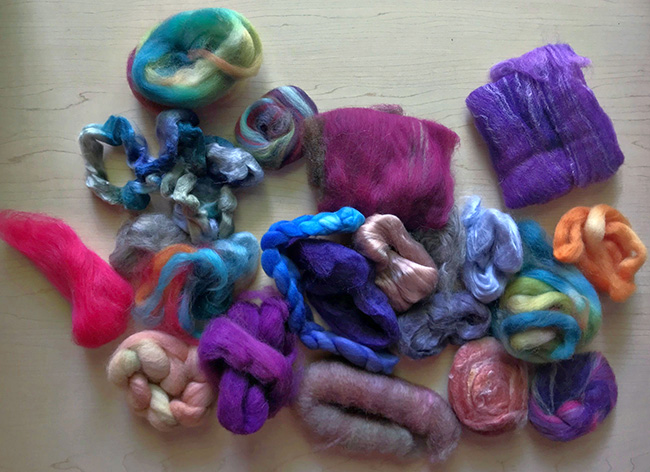 This is mostly my goodie bag from PLY Away 3
Even though I have a big stash, I still save every bit of fiber I get in goodie bags and most of the fiber leftover from projects and experiments. That's a lot of little bits of fiber.
Some of this fiber goes into making minnies (they are my favorite spin right now). I make minnies when I want to touch fiber, but don't want to spin or knit.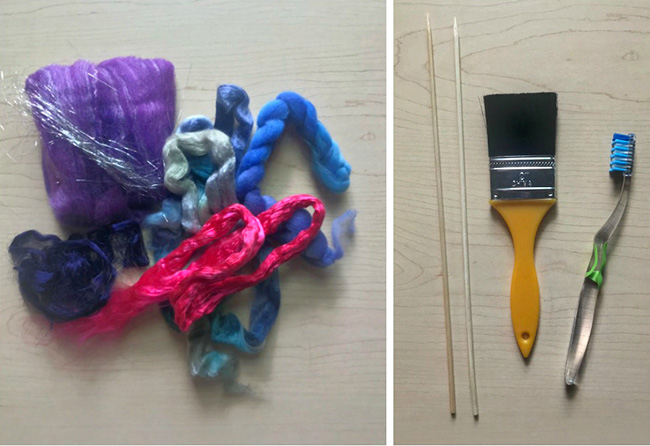 Fiber, add-ins, and tools to make a mixed up rolag
I also make mixed up rolags. They're a little like art batts, but more like rolags made on a blending board, except I make them on my hand cards.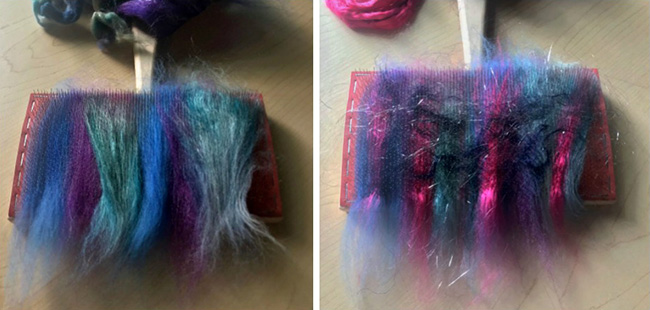 Mixed up rolag in process
I use my bits of fiber and some other add-ins like sparkle, silk, and anything shiny. I don't use the hand cards as carders. I never card the fibers together. Instead, I use a paintbrush, and a toothbrush to pack the fibers and add-ins into a card. I start with a layer of plain fibers, wool and wool blends that can hold onto the slipperier fibers. After that, I add in the slinky and sparkly bits, and pack them in.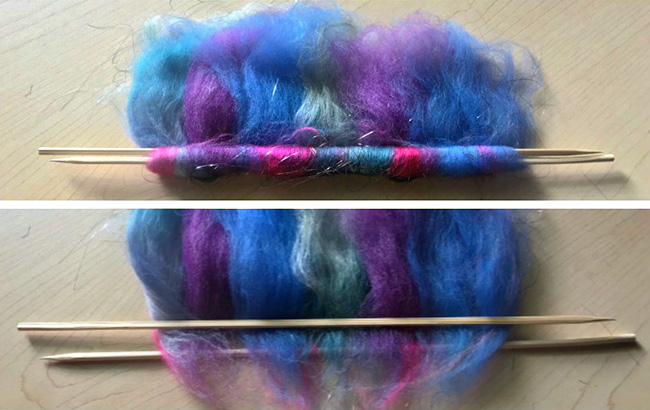 Rolling a rolag
To make a rolag to spin, I gently pull the fiber off of the card and flip it over so the plainer, wooly side faces up. I pinch the edge of the lap between two bamboo skewers, and start rolling. Every other turn, I brace the skewers and tug the fibers to tighten it. When all of the fiber is rolled up, I smooth the outside and try to seal the edge of the rolag as best I can. I slip it off of the skewers and it's ready to spin.


Sparkle on, little rolag!
I hope this gives you some ideas to play with (and please, mix and match techniques) to use those often-overlooked bits of your stash that are looking for a little spinning love.