Shroomies, a free knitting pattern from Knitty.com. Free knitting pattern for a pair of fingerless mitts Fair Isle stranded design.
INTRODUCTION
Shroomies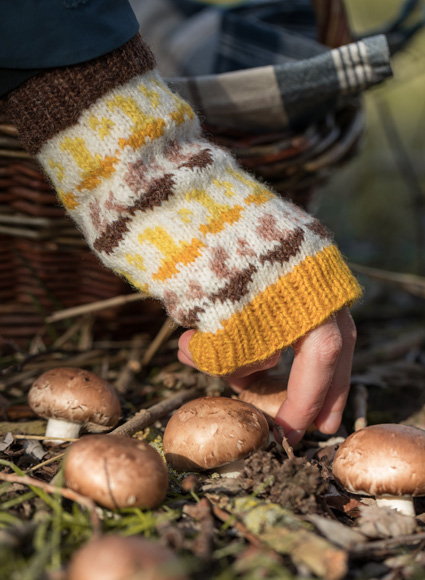 by Simone Bechtold

Fall in the Northern Hemisphere is mushroom season and these will keep your hands warm and your fingers free while foraging through the woods (or the farmers' market). They don't replace a field guide, but they work perfectly well as a shopping list: don't forget the porcini. Don't forget the chanterelle. Don't forget to take them off before you nibble on some blueberries (don't nibble on blueberries at the farmer's market unless you bought them first).
The construction is that of classic fingerless mitts: They are worked bottom-up, starting at the wrist. Stitches are increased to form the thumb gusset. After setting the thumb gusset stitches on hold, the mittens are finished with ribbing. The thumb gusset stitches are then set back onto needles and finished with ribbing, too. Colorful as they are, you never use more than two colors at once.

model: Simone Bechtold

photos: Sebastian Worm
FINISHED MEASUREMENTS
Circumference: 7.5[8.5] inches/ 19[21.5] cm
Length: 6.5 inches/16.5 cm
Note: Measure around the palm of your hand above your thumb, and choose a size with zero or very little positive ease.
MATERIALS
Yarn
Jamieson & Smith 2ply Jumper Weight [100 % wool; 125 yd/114 m per 25g skein];


[MC] white, shade 1A; 1 skein


[CC1] yellow, shade 23; 1 skein


[CC2] orange, shade 91; 1 skein


[CC3] light brown, shade 3; 1 skein


[CC4] dark brown, shade 4; 1 skein

Recommended needle size
[always use a needle size that gives you the gauge listed below - every knitter's gauge is unique]


US #1.5/2.5mm needles for small circumference in the round: traditional or flexible DPNs, 1 long circular for magic loop, or 2 shorter circulars


US #2/2.75mm needles for small circumference in the round: traditional or flexible DPNs, 1 long circular for magic loop, or 2 shorter circulars

Notions


a length of smooth similar-weight yarn to hold thumb gusset stitches


yarn needle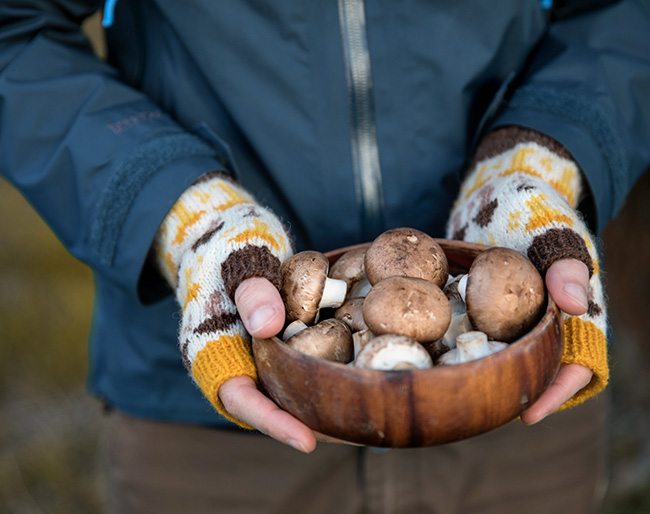 GAUGE
26 sts/38 rounds = 4 inches/10cm in stockinette stitch on larger needles
30 sts/34 rounds = 4 inches/10 cm in colorwork stockinette stitch on larger needles
PATTERN NOTES
[Knitty's list of standard abbreviations and techniques can be found here.]
When working in stranded colorwork, use MC (white) as the non-dominant color.
DIRECTIONS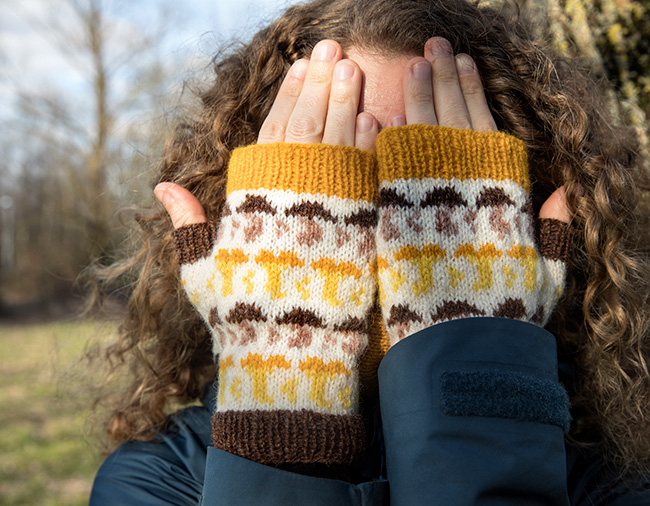 Cuff - Both Hands
Using CC4 and smaller needles, CO 56[64] . Distribute stitches across needles as you prefer and join for working in the round.
Ribbing round: [K1, p1] around.
Work Ribbing as set for 10 rounds total.
Hand
Change to larger needles.
Note: There are four different hand charts. You'll work one Left hand and one Right hand, choosing the appropriate size chart.
At various points in the chart, the start of the round position is shifted. This is done to eliminate the jog in the colorwork. Follow the chart as shown – some rounds continue past the established start of round, others end earlier than the established start of round. Rearrange stitches as you prefer, when working.
Next round: Work appropriate size and hand chart around.
On Round 33, work 24[31] stitches in pattern, slip next 17 stitches on hold onto length of scrap yarn (see green dash line in chart), make 1 backward loop in MC (white, see chart), and carry on with the rest of the round.
Continue until chart is complete.
Upper Edge
Change to smaller needles.
Cutting other colors, join CC2.
Next round: Knit.
Ribbing round: [P1, k1] around.
Work ribbing as set for 8 rounds total.
Bind off, using larger needle to work the stitches.
Thumb
Return held gusset sts to smaller needles. Rejoin CC4 at crook of thumb, and knit across held sts. Pick up and knit 1[3] sts in the crook of the thumb. Distribute sts evenly across needles and join for working in the round. 18[20] sts.
Work ribbing as for Upper Edge.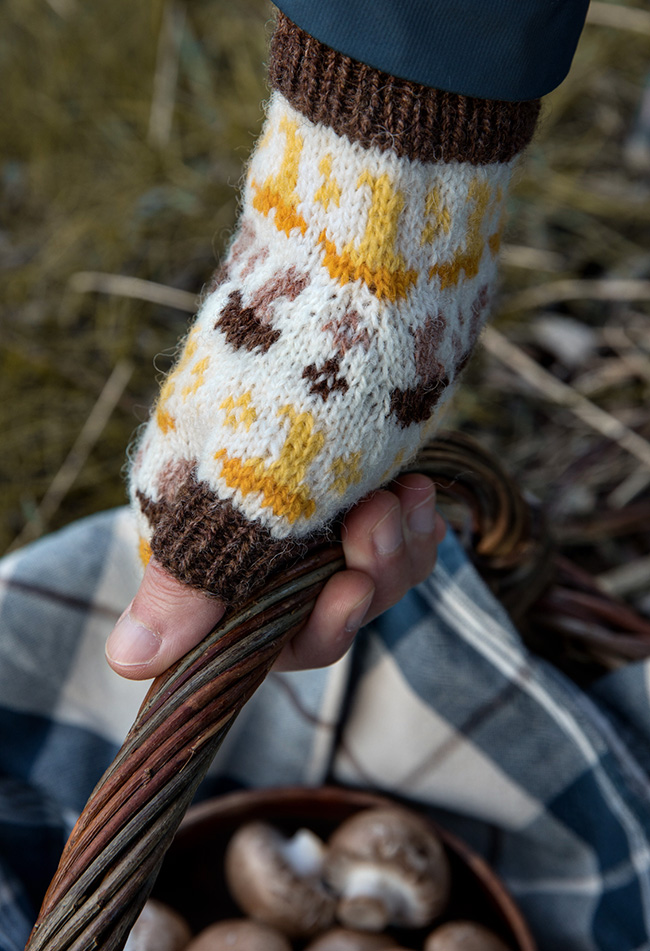 FINISHING
Weave in all ends and close any gaps on the inside of the thumb. Wash your mitts using warm water and a mild detergent. Rinse using warm water, gently pull them into shape, then let them dry lying flat.
ABOUT THE DESIGNER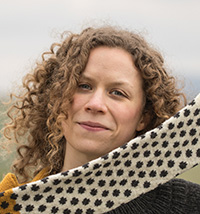 Simone holds an M.A. in Celtic Studies and works as a copy editor of IT books. She finds the similarities of computer code to handwritten manuscripts from the 9th century rather amusing. Cat content really transcends the ages (check out Pangur Bán!).
She will not go on a mushroom foray without professional guidance because she doesn't trust her abilities to distinguish perfectly edible shrooms from the deadly poisonous ones that kind of look exactly the same.
Find her here on Ravelry.
Pattern & images © 2020 Simone Bechtold.