Squishtastical, a free knitting pattern from Knitty.com. Free knitting pattern for a colorwork fade cowl with a mighty fine tassled drawstring.
INTRODUCTION
Squishtastical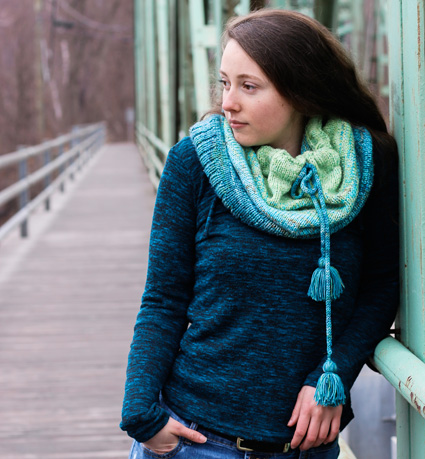 by Stephanie Shiman

A knitter friend and I often jokingly debate the merits of the most perfect cowl. She likes them snug and choking fitted…and I like them loose and squishy. This cowl however, is one we both agree on. It's big and squishy, soft and warm, and can be pulled up like a hood. The knitting is simple and satisfyingly quick, the color fade keeps it interesting, and its snuggly cozy to wear.
Starting at the bottom ribbing, you work with two strands of fingering weight yarn held together. By dropping one color and picking up another, the colors blur and blend. The top edge is a folded hem with i-cord drawstring for cinching out the cold. Tassels or pom-poms add the finishing touch.


model: Mesa Kennedy

photos: Shannon Herrick
FINISHED MEASUREMENTS
Height: 22 inches/ 56cm
Circumference: 28 inches/ 71cm
MATERIALS
Yarn


Wonderland Yarns "Queen of Hearts" MCN fingering [80% superwash merino/10% cashmere/ 10% nylon; 420 yd/ 384m per 4 oz/ 113g skein] – modelled above
[C1] Willow-Tree; 1 skein
[C2] Aquamarine; 1 skein
[C3] Peridot; 1 skein


OR

Wonderland Yarns "Mary Ann" sock/fingering [85% superwash merino/ 15% nylon; 475 yd/ 434m per 4 oz/ 113g skein] – laid flat in pic below
[C1] Shiningness; 1 skein
[C2] Curious Tale; 1 skein
[C3] Chalice of Poetry; 1 skein
Notes on chosing colors: Choose three or more colors that are similar in dye technique and saturation, or that have some other element to tie them all together. For example, all speckled, or all shades of blue, etc. Arrange the order as you'd like it. C1 starts at the bottom, and C3 will end up closest to your face. Wind each skein into two balls, or into a cake so that you can work from both the inside and the outside ends.
Recommended needle size
[always use a needle size that gives you the gauge listed below - every knitter's gauge is unique]


US #10.5/6.5mm circular needle, 16-20 inches/40-50cm length


a pair of US #5/3.75mm DPNs or short circular needle for working i-cord

Notions


yarn needle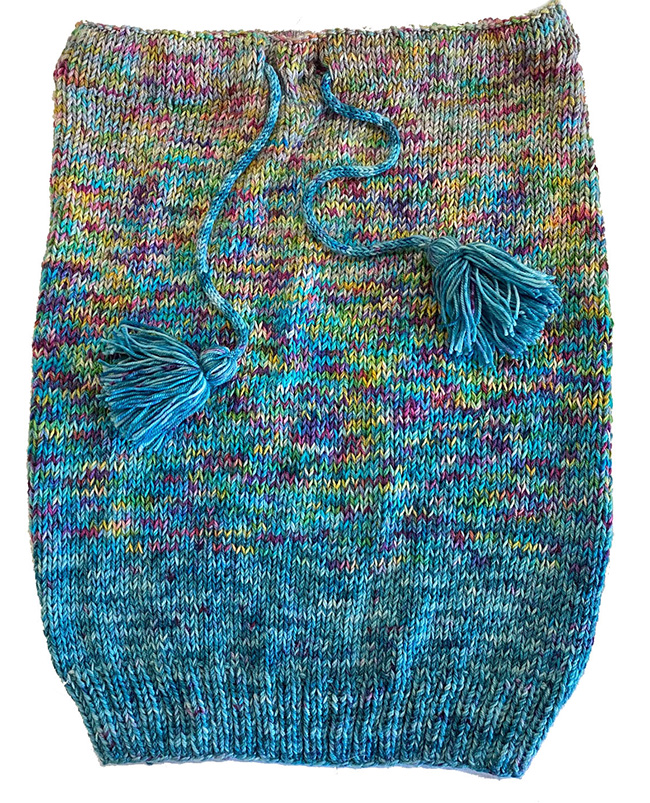 GAUGE
14 sts/22 rounds = 4 inches/10 cm in stockinette stitch with yarn held doubled
PATTERN NOTES
[Knitty's list of standard abbreviations and techniques can be found here.]
Before beginning, be sure to reserve enough of C1 for i-cord and tassels, or alternately make those pieces first, or use leftovers from another project—any fingering or sport weight will work.
Working the fade:
To create a fade, I used the two strands of yarn held together and shifted the three colors as I went. You can follow what I did, or use this method with as many colors as you like, aiming for approximately 21.5 inches/ 54.5cm from the cast-on edge before moving on to the top hem.


There's no need to cut the yarns when you are changing frequently between colors – you can carry the yarn up to the next rows and knit with that color again.
The drawstring
If you don't want to work the i-cord, there other options:
Crochet a chain, with yarn held double or triple, for a length of 42 inches/ 106 cm.
Cut three 42-inch/106cm lengths of yarn and braid them together.
You could also use a wide, soft ribbon, perhaps with pompoms instead of tassels.
Tassels:
More detailed instructions for making tassels can be found here.
DIRECTIONS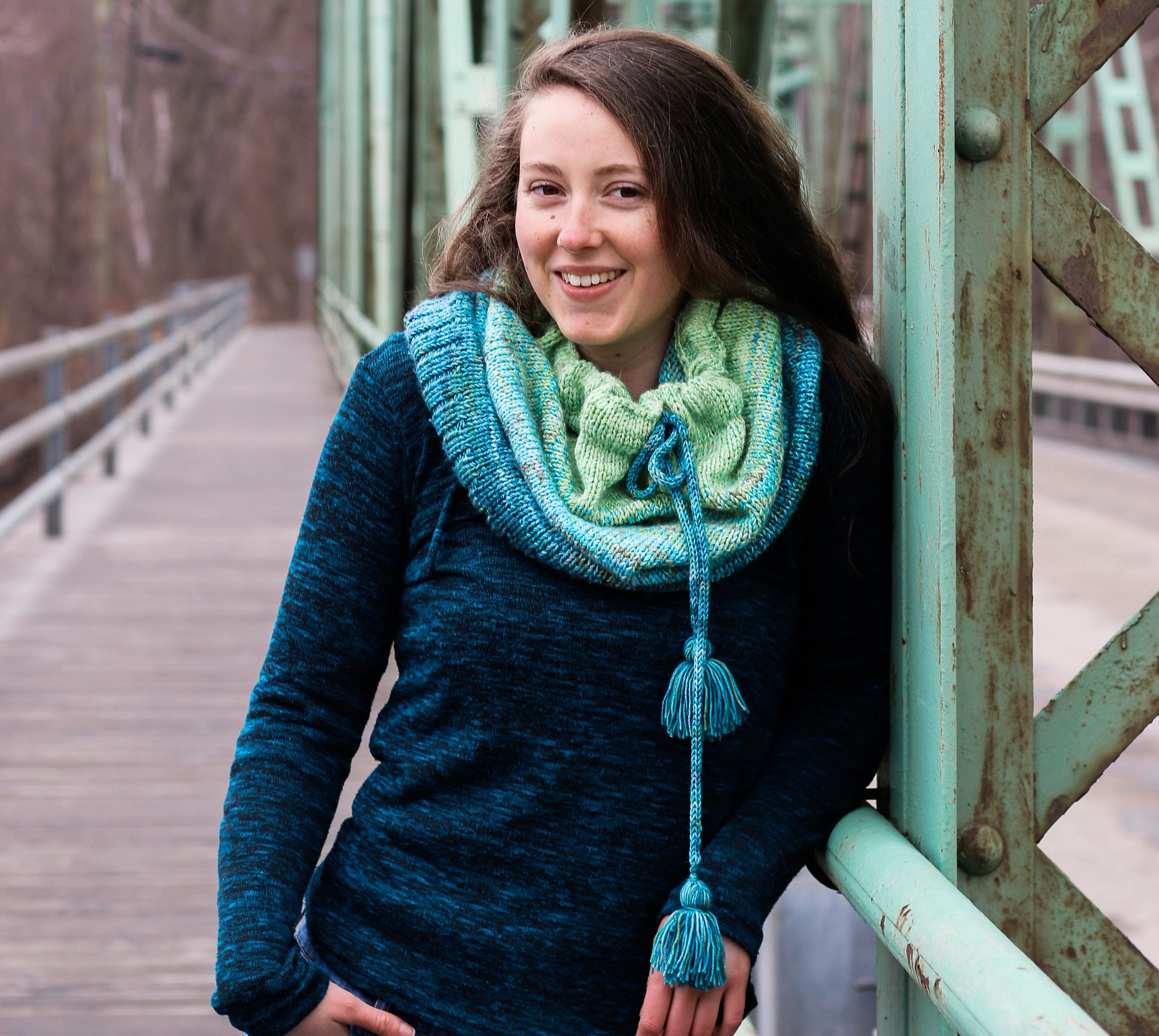 Lower Hem
Using 2 strands of C1, CO 120 sts. Place marker and join for working in the round.
Ribbing round: [K2, p1] around.
Work ribbing as set for 3 inches/ 7.5 cm.
Body
Switch to stockinette and work until the piece measures 21.5 inches/ 54.5cm from the cast-on edge, changing colors as desired, or as noted below.
Work 1.5 inches/ 4cm in stockinette with 2 strands of C1.
Work 1 round with C1 and C2 held together.
Work 2 rounds with two strands of C1.
Work approximately 4 inches/ 10cm with C1 and C2.
Work 1 round with two strands of C2.
Work 2 rounds with C1 and C2. At this point, I cut C1 since I was finished with it.
Work approximately 4 inches/10cm with two strands of C2.
Work 1 round with C2 and C3.
Work 2 rounds with two strands of C2.
Work approximately 4 inches/10cm with C2 and C3.
Work 1 round with two strands of C3.
Work 2 rounds of C2 and C3. At this point I cut C2 since I was finished with it.
Work approximately 2 inches/ 5cm with two strands of C3—or longer if desired.
Top Hem
Complete the cowl with 2 strands of C3.
Round 1, create eyelet holes for cord: K58, YO, k2tog, k1, k2tog, YO, knit to end of round.
Knit 5 rounds.
Purl 1 round, for turning ridge.
Knit 10 rounds.
Bind off without tension.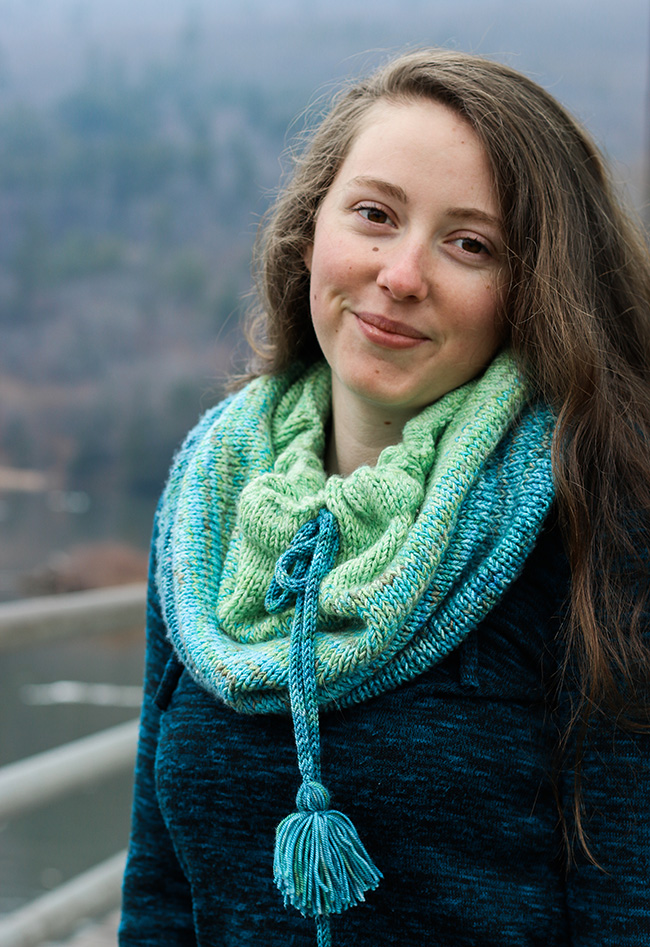 FINISHING
Handwash the cowl and lay flat to dry.
I-CORD TIE
Using the DPNs/shorter circular needle, with 1 strand of C1, CO 4 sts.
*Knit 4. Return these sts back to the left needle, and repeat from * for 42 inches/ 106cm.
Do not turn work when knitting I-cord. If you're using a dpn or circular, you can slide the stitches to the other end—instead of moving them back to the left needle.
Tasssels (make 2)
Make tassels in the size desired. I made very full tassels wrapped at 4 inches/ 10cm and attached ONE to ONE end of your drawstring. You'll attach the other one once the drawstring is properly threaded through the eyelets.
You may find the next step easiest after blocking.
Top folded hem:
Fold the bound-off edge at the purl round towards the inside of your cowl. The drawstring end without the tassel should be threaded into one hole, running around the hem and coming out the other hole. You can now attach your tassel on the other end of the i-cord and using the yarn needle and a length of yarn, use a simple overcast stitch to secure the hem—taking care not to stitch the drawstring in the process.
ABOUT THE DESIGNER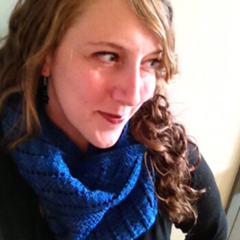 Stephanie is the owner of frabjous fibers and Wonderland Yarns. When she's not up to her elbows in dye, she enjoys foolishness with her daughters, junk shops, making pottery, and all manner of fiber crafts. She lives with her daughters and dogs in southern Vermont.
You can find her show and tell on Instagram.
Pattern & images © 2020 Stephanie Shiman