Cool Stuff - Knitty's opinions on products and books we like. We don't publish reviews of things we don't like.
SR [Finished chest measurement for sweaters] = the smallest chest measurement to the largest chest measurement we could find in the book. There may be only one pattern with the smallest or largest size, but it's in there. Books are softcover unless noted otherwise. All prices USD unless noted. We are provided with samples to review for free, and we do not publish reviews of products that do not perform well in our testing. We are not paid to review any product.
Browse the whole list of books reviewed this issue at Bookshop which gives 10% of their profits to independent bookstores across the US, and a 10% commission to Knitty for every purchase.
We also provide links to purchase on Amazon, and they give us a commission when you purchase as well. Thank you for supporting Knitty!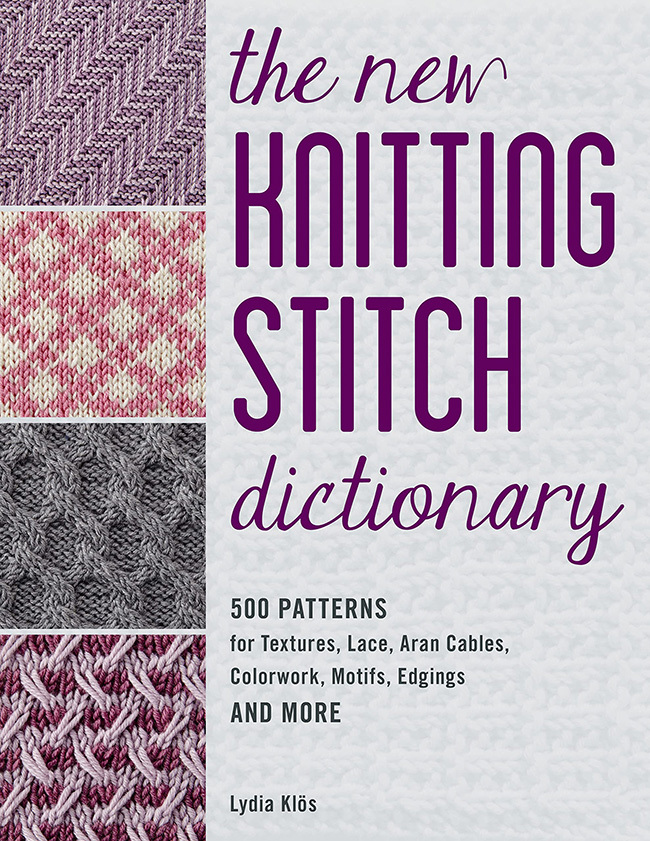 The New Knitting Stitch Dictionary: 500 Patterns for Textures, Lace, Aran Cables, Colorwork, Motifs, Edgings and More
by Lydia Klös
Stackpole Books
$27.95
Buy now at Bookshop.org | Amazon

It's been a few seasons since a giant stitch dictionary came out, and this one is quite welcome. It has more than 500 patterns covering patterns in these categories: Knit and Purl, Cable, Aran, Lace and Cable, Lace, Slipped Stitches, Nupps, Brioche, Edges, Intarsia and Stranded Colorwork, and Patterns Using Special Techniques. There are also short chapters on techniques to go from pattern to finished object, and knitting basics.
I'm thrilled to see a whole chapter devoted to nupps and bobble patterns, I know it's not everyone's thing but I like them and they are rarely represented. The lace and cable chapter had me reaching for my needles and swatch yarn, and the slipped stitch chapter gave me many ideas for upcoming gifts.
Make sure to review the charts and chart keys. There were several symbols I weren't familiar with. I also had to enlarge some of the charts to knit easily from them, which I'm willing to do if it means I have more stitch patterns to choose from!

JM

Crochet Creatures of Myth and Legend: 19 Designs Easy Cute Critters to Legendary Beasts
by Megan Lapp
Stackpole Books
$28.95
Buy now at Bookshop.org | Amazon

When I unpacked this book, I may have made the same sounds I make when I see a puppy. Everything is so adorable! I most certainly need a gargoyle and a wyvern that fit in my pocket, and a much larger dragon and kraken to adorn my couch.
Big or little, these magical creatures have so much color and personality, and – with basic crochet skills – fairly easy to make.
The truly genius part of the book is the directions. The directions for basic body parts and adornments (like wings and horns) are in the middle of the book separating the smol creatures from the chonkier ones. The steps for each part are written out and photographed, paying special attention to any potential tricky bits. Since most of the parts are interchangeable between the creatures, it's easy to refer to them as you're working through a pattern.

Most patterns start with a chart of which basic bits you'll need with corresponding pages noted. It's a clever way to keep from repeating directions across each pattern.
Have fun making these. I believe if you feed them after midnight, and leave the door to your stash open, they will multiply!

JM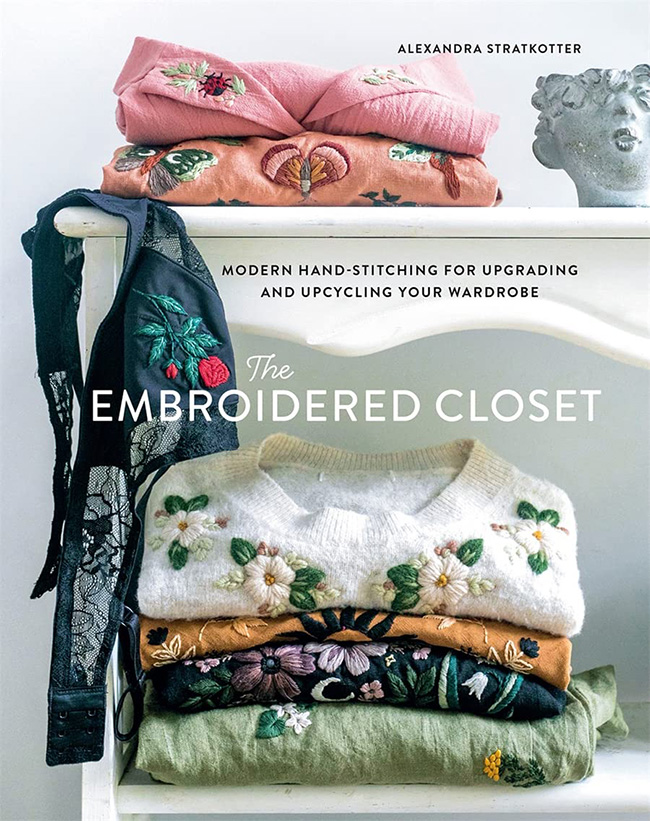 The Embroidered Closet: Modern Hand-stitching for Upgrading and Upcycling Your Wardrobe
by Alexandra Stratkotter
Abrams
$24.99, hardcover
Buy now at Bookshop.org | Amazon

This book couldn't come at a better time. Beyond the sewers that are making and personalizing most of their garments, I have never seen so many people thrifting since the late' 80s/ early '90s. This book is perfect for both types of makers.
Fabrics, threads, transferring images, stitches, pattern placement, motifs, mending and thrifting. There is a wealth of information in this fairly small book. I really enjoyed the information about different fabrics to stitch on and the types of threads to use. I don't remember seeing this depth of info in other embroidery or mending books.
I like Alexandra's style of embellishment. She works with a few well-placed motifs, some quite textured, instead of completely covering a fabric. But if full coverage is more your style, all of the motifs are printed at size in the book, and you can mix and match to your heart's content.

JM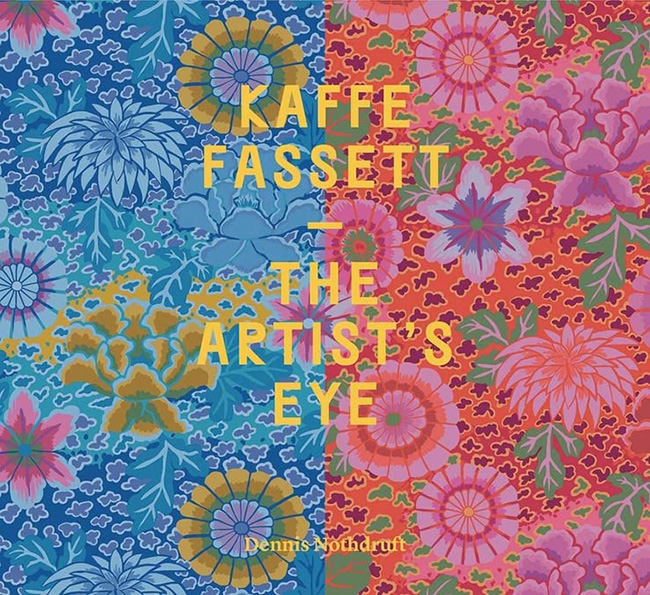 Kaffe Fassett: The Artist's Eye Hardcover
by Dennis Nothdruft, Editor
Yale University Press
$45, hardcover
Buy now at Bookshop.org | Amazon

Published to accompany the exhibition "Kaffe Fassett: the power of pattern" running through July 8, 2023, at Dovecot Studios in Edinburgh, Scotland, this book showcases a lot of his most famous designs.
Knitters, quilters and needle pointers all revere Kaffe and his color and design sense. But what to other creative people think of him? This book answers that question as our favorite maximalist is lauded in essays by designers and fashion historians.
I find myself mostly looking at and being inspired by images of his work, but the interview with Kaffe gave me as much inspiration to do my creative work as all of the photos in the book combined.
If you are finding yourself uninspired, or just needing a shot of color and pattern in your life, this book may be the jumpstart your creative brain needs.

JM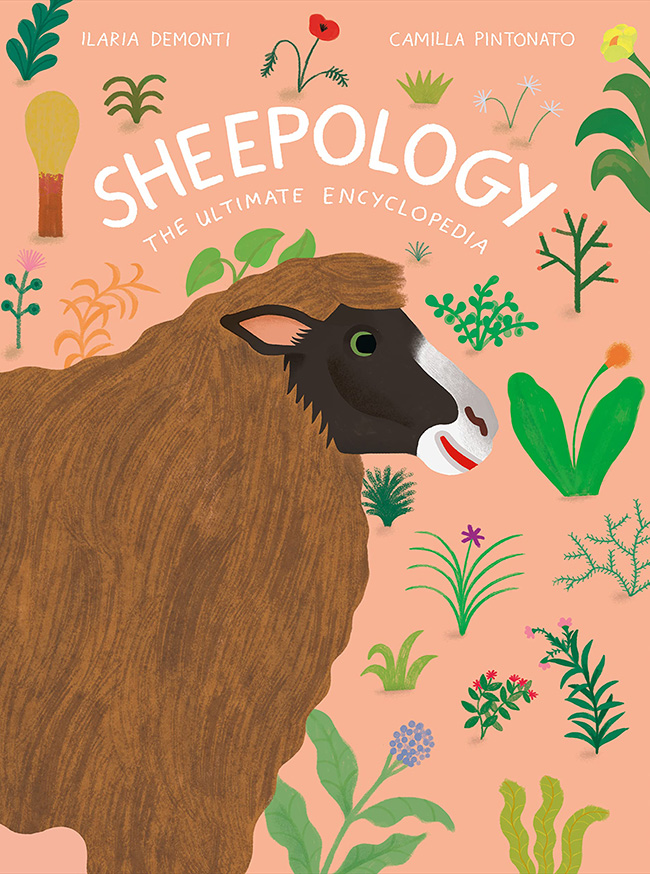 Sheepology: The Ultimate Encyclopedia
by IIlaria Demonti  (Author),  Camilla Pintonato  (Illustrator)
Pa Press/Princeton Architectural Press
$19.99, hardcover
Buy now at Bookshop.org | Amazon

Sheep and wool lovers, come and get the most fun book about sheep that I've ever read!
This visual encyclopedia covers everything sheepy: the history of sheep, raising sheep, sheep breeds, the anatomy of sheep, how to make cheese, how to make yarn, knitting, and weaving. It looks at sheep and shepherds from all around the world, and even talks about sheep in folktales and mythology.
The book is written for kids, but I found so many things I didn't know. The art is what makes the book. Somehow, it's simultaneously loose and still shows detail. The colors are bright and the whole book vibrates with the joy of sheep.
My favorite fun fact: the oldest piece of cheese discovered by archeologists is sheep cheese and is dated to 7,200 years ago!
This is a perfect book to gift to any kiddo in your life you're tempting to the wooly way, or just to keep for yourself and your own joyous research into sheep and wool.

JM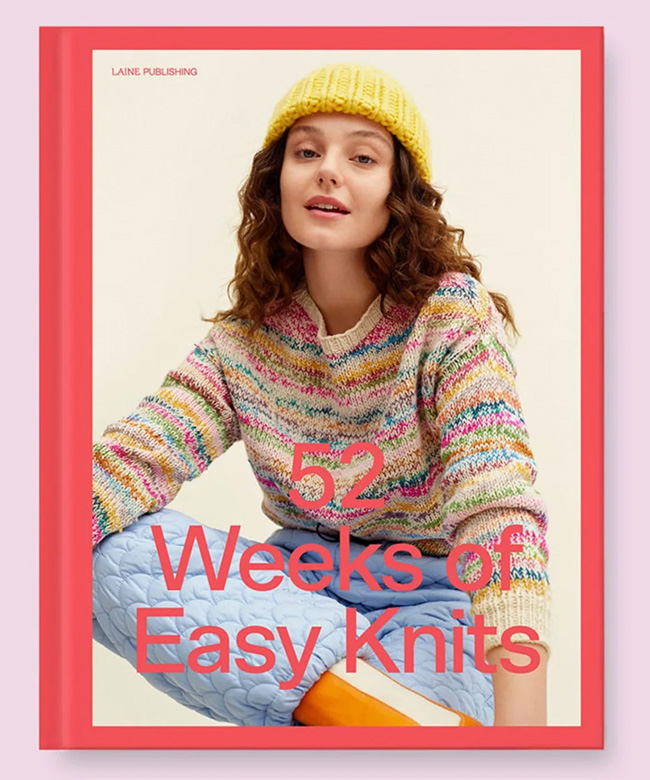 52 Weeks of Easy Knits: Beautiful Patterns for Year-Round Knitting
Laine Publishing
$47, hardcover
SR=37-67"
Buy now at Laine

Easy and summer go hand in hand don't you think? Summer is my favorite time to knit all of the easy, thicker-yarn patterns.
In the summer, I drag my knitting everywhere – to the park, on a plane, to the lake, camping, and of course to bars and cafés. I want a project where I can just glance at the pattern, and yarns that stand up to the brutality of going along on summer adventures.
Usually easy patterns are boring; this collection is anything but. The shapes are interesting and work with many styles, the colors are vibrant and often paired with neutrals, and the yarns hover around worsted, though there are yarns that are thicker and thinner.
The patterns that I have saved in my notes app for yarn hunting are True Stripes, a garter stitch striped pullover that uses five colors; Palette, a short sleeved v-neck sweater with huge potential for playing with your favorite colors; and Viimien, the cover sweater, is calling for some of my stashed handspun yarn.

JM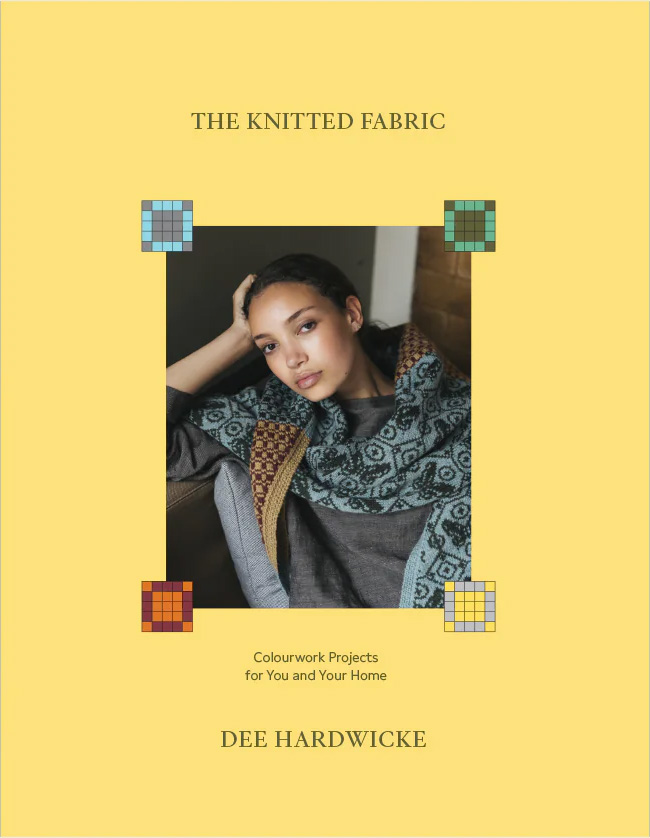 The Knitted Fabric: Colourwork Projects for You and Your Home
by Dee Hardwicke
Laine Publishing
$48, hardcover
SR=35-70"
Buy now at Laine

Dee Hardwicke is a master colorwork knitter and designer. Her work echoes the Arts and Crafts movement, being both beautiful and useful.
The Knitted Fabric feels very personal. There is a depth and coziness to it that seems like we are being invited into her work and studio. There are beautiful photos of her sketch book, her knitting, and things she was inspired by.
The book revolves around three motifs that are developed into several projects, including shawls, cushions and sweaters. The motifs are all based on the natural world: butterflies, plants, and flowers.
It's intriguing to see how the feeling of each motif changes depending on the shifting sizes and shape of the projects. Then as she changes color and color combination, other magic happens. Some projects feel still and soft and some are a riot of color and motion.
This is a book to be savored, and to be inspired by as well especially if you want to knit heirloom-level projects.

JM