Feature: Cool stuff
Cool stuff
SR [Finished chest measurement for sweaters] = the smallest chest measurement to the largest chest measurement we could find in the book. There may be only one pattern with the smallest or largest size, but it's in there. Books are softcover unless noted otherwise. All prices USD unless noted.
When you click on an Amazon affiliate link below and make a purchase, you're supporting Knitty. We thank you!
Jump to... Crochet | Other Crafty Things

Surprise reviews! (April 2018)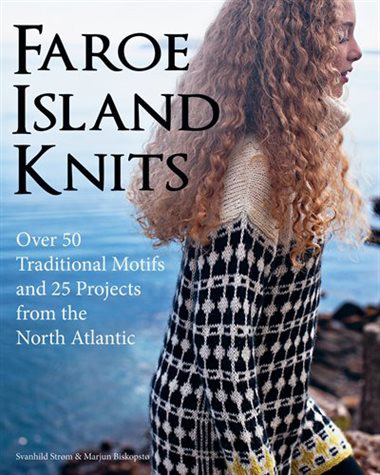 Faroe Island Knits: Over 50 Traditional Motifs and 25 Projects from the North Atlantic
by Svanhild Strom and Marjun Biskopsto 
Trafalgar Square Books
$27.95 hardcover
The non-knitter peeking over my shoulder as I was reading this book said, "that is a beautiful book", and he is right. It feels like a coffee-table visual travelogue to the Faroe Islands, and paging through it is delicious. Both for the landscapes and the knitwear.
For those not familiar with the Faroese esthetic, it feels like a cross between the knitwear of the northern United Kingdom and Scandinavia, which matches it's location in the North Atlantic. Shapes feel like those traditionally worn in cold-weather Britain and Scotland. Designs feel Scandinavian, and it's all quite yummy when mixed together.
This book was inspired by the work of Hans Marius Debes, the man who made it his mission to preserve Faroese knitting culture. The book features 52 traditional Faroese motifs on a variety of sweater shapes which feature dropped shoulders, set in sleeves or raglan sleeves. You'll find hip, waist and thigh-length sweaters featuring crewnecks, turtlenecks and shawl collars. Styling runs from fitted enough to wear tucked in to full-on jackets, and sizing (though mostly maxing out at around 45" for the bust) does go up to 52" in some patterns. And the motifs are easily interchangeable so you could add one motif to a different sweater and customize to your liking. Unfortunately, no schematics are provided, but there is a full set of measurements given for each garment.
I love that some patterns have a unique design that runs under the arm to the hem (as shown in the cover photo). And I really enjoyed the snippets of prose that run throughout the book, all chosen to give a fuller picture of the Faroe Islands.

AS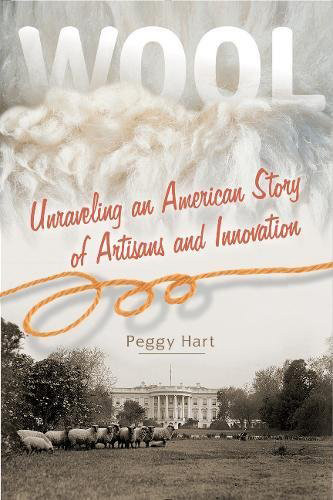 Wool: Unraveling an American Story of Artisans and Innovation
by Peggy Hart
Schiffer Publishing
$19.99
Wool by Peggy Hart draws on the author's deep professional experience in the wool industry to explore its rise, fall, and resurgence in America. From the birth of this nation to present day, Hart traces the sheep, fabrics, and trends.
This is an approachable general history--you can learn about agriculture, social issues, economics, industry, and fashion. It explores the impact mechanization (and convenience) had on America's Wool industry. While this is an introductory volume, an extensive reference and bibliography directs you to more information.
This is an enjoyable read and the archival photographs provide additional delight.
PSG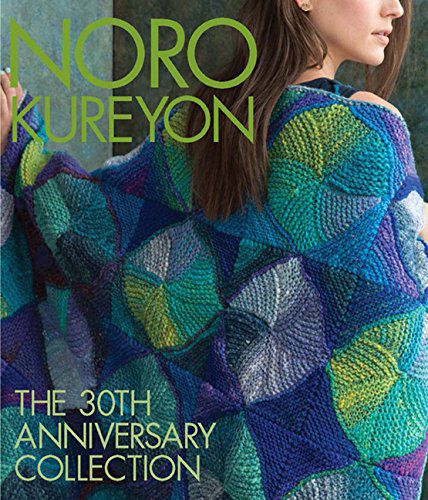 Noro Kureyon: The 30th Anniversary Collection
Sixth&Spring Books
$24.95, hardcover
SR= 38-65" (some with lots of recommended ease)
30 years? I remember when Noro Kureyon first made its appearance is US knitting stores. It was the year I started knitting and I was captivated by the feel and the colors. It was organic and beautiful and light. Once I started knitting something with Noro I couldn't stop. I needed to see what colors came next. There have been many, many other Noro yarns, but Kureyon has a special place in my heat, my first and my favorite, still to this day.
This book has 30 patterns that seem to span span all the years of Kureyon. Some ideas might be a little dated (leg o'mutton sleeves anyone?) but most are classic in shape and style and show Kureyon to its best advantage. There are sweaters, hats, cowls, wraps, scarves and other accessories. If you are a long time Noro fan there will be a some pattern that happily takes you back in time and reminds you how exciting it is to knit with Noro. For me it's the Tilted Lace Scarf. I don't know if it's the exact pattern or if it is the colorway.
This book is a wonderful collection of classic patterns knit in vibrant yarns. Isn't it time to replenish your Kureyon stash?

JM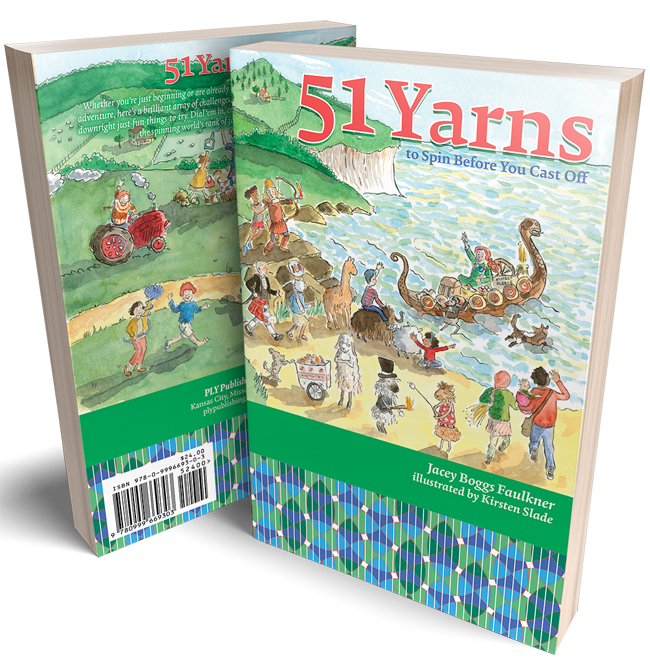 51 Yarns to Spin Before You Cast Off
by Jacey Boggs Faulkner
PLY Books>
$24
Fair warning, Jacey Boggs Faulkner is a bit of a Queen Midas. From where I'm sitting, every project she's undertaken has been done beautifully, and seemingly, without effort – an I love her for it. 51 Yarns is deceptively small for a book so chock full of information. It's the perfect size to fit in your spinning bag, purse, or backpack so you can pull it out when you have a few minutes to dream about spinning. Faulkner has stripped down everything but the most essential things you need to know in order to spin any type of yarn you wish from any type of fiber you have. Plus, there are fascinating tidbits that you may not know, like "In 1920, Mahatma Gandhi asked the citizens to spin Khadi and shun imported cloth. It changed India and the world."
The usefulness of this book lies in its function as a spinning journal. Each chapter is 2 pages long and takes you from types of wool (fine to double-coated) through types of spinning (woolen, worsted, and the semis), singles, structure, color, luxury, different materials, and personal bests. Jacey throws down a challenge to try out what she's written and gives you space to write notes about it, date it, and (for those of us obsessed with list making) a check box for when you finish! I'm tempted to have the book spiral bound so that I can attach a small sample of the yarn to this box as well.
Aside from usefulness, it's gorgeous. The book is crammed with glorious little drawings of spinners, sheep, and wheels. This first offering from Ply Books is a gold nugget you need in your arsenal. Run out and grab it and maybe pick up a few copies for your spinning pals.

CH-I

Knitting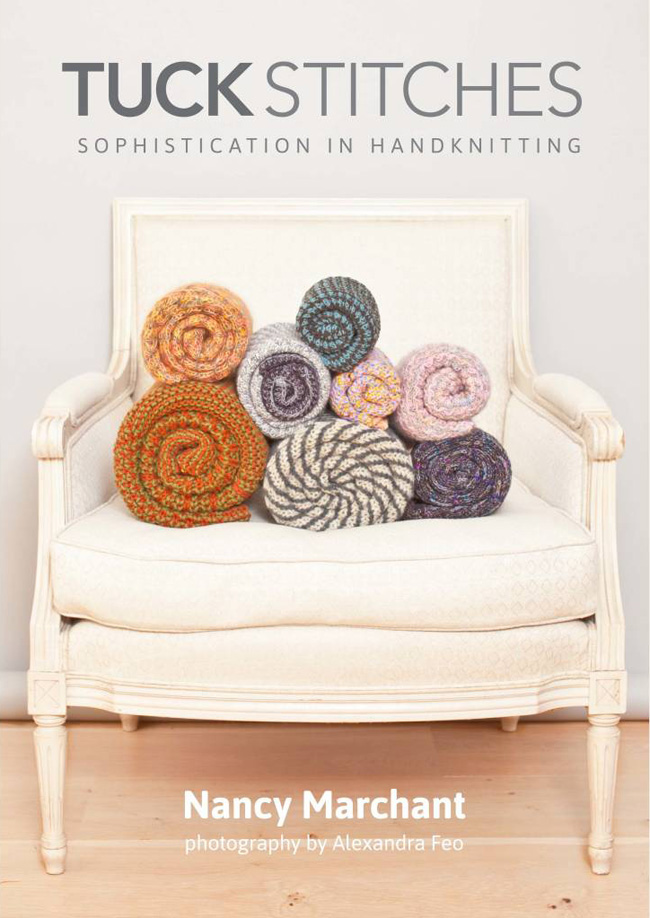 Tuck Stitches: Sophistication in Handknitting
by Nancy Marchant
Nancy Marchant/Schoolhouse Press
$35
This magnificently creative book sits right next to Sequence Knitting on my bookshelf. While not as big it is every bit as ground breaking and idea generating.
Nancy Marchant has come up with 90 original Tuck stitches,. Tuck sitches are a family of reversible textured stitches. If you can do Brioche stitch you can Tuck. In Nancy book of scrumptious patterns, Brioche is the first Tuck stitch and it the creativity unspools from there.

Do not be intimidated by this book! You don't have to read it all or work it from front to back. You can choose a stitch you like and work from there. There is excellent how to on how to do Tuck stitches and how to read Tuck stitch charts. Not interested in just swatching? There are 8 patterns for scarves, cowls and a blanket. Franklin Habit has a beautiful version of the Aimèe Cowl on his Instagram. Ready to strike out on your own? Nancy will teach you how to knit Tuck stitches in the round and to design your own.

The photography by Alexandra Feo keeps everything crisp and light. She has a knack for showing all of the detail and making knitted swatches look like art.

JM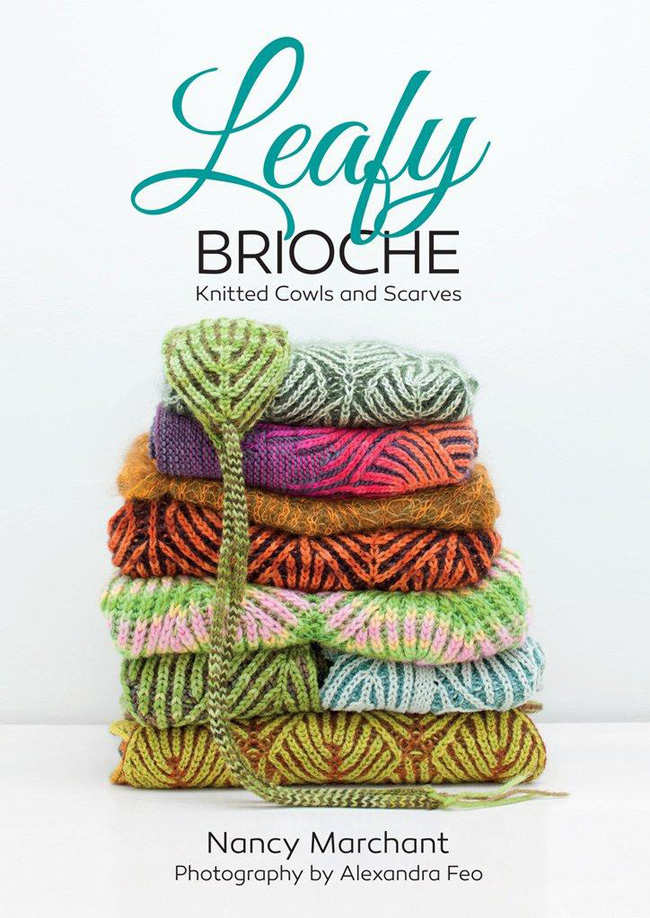 Leafy Brioche: Knitted Cowls and Scarves
by Nancy Marchant
Nancy Marchant/Schoolhouse Press
$27.00
Early spring and the sometimes nutty weather is the perfect time to knit brightly colored leaves, a little bit of wool combined with twining leaves that might help call warmer weather as you knit.

In Leafy Brioche, Nancy Marchant has taken a single motif, the leaf, and put it through it's paces, every scarf and cowl in the book is built on the leaf shape. She stretches it, layers it, swirls it with color and opens it into lace.

Brioche can take a little getting used to. If you are new you'll need to think it through and follow along exactly. If you need more explanation the best resource are Nancy's other books on brioche knitting.

This book wouldn't be as gorgeous without the work of photographer Alexandra Feo, she sets the designs against white and shoots them highlighting every bend, ripple, and texture.

This is a collection of beautiful undulating woolen foliage.

JM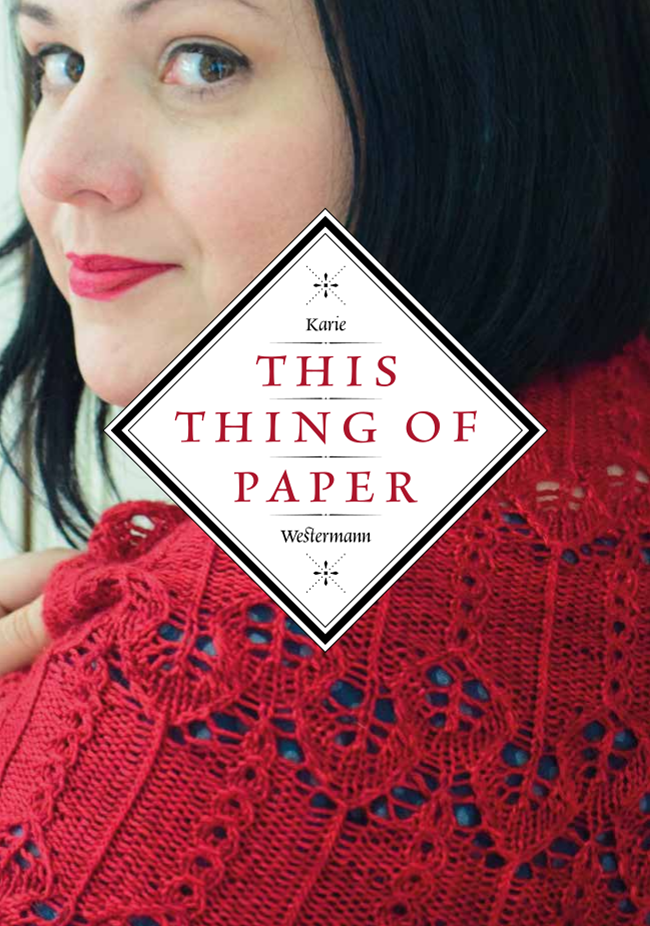 This Thing of Paper: Eleven Knitting Patterns Inspired by Books
by Katie Westermann
£18.99
SR=28-52"
Every issue I fall a little in love with a book. I want to knit everything in it, I want to live where it was photographed, I want to befriend the author. I am not a stalker; I am a fan. This time it's This Thing of Paper.

The eleven designs in this book are inspired in the point in book history when manuscripts became type. Every pattern is accompanied by a thought-provoking essay that either had me scurrying to do further research or nodding along with Katie's personal stories. I wish more knitting books were filled with this type of excellent and insightful writing.

The Incunabula Cardigan is the first pattern I want to make, it's a vintage inspired cabled cardigan, with beautiful cables floating on enough stockinette that I can adjust the shape to fit me how I like. I loved the Rubrication shawl (the cover design) even before I read that the stitch patterns were to evoke nibs and ink. The Letterpress cowl is a cozy, textured knit that I want to spin the yarn for.

The whole book package is gorgeously done, the size the paper selection, the photography and setting and the font, I'm swoony for the font.
This book is a beautiful marriage of books and knitting, of paper and yarn, I sincerely hope Katie has another book in the works.

JM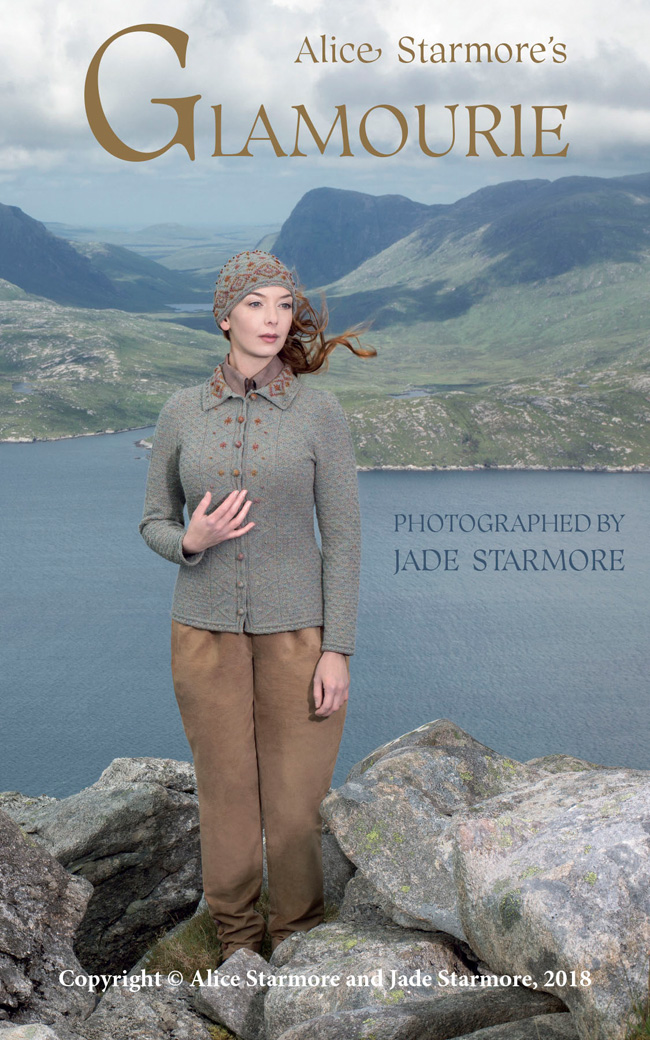 Glamourie
by Alice Starmore
Calla Editions
$60, Hardcover
SR= 35-45"
This book is a creative tour de force. As a team, Alice and her daughter Jade have created a book of art that happens to have knitting patterns. Jade wrote her own fairy tales inspired by traditional tales, story rumor, and her own inventive mind. Alice took those stories, went away to her studio and without the constraints of making them a repeatable pattern created stunning costumes. The costumes use knitting, felting and embroidery to bring to life the tales and atmosphere of her Scottish island. She knits and felts cloth that is evocative of a wing or a seal's skin. Then she went back and designed sweater patterns evocative of her costumes. The book was shot gloriously on Isle of Lewis in the New Hebrides.
I can't stop looking at this book. I page through and one day look only at the details of the costumes, one day just the settings for the photos, another between the costumes and sweaters piecing together my version of Alice's interpretation. It never fails to inspire me to knit or craft or just to look at the world with keener eyes.

JM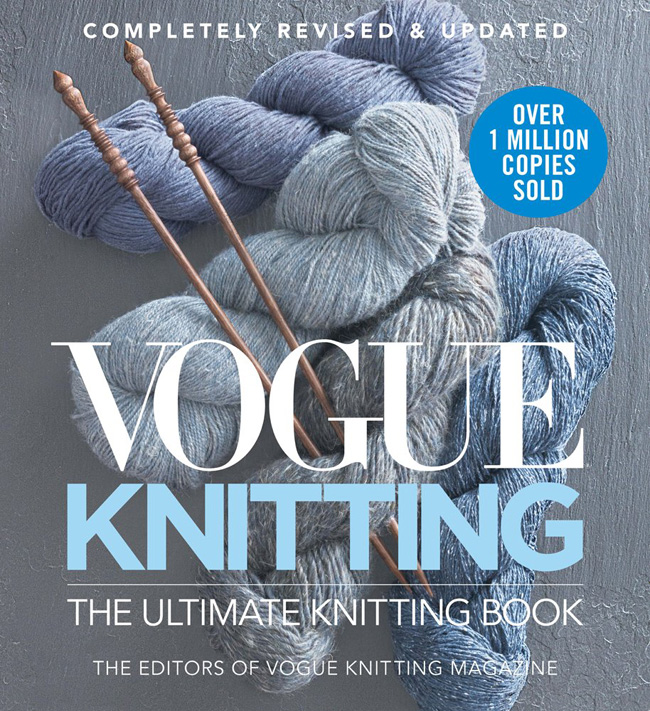 Vogue Knitting Ultimate Knitting Book: Completely Revised and Updated
by The Editors of Vogue Knitting Magazine
Sixth&Spring
$39.95, Hardcover

I have the late '90s era version of this book (it was updated in 2002), and this revision is crazy good. It's comprehensive in the knitting skills department from a just-learning knitter to a designing-my-first- sweater. It has all of the things that this knitter is perpetually forgetting (kitchener, of course) and variations on most skills (26 cast-ons and why you want to use them).
Besides the all-inclusive how-tos, the easy to find and read pages (thank you for all of that white space), and the familiar knitting language (no made up or renamed techniques or stitches) there is one thing that is exceptional about this book. It is an actual revision. Some craft book add a new intro, and more modern photos and call themselves revised, but not Vogue.
This book has a lot of new things (the press release says 70 pages), and not just things that are different from the earlier editions. They did update the photos, but also incorporated knitting knowledge that reflects the current state of knitting. There is a whole section on shawl knitting (shaping and designing) plus directional knitting, brioche and double knitting. Other sections are expanded and everything is up to date.
This is the only basic knitting skills book that you need. It's a desert island knitting book for me.

JM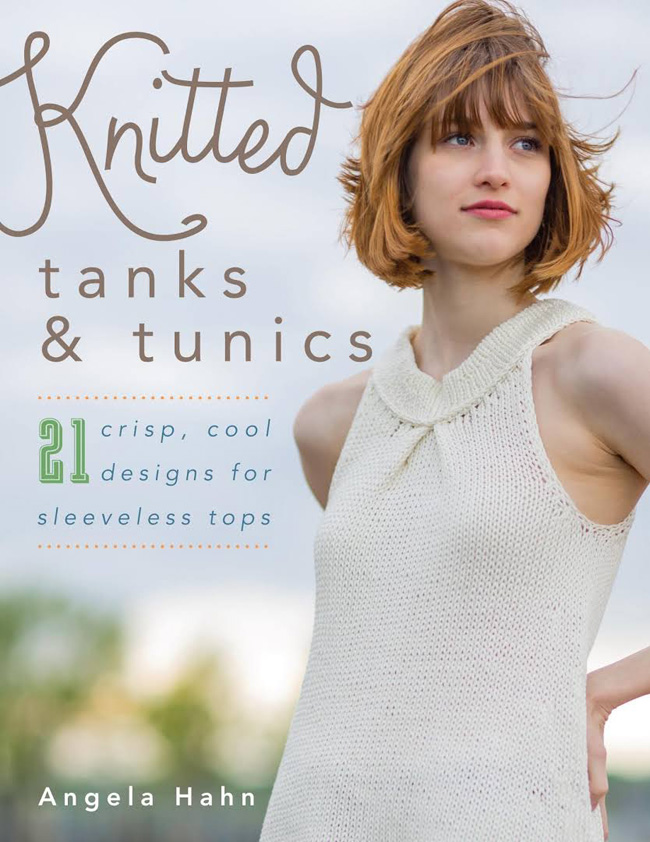 Tanks and Tunics: 21 Crisp, Cool Designs for Sleeveless Tops
by Angela Hahn
Stackpole
$21.95
SR= 30-54"
I'm writing this as snow swirls through the air outside, so just looking at pretty photos of warm weather knits is giving me quite a thrill.
This could have been just a book of pretty tanks in a wide range of styles, yarns, and stitch patterns, but it is happily that and more. The designs are excellent, interesting, well executed and with an excellent assortment of styles.

What made me the most excited and really lifts this book up from others is Angela's commitment to fit. In all of her years as a knitwear designer, she has always had excellent fit, style and range of sizes. She designed the No Gap Wrap for Amy and I for More Big Girl Knits. Along with beautiful patterns she has included six pages discussing all of the elements to making sure your knits fit.
The designs are flattering to many body shapes, and easily customizable to fit your body. They are lovely, swingy, feminine, but not fussy. There are interesting elements, texture, color, shaping, and variety of necklines so your girls don't have to be on display if you don't want them to.

Warm weather knitting never looked so good or fit so well.

JM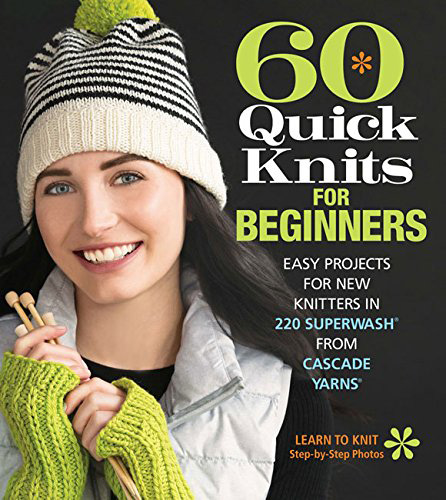 60 Quick Knits for Beginners: Easy Projects for New Knitters
Sixth&Spring
$17.95
SR= 39-55"

Pattern books can be intimidating for new knitters, especially when they want to make all of the things. This book is perfect for an excited beginner because all of the patterns are designed for success for a newbie. All of the patterns are easy and straightforward, with a little something new to learn in each. There is a little texture, a little color, and a little shaping – just enough to keep you entertained, but not enough to be overwhelming.
The patterns are mostly for accessories that can be made in an evening or two, plus a few baby things and three women's sweaters. There is a basic how-to-knit lesson at the front of the book, good for the quite new knitter, or for knitters like me when I was starting out, needing constant reminding on how to do a technique. (It took me a year to remember how to cast on.)
This book can take a knitter from garter stitch scarf to advanced beginner in a very satisfying way.

JM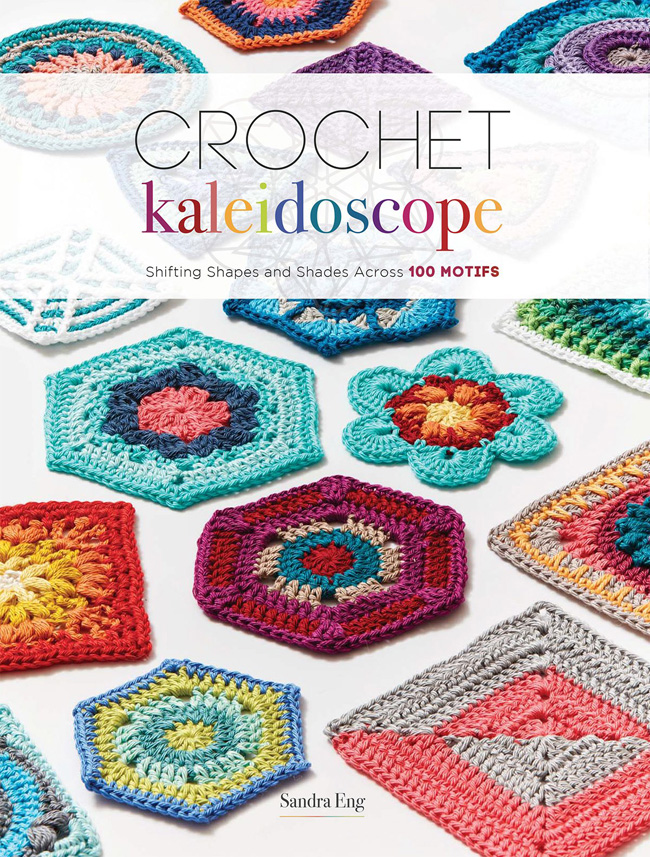 Crochet Kaleidoscope: Shifting Shapes and Shades Across 100 Motifs
by Sandra Eng
F+W Media/Interweave
$24.99

Color and crochet motifs go together like peanut butter and jelly. However, it's often challenging to visualize how different color combinations can transform a motif.
In Crochet Kaleidoscope, Eng provides clear photos of 100 motifs and explores how they look with different choices. After learning basic color theory, you can find answers to common questions from "how many colors are too many?" to "does order matter?"
Included are several home decor and accessory projects to help you begin your color journey. All motifs include both written instructions and stitch diagrams.
PSG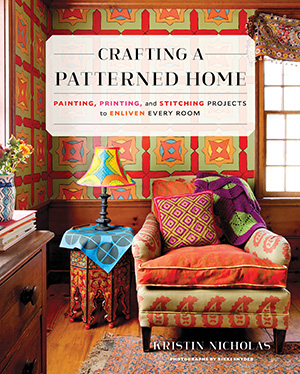 Crafting a Patterned Home: Painting, Printing, and Stitching Projects to Enliven Every Room
by Kristin Nicholas
Shambhala Publications/Roost Books
$24.95 Hardcover
Pattern is everywhere. No matter where you are on the pattern-mixing comfort scale, you can learn from Kristen Nicholas' newest book, Crafting a Patterned Home. Perhaps best known at Knitty for her colorful knitting [Felted Tea Cozy, Macarons], Kristin Nicholas is a multi-talented artist and experienced author. In this title, she invites you into her home to see how you can craft projects that will brighten your abode.
Crafting a Patterned Home begins with an introduction to pattern. In this section you learn how different motifs, repeats, and scales can create various visual effects. There are also tips and tricks for how to begin to create your own patterns.
Next, we enjoy a tour of Nicholas' home (a working farmhouse for Leyden Glen Farm), inside and out, and selected creative projects that you can do. You'll discover the inspiration behind each project and why particular techniques are applied in certain situations. Even if you aren't familiar with a technique you are guided every step of the way. Each project includes the pattern style, the repeat format, the featured crafting technique (painting, print making, knitting, crochet, and embroidery are all represented), a list of tools, a list of tools and supplies, and a detailed tutorial.
Nicholas invites you to add pattern to your home and understands that it may be overwhelming. Her expert guidance will help you begin to create a look that is cohesive and colorful, not garish. The beautiful photographs by Nikki Snyder add to the inspiration in this book. And the adorable kittens and farm cats help to remind me this beautiful home is one that's lived in and not just pretty inspiration.
PSG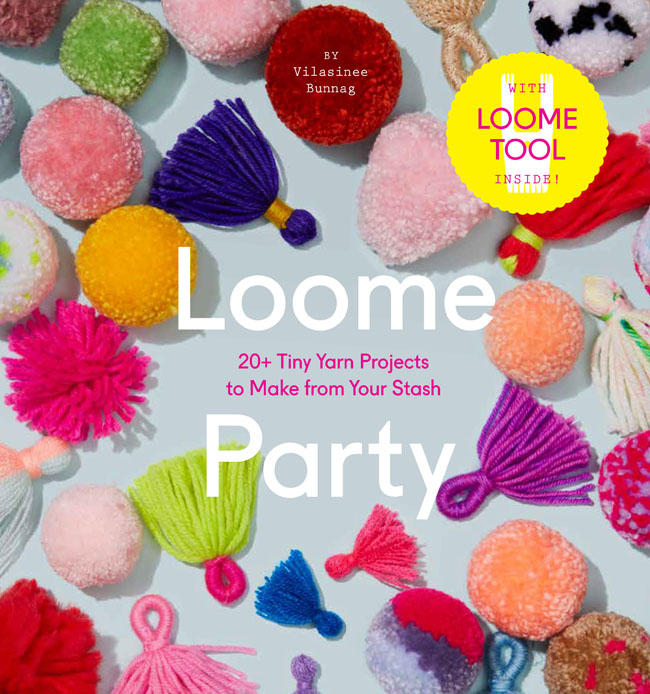 The Loome Party: 21 Tiny Yarn Projects to Make from Your Stash
by Vilasinee Bunnag 
Abrams
$27.95, Hardcover
I've been curious about these little Loomes since I fist saw them on Instagram. They are a multi-use tool to make pompoms, tassels, friendship bracelets, cord and small weavings.

This book is a whole lot of fun. It's the perfect scratch to the itch of my curiosity. It comes with a Loome tool and has more than 20 projects to make. A good portion of the book before the project is devoted to Foundation: all of the skills you need to make basic pompoms, tassels, friendship bracelets, cord and small weavings. There is also a section on different yarns to use and how to approach color.
For those who want to freestyle, that is all you need. Dive into your stash and make piles of quick and fun things, there are so many possibilities. If you want more step-by-step projects there are those too. The projects are designed by modern craft luminaries: Color-Block Wall Hanging from Leslee Fiorella, Woven Pendant and Cuff by Maryann Moodie, and Leather Mobile Earrings with Tassels by Aronna Khounnoraj.
It doesn't take long to get the hang of working with the Loome. It makes things that were a little fiddly easy, like having an extra hand just when you need it. Before you know it you'll be knee deep in pompoms, weavings and other small beautiful projects.

JM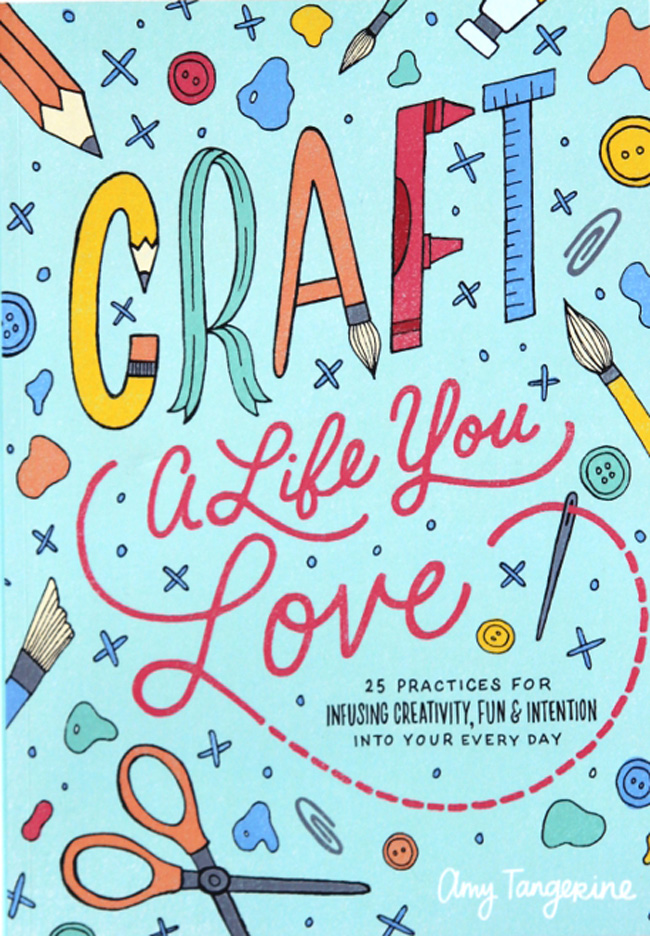 Craft a Life You Love: Infusing Creativity, Fun & Intention into Your Everyday Life
by Amy Tangerine
Abrams
$16.99
This is a charming book that can help get you out of a rut or just help you to carve out time to be creative.
It's easy to put our own hobbies or creative pursuits last. Amy Tangerine is here to remind you how important being creative is, not matter what you make. This book full of wise and funny words, inspirational quotes and worksheets placed at exactly the right spot. Amy advocates for small changes, small shifts of focus and discovering time hidden under that pile of socks in the corner. She stresses that creativity isn't about perfection and is about starting right where you are and making things that make you happy.

JM