Go With the Phloem, a free knitting pattern from Knitty.com. Free knitting pattern for a DETAILS HERE.
INTRODUCTION
Go With the Phloem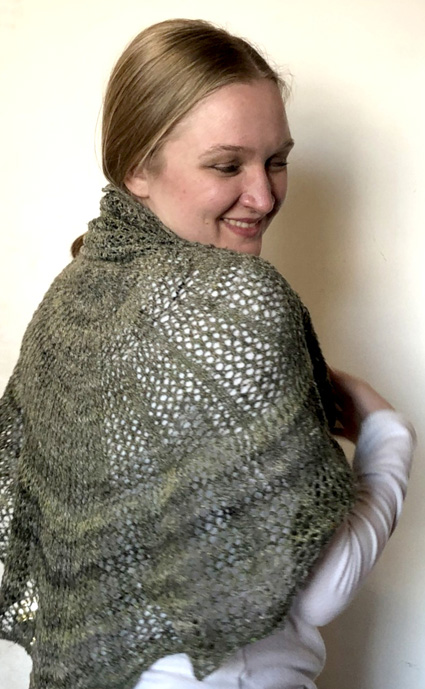 A little known fact about me: Not only did I get a degree in photography, I also acquired one in ecological and evolutionary biology. Nature has always been my primary source of inspiration when it comes to my art and design work, and it's no surprise that it showed up in this pattern. I was inspired by plant biology illustrations of stem cross-sections, with the water transport "holes" (xylem and phloem) visible.
When I started spinning yarn for this project, I decided that I wanted a natural green color with lots of heathering. I compiled some soft white wool, bright green alpaca/silk blend, and some black alpaca and started testing mixtures. I spent time sampling each blend with hand carders and a drop spindle, then when I found the right ratios, I pulled out my drum carder and created some rough mixes. I didn't want my yarn super homogenous, so I purposefully left it variegated. I slightly overspun my singles, so when I plied I would have a high-twist 2-ply yarn ideal for lace.
Though this pi-shawl is relatively straightforward, this pattern does require some focus and attention during the lace rows. The repeat is easy to follow, and creates stunning radial symmetry once the pattern is done.

model: Ariana Krudwig

photos: Benjamin Krudwig
FINISHED MEASUREMENTS
Diameter: 40 inches/ 102cm
MATERIALS
Fiber:


Hand blended fiber - Wool, alpaca, silk, firestar. Color: heathered green; 6.5 oz

Finished yarn:


Wraps per inch: 22 [Fingering weight]


Ply: 2


Yardage used: ~670 yards


YPP: 1630


Drafting Method: Short forward draw

Commercial yarn alternative:


Jamieson's of Shetland Shetland Spindrift [100% Shetland Wool; 115yds/105m per 25g skein]; color: Turf or Moorgrass

Recommended needle size
[always use a needle size that gives you the gauge listed below - every knitter's gauge is unique]


US #3/3.25mm needles for small circumference in the round


US #3/3.25mm 16-inch/40cm


US #3/3.25mm 24-inch/60cm


US #3/3.25mm 32-inch/80cm


US #3/3.25mm 40-inch/100cm (optional)

Notions


yarn needle


stitch markers – a removable marker is recommended for the first stage of the pattern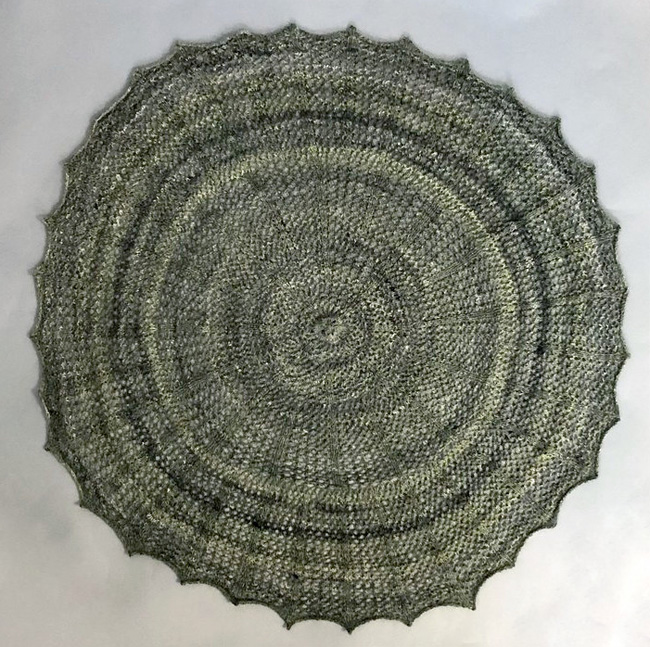 GAUGE
28 stitches/32 rows = 4 inches/10cm in stockinette.
PATTERN NOTES
[Knitty's list of standard abbreviations and techniques can be found here.]
With a simple 4-stitch repeat, this pi shawl is a good place to start exploring simple lace techniques. You do need experience working in the round, and the small-circumference start takes a careful hand – although once you're past the first few rounds, it's plain sailing!
Ray Lace:
Rnd 1: *K1, (yo, ssk) 5 times, k1. Repeat from * around.
Rnd 2: Knit
Rnd 3: *K1, (k2tog, yo) 5 times, k1. Repeat from * around.
Rnd 4: Knit
DIRECTIONS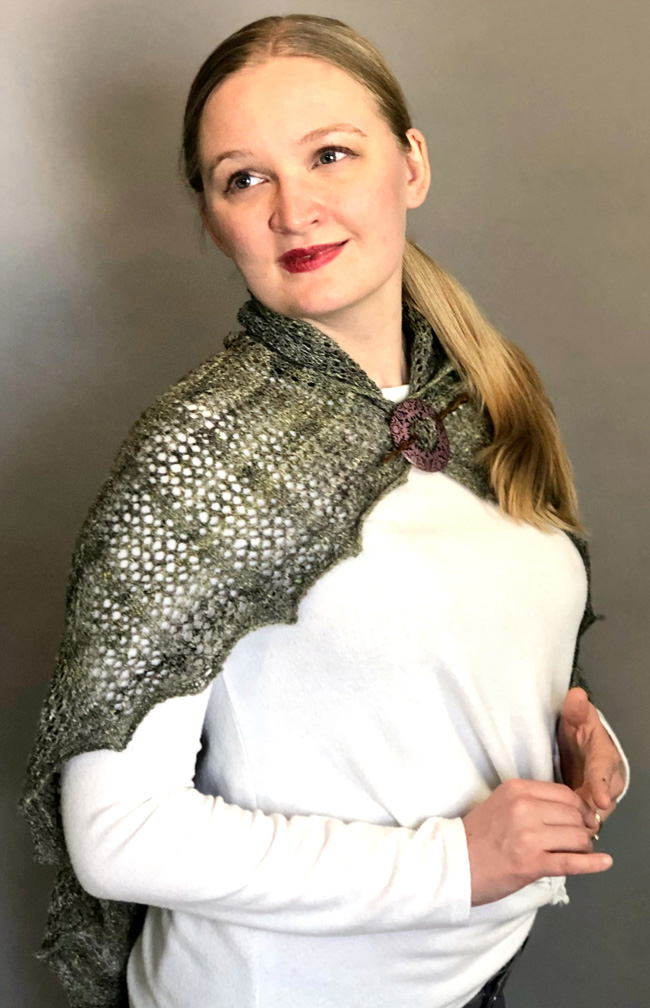 CO 12 sts using needles for small circumference in the round. Distribute sts across needles as you prefer and join for working in the round. Mark start of round – use a removable stitch marker in the fabric.
Note: As the work gets larger, change first to 16-inch/40cm circular needles, placing the start of round marker onto the needle, and then progress to larger needles as required to accommodate the stitches.
Round 1: Knit
Rnd 2: (K1, yo) around. 24 sts.
Rnds 3-9: Knit 7 rnds.
Rnd 10: (K1, yo) around. 48 sts.
Rnd 11-22: Work Ray Lace pattern around. 3 repeats, 12 rounds total.
Rnd 23: (K1, yo) around. 96 sts.
Rnd 24-47: Work Ray Lace pattern around. 6 repeats, 24 rounds total.
Rnd 48: (K1, yo) around. 192 sts.
Rnds 49-96: work Ray Lace pattern around. 12 repeats, 48 rounds total.
Rnd 97: (K1, yo) around. 384 sts.
Rnds 98 - 157: Work Ray Lace pattern around. 15 repeats, 60 rounds total.
Rnd 158: *K1, m1, k3, k2tog, ssk, k3, m1, k1. Repeat from * around
Rnd 159: Knit
Rnd 160-161: Repeat Rnds 158-159.
Bind off as follows: *Bind off 1 st as normal, yo, lift the stitch on right needle over the yo to bind it off; rep from * to end.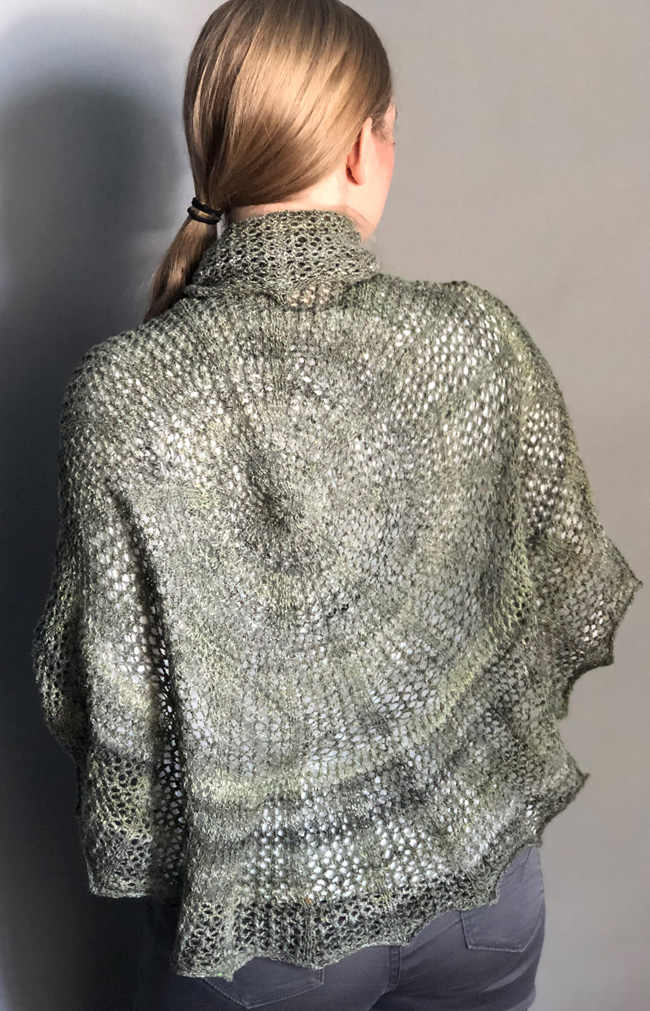 FINISHING
Block, using pins or flexible blocking wires to pull out the points of the edging. Weave in ends.
ABOUT THE DESIGNER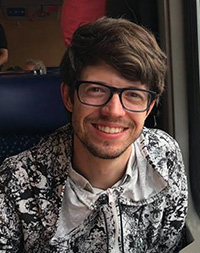 Benjamin Krudwig is a textile and fashion designer living in Colorado with his wife and two cats. He is drawn to nature, color, and all things fibery. His work can be seen in Spin-Off, Handwoven, Knitty, Uppercase Magazine, and other publications.
Find him online and on Instagram.
Pattern & images © 2019 Benjamin Krudwig.