Knittyspin, a column on spinning for knitting by Jillian Moreno
SR [Finished chest measurement for sweaters] = the smallest chest measurement to the largest chest measurement we could find in the book. There may be only one pattern with the smallest or largest size, but it's in there. Books are softcover unless noted otherwise. All prices USD unless noted. We are provided with samples to review for free, and we do not publish reviews of products that do not perform well in our testing. We are not paid to review any product.
Browse the whole list of books reviewed this issue at Bookshop which gives 10% of their profits to independent bookstores across the US, and a 10% commission to Knitty for every purchase.
If you're outside the US, we also provide links to purchase on Amazon, and they give us a commission when you purchase as well. Thank you for supporting Knitty!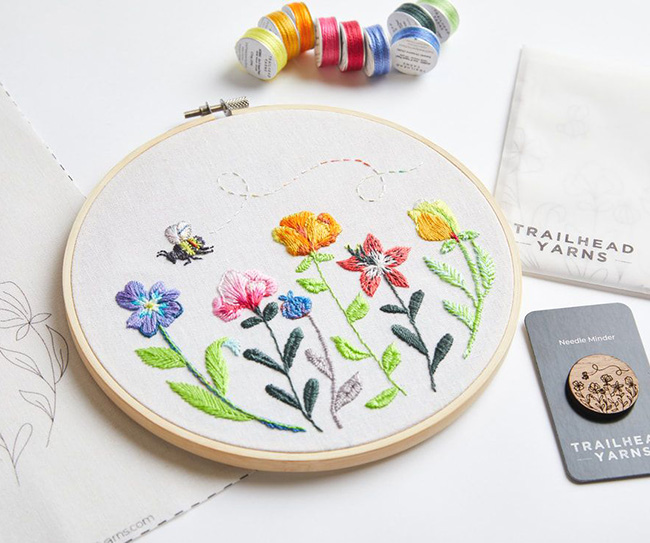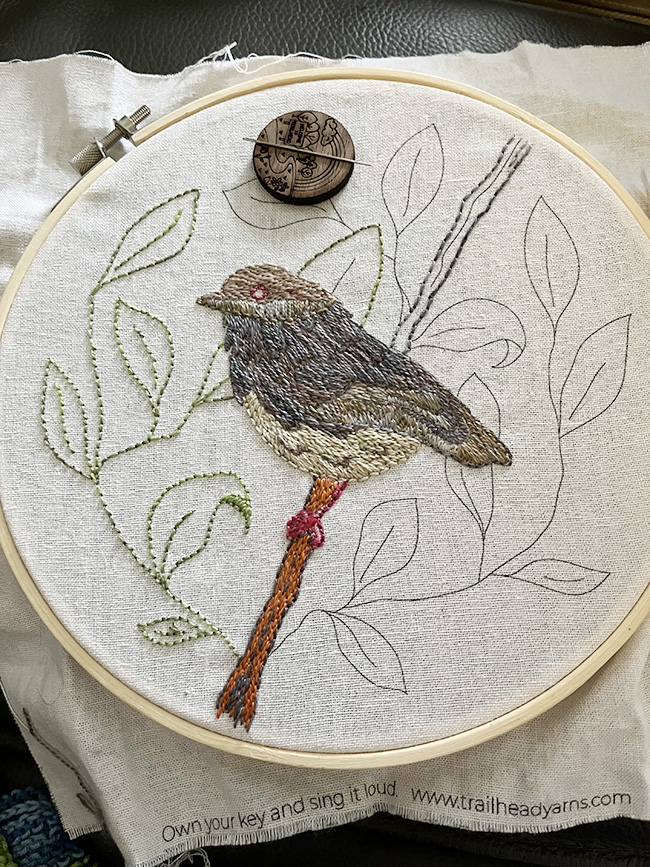 Trailhead Embroidery Kits and Accessories
(view the whole line in their Lookbook. Let it load...it's worth it.)
Un-kit Embroidery kit: $18 (wildflowers shown at top; chickadee shown in the middle, stitched by Amy)
includes cotton/linen canvas pre-printed with water-based ink, packaged in a natural vellum pouch


Acorn Hand-dyed tencel embroidery thread bobbins: $3 each
each recylable aluminum bobbin holds 20 yards of hand-dyed 8 weight 100% Tencel embroidery thread
available in a wide variety of semi-solid and variegated colorways


Needle Minder: $12
1.25" diameter, walnut plywood, lasered with a variety of designs. Magnet embedded in back.

Buy now via Trailhead Yarns WHERE TO BUY page

One of my favorite non-wool yarn indie dyers, Trailhead Yarns, has expanded their range into embroidery, and I am excited! They're offering three items a la carte, so you can choose just what you'd like to use. I was sent a kit to test, and I honestly loved it.
The embroiderable canvases (45% cotton/55% linen) are pre-printed with a variety of designs, from flora, to fauna, to outdoor adventures and packaged in a vellum pouch. Great for gifting, too! The designs are simply outlined, leaving you with the choice to outline as well, or fill in some of the areas for a more dramatic result. The canvases are sized to fit a standard 8" embroidery hoop.
Trailhead is a yarn dyer first, and so it's no surprise that they've created an entire line of 193 mouth-watering colorways of embroidery thread. From subtle almost-solids to vibrant variegated colorways, you won't have trouble finding the exact shade you want for your moose. Each aluminum bobbin holds 20 yards of 8 weight thread, and they'll work for any embroidery, not just their own canvases. Unlike traditional embroidery floss, this thread is made up of 2 plies, and I didn't separate them...they're the perfect weight to embroider with as they come off the spool. Shiny, smooth and beautifully behaved. They look especially rich when stitched as a fill, like with brick stitch. Check out the bird in the sampler above. I love how the little variegations show up in the areas of color I got to lay down.
The final touch is their needle minder...a lightweight walnut plywood magnetic disc, lasered with a variety of designs, that stays put on your work and keeps your needle from getting lost in the couch when you take a break. It's a lovely, affordable accessory that would be just as useful for anyone sewing in their ends at the end of a project. Even if your thread gets looped around it, as mine did occasionally, just gently pull it under the needle minder, and the magnet keeps it together.
Sorry, gotta go. I want to finish my Chickadee sampler!

AS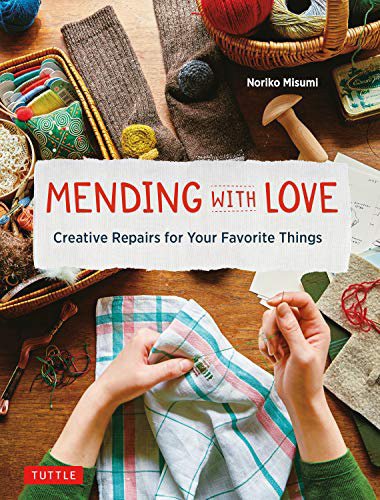 Mending with Love: Creative Repairs for Your Favorite Things
by Noriko Misumi
Tuttle Publishing
$15.99, hardcover
Buy now at Bookshop.org | Amazon

This is a very happy mending book. It is very much about visible mending. There are no invisible stitches matching fabrics – these mends are made with joyous bright colors. Noriko Misumi says she like to mend with person she's mending for in mind, for the mend to reflect them and their memories. The results are equal part art and craft.
The chapters cover Mending Socks, Mending Stains, Holes and Frays, Covering Stains with Stamps, and my favorite chapter: Remake Old Items into Something You like Even More.
I also enjoyed the appendix on mending techniques, which is clear and shows many types of stitches and their uses.
The photography is wonderful, it captures the texture of the fabrics really well. There are step by step how-to photos, and lots of inspiration when she shows a piece and talks through how and why she worked the mend.
Please don't miss the section entitled "Mending the Cat's Mischief". I found myself both inspired and smiling as I read through this book

JM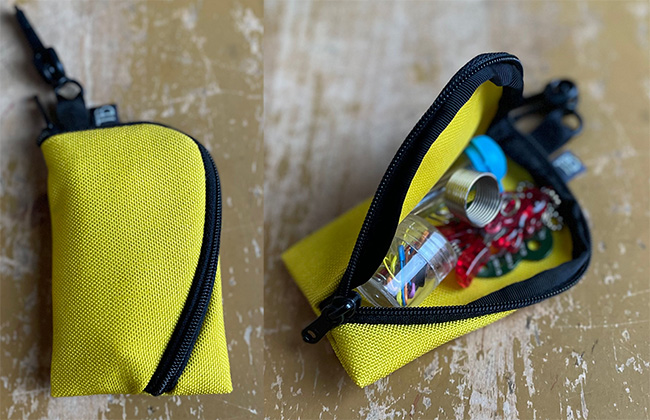 Ghost Whale Organizer Pouch
by Tom Bihn
Size: Super mini
2.8" (w) x 4.1" (h) / 70 (w) x 105 (h) mm
$11

Buy now at Tom Bihn

I'm not sure how the folks at Tom Bihn are able to transform ubiquitous bags and pouches into things that are just so much better than everything else that's out there.
This tiny pouch is an excellent case in point. Why is this a great pouch for knitting? I'm so glad you asked! I have many pouches for my knitting tools, and when they are size that is useful for most supplies, lots of my small tools fall to the bottom out of sight. This pouch is perfect for tapestry needles, snips, favorite stitch markers, and anything else tiny.
The genius of the pouch is the curved zipper. When it's open, you can see everything in the pouch, no digging needed. It's a perfect small size to hold tiny tools, and still fit into your regular tools bag, a double win.
Ghost Whale pouches come in a variety of sizes and are made from scrap fabric left over from the production of other TB bags.

JM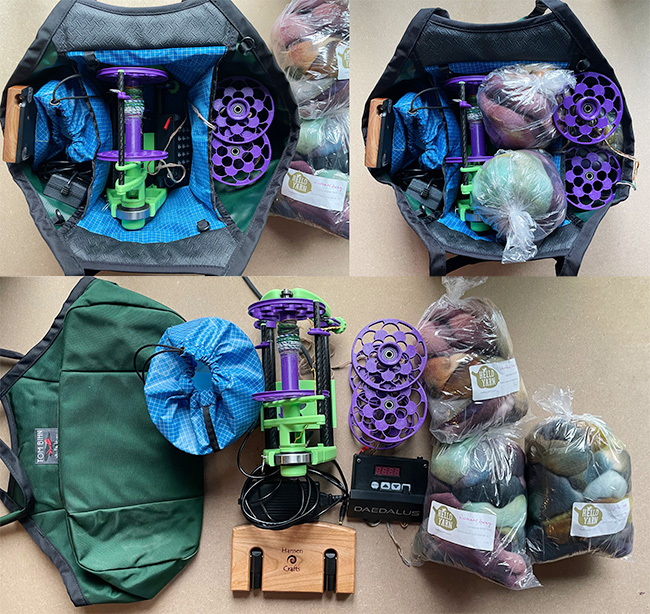 Truckasana
by Tom Bihn
shown above in Wilderness Green, below in Nebulous Grey
$85
Buy now at Tom Bihn

As soon as I opened the box I knew exactly what I wanted to use my Truckasana for, my Daedalus Starling electric spinning wheel. It is such a great bag for espinners! I love all of my espinners as much as I love my treadle wheels, but because they are small and fragile(ish) I find it hard to find great ways to transport them. My Hansen lives forever in my Züca bag; it's just perfect for that. My Starling did not have a bag home until now.
The Trucksana is made of heavy canvas, has padded handles, and three main compartments. The central compartment is the largest, and had a reinforced bottom, making it perfect for my spinner and its controller box. The other two compartments are smaller than the center, but still hold plenty. In one I have my spinning tool kit (in a Tom Bihn Travel Tray), a Hansen Lazy Kate, and my electrical cord. In the second I have two empty Starling bobbins. There is still room for other things, including fiber. Along with everything else I was able to fit 12 ounces of Hello Yarn fiber in my bag, and there is still room for my phone, wallet, and keys.

JM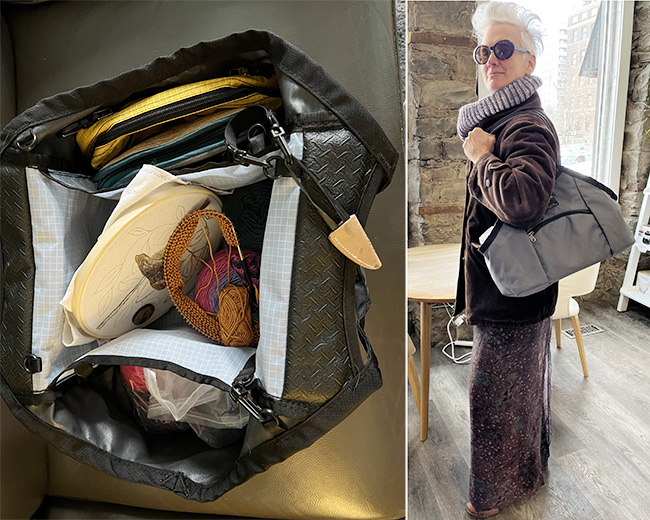 When I saw this bag on the Tom Bihn website, I thought the yoga-mat-securing pads inside the top of this voluminous tote were clever as anything for a yoga bag. But what I didn't realize was that they work brilliantly to give structure to this already-great tote. One could call it Tardis-esque, because it really is bigger on the inside. The picture above left shows my friend, Claudia, carrying it on her shoulder, to give you an idea of the scale of the bag.
I have ADHD, and that means I often want to do something different than what I was doing just a minute ago. So having a bag that accommodates multiple projects at the same time? That's absolutely my jam. The main compartment works perfectly for any knitting project I have on the go. If it's a smaller project, I can slip it into one of the side compartments, and put an embroidery hoop and the supplies to go with it in the larger area. The other side compartment holds a book, magazine, wallet, phone, and everything else I need to go anywhere, whether it's to another room in the house, or out in the real world. Like most everything Tom Bihn makes, it has o-rings secured to a variety of points in the bag, and a keystrap attached to one of the o-rings. Me being me, I secured my Cocoknits yarn snip to the end of the keystrap (see above left) and so it's always handy.
The Truckasana is a workhorse all-purpose genius bag, and built to last like all Tom Bihn products. I have bags from them made in the same materials that are more than 10 years old and they still look brand new. 100% recommended.
AS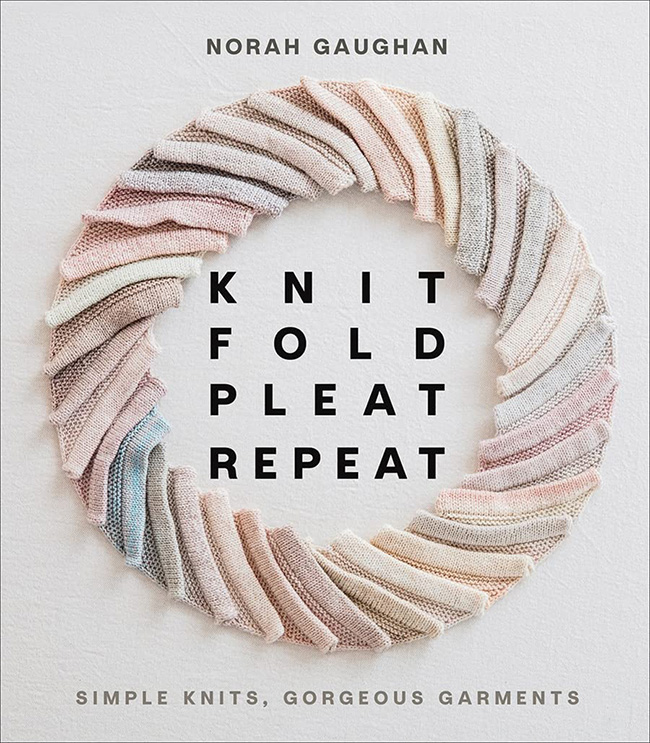 Knit, Fold, Pleat, Repeat: Simple Gorgeous Knits
by Norah Gaughan
Abrams
$29.99, hardcover
SR=32-64"
Buy now at Bookshop.org | Amazon

36 patterns plus variations, all start with a basic simple knitted shape – a rectangle, triangle, or square  –  then get manipulated into swooping, swirling, ruched, and puffed magnificence. Well, that's a little lie: some of the projects are manipulated as you knit. Either way, this book is full of an exciting blend of stockinette and high-flying texture, just my thing.
I'd like to spirit this book and a (small) truckload of yarn off to a cabin and sample my way through it, and create my own tasting menu until I hit on the project I want to make. I want to knit something, but I want to try everything.
One of the things I like about this book is that there are plenty of easy projects, ones for new knitters or knitters that want to watch a mystery while knitting. The pattern progression in the book is like riding a rollercoaster. They start out slow, and before you know it you are knitting out of chapters 5 and 6, screaming your head off and smiling.
Like her other books, Norah starts by explaining the concepts and techniques. She then moves to projects made from squares and rectangles with not a boring one among them. I especially like Trio, a geometric cowl made from two rectangles and a tube.
Chapter three is titled Manipulate, featuring loads of smocking and folds. My favorite is the 3D wrap, Floret. Chapter four, Multiply, sees knitters working with multiple shapes that are joined. Take a look at Kite – a top that includes bias knitting, and Pyramid, a scarf made of pillowy triangles. Chapter five, Hone, adds shaping to create textural fit. The barely there ethereal top, Centrale, makes me want to knit it, just to see how it comes together. Chapter six, Hybrid, puts it all together and adds fantastic twists and turns to standard sweater shapes to make sculptural fashion.
This book proves once again that Norah Gaughan is one of the most unique knitting designers working today. If you need to be reminded (or introduced) to how creative knitting can be, spend some time with this book.

JM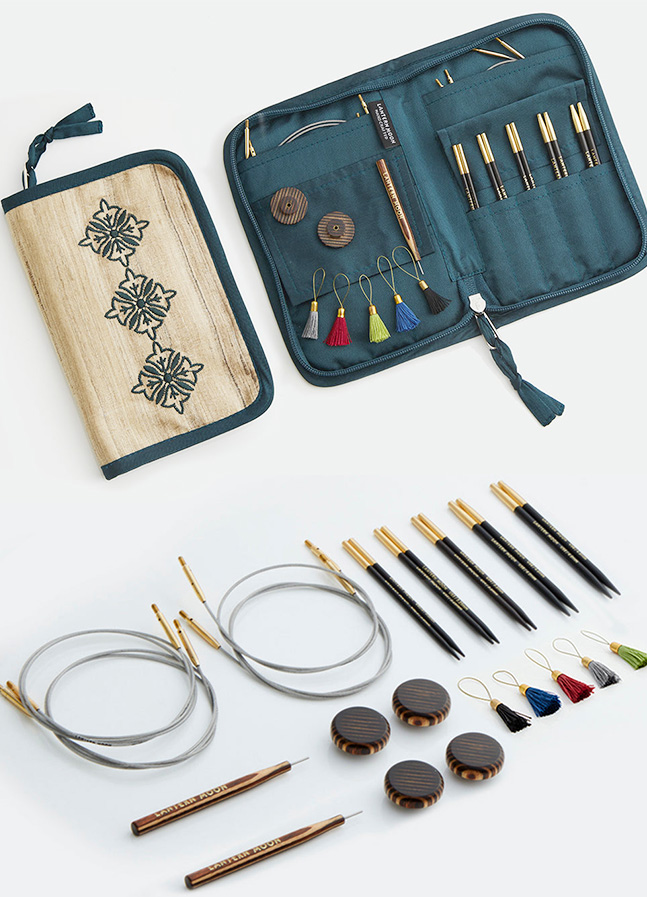 Legacy Interchangeable Needle Set 5"
includes:
5 pairs of 5" Interchangeable Needle Tips
US Sizes: 3, 5, 6, 7 & 8
MM Sizes: 3.25, 3.75, 4.0, 4.5 & 5.0mm

Nylon Coated Stainless Steel Cords & Accessories
1 Swivel Cord & 1 Fixed Cord each of 24" (60cm) & 32" (80cm)
(Cord length denotes complete needle length)
2 Tightening tools, 4 Wooden End Caps, 5 Colorful Tassel Stitch Markers
Buy now at a yarn shop near you

Knitters who know the Lantern Moon name gasped with excitement when we heard that they were back! Lantern Moon was founded in 2001 their needles, smooth, and beautifully made, quickly became knitter favorites. The company quietly closed several years ago and we thought that was the end.
But the great news is that the Lantern Moon name was acquired by the experienced knitting-gear makers at Knitter's Pride, and Lantern Moon needles are back! More than just acquiring the name, the company is committed to recreating the trademark Lantern Moon quality in the products they're making.
I couldn't wait to get my hands on a set of new Lantern Moon needles to test them out for Knitty, and I've been knitting with them for the last month. As I'm a wool-allergic knitter, I also recruited my wool-loving friend (and frequent Knitty reviewer, Claudia Manley) to test these with me.
Lantern Moon needles are made from ebony, the strong, dark, lightweight wood of legend. They're imprinted with large gold text showing the size of each needle, and finished in a super-smooth "liquid silk" finish. Yes, knitting with these needles feels different. It's smooth and lush, which sounds like hyperbole, but knit a few minutes on these and you'll see what I mean. The tips are just the right amount of pointy, and knitting with these is a joy.
The needle tips attach to the cords, now made of a smoothly coated steel cable, via a brass connector. The long wood sticks included in the kit have a pin that helps you tighten the tip to the connector, and I found that once they were tightened, they did not come loose without being intentionally disconnected with the tool. Not even a little bit. The cords are also imprinted with the length and if they're fixed or swivel. My only quibble is that the seams on the brass cable end sometimes felt like a little hiccup as I passed my cotton yarn over it to get it closer to the needle tip. Not enough to snag, but not fully smooth. Claudia, who tested these with different thicknesses of wool yarn, found it behaved similarly, and said she didn't find it to be a problem.
The case is made of a lovely Khadi silk, a "historically significant Indian material" that's a blend of silk and cotton. It's sturdy and shimmery. The zippered case keeps all of the tools inside the well-designed case. Something you'll enjoy slipping into your knitting bag and using for years and years to come.

AS

The Nordic Knitting Primer: A Step-by-Step Guide to Scandinavian Colorwork
Kristin Drysdale
Page Street Publishing
$22.99
SR= 35-56"
Buy now at Bookshop.org | Amazon

If you are intimidated by colorwork knitting and want to knit Scandinavian style projects, this book may have been written just for you. There is a lot packed into this book. It takes you from never having knit colorwork through Intermediate 2 level of colorwork. Chapter 1 teaches you how to knit and purl with both hands, Chapter 2 starts you on your first two-color project, Chapter 3 teaches you how to weave in contrasting colors as you knit, and Chapter 4 teaches you to purl in colorwork.

There are 20 lovely patterns in the book for both accessories and sweaters, but it's the skills you're going to want to dig into. Each chapter starts with a pattern that has a step-by-step, full-color photo tutorial for the skill the chapter features. You can use the tutorial for any pattern in the chapter.

This book explains and shows how to knit colorwork in an encouraging and unintimidating way. Author Kristin Drysdale claims if you knit five patterns from the book, you will have mastered the basics of colorwork knitting, and I believe her.

JM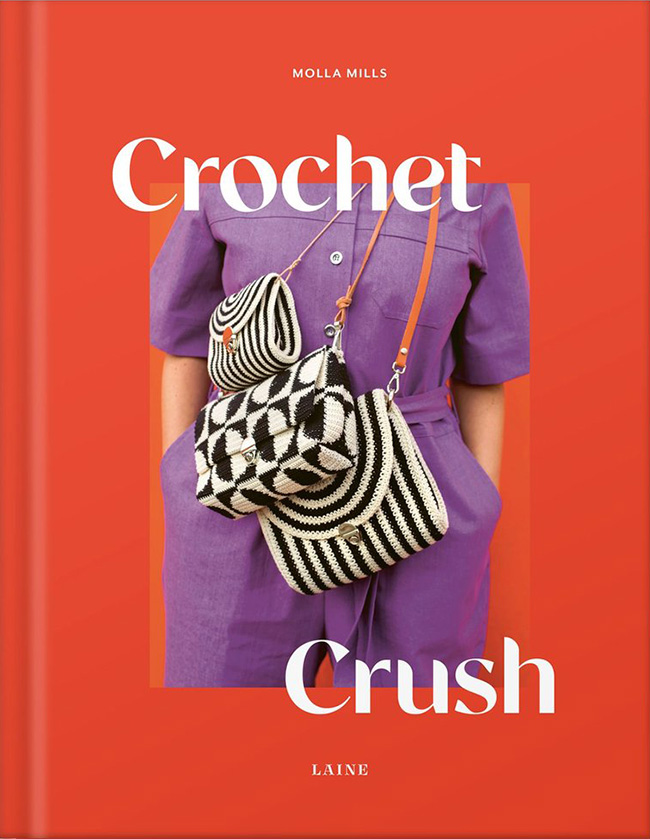 Crochet Crush
by Molla Mills
Laine Publishing
€36.90, hardcover

Buy now at Laine

Molla Mills is inspired by travel and by the fabric of crochet. The patterns in this book are stunning. They learn into the structural quality of crochet, rugs, bags and other home accessories.
The patterns in this book explode with color. They are photographed as part of a life filled with texture, color and joy.
The bags and containers are as useful as they are beautiful, and several of the bags wouldn't look out of place on a fashion runway. The work is structural, the work looks firm, like they will last, not lifeless.
I would like to adorn my life and home with all of the rugs in here. I've seen crocheted rugs before but none as exciting as these. The projects were conceived and made while traveling the world, inspired by her surroundings and the people the author met along the way.
There are 23 patterns with variations on some. The directions are written simply, and use mostly basic crochet stitches. Where a chart is needed, it is easy to read and full-color.
Molla encourages the use of basic stiches and yarns, colors that excite you, to mix and match design elements from her patterns, and to follow your creativity.

JM