Knittyspin, a column on spinning for knitting by Jillian Moreno
Thread Plying
Thread plying is the easiest way to get an interesting textured yarn, plus it's fun!
I thread ply all kinds of yarns – smooth yarns or yarns spun from wild batts, and many yarns in between.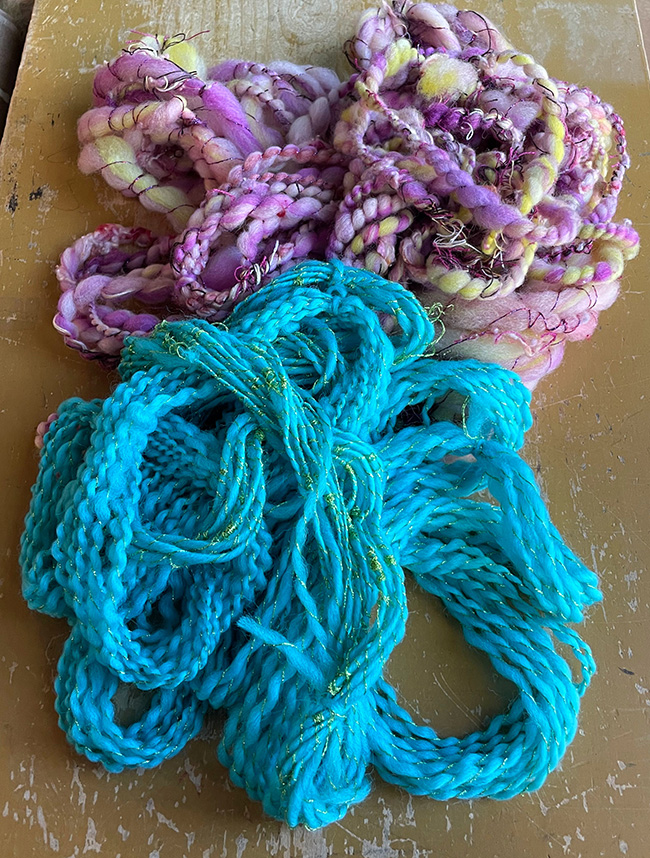 Plain and fancy thread plied yarns

The threads I use are mostly sewing and embroidery threads (all hail Joann's coupons!). There are some great shiny and sparkly sewing threads hiding in the sewing section of craft stores.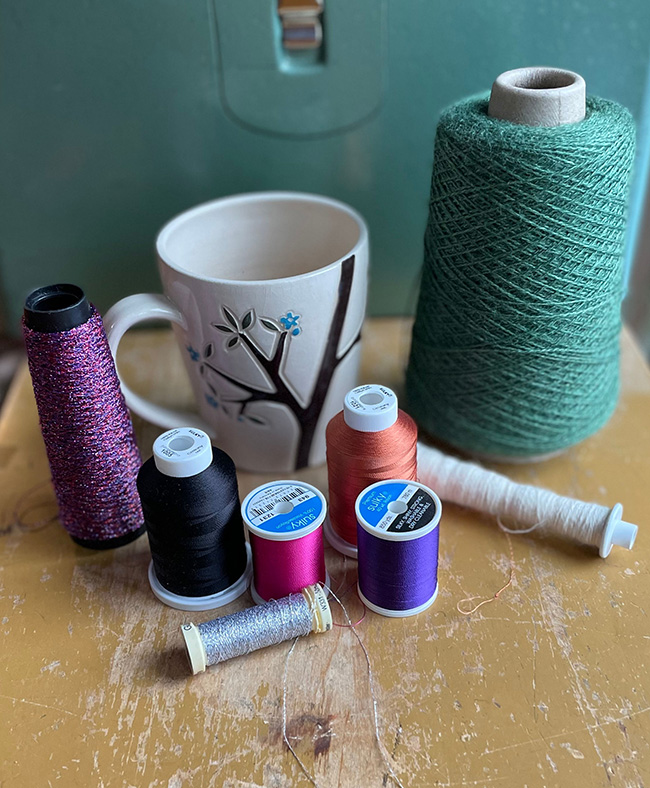 Just part of my thread collection

A tip I have for working with threads: rather than trying to work with a thread on a Lazy Kate, I put my thread in a mug on the floor. This lets the spool hop around a little, but keeps it from skittering across the floor. It's one of ways I use mugs I love that have cracked and I can't bear to throw away.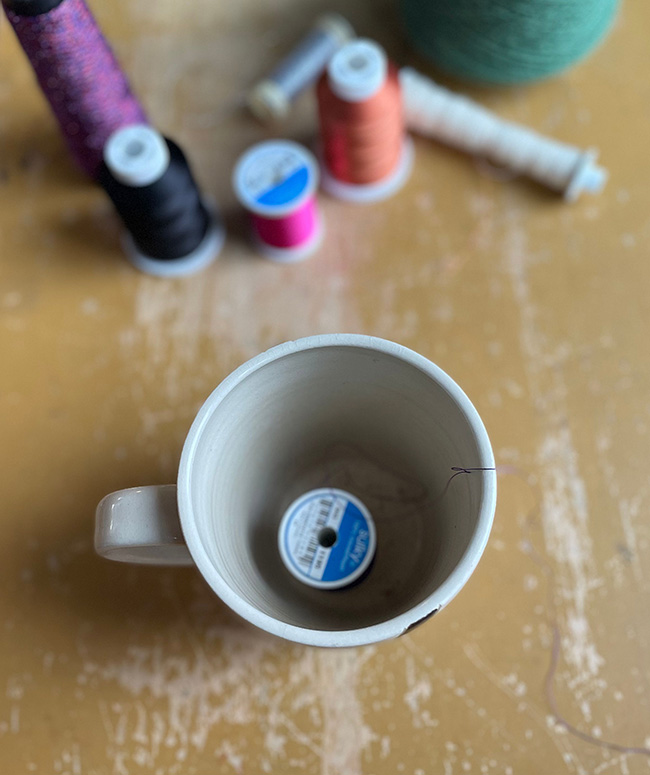 Cup full of thread

There are three thread-plied yarns that I use the most. A regular two-ply, a spiral ply yarn, and a riff on Jacey Faulkner's Auto Wrap yarn.
Each one of those is great where the thread and yarn are the same size and color, but the real fun comes in mixing up colors, fibers, and sizes of plies.
I'm doing two versions of each style of yarn, one using combed Corriedale top, spun consistently and one spun thick and thin using a batt from Bricolage Studios, both plied with a sparkly thread.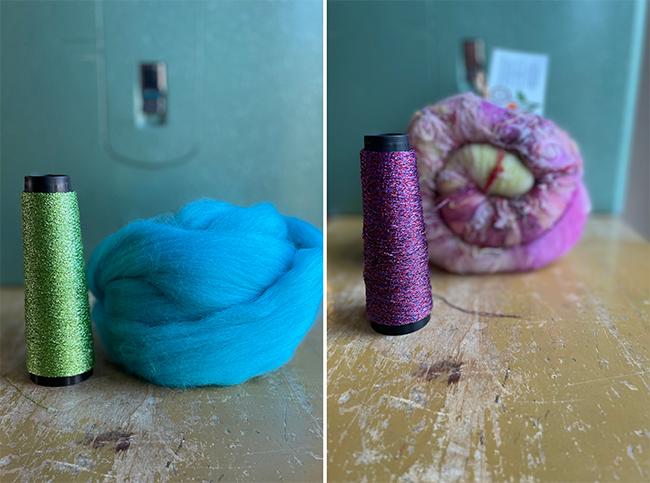 Corriedale top, left and Bricolage batt, right

All the yarns
Here are all three yarns spun from the blue Corriedale: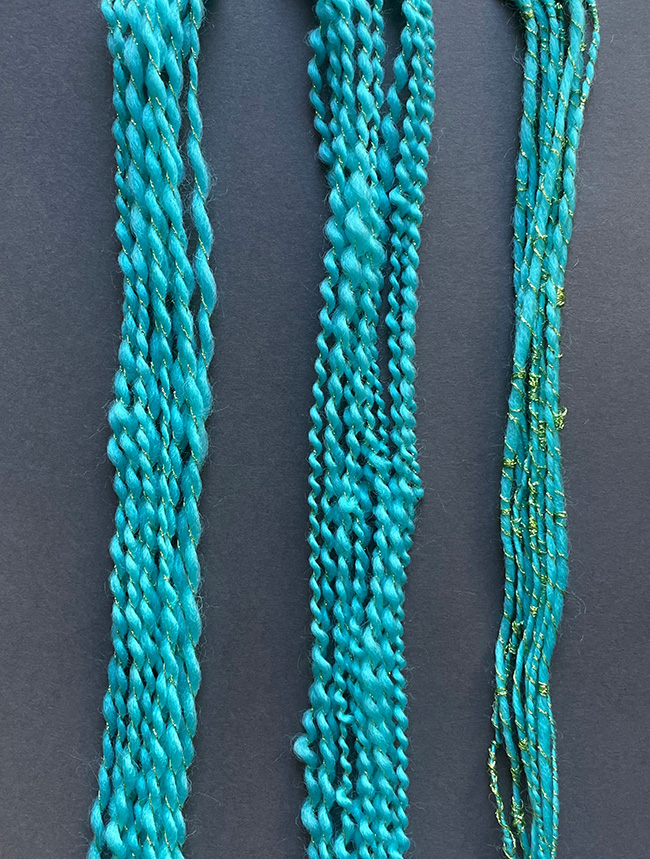 Left to right, a regular 2-ply, spiral ply, Auto ply
Thread plying adds interesting texture to a smoother yarn, even with a simple ply.

With a textured batt, the different styles of plying bring out different aspects of the batt, and add a subtle layer of color (and sparkle):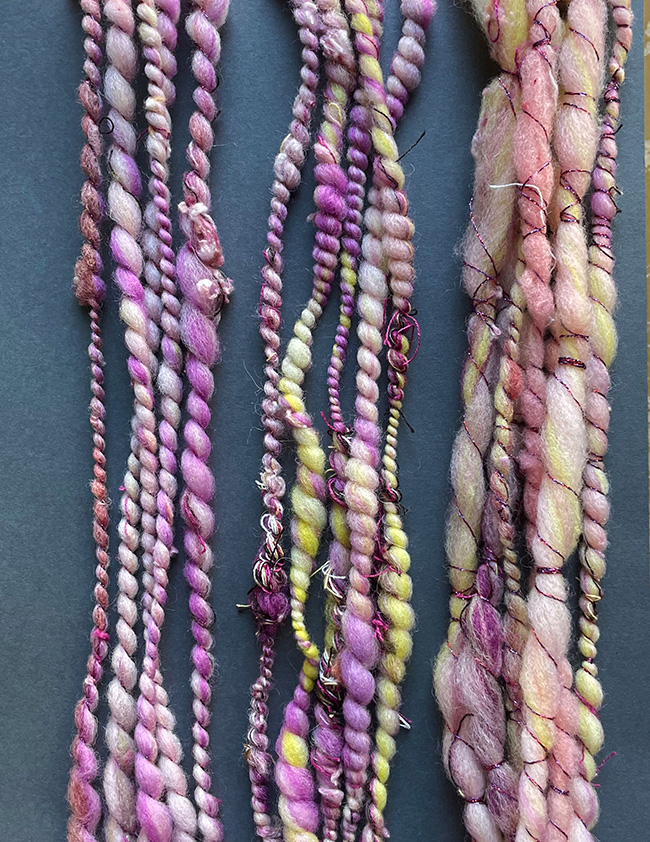 Left to right, a regular 2-ply, spiral ply, Auto ply

Regular 2-ply
When I say a regular 2-ply, I mean the two plies are under the same amount of tension, and come together at the same angle, which you can see in the deconstructed yarn on the grey card below: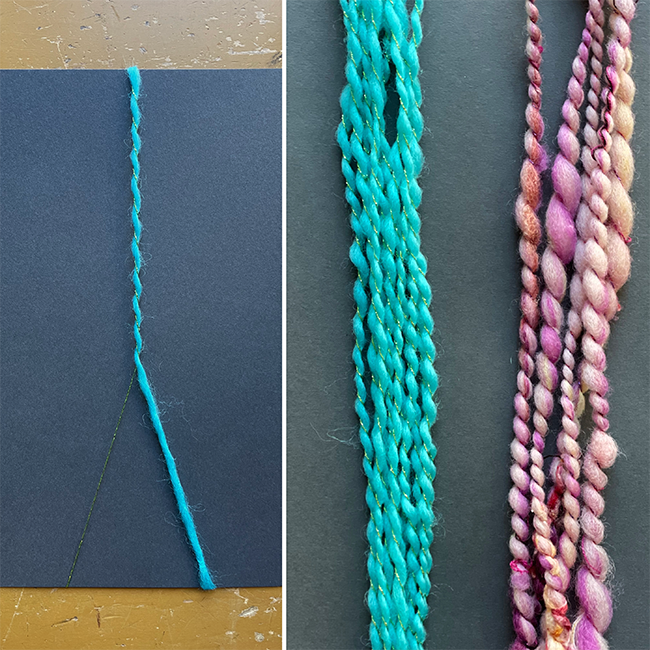 A regular 2-ply, smooth and textured

Because the yarn and thread are two different sizes, there is some spiraling (where one ply wraps around the other rather than coming together evenly), but it's soft. Because the yarn and the thread are under the same tension and angle, the add-ins of the textured batt tend to get tucked into the yarn, rather than riding on the surface of the yarn.

Spiral Ply
This is one of my favorite yarns. By changing both the tension and angle of the plies it allows one ply to spiral around the other creating deep texture.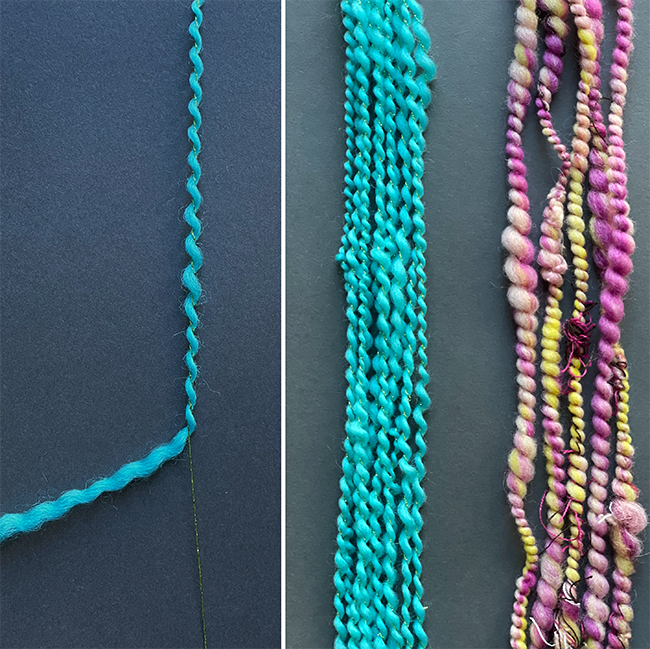 A spiral ply, smooth and textured

One yarn or thread is held directly out from the orifice under tension. The other ply is held with little tension and at a 45-ish degree angle from the first ply. You can play with the amount of tension, angle, and which ply spirals to get the effect that you want.
I hold my inner ply (the one coming straight out from the orifice) under firm tension, more than I would for a regular 2-ply. The spiraling ply I hold under just enough tension so that it doesn't just collapse on the inner ply. This gives me those tight spirals. Because the wrapping ply has little tension, the smooth yarn looks like rick rack, and the add-ins of the textured batt come out to play. The threads, and silk bits that got tucked inside with a regular 2-ply bloom in a spiral ply.
Auto Ply
I learned to spin Auto Wrap yarns from Jacey Faulkner's book, Spin Art: Mastering the Art of Texture Yarn. An Auto Wrap yarn is a singles yarn where thread is held beside the fiber being drafted, and allowed to wrap on the singles being spun with little to no tension. I do that, but as a ply. The thread ply is under no tension and is held loosely and wrapped on in the plying direction.
Here's how I hold my plies: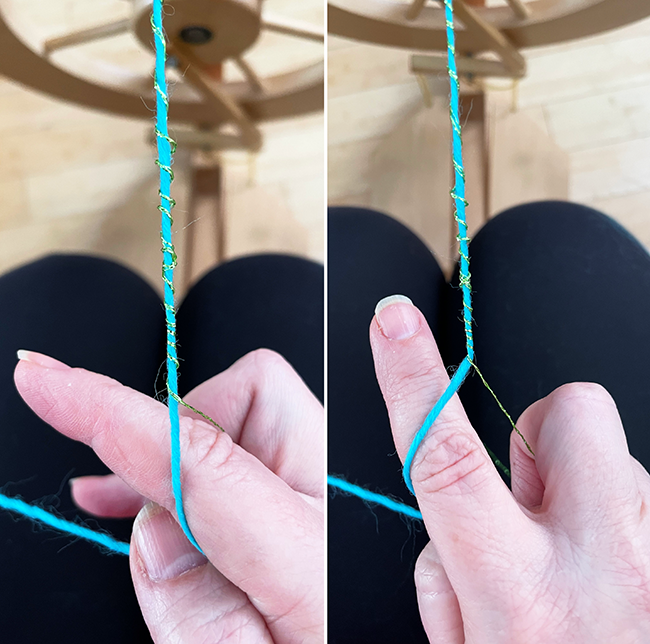 Left how it looks while I'm plying. Right, showing how the plies run through my fingers
I let the thread just run through my fingers as I ply, the yarn ply is under light tension. You can hold the thread any way that is comfortable for you. I like having the thread over my index finger because when I move that finger up and down the thread gathers on the yarn ply in different ways, giving interesting layered texture.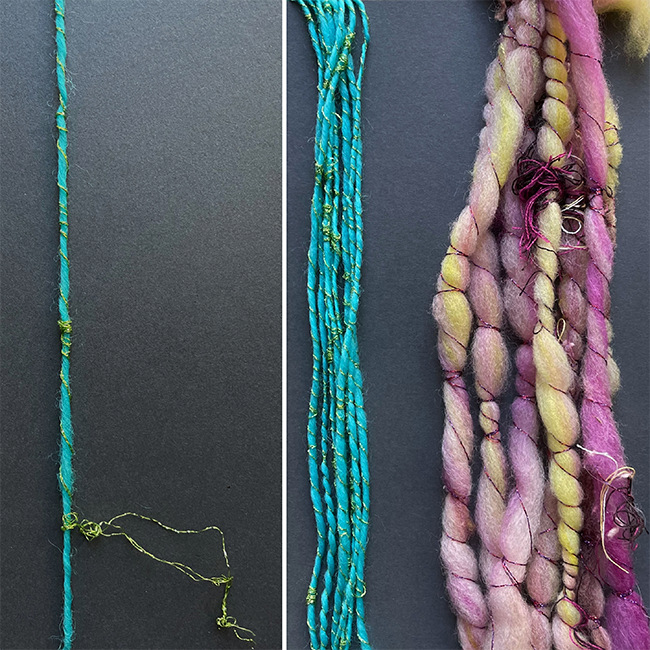 An auto ply, smooth and textured

Before you ask, yes you can certainly use more than one thread for extra color, sparkle, and sass.
If you find that you like conducting the wrapping ply with your finger to create more layers of wraps, you may want to put a bit of extra singles twist in your yarn ply. As you take the time to layer the thread as you ply, more singles twist than you think gets removed from your yarn. I had a couple of instances with my lower-twist textured batt yarn where I got way into the layering and my yarn singles drifted apart.
Thread plying is an excellent way to add color and texture to your yarns, it also stretches the yardage you can get out of your fiber. What do I use my thread-plied yarn for? It works great for accessories, and I've made a sweater out of spiral ply yarn. It's fun to use just a bit as highlights in your knitting, a stripe here or there, a bit of intarsia, a pocket, or an edging.
ABOUT THE AUTHOR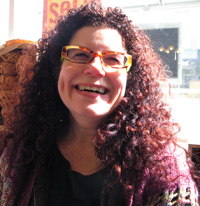 Jillian Moreno is the editor of Knittyspin and Catalyst for Knitty. She's the Developmental Editor for PLY Magazine and PLY Books. A couple years ago, she wrote the best-selling spinning book: Yarnitecture: A Knitter's Guide to Spinning: Building Exactly the Yarn You Want. Now she's writing another spinning book and trying hard not to start weaving.
She lives in a house packed with fiber and books and has a hand spinning Patreon over here.
Pattern & images © 2022 Jillian Moreno. Contact Jillian