Feature: Cool stuff
Cool stuff
SR [Finished chest measurement for sweaters] = the smallest chest measurement to the largest chest measurement we could find in the book. There may be only one pattern with the smallest or largest size, but it's in there. Books are softcover unless noted otherwise. All prices USD unless noted.
When you click on an Amazon or Tom Bihn affiliate link below and make a purchase, you're supporting Knitty. We thank you!
Jump to... Spinning | Crochet | Other Crafty Things

Knitting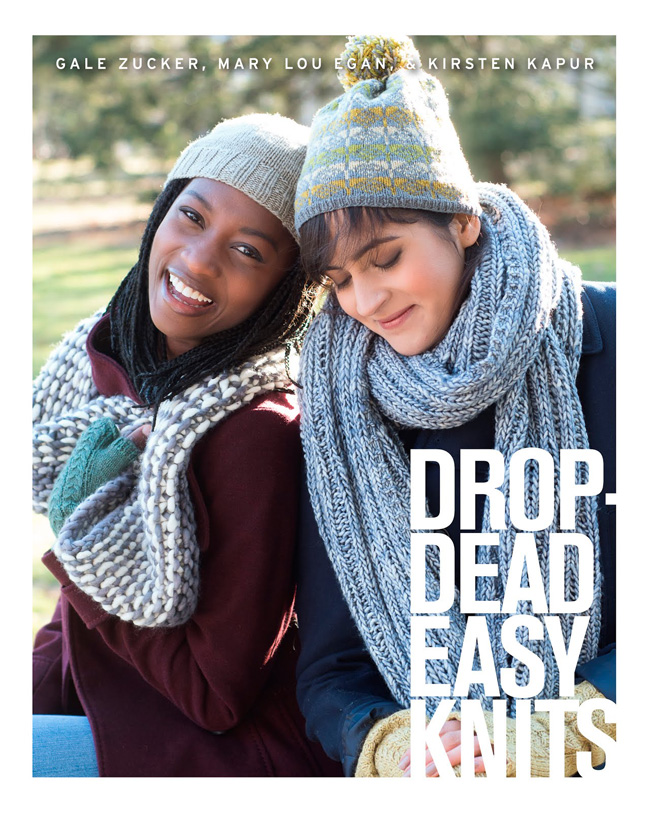 Drop Dead Easy Knits

by Gale Zucker, Mary Lou Eagan, Kirsten Kapur
Potter Craft
$16.95
buy now at Amazon
I'm always on the hunt for easy knits. They don't have to be quick weekend projects, but with most of my knits, I like to do not-much thinking. One thinking project to five easy projects is my usual ratio.

I tend to knit the same easy projects over and over because of fug. So many easy projects just aren't that cute.
I knew the instant I opened this book that these women changed that for me forever. (Cue the fairy godmother sound motif).
These three know how to make something easy without being boring, and make it so wearable that friends and loved ones will ask for their own, all while looking good and not breaking a sweat. They are magic.
There are 30 (!) patterns in this book. Most of them are accessories, but there 4 excellent sweaters and a lovely tank. The whole idea behind every pattern is that it is easy, maybe not all the time, but each has at least long stretches of easy, straightforward knitting, and brilliantly when I pattern needs attention that is called out in the pattern, literally. The easy bits are labeled Cruise Control, and the trickier bits are labeled Concentration Zone.
The book is divided into six sections, but most headings are fluid. It is nice to know where to go for baby things (Bursting with Joy) and warm-weather Knits (No Sheep at the Shore). The patterns are a fantastic combination of texture, lace and color and a variety of gauges. The patterns are easy, but not necessarily quick. It is an excellent collection of go-to knit gift patterns. This is a book that I could happily knit nearly every pattern, but if pressed, absolute, I-know-I-will-knit-more-than-one favorites are The Lucy and Ethel Cowl, the Parley Cardigan, the Grand Central Scarf and of course the Bear in a Bunny Suit.
Don't hesitate to get this book; it's knitting nirvana.

JM

Rural Renewal
by Jill Draper Makes Stuff
ebook: $38.00
individual patterns: $5-7
kits available for several of the patterns
SR=31.75-52"
buy now on Ravelry
I've been seeing a sweater all over Twitter and Facebook in the last few weeks, and it's got me wanting it. It's Seneca Falls, one of the patterns featured in Rural Renewal, the first self-published book from the Jill Draper Makes Stuff studio. Seneca Falls is one of those perfectly wearable sweaters where a gorgeous yarn does most of the work (in this case, it's JDMS Rockwell, a cormo/merino cross wool). What delighted me about it even more is that it has fabric pockets on the side seam. The ones featured are in a Liberty print. And Jill is offering a kit which includes that gorgeous fabric. So getting to review this book was something I've been looking forward to.
I am quite sincerely blown away by the aesthetic and scope of the designs in this book. Rural Renewal features JDMS' line of yarns, which Jill designs from the sheep up, through the spinning at US-based mills, and then dyes herself. She worked with a selection of designers who really get the uniqueness of these yarns, and the finished book is a triumph. Featuring both written instructions and charts, the designs span a variety of colorwork techniques including Fair Isle, Intarsia and simple striping. The Byrdcliffe scarf by Rachel Anderson includes a crazy Cabled Kitchener stitch that looks concentration-intensive, and worth every second. It's stunning. Laura Nelkin's Bluestone fingerless mittens have a delicate colorwork pattern created by beads: simple but exceptionally striking. The aforementioned Seneca Falls (obviously my favorite) takes the simple sweatshirt shape, adds saddle shoulders and an a-line silhouette, and don't get me started on Perrine's Bridge by Lee Meredith, which has a mesmerizing geometric pattern created by tiny 1-stitch cables.
Yeah, a lot of words here for this 10-pattern book. I think it merits that. It's an exceptional publication, worthy of the exceptional yarns it features.

AS

Mason-Dixon Knitting Field Guide No. 1: Stripes
by Kay Gardiner and Ann Shayne
eBook: $9.95
Print + eBook: $14.95
buy now at Mason-Dixon Knitting

The knitting world rejoiced (that is not an exaggeration) when Ann and Kay of Mason-Dixon Knitting returned to us at full speed earlier this year. Since then, they've launched a beautiful, super-useful website, an online shop and now, the first in a series of perfect little books.
Stripes is the first release in their Field Guide series, edited by knitting-industry legend Melanie Falick. As they say in their introduction, "Our first Field Guides will explore the ways that knitting can be a color party." Since their attitude toward knitting has never been anything less than joyful celebration, this is a party I want to attend.
Stripes consists of three curated patterns: the Breton Cowl (inspired by the classic French Fisherman's sweater); Squad Mitts (for you and your friends to knit, while you hang out together and then wear triumphantly), and the Station Wagon Blanket, designed to be knitted in sections, so as to make it an easy travel knit. The finished result is cozy and classic.
Accompanying articles give extra background, and there's even a Magic Cake recipe easy enough to make almost with your eyes closed, and yummy looking enough to make you want to whip it up.
I can't wait to see what happens in Field Guide No. 2!

AS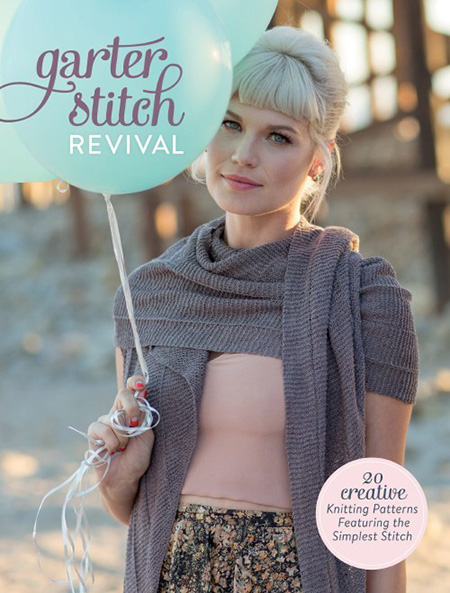 Garter Stitch Revival: 20 Creative Patterns Featuring the Simplest Stitch
Edited by Kerry Bogart
Interweave
$24.99
SR= 33-53"
buy now at Amazon

Garter stitch has a reputation of being too clunky and not pretty enough to use in many things. But almost everyone loves to knit it; it's so soothing. Garter Stitch Revival shows garter stitch in a different light.
First it offers you choices in how much garter stitch you want: a touch, a little or all garter. The patterns are divided up by the amount of garter stitch. It was really interesting to me to see how a little goes a long way visually. In my mind, garter stitch is all or nothing...wrong. It also made me notice how many patterns (not just in this book) use just a little, now I see it everywhere used as a divider, a color call out , a block of texture.
The book also shows garter stitch at different gauges. Again, in my head. it's usually worsted weight, knitting a Color Affection shawl cured me of that one. I do like a finer yarn for garter stitch, but here it's shown in a variety of gauges. Patterns that caught my eye were the Asymmetrical Cropped Jacket (look at the back), the Boardwalk Brioche Cowl, and the Autumn Evening Shrug.
Garter stitch definitely has a particular look and this book shows how to use it to its best advantage – all that texture and the relaxing song of acres of knit stitch.

JM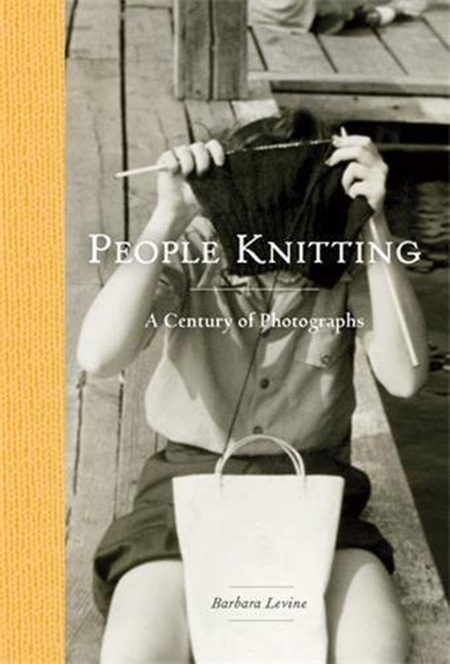 People Knitting: A Century of Photographs
by Barbara Levine
Princeton Architectural Press
$16.95, hardcover
buy now at Amazon

This book is exactly what the title states, a collection of photos of people knitting from 1860 – 1968. What the title doesn't say is that it is a playful, fascinating collection. What makes it more appealing to me is that the author doesn't knit! She is a photography historian and curator who has collected photos of people knitting for 25 years. She has a lovely memory of her mother knitting all the time.
It's so interesting to me to see knitting as someone who doesn't knit sees it: through the photos she's chosen from what is probably a vast collection. And to read the few words she writes as a historian, a curator about what the presence of knitting means in these photos and then to look at the photos again with that in mind. I took several spins through the book, looking for different things every time.
There are women, wives, mothers, men, soldiers, college students, and celebrities presented with little to no fanfare, just there with their knitting. There are a few quotes about knitting and very little color. Most of the color comes from posters that entreat knitters to knit for the troops. But don't miss the color photo at the beginning of the author, age 3, wearing a hand-knitted red mohair coat, looking none too happy about it.
This is a marvelous book, rich in history and any kind of subtext you'd like to hunt for, but mostly it's a story of people happily knitting.

JM

Knitting From the North: Original Designs Inspired by Nordic and Fair Isle Traditions
by Hilary Grant
Roost Books
$34.95
SR= 36-41"
buy now at Amazon

Hilary Grant is a ready to wear knitwear designer who sells a range of lovely accessories on her website (the blankets are particularly gorgeous) and in shops in the UK. She is inspired by traditional Scottish and Nordic knitting patterns, landscape and people of the Scottish islands.
This book translates some of her most popular patterns for knitters to make for themselves. The yarn is fine gauge. All designs are knit in Jamieson's Spindrift, and the shapes are square and the motifs are bold and elongated. There is a repetition in this collection, similar to a ready-to-wear, the same motif used on a number of designs, but I like that. There are many times I've wished for a motif to be used smaller or bigger or on another garment entirely.
There are generously wide circle scarves, the return of the dickie (here called a faux turtleneck), comfortably square mittens, pompomed hats and two perfect pullovers. The motifs are unique. They hint at their north-sea inspiration but are entirely fresh. I particularly like the Loki and Icelandic motifs, both elongated diamond shapes. Loki looks like an ombre feather while Icelandic looks like eyes.
The patterns, design motifs and photography go together seamlessly, beautifully, spare and chic.

JM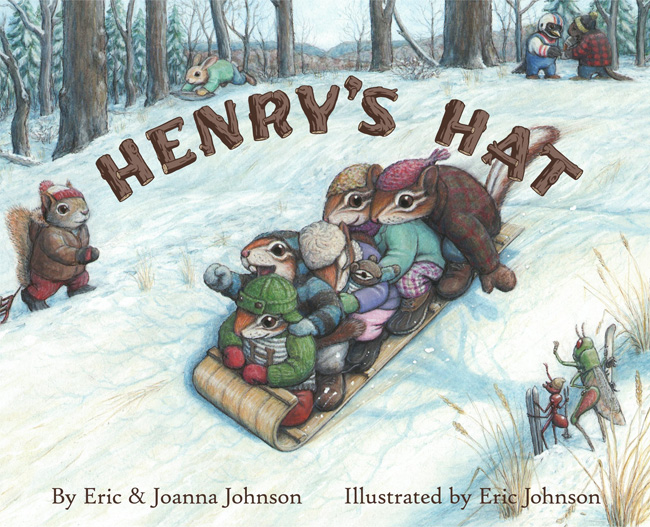 Henry's Hat
by Eric & Joanna Johnson
Slate Falls Press
$19.95, hardcover
buy now at Amazon
This book has everything my kids loved in their favorite stories: adorable animals, an adventure, and a happy ending, with the bonus of knitting for their mom.
Henry, a young chipmunk, loses his hat while berry picking with his family. He goes on a fantastic adventure though the forest, gathering clues from other animals in search of his hat. When he finds it, it's not the ending he had hoped for, but of course that's not the ending of the book!
An intricately illustrated story, full of kindness and the kind of pages kids love to explore far beyond the words. There are three knitting patterns that go with the story: Henry's Hat, Henry's Letter Sweater, and a Henry doll.

JM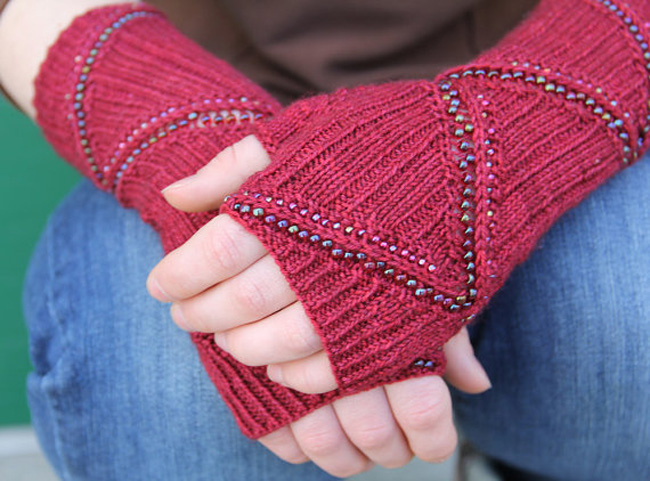 Migra Mitts Kit
by Laura Nelkin
$36
buy now at Laura's shop on Etsy

When I first opened this kit, I immediately fell in love with the yarn. The luscious Gale's Art fingerin- weight yarn (mine in the Royal dark purple colorway) is soft as a baby's skin with hint of shine from its 20 percent silk content. The contrasting jeweltone beads in sizes 8 and 6 made me want to start knitting right away just so I could see how they play with the yarn.
Also included was a handy dental floss bead threader and a code to download the PDF version of the pattern. The pattern is well written and thorough with both charts and written instructions.  But even better are the links to YouTube videos that demonstrate how to string the beads and knit the beaded portion of the pattern. For someone like me who learns better by watching, I felt confident I wouldn't have any problem tackling the project. 
I'm a sucker for sparkly glam accessories and I can't wait to see how they look when I'm finished and wearing them. I suspect I may not take them off until spring.

KG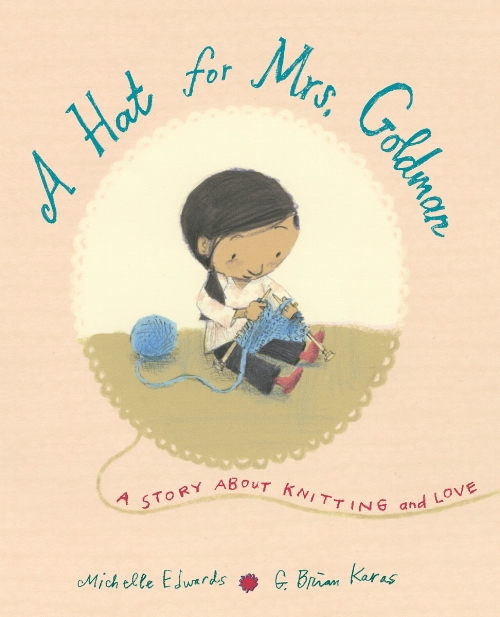 A Hat for Mrs. Goldman: A Story About Knitting and Love
by Michelle Edwards
Random House
$17.99, hardcover

This book tells the story of a little girl and her knitting neighbor. Sophia's neighbor Mrs. Goldman knit her first hat when Sophia was born; from then on they have a knitting partnership. Mrs. Goldman knits hats for everyone in the neighborhood and her dog Fifi. Sophia helps her by making pompoms. (My newest favorite knitting group is Sophia and Mrs. Goldman.) One day Sophia notices Mrs. Goldman doesn't have a hat to keep her warm and decides to knit her one, even though she doesn't knit particularly well. She knits through frustration and dropped stitches and never gives up. In the end, she presents Mrs. Goldman with the most beautiful gift.

I think all knitting is about love, and this book illustrates it perfectly.

JM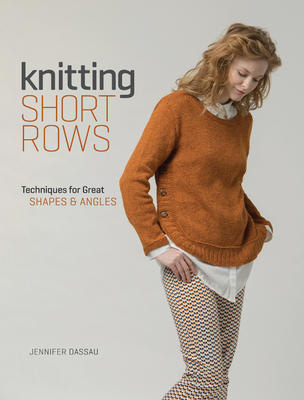 Knitting Short Rows:Techniques for Great Shapes and Angles
by Jennifer Dassau
Interweave
$24.99
SR=32-50"
I think short rows are magic. This book explains five different methods of executing short rows in detail: Wrap and Turn, Yarn Over, German, Japanese, and Twin-Stitch.

Each method is described in flat stockinette knitting over four pages with clear illustrations. The most exciting part is under the heading, Special Considerations – don't miss this. Here the author discusses the pros and cons of each method, working each method in the round and how the methods behave with particular pattern stitches.

So you can practice each technique, there are several patterns highlighting each type of short row: hats, scarves, shawls (ooh the shawls) and sweaters curve, cling, swoop and just fit better with short shows.

JM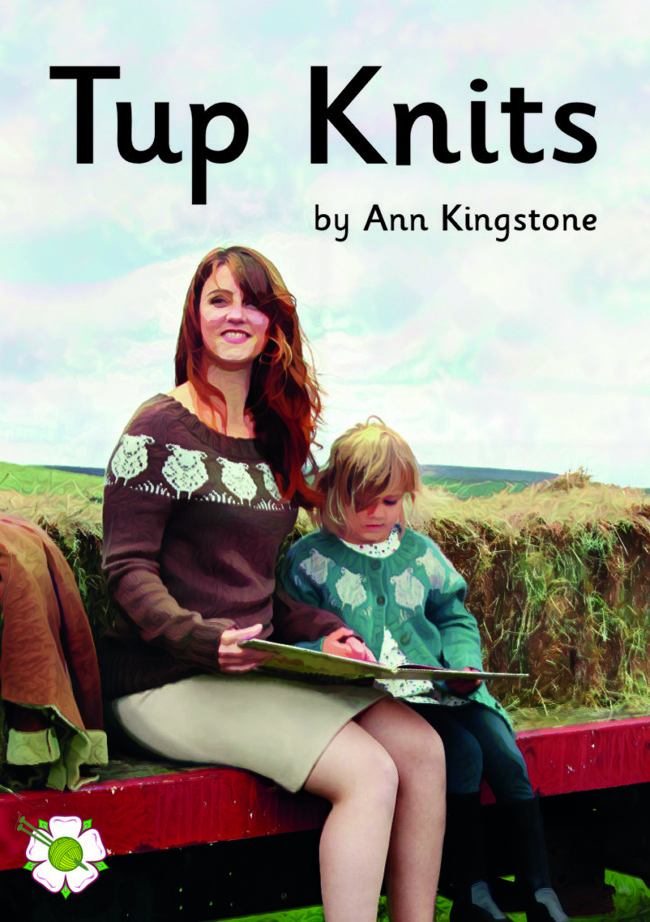 Tup Knits
by Ann Kingstone
Print: £14.50
eBook: £12.00
SR=32-58"
buy now from Ann
Ann Kingstone is a delightful designer from Yorkshire in the UK. She specializes in taking the world around her and translating it into knitting that appeals to knitters worldwide. In this compact volume, she features the Tup, the male sheep. The patterns are stranded-colorwork designs featuring the Tup in 2 adult sweaters, a cardigan for a wee one, socks, a cowl (cleverly called Dewlap) and fingerless mittens. You'll find clearly illustrated tutorials for some of the key techniques used in the patterns at the end of the book.
With generous adult sizing, comprehensive kid's sizing and a charming aesthetic, this book is full of must-knits for sheep lovers everywhere!

AS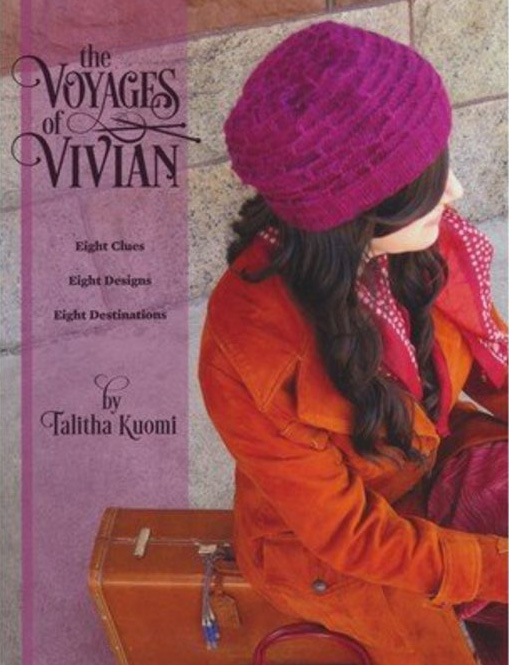 The Voyages of Vivian: Eight clues. Eight new designs. Eight destinations.
by Talitha Kuomi
$20
The Voyages of Vivian may have missed your attention, but it definitely worth a peek. It's a breath of fresh air among the same old knitting pattern books.
The Voyages of Vivian tells the story of Mrs. Crosby (famous for her yarn) and her childhood friend and fellow traveler, Vivian L'amore. Through this book Mrs Crosby leads Vivian on a whirlwind world tour and treasure hunt , leaving clues and yarn at each destination. Vivian designs and knits a project inspired by each city she visits: a hat, a cowl, mitts, a vest, a shrug, a tank, a scarf and a sweater, all lovely and all knit from Mrs. Crosby's own yarn.
Join these two friends on this delightful and all too short adventure and be inspired to add some fun to your own knitting exploits.
JM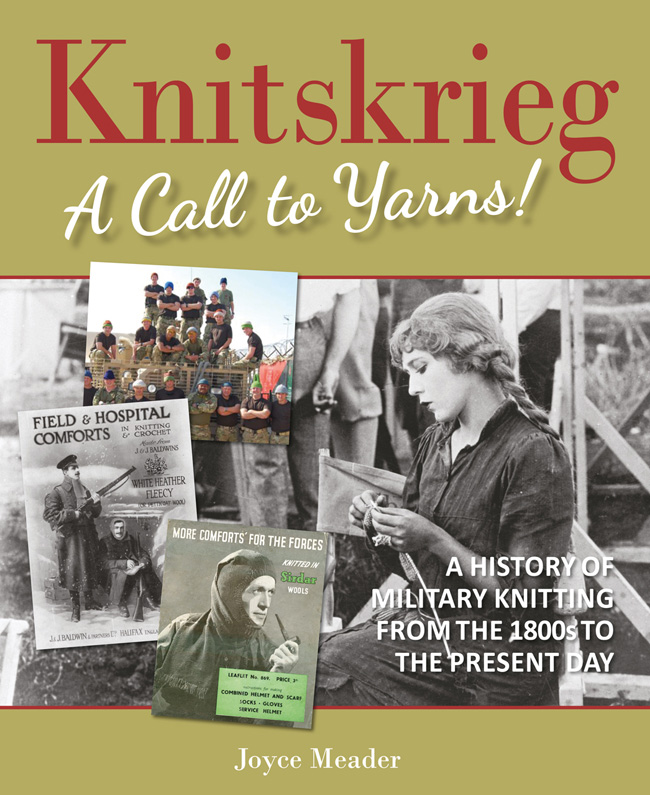 Knitskrieg: A history of military knitting from the 1800s to the present day
by Joyce Meader
Uniform Press
$28.95 - hardcover
buy now at Amazon
This fascinating study how of the craft of knitting was often essential to the war efforts of the UK (and other countries) is full of history, lore and really wonderful photos. Historic knitting expert Joyce Meader guides us through knitting's role from the Crimean War right up to the conflicts in Afghanistan and Iraq. She shows us what the soldiers wore, who knit it for them, and the connection between the two.
A portrait of changing times, changing roles and even changing fashions, it's a fascinating read.

AS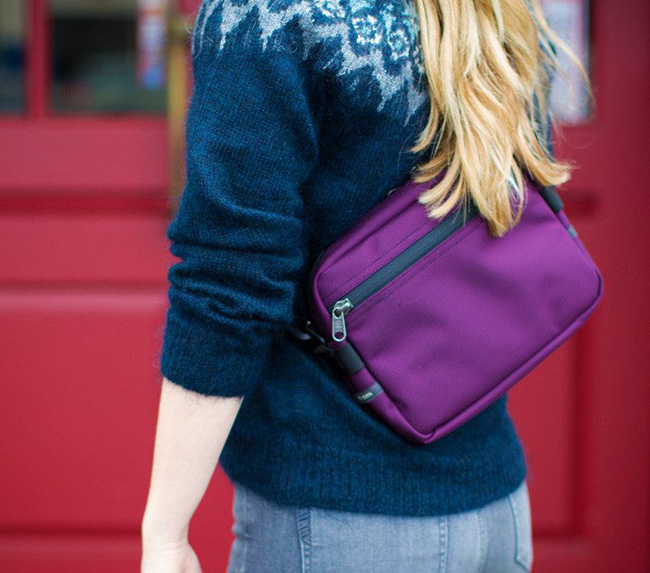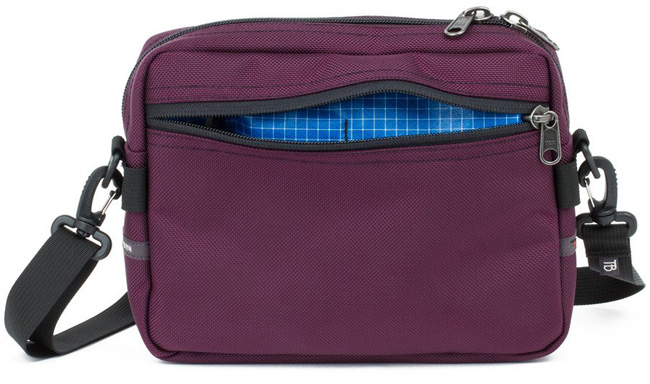 Side Kick
by Tom Bihn
9.6 x 7.5 x 2.8"
Available in a wide variety of colors.
Shown: Aubergine ballistic nylon outer/Island Blue Dyneema ripstop nylon interior
$65.00
buy now only at Tom Bihn
The arrival of a new Tom Bihn bag design is met with excitement from his loyal clientele (should I call them fans? I think I should.) In this case, the brand-new Side Kick bag was introduced and sold out in the same week. Having just received my sample to test drive, I can see why.
The Side Kick is an upsized version of the very popular Side Effect, a rather compact pouch that can be worn as a shoulder bag (which I've done) or a fanny pouch (not so much). I liked the Side Effect, but found it too small for anything beyond a wallet, keys, and minimal essentials. So the new Side Kick makes much more sense to me. It's a lean, stylish everyday bag.
Here's what this bag has to offer:
a full-width outside zippered pocket with a key strap attached to an o-ring
a large top zip that goes from one side of the bag to the other (not just across the top), so you have full access to what's inside
two pockets on one side, each easily holding a current-era cellphone. My iPhone 6s fits in with tons of room to spare
on the opposite side, 2 pen slots and a roomy pocket that easily holds my Traveller's Notebook
the middle section holds a wallet, or anything else bigger that you need to carry
four o-rings are securely fixed inside, just under the zipper, in various locations. Use them to clip any of the Bihn accessory pouches to customize your bag
a 1" wide adjustable-length shoulder strap that easily fits my plus-sized frame as a cross-body bag
two loops to add a optional waist strap, should you want to wear it that way
a bag of zipper pulls that you can attach to all the zippers, or just to the ones you choose
In fact, that middle section will hold a 7-8" tablet, like an iPad mini, in a protective case.
I had a photoshoot today, and swapped my current purse contents into the Side Kick. It all fit: a wallet, a pencil case that I use to hold my makeup, business cards, artificial sweetener dispenser, iPhone 6s, puffy pack of wet wipes, lipstick, Traveller's Notebook and pen, and my big-toothed comb. For my purposes, an extra inch in depth would have been ideal (mostly for the middle compartment), because I like a little more scrounging room in my bags, but that's just splitting hairs. I can't find fault with this bag. It's light-weight, exquisitely comfortable to wear, a gorgeous shade of purple they call Aubergine and very solidly built.
Tom Bihn, for those who are not acquainted with his wares or company, is a made-in-the-USA company, located in Seattle. Everything they produce is designed and sewn in their own factory, and as a result, response time (as in refilling stock of the Side Kick) can often happen much more quickly than something made overseas. It also means better quality products. As someone who's had the pleasure of incorporating many Tom Bihn bags into her life for the last 10 years, I can tell you that it's very likely they'll outlive you. They just don't show wear. It's amazing stuff, and worth every penny.

AS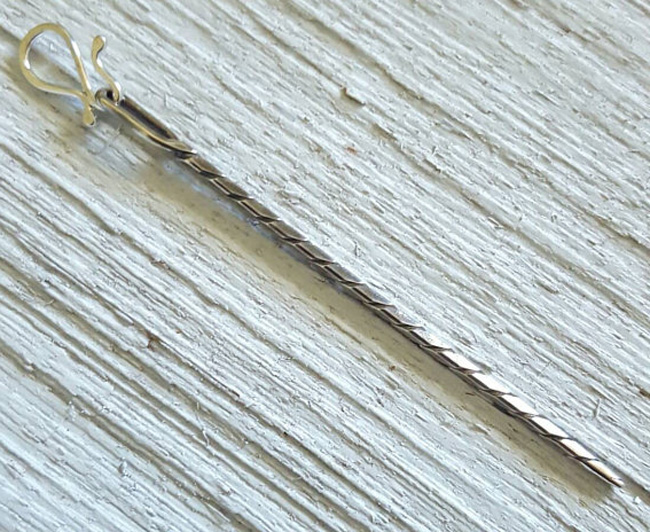 Knitters' Jewelry
by Kristan MacIntyre
Sterling silver darning needle pendant shown above: $31.00

buy now at Kristan's store on Etsy

Kristan is a Vancouver-based jewelry artist, who also happens to be a knitter. Or perhaps a knitter who also happens to be a jeweler. Her two arts have come together in a line of what she calls simply enough, "Knitter's Jewelry". She hand-makes beautiful pieces: buttons, cable needles, stitch markers and darning needles. The pieces are absolutely functional and utterly beautiful. I wear one of my favourite tools: a bent-tip darning needle as a decorative pendant, and Kristan's clever findings means that it's easily removed when I need to use it.

She uses bronze, copper and sterling silver, and everything has beautiful texture. Darning needles are twisted; buttons have designs pressed into them, cable needles and stitch markers are shaped and twisted in fabulous ways.
In particular, I adore the gorgeous buttons: I couldn't resist, and made myself a Pretty Twisted Cuff so I could show off one of the small textured ones.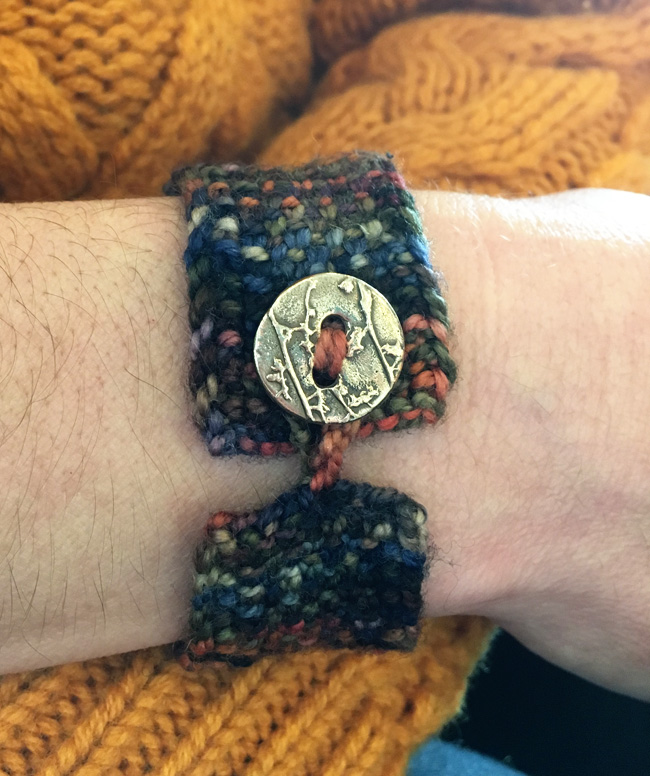 Her "regular" jewelry is pretty wonderful too, using textures and patterns from the natural world. A bunch of leafy carrot tops becomes a fascinating pendant; a swatch of stockinette fabric translates to amazing earrings than even a non-knitter would love and wear.

KA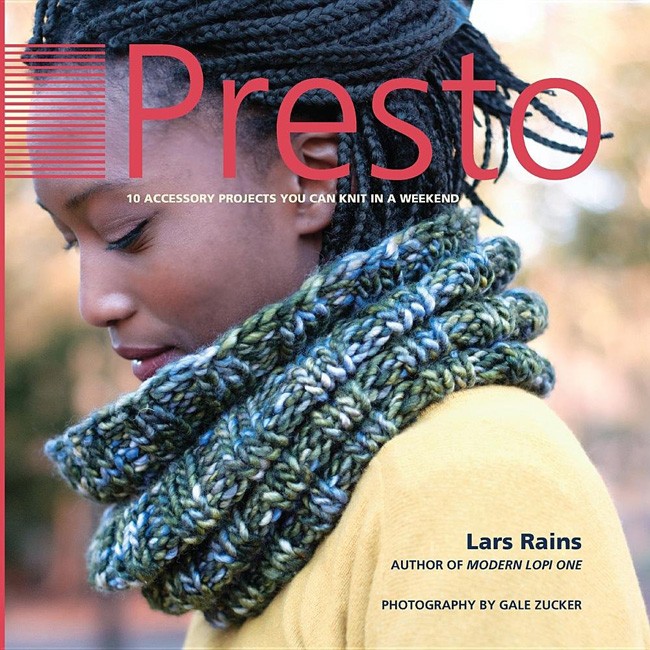 Presto: 10 Accessory Projects You Can Knit in a Weekend
by Lars Rains
paperback: $22.95 from Amazon
eBook download: $17.95 from Ravelry
As Lars says in the introduction, there are times in a knitter's life when you just "don't want to knit a sweater". He's exactly right! This book features ten quick-knit super-bulky projects, all worked in Madelinetosh A.S.A.P., on giant needles. The designs are fun and casual, bound to appeal to both beginner and more experienced knitters. The photography by Gale Zucker is playful and appealing.
A nice addition to the accessory knitter's library, or for newer knitters looking to build some new skills. Very timely as we start to think about gift-knitting season, too. These projects are quick enough that you could finish them in a weekend!

KA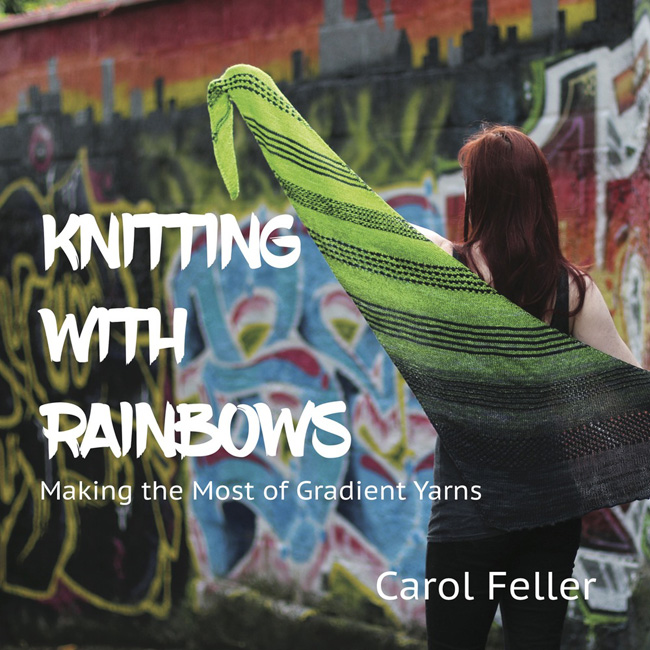 Knitting with Rainbows: Making the Most of Gradient Yarns
by Carol Feller
Print + download: €22.00
buy now from Carol
Gradient yarns are very popular at the moment – both dyers and knitters adore them. But it can be challenging to choose a good project to show them off. Carol's lovely book handily addresses that question. It features 11 patterns, and a wealth of guidance about using these yarns, including sensible tips for yarn management, and a small library of stitch patterns to use. The designs are all accessories – shawls, cowls, scarves, a simple-but-clever mitten pattern and a very handsome pair of socks. The photography is striking, too – definitely part of the pleasure of the book.

Whether you actually work one of the projects as written, or use the designs and information as a jumping-off point for using these types yarns in other projects, this modest volume offers a lot of value.

KA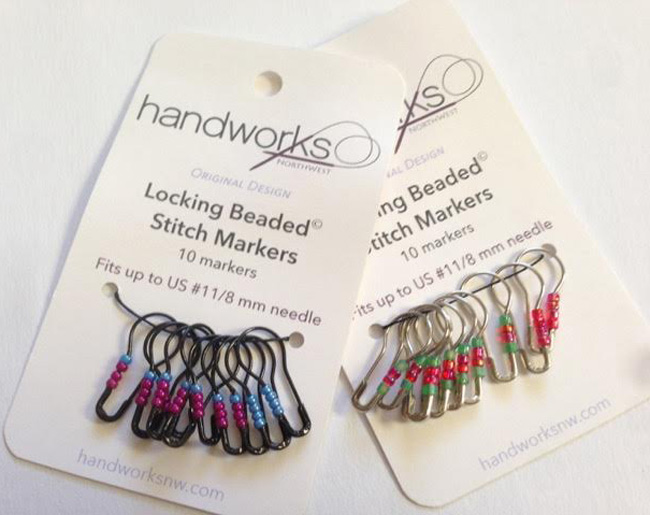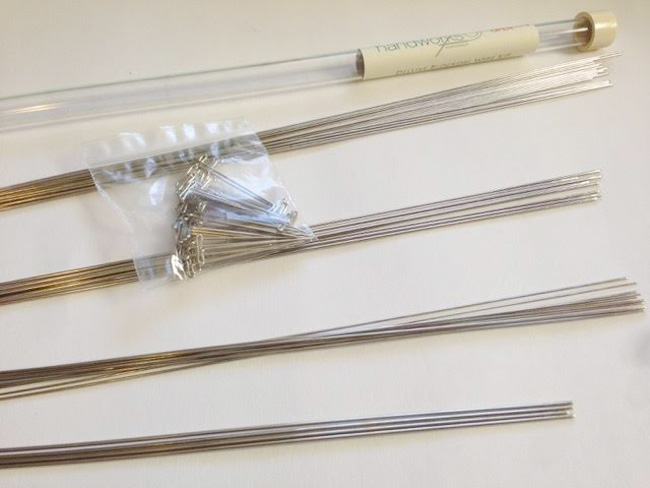 Deluxe blocking wires kit and beaded locking stitch markers
by Handworks NW
Deluxe Kit: $74.00
Beaded Locking Stitch Markers: $18.00, set of 10
buy now at Handworks NW
Blocking wires are an essential part of the tool kit of any lace knitter, and they're immensely helpful for garment knitters and crocheters as well. Blocking wires help with "dressing" a finished project - the term for all the stages of washing, shaping and sometimes pinning out knit or crochet fabrics. 
The Deluxe Kit contains 40 Stainless Steel hand polished, no-snag wires in three weights and two lengths (18' and 36"), 40 rust-proof T-pins, an instructional brochure and a sturdy clear storage tube. The kit is based upon one developed by lace expert and knitting author Myrna Stahman, and is offered by Handworks with her approval. 
I found the tips of the wires in the kit to be wonderfully smooth – an important feature when using them on delicate fine fabrics or blends containing easily snagged manmade fibres. I especially loved that the instructional brochure came with a teeny piece of emery paper attached, so that if a tip developed a burr over time and use, you could polish it out. 
The wires are supposed to correspond to knitting needle sizes: fine, 1.0mm, size 00000 needles; medium, 1.25 mm, size 0000 needles; heavy, 1.75 mm, size 00 needles. In truth, I couldn't easily tell the fine and medium wires apart, which is just fine as those are the ones most needed for curved or shaped edges and they should work interchangeably. The heavier wires are considerably sturdier – great for worsted or bulky fabrics – but will still encourage a gentle shape. 
I put the kit immediately to use on a small lacey cowl, and found the tips slid through the damp fabric like butter. My only tiny point of consternation was the lack of a small tin to contain the blocking pins. I'd love to have an option to add one when buying the kit. 
The Locking Beaded Stitch Markers are made of fine wire in a safety pin lightbulb style. The beads are firmly adhered, with no burrs or blobs of adhesive that I could detect. Two out of each set of 10 markers are coordinating, which is handy for marking the beginning of a round as well as pattern repeats. They do indeed fit up to a US #11/8mm needle, so there's a wide range of usable sizes. That they are removable pin-style means they can also be used by crocheters. 

LS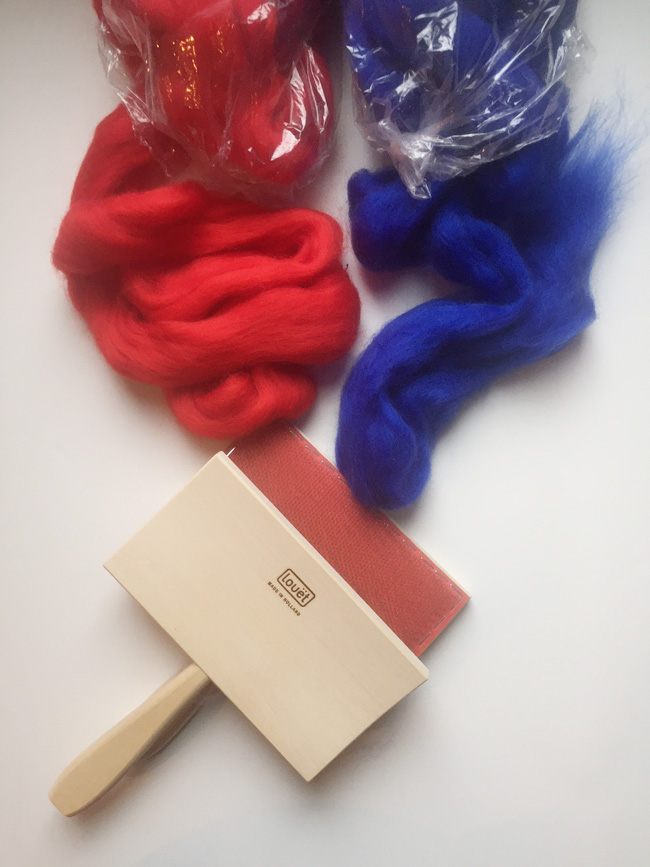 Extra-Fine Cotton Handcards
Louet
$85
buy now at Louet
These cards bring real happiness and ease to my carding. I spin woolen, I like to blend things, so I card. Until I tried these cards I put the carding off – hunting for a color or fiber blend close enough so carding was my last option. These cards changed that for me. Now I'm looking for things to blend and card. I'm not quite sure what makes the difference in my hands. It's the feel for me. How do they feel? They are light, they are springy, they release well – don't grip the wool. I can go fast. I can't put a huge amount on, but I really shouldn't do that any way. The carding cloth is extra fine (110 teeth per inch) and they are supposed to be for cotton, but I've used them exclusively with wools so far. These cards are perfect for me.

If you are new to carding, or card sometimes but aren't sure if it's carding or your cards you don't like, give these cards a try.
JM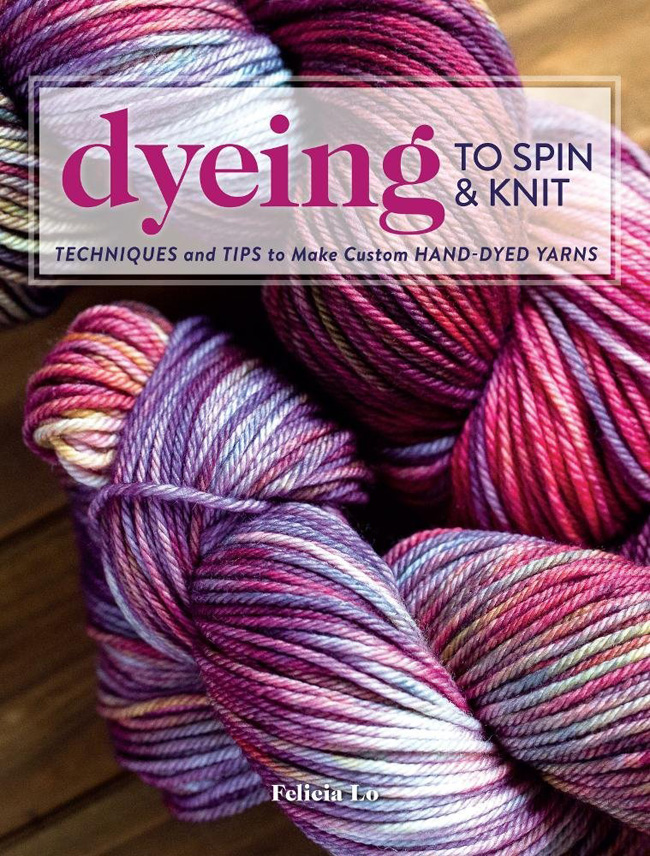 Dyeing to Spin and Knit:Techniques and Tips to Make Custom Hand-Dyed Yarns
by Felicia Lo
Interweave
$26.99
All.The.Color. Want to dye color? Check. Want to spin color? Check. Want to knit color? Check. If you are a fan of dyeing, spinning or knitting and have even the slightest interest or hesitation about color, you need this book. Felicia Lo has been dyeing expertly and vibrantly for her company Sweet Georgia Yarns since 2005, so she knows a thing or two about how to make, combine and manipulate color.
She starts this color journey with defining color, the color wheel, terminology, and how color affects us. There is a lot of information in this section but it's broken down to small, easy to mentally digest bites.
There is no one I'd rather have explain dyeing to me than Felicia Lo. She uses 50 pages to teach about dyeing, the types of dyes, how to dye, setting up a studio, safety, prepping your fiber and yarn and techniques. Dyeing techniques are not usually something a working dyer likes to share, but Felicia lays it all out, with photos and formulas – low-water immersion dyeing, spinkle dyeing, how to make formulas for variegated colorways, hand painting, how to dye self-striping yarns, gradient dyeing, using resists, dyeing in a ball and the all-important troubleshooting what didn't go quite right. She even talks about keeping track of dyeing with both notes and physical samples.
Chapter three is about spinning color when working with variegated colorways, what affects color as it's spun, how to control the length of color repeats, controlling color transitions, mixing and blending, fractal spinning, making and spinning batts, and spinning textured yarns. If you are thinking that this is just her Craftsy class, nopethere is so much more here.
Then Felicia dives into teaching about knitting with variegated yarns: about yarn weight, gauge, managing color with stitch patterns, mixing and blending colors in knitting, and an excellent section on pooling.
Felicia is an expert and a technically detailed fiber artist, but this book isn't overwhelming or stuffy. She explains things with just enough detail to understand and replicate and has that friendly tone that encourages you to step out of your comfort zone color-wise.
She caps it all off with 11 accessory patterns to try out everything she's laid out in the book. On first flip through, you might say, "oh that's pretty. I want to knit it in exactly those colors." Here's what happens when you get to this point after reading the book: "well, I think I might like to change the whole colorway or at least manipulate the colors so they work like this". You get the idea.
This book will change how you think about and use color.

JM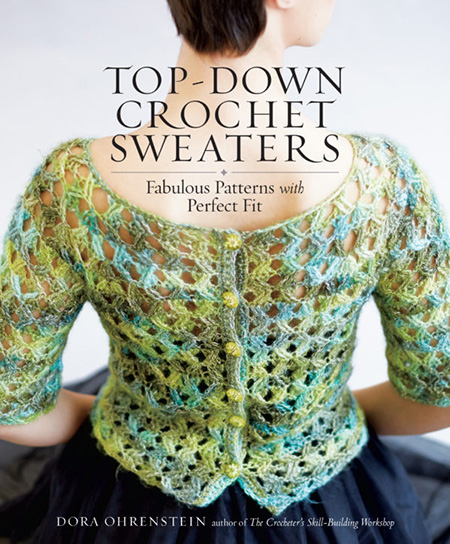 Top-Down Crochet Sweaters: Fabulous Patterns with Perfect Fit
by Dora Ohrenstein
Storey Publishing
$18.95
SR=34-56"
buy now at Amazon
Crocheting a sweater to fit is a lot different from knitting a sweater to fit.  Unless you've had experience with shaping crocheted garments, it can be intimidating to even know where to start.  That's what makes this a fantastic resource for anyone who's ready to take their crocheting to the next level and create a well fitting sweater. 
In the first third of the book, Dora Ohrenstein guides you through the techniques used for crocheting a top-down sweater in an easy to follow step by step process.   A wide variety of topics are covered, including measuring and ease, choosing the right yarn and stitch pattern, maintaining gauge, as well as tips for how to avoid and fix the most common mistakes. There's a wealth of information in this section and I can tell Dora's done a lot of experimenting.
Then there are seven paired sweater patterns, each sharing design elements for a total of fourteen sweaters.  You can choose from pullovers or cardigans, fitted or flowy, tunic length or cropped, and any length of sleeve. Best of all, you can adjust the patterns with help from the techniques section to make them uniquely your own. 
Many of the sweaters stood out to me, especially Nanette, the stunning cardigan on the cover. The simple shape lets the crossed stitch pattern and variegated yarn shine.  I also loved Janelle, a tunic length open cardigan crocheted with a stitch that creates subtle ribbing.  It's exactly the kind of sweater that looks great whether you're heading to the office or wearing jeans.  But I really liked a lot of the designs for the same reason.  They have a classic look that would make them great additions to anyone's wardrobe.
KG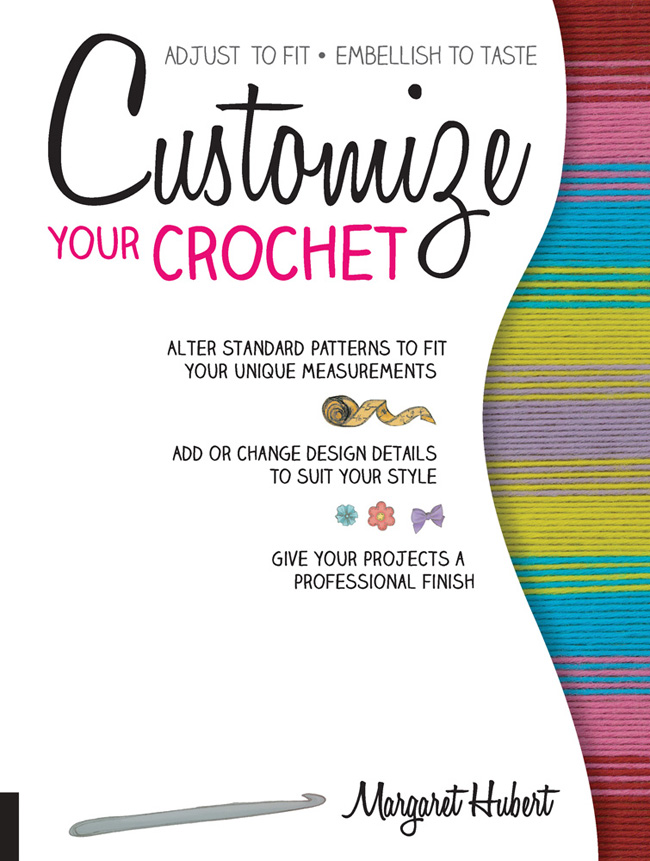 Customize Your Crochet: Adjust to fit; embellish to taste
by Margaret Hubert
Quarto Publishing Group/Creative Publishing International 
$22.99 US
SR=32-46"
I consider myself a novice crocheter. I know how to make basic stitches – and a few fancy ones – but have yet to make a garment that requires shaping. This book seems to be aimed squarely at folks like me. 
There are four sweater patterns in the book, all cardigans, where the basic instructions are given for straight-sided, unshaped sweaters. These instructions work well for approximately 50% of women who can wear the rectangle body shape. But the book goes further, giving information on how to take your measurements and assess if you are a classic rectangle, a triangle, an inverted triangle, or an hourglass. Then details are provided to modify the instructions to make the sweaters fit well if you are a non-rectangle, including advice on what size to choose in the first place. 
For me, still learning how to read crochet fabric, the sections that give step-by-step information on where exactly in the pattern stitch to make increases and decreases (including stitch maps) are really helpful. 
Nearly half of the book is given over to finishing, including some clear options for seaming, a trouble-shooting section, optional edgings and trims, buttonholes and even shoulder pads. 
I'm not nearly as fluent in crochet pattern language as I am with knitting, so I've asked my friend Beth Graham – crochet designer, author and Craftsy teacher – to add a few words in that regard:
Instructions for the four basic Classic Rectangle sweater patterns are extremely clear, including helpful stitch counts at the end of each row. The accompanying symbol crochet charts of pattern stitches help to visualize the written instructions. Detailed schematics ensure a proper fit for each size. A bonus is a page with pictures of pattern pieces on the blocking board, giving readers further insight into how to lay out and size components prior to finishing. 

Following each main Classic Rectangle pattern is a Customizing the Fit section detailing how to increase and decrease in the pattern stitch. This information is presented in swatch format, and includes both written and charted instructions. Take the time to fully work through these instructions before applying the increases and decreases to making sweater, in order to become intimately familiar with how they function in a garment. As a bonus, the swatch may be used to check gauge! (Because you will take the time to check your gauge, won't you?)

After the Customizing the Fit section, double-page spreads follow for each body type, presenting basic information on how to make adjustments. Those with some crochet-garment-making experience already under their belts will be best able to apply Hubert's tips, and less-advanced stitchers can be successful, too, if they take their time and keep in mind that customization in crochet always involves some trial and error.
LS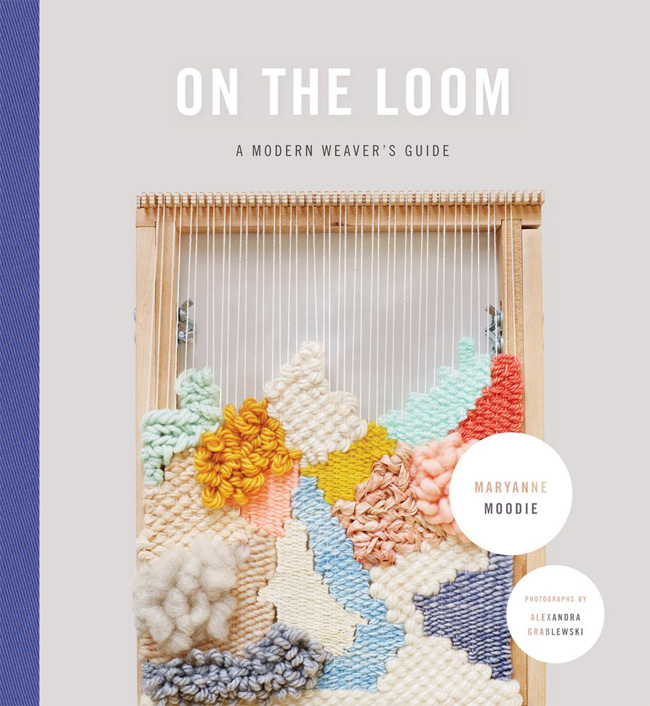 On the Loom: A Modern Weaver's Guide
by Maryanne Moodie
Abrams
$27.50, hardcover
If you are a fan of fiber art, you'd have to live a very secluded life to not have heard of Maryanne Moodie or be aware of her work. Moodie is at the forefront of the popular tapestry-style weaving movement that produces richly textural wall hangings and other home décor designs.
This type of weaving looks deceptively simple, but it's not. Once you try it yourself, you're instantly reminded how hard simple can be.
Moodie's work is evocative, rich and vibrant. The first time I tried this type of weaving, it just looked gloppy. There is style and substance to her weaving and thoughtfulness to her direction.
This book is a well-thought-out weaving workshop. It's a workshop for both people who have never woven on any loom and for folks new to this style of weaving. The front of the book is all basics, discussion of fiber, looms, and weaving tools. Weaving basics come next, how to thread a loom, starting, stopping, different stitches and knots all showing great clear close photographs. The section on Color Design and Harmony is excellent. She is a proponent of "do what feels right to you", but this section has wonderful guidelines and feels like a comfortable safety net for newbies and a quick reminder for more seasoned weavers.
The magic of this book is the learning through the projects. The project portion of the book is divided in to loom shape: rectangular, round and non-traditional. Each loom shape has eight projects and each section starts with discussion on making or finding that style of loom. You can start with whichever project strikes your fancy. The directions are clear and easy to read, even with a loom in your hand. There are bags, rugs, hangings, weaving on things like lampshades and bicycle baskets. The non-traditional loom section gets you to weave on branches, with found objects and even in your hair.
This is a marvelously creative book.

JM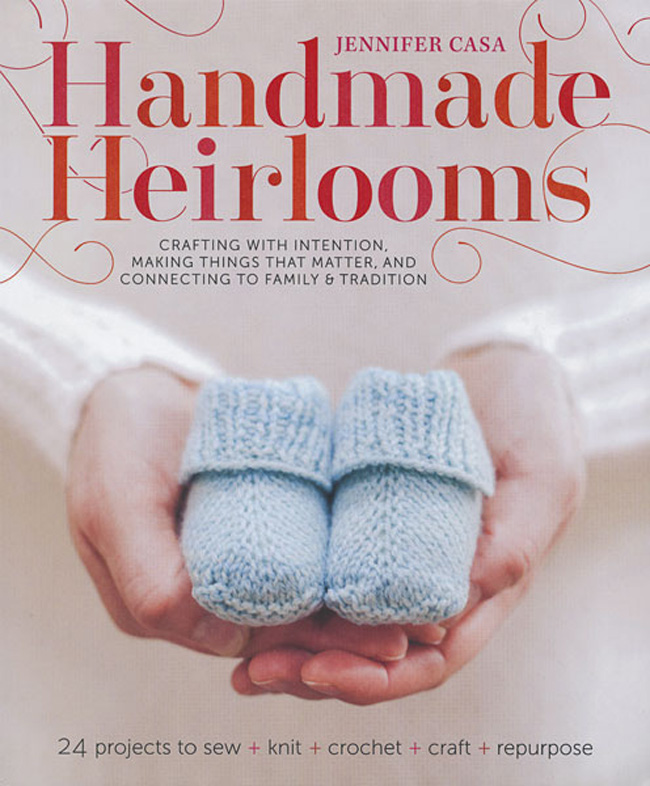 Handmade Heirlooms: Crafting with Intention, Making Things that Matter and Connecting to Family and Tradition
byJennifer Casa
Roost Books
$19.95
There is no better way to honor a family or child than with a handcrafted gift. This book is both about the joy in making and the joy in giving. The crafts are mostly for kids and babies and span many crafts, but sewing and knitting are the top two.
One of the things I really like about this book is that it isn't precious. The items are meant to be used, not packed in tissue and put away. It also doesn't take itself too seriously. There are projects made from shrinky dinks, fimo and decoupaged photos. You can make a set of family coasters in a weekend with your kids, sew a special quilt for a family member or knit a perfect pair of booties for a coming baby.
The message here is to make and give, celebrating craft and those you love.

JM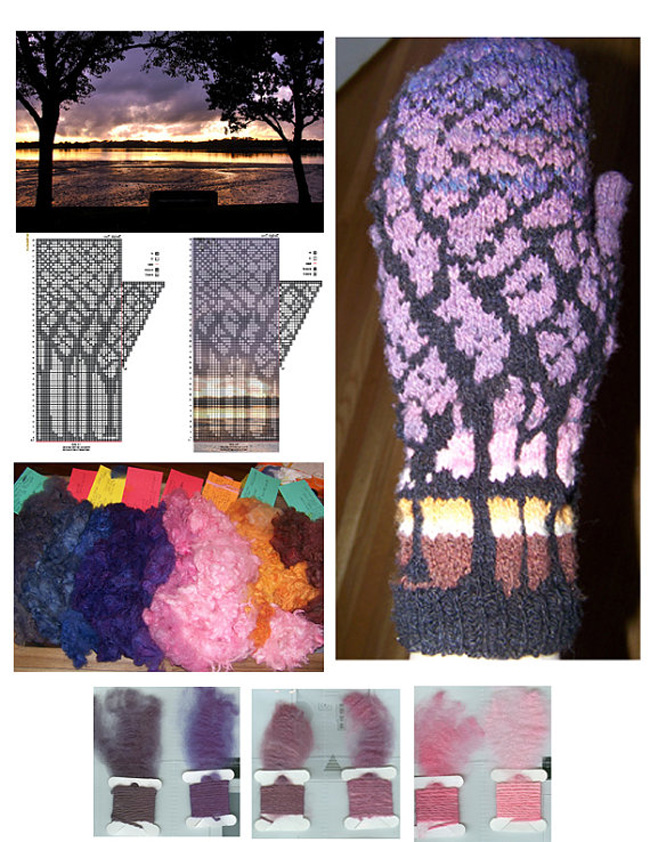 Dyeing to Get the Colors You Want From Digital Photographs - Dyeing Guide
by Alanna Wilcox
eBook: $10
This is a great book for dyers who are trying to precisely recreate colors from a digital image. This book will teach you how to translate the color palette of a digital photograph into a fiber colorway for dyeing. In excellent detail, Alanna walks you through the whole process moving from photo to creating a dye formula from a color pixel using Photoshop or any other software that translates pixels into color numbers to creating a dye recipe.
It is straightforward and a great resource for dyers just starting out or experienced dyers wanting a new jumping-off point for their colorwork.

JM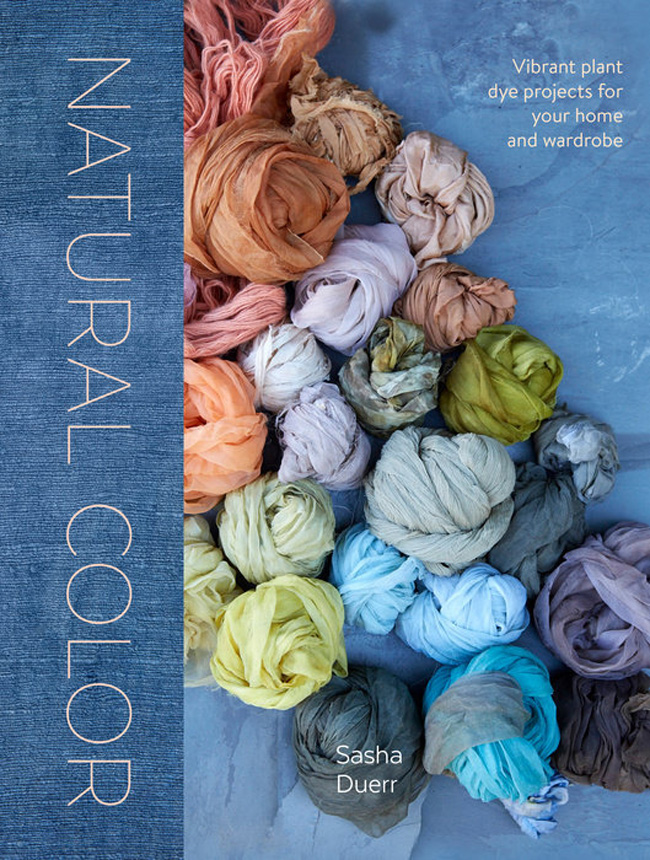 Natural Color: Vibrant Plant Dye Projects for Your Home and Wardrobe
by Sasha Duerr
St. Martins
$30, hardcover
This is that rare book that is as good and useful as it is beautiful. It has information to get you started or further your adventures in natural dyeing. There is excellent base information on tools, mordants, preparing fiber, extracting color from plants and dyeing resources.
The majority of the book is set up around seasons and projects. Duerr's view is part of the slow fashion movement, sister to the slow food movement: use what is local to you and in season.
As you wind through the seasons, you learn about particular plants that make up a seasonal palette and specific step-by-step directions for making and dyeing projects. There are 29 projects in the book, using both unusual dye plants (rosemary, pomegranate and plum branches and ones you expect (indigo, onion skins and black walnut). She uses a variety of materials to dye from linen, to wool to leather, and the projects range from art to hang to home accessories to bags to things to wear.
There are an array of dye techniques, not just immersion dyeing (thought that is here, too): dip dyeing, shibori, making and using pastes, steam printing, block printing and using citrus as a bleach resist.
It's a book you can skim through finding specifically what you need and go, or you can sink into and read deeply. You can explore ideas on foraging, medicinal dyes and thoughts on permaculture. Be sure to look at the Natural color seasonal colorwheel: it is breathtaking.
It is clear that the author has devoted her life to this art form and we are lucky that she has shared it with us.

JM