NAME, a free knitting pattern from Knitty.com. Free knitting pattern for a DETAILS HERE.
INTRODUCTION
Obliqua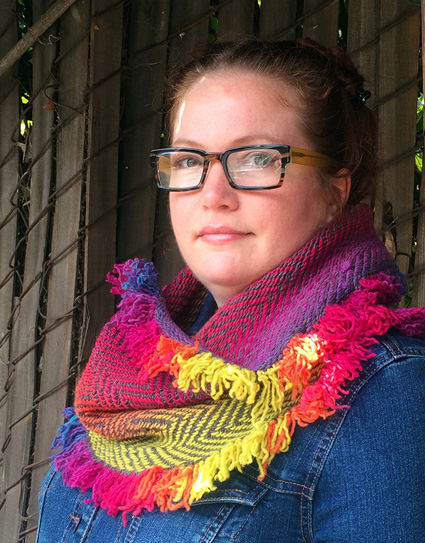 by Tina Whitmore

I've been on a garter stitch obsession of late so it was time for a change. I wanted to make something that was fairly simple, but with a little bit of spice that would show off the gradient yarn in a fun way. I chose the Charcoal background as it shows off the brights in the Dirty Hippie colorway so well.
What's fun about this pattern stitch is that you really only ever knit half the stitches on any single round; you will be knitting two stitches, then slipping two, so though there is a lot of yardage to this design, it still goes quite fast. The fabric it creates is a nice dense yarn, with the pattern showing on both sides. You can confuse your knitting friends when you tell them that it is indeed knit and not woven!
Since less of the colored yarn is needed, at intervals throughout the ball I wound off about 10 yards to hold that back for use in the fringe later on. The transition in the gradient is slow enough that you can remove a fair amount of extra yarn from each major color group and rejoin the ball without a visible jump in the color.
Though I've used bright colors here I think the cowl would be equally striking in a single color gradient such as shades of Denim on an Ecru background. I think the trick would be to be sure you have enough contrast throughout any gradient changes versus the background you choose.

models: Heidi Haywood/Kai Essig/ DJ Reasby

photos: Tina Whitmore
FINISHED MEASUREMENTS
Circumference: 33 inches/84 cm
Length: 11 inches/28 cm without fringe, 13.5 inches/34.5 cm with fringe
MATERIALS
Yarn
Freia Fine Handpaints Merino Fingering Shawl Ball [100% US Merino; 430 yd/393 m per 3.5 oz/100 g skein]


[MC] Charcoal; 1 skein


[CC] Dirty Hippie; 1 skein

Recommended needle size
[always use a needle size that gives you the gauge listed below - every knitter's gauge is unique]


1 24-inch/60cm US #8/5mm circular needle

Notions


yarn needle


stitch marker – a split ring marker will work best as you will want to move the marker every few rounds


crochet hook US G-6/4mm
GAUGE
32 sts/44 rounds = 4 inches/10 cm in pattern stitch
PATTERN NOTES
[Knitty's list of standard abbreviations and techniques can be found here.]
You will use less of the background (MC) than you will of the woven foreground color (CC). As you work the gradient yarn, you will find larger areas of a single color (yellow, orange, red, pink and purple) than the transition areas. This will correspond approximately as the halfway point between each zig and zag. You will be able to wind off about 10 or so yards and rejoin the CC ends as you go. You will use this excess yarn for the fringe later on. If you opt to not to wind off some of the yarn and forego the fringe, your transitions will be very slow and you will need a second ball of the MC if you want to work all the way through your gradient, thus also making an extra tall cowl!
Gauge is not so critical with this cowl but keep in mind you want to carry the woven yarn with an even tension, loosely enough so as not to create gathers but not so loose as to result in oversized loops.
Decide at the beginning if you will carry the MC above or below the CC, and stick with it throughout the pattern – I worked with my MC from below, CC from above. If you accidentally switch it will affect the appearance of your woven stitches and you will be less happy with the finished product.
Wrap: Working with color indicated, wrap the indicated number of sts by bringing yarn to front of work (as if to purl), slipping the sts from the left to the right needle, and then bringing yarn to the back of your work (as if to knit).
DIRECTIONS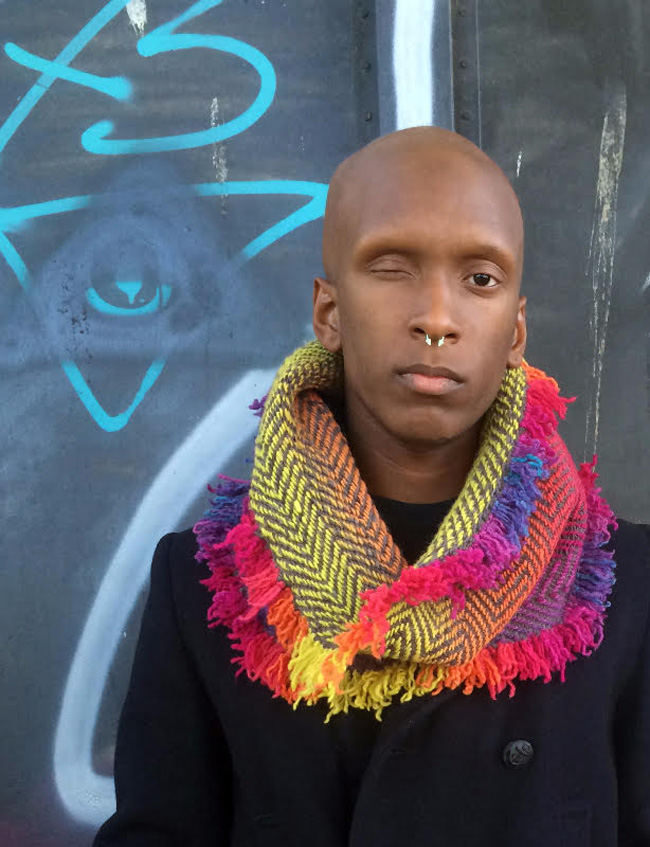 With MC CO 275 sts, place marker, join for working in the round and knit one round.
Join CC.
Diagonal Left-Leaning Overlay (Zig):
Round 1: K2 MC, *Wrap 2 CC, K2 MC, repeat from * to last st, Wrap 2 CC (last stitch and first stitch of round).
Round 2: (1st stitch wrapped) *K2 MC, wrap 2 CC, rep from * to last 2 sts, k2 MC.
Round 3: Wrap 2 CC, *k2 MC, wrap 2 CC, repeat from * to last st, k1 MC.
Round 4: K1 MC, *wrap 2 CC, k2 MC, repeat from * to last 2 sts, wrap 2 CC. 
Rounds 5-12: Repeat Rounds 1-4 twice more.
Diagonal Right-Leaning Overlay (Zag):
Round 13: Wrap 2 CC, *k2 MC, wrap 2 CC, repeat from * to last st, k1 MC.
Round 14: Wrap 1 CC, k2 MC, *wrap 2 CC, k2 MC, rep from * to end.
Round 15: *K2 MC, wrap 2 CC, rep from * to last 3 sts, k2 MC, wrap 1 CC.
Round 16: K1 MC, *wrap 2 CC, k2 MC, rep to last 2 sts, wrap 2 CC.
Rounds 17-22: Repeat Rounds 13-16 once more, and Rounds 13-14 again.
Repeat Rounds 1-22 four more times, then Rounds 1-12 once more.
Break CC and bind off all sts with MC.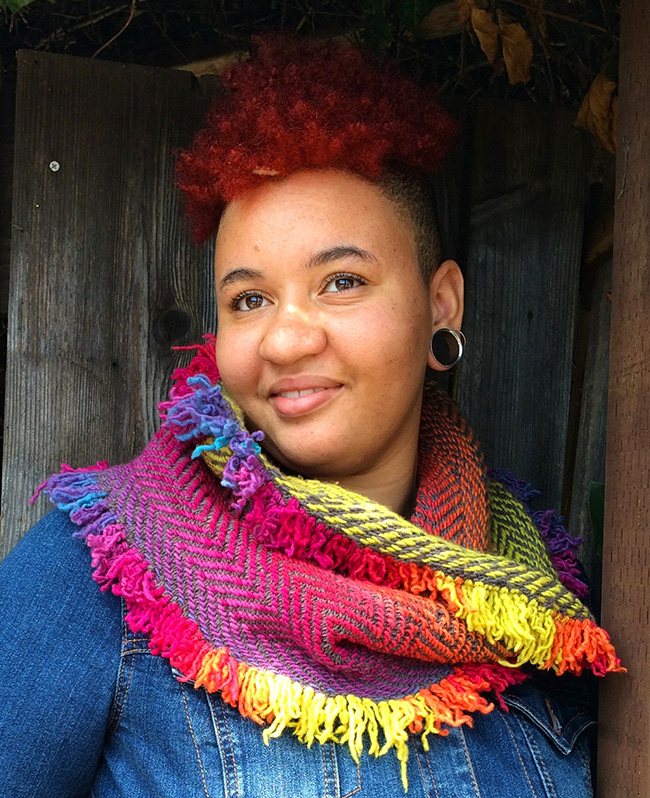 FINISHING
Determine how much yarn you've set aside in each color for the fringe. I made a fringe about 1.25 inches/3 cm in length by the highly scientific method of wrapping the yarn around my thumb and pinky in a figure eight and then cutting in half, resulting in strands about 4 inches/10 cm long.
For a double strand of fringe, using the crochet hook, pull through two strands held together along the edge of the cowl at about every knit loop and fasten with a lark's head knot. If you group your fringe by color as I've done here, it's a good idea to initially place one knot of each color evenly around the cowl, top and bottom, then work your way to each color transition to be sure you are spacing the yarn evenly by color.
Finish ends and trim your fringe as needed.
ABOUT THE DESIGNER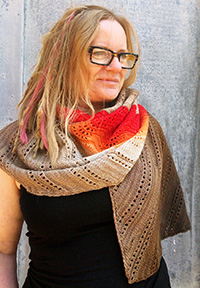 Tina Whitmore is the Owner, Chief Cook and Bottle Washer at Knitwhits/Freia Fine Handpaints. Her gradient yarns were recently acknowledged by Vogue Knitting magazine as 'the yarn that started one of today's biggest trends'.
When not dyeing yarn or shuffling paper around her desk you will find her walking her two Chesapeake Bay Retrievers (Freia and Cody) and knitting into the wee hours of the night. Tina also designed the legendary Lanesplitter Skirt available here on Knitty.
Pattern & images © 2016 Tina Whitmore. Contact Tina