Toilet Paper Toilet Paper Cozy, a free knitting pattern from Knitty.com. Free knitting pattern for a ridiculously self-referential toilet paper cozy that looks like...toilet paper.
INTRODUCTION
Toilet Paper Toilet Paper Cozy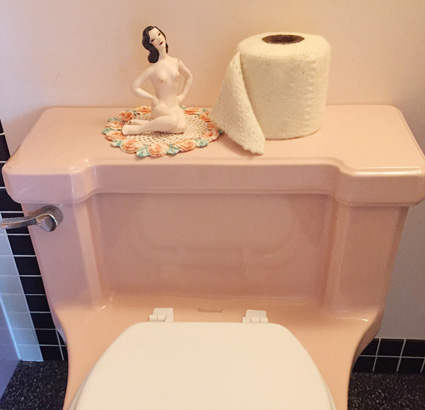 Few things bring me more joy than knitting useless things; my home is festooned with toys children never play with, and my spare toilet paper roll is never naked. This design is not only useless, but revels in it and celebrates it to a delightful degree.
Aside from having no discernible purpose toilet paper cozies make excellent gifts: they're small, quick, and don't force the recipient to wear something that doesn't quite fit and isn't really their color. I find them suitable for stocking stuffers, housewarmings, weddings and the most useless of all gift-giving occasions: white elephant parties. Make one for yourself and all your friends!
I enjoy this particular toilet paper cozy so much I wrote a poem about it:
Ode to a Toilet Roll Cozy
Of all my things
That don't do things
You are my best
You do nothing, best
 
You're on a roll
To keep a roll
Cozy and warm
A roll must be warm
 
A jewel in the crown
A wall and crown
A royal flush
But not to flush
 
Adorn a throne
Angels a-throne
Could do no better
If they were better
 
Keep away the dust
Or turn to dust
Sit and do nothing
You do everything

photos: Christine Olea
SIZE
One – custom fit for your brand of toilet paper
FINISHED MEASUREMENTS
Varies: Roughly 4 inches/10 cm tall, 15 inches/38 cm around. Toilet paper brands vary widely in size, so use your preferred brand of toilet paper for sizing. If this is a gift either give it with a roll of paper, or use your own brand and don't worry about it too much, it is still only a toilet paper cozy.
MATERIALS
Yarn

Jamieson's Shetland Spindrift [100% Pure Shetland Wool; 115 yd/105 m per .88 oz/25 g skein]


[MC] 304: White; 1 skein


[CC] 108: Moorit; 1 skein

Recommended needle size
[always use a needle size that gives you the gauge listed below - every knitter's gauge is unique]


1 set US #3/3.25mm needles for small circumference in the round: DPNs, 1 long circular for magic loop, or 2 short circulars, as you prefer


1 set US #3/3.25mm needles for working flat


Notions


yarn needle


toilet roll for assembly guide, and for display
GAUGE
26 sts/36 rows = 4 inches/10 cm in stockinette stitch firmly blocked
PATTERN NOTES
[Knitty's list of standard abbreviations and techniques can be found here.]
This cozy is knit flat, then sewn in a circle and stitches are picked up along one edge for the top. The bottom edge is left as is, counting on firm blocking and the toilet paper to keep it from curling. In order to have a neat edge on the bottom slip the first stitch of all purl rows.
MF: The flower at the center of the quilting is a sort of modified bobble.
It is worked as follows: Insert needle into stitch 2 rows below the next stitch, wrap yarn as usual, pull yarn through stitch to front, knit the stitch on the needle as normal, insert needle in same place below stitch, wrap yarn and pull through as before – 3 sts. Turn work, p3, turn again, k3tog.
CHARTS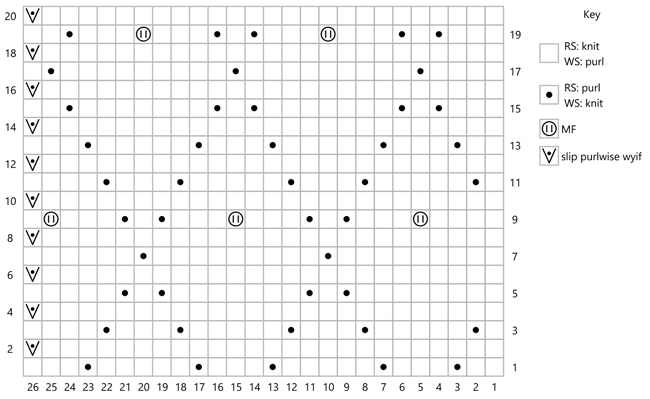 DIRECTIONS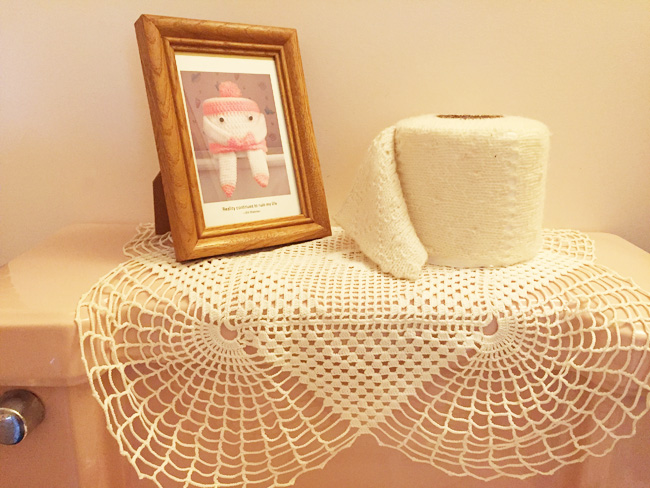 Using MC, CO 26 sts
Work Chart across.
Work as set for 1 inch/2.5cm, ending with a WS row.
Next row, work perforations [RS]: K1, (yo, k2tog) across, k1.
Resume chart, picking up on the following chart – the perforation row takes the place of one chart row. 
Continue working, following chart and every 30th pattern row (1.5 repeats of chart) substitute chart row with perforation row. Perforation row is done in place of pattern row, so each time you skip a chart row.
Continue working in pattern until piece measures 15 inches/38 cm, or circumference of your preferred toilet paper, plus two squares, after blocking. A square is 1.5 repeats of the chart plus a perforation row. As you work, slip the stitches to a length of colorfast scrap yarn or a spare plastic needle and soak to block.
Once you reach the required length, bind off.
Block firmly; don't skip this step.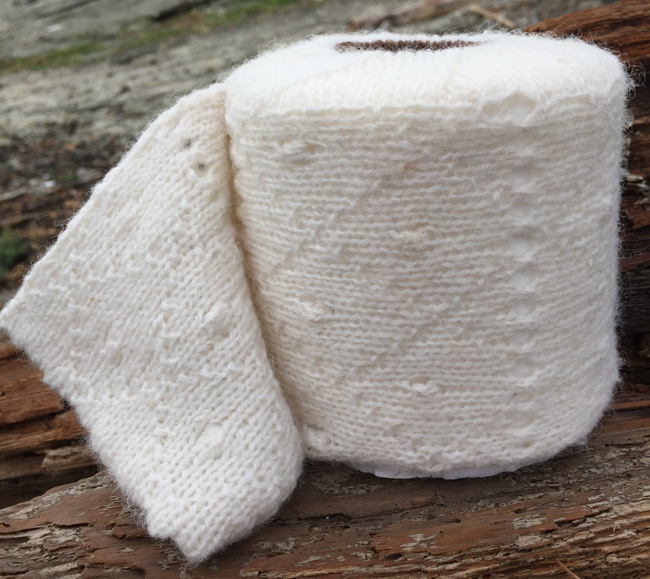 Measure the height of your toilet paper and block your strip to match that width, and as long as possible.
Starting at the bound-off edge, wrap the cozy around your roll of toilet paper, leaving the CO end long and loose, and pin the bound-off end to the roll.
Then take the remainder, roughly two squares, and fold it in half using a Perforation Row as the fold, with right sides out. Now the flap is roughly one 'square' large with two right sides. You should end up with the two ends meeting to create a circle of knitting with a flap consisting of about one full 'square' of knitted toilet paper. Using a tapestry needle and MC carefully sew the two ends together and to the body of the cozy. Sew the top and bottom of the flap together. Tack the bottom of the flap to the cozy approximately 1.5 inches/3.8 cm from the seam. Remember the bottom is the edge with slipped stitches and the top is the edge without slipped stitches.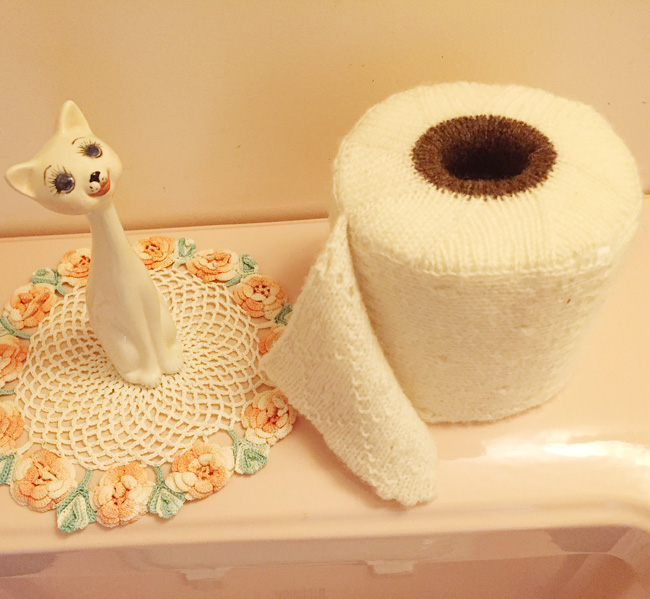 Top and Inside
Using MC, needles for working in the round, and starting at the seam pick up and knit 2 stitches for every 3 rows along the top edge.
Note or mark start of round and join for working in the round.
Round 1: Knit around, working increases or decreases as required to get to a multiple of 8 stitches.
Round 2: Knit, placing 8 markers evenly around.
Round 3: [K to 2 sts before marker, k2tog] around. 8 sts decreased.
Repeat Rounds 2-3 until the top of the cozy reaches the center hole.
Cut MC and join CC.
Knit even for 1 inch/2.5cm.
[Purl 1 round, Knit 1 round] twice, Purl 1 round.
Bind off.
FINISHING
Block again and weave in all ends.
ABOUT THE DESIGNER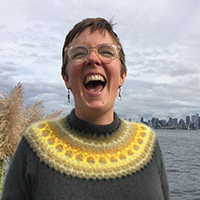 Christine Olea lives in a small town in the Pacific Northwest where she is slowly convincing non-knitters of the error of their ways and bringing them into the fold. She has a day job in the maritime industry and can otherwise be found riding her bike, trying to surf and keeping her couch from floating away. Christine is convinced that one day everyone will surely agree with her that toilet paper cozies are the best, bringing forth world peace.
Find her on Instagram and Ravelry.
Pattern & images © 2016 Christine Olea. Contact Christine