Feature: Cool stuff
Cool stuff
SR [Finished chest measurement for sweaters] = the smallest chest measurement to the largest chest measurement we could find in the book. There may be only one pattern with the smallest or largest size, but it's in there. Books are softcover unless noted otherwise. All prices USD unless noted.
When you click on an Amazon or Tom Bihn affiliate link below and make a purchase, you're supporting Knitty. We thank you!
Jump to... Spinning | Other Crafty Things

Surprise reviews! (January 2018)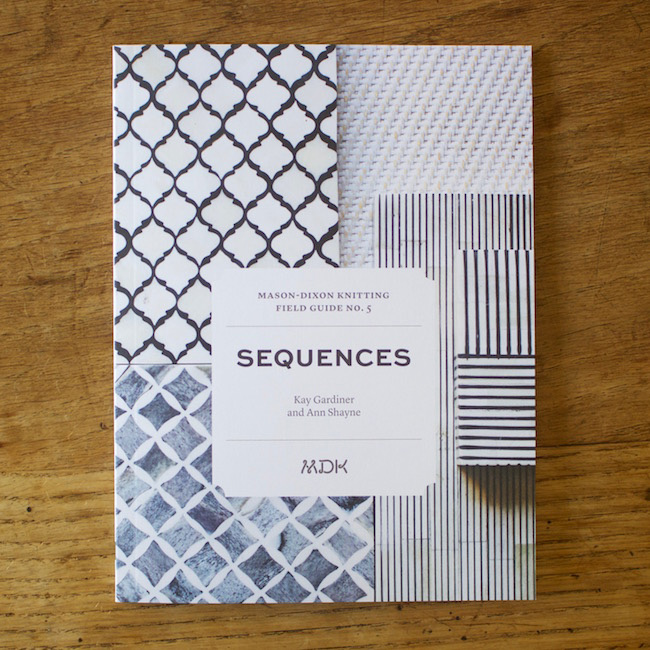 Mason-Dixon Field Guide Number 5: Sequence Knitting
by Kay Gardiner, Ann Shayne, Cecelia Campochiaro
Mason-Dixon Knitting
$9.00-$14.95

Buy now from Mason-Dixon Knitting
This new Field Guide from Mason-Dixon knitting gave me the ah-ha moment I need for Sequence Knitting. I've had the big beautiful book since it came out and have knit from it, but if you had asked me to distill it and describe the different types of sequence knitting, I would have stumbled. As much as I the book, I find it intimidating. In this Field Guide Ann and Kay sum it all up on one brief page. I read that and said out loud, "NOW I get it".
This little guidebook is packed pull of good stuff, the explanation of sequence knitting is just one bit. There's an essay each from Kay and Ann, and interview with the Goddess of Sequence, Cecelia Campochario and four new patterns.
The number one rule of at Mason-Dixon Knitting is: Knitting Is Supposed to Be Fun, and these patterns follow that to the letter. The patterns are simple, with a twist, sometimes it's shaping, and sometimes it's color or texture. All are suitable for Netflix binging. There is a pattern for each style of Sequence Knitting, the Corrugated Shawl is a sequence pattern sampler, the Swirl Hat uses serpentine sequence knitting, the fabulous Freak Flags let you practice shaped sequence knitting and the Parallelogram Scarf gets you working with sequence, shaping and color.
This is the breath of creative air I needed for my grey winter days!
JM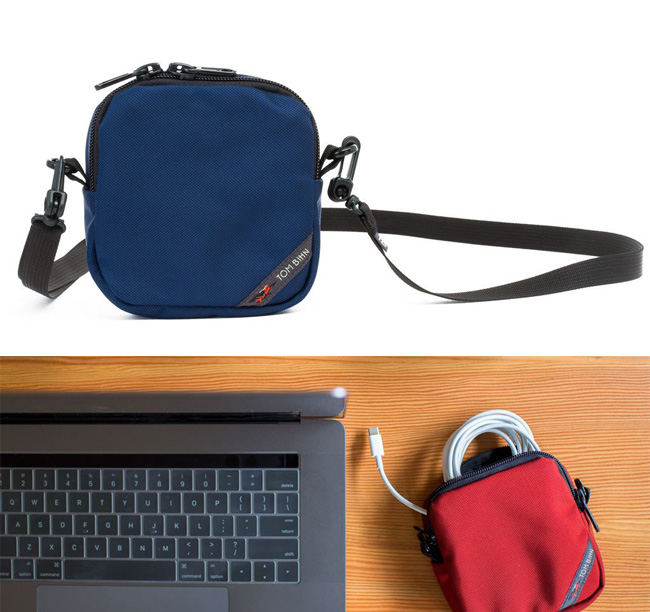 Cubelet (above)
by Tom Bihn
5.1" x 5.1" x 2.1" / 130 x 130 x 55 mm
Shown in Deep Blue (top) with optional shoulder strap ($3), Mars Red (bottom)
Also available in Viridian, Canyon, Alphaviolet, Olive, Dawn, Grass
$20.00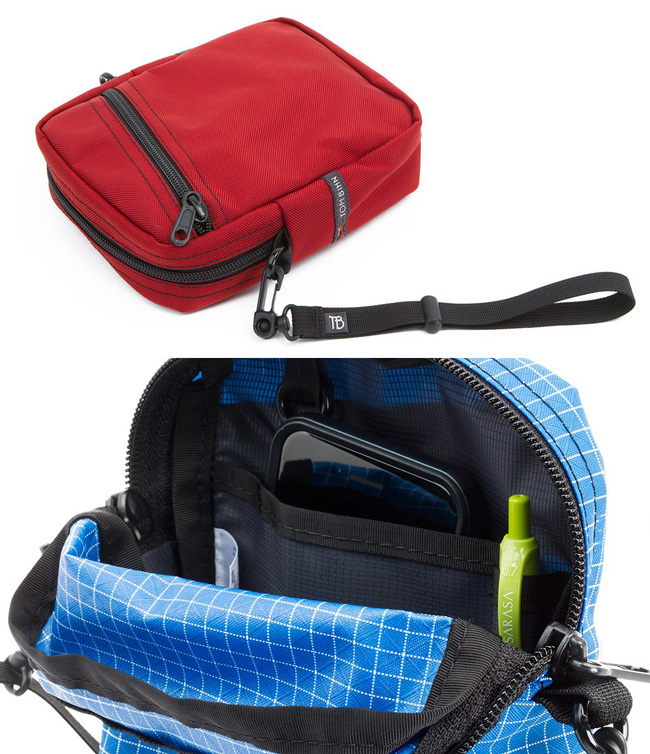 Travel Cubelet (above)
by Tom Bihn
7.3" x 5.7"x 3" / 185 x 145 x 75 mm
Shown in Mars Red (top) with optional handle loop ($3), Island Halcyon (bottom)
Also available in Grass, Viridian, Alphaviolet, Northwest Sky Halcyon
$40.00
Buy now from Tom Bihn
If you know anything about Tom Bihn bags, you know about the o-rings they build into almost everything they make. Shoulder, tote, briefcase (etc) bags have o-rings installed, just waiting for you to customize your bag to your exact needs. The things you can clip onto those o-rings are many and wonderfully varied. Here are two of the newest offerings: The Cubelet (top) and the Travel Cubelet (bottom).
For both of these bags, though, you can add a shoulder strap or a handle loop to turn it into a portable standalone bag. The Travel Cubelet especially would make an awesome passport/phone/pen/keys/meds/cosmetics bag for when you're away from home.
As you can see, the Cubelet is small but useful. It'll hold something the size of your laptop's charger and cable, plus lots of other little stuff that would otherwise get lost in a bigger bag. Not a laptop user? What about all your knitting notions for a specific project? All your meds for a business trip? Your favorite fountain pen, notebook, ink cartridges? It's a very simple bag with no additional pockets...it's a big 3-d pocket all on its own!
The Travel Cubelet has a huge interior pocket sized big enough for a passport and phone, with a pen pocket tucked right next to it. In a little turducken twist, this small-but-functional bag also has an o-ring inside so you could clip a key strap or smaller pouch inside. A Bihn inside a Bihn inside a Bihn. I love it. On one panel of the outside of the bag, you'll find another zipper pocket. Capacious enough for your passport or a small, thin wallet, you'll also find (wait for it!) another o-ring in there. Maybe that's where you clip your keystrap. I don't know. I can envision playing with the options for a while until I hit upon just the configuration I like best. Until I change my mind and reconfigure my Bihn bag. Having too much choice is a wonderful thing.
Both of these would be awesome clipped into your daily carry or travel bag. They come in a variety of bright colors and will keep you organized with a smile on your face. And once you get where you were going, unclip either of these from the bigger bag, add a shoulder strap for a day of sightseeing. Modular, incredibly functional bags. We love our Bihn here at Knitty and they just keep getting better and better.
AS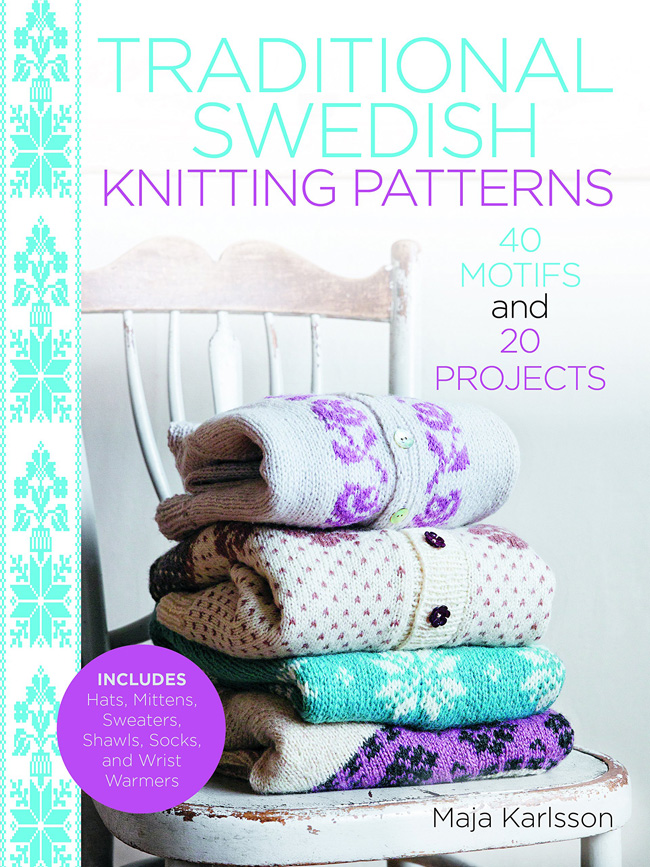 Traditional Swedish Knitting Patterns: 40 Motifs and 20 Projects for Knitters
by Maja Karlsson
Trafalgar Square Books
$24.95, hardcover
SR= 35-50"
Buy now from Amazon

Maja Karlsson has been studying the modern history of Swedish knitting for years. Lucky for us she's also been collecting patterns, mostly from the 1940s to the present.

There are 20 accessory and sweater patterns in this book inspired by her voluminous collections. The sweater styles are wonderfully varied from fitted cardigans with puffed sleeves inspired by 1940's silhouettes to over sided sweaters to thrown on for running errands, all with familiar Swedish motifs. Many of the yarns used aren't readily available in the North American, but are easily substituted. The motif charts are large and in full color, and the patterns themselves are easy to read while knitting.

In addition to the patterns there are stories about recent Swedish knitting history and a short how-to on two-color stranded knitting. A wonderful addition to the book is the motif dictionary in the back. 40 motifs, culled from the author's pattern library, are charted out along with a mention of their source, so you can design your own Swedish-inspired knitwear.
JM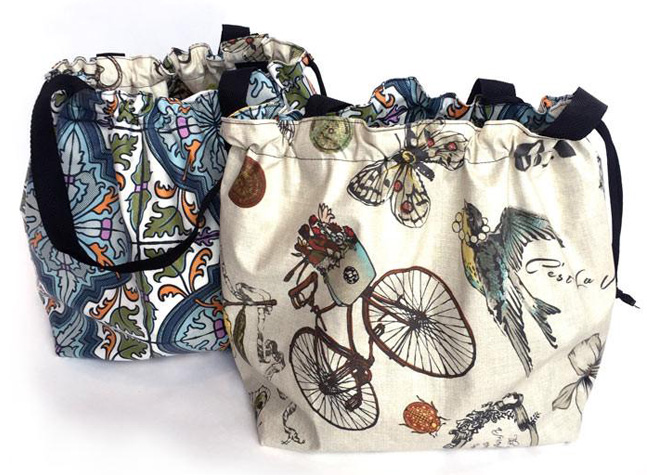 Reversible Tote
by Impwear home
Shown in Vintage and Cypress patterns
20"w x 12"h x 6"d; 24" straps   
$44.99

Buy now from Impwear Home

I get a little too excited when I see a laminated tote. Because life is messy and I hate when I get my bag dirty and can't make it clean again.
These lovely bags from Impwear Home are laminated with a water-based urethane on both sides. They're soft to the touch – almost a satin finish. There's a drawstring at the top to keep your knitting project inside (or whatever else you put in there, and two sturdy cotton twill straps that work for hand or shoulder carrying. There's also a handy key clip sewn in, attached to a sturdy cord.
These bags are well made, simple and strong. I'm currently using mine to hold 6 huge balls of ticking fabric that I'm braiding into a rug. They ain't light. This is a great bag.
AS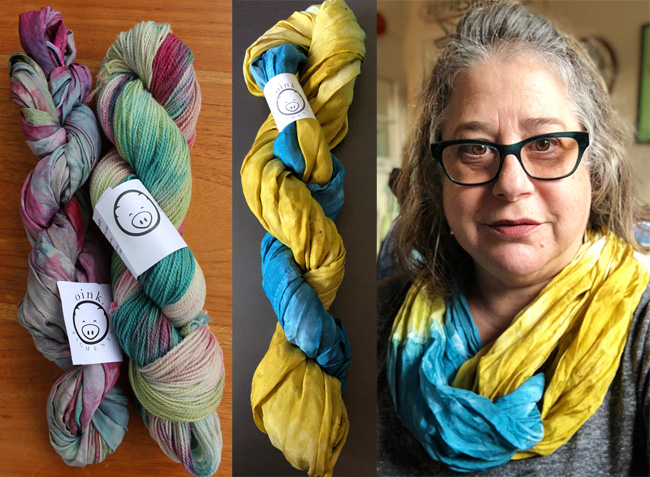 Habotai silk circle scarf
by Oink Pigments
Shown in Pineapple Rain (left), Blackberry Brambles (right) with the matching skein of yarn, editor-who-never-models wearing scarf (far right).
21" high by 72" around
$34.00
Buy now from Oink Pigments

I try to act like a grownup when I'm on the TNNA (needlework trade show) floor. But what I saw from across the aisle bowled me over and I almost ran to see if it was actually what I thought it was.
It was.
Imagine a beautiful skein of yarn. Don't you want to wear it? But isn't it a bit ridiculous to wear a skein around your neck on a regular basis? What if someone hand-dyed a silk circle scarf just as if it were a variegated skein of handpainted yarn. You could wear it. You would love to wear it. It's really warm but lighter than air and unbelievably affordable.
It exists. Oink Pigments makes these delicious scarves, and – get this – they'll dye it in any of their colorways. And they have some kickass colorways.
I'm in love with this thing.
AS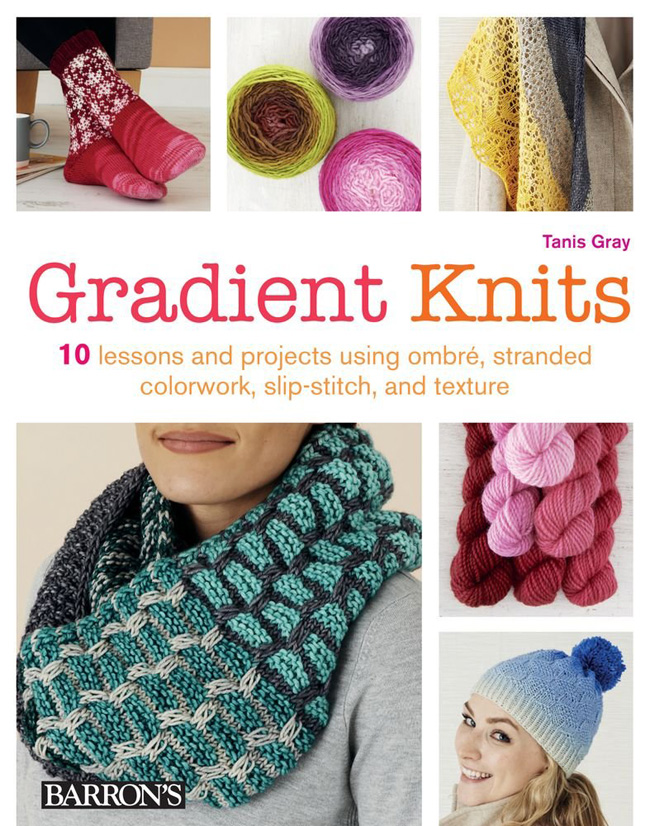 Gradient Knits: 10 Lessons and Projects Using Ombre, Stranded Colorwork, Slip-Stitch, and Texture
by Tanis Gray
Barron's Educational Series
$21.99
Buy now at Amazon
Tanis Gray and several other designers are here to rescue you from the mountain of gradient kits building up in your stash. These yarns are so tempting; I know I have stack of gradient mini kits and no real ideas how to use them.
First there's a little color theory to make sure gradient knitters are comfortable choosing the right yarn for the right project.
Speaking of projects, they are designed especially for gradient yarns and are grouped by technique. The techniques are: knit and purl, slip stitch, alternating stripes, thrumming, cabling, fair isle, intarsia, lace, modular knitting, wrap and turn, and short rows.
There is one pattern per technique, and to make sure that a knitter has success with the pattern there is a shot lesson on the technique right before the pattern. This really allows knitters of a wide variety of expertise to be comfortable making the patterns. That feature makes this book especially wonderful for looking to learn new color knitting skills.
JM

Knitting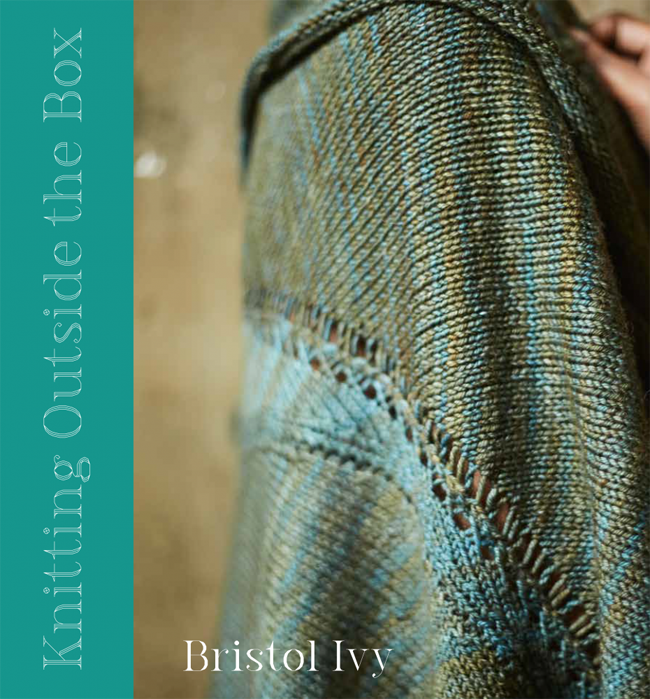 Knitting Outside the Box
by Bristol Ivy
Pom Pom Press
$ 38.50, hardcover
SR=32-59"
buy now from Bristol
I have been excited to see this book from the moment I heard it was going to happen. Bristol Ivy is one of my favorite designers and one of the most original and innovative knitting designers working today.
If I had to pick just one book to work from this year this would be it. Notice I said work from not knit from? That is because this book is so much more than a book of exceptional knitting patterns. There's not one I would kick out of my queue for eating crackers. This book invites you to think and it's fantastic. Bristol crystallizes and gives you a peek into some of her methods for coming up with ideas, how to make them work and what happens when as a designer you have these ideas and tools and you throw caution to the wind.

She breaks the book in to three sections asking you to follow along with an open mind. The first is all about getting creative. There are three exercises to ignite that spark. She walks you through them in working detail, culminating with a pattern that is a result of each exercise.

The second section is mathy. How do you take an idea for shaping or construction and make it work? I'll admit that this section was a big stretch to my geometry and math-phobic brain, but I soothed myself by going back to the first exercises and reminding myself that math is the room where it happens.
This section is divided into three: increases and decreases, short rows and stitch patterns. Each is used for manipulating the shape, direction and gauge of a pattern. She explains they why, making it much more exciting than I thought math could be; then works on the how, demonstrating that most knitters have all of these skills already. Last, she has three patterns for each of the techniques.

The final section of the book is Bristol in her element, combining everything that came before into three designs, walking the reader through each step of the process.
You don't have to work through the book in succession, or at all – the dozen patterns are enough reason to own this book. They swoop and swirl, they wrap your body in garments and accessories that are every bit as much art as they are clothing.
I haven't been so excited by knitting in a long time!

JM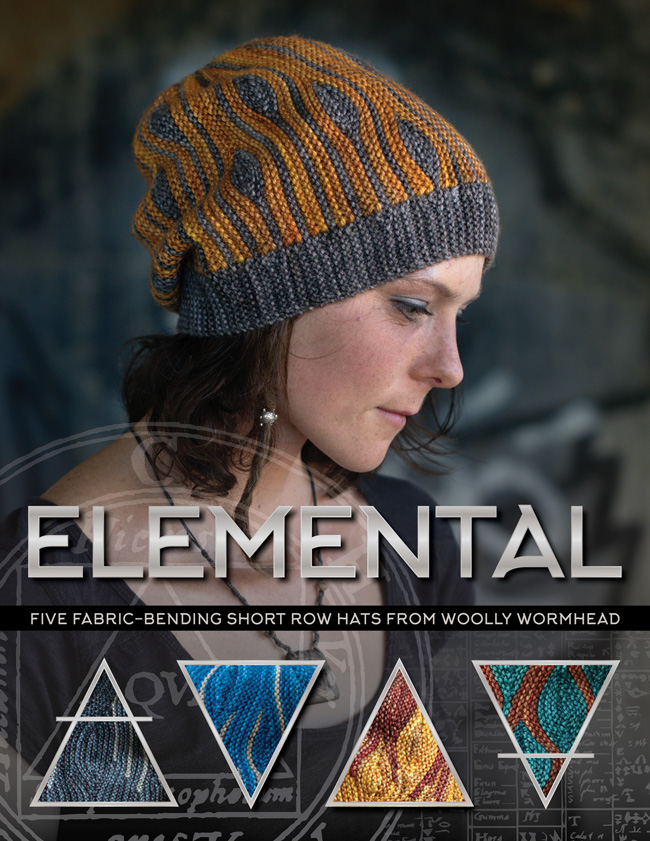 Elemental: Five Fabric-Bending Hats from Woolly Wormhead
by Woolly Wormhead
£10 (pdf download)
Buy now from Woolly
Sometimes different designers in the knit world hit on similar and fantastic ideas at the same time. This is the case with Woolly Wormhead's new book Elemental.
Woolly has always been ground-breaking and creative when it comes to her hat design, but this book takes it another step. In this book, she uses short rows to shape the hats and shape the fabric. Maybe she and Brisol Ivy have been chatting about the manipulation of knitting fabric, because this book and Bristol's sprint from the same type of smartypants thinking. She hinted at it in her pattern for the book A Year of Techniques (reviewed below), with her Ruschia hat, designed with garter stitch short rows.
This is a collection of hats all knit in garter stitch and fantastically shaped through short rows. The hats are knit side to side then grafted. The shape of the hat is formed with short rows, and the fabric and 2-color work within the hat is also shaped with short rows – 3-d and 2-d shaping. Boom, goes my brain.
There are tutorials on provisional cast on, grafting garter stitch, German short-rows and grafting garter stitch in color.
I saved this for last because of geekiness. All of the hat designs and swirling colorwork patterns are named after characters in Avatar, the Last Airbender and the Legend of Korra. So much squealing over that.

JM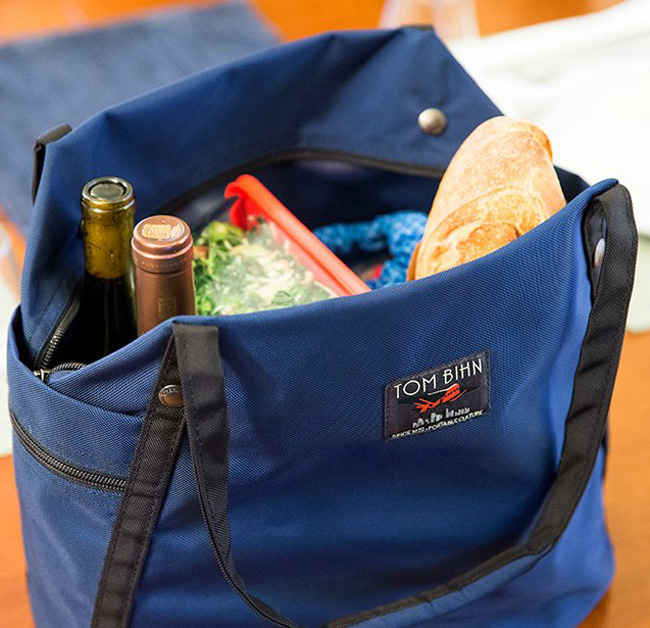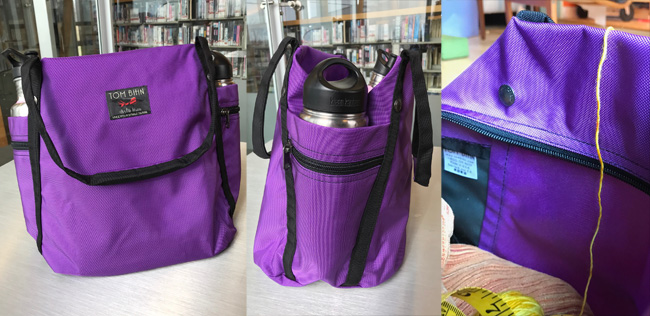 Pop Tote
by Tom Bihn
8.7" wide x 11.8" high
availble in Alphaviolet (shown above/bottom), Black, Cloud, Mars Red, Olive and Deep Blue (shown above/top) ballistic fabric
$95
Available only through TomBihn.com
Zip top tote, zip top tote!!!!
This is what knitters have been asking for since the Swift came out. This is a much lighter bag, made to be tote not a knitting bag like the Swift.  Which means, for one thing, it doesn't stand up by itself, but for me the zipper makes up for it.
I love my Swift(s) and use them equally for knitting and as a purse. The Pop Tote I've used for knitting, shopping and hauling books and work to and fro the library...it's not so much a purse. For me it's not an either/or between the two bags. Both get used a lot.
For knitting, I can fit an XL-sized sweater's worth of yarn, as long as the yarn isn't bulky, and still have space for knitting accouterments, a pattern book and a bag with some fiber and a Turkish spindle. It would be stuffed to bulging capacity but it would fit and zip.  More than likely I would just take half of my sweater yarn and the rest of the stuff. A little breathing room is good, plus room for other things along the way.
The set up of the bag goes like this: One big opening, no inside pockets, but two o-rings for capturing keys and other smaller Bihn bags or pouches.
Four outside pockets, two on each side, stacked on top of each other, one zippered and one open. Each pocket has two o-rings.
It's a different set up for me and it took a bit to fully utilize those outside pockets and not just drop everything in the main compartment. The outside pockets nest, so if I'm using the open outside pockets to their full extent – a water bottle in one and tea flask in the other, not much is going to fit in the zip pockets. Maybe my keys, but certainly not my wallet. It's a different sort of bag Tetris.
I'm auditioning other smaller Bihn bags, like the Travel Cubelet, and even the Sidekick as interior bags for the Pop Tote. I already have a mental shopping list of Bihn organizer pouches that I need to make this tote into an everyday carry.
The zipper closes to keep everything from spilling when it falls off of the car seat, couch or counter. I just have to remember to do it and even the Bihn bag geniuses can't help me there.
When the bag is open and the top flaps are folded down and snapped, the zipper is tucked away, I can knit straight from the bag without the yarn snagging or rubbing on the zipper. This is the feature that makes me the most excited about this bag (see the picture above right).
This bag just works for so many things. I'll tell you my surprise element of the bag – the padded handles. I never thought much about padded handles on a tote. I usually just carry a canvas tote bag. I took my Pop Tote to the grocery store and bought among other things, 4 pounds of sweet potatoes. The padded handles were so nice. Same at the library yesterday – I picked up a bunch of research material, big books and stuffed the tote full, and those handles and their cush were fab. Who knew?
The Pop Tote will fit under the seat on an airplane and in the overhead, plus it won't spill its contents because of the zipper. It folds smallish small and is light enough to pack in a suitcase to be your 'in case I buy too much at the retreat' bag.
This is another winning bag from Tom Bihn!
JM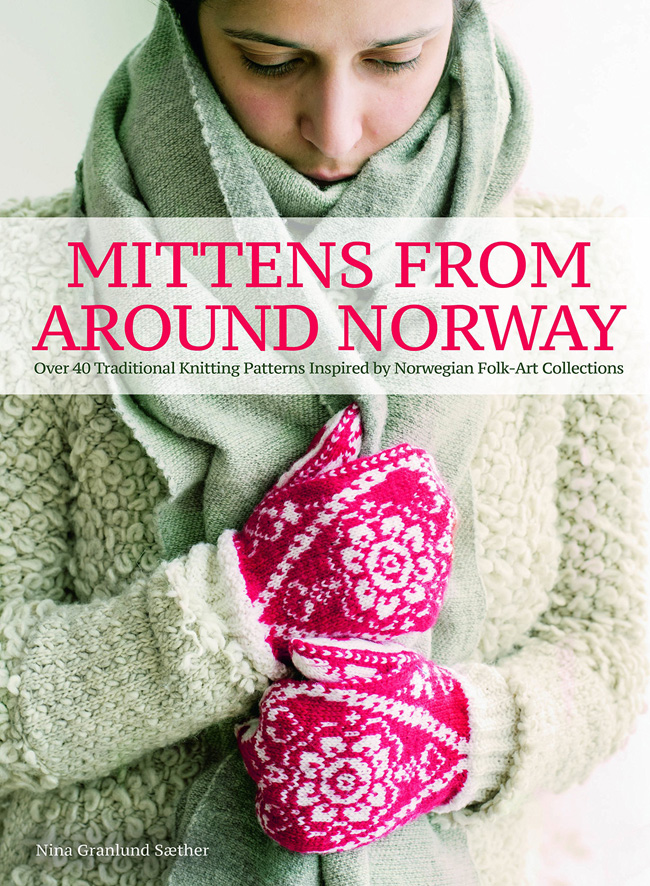 Mittens from Around Norway: Over 40 Traditional Knitting Patterns Inspired by Folk-Art Collections
by Nina Granlund Saether
Trafalgar Square Books
$26.96, hardcover
Buy now from Amazon or your local yarn shop
I can't get enough of mitten patterns and books, there are such great stories and huge variety, all in just several inches of knitting. This book drew me right in. There are 43 mitten patterns in this book based on traditional mittens from around Norway. The author was lucky enough to get a grant to travel around Norway visiting museums to study collections in person.
She gathered designs and stories and wrote an knit mitten patterns inspired and updated from the classics mittens she saw on her trips.
The 43 mitten patterns all have a story (sigh) and sometimes historical photos. The mittens are knit out of yarn relatively easy to find, but with enough information to substitute.
The designs are based on designs she viewed in museums, so are almost exactly replicated, some take one element as a springboard. There nice big charts for the colorwork, but no sizing information. Many of the mittens are sized for men and women, but the sizing changes are made by changing the gauge.
The designs themselves are wonderful. They are reminiscent of many mittens I seen since the explosion of Norweigian knitting books, but by making small additions or changes, like adding a non traditional cuff treatment, changing the scale of traditional motifs or using only one element from a historical pattern, she veers from Noreweigan motif fatigue.


JM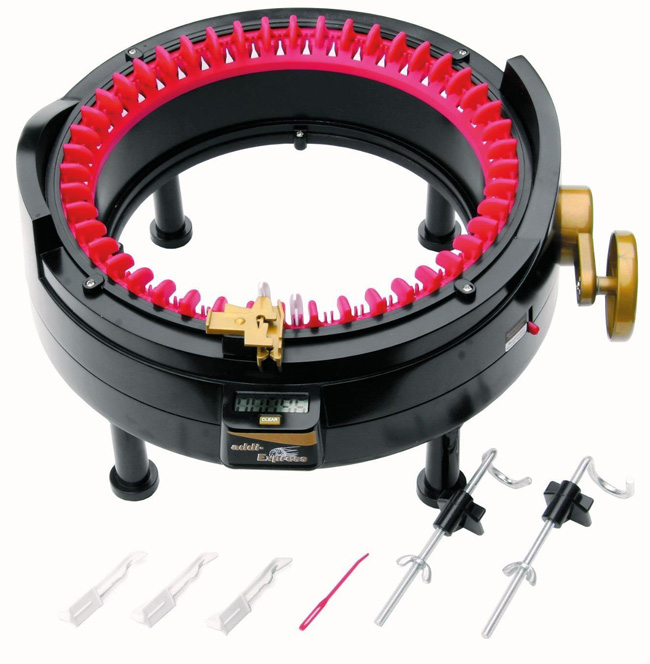 Addi Express Kingsize Knitting Machine
by Skacel
46 needles
Makes circular items 14"/35cm wide, flat items 17"/45cm wide
Prices vary (approx $140-175USD depending on retailer)
Buy now at Amazon or your local yarn shop

I have been staring longingly at this massive device for several TNNA trade shows. It's an instant-cowl machine! An instant-hat machine! What a brilliant idea! But does it actually work, or will it just frustrate me? Well, I finally got one to test, and so I went at it with a gleeful fury.
It comes with a manual that, honestly, is not much help. Thankfully, we live in the internet age (proof: this magazine) and there are more how-to videos about this machine than you can imagine. I picked the one starring Vickie Howell (cause she's fab) and watched her thread the machine in a minute and a half, and knit the first round in 30 seconds.
One thing Vickie stressed is that you need to take your time at the beginning, and she's right. But still, cranking slowly creates a round of knitting in half a minute or less. Can you knit 46 stitches in 30 seconds? I can't. Also, no worrying about twisting when joining your circular work! BONUS!
Now it was my turn. I used my well-honed eyeball gauge skills and decided that this chunky alpaca yarn (stash bust!) would be a safe gauge to try for my first project. It's soft, a consistent thickness and has no nubs. It worked so well that I was able to crank as fast as my hand would let me after the first few rounds and the danged hat/cowl/whatever was done and ready to be removed from the needles in under an hour. Wanna see?(pic below left)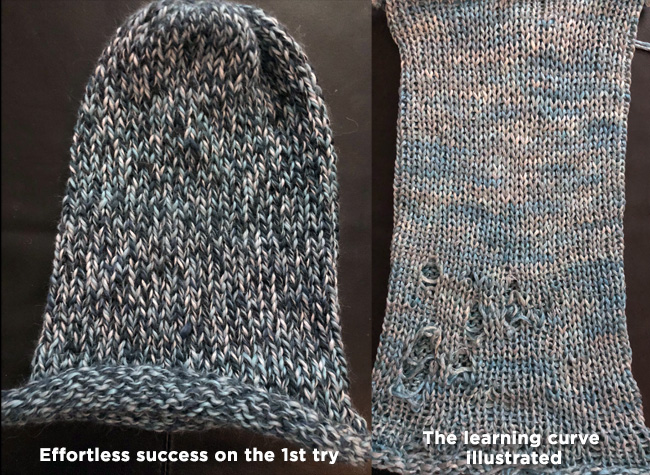 I got cocky, then, and started trying other things. Thinner yarns kept skipping stitches (leaving long floats on the back of the work). Thick/thin yarns had stitches falling off the needles as I cranked at full speed. I knew it was operator (aka me) error, so I stopped for the night.
The next day, I remembered what Vickie had said, and I slowed right the heck down. Then I picked the most annoyingly challenging yarn I could find: a thick almost unspun silk. At first, I made a mess. Too fast and there'd be long floats. Too slow and stitches fell off the needles. And then, I got the rhythm down. And it became a relaxing, easy knit. Here, you can see my learning curve on the second piece I made (pic above right).
As messy as the bottom of the tube looks, I could easily pick up the dropped stitches and it would look perfect. In fact, I picked up some of the stitches I dropped right on the machine as I worked and you can't see where. The more time I spent with it, the more confident I got about being able to fix any mistakes that I made, and that made the whole thing so much more enjoyable.
Things I learned (your mileage may vary):
I would prefer to have the machine around lap height when mounted on a table. It's nice to be able to look down into the works as it rotates.
A solid, non-wobbly table would be ideal. Maybe a high footstool?
It's important to use the little locking yarn guide (the gold thingy shown above) and where you let the yarn escape, either the top hole or the long slot, makes a difference
You need to keep your free hand on the yarn, and make sure it feeds in smoothly
Keeping consistent, even rhythm as you crank gives the best results
You can easily rip out your starting section, put the live stitches on a circular needle and bind off neatly
You can also cast on with waste yarn of the same gauge and make your mistakes there
Learning to fix your mistakes is essential with this tool
Thick/thin yarns may not be a good match with this machine. I didn't have success with two strands of thinner yarn held together either, but I will continue to experiment, and maybe I'll conquer it all. But right now, I am most excited about this: you don't have to knit only circles. You can knit 17" wide flat panels. Depending on your body size, that could be a sweater sleeve. Or put two together and make a sweater front or back (nice and oversized, the way I like it). The machine also comes with stoppers so you can make narrower panels, too. I am liking this idea a lot.
So what's the deal? This is a wonderful machine. It requires a little practise and patience to master it, but I'm talking an hour or two, not months. It's worth the investment in time because – especially at this time of year – whipping up cowls and hats (and maybe even sweaters) as quickly as the Addi Express Kingsize can is a sanity saver and a stash buster. Practise with the cheapo crappy yarn and then pull out the stuff you've been saving for special.
Guess what my loved ones are getting for the holidays?

AS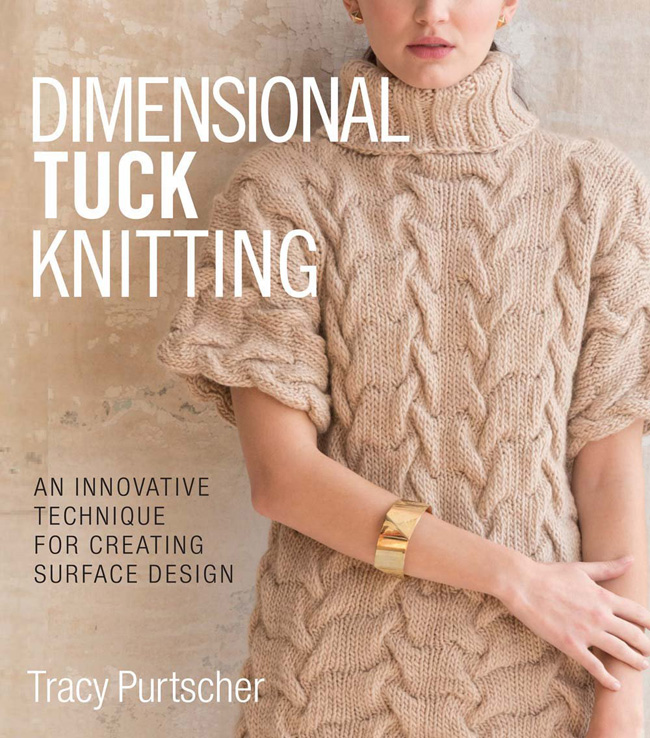 Dimensional Tuck Knitting: An Innovative Technique for Surface Design
by Tracy Purtscher
Sixth&Spring Books
$24.95, hardcover
SR=34-54"
Buy now from Amazon or your local yarn shop
The technique in this book is bold and very interesting. Using a technique that forces the knitted fabric to buckle, tuck knitting creates a deeply textured surface. It's sculptural and squishy all in one.
Tuck knitting translates a sewing method to knitting. It's very simple yet mind expanding. This book will appeal to knitters who like the book Sequence Knitting. It has the same type of process. It explores and teaches the method in multiple variations, offers multiple stitch patterns and then a knitter can go off and do their own designing thing or go on to knit designs in the book.
I applaud the use of big and close up photos for the how-to section.
There are no cable needles used in these stitch patterns, just knits and purls that are knit together (tucked) either vertically or horizontally. It sounds and is simple once you get the hang of it, but the learning can be tricky. I also appreciate the care taken in explaining the charting of tuck knitting. Again it makes sense once I got the hang of it, but I had to go over this section a few times.
This book has 85 stitch patterns divided into Ribbons, Chains and Loops, Ripples, Waves and Chevrons, Ropes, Twists and Weaves, Hybrids, Allover and Horizontal Bands.
There are ten designs to knit that use tuck patterns all over or as inset. I like tuck knitting the best as an accessory; I worry about the weight of a sweater. Though the cover sweater is pretty great.

JM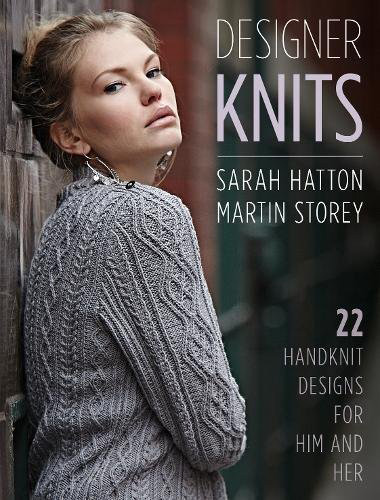 Designer Knits
by Sarah Hatton, Martin Storey
Stackpole Books
$21.95
SR= 33"-54" women
43"-60" for men
Buy now from Amazon or your local yarn shop
This collaboration of 22 designs between two of the knitting world's most prolific and talented designers, Sarah Hatton and Martin Storey does not disappoint.
I was hoping for classic styles with a modern twist and that is exactly what this book is full of. There are 11 patterns identified as for women all by Sarah Hatton and 11 patterns tagged as for men by Martin Storey.
Step away if you are looking for colorwork or Fair Isle designs. This book is filled with gorgeous texture from deep cables to repetitive and all over texture stitches. I want to reach into the book a touch more than one of these designs.
The designs, styling and photography are all inspired by the street-style photography of of Bill Cunningham and the Sartorialist, and it's nice to see knitwear style with a great variety of wardrobe in mind. And to see it all photographed out of a studio.
These chic and streamlined designs won't be your quickest knits, but will be some of the most versatile knits in your wardrobe. A big disappointment is the lack of schematics, especially since the sweaters I 'd like to knit are from the men's section ( the vintage Rowan-looking Cable Sweater and the two color cabled Men's Short Jacket) and would require some modifications beyond just shortening sleeves. The giant knitting charts (no need to photocopy and enlarge) almost make up for it, but not quite.
This book happily reminds me of the classic days of Rowan.
JM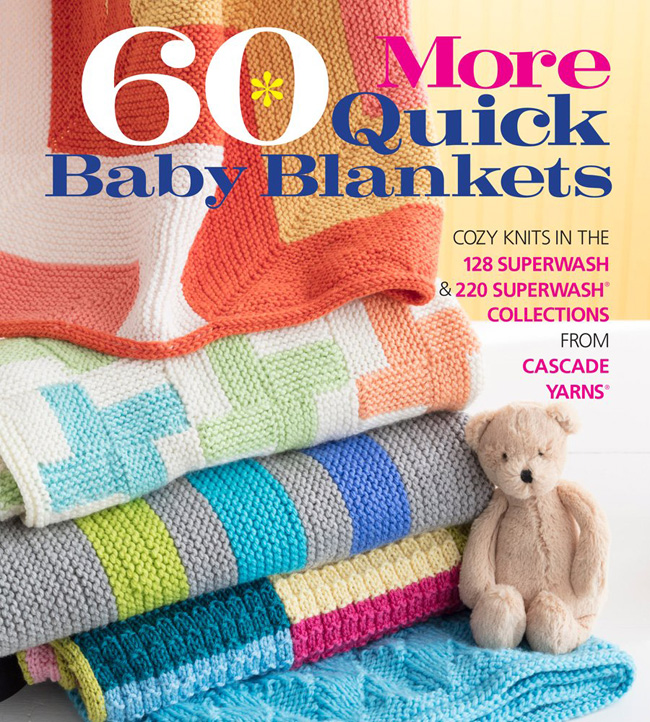 60 More Quick Baby Blankets
Sixth&Spring Books
$17.95
Buy now from Amazon or your local yarn shop
I have quite the soft spot for this baby blanket book and the one that came before it. I will admit they got me at 'quick' , I always wait to the last minute for a baby gift and tend to want to do more than a hat. I like the variety: color, lace, texture, it's all there. Whatever knitting mood I'm in and gauge I want, I can find it.
This is a great book for all of those reasons – a fun to work, appreciated to receive gift, kicked out in less than a season of a BBC mystery.
I've also started thinking beyond the type of babies shown in the book. I make these to welcome puppies and kittens or to comfort older animals who need a little extra warmth and cushion in their beds. I plan on making one to keep in the car because even big kids and grown ups get chilly or want to nap in the car.

This is a good all around gift book to have on your shelf.

JM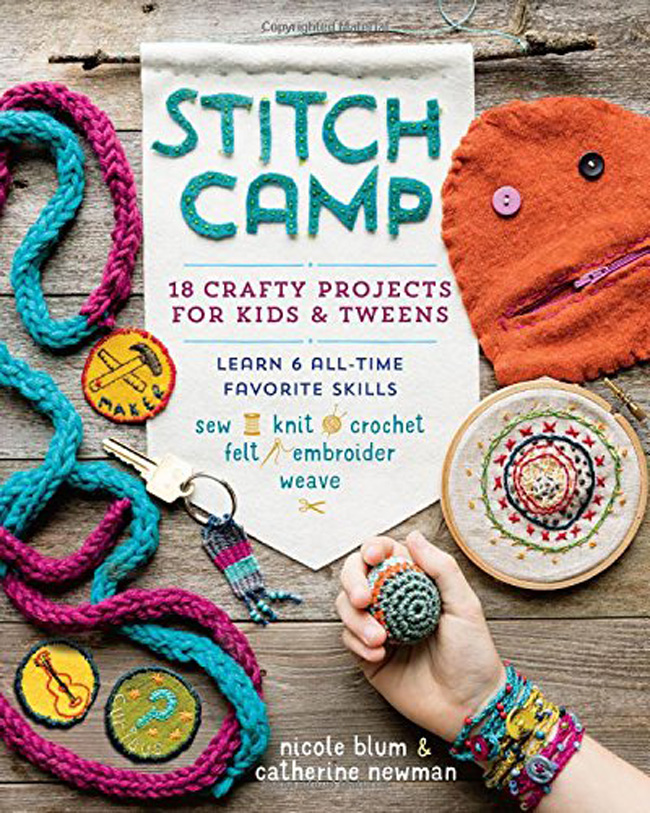 Stitch Camp: 18 Crafty Projects for Kids and Tweens – Learn 6 All-Time Favorite Skills: Sew, Knit , Crochet, Felt, Embroider and Weave
by Nicole Blum, Catherine Newman
Storey Books
$19.95
Buy now at Amazon or your local yarn shop
This book is full of imagination-catching projects that will usher kids and tweens you love into the crafts we love – sewing, knitting, weaving, felting and embroidery.
The 18 projects are all within the ability of a beginner and can be completed in a few hours (many in less time). The authors and book designer clearly know kids. The projects are engaging, the models are kids that look like kids and the directions are visual with very large, clear photos.

This would be a great book to have on hand for family gatherings for multiple generations to craft together or for school break, to head off those dreaded words, "I don't know what to do".

The authors talk a lot about reusing materials instead of buying new, so be prepared for an enthusiastic trip to a thrift store, or you may gather materials from your own giveaway bags before getting started. Another tip off that the authors know kids – when talking about reusing and recycling fabric, they repeatedly stress checking with an adult before cutting in to a garment found at home.

My only disappointments with this book are that there are no directions for left handed crafters and I wish there had been a gallery of these projects made by kids, to see their spin on it all.

JM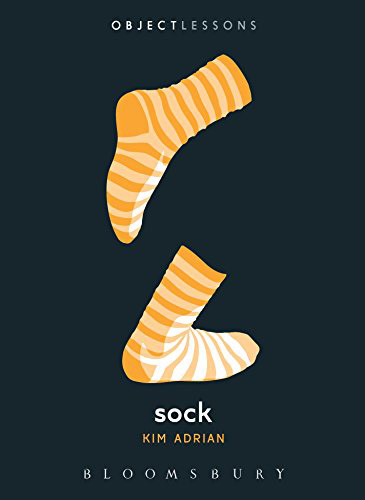 Sock (Object Lesson)
by Kim Adrian
Bloombury Academic
$10.79
Buy now at Amazon or your local yarn shop
Sometimes I want to read about a subject or around a subject without really putting my hands on a subject, like knitting socks. I am fascinated by socks, but I don't always want to knit them. I make about a pair a year.

This small book from the Object Lesson series [books and essays that bring life to every day objects] is about socks: history, mystery, erotic intent, and, yes, knitting (though the author is an unsuccessful sock knitter).

It is a remarkable read, a perfectly satisfying balance of fact and quirk and charm. The author writes about the history of the sock, the erotic nature of socks and feet, and the making of sock. The last, piqued and tickled by the first two portions, the last is what I really wanted – discussion of fast and slow fashion, craftivitism and the authors own relation to socks, including her own sock knitting escapade.

She wraps up the book with directions to darn a sock.

A thoughtful and pleasing book.

JM

A Year Of Techniques
by AC Knitwear
£20
Buy now at Mason-Dixon Knitting or from The authors
When I get the itch to learn something new in knitting, I tend to jump in and try to learn many things at once and am not very methodical about it. Of course, with that approach, I have a very hit or miss success rate.

This book has a much more sensible approach and what I would guess is a 100% success rate.

There are twelve techniques: helical stripes, intarsia, pin hold cast on, knitted on edgings, heel turn, provision cast on, garter stitch grafting, short-row shaping in garter stitch, understanding cable symbols in charts, afterthought heels and thumbs, dominance in Fair Isle knitting, and steeks.

Each technique has an explanation, step-by-step photo instructions and a pattern to practice each technique. The instructions by AC Knitwear (Jen and Jim Arnall-Culliford) are clear and concise, and the phots show exactly what I wanted to see. The patterns (9 accessories, a blanket, a toy mouse and a child's Fair Isle vest) are designed by a few folks you might have heard of, like Bristol Ivy, Romi Hill and Tin Can Knits.

Each technique has an accompanying video hosted on the AC Knitwear site and on Mason Dixon Knitting. The videos are the same in both places. Ann and Kay and a whole gang of knitters have been knitting their way through book this year (they are due to finish up in February 2018). Mason Dixon Knitting also has kits for the patterns in the book.

All of the techniques and accompanying patterns are stand-alone; you can learn and knit them in any order. It's the perfect way to add a little learning to your year.

JM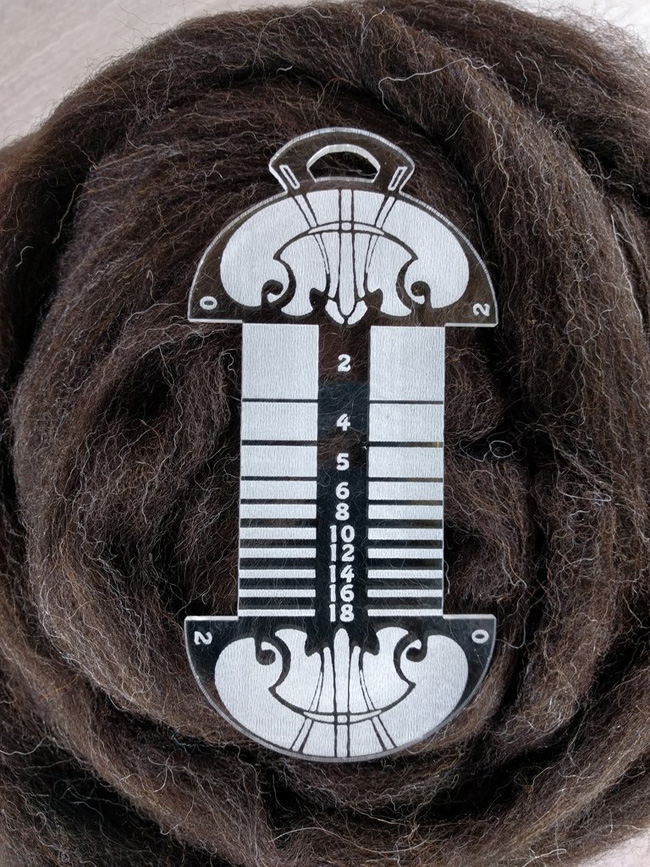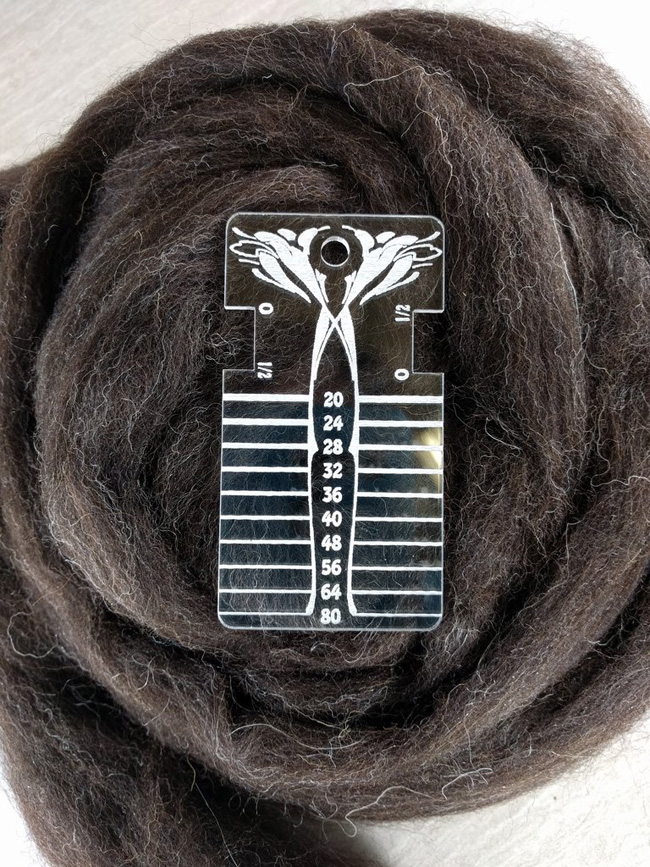 Macro Precise Spinners Control Card
Micro Precise Spinners Control Card
by Hipstrings
$10 each
Buy now at Hipstrings
Fine and fat yarn makers do a dance! Jill at hipstrings has made control cards for the both ends of the spinning continuum.
The Micro control card goes from 20 to 80 wpi, and the Macro control card measures from 2 to 18 wpi.
Like all control cards, they are an approximation, but I dig control cards more than wrapping for wpi – my hands lie to me when I wrap, just like my deceitful knitting gauge.
Both control cards are made from heavy acrylic and have holes punched at the top.They both have a measured cut out to wrap and get your wpi the regular way too. The are durable and easy to add to a ring of spinning tools or attach to your wheel.

These are a must have for my spinning tool kit.

JM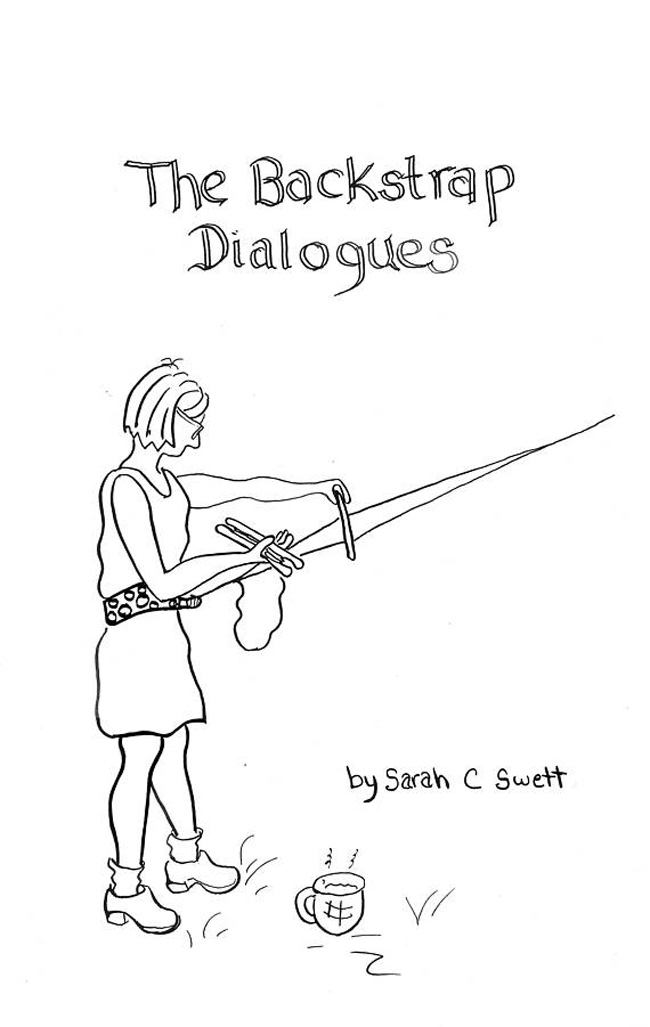 The Backstrap Dialogues
by Sarah C. Swett
$11-17
Buy now from the Author
Sarah Swett has been having internal battles. Any fiber crafter who gets drawn into another craft or, like Sarah, another aspect of your craft will recognize themselves in this zine.
Sarah who has woven tapestry for many years has become enamored of backstrap weaving. Still weaving but very a different type of weaving: lighter, less structured.
She argues with herself throughout this booklet, the two sides of her weaving self, light vs structure, battle.
And of course, in the end, it's perfect.
How Sarah manages to fit excellent instructions as well as existential dilemma in a 50-ish page, self-illustrated, 5x7 zine is a mystery to me, but she does. It's all part of her talent as an artist, craftswoman and teacher.
The how-to is stripped to its basics, but it follows the process from making your own loom to finishing your cloth. Weavers can follow easily; those new to weaving may need some assistance.

JM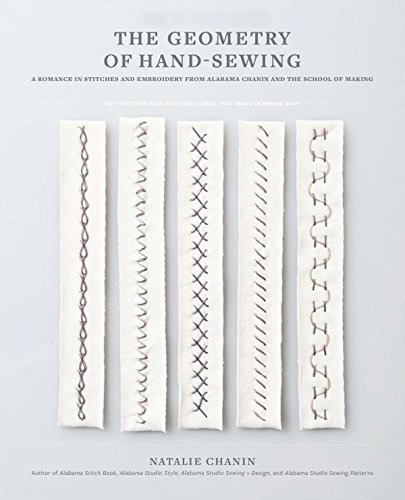 The Geometry of Hand Sewing: A Romance in Stitches and Embroidery from Alabama Chanin and the School of Making
by Natalie Chanin
Arbrams Books
$24.99
Buy now from Amazon or your local sewing shop
This is a beginning embroidery and stitching book, but every hand sewer and sticher, no matter the level, can learn from this book.
Natalie Chanin teaches embroidery stitches by using a system of grids, using lines that make working stitches easier. Start with a running stitch and you add complexity and connection, until you've mastered stitches that are layered and baroque with embellishment.
The directions are simple and clear. Stitches are made using die-cut grids included in the book, and by looking at illustrations and photos. A very new stitcher can learn stitches by stitching right into the cards, and as she progresses use the same grids as stencils to add the guidelines to fabric. The grids encourage stitchers who tend to a more freestyle approach, yet aren't happy with their stitches (I'm waving!) to obtain even and consistent stitches.
I would like to personally thank Natalie Chanin for including right and LEFT handed instructions. I may never use a different book to learn and review stitches.
Tension is discussed, the transferring of lines, threading and finishing all are covered. Tools and materials are discussed and photographed in such loving detail, that you may find that you need every single thing she mentions.
The book is beautiful in its detail and inspiration. This is a desert island craft book for me.
What makes this book special for knitters is the core of the book. The stitching and embellishing comes from the work of Alabama Chanin whose kits, clothing, and classes are based on making and embellishing clothes from jersey. Yes, embroidery, incredibly creative, organic and beautiful embellishment suited to knitted and woven fabric. Get stitching.

JM