Letters From The Editors
The scoop from the editors

photo:
Pam Lau
Winter winter winter yay winter!
I am so danged happy that winter is almost here. I hate ice underfoot, but I love cold weather. Especially because I'm almost always a little too warm for the environment I'm in, which doesn't make for happy knitwear wearing. So now I get to start to bundle up and feel that perfect level of cozy that makes me feel like a little kid in a snowsuit, except I'm just a little bit more nimble.
This issue, we have lots of warm and cozy for you to knit for yourself or for someone you care about. Some great last-minute gift knits, like our cover hat and mitten pairing, and lots of accessories including a shawl big enough to sleep under and crazy-cool kneewarmers. The sweaters cover the full range from big and complex to small and croppy (I loves me a cropped sweater). And the wonderful throwback this issue is Kate's Kitten, a brand-new Mochimochi tribute to the original Kate that appeared on the cover of Knitty back in 2005.
I love my job. I hope you love this issue.

---
A warm and sincere thank you to Liz Gipson who brought weaving to the pages of Knitty and helped us knitters understand it.
Liz's last column
is this issue; she's leaving us to focus on her exciting new project:
Yarnworker School of Weaving
! Like Knitty, Liz's weaving school is funded by
her Patrons
. We think Patronage is the way of the future on the internet: supporting the creators you love directly keeps them creating more wonderful things for you! Thank you, Liz...we're super excited for you!
---
It's more true than ever now: we only continue to exist because of our Patrons who carry 3/4 of the financial load of supporting Knitty. We are also grateful for the Advertisers who choose to place their messages on our pages. If you can, please support them when you need to make a purchase. We all take care of each other, right? A reminder: ads now start as low as $60 per issue! To learn more about advertising with Knitty, pop over to our Rate Card.
If you're not already a Patron, please consider joining us. We won't survive without ongoing support from our readers, and lots of little donations make such a huge difference in keeping us here! Life happens and Patrons come and go according to their own personal situations. So if you haven't joined us yet, we'd love to welcome you. This system only works if we can hold the number of Patrons steady. And we offer really neat rewards, too, starting at the $5/issue level!
---
Keep in touch with us!
Twitter | Ravelry | Patreon 2-way news feed (for Patrons only)


Amy Singer
[editor, Knitty]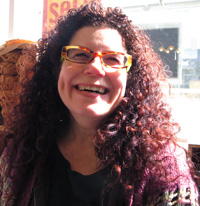 photo:
Amy Singer
Bathing in the quiet
What is it about the winter that makes me such a productive and spinner? I've been thinking about that for a few weeks and I think I've hit on it. It's the quiet. Not just the sound quiets, but everything quiets in the winter. Maybe it's the calm after the holiday storm. I don't feel as rushed, even though my work is the same. Once the holidays are over, all of the Internet stops yelling about buying things. I have to make an effort to go out and be with people, so I really appreciate and focus on the time with them. I just enjoy the sitting at the wheel in the winter and spinning for long periods of time, and I allow myself to do it. It makes me feel quiet inside, which helps me be intentional and creative. I'm thinking that winter is my favorite spinning season, at least until spring.
Spinning crocheters I have heard you! This issue of Knitty has a handspun crochet cowl, the Crochet Crusader, that can be worked on any type of sweatshirt or sweater, by the fantastically talented Cal Patch. I bet you didn't know she was a spinner!
My Knittyspin column this month is all about making spiral-ply yarn. It's one of my favorites: easy, fast and knits up like a dream. You might want to practice some spiral plying before the Knitty Winter Surprise in January...there might be a little something in there for spiral-plied yarn.
Enjoy your quiet winter spinning!
---
If you have an idea for a project or article for knittyspin write me. Knittyspin submission guidelines are here.
If you have fiber, spindles, books, or other spinny products or tools that you'd like us to review, you'll find information how how to get your products in to the hands of our reviewers here. I love to talk about it all.

Jillian Moreno
[editor, Knittyspin]