Feature: Get Warped. Free weaving tutorial about what to do with the little bits of leftover yarn in small weaving projects, by rigid-heddle loom expert Liz Gipson
Get Warped
Get Warped

The Leavings of Weavings
Yarnwork leaves a trail of bits in its wake. The leavings of weaving are called "thrums". Never one to waste yarn, we keep these bits of yarn until such a time when we will put them to good use. This column is about ways to do just that.
The bits that go over the apron rods come off perfectly organized for making tassels and pom poms. I use them to wrap packages, wear them as necklaces, create swag for decoration, and place them on pull cords, everything is made better with a tassel or a pom. On Earth Day 2016, I did a Facebook life post where I demonstrated how to make a tassel.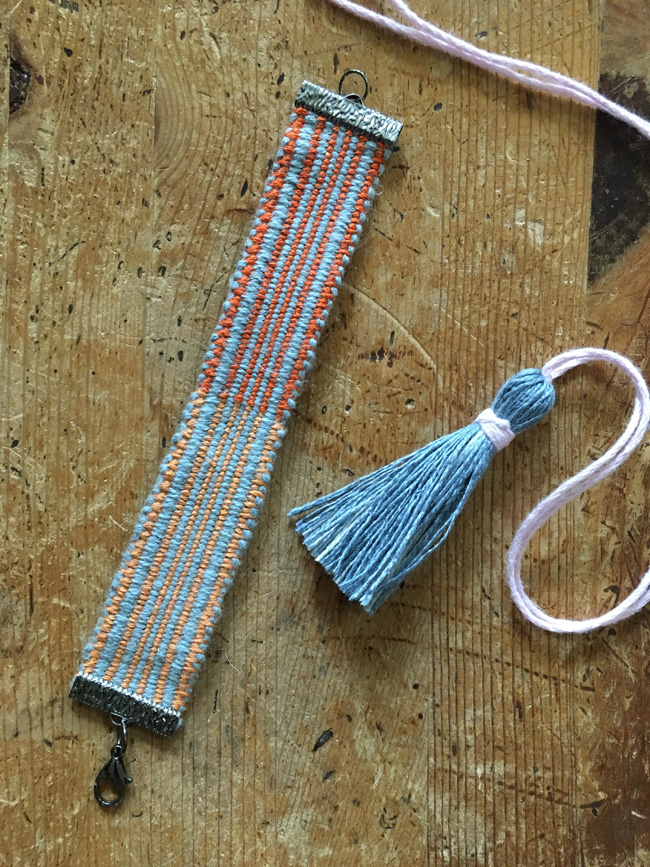 Since Purl & Loop came out with their bracelet loom, I've had fun using combining my leftovers with stash to create cuffs that coordinate with tassel necklaces. The technique I used in the bracket shown here, is the same technique from my last column on a smaller scale.
For the bracelet, I used Kreinik's silk embroidery thread. I keep embroidery thread handy for stitching projects and small repairs. It makes a great warp for brackets and I use thrums for the weft. The linen in the tassel was made from leftovers from the facecloths in Handwoven Home. It came off the loom, practically ready-made.
Purl & Loop has a new round loom that is perfect for making ornaments. It would also be a great way to use up thrums and odd balls.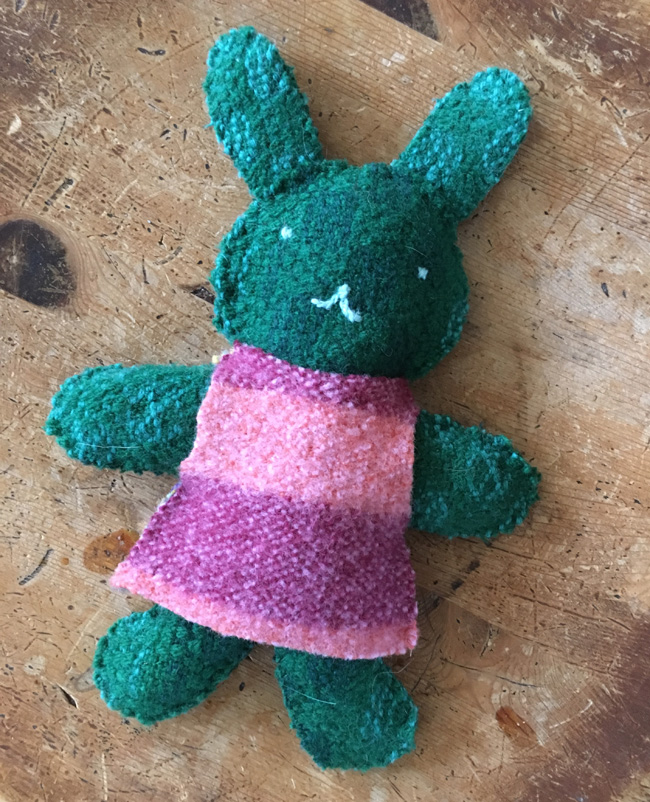 Another favorite way of using thrums is as stuffing. Which brings up another issue, dogs on the loom. We all have them, projects that don't work out as we hope. They linger on our looms because we are just tired of them. (I don't know why they are called "dogs", perhaps because they lay there and don't move?)
Regardless of what yarn I used in the warp, I'll weave off the project that has lost its mojo in a wool that will felt, throw the cloth in the washing machine, and keep the felted pieces in my stash. If you used a fiber that doesn't felt in the warp, it will pucker and create an interesting fabric—a technique called differential shrinkage that is way fun to do on purpose.
I cut and sew these bits of fabric into Thrums Buns, which make great gifts. The pattern is in Aranzi Aronzo's Cute Dolls book, which is full of other creatures that work well in felted fabrics.
Rya knotting techniques have grown in popularity. It is a perfect way to use leftovers—either using small balls in a continuous strand technique as in Stacey Trock's mini rug or Whitney Crutchfield's latch hooking experiment. I started a pillow top that currently resembles a wooly caterpillar, using leftovers from the Tweed and Twill Pillow and Hudson Bay Inspired Throw in Handwoven Home.
Short bits of yarn also work up well in wall hangings that have caught the weaving world by storm. The Weaving Kind was started by Sarah Neubert as a way to create community among weavers. She offers a monthly challenge to weavers - a great way to get inspiration and try new things.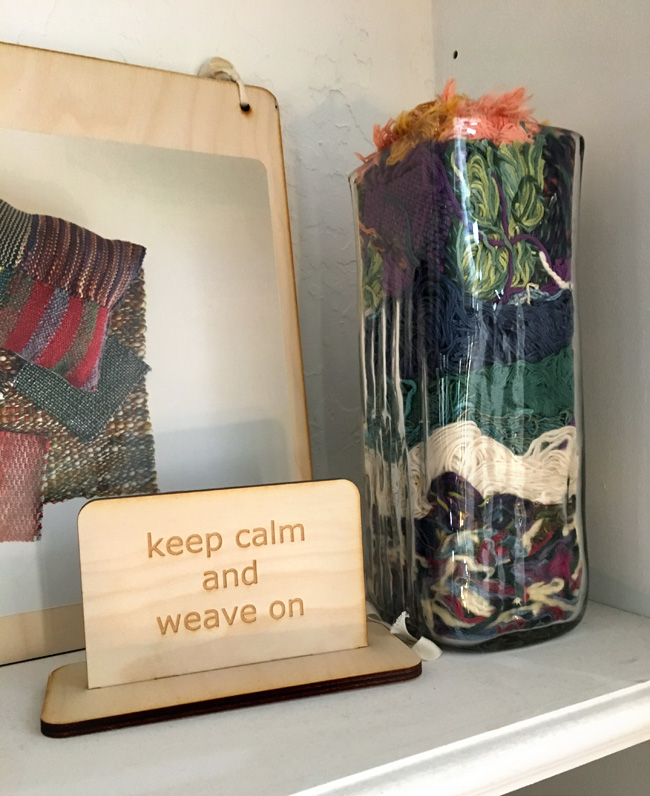 My favorite way to use thrums is as decoration. I place them in large glass vases around my house. Each layer holds a memory and keeps the yarn organized until I'm ready to use it.
---
Speaking of memories and leavings, this is going to be my last regular column for Knitty. As many of you know, my superpower is know-how. I believe that if you have a cadre of skills in your hip pocket, there is nothing you can't weave from your mind's eye.
During the past three years, I've walked Knitty readers through the process of setting up their looms, designing cloth, finishing fabric, creating patterns with sticks, and discussed yarn from a weaver's point of view. Along the way, I offered patterns that highlight each one of these bits of know-how. Now, it is time for new weaving voices to enter these pages.
All of my 2018 energy is giong to be focused on making the Yarnworker School of Weaving the best it can be. My goal is to keep the weave-alongs going and to create an online space to host a series of skill-building workshops—taking weavers who know nothing about weaving to full blown knowers of the know-how.
The school's realization is due to the amazing support of the Yarnworker Patreon community. Many of these weavers started with me as I replaced my lost teaching samples and have continued to help shape the Yarnworker School. With their support there will be more Yarnworker guides, weave-alongs, classes, and projects. Join us!

This certainly won't be the last time I'll contribute to Knitty, but it will be a pause for now. The editors have plenty of weaving content in mind to keep the knitting weaver inspired and informed. Thanks for reading, and to all you knitters out there who have been toying with trying the warped side of yarn, 2018 is shaping up to be a great year to dive in.
Heddles up!
ABOUT THE DESIGNER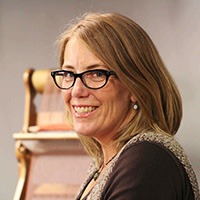 Liz Gipson is a lover of yarn and that from which it comes – namely the mills and fiber-bearing critters and plants. She is the author of the newly revised Weaving Made Easy and has four video workshops for rigid-heddle weaving published by Interweave. Her new book, Handwoven Home, has just been released.
Curious about the warped side of yarn? Visit Liz's website Yarnworker, for know-how and inspiration, or hang out with her @yarnworker on Facebook, Twitter, Instagram and Ravelry.
Pattern & images © 2017 Liz Gipson. Contact Liz