Tescherae, a free knitting pattern from Knitty.com. Free knitting pattern for a double-knit tessellating scarf that's very, very cool.
INTRODUCTION
Tescherae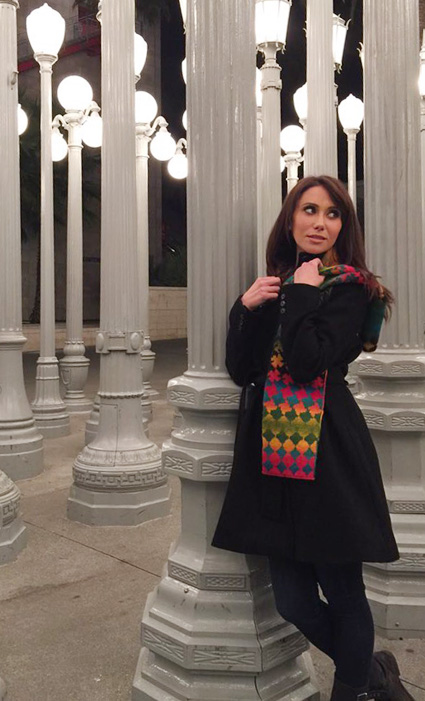 Tescherae brings together a number of seemingly unrelated elements: the art of M.C. Escher, color-graduated yarn, and my background in astrophysics. I love Escher's work, especially the optical illusions he creates through a creative use of math and geometry. My favorites are his morphing tessellations—pieces like Liberation or Sky and Water—where one recognizable pattern changes gradually into another.
For this pattern, I decided to create a double-knit scarf using my own morphing tessellation. In true Escher-ian style, I took a diamond, turned it into a galactic spiral, and then changed it back into a diamond with the opposite color scheme. However, because Escher is all about optical illusions, I chose to kick it up a notch by using color-graduated yarn…and not just any combination of color-graduated yarn. I took the SAME colorway, offset it slightly, and used it for both Colors 1 and 2.
Depending on the color combination of the moment, the foreground and background patterns seem to change—an effect only intensified by the fact that occasionally the two colorways "pass through" each other, reversing the foreground and background colors in the process. And because it's double-knit, the concepts of "front" and "back" go away. If any creation is greater than the sum of its parts, it's Tescherae.
Yes, you can make this scarf using two solid colors; because of the morphing tessellations, it will still be amazing and beautiful. However, I encourage you to try using a single offset colorway. The result is a truly remarkable optical illusion derived from a reasonably straightforward double-knit pattern.

model: Jenn Sterger

photos: Cody Decker
FINISHED MEASUREMENTS
Width: 6 inches/15 cm
Length: 64 inches/162 cm
MATERIALS
Yarn


Schoppelwolle Zauberball [75% Superwash wool, 25% Nylon; 459 yd/420 m per 100 g ball]; color: Tropical Fish; 3 skeins

Recommended needle size
[always use a needle size that gives you the gauge listed below - every knitter's gauge is unique]


US #2.5/3mm needles for working flat

Notions


yarn needle


Removable stitch marker


Paper clip (see Pattern Notes)


Stitch markers (if desired)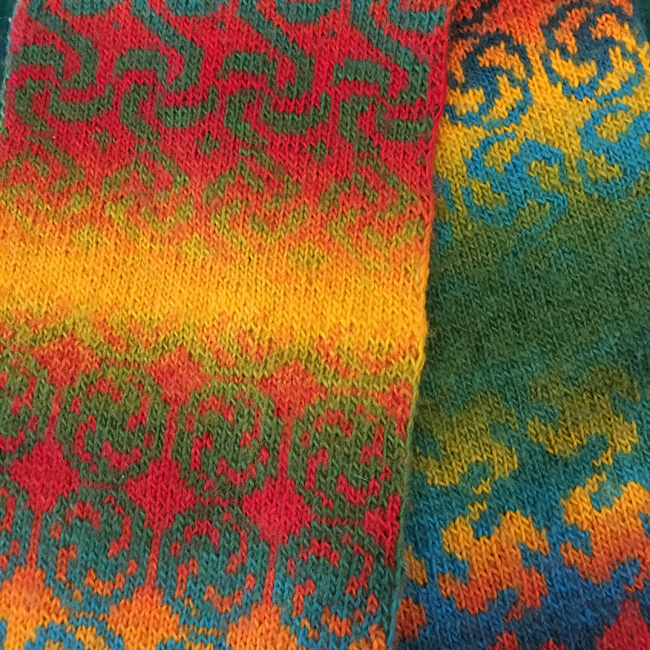 GAUGE
32 sts/40 rows = 4 inches/10 cm in double-knit pattern
34 sts/44 rows = 4 inches/10 cm in stockinette stitch
PATTERN NOTES
[Knitty's list of standard abbreviations and techniques can be found here.]
For those unfamiliar with double-knitting, detailed instructions can be found in Crystalline.
This pattern is almost entirely dependent on the Tescherae Scarf Charts. Since the scarf is double-knit, each square actually represents two stitches—the front color (worked as a knit stitch) followed by the back color (worked as a purl stitch). This means that the central 47 squares on each line of the chart are actually 94 stitches of alternating colors. The edges are worked as single-knit selvedge stitches to give the scarf a more finished look.
The Colors
The pattern refers to Yarn 1 and Yarn 2. Although you're working with three balls of the same colorway, you'll work with two balls at the same time, one designated at Yarn 1, the other designated as Yarn 2.
To produce the "color-change" effect, the colors of Yarn 1 and 2 must be significantly offset when starting the scarf. Choose the balls appropriately; if you wish, you can wind off part of one of the balls to get a good contrast. This will allow for sufficient contrast to see the tessellation pattern. In the example shown, Yarn 1 was initially yellow and Yarn 2 was initially dark blue. Because of the color gradation of this particular yarn, the colors occasionally match closely enough to "pass through" each other (see picture above). When this occurs, it is very important to keep track of Yarns 1 and 2, so as not to mix them up.
Since the colors in each ball change as you go, it can be helpful to add a sliding marker to one of them, so as to keep track of which yarn is which. The easiest way to do this is to thread one color (Yarn 1) through a paper clip. By wrapping the yarn several times through the innermost opening, the paper clip will stay in place but still be easy to slide down the yarn.
The use of color-graduated yarn can make it difficult to differentiate between the front and back of the scarf. To remedy this problem, it is recommended that you place a removable stitch marker on the front side. If desired, you can also place stitch markers between the horizontal repeats.
While Yarns 1 and 2 use separate balls of yarn, two balls are insufficient to complete the scarf pattern. When you run out of yarn towards the end, unwrap the third ball until you find a matching point in the color gradation. Cut the yarn and insert it at this point, leaving an 8-inch/20-cm tail; this will insure that no "color jumps" occur. (Because of the double-knitting, it is not necessary to tie or attach the yarn.) You will have to do this for both colors, but the third ball has sufficient yarn. Because of the way Zauberball is made, it is also possible that Yarns 1 or 2 will have a break in the color gradation partway through the ball. You can either leave this "color jump" (as was done in the sample) or perform the same color-gradation matching.
Working Double-knit Stitches RS Rows:
Grey Squares: Carry both strands in back and k1 in Yarn 1, then bring both strands to the front and p1 in Yarn 2.
White Squares: Carry both strands in back and k1 in Yarn 2, then bring both strands to the front and p1 in Yarn 1.
WS Rows:
Grey Squares: Carry both strands in back and k1 in Yarn 2, then bring both strands to the front and p1 in Yarn 1.
White Squares: Carry both strands in back and k1 in Yarn 1, then bring both strands to the front and p1 in Yarn 2.
Make sure the carried strands are always kept between the two layers. If done correctly, both sides will appear to be stockinette stitch with alternating colors on the front and back.
Selvedge Stitches

The last stitch of each row is worked as a single-knit stitch. For RS rows, this is knit in Yarn 1; for WS Rows, this is knit in Yarn 2. Except for the Set-up and Final Rows, the first stitch is worked as a slip stitch with both strands in front. In cases where the slipped stitch is worked in the same Yarn that immediately follows — for example, Row 7 of Chart B — it is recommended that you twist the two strands together, such that the alternate yarn is held in place next to the selvedge stitch.
With the exception of the Center Chart, each chart (A-H and J-Q) is worked twice.
DIRECTIONS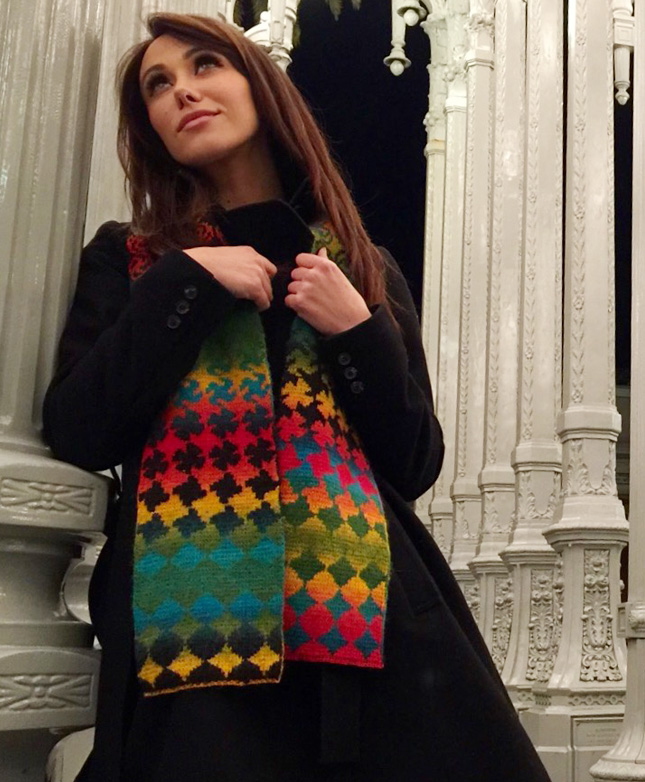 Using Yarn 1, CO 49 sts.
Setup Row [WS]: Knit Yarn 1 into first st. Knit 47 sts, knitting Yarns 1 and 2 into each stitch. Make sure Yarns 1 and 2 alternate such that Yarn 1 appears first in each stitch and Yarn 2 appears second (1, 2, 1, 2). From the RS, Yarn 1 will become the double-knit Front Stitch and Yarn 2 the double-knit Back Stitch. Knit Yarn 2 into last st. 96 sts.
Row 1 [RS]: Sl 1 (Yarn 2). Work Chart A across, working repeat as indicated, to last st, k1 Yarn 1.
Row 2 [WS]: Sl 1 (Yarn 1). Work Chart A across, working repeat as indicated, to last st, k1 Yarn 2.
Continue as set, working through Charts in order: Work A twice, B twice, C twice, D twice, E, twice, F twice, G twice, H, twice. Work Center Chart once. Work J twice, K twice, L twice, M twice, N twice, O twice, P twice, Q twice.
Final Row [RS]: Single-knit first st (Yarn 2). Work 47 double-knit sts, with Yarn 2 as the Front Stitch and Yarn 1 as the Back Stitch. Single-knit last st (Yarn 1).
Using Yarn 2, BO as follows: BO first single-knit st. BO next 47 double-knit sts, treating each double-knit st as a single st. BO final single-knit st.
Cut end, leaving an 8-inch/20-cm tail.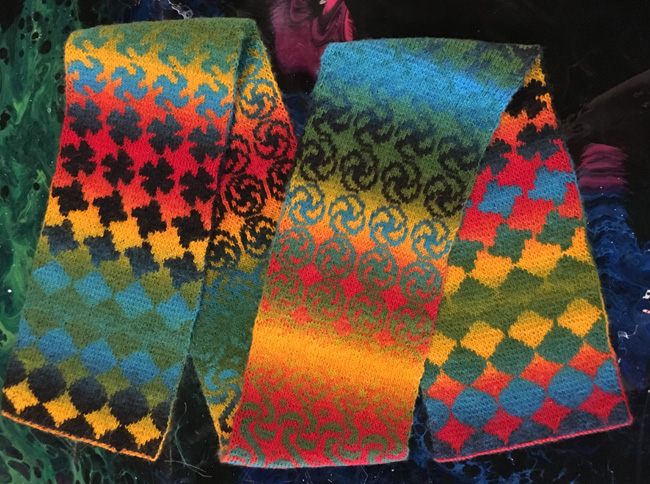 FINISHING
Block and weave in ends.
ABOUT THE DESIGNER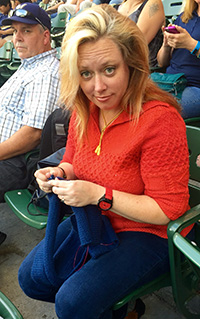 Meredith is a lifelong baseball fan and knitter who happens to be a sports data scientist with a Ph.D. in astrophysics. She's in the Baseball Hall of Fame for knitting (really!) and loves patterns inspired by science, math, or sports.
Check out her most recent collaboration with the Baseball Hall of Fame, involving the creation of historical replica baseball sweaters. You can also find her on Ravelry or on Twitter.
<-- who is the guy giving you the weird look, Meredith? :)
Pattern & images © 2017 Meredith Wills.