Feature: Cool stuff
Cool stuff
SR [Finished chest measurement for sweaters] = the smallest chest measurement to the largest chest measurement we could find in the book. There may be only one pattern with the smallest or largest size, but it's in there. Books are softcover unless noted otherwise. All prices USD unless noted.
NEW! Browse the whole list of books reviewed this issue at Bookshop which gives 10% of their profits to independent bookstores across the US, and a 10% commission to Knitty for every purchase.
If you're outside the US, we also provide links to purchase on Amazon, and they give us a commission when you purchase as well. Thank you for supporting Knitty!

Knitting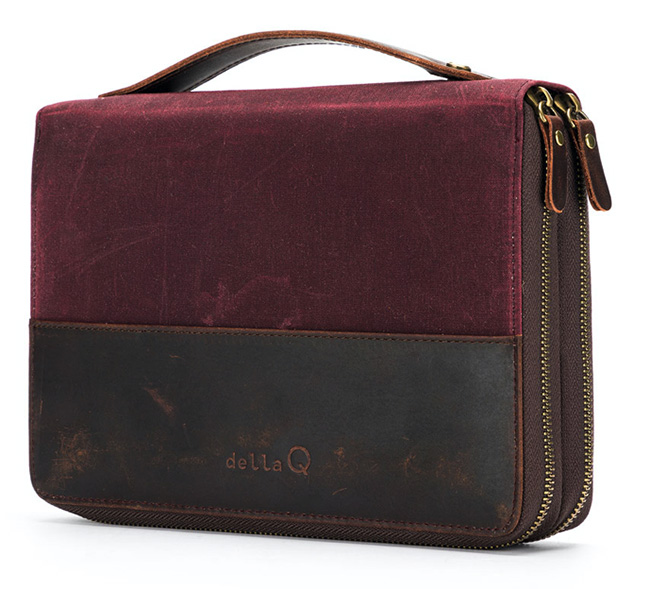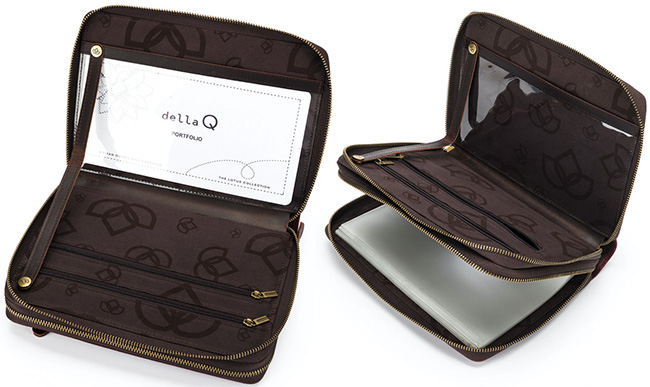 Maker's Canvas Portfolio
by DellaQ for Jimmy Beans Wool
6.5" tall, 9.5" wide, 2" deep (fabric can expand to 2.25" without stressing the zippers)
Shown in red. Available also in blue, mustard, olive and salmon
$75.00
buy now at Jimmy Beans Wool
Waxed canvas and leather are an irresistible combination in bags, and this new version of the della Q Maker's Portfolio looks and feels amazing in these textures. Approximately the size of a thick Trade Paperback book, it holds an awful lot without feeling overloaded or messy. It has two full-zips that open different sides. One has a pattern window that lets you slip a printout behind a clear plastic window, and two wide zip pockets that hold whatever accessories you carry most often.
The other side has 12 thick matte-finish vinyl pockets where you can slip in your needles, cables, or other large accessories and tools (and a page of needle-size stickers if you want to label the pages!). On the left wall of that section, there's a set of elastics that hold a full set of interchangeable needle tips and on the right side, 10 deep, sewn pockets that are perfect for DPNs or crochet hooks. Here's how mine is set up:

I use my Lykke interchangeables and my HiyaHiya long/sharp interchangeables most often, so I set this case up with both. My lovely rabbit, Schmoo, destroyed the Lykke case, so it was handy to be able to store them in the Maker's Canvas Portfolio. The cables and connectors fit nicely in the vinyl pockets. The HiyaHiyas come in a slim case, so I just slipped the case itself in the front section of the Portfolio. You can see I've added little rabbit clips to the top of the vinyl pockets for the most-full pages, where I've stored my most-used fixed circulars. I find that I often open zippered cases upside down, and this prevents anything falling out if I do that. The needle tips and DPNs are secure in their elastic or pockets, and I don't worry about them going anywhere.
So I've stuffed quite a bit of my gear into this case, and this next pic shows what it looks like when zipped up.
It's very full, but the zippers are not overly stretched and zipping it closed was easy. It looks a bit asymmetrical because of where the stuff inside is located - the bag is perfectly square and flat on its own. I also really like the leather handle on the spine of the case (see pic at top). This makes it super easy to carry. I'm really enjoying taking this case with me, knowing I have most any needle or tool I could want right at hand, a quick flip away.
This is a very sturdy, well-built and attractive case that can be bent to the knitter's will: make it do what you want! So many pockets of different sizes and configurations makes it almost infinitely adaptable!

AS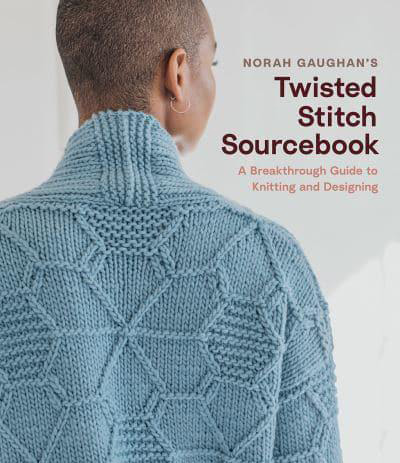 Norah Gaughan's Twisted Stitch Sourcebook
by Norah Gaughan
Abrams Books
$29.99, hardcover
SR= 30-62"
buy now at Bookshop.org | Amazon

It is always a good day when a new Norah Gaughan book hits my desk. I had heard a rumor soon after her amazing Cable Sourcebook came out that she was exploring twisted stitches. To me, twisted stitches are a more subtle cousin to cables. Cables are rock and roll, straight forward and brash; twisted stitches are jazz, suggestive, with a little more meander.
The book is divided in to three sections. Part one is Stitches: 130 different twisted stitches, most of them, like in her Cable Sourcebook, are Norah's invention. Part two is Garments: twelve sweaters, two scarves, and a hat/mitt set. Part three is Design Your own, with information about designing both twisted stitches and patterns that use them.
What I like so much about Norah and her work is that she doesn't shy away from complexity, but she doesn't hold it like it's a secret club. She always offers different levels, and has a sneaky, subtle way of showing that complexity may take time, but isn't hard.
A knitter could lose themselves, very happily, in this book or just snack in it. I am wowed (as usual) by her garment patterns, interesting to make and look at, and there is no way someone would mistake one of her patterns for an off-the-rack garment. They are proudly crafted by hand. My two favorites from this collection are the Cropped Cardi, perfectly paired with Jill Draper's Valkill; and the Hexagon Pullover, in part because it doesn't fit like a 'regular' sweater.

JM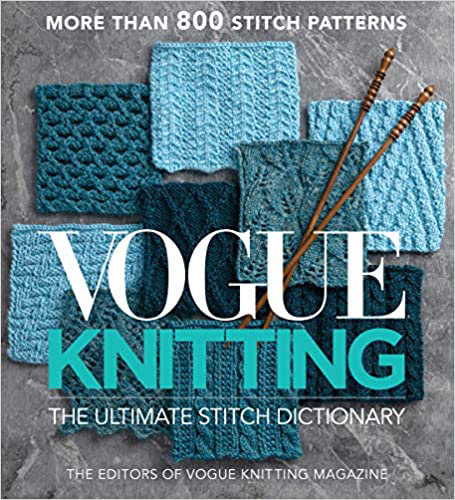 Vogue Knitting: The Ultimate Stitch Dictionary
by the Editors of Vogue Knitting Magazine
Sixth & Spring Books
$39.95, hardcover
buy now at Bookshop.org | Amazon
Eight! Hundred! Stitches! Winter is a great time to swatch. Swatching is a perfect thing to do when you don't want to really follow a whole pattern, but want to engage your brain with more than garter stitch or stockinette. This collection is mostly pulled from the original multi-volume Vogue Knitting stitch dictionaries, plus 100 new stitches
The chapters of types of stitch patterns are flagged with color edging on the pages, making it easy to browse just the kinds of stitches you are hunting for. The stitch chapters are Knit and Purl, Colorwork, Cables, Lace, and Edgings. The patterns are charted, and most are written out as well. The photography looks fresh and bright and shows better stitch detail than the original books. The book is big and heavy; it lies flat when opened and is easy to knit from.
I do wish there was a chart that sorted the motifs by stitch count, so I could search for just the right size patterns.
The Ultimate Stitch Dictionary along with the revised Vogue Knitting Ultimate Knitting book is a great anchor for any knitter's bookshelf.

JM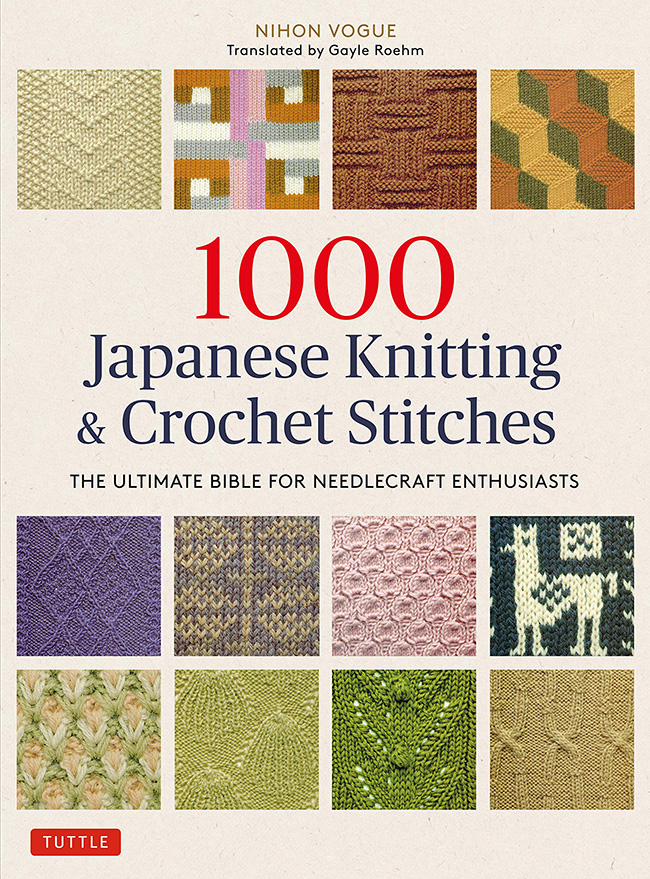 1000 Japanese Knitting and Crochet Stitches: The Ultimate Bible for Needlecraft Enthusiasts
by Nihon Vogue, Translated by Gayle Roehm
Tuttle Publishing
$29.99
buy now at Bookshop.org | Amazon
This is a translation of a Japanese stitch dictionary originally published in 1992. It was one of three or four stitch dictionaries that were published in the early '90s that became legendary among knitters. I ordered one from Japan in the late '90s and have used it so often, it's now held together with a big rubber band.
There are 700 knit stitches and 300 crochet stitches. They are the same stitches and the same charts as the Japanese version I have, but there is more description and explanation in Gayle Roehm's translation. The stitch symbols have more detailed written explanations, and she goes into additional and very helpful additional detail about the particular stitch groups like brioche.
Gayle Roehm explains things succinctly but with precision. She has been teaching online, regularly for Vogue Knitting and Stitches Events, different aspects of Japanese knitting, I look forward to taking a class from her one day.
If you don't already own a Japanese stitch dictionary please treat yourself. The stitches are distinct and original, and even the easiest stitches will elevate your knitting.
JM

Evolution: 13 Wearable Hand Knits Inspired by the Vintage Shetland Project
by Susan Crawford
Susan Crawford Vintage
£25 GBP, hardcover
SR= 28-62"
buy now at Susan's website
Evolution is a splendid collection of garments inspired by vintage Shetland knits. Susan Crawford, who put together this beautiful book in the midst of the Covid crisis and her own health issues, has been studying and knitting vintage Shetland knits for decades. She developed The Vintage Shetland Project from this love. The Vintage Shetland Project was an eight year in process book that reproduced Shetland knitwear held in the Shetland Museum archive.
In these 13 patterns, Susan uses that intimate knowledge, hones it and presents us with modern and very wearable garments based on a specific constructions, a color chart or portion of a stitch pattern.
The patterns, six sweaters, one vest, two hats, one pair of mittens, one pair of socks, a shawl, and a scarf, have a thoroughly modern feel, with a whisper of something older at their core. There are lace-yoked sweaters (a favorite is Orchidaceae), colorwork enlarged from vintage charts, sweater shapes that flow and swing, a shawl with an old stitch in a modern silhouette, and another favorite – a hat, Steek – with a colorwork pattern based on a steek chart.
The photos are many and beautiful, and Susan models every one of her designs, looking powerful and serene in her home landscape. The book is a wonderful hardback with a design that owes as much to art books as knitting books.
Evolution is a book, of lovely and easy to wear patterns, but it distinctly shows the progression and transformation of a designer over time.

JM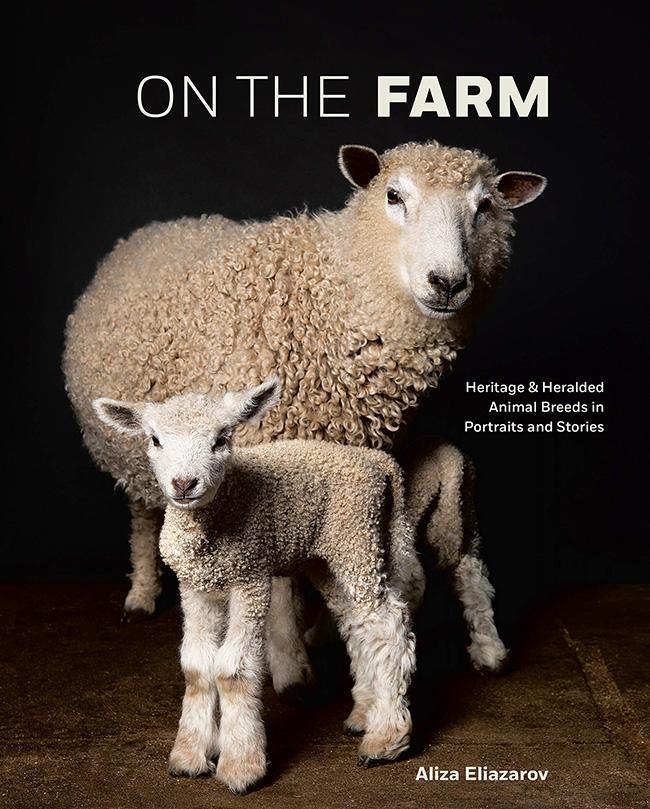 On the Farm: Heritage & Heralded Animal Breeds in Portraits and Stories
by Aliza Eliazarov
10 Speed Press
$30.00, hardcover
buy now at Bookshop.org | Amazon
The photography in this book will make you catch your breath. It is stunning. Aliza Eliazarov lovingly photographed heritage breeds of farm animals. Her photos show them as individuals – noble, majestic and full of personality. They are individuals I want to hang out with.
She also tells stories about these animals from anecdotes, personal stories, and discusses the importance heritage breeds play in the biodiversity of our world. I have been entertained and educated by this book in equal parts.
I have no illusions that this book is snapped up for the glorious photography, but you will learn so much if you also read the words.

JM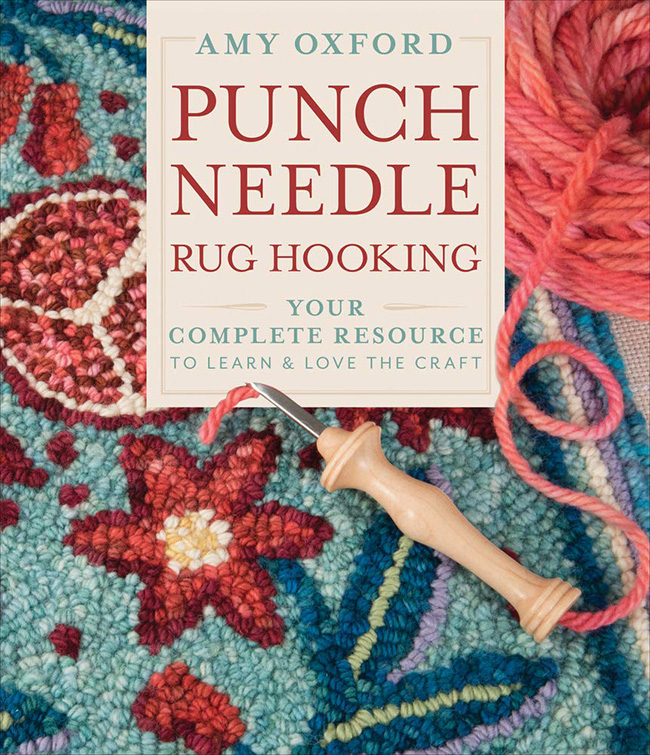 Punch Needle Rug Hooking: Your Complete Resource to Learn & Love the Craft
by Amy Oxford
Schiffer Books
$27.99, hardcover
buy now at Bookshop.org | Amazon
You would be correct in thinking that the inventor of the indispensible and ubiquitous Oxford punch needle would write a great, sensible, and straightforward book on the craft.
Amy Oxford has been making and teaching Punch Needle Rug Hooking for quite a long time. She is a creative designer and an excellent teacher, and this book reflects that. Here's an example: most books that are a how-to and overview of a craft start with either materials or history. This book has both of those, but in a genius move, Amy begins her book with a quick-start guide, 20 pages of a just-the-facts-ma'am guide for those of us who are ready to go and don't want to read the whole book yet (me).
The rest of the book is just as clever and packed full of excellent how-to, history, and inspiration. There are three soup-to-nuts projects in the book: a beginner project, a more detailed project, and a project focused on using different-sized punch needles. The projects are so detailed with big, step-by-step photography, and such good direction it's like Amy is in the room with you.
The book covers assembling a punch needle kit, in-depth information about punch needles, fabric, frames, yarn, transferring designs, hemming, repairing your work, and a lot of inspirational photos of punch needle work.
This book really feels like the best kind of workshop.

JM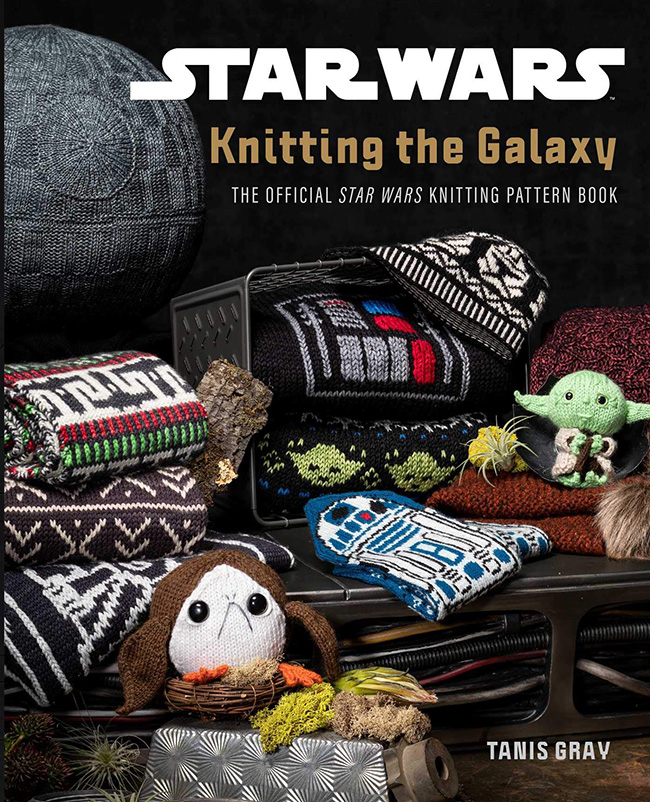 Star Wars: Knitting the Galaxy
by Tanis Gray
Insight Editions
$29.95, hardcover
SR 27-57"
buy now at Bookshop.org | Amazon
I am so happy that the folks at Insight Editions are wise enough to hire excellent knitters and designers to edit their books based on movies and tv. Harry Potter and Outlander came before this one. Do you remember the days of the 'inspired by' knitting books with projects that were 90% chunky yarn without much connection to property or fandom they were celebrating?
Tanis Gray (who also helmed the Harry Potter knitting book) has done a fantastic job gathering a wonderful variety of patterns and designers to celebrate the Star Wars universe. The patterns are fun, have great detail, but aren't so complex as to be off-putting for the casual fan and knitter.
The designs are knit in a good mixture of gauges, and the difficulty is ranked in number of light sabers. The book is loaded with photos and quotes from the first six movies which really gives the book a feeling of a fun adventure (in a galaxy far, far away).
There are four main parts to the book. Toys has a good selection of stuffies, from a tiny Pocket Yoda and a fuzzy Wookie, to a big a squishable Death Star. Costume Replicas features a fantastic recreation of Rey's Vest and Arm Wraps. Inspired Apparel is the largest section (17 patterns), and the one where designers really flexed their creativity. There are patterns for when you want your love of Star Wars to be obvious, Yoda or R2-D2 Mittens; Order of the Jedi Pullover; A Galaxy Far, Far Away Mittens; or the Darth Vader Pullover. And there are patterns where only other fans might notice the connection, the detail is so fine like the Rebel Alliance Shawl, Darth Maul Mittens, Lightsaber Sock or the exceptional Wookie Socks. The book wraps up with Home Décor: a BB-8 blanket, Droid pillow, and one of my faves – Villainous Mini Sweater Ornaments.
This book was developed before the Mandalorian tv series came out. There is not a Grogu pattern, but with a few modifications Pocket Yoda can become Baby Yoda. The Yoda in the Order of the Jedi pullover looks more like Grogu than Yoda, and there is a Boba Fett chart as part of the Villainous Mini Sweater Ornament set.
JM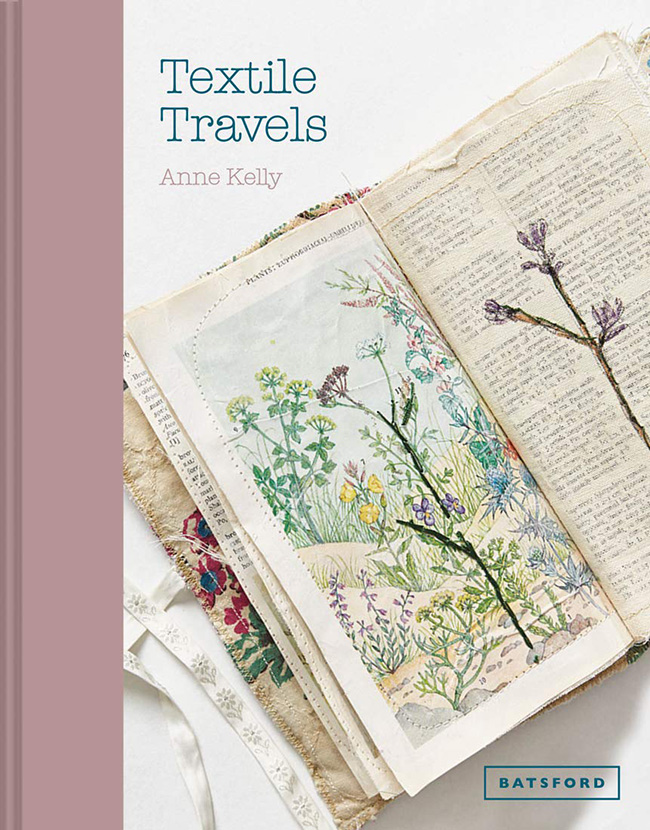 Textile Travels
by Anne Kelly
Batsford
$29.95, hardcover
buy now at Bookshop.org | Amazon
I picked this up thinking it would be an embroidery book. It is so much more. It is a collection of fiber art pieces inspired by travel. Author and artist Anne Kelly tells the stories behind her own pieces and showcases other artists that have inspired her.
There is some loose how to. The basics are outlined for a few of Anne Kelly's pieces. The methods are simple and straightforward, but the inspiration and execution are where the magic happens.
Art, memory, and place combine in sections entitled Mapping the Journey, Heading South, Due North, and Space and Exploration. There are maps, folded travel books, wall hangings, and common objects transformed. The work is stitching (both machine and hand) block printing and appliqué. My favorite pieces combine maps, ephemera, vintage textiles, and hand stitching, especially when the finished piece is small enough to be tucked away like a treasure memory.
This is much more a book of inspiration, but there is just enough instruction to give you the final push to capture your travels creatively.

JM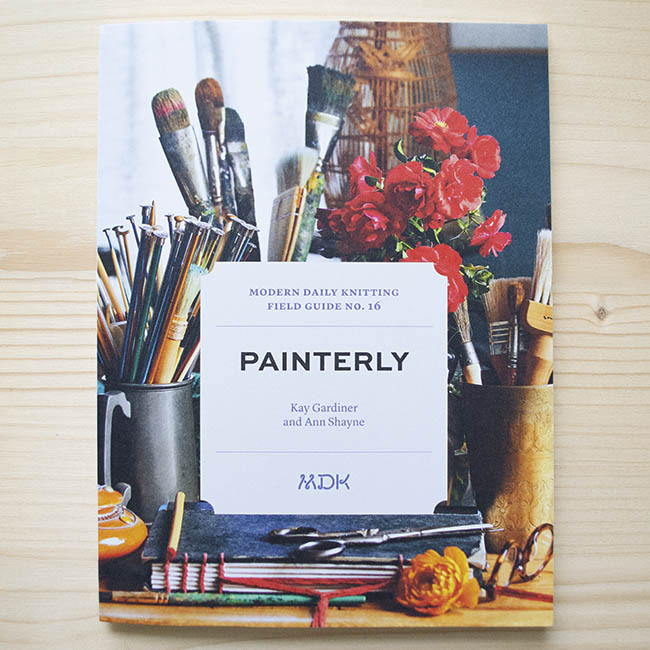 MDK Field Guide #16: Painterly
$9.95-$15.95
buy now at MDK
Kaffe Fassett has never gone out of style, and the knitting world has never stopped admiring him. We understand his need to move to cloth and quilting, and treasure every visit he makes back to yarn.
The new Modern Daily Knitting Field Guide has three patterns by Kaffe all using Rowan Felted Tweed (one of my desert island yarns). The first time he visited MDK, he came with stripes this time it's intarsia.
The patterns are all designed for the new intarsia knitter, and there is an Intarsia 101 guide to help. There is the Watercolor Cowl, I-Cushions, Kites Throw, and the Village/ Cityscape Scarves. All have different amounts and feels to the their intarsia. If you want just a taste, the house motif from the Village/ Cityscape Scarves have taken on a life of their own. Knitters have turned the motif into stand-alone stuffed abodes – just enough intarsia to feel accomplished, and small enough to not feel overwhelmed.

JM