Feature: Knittyspin
INTRODUCTION
Knittyspin
Learn to Love Your Default Yarn:
Your Everyday Yarn Is the Key to Spinning Any Yarn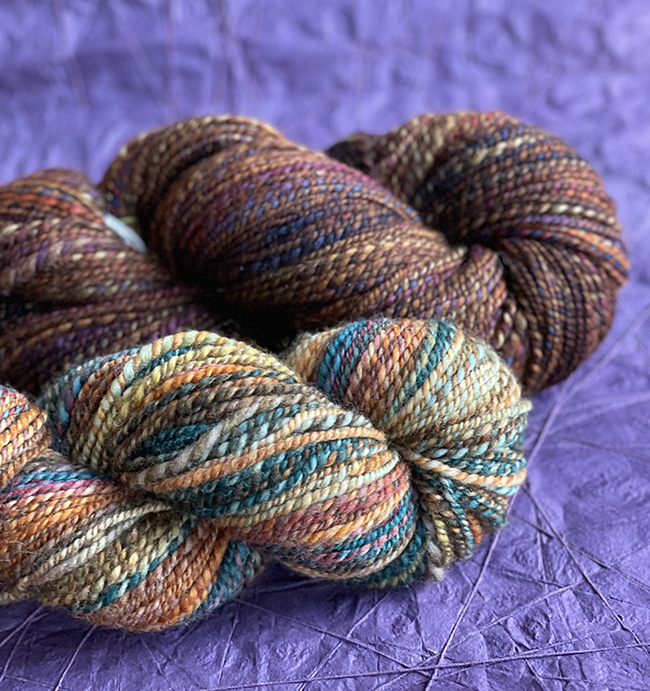 Two skeins of my default yarn randomly chosen from my basket, because pretty!
Every spinner has a yarn that is their everyday yarn, the yarn they spin when they just want to spin, and their spin-to-relax yarn. It's their default yarn. Default yarns have a bad reputation with some spinners. I have had lots of students who say to me in class that what they want is to escape their default yarn. They aren't asking to spin a specific other yarn – they just want to spin differently.
I think your default yarn is the most precious yarn you spin, and you should learn all you can about it.
Why is it important to check in with your default yarn?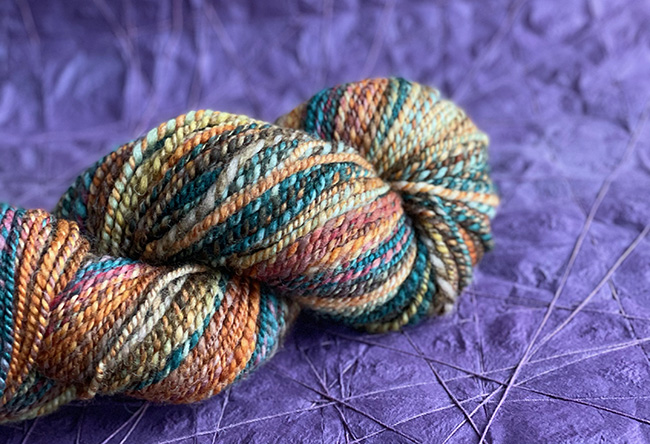 The yarn I'll be analyzing here
Your default yarn changes over time. The yarn you regularly spin now isn't the same yarn you were spinning two years ago. It's good to acknowledge who you are as a spinner right now. It gives you something to celebrate.
Your default yarn marks a point in your spinning. The default yarn you are spinning now is the accumulation of what you've spun, and learned up to this point. It's all of your knowledge and skill, and what you like best, represented in yarn.

Making it easier to spin a new yarn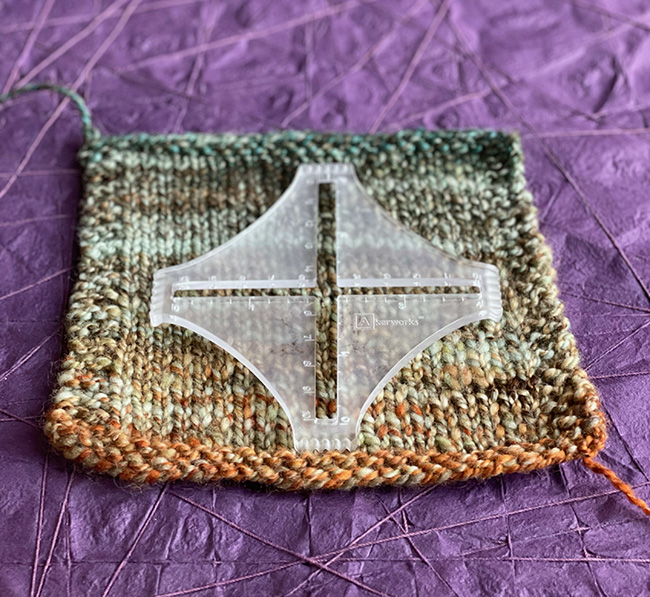 Don't forget to knit your default yarn and measure your gauge
There is magic in your default yarn. If you know and can express how you make your default yarn, fiber, preparation, and construction, you can use that information to help you spin different yarns. You can move toward any new yarn you want to spin in steps rather than taking a big, blind leap.
New spinners will learn so much about spinning by taking the time to name all the parts and steps of their yarn. More experienced spinners can bask in all of the knowledge they have from their years of spinning and all they've learned in classes and from books and magazines. They may even find some hidden pockets of knowledge.
The parts you should record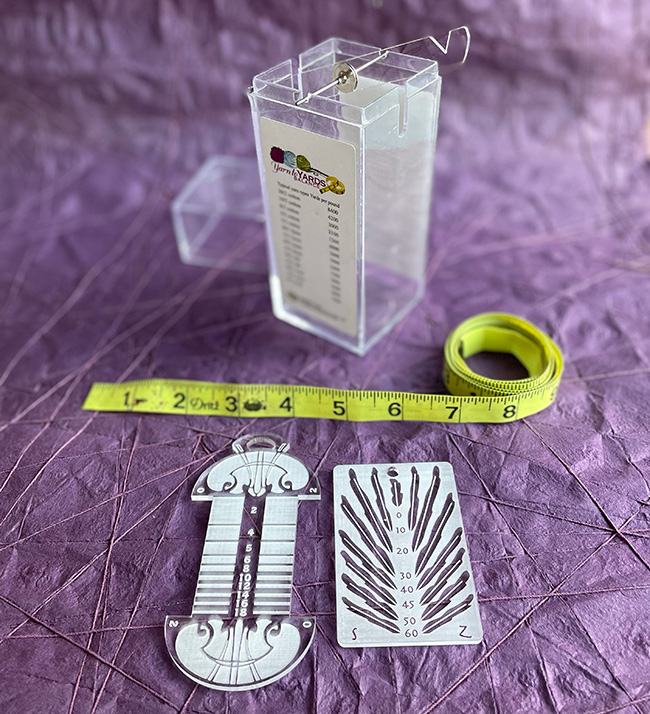 My favorite yarn measuring tools

First figure out a way and a place to keep track of your yarn and make notes. I have a sort of bullet journal that I use for almost everything; it's a paper version of my brain. I chose a skein from my handspun yarn basket that I feel represents my default yarn. I will tag it as my 2019/2020 Default Yarn with all of my construction information on it, and also put it all the information in my journal. I sometimes elaborate on my style of spinning, note my most used wheel, or most-spun dyer.
The information I record is below:
Fiber: Corriedale
Prep: combed top, worsted, commercially prepped
Draft: woolen, medium backward draw
Ply: 2-ply, surprisingly close to my ply back sample
Finish: Soak and snap
Grist: 1,100 YPP
WPI (finished): 12-14 WPI
Gauge: 4.5-5
My yarn is on the heavy side of a DK yarn, has quite a bit of loft, and medium-to-soft stitch definition.
How to use your default yarn to spin a new type of yarn
You know in your bones how to spin your default yarn. You also know the decisions you make to create your yarn and how each decision affects your finished yarn and the craft(s) you use it in. How much you know about the spin and affect of a yarn depends on how long you've been spinning and how voraciously you take classes and study spinning.
With that knowledge you can work in steps from your default yarn towards your new yarn. Here's an example based on my default yarn, and what I know (or can remember) about yarn construction (or Yarnitecture ;-) ).
If I wanted to spin a heavy worsted-weight yarn with drape and good stitch definition for a sweater project, I would look at the stats of my default yarn and see what small changes I can make to get to the new yarn. The more you spin and learn about spinning, the more options you will have. If you don't like the options that you know, or have used before, you can always do more research, ask another spinner, or take a class.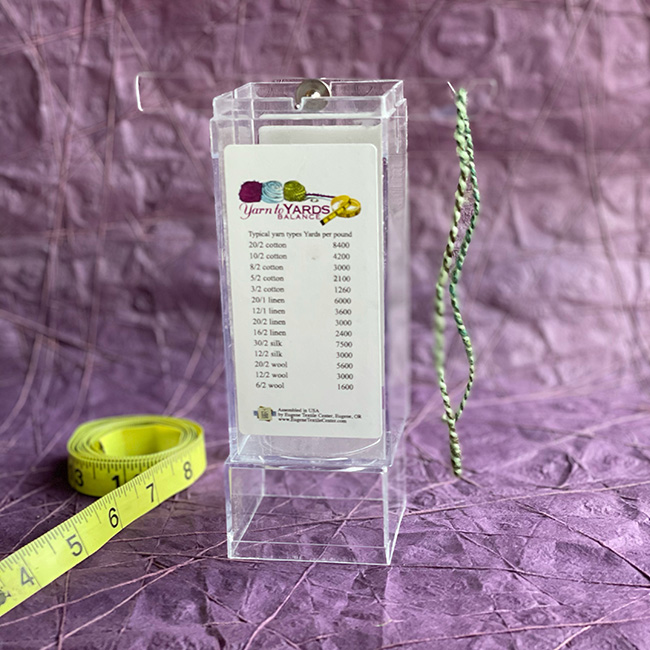 Grist is a measurement that is important to my spinning any yarn. When yarns go sideways for me, it usually involves grist

The new yarn measurements are in the neighborhood of:
Grist: 800-900 YPP
WPI (finished): 9-10 WPI
Gauge: 4 stitches to the inch
I'm also looking for a yarn that has better stitch definition and drape than my current default yarn.
I know that I have to spin with more fiber and less twist in each draft to make a thicker yarn, which will change the grist, WPI and gauge. To get a yarn with more stitch definition, I can make my yarn smoother and denser with a worsted draft, add a third ply, increase ply twist, or choose a longer-stapled fiber or blend. I can do one, several or all of these things.
Coincidentally (or not), several of the things that contribute to better stitch definition also help with drape. A worsted draft, and a longer-stapled fiber or blend are the two big ones. Plying can get tricky. I like the look of more ply twist in a yarn and how it makes stitches pop, but more ply twist tends to contribute to elasticity rather than drape.
For fiber choice, I'm moving into the lighter end of long wools. They are denser fibers, with less elasticity, which means they will drape well and have good stitch definition. Plus, with a worsted draft it will show the glow, from the shine inherent to long wools. I'm considering BFL, Gotland, or Romney.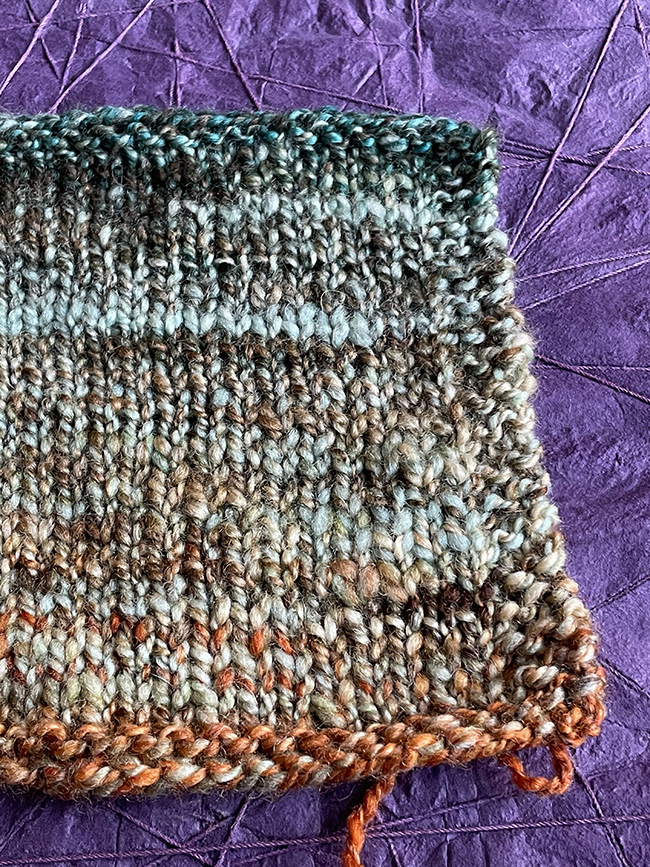 I never get tired of learning from my handspun yarn.
I love that using my default yarn as a starting point for a new yarn. It gives me a good solid base. I feel like I have excellent knowledge of this yarn and that gives me confidence to make thoughtful decisions instead of my hopeful guesses of the past.