Swedish Folk Art Mittens, a free knitting pattern from Knitty.com. Free knitting pattern for a pair of colorwork mittens inspired by Swedish Folk Art patterns.
INTRODUCTION
Swedish Folk Art Mitts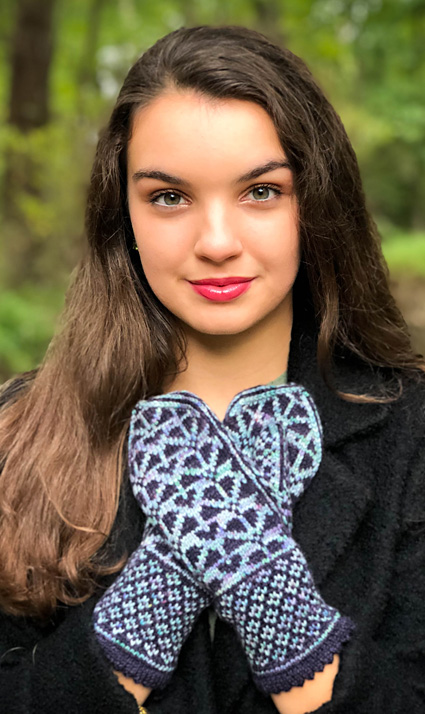 by Tanis Gray

Worked from the bottom up starting with a picot hem, these stranded colorwork mittens are inspired by paintings seen on antique Swedish trunks I saw in a museum when my family and I visited Scandinavia in 2016.
With 3 different Fair Isle patterns featured on the palm, the cuff, and the outer hand, it keeps the knitting exciting! A traditional thumb gusset is shaped with easy M1R and M1L stitches, and the remaining stitches at the top are closed with Kitchener stitch.

model: Anna Maria

photos: Tanis Gray
FINISHED MEASUREMENTS
Circumference: 7.5[8.5, 9.5] inches / 19[21.5, 24] cm
Length: 9.5[10, 10.5] inches / 24[25.5, 26.5] cm, including cuff
Choose a size .5 to 1 inches/1-2.5cm larger around than your actual hand circumference.
MATERIALS
Yarn
Spirit Trail Fiberworks Birte [75% superwash merino, 15% cashmere, 10% silk; 275yd / 252 m per 110 g skein];


[MC] Eggplant; 1 skein


[CC] Lucky Pot; 1 skein
Yarn characteristics: A smooth, plied yarn works best. I like superwash because mittens can get dirty, but that's a personal preference. High contrast is key so the motifs don't get muddy.

Recommended needle size
[always use a needle size that gives you the gauge listed below - every knitter's gauge is unique]


US #2.5/3mm needles for small circumference in the round

Notions


stitch markers


tapestry needle


waste yarn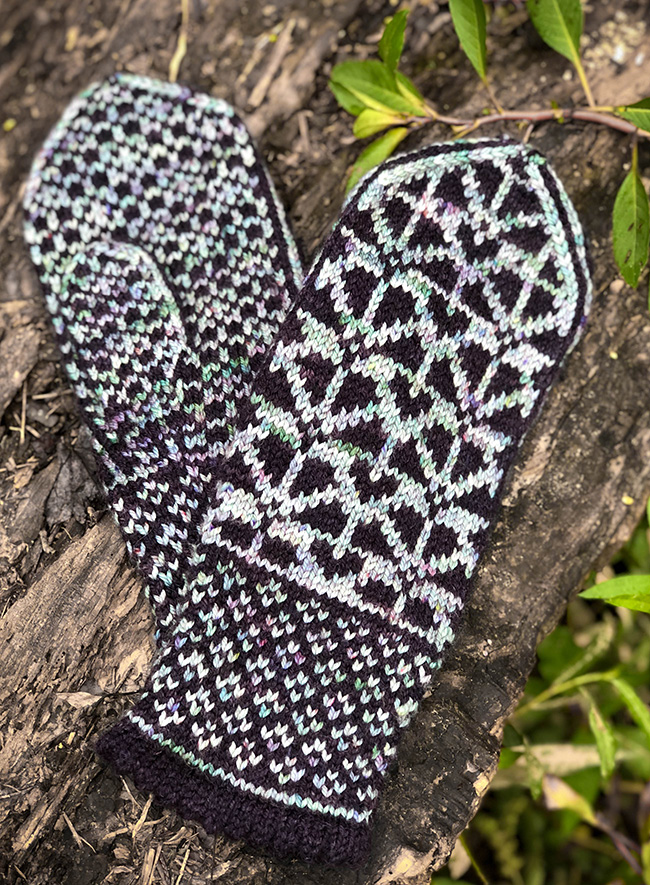 GAUGE
24 sts/32 rounds = 4 inches/10 cm in stockinette stitch
28 sts/33 rounds = 4 inches/10 cm in stranded colourwork pattern
PATTERN NOTES
[Knitty's list of standard abbreviations and techniques can be found here.]
Directions and tips for stranded colorwork (Fair Isle) can be found here: text and photos | video
Instructions for grafting can be found here: text and photos | video
Mittens are worked from the bottom up in the round. The bottom cuff is a folded picot hem joined at round 10 of the cuff chart and the thumbs are added on after the body of the mitten is completed. The tops of the mittens are grafted together.
Blocking on mitten forms is recommended.
DIRECTIONS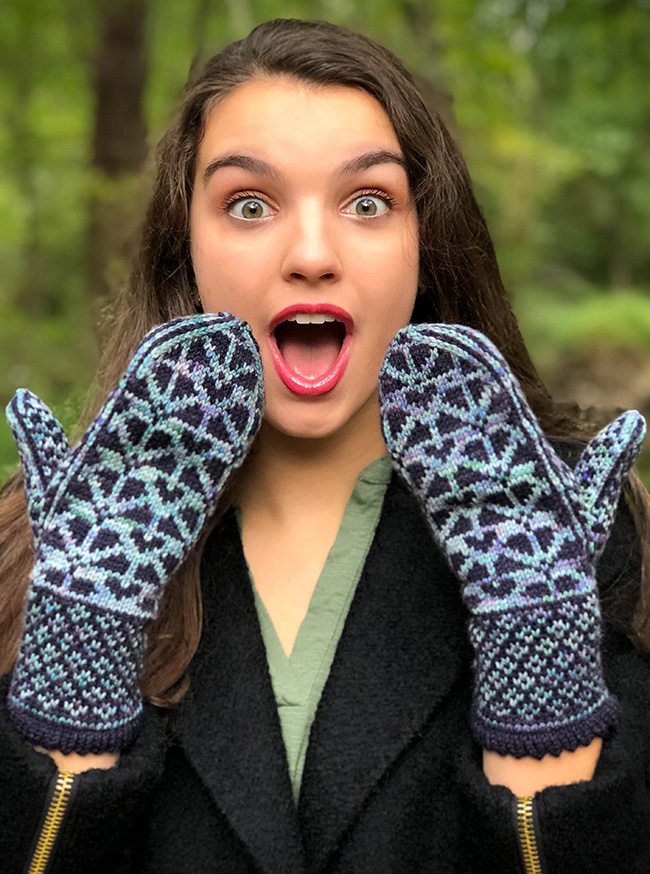 Cuff
With MC, CO 40[48, 52] sts. Distribute sts across needles as you prefer and join for working in the round.
Knit 4 rounds.
Next round, create picot hem: (YO, k2tog) around.
Knit 4 rounds.
Next round, join hem: Fold hem up at Picot round, with WS together, *insert right needle into next stitch on left needle as normal, and then use the tip of the needle to pick up a strand from the CO edge corresponding to your current stitch, and knit the strand and stitch together; repeat from * until all sts have been worked.
Join CC, and knit 1 round.
Next round, establish Cuff Chart: Work appropriate Cuff Chart around, working 4-stitch repeat 10[12, 13] times around.Work as set until chart round 9 is compete, and work rounds 4-9 2[2, 3] more times, for a total of 3[3, 4] repeats of rounds 4-9.
Next Round, increase for hand pattern, sizes S and M only: With MC, (k 19[23, 12] , kfb) 2[2, 4] times. 42[50, 56] sts.
Body of Mitten
Next round: Begin chart for appropriate hand and size. Place markers if desired around gusset increase position.
On Chart Round 16[16, 20] , work in pattern as set to marked thumb sts, slip 11[11, 13] thumb sts to waste yarn. Using both strands of yarn and the Long Tail method, CO 11[11, 13] sts over the gap. 52[60, 68] sts.
Continue working as set until chart is complete. Break CC.
With MC, graft top closed.
Thumb
Place 11[11, 13] sts from waste yarn onto one needle, then pick up (without knitting) 11[11, 13] sts from thumb CO edge with another needle. Pick up 2 more stitches on each side, to close the gaps. Arrange your stitches so that they're divided in half, divided between the two 'corner' stitches. Rejoin the yarns so that you're in position to work the front stitches (starting from one of the corner stitches).
26[26, 30] sts total.
Beginning on front needle, join yarn and work appropriate size of Thumb Chart, working the charted pattern twice in each round. 10 sts rem.
Break CC, then break MC, leaving long tail. Weave tail through remaining sts and cinch shut, securing on WS.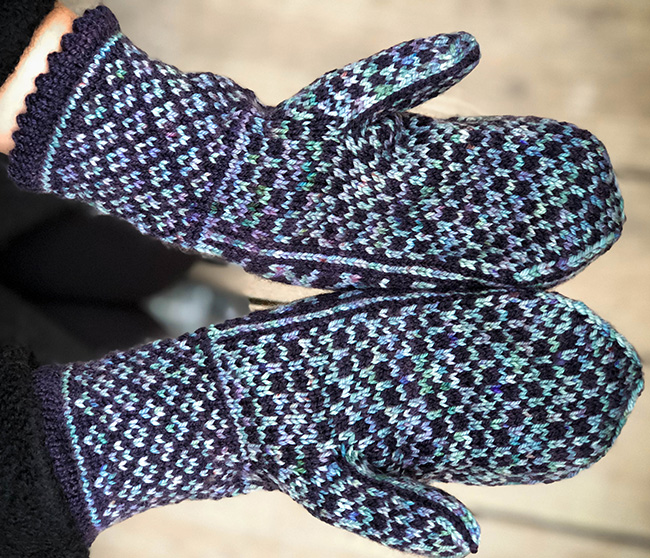 FINISHING
Handwash and lay flat to dry.
Turn mittens inside out, weave in all loose ends with tapestry needle, closing any gaps between thumb and body of mitten.
Block well.
ABOUT THE DESIGNER
Tanis Gray lives in the DC Metro area with her mechanical engineer husband and 2 young children. She teaches all over the world.
Tanis is the author of 11 published knitting books, including Knitting the Galaxy: The Official Star Wars Knitting Book, and Knitting Magic: The Official Harry Potter Knitting Pattern Book. She has over 550 published knitting designs, three Fair Isle classes on Craftsy and teaches knitting all over the world. When she's not knitting or ferrying her children back and forth, she can be found in the garden, hiking, making messes in the kitchen, or making quilts at her sewing machine.
Read more at tanisknits.com
Pattern & images © 2021 Tanis Gray