Knittyspin, a column on spinning for knitting by Jillian Moreno
SR [Finished chest measurement for sweaters] = the smallest chest measurement to the largest chest measurement we could find in the book. There may be only one pattern with the smallest or largest size, but it's in there. Books are softcover unless noted otherwise. All prices USD unless noted. We are provided with samples to review for free, and we do not publish reviews of products that do not perform well in our testing. We are not paid to review any product.
Browse the whole list of books reviewed this issue at Bookshop which gives 10% of their profits to independent bookstores across the US, and a 10% commission to Knitty for every purchase.
If you're outside the US, we also provide links to purchase on Amazon, and they give us a commission when you purchase as well. Thank you for supporting Knitty!
Surprise reviews! (January 2022)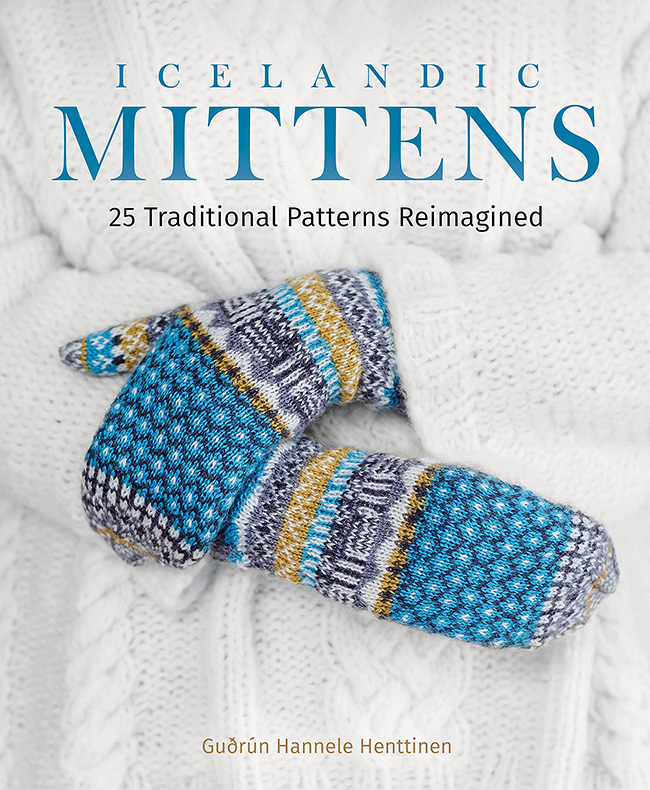 Icelandic Mittens: 25 Traditional Patterns Reimagined
by Guðrún Hannele Henttinen
Trafalgar Square Books
$31.95, hardcover
Buy now at Bookshop.org | Amazon

I live in the upper Midwest and the wind chill was -6F this morning. I have never been happier to hold this book in my hands. Quick to knit and wonderfully warm, these Icelandic mittens use traditional motifs on a smaller canvas.
All of the mittens in this book are updated from historic mittens that are in the Textile Museum of Iceland in Blönduós. Each mitten is updated in color and yarns. Guðrún owns a yarn store in Reykjavik, so she has chosen wonderful bright color palettes and has yarn substitutions that are available worldwide. None of the mittens are knit in Lopi yarn, but look like they were knit from lofty woolen-spun yarn.
The photography is beautiful and useful. Each mitten is shot on a model, and also flat to see the details on both sides. The mitten color charts are full-size, most the size of an entire page (yay!).
The text in the book is brief, but very interesting. There are the bits you would expect, tools and techniques, in the very back of the book is a useful list of technique videos that are on the author's website. There is also fascinating information on different thumbs, the Icelandic Textile Museum, Icelandic wool, and each mitten has an introduction that details the motifs used and any history available about the original pair of mittens.

JM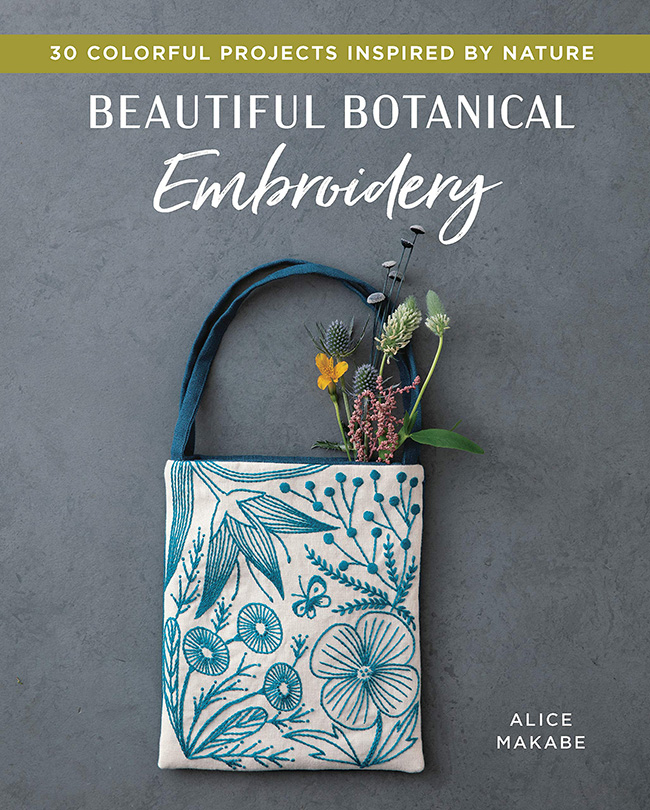 Beautiful Botanical Embroidery: 30 Colorful Projects Inspired by Nature
by Alice Makabe
Zakka Workshop
$19.99
Buy now at Bookshop.org | Amazon

The 30 projects in this book give me hope that spring is on the way. The projects are bags, buttons, pin cushions, a pillow, and a basket liner, but all of the motifs can easily be used anywhere in your own embroidery projects. The stitched motifs are shown as part of a project and also flat stitched on fabric.
The embroidery is done in limited color palettes, or variations in the same color family, which make the designs look both simple and modern. There is good information on tools and techniques, including transferring images, sewing your project together, and finishing your stitched design. All of the embroidery templates are full size and easy to trace.
All the designs are made with eight basic embroidery stitches and there are brief instructions for each in the back of the book.
I like knowing I can make beautiful things with just a handful of stitch patterns instead of feeling like I need to have a giant stitch repertoire.

JM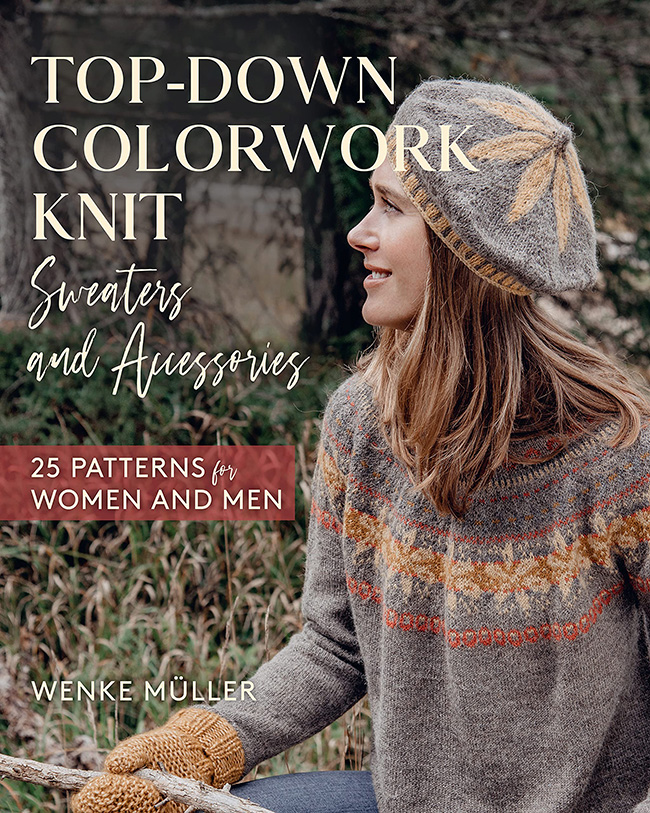 Top-Down Colorwork Knit Sweaters and Accessories
by Wenke Müller
Stackpole Books
$29.95
SR: 32-48"
Buy now at Bookshop.org | Amazon

The sweaters in this book are inspired by traditional Icelandic yoked pullovers, but have a more relaxed look through the choice of yarns, colors, and the placement and combination of motifs. There are 14 sweaters that are mostly colorwork with some cables and lace, and 11 accessories, mittens, hats, socks, a shawl, and legwarmers that complement the sweaters. Most of the sweaters use only two to three colors, and the gauge of most are 5 stitches to the inch. These are the type of sweaters I would grab for everyday wear. I could wear them hiking and camping or just going to the grocery store. If you are comfortable knitting colorwork they are easy to knit and easy to wear.
I found it interesting the variety of yarns used in the book. I wish I could reach in and feel the fabric. Lots of merino and acrylic blends that I wouldn't think would show well for colorwork knitting, but do.

The sweaters are labeled unisex (by the designer), the sweaters are labeled regular fit or loose fit. Most of the sweaters are modeled by both a woman and a man. The shapes of the sweaters are simple and not shaped through the body making them easy wear for anyone who might like to.

JM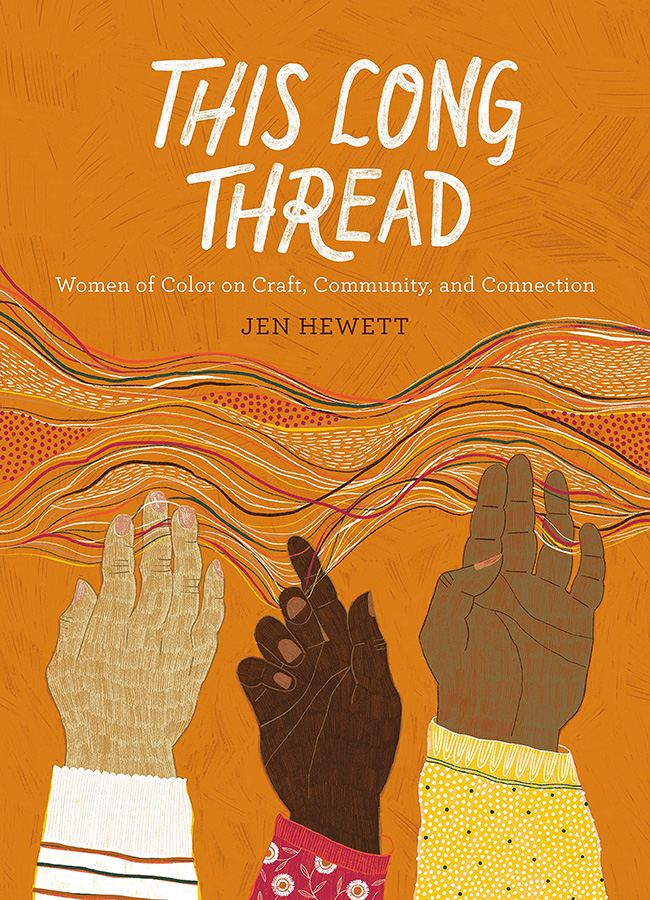 This Long Thread: Women of Color on Crafts, Community, and Connection
by Jen Hewett
Shambhala Publications
$24.95
Buy now at Bookshop.org | Amazon

This is the most significant craft book to come out this year. I encourage anyone who is interested in the perspective and experiences of BIPOC makers to buy and read this book. I'd like to hand this book to every white person who crafts for pleasure or business; it is that important, eye opening.
Jen Hewett gathered 269 contributors for this book, some via survey, some she interviewed, some wrote essays. There are makers who have been making as their sole income for years, makers who are new to turning their craft into a business, and many who craft as hobby. All shared their experiences and opinions as makers of color.
I'm not going to try to tell you what your take away will be or how it may (hopefully) change your views of our world of fiber crafts, but I am going to tell you if you want to foster change and care in our community, read this book.

JM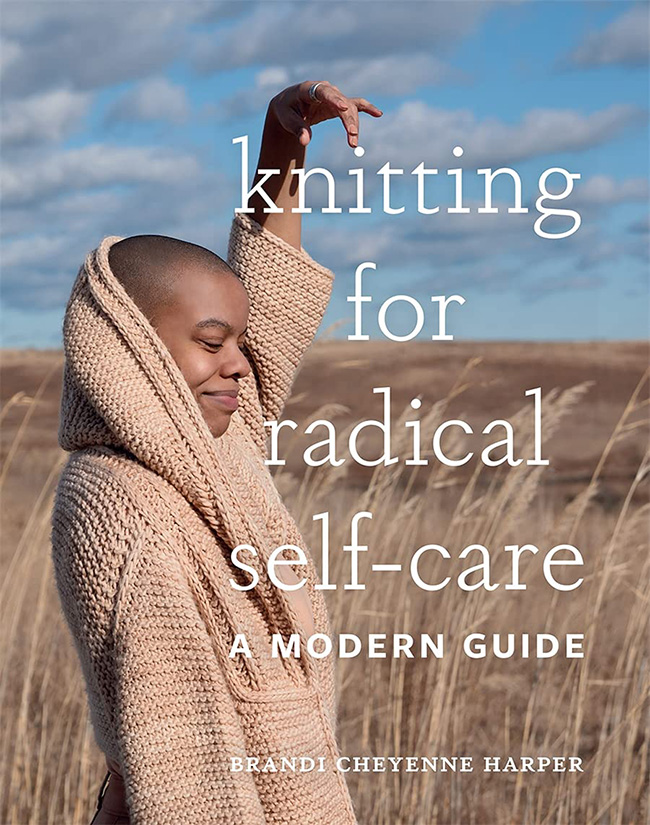 Knitting for Radical Self-Care: A Modern Guide
by Brandi Cheyenne Harper
Abrams Books
$24.99, hardcover
SR= 37"-65"
Buy now at Bookshop.org | Amazon

This book is much more than kitting patterns. There are patterns and knitting techniques shown for knitters with beginning to more advanced skills. The patterns are stunning, sculptural, knit in heavier wool, sometimes loosely for drape and sometimes tightly to emphasize the geometry of the pattern. There are two jackets, four cowls, and one each of a shawl, hat, mittens and a scarf, all with modern shape and structure, most would be equally at home on display in an art gallery or worn to a coffee shop.
The essays, and the author's voice are what make this book for me. Brandi Cheyenne Harper writes with authority and kindness. She lays out her principles of radical self-care, and how she lives them daily. For these essays she reaches into her own journey and inspiration from her heroines Toni Morrison, Sojourner Truth, Octavia Butler, and Audre Lorde.
This is a handbook to empower and nurture yourself. Not just for ourselves, individually. This is not the self-care that drives us to buy another candle, but the type of care that allows us the courage and strength to live in our creativity and cultivate our communities.

JM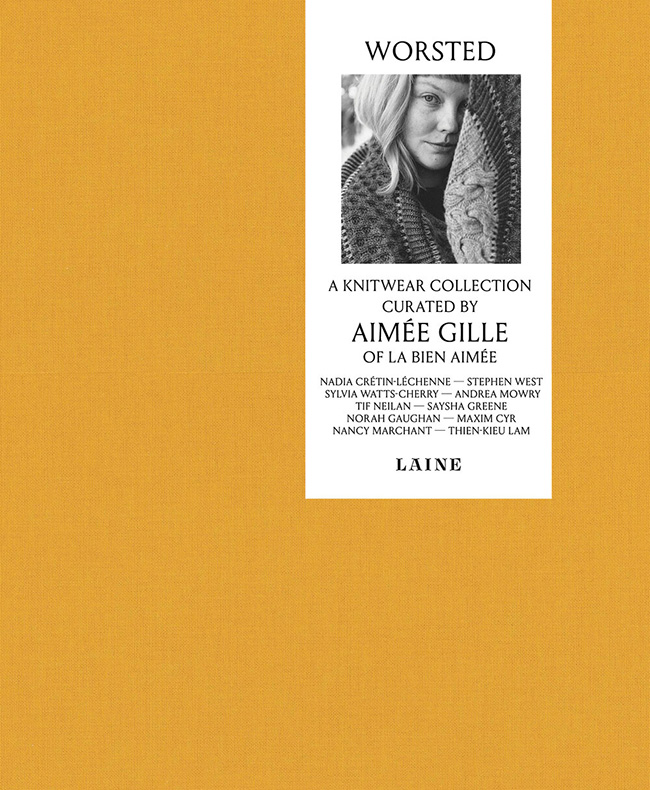 Worsted: A Knitwear Collection Curated by Aimée Gille of La Bien Aimée
by Aimée Gille
Laine
€29.90, hardcover
SR= 30-60"

Buy now at La Bien Aimée | Laine

This is a thoroughly splendid knitting book. The designs, the photography and the yarns are beautiful, and they all work together like some perfect knitting choir.
There are 14 knitting patterns, designed by fan favorites Stephen West, Tif Neilan, Nancy Marchant, Nadia Crétin-Léchenne, Maxim Cyr, Sylvia Watts-Cherry, Andrea Mowry, Norah Gaughan, and Saysha Greene.
All of the patterns are knit from Aimée's newest yarn. During lockdown, she developed her first worsted weight yarn: Corrie Worsted , a mixture of Corriedale and Gotland. I have yet to touch it, but I can imagine that it is pretty wonderful. It shows great stitch definition in the textured stitch patterns, and drapes well in shawl patterns.
Wait until you see the colors! She chose to use a grey as the base, and it gives amazing depth and continuity to her colors.
I would knit every pattern in this book in the exact colors shown. Which is rare for me for any knitting book. Three patterns especially spoke to me: Stephen West's riot of texture and cables shawl, Knitprovisation; Tif Neilan's sweater, Stratified, which is simply striped with the twist of a bit of texture and stripes of perfectly different widths; and the jaw-dropping Amina, a sweater by Sylvia Watts-Cherry, that combines colorwork and texture stitche.s and is inspired by indigenous tribal African textiles.

JM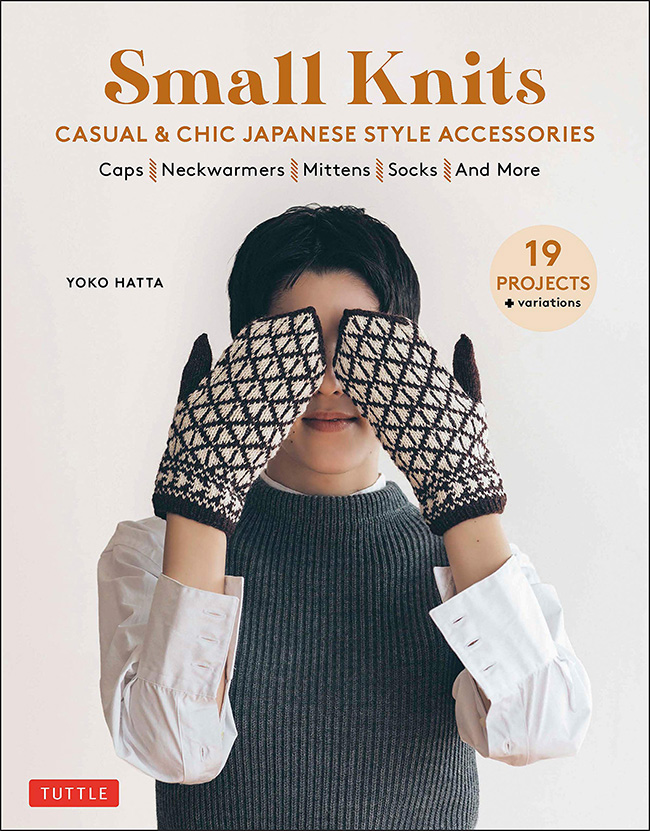 Small Knits: Casual Japanese Style Accessories
by Yoko Hatta
Tuttle Publishing
$16.99
Buy now at Bookshop.org | Amazon

The longer I knit, the more I like knitting accessories. They are easy to cart around, and I can learn so many techniques on a smaller (and quicker canvas).
I am particularly fond of the many Japanese pattern books that have come out in the past few years. This new one by Yoko Hatta is no exception.
The patterns are stylish, sophisticated and cool. They are accessories that transcend different styles, equally at home with cottagecore or preppy looks.
This collection of 19 patterns has lots of beautiful colorwork, and the patterns are knit in mostly DK- and fingering-weight yarns. The patterns are written with a chart as their core. Just the basics are in the written part of the pattern, the majority of the directions you'll find via the charts. They can look intimidating at first, but they are genius once you work your way through.
The patterns use classic stitches and motifs for mittens, cowls, socks, handwarmers, and hats. I'm particularly fond of the Argyle Neckwarmer (argyle needs to come back!), the Nordic Handwarmers (but in multicolor), and the Aran Hat that looks both squishy and carved out of stone.

JM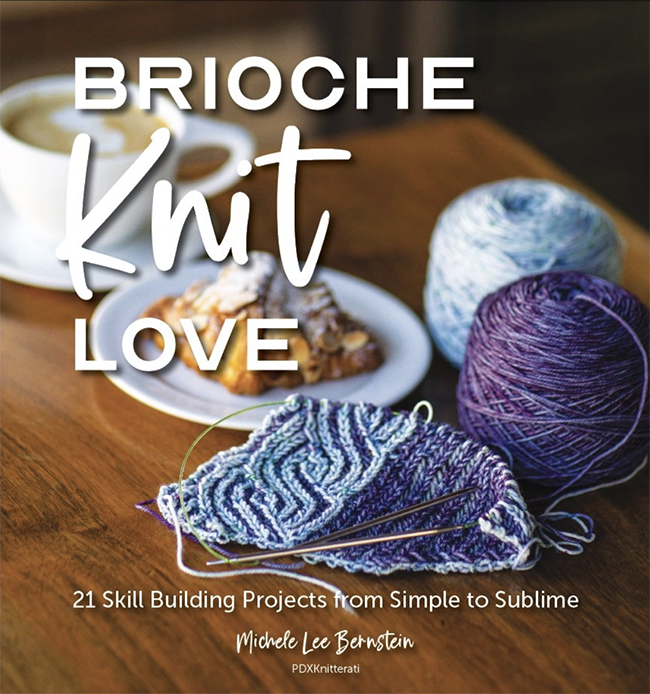 Brioche Knit Love: 21 Skill Building Projects from Simple to Sublime
by Michele Lee Bernstein
Library House Press
$24.99
Buy now at Library House Press

This is my favorite type of technique book – the type where an author leads you, almost sneakily, through a bunch of techniques. In Brioche Knit Love, Michelle Lee Bernstein cloaks each brioche technique in a project. She does it so well and so seamlessly that if you knit you way through this book you will be an intermediate (if not more) brioche knitter by the end. Starting with brioche knit and purl, she adds a little something with each of the 21 accessory projects.
She covers brioche basics, knitting in the round and flat, both throwing and picking, 2-color brioche, syncopated brioche, shaping brioche, and ends with combining all the flavors.
An excellent bonus to this book are the video tutorials for stitches and techniques that Michele has on her website. This is a great book, so easy to follow and unintimidating. Most of the projects are knit in worsted or bulky yarns, so you can really see what going on as you learn, and the projects go quickly.

JM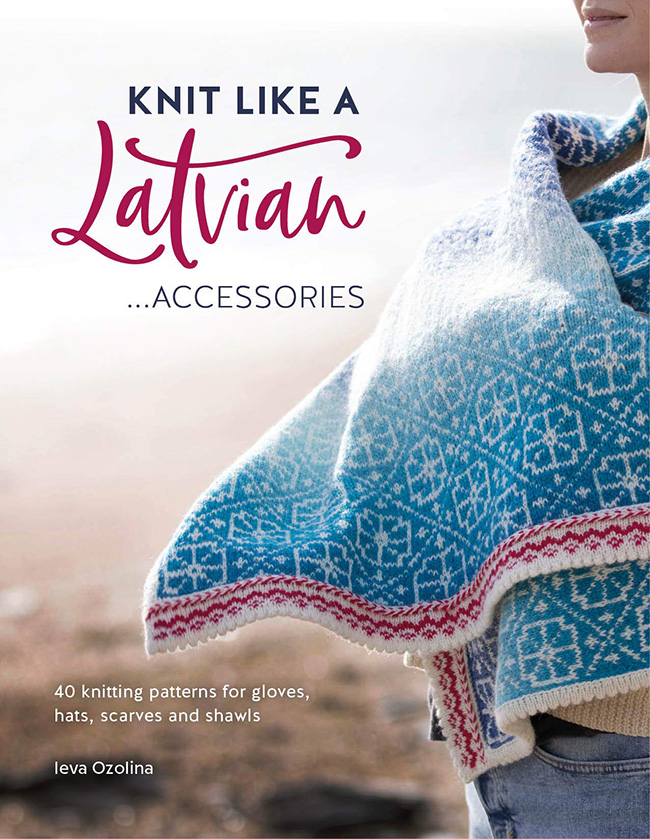 Knit Like a Latvian: 40 Knitting Patterns for Gloves, Hats, Scarves, and Shawls
by Ieva Ozolina
David & Charles
$22.99
Buy now at Bookshop.org | Amazon

This is the third volume in Ieva Ozolina's Knit Like A Latvian series. It focuses on accessories and has a staggering 40 patterns packed in a slim volume. The patterns are colorwork – mostly gloves and fingerless mitts – but there are hats, scarves and shawls.
The gauge for the patterns that aren't gloves is missing. I eventually went to the yarn's website, and found the yarn, and it has a gauge of 22 stitches to 4 inches. The glove and mitt patterns all work from the same recipe.
The beauty of these patterns are the stitch motifs. They come from various parts of Latvia, some with roots in ancient symbols. Many are familiar, clearly related to other knitting traditions, but some I've never seen before, and have a beautiful cross between geometric and botanic quality.

JM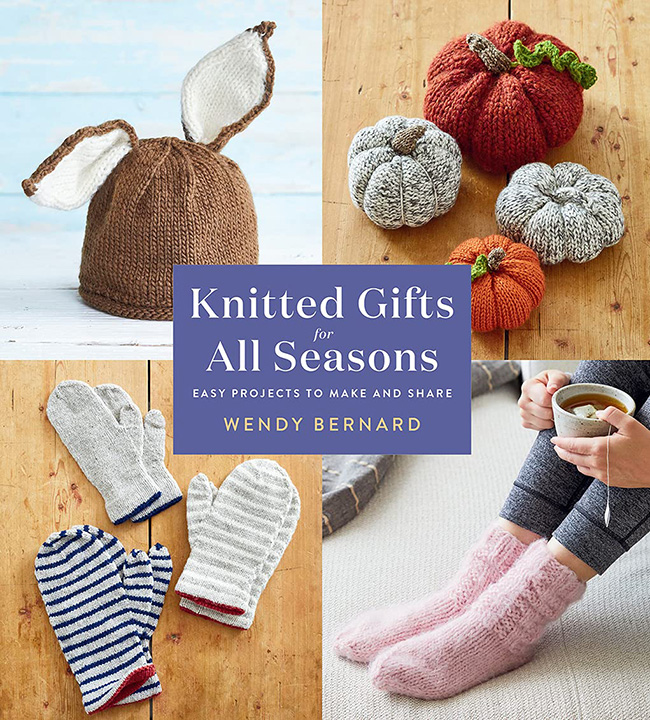 Knitted Gifts for All Seasons: Easy Projects to Make and Share
by Wendy Bernard
Abrams Publishing
$24.99
SR= 34-54"
Buy now at Bookshop.org | Amazon
Knitted gifts aren't just for winter. In her latest book, Wendy Bernard brings us gifts to knit year-round. This delightful book is divided by season with an excellent variety of patterns for each part of the year.
Each season has a garment or two, a home décor knit, something for kiddos, and accessories to wear. The designs are fun and interesting to knit without being difficult or fiddly. I like the idea of the home deco patterns like, the coasters, a tree skirt, and knitted pumpkins, to surround yourself with knitting all year.
There are quite a few designs in here that will be hits with recipients big and small. Look at the Foxy Poncho (I know knitters that will be sizing this up), Trellis Scarf, Tassel Tank, and Holiday Lights Sweater (sized for kids and adults).

JM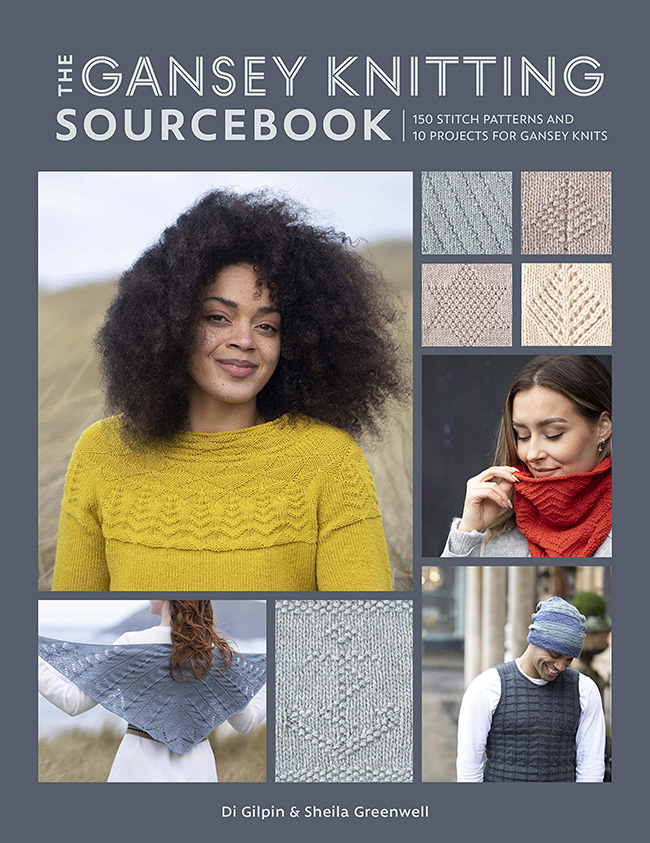 The Gansey Knitting Sourcebook: 150 Stitch Patterns and 10 Projects for Gansey Knits
by Di Gilpin and Sheila Greenwell
David & Charles
$24.99
SR=32-48"
Buy now at Bookshop.org | Amazon

It is clear that Di Gilpin and Sheila Greenwell have a great love for their subject. They've researched both the history and construction of ganseys. In the process of writing this book, they were given a box of several sweaters and knitting notes by a stranger (at the time) who heard they were collecting sweaters and information on ganseys, and had been holding on to this box of her grandmother's waiting for someone to need it. This knitter's sweaters and pattern notes have never been published before.
This book is packed with information and techniques. There is an excellent discussion of shoulder straps and gussets, both underarm and neck. Somehow, they managed to pack 150 gansey stitch patterns in here, divided by their overall shape, diamonds, cables, herringbones, etc.
Wait there's more! There are 10 gansey-inspired patterns for kids and adults: sweaters, mitts, a vest, a shawl, a hat, socks. Alittle bit of everything, some with instruction on how to swap motifs.
This is an excellent resource for knitting ganseys. I wish it had been published in hardcover, because it's a book I'll be referring to frequently.

JM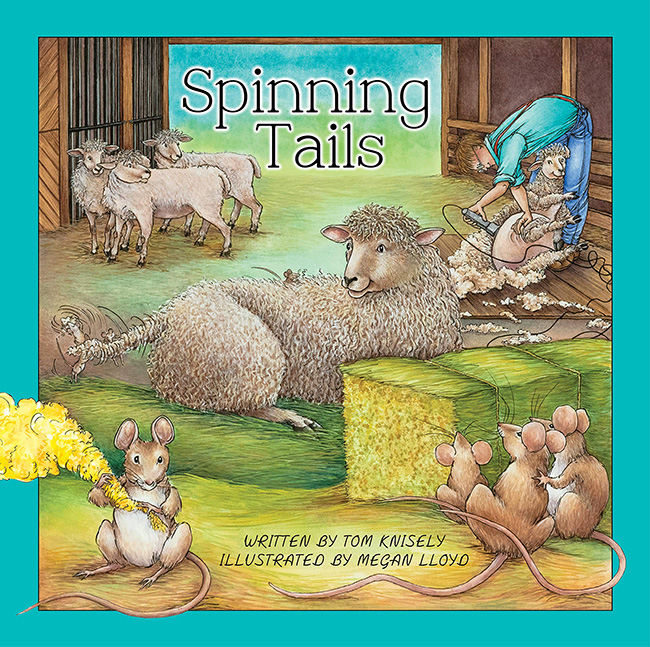 Spinning Tales
by Tom Knisley and Megan Lloyd
Stackpole Books
$16.95, hardcover
Buy now at Amazon

This is a delightful picture book for kids of all ages. A mouse family watches as the weaver shears his sheep, dyes the fleece with goldenrod, and spins it into yarn to weave into a blanket for a friend. The mice, tired of sleeping in scratchy hay, steal some of the dyed fleece to make a cushy bed. The weaver runs out of yarn before the blanket is finished, and goes to bed frustrated. The mouse family gives up their soft bed, spins the fleece in their own special way and leaves it for the delighted weaver.
The book shows the process of making and dyeing yarn in a way that kids will understand, and they will certainly get a kick out of the ingenious way the mice spin their yarn.
The illustrations are bright and full of life, with lots of interesting detail around the edges.

JM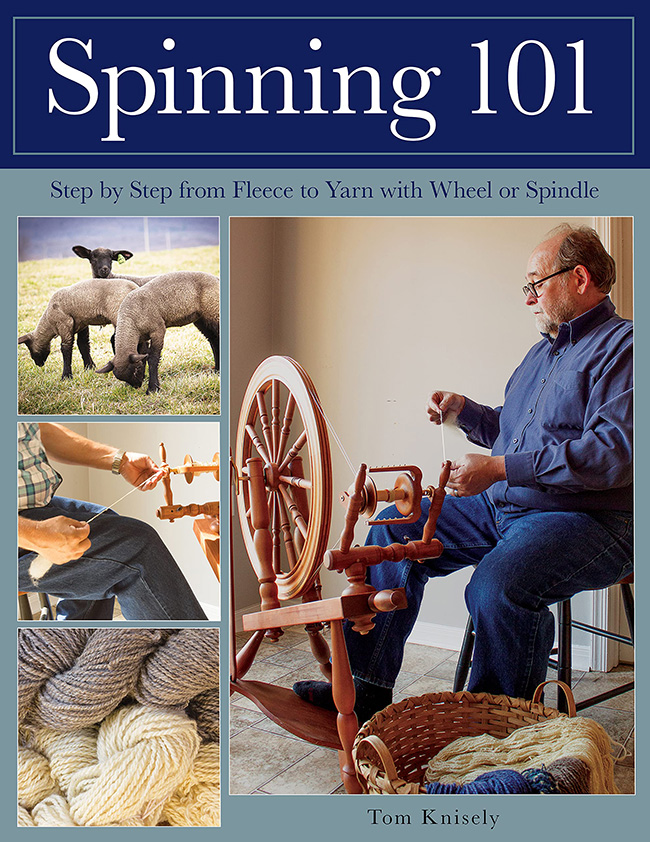 Spinning 101: Step by Step from Fleece to Yarn with Wheel or Spindle
by Tom Knisley
Stackpole Books
$24.95
Buy now at Amazon

Tom Knisley has been spinning and weaving and teaching both crafts for decades. This is his first spinning book, and it is for beginning spinners. If you have never spun an inch of yarn, this book will get your spinning.
Working from raw fleece, Tom shows how to wash, prep (both carding and combing), spin, ply, and set yarn. These are all Tom's methods of washing, prepping, spinning etc. If you have taken a class with another teacher and they approach it differently, no one is wrong. Every teacher has a different approach; you as a student need to find the way that clicks.
The greatest part for me about this book is the photography. There are many photos that are beautiful, but the ones that I found most useful are the super close-up photos. They are the type of photos that make it clear that Tom had a hand in the photography, if he didn't take the photos himself. You can see exactly what he's doing – working with combs, carding, drafting or even tying a leader – the close-ups are just great.
Do not despair if you learn better from reading rather than photos. Every step (and more) shown in the photos is also described in detail. The lessons are easily broken apart, so if you aren't interested working from fleece, or prepping your fibers (yet), you can skip ahead, or skip around and learn what you want.
This is a solid book for anyone wanting to learn to spin or to brush up on their spinning or fiber prepping basics.

JM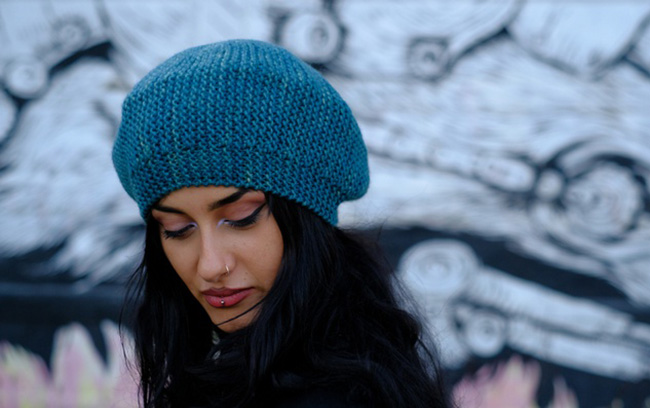 Turnng Sideways: Beret and Slouch
by Woolly Wormhead
Online class
$75
Buy now at WoollyWormhead

The next class in hat-goddess Woolly Wormhead's Turning Sideways series adds a little ease and a little complexity with a beret and a slouch hat.
This class ticks all my boxes of what I like in an online class. The class is an interesting topic that is explored in depth. There is a review of basics, hat shaping and sideways knitting in general. It is very thorough when going over math, and explains math in different ways for different learners. It gives the why as well as the how on a topic or technique. It has key techniques as separate videos so I don't have to go digging for how to do German short rows. It has an excellent workshop handout (50 pages), and written transcripts for lectures and skills. The videos are downloadable for offline viewing.
Woolly could teach a lot of teachers a thing or two about building an online class.
Woolly's hats are knit flat – that's the sideways part. She does a fantastic job of discussing the architecture and construction of hats. She always starts with a basic beanie (her first online class is on beanie and pixie hats) and compares what you know to what you will learn, through both diagram and knitting. Then she moves in increments, teaching about working with panels and how to create volume with short rows, comparing and contrasting different numbers of panels and comparing them to the basic beanie as a touchstone.
If you are interested in hats, learning interesting construction, or just taking a really well-made knitting class, this class is money well spent.

JM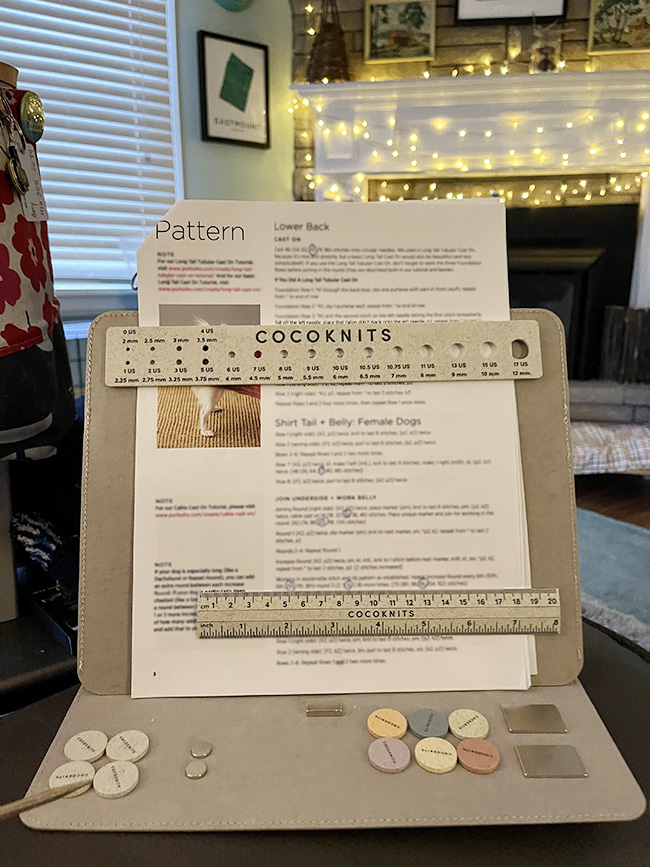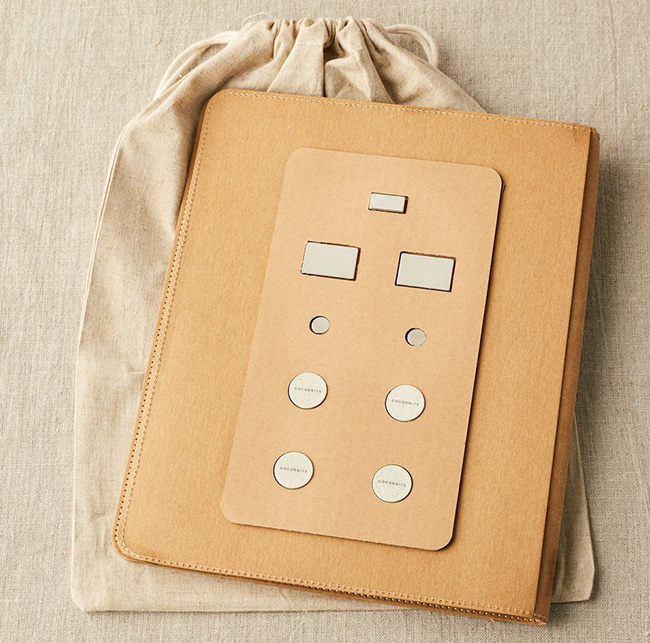 Maker's Board
by Cocoknits
available in gray (shown top) or kraft (shown bottom)
11"/8 cm x 9"/23 cm (when folded)
Includes everything shown in the picture immediately above.
(accessories shown in top picture: 6 colorful magnets sold separately for $12, and ruler and gauge set: $15)
$36
Buy now at Cocoknits or your local yarn shop

Despite having so much of my life online, I am still a fan of using paper patterns for my own knitting. I have ADHD, and being able to write on paper works better with my brain. So when I saw the Maker's Board in an email from Cocoknits, I asked to review it. Because I had questions.
I've been skeptical of products made from paper like this. How durable and useful could it be? It's described as "sturdy washable paper", and knitters, it's awesome. It's a lightweight but strong and durable material, and it feels a little like rigid canvas. The fact that it's environmentally conscious is pretty great. It comes in a strong and attractive linen drawstring bag that you can use to transport it, or simply fold it up and tuck it in your knitting bag. It's sized like a print magazine, so it's super portable. The included magnets shown on the kraft version above (they come on a cardboard card that protects them in transit) are more than sufficient to make this the perfect printed pattern tracker. There's a lightweight magnetic plate hidden inside the board, and the magnets hold on tight. Cocoknits also sent along a ruler and needle gauge set for me to test, and they work really well together as you can see in the top picture. The magnets (and the ruler/gauge set) are made from 100% fiber waste called PLA (polylactic acid), which is made from fermented plant starch such as corn, beets or sugar cane. It is 100% biodegradable, not water soluble, and plastic free. It feels cool, rigid, and smooth, but light. It's a very neat material.

I have my Maker's Board sitting on the left arm of the couch, in my knitting spot. It is stable and even if the dog hits it with her tail, the magnets don't move. They're super strong.
I love finding things that make my neurodivergent brain work better, and the Maker's Board is my newest favorite find.

AS