Cool Stuff - Knitty's opinions on products and books we like. We don't publish reviews of things we don't like.
SR [Finished chest measurement for sweaters] = the smallest chest measurement to the largest chest measurement we could find in the book. There may be only one pattern with the smallest or largest size, but it's in there. Books are softcover unless noted otherwise. All prices USD unless noted. We are provided with samples to review for free, and we do not publish reviews of products that do not perform well in our testing. We are not paid to review any product.
Browse the whole list of books reviewed this issue at Bookshop which gives 10% of their profits to independent bookstores across the US, and a 10% commission to Knitty for every purchase.
We also provide links to purchase on Amazon, and they give us a commission when you purchase as well. Thank you for supporting Knitty!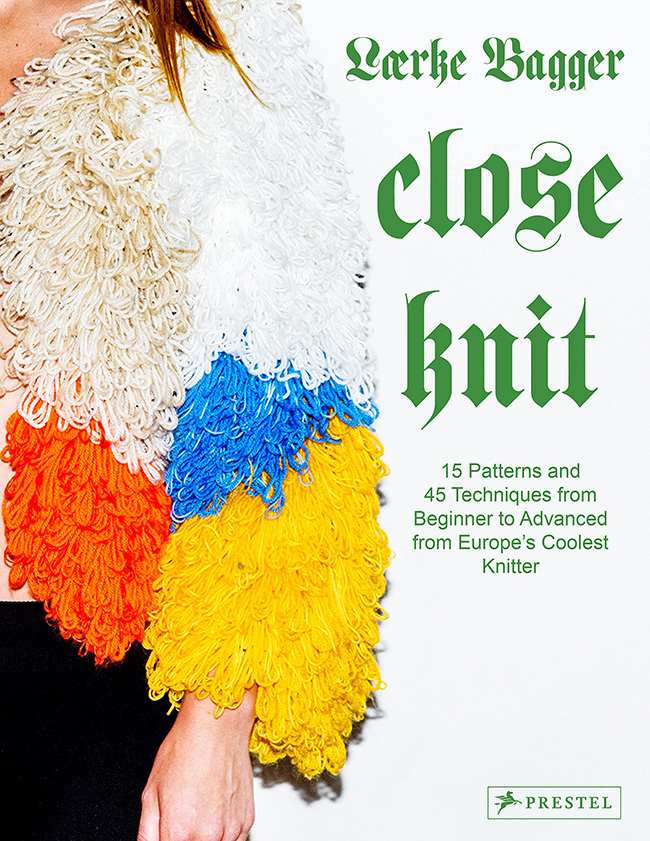 Close Knit: 15 Patterns and 45 Techniques from Beginner to Advanced from Europe's Coolest Knitter
by Lærke Bagger
Prestel
$35, hardcover
SR=39-53"
Buy now at Bookshop.org | Amazon
You know that feeling on a hot, hot summer day when you jump into a cool lake or pool? I feel transported, awake, excited, and soothed by the cool. That is the same feeling I had when I opened this book.
Lærke Bagger is a Danish knitwear designer known for her unique designs and her inspirational approach to knitting (and life). This book is bursting with color and exciting approaches to knitting. There are 15 patterns for accessories and garments for children and adults that are templates to play with. You can modify gauge, yarns used, and of course embellishment and interesting techniques. She uses embroidery, beads and looped pile most frequently.
This book (which I keep right next to my knitting spot) really gives me ideas that are different, but work well layered with standard knitting methods and patterns. There are so many ideas on how to approach and think about knitting before she even gets to knitting techniques.
I would probably buy this book for the photos alone. Just the pages from her design journals are so inspiring. She uses scrap knitting in most of her designs, combining various bits and bobs of different yarns, and the effect is electric. If you want to try this technique, she has small projects, like a scrunchie and a pillow, to sample your own scrap knitting style.
Lærke is the type of designer that, through her work and her encouraging explanations, really invites you – frees you really  – to explore and sample beyond your regular knitting style.

JM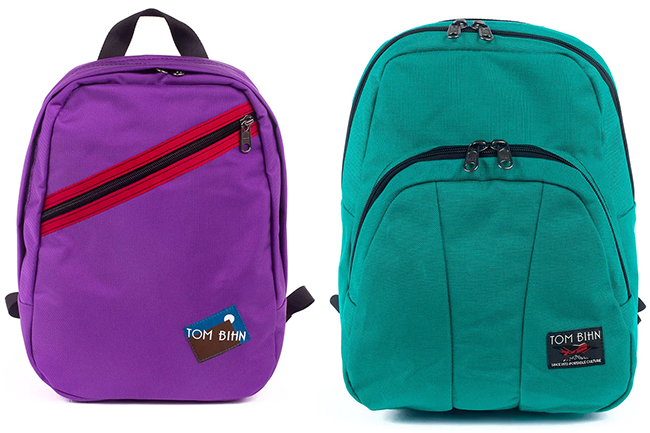 Zeitgeist (above left, shown in Alphaviolet); Paradigm (above right, shown in Mayura)
by Tom Bihn

Zeitgeist: $120
size: 9.8" (w) x 12.8" (h) x 4.7" (d) / 250 (w) x 325 (h) x 120 (d) mm
Paradigm: $150
size: 9.8" (w) x 12.8" (h) x 7.7" (d) / 250 (w) x 325 (h) x 195 (d) mm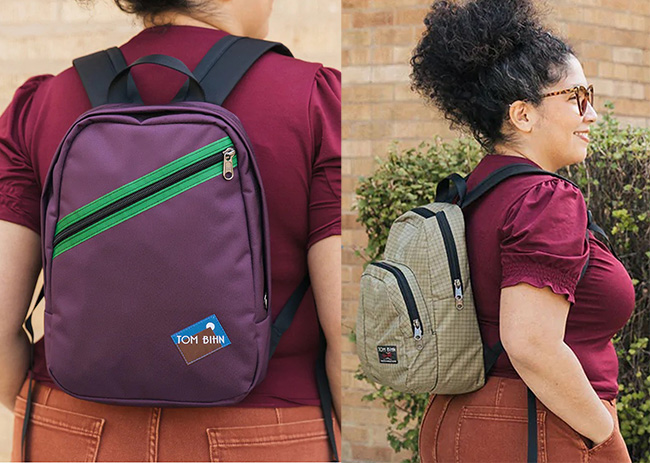 Buy now at TomBihn

Zeitgeist and Paradigm are what happens when the most loyal Tom Bihn fans ask for a 'purse-sized' backpack, something smaller for every day. The general measurements are the same about 10x13", and they are made of the same bomb-proof, you'll-be-handing-it-down-to-your-niblings Tom Bihn fabrics. They both have a padded device pocket that fit my regular ipad perfectly, comfortable straps, and a top handle strap if you don't want to carry them on your back.
For knitting, these bags are for smaller projects or pieces of bigger ones. They both were fantastic when I carried sleeves one days and a shawl in progress on another. I also had my ipad (for my pattern), my knitting tools bag, phone and wallet. I used them for shopping too and was able to fit, just barely a sweater quantity of yarn in them both, but boy were they chubby. Thank goodness for strong Tom Bihn zippers.
For spinning, I felt most comfortable carrying spindles in these bags. I could fit my Daedalus Sparrow or my EEW Nano in them, but not in a way that was comfortable for wearing or feeling that they wouldn't get squashed.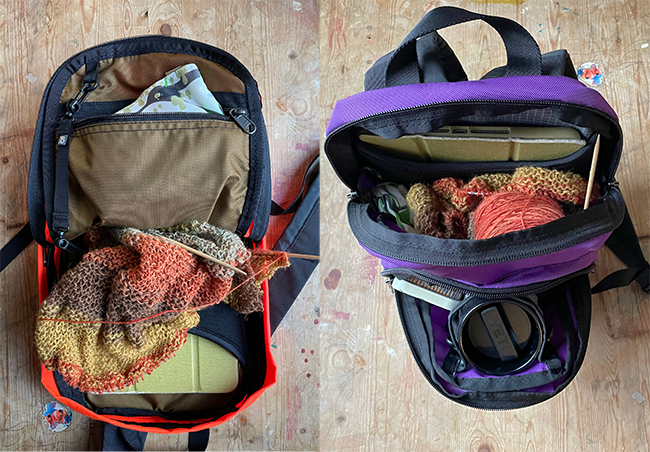 Here's where the two bags diverge – the overall look and pockets.

The Zeitgeist (above left) is a throwback bag. It's all '80s/'90s in style, down to the Tom Bihn label. This is the smaller of the two. It has three o-rings and two large zipper pockets. One pocket on the outside, and one on the inside of the flap.
The Paradigm (above right) has a big (for the bag's overall size) 3d pocket on the outside and no extra pockets inside. The outside pocket is divided into three sections. The two outer sections also have open, flat, slip-in-something-small pockets against the body of the bag.
The middle pocket is a little larger and has a drain hole at the bottom of the pocket. You could use it for an umbrella, but for me there will never not be a 12 ounce Yeti full of tea in there (bliss). This divided pocket is such a great way to keep track of smaller things that usually just get tossed into a pocket and sink to the bottom – phone, keys, doggy poop bags, altoid tins, a tiny knitting kit. There are four O-rings in this bag, two in the main compartment and two in the outer pocket.
These little revolutionary loops allow you to clip small Tom Bihn organizational pouches on to your bag, or clip your keys in your bag so they are easy to find. True confession, I have sewn a clip loop for my keys into many of my bags that are not from Tom Bihn, such an easy, life-changing hack.

JM

Meet MUUD!
Muud is a Danish lifestyle brand of bags and accessory cases, distributed in the US by Universal Yarn. All their products are made at their own factory in India. There are bags and cases in almost every configuration, and we'll be reviewing many of these over the coming issues. What we've noted already in the samples we've gotten to test is that they're made of lightweight but sturdy genuine leather with smooth-moving zippers and clever features with a lot of storage and customization options. Stay tuned!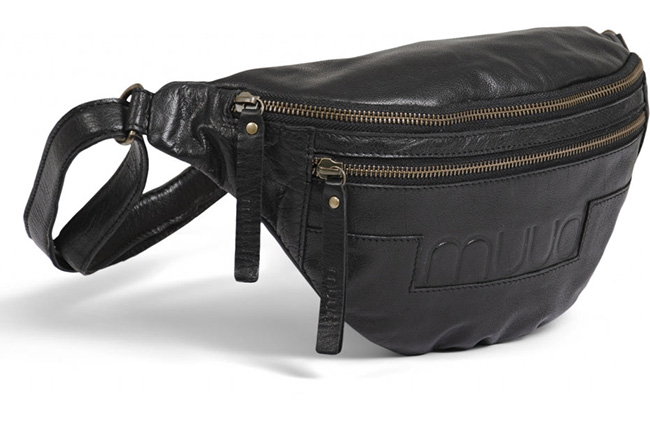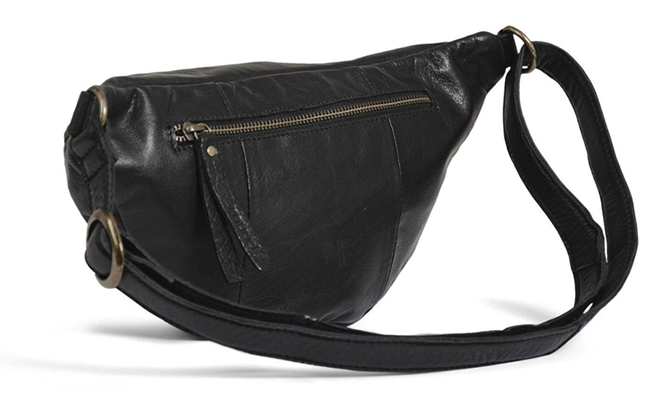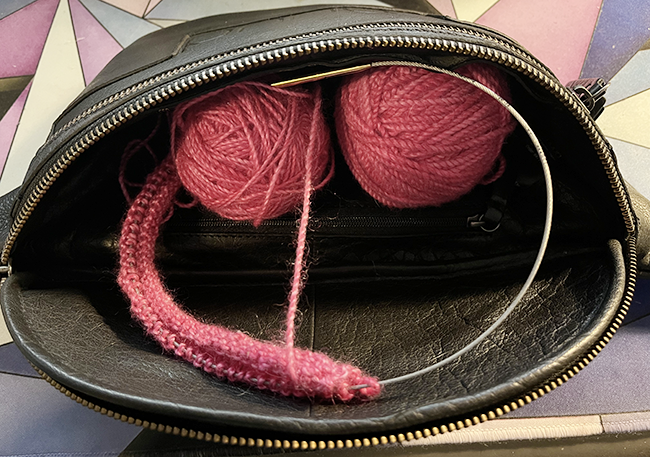 Vegas bumbag
by Muud
13.5 inches/34cm wide | 6.6 inches/17cm tall
genuine leather
available in whisky and black (shown above)
$100

Buy now at Universal yarn
There's no secret here: yes, this is a bag that can work for small knitting projects, but it's also a super-cute fanny pack that I've been wearing as a cross-body daily carry since the moment it came through the door. It's FULL of pockets. There's a wide one across the front; the main compartment that would hold a ball of sock yarn and needles and small tools, but currently holds my wallet and small makeup bag (and inside that compartment, a flat pocket on the back wall); plus a cellphone-sized zipper pocket on the outer back side of the case that would hold a Max-sized phone easily. I'm a plus-sized woman and the provided strap adjusts to fit me easily.
There is also an XL version of this great bag ($165, not shown), and it's less stealthy, but much roomier, for bigger projects. It can also be worn cross body or around the hips.
---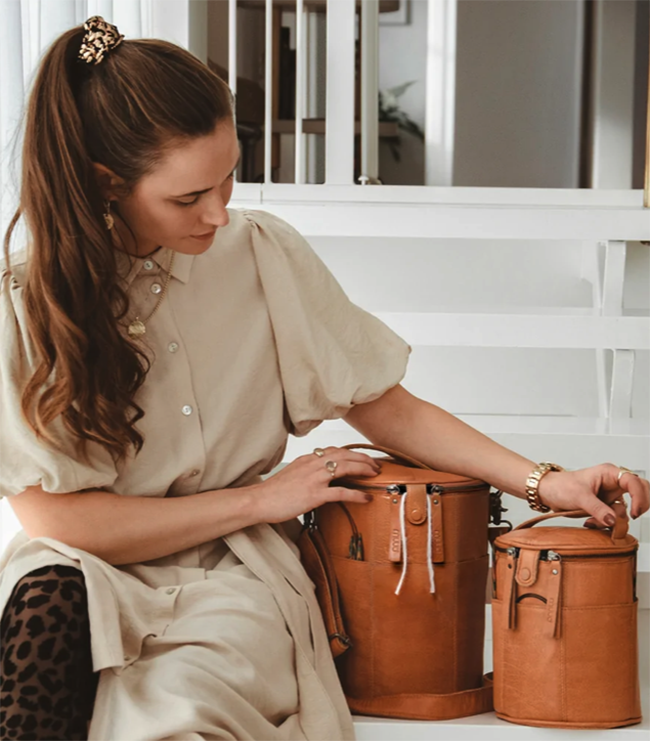 Saturn XL (left) and Saturn (right)
by Muud

Saturn XL (shown below): 8.25inches/21cm wide | 11inches/28cm tall
Includes detatchable, adjustable shoulder strap
$165 (Limited Edition Black with gold zippers: $195)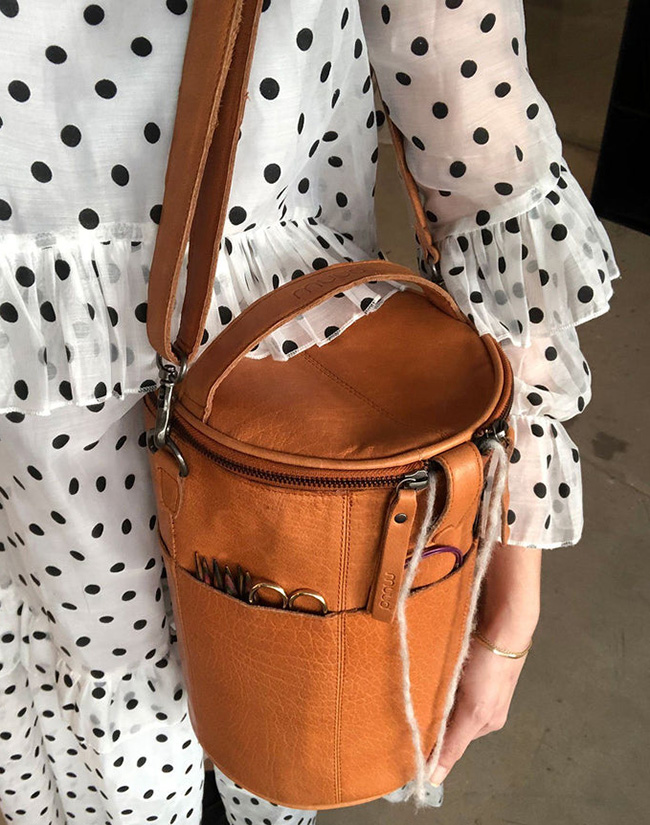 Saturn (shown below): 6.25inches/16cm wide | 11inches/20cm tall
$130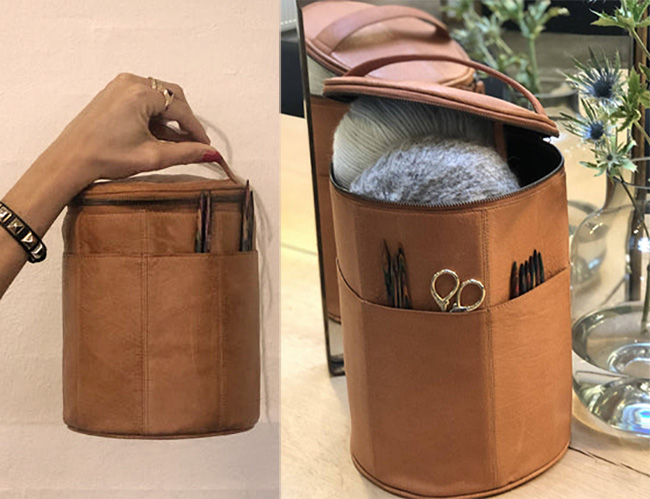 both in genuine leather
available in whisky (shown above) and black and special Limited Edition in Black with Gold zippers

Buy now at Universal yarn
The Saturn bags, available in two sizes, are both pretty sexy bags. Both are surrounded by flat pockets that are perfectly suited for needles of all descriptions, and flat knitting tools like rulers or scissors. The pockets are deep, and run all the way to the bottom of the bag.
Inside the bag, MORE POCKETS! These are roomier and can hold anything that needs storing, short of yarn. Your phone and wallet will also fit inside nicely.The big open section is where the yarn and your project(s) go (and as you see in the photo below, there are other smaller accessory pouches available that can be used to customize your bag further (not included). The bags are lined in a smooth black fabric, and the zippers that close the bag do so sturdily and securely.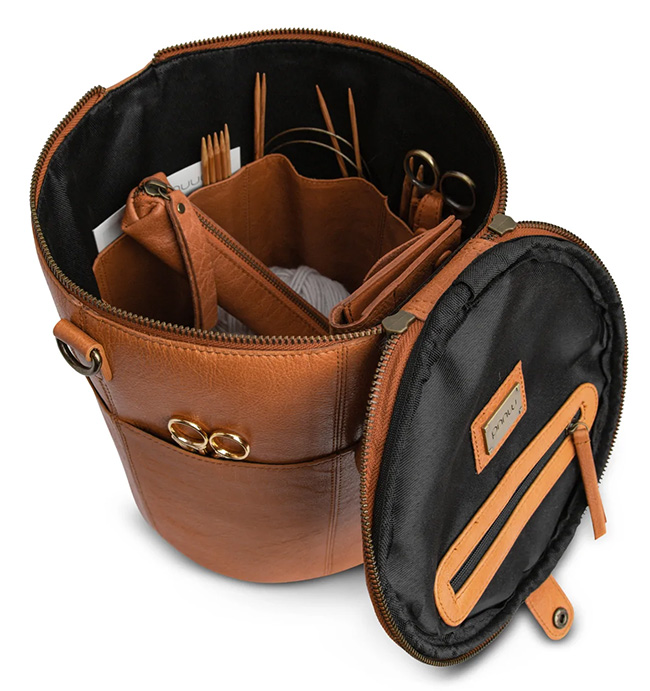 Zippers on a knitting bag can be problematic, but these clever bags have a space at the front center of the bag opening, where yarn can slide out as you work without coming in contact with the zipper (see below). A snap closure will help you separate two different strands of yarn as you knit from them. It's a clever design.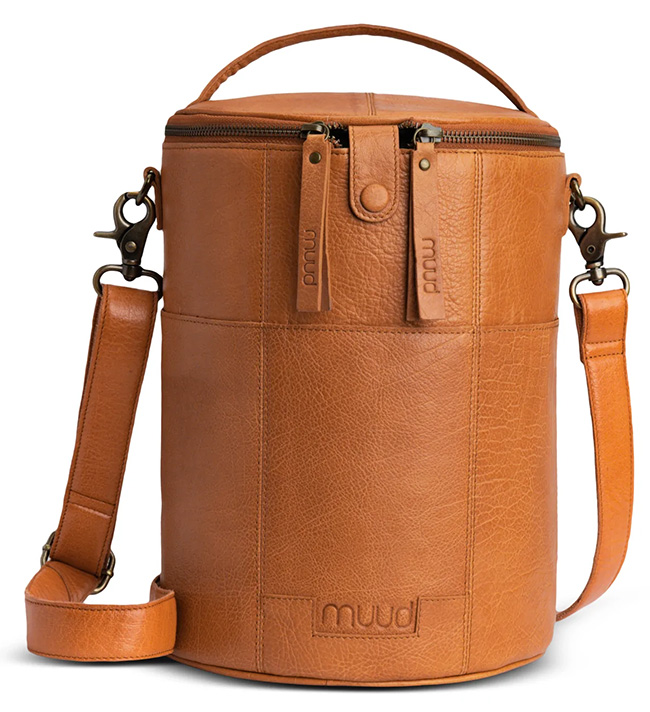 The Saturn XL is big enough for nearly any project in progress, save a big afghan. The Saturn is suitable for smaller projects like sweater parts or multiple socks. Both have top handles, and the XL has a shoulder strap that adjusts. Both bags are beautifully self contained, portable knitting studios that will let you take all the things you need wherever you knit, even if it's from upstairs to downstairs. Solidly made, but not heavy, beautiful accompaniments to the beautiful things you make.

AS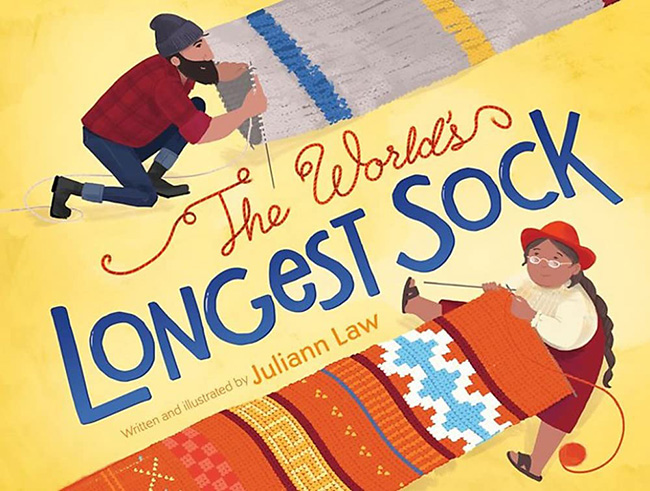 The World's Longest Sock
by Juliann Law
Worthy Kids
$17.99, hardcover

Buy now at Bookshop.org | Amazon
The World's Longest Sock is a wonderful picture book that gives us a lesson about competition. The art is bright and beautiful, with lots of detail, and the story is fun and positive.
Nina in Chile and Chuck in New Zealand are competing for the award of The World's Longest Sock. What's starts out as fun quickly slides into finding out that knitting all of the time has a less than great outcome to their relationships with friends and family. In the end they come up with a genius compromise, working together for a win is always better than the grind of competing alone. Two socks, after all, are better than one.

JM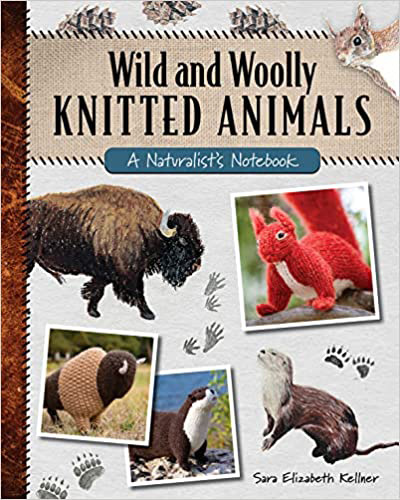 Wild and Wooly Knitted Animals
by Sarah Elizabath Kellner
Stackpole Books
$24.95

Buy now at Bookshop.org | Amazon
Sarah Kellner has quite an eye for all kinds of animals and the skill as a designer and knitter to make them both lifelike and cuddly. Wild and Woolly Knitted Animals isn't just a book of splendid toy patterns. Each animal has a page of facts and beautiful naturalist illustrations.
Fun fact: the illustrations were done by her son, and the hand lettering and research by her daughter. The loose but detailed illustration style and hand lettering of these pages are the perfect foil for the pages of patterns. They really help bring the knitted animals to life, plus who doesn't like learning a few animal facts?
The animals have so much personality and detail. Check out the expression on the racoon's face, and the webbed feet details on the mallard duck. I really like that they are big enough to hug.
The patterns are easy to follow, but do need some attention. The patterns are knit with a combination of in-the-round and flat construction, with some intarsia and embroidery. The finished pieces are seamed, stuffed, and frequently embellished.
This is not a book for a knitter that is just learning. There are no how-to instructions. But a new knitter with enthusiasm and patience (and maybe a more experienced knitting friend on hand) could make these toys. Intermediate and experienced knitters will breeze through them.

JM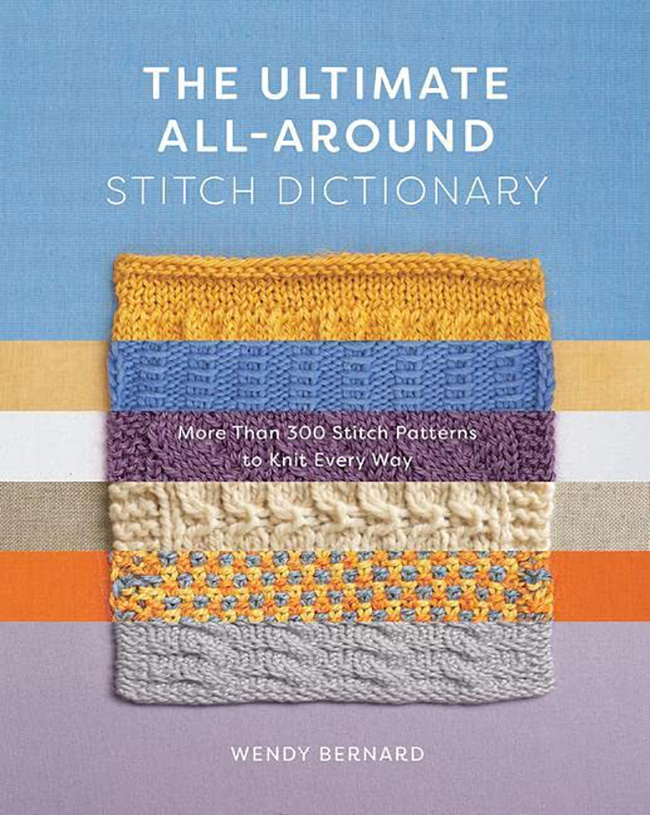 Ultimate All Around Stitch Dictionary: More than 300 Stitch Patterns to Knit Everyday
by Wendy Bernard
Abrams
$29.99

Buy now at Bookshop.org | Amazon
This is a greatest-hits collection from Wendy Bernard's first two All-Around Stitch Dictionaries, plus 30 new patterns.
Winter is the season more than any other for knitting in the round for me. Making hats and cowls are the exact potato-chip knitting that is so satisfying as the cold and dark sets in. I also like to give cozy and quick-to-knit accessories as gifts, and layer them on myself when the cold wind starts howling. All of the stitch patterns are written for knitting flat and in the round, many are also written for top down. It's really easy to plug them into a plain vanilla type of pattern. Wendy has made it even easier with a why-can't-every-stitch-dictionary-have-this stitch multiple index in the back of the book.
The breakout sections for stitch patterns are Knits & Purls, Ribs, Twisted/Textured/Slipped/Fancy, Cable. Lace, Mosaic/Colorwork, and Hems/Edgings. There is enough variety within each chapter and throughout the book that I'd be hapy naming this one of my desert-island knitting books.

JM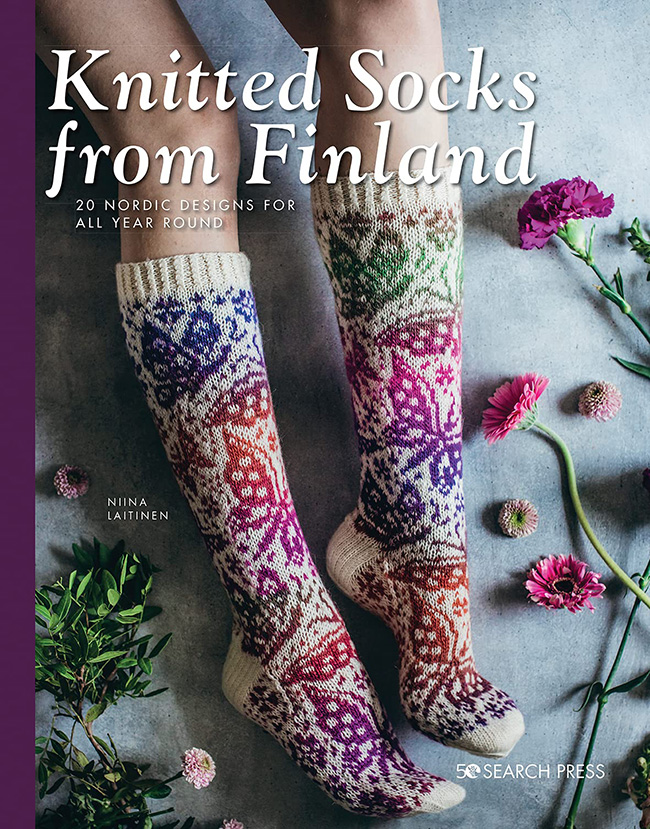 Knitted Socks from Finland: 20 Nordic Designs for All Year Round
by Nina Laitnen
Search Press
$23.95

Buy now at Bookshop.org | Amazon
The gorgeous socks on the cover really give a sense of this entire book, which isn't often the case with knitting books. The sock patterns are divided into and inspired by the seasons of the year: motifs and colors, and just overall vibes.
While the designs are inspired by a season, they aren't necessarily to be worn in each season. The beautiful butterfly socks on the cover are from Spring, but I would wear them in fall or winter.
The variety in this book extends to a good mixture of heights of socks, which I don't usually see in many sock books. They range from just above the ankle to knee high. It's so nice that every pattern is not the same.
The range of difficulty is wide. Many, especially the textured patterns, are less complex than they look. Difficulty is different for everyone, based on experience, likes and mood. To me none of the cabled socks look difficult, but I would have to sit in a very quiet room and pay close attention if I were going to knit a colorwork sock. That is 100% because colorwork has never been a favorite type of knit for me.
Almost all of the socks are one size, smallish a European 38/39. The suggestion is to use larger needles to change sizes, that's never an approach I like to take. But I find the sock patterns in here so lovely that I would partake in math to get them to fit, and that is from a math-phobic knitter.

JM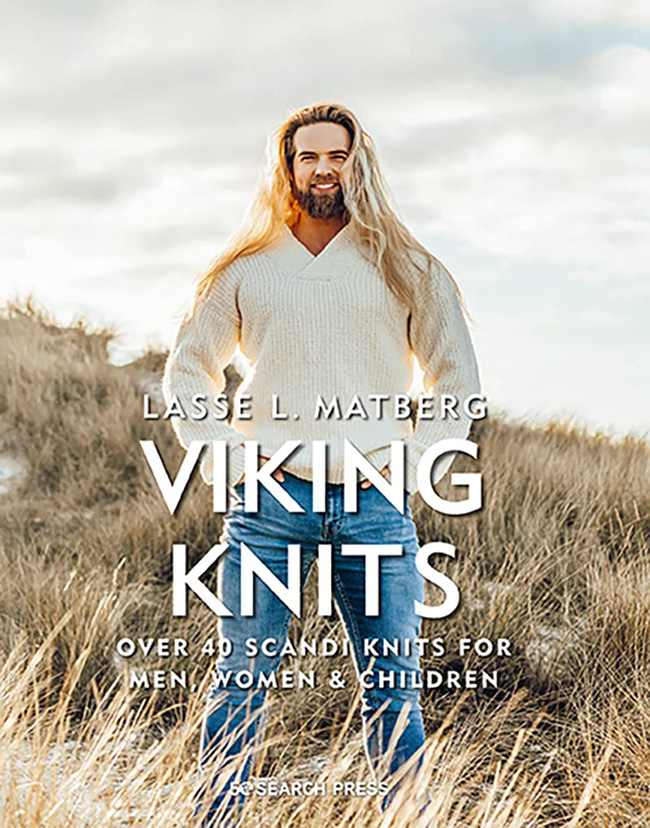 Viking Knits: Over 40 Scandi Knits for Men, Women, and Children
by Lasse Matberg
Search Press
$29.95, hardcover
SR= 38-51" adult sweaters

Buy now at Bookshop.org | Amazon
Lasse Matberg is a social media influencer, model, fitness instructor, Shall We Dance contestant, and knitwear designer. Viking Knits is his first knitting book and is filled sweaters that are perfect for wearing every day in chilly weather.
There are 18 men's sweaters, 9 women's sweaters, 6 children's sweaters and 10 cozy accessories. Many of the sweaters are variations – or example the Saga sweater is sized for men, women and children, and there is a Saga hat sized for adults and children.
The sweater designs lean toward pullovers that have two-color Nordic inspired colorwork and lots of texture. The designs are straightforward to knit. They are the type of sweater I like to work on when I want to settle in for a night of movies.
The book was sponsored by a Norwegian yarn company – Gann Garn – that isn't available in North America, so you'll have to substitute. Most of the yarns look to be worsted weight and heavier, and would be easy to sub.
I can imagine having a pile of these sweaters by the front door for anyone going out to walk the dog, grab wood for the fire, or shovel snow, they look cozy and warm enough that a coat may not always be necessary.

JM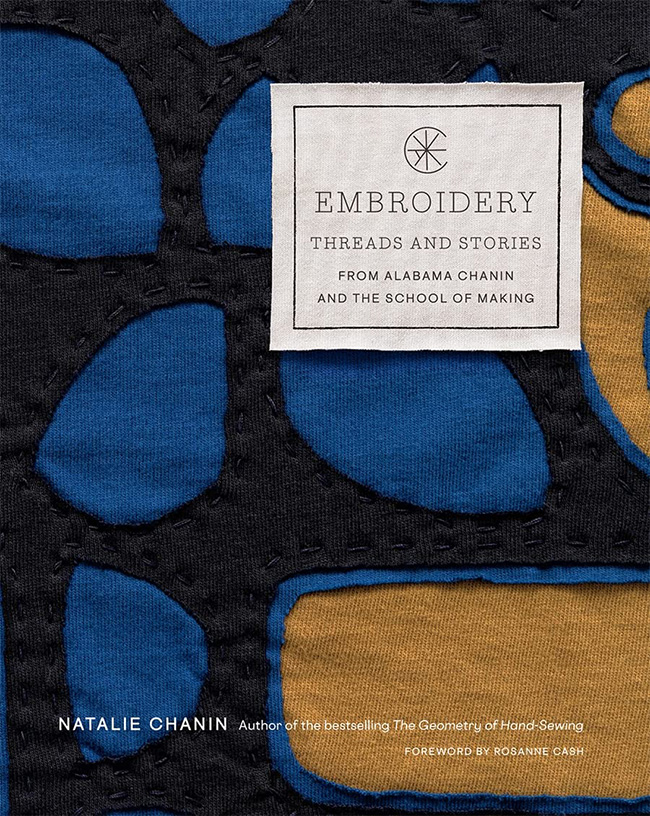 Embroidery: Threads and Stories from Alabama Chanin and the School of Making
by Natalie Chanin
Abrams
$40, hardcover

Buy now at Bookshop.org | Amazon
Natalie Chanin is a pioneer in the hand sewing and recycle/reuse fabric movement. Since she had a career and life epiphany in 1999, she has blazed a trail for artists, crafters, and consumers to wear and create accessories and garments that are distinctive and individual while being kind to our earth.
In true Natalie Chanin style, this book is built on layers. It tells the story of Alabama Chanin – Natalie's crafted couture company, from her first patchwork shirts to its current wonder as a ready-to-wear brand, and the School of Making – a sewing school, and craft kit company.
Along with her business evolution, Natalie discusses her personal views on creativity and making. She gives a history of her family, her hometown, cotton, and manages to give detailed lessons on the Alabama Chanin style of sewing and stitching. Her stories and words wrap around you like the soft dimensions of her clothing. There is depth, there is splendor, all based on simplicity. The photography is perfect and beautiful. It's romantic and scenic when there are stories; it's crisp and detailed when Natalie is teaching.
The book is divided into seven chapters: Craft, Creative Process, Flow, Materials & Tools, Practice, Repeat, and Road Maps. Each chapter perfectly stitches together layers of story, creative thinking and practical how-to. You can't help being inspired.

JM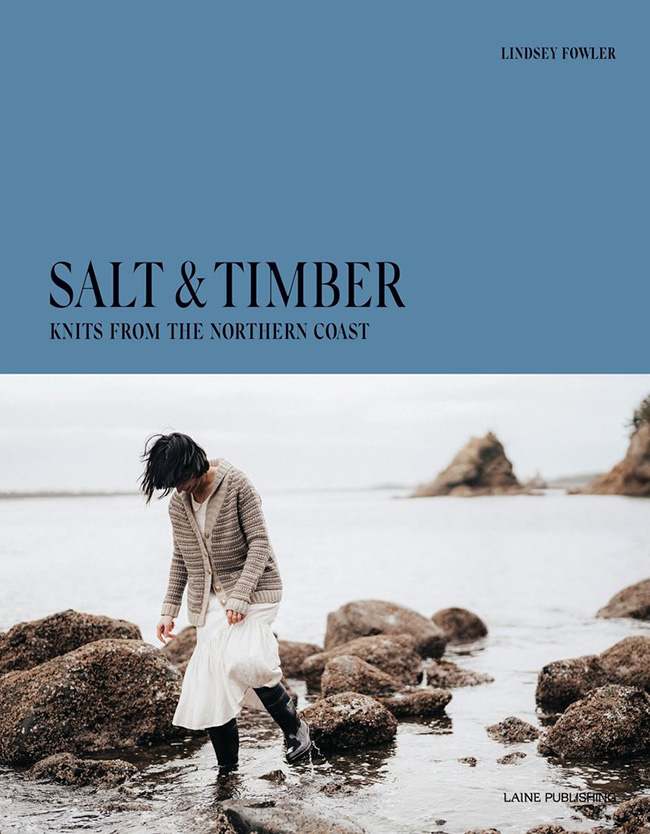 Salt and Timber: Knits from the Northern Coast
by Lindsey Fowler
Laine Publishing
$34, hardcover
SR= 26.5"-66"

Buy now at Laine Publishing
For her debut knitting book, Lindsey Fowler took inspiration from the Oregon coast. Through silhouette, yarn, color, and stitch pattern choice I think she captured it perfectly. Her designs mirror the rugged landscape and elements of the pacific northwest, and lean heavily into a natural easy to wear style.
There are 15 knitting patterns (5 scarves, 4 socks, 2 hats, 1 sweater, 1 cardigan, 1 pair of fingerless mitts, 1 blanket) full of texture and a touch of color. All of her designs are simple yet beautiful and useful, think of a Shaker sewing box come to life as a sweater. The patterns are easy to follow and are written out as well as charted. The photography for this book matches the designs so perfectly, the book could be sold as a coffee-table book. There is an excellent mixture of landscape photos and photos of the garments in natural settings.
My favorite patterns are the Agate hat and the Hideaway Cardigan (the cover design) – both highly textured with stripes of tonal color. I feel like if I knit them, I would be transported to a moody Oregon forest or beach.

JM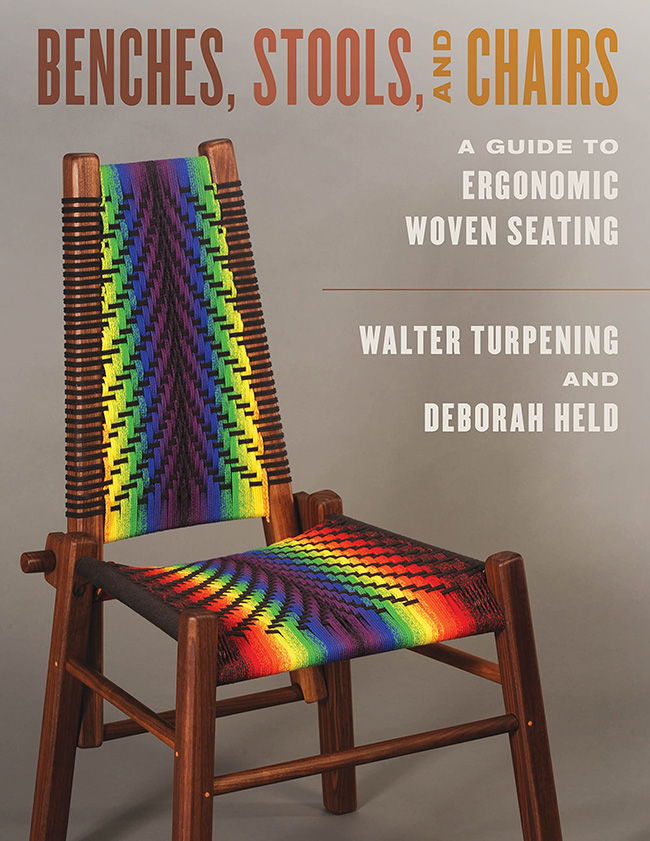 Benches, Stools, and Chairs: A Guide to Ergonomic Seating
by Walter Turpening and Deborah Held
Stackpole Books
$32.95

Buy now at Bookshop.org | Amazon
Doesn't everyone look for a new craft to try in the fall and winter months? How about making your own perfectly customized to your body chair or stool?
Walt Turpening has been making beautiful woven chairs, benches and stools, mostly for crafters, for 20 years, and Debbie Held has been a a lifelong crafter and decades-long spinner. In this book, he unveils the secrets (and work) behind making a seat that fits both your body and craft.
There are schematics, charts for measurement and step-by-step directions for making your own chair or bench. You can start small with a stool and graduate to bigger and bigger projects. I know the important part of these chairs is the comfort and body health of the ergonomics, but I am entranced by the beauty of the woven back and seats. The colors and the weave structures from simple twills to patterns that mirror colonial coverlets are so beautiful. The instructions for all of this weaving are in here too, with excellent directions.
Now, these are not projects that are quick and you do need some woodworking skills or confidence, but the satisfaction of making a seat that fits you for decades is immeasurable. Plus, I'm sure that if I used one of these chairs, my craftwork would become magically more creative.

JM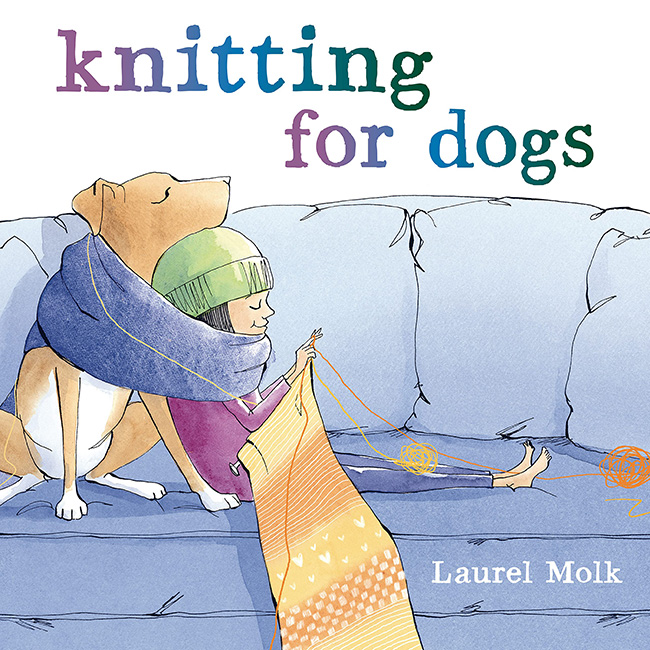 Knitting for Dogs
by Laurel Molk
Random House
$18.99, hardcover

Buy now at Bookshop.org | Amazon

Picture books are supposed to be for kids but I know so many adults, myself included, who enjoy them for their vibrant art and positive messages. Izzy in Knitting for Dogs likes to make things, all kinds of things, and she's good at it. Her four-legged best friend, Max, keeps her company and cheers her on. When she takes up knitting, she's a wiz until she wants to make a sweater. Time after time things go wrong, but Izzy keeps positive. "Max," explained Izzy, "sometimes it's best to just start over again". Izzy keeps knitting sweaters that don't go exactly right, but one day she comes up with a new plan.
Not going to spoil it, but the message along with all of the artwork is exuberant, loving, and optimistic. I was just what I needed the day I read it. I bet you know someone big or small who could use this kind of creative joy.

JM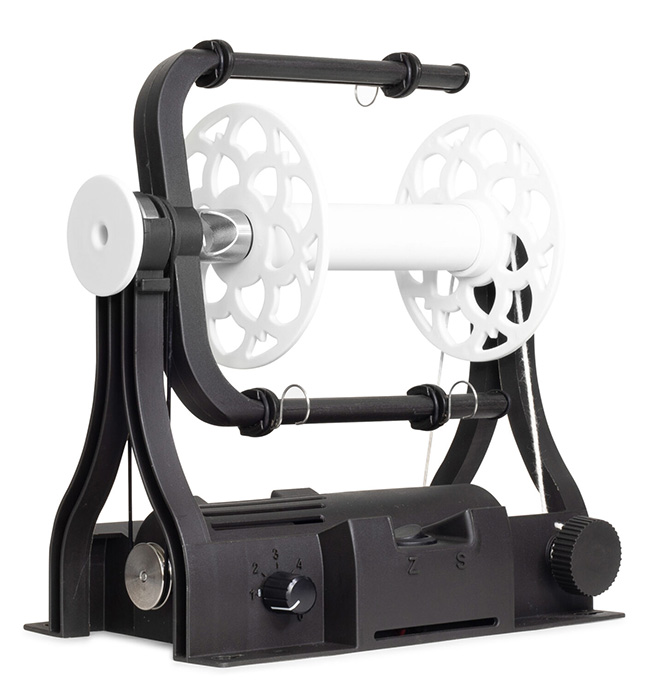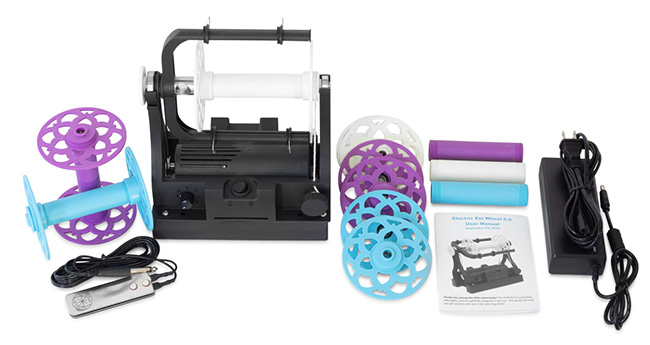 EEW 6.0 (Electric Eel Wheel)
by Dreaming Robots
$289

Buy now at Dreaming Robots
Are you a spinner who want to try an electric wheel? Maybe because they are portable, seem easy to use, and I'll say it, really cute? Maybe you're new to spinning or don't have space for a treadle wheel or have knees or ankles that don't much like treadling. Maybe spinning is just one of your many hobbies, and you aren't ready to commit a lot of storage or money to it.
The EEW 6 is probably a great wheel for you. It's an easy to use, to get started, to adjust, and doesn't take up much space. It weighs just three pounds and had the footprint of a large paperback book.
At less than $300, it is a bargain in the world of e-spinners. It comes as a package with the spinner, six collapsible bobbins that hold 8+ ounces of yarn each, a wall power supply, orifice reducer, and foot switch.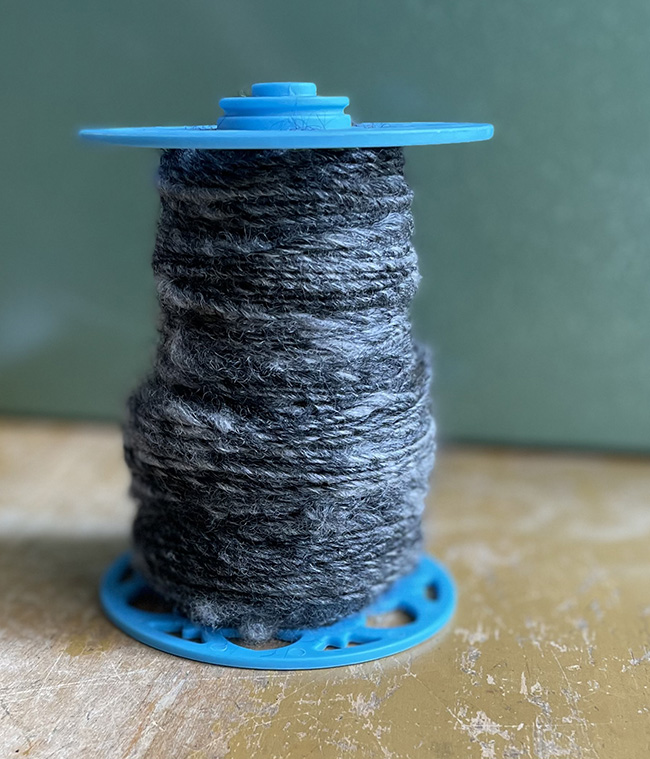 It's an intuitive machine if you have spun before. I set it up and was spinning, and even did some trouble shooting (100% user error) without looking at the manual. I put my machine through the paces of thin to fat yarns, textured yarns, and multi ply yarns.
I spun at least 10 different yarns, and only one gave my spinner pause. Trying to ply a very chunky, very heavy yarn wasn't the wheel's favorite thing once the bobbin started to fill. There were a couple of times I had to lend a hand for winding on. This just isn't the wheel for heavy, heavy yarns. That was the only time I had a problem, and that yarn would have given several of my other wheels an issue, too.
The other yarns spun wonderfully. I spun a bit of sock yarn, some lace, fuzzy mohair, a spiral ply, dk, spot, aran, worsted weight, even an airy chunky yarn. The controls for twist and take up were easy to adjust on the fly, and being able to control the power switch with either your hand or foot allows for all kinds of different spinning set ups. Lounging on the couch, anyone?
Maurice, the owner of Dreaming Robots and inventor of the EEW 6 is quick to help with any customer service issues and offers open-source files so you can 3-D print accessories. There are vibrant and friendly EEW communities all over the internet, lots of spinners who love their wheels and are more than happy to help and answer questions from new EEW owners.

JM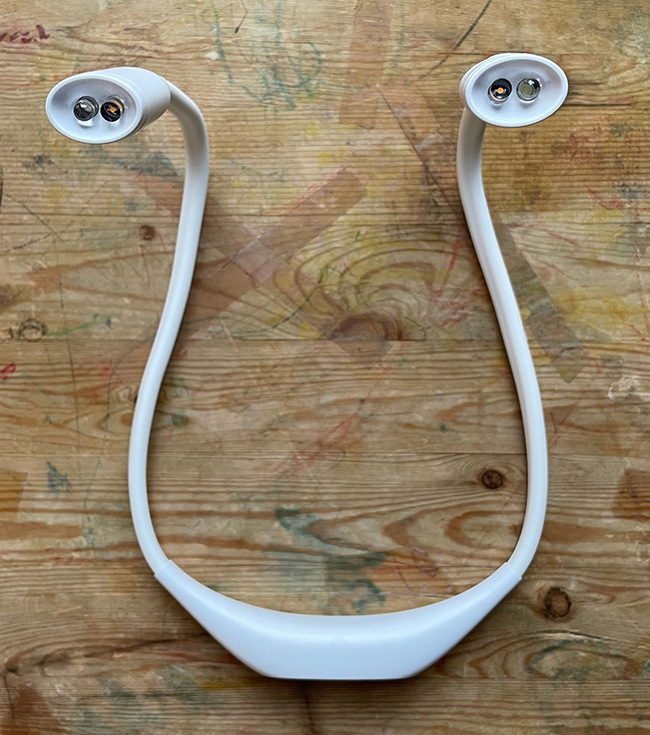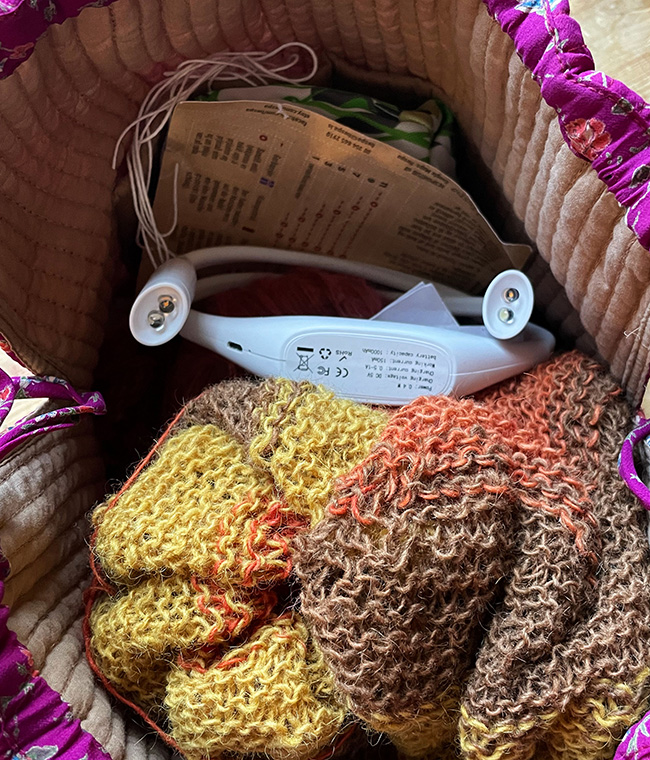 Lumos Knitting Light
$49.95

Buy now at Lumos

This is it; this is the holy grail of knitting lights. I've tried so many lights at first for convenience and then necessity as my eyes aged. I kept coming back to headlamps, until I got my hands on the Lumos light.
Here are all of the things I like about it. It's comfortable. It's very light, and outer parts of the light are made of silicone or very smooth plastic. It's a Goldilocks size, small enough to slip in my knitting bag, but big enough not to get lost in my bag, the couch or a crowded coffee table. It's really intuitive and easy to use. I didn't read any directions, just slung it around my neck and clicked it on, easily positioned the lights. The arms are really flexible and stay where you put them, and I was off for an evening of knitting.
The variety of light is pretty amazing. Each side of the light works independently. Each light can be dimmed or brightened, and there are three colors of light colors/temperatures: yellow, white and warm white. It's so easy to configure exactly the type of light that's comfortable for your vision and your project.
With a couple of clicks, I can go from a dim light, just checking to see if I dropped a stitch, to my old eyes are knitting black mohair at night – practically halogen headlights bright.
Did I mention it's cordless and rechargeable? The price is excellent for the value I get form the light, and there are frequently specials.
Of course, it's not just for knitting! I've used it for spinning, especially for spinning fine. I can position the light exactly where I'm drafting and it helps to keep my yarn consistent. Embroidery! Lately I've backed off doing embroidery. But I love all of those cool and adorable kits that seem to be everywhere. I usually stitch at night and really couldn't see well using anything less than 6 strands of floss; this has me back in the stitching saddle.
Another bonus is having a happy husband. Unlike when I use a headlamp, he's no longer blinded when he asks me a question and turn my head toward him to answer.

JM