Letters From The Editors
The scoop from the editors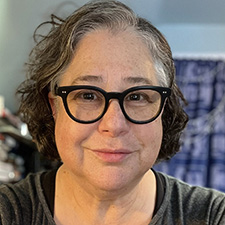 photo:
Amy
Turning to knitting when things get hard
As so many of you may have experienced in your lifetimes, this fall brought a sudden and devastating loss to our family. I had turned to knitting earlier when I learned our loved one was ill. The chemo cap I knit her was ready to take to the post office the day we got the news that she was gone. So I turned to knitting again because I had nothing else to do, once her family's freezer was full. I cast on a new project with the brightest, most joyful yarn I had to hand, following a pattern for a simple, geometric wrap. It's not a hard pattern to follow. It's quickly memorized, and the yarns are soft and comforting. But I made mistakes. At first, I ripped back a few rows and started again, but the mistakes continued. So I decided that this wrap was a record of mourning, and the mistakes would stay. Seeing how my chaotic knitting at the beginning is slowly turning into more ordered sections of knits and purls with only occasional mistakes...it's comforting. Healing is beginning, though this holiday season without her is going to be the hardest we've ever experienced.
I've never been more grateful to be a knitter than these last months.
---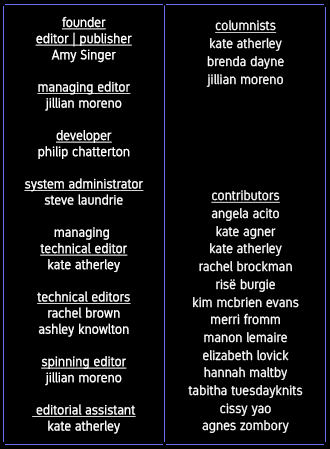 You may have noticed that Knitty (me, really) no longer posts on Twitter. As the management there has changed drastically (with more than half of the staff fired), and the moderation and fact checking systems that had been in place now removed, I made the decision that I did not want to support the company any longer.
Instead, I'm posting on Mastodon, which is an open-source, independent group of servers located all over the world that you can view and use for free. No one person or company controls Mastodon, and most servers are moderated to prevent the spreading of hate speech and disinformation. Mastodon may seem foreign to many of us after the ease of using Twitter, but I have found an easy way to get in. I shared my easy how-to information on the knittyBlog. The conversation is lively and interesting, and topics well beyond knitting and crochet and other fibercraft can be found. I hope you'll come join me there!
---
Winter '22 is a lush issue full of treasures for you. There are some quick-knit last-minute gifts, and some projects to start that you can enjoy in the new year. We especially love the divine Elf Mouse (mice, really) on our cover...the cutest things we've published in a while! You'll find all our patterns here. (And more juicy sweaters will be coming mid-January in our Surprise...stay tuned!)
Scroll down, and you'll see our Columns this issue. Lots of covetable stuff in our Cool Stuff section, including new bags from our friends at Tom Bihn and introducing the new Muud bags from Denmark (available from our friends at Universal Yarn).
Our best wishes go out to Brenda Dayne who is being a good knitter and not knitting while her shoulder injury (caused by too much knitting, tsk tsk) heals. She'll be back as soon as she's fit and ready.
---
No knitty without Patrons! That's how we're able to publish 4 times per year. Our Patrons fund 75% of our operating costs, and every single dollar each Patron contributes helps. We'd love you to join them! If you like rewards, you can get them starting at the $5 per issue level on Patreon! If you just want to support Knitty with no frills, this page lays out all the options.
We are also grateful for the Advertisers who choose to place their messages on our pages. They're small businesses just like Knitty is, and welcome you to visit their shops. If you can, please support them when you need to make a purchase.
To learn more about advertising with Knitty, pop over to our Rate Card.
---
Here's how you can keep in touch with us:
Mastodon |Instagram | Facebook | Patreon


Amy Singer
[editor, Knitty]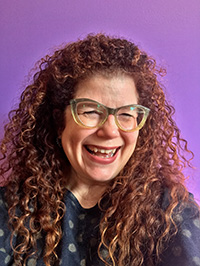 photo:
Jillian
What does the winter bring for you and your knitting and spinning?
Lots of FOs?
Fine tuning skills?
Stash busting?
I am deeply curious and love to learn new things and figure out the why behind techniques and skills. In the winter, things move slowly for me, but when I learn at that pace it tends to stick better.
I always have at least two knitting projects going – something for chatting-with-my-friends, and one that I learn something from. Spinning is perpetually ongoing, for work, for fun. In my ideal world I have something on the go on most of my wheels.
This winter, I'm taking an exploratory journey for fun into the concept of woolen. Woolen yarns are light, lofty and very warm. In my spinning, I'm digging into all kinds of woolen preparations and woolen drafts.
In my knitting I'm taste testing a variety of woolen-spun yarns that my LYS carries, and yarns I have in my stash. Jill Draper Makes Stuff and Green Mountain Spinnery yarns are two woolen yarn makers that I have in my stash and adore. Commercial woolen yarns your LYS might have are Harrisville yarns, Brooklyn Tweed Shelter, Lopi, and Jamieson and Smith.
I talk in depth about how the properties of woolen yarns affect knitted fabric in my column this month when I offer substitutions for the yarns used in Planetarium and Hyggelig. If you are curious about woolen yarns, you might pick up a ball or two at your LYS' holiday sale and spend and evening or two swatching your favorites stitches. I promise it will be eye opening.

I hope everyone has a creative, happy, and healthy holiday season!

Jillian Moreno
[editor, Knittyspin]