Planetarium, a free knitting pattern from Knitty.com.
INTRODUCTION
Planetarium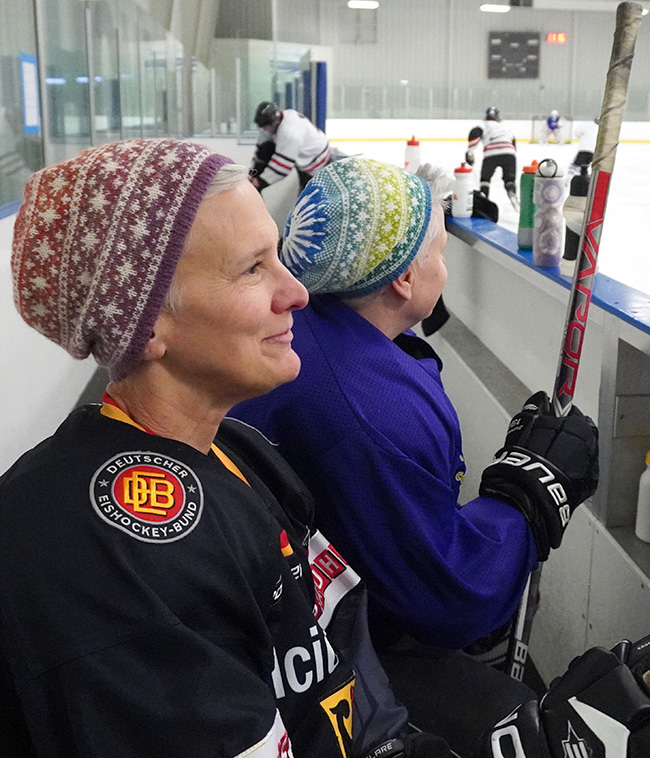 by Cissy Yao

Planetarium is a slouchy stranded colorwork beanie designed to make the most out of scraps of precious gradient yarn (handspun or otherwise). Smaller star motifs dance around the brim, while the crown features a dramatic sun design—which cleverly hides the shaping and highlights the gradient.
The retro stitch pattern is reminiscent of vintage ski sweaters and makes me think of chilly morning coffee runs and winter hikes.
The handspun version is also a great way to use up odds and ends of solid and dyed braids. The singles are both chain-plied, minimizing demands for bobbin space.

model: Claudia B Manley, Liss Platt

photos: Amy Singer
SIZE
Adult S[M, L, XL]
blue/green hat using commercial yarn shown in size XL above right; purple/orange hat using handspun yarn shown in size M above left.
FINISHED MEASUREMENTS
Circumference: 20[21, 22, 24] inches/ 51[53.5, 56, 61] ] cm
Length: 8.5[8.5, 9, 9] inches/ 21.5[21.5, 23, 23] cm – can be lengthened to preference
Choose the size that's closest to but no larger than your actual head circumference. Length can be further increased by working a longer ribbing.
MATERIALS
Fiber


[MC] Paradise Fibers [100% Cheviot wool; top]; color: white, hand-dyed with acid dyes; 2[2, 2, 2] ounces


[CC] Paradise Fibers [100% Cheviot wool; top]; color: white; 2[2, 2, 2] ounces

Yarn Specifications


Finished Yarn: 
Wraps per inch: 17 wpi
Ply: Chain-ply


Yardage used: MC, 124 yds; CC, 89 yds



Drafting method: Woolen draw from the fold
Commercial yarn alternative


[MC] Knit Picks Chroma Fingering Weight [70% superwash wool, 30% nylon; 396 yd/362 m per 100g skein]; color: Pegasus; 1[1, 1, 1] skeins


[CC] Katia United Socks [75% superwash wool, 25% nylon; 109 yd/100 m per 25g skein]; color: 6 - white; 1[1, 1, 2] skeins
Note: The commercial yarn XL size uses only one 25g ball of CC, with only about a yard or two left. My advice—buy extra, and if you have enough, make another hat!

Yarn Characteristics


The yarn is a standard fingering-weight sock yarn: multiple plies with a nice twist. The nylon isn't necessary, if you're making a substitution, but it's common in sock yarns; it's fine if it's there or not.  The CC is a solid white; any light-colored solid that contrasts with your MC will work well. The MC is a gradient which features a slow colour change. A fixed-striped variegated would also work well for the MC, but avoid very busy or fast-changing colors, as it could obscure the colorwork. You can also work with two solid or semi-solid colours for a more traditional look.

Recommended needle size
[always use a needle size that gives you the gauge listed below - every knitter's gauge is unique]


1 US #0/2 mm 16 inch/40 cm long circular needle


1 US #2/2.75 mm 16 inch/40 cm long circular needle


US #2/2.75 mm needles for small circumference in the round

Notions


stitch markers


yarn needle
GAUGE
28 sts/40 rounds = 4 inches/10 cm in stockinette stitch
27 sts/37.5 rounds = 4 inches/10 cm in pattern stitch
PATTERN NOTES
[Knitty's list of standard abbreviations and techniques can be found here.]
CDD: Slip 2 sts together as if to k2tog, k1, and pass 2 slipped sts over st just worked. 2 sts decreased.
SK2PO: Slip 1 st knitwise, k2tog, pass slipped st over st just worked. 2 sts decreased.
CHARTS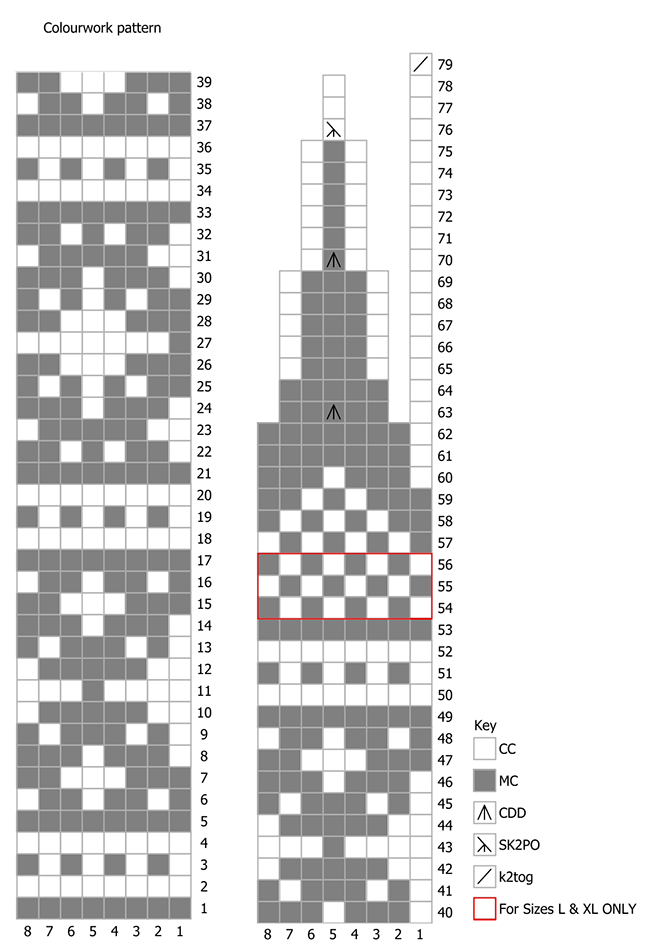 DIRECTIONS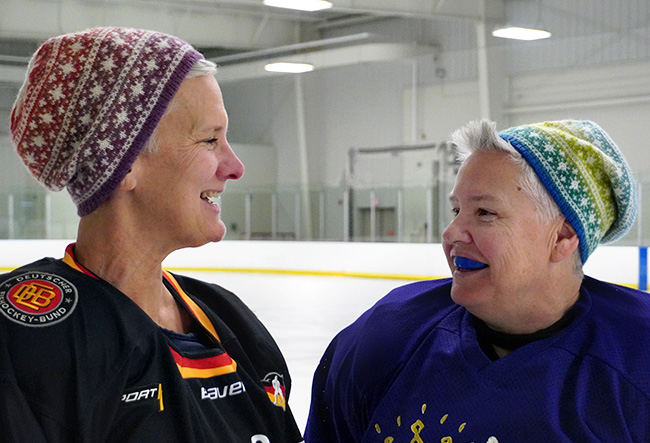 Brim
Using MC and smaller circular needle, cast on 136[144, 152, 160] stitches. Join and place marker for beginning of round.
Round 1: (K1, p1) to end of round.
Repeat Round 1 until work measures 0.5 inch/1.5 cm from CO edge, or desired length.
Body and Crown
Change to larger circular needle.
Next round: Work Planetarium Chart 17[18, 19, 20] times around.
Work as set until chart is complete. 17[18, 19, 20] sts rem when chart is complete.
Note: As hat gets too small to work on circular needle, change to small-circumference method.
Break MC and continue working using CC only.
Next round: Knit all sts in CC.
Final round: K2tog 8[9, 9, 10] times, k 1[0, 1, 0] . 9[9, 10, 10] sts rem.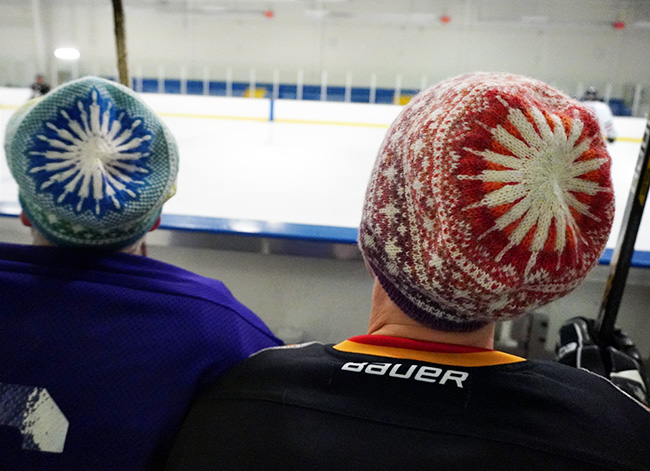 FINISHING
Cut CC leaving a 12 inch/30 cm tail. Thread tail onto yarn needle, run through remaining live sts twice, and pull tight to close.
Weave in ends. Wet block hat by soaking in lukewarm water for 10 minutes, then then drain water and gently squeeze the hat to remove the excess water. Lay the hat flat on a towel or stretch over an inflated balloon, being careful not to stretch beyond the finished measurement, and let completely dry.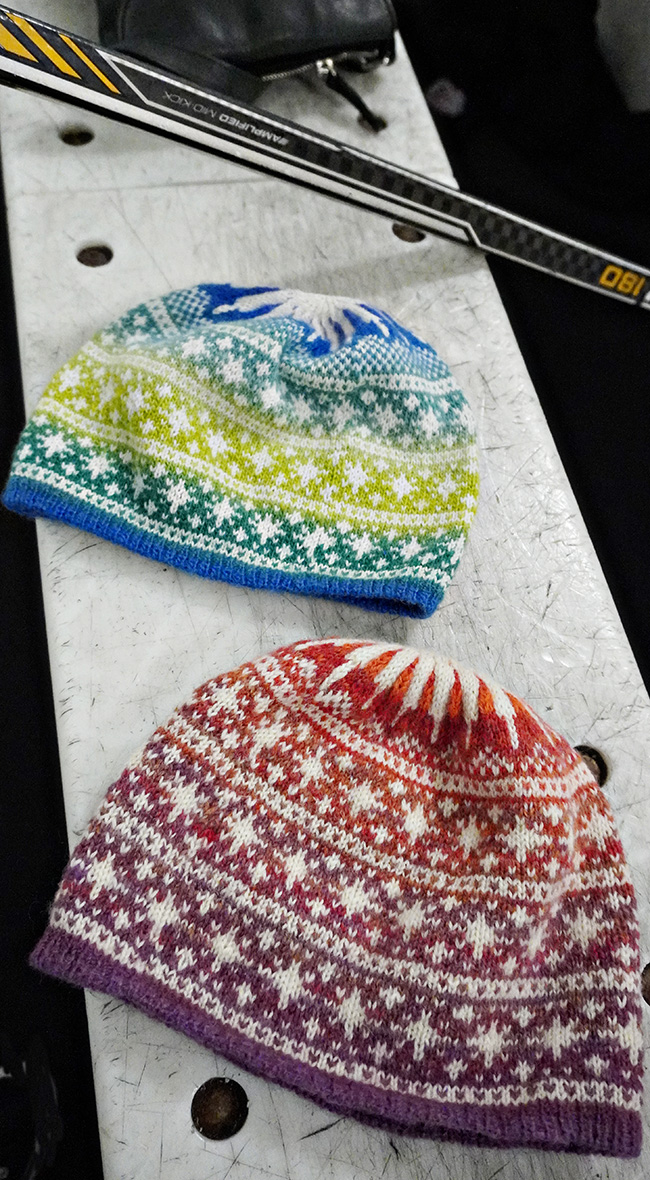 ABOUT THE DESIGNER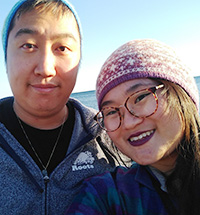 Cissy has been knitting nonstop since she learned in seventh grade and is obsessed with all things fiber.
She can be found selling handspun yarn, fiber, and goodies as Everspace on Etsy. She can be contacted as Everspace on Ravelry, EverspaceSpins on Instagram.
Pattern & images © 2022 Cissy Yao