Feature: Cool stuff
Cool stuff
SR [Finished chest measurement for sweaters] = the smallest chest measurement to the largest chest measurement we could find in the book. There may be only one pattern with the smallest or largest size, but it's in there. Books are softcover unless noted otherwise. All prices USD unless noted. We are provided with samples to review for free, and we do not publish reviews of products that do not perform well in our testing. We are not paid to review any product.
NEW! Browse the whole list of books reviewed this issue at Bookshop which gives 10% of their profits to independent bookstores across the US, and a 10% commission to Knitty for every purchase.
If you're outside the US, we also provide links to purchase on Amazon, and they give us a commission when you purchase as well. Thank you for supporting Knitty!
Surprise reviews! (August 2021)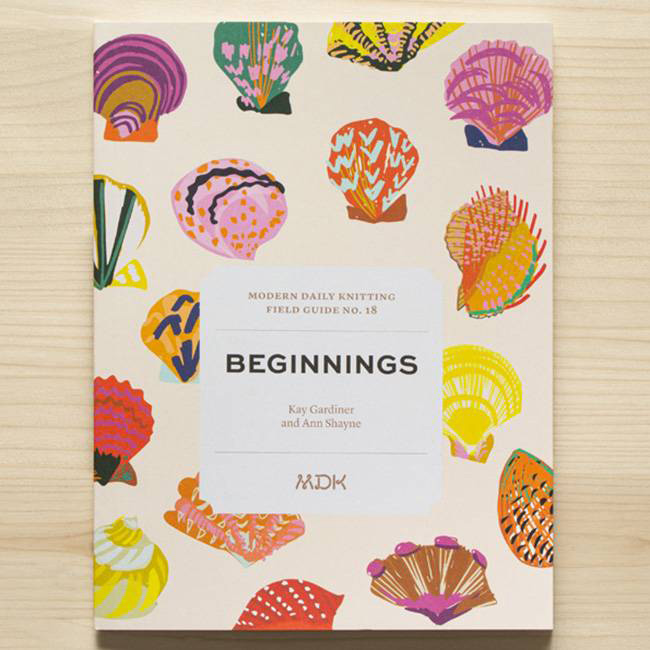 Modern Daily Knitting Field Guide No 18: Beginnings
by Kay Gardiner and Ann Shayne
$9.95-$15.95
SR= 33–69.5"
Buy now from Modern Daily Knitting
Field Guide 18 from MDK is titled Beginnings, and yes, it is perfect for early entry projects. More than that it is for any one that wants (needs) a project that needs little focus and lots of flow knitting. Secretly those are my favorite types of projects, especially accessories. I can watch murder mysteries, chat with friends, or just stare out of the window as I knit. This collection designed by Karida Collins of Neighborhood Fiber Company is all of those things: easy to knit, to keep and wear or to gift (it's never too early to start stockpiling gifts). There are mitts, cowls, a scarf, a hat and two sweaters. A lightly textured top-down pullover, and a nearly decadent Swoncho, loose fitting and cozy.
All of the patterns are knit with Neighborhood Fiber Company's GOTS certified organic Merino yarn, dyed in semi solid, undulating color.
JM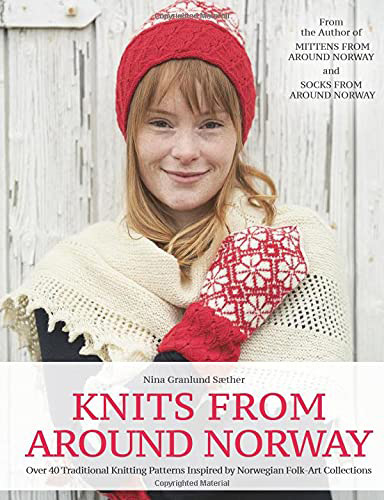 Knits from Around Norway: Over 40 Traditional Knitting Patterns Inspired by Norwegian Folk-Art Collections
by Nina Granlund Saether
Trafalgar Square
$26.95, hardcover
SR= 36–50"
Buy now at Bookshop.org | Amazon
In her new book, the author of Mittens from Around Norway and Socks from Around Norway dips back into historical knits for modern inspiration. There are 40 patterns –  an excellent mixture of mittens, shawls, hats and lots of sweaters. The front of the book has one of the best 'tips' sections that I've seen. Included with the ubiquitous knitting tips are in-depth, short tutorials complete with step-by-step photography including things like centering a neckline with a template, seaming facing and edgings, and working a mitten thumb.
Like her previous books, much of the inspiration for these projects come from collections of museums from all around Norway, complete with fascinating historical information. Unlike her other books, Nina has found inspiration in the tradition of 'visiting cards' from the mid-1800s, a calling card with a full-body photo. In the patterns inspired by visiting cards, she shows the visiting card, along with the story of the subject. My favorite is an excellent gansey sweater that was found in a stash of visiting card-style photos taken for inmates of a prison. It's a fascinating peek into the history of Norwegian life, and a such a great source of textile inspiration.
JM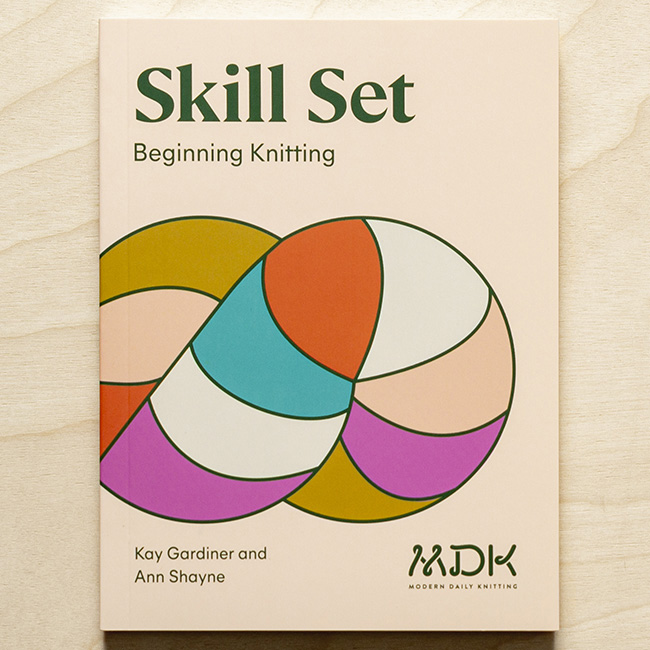 Skill Set: Beginning Knitting
by Kay Gardiner and Ann Shayne
$19.95
Buy now from Modern Daily Knitting

Everything a new knitter needs to know, short and sweet, 100 pages in a take-along size. These lessons draw on decades of knitting experience by Kay and Ann and are presented in their easy going, just-what-you-need-to-know style. This is the least stressful beginning knitting book that I've read.
There are nine lessons. You start with Lesson 1, Supplies, Casting On, Knit Stitch, Binding Off, and can stop there, happily making garter stitch scarves, wraps and other delightfully nubby knit-stitch only things forever.
You can also move along at your own pace, adding skills, or skipping them, as you see fit. There is one pattern, a hat, that shows up in lesson 4, Knitting in the Round, otherwise you'll knit small swatches to practice all of your new things.
These are the nine lessons:
• Lesson 1   Supplies, Casting On, Knit Stitch, Binding Off
• Lesson 2   Purl Stitch, Combining Knits and Purls
• Lesson 3   Basic Shaping: Increases and Decreases
• Lesson 4   Knitting in the Round
• Lesson 5   Basic Lace and Cables
• Lesson 6   Basic Colorwork: Stripes, Stranding Intarsia
• Lesson 7   Finishing: Weaving in Ends, Seaming, Blocking
• Lesson 8   Patterns, Yarn, and Gear
• Lesson 9   Fixing Mistakes
All of the information you need is there, enough facts to keep your skills and techniques growing, and a perfect amount of encouragement to keep you excited and knitting to whatever level you want. This book is really a one stop shop for beginning knitting.
JM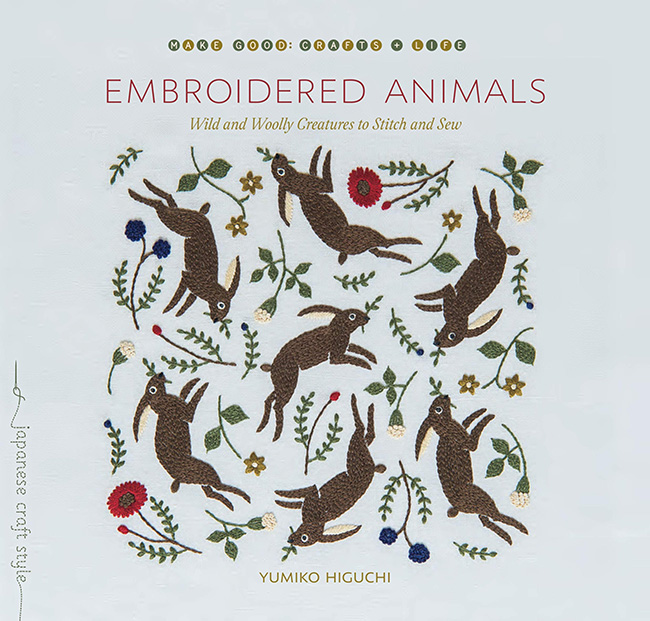 Embroidered Animals: Wild and Woolly Creatures to Stitch and Sew
by Yumiko Higuchi
Roost Books
$21.95
buy now from Bookshop.org | Amazon
I am always awed by Yumiko Higuchi embroidery – its modern, organic, an unmistakable style. The first time I saw one of her patterns, I was shocked by how few stitches she uses. I don't know if I will ever be able to stitch with the detail that she does but I am going to keep practicing.
Her latest book is full of joy from the animal world: frolicking rabbits, an outstanding sheep, birds, monkeys, reindeer, an elephant, cats, dogs. There are 28 motifs to decorate your world or jazz up your mending.
There are 16 small projects that use the motifs including, bags, a bunting, a notecard, a bookmark, a pillow, and a sachet. Both the motif and the project instructions are laid out in perfect minimalist detail.
The number one project on my list is the sheep embroidered on a needle case, simple and perfect.

JM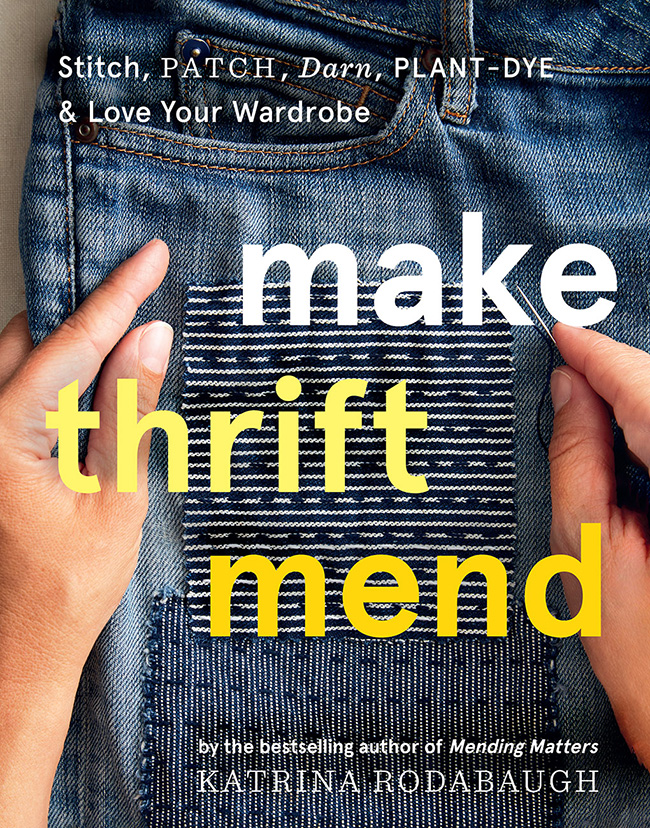 Make Thrift Mend: Stitch, Patch, Darn, Plant-Dye & Love Your Wardrobe
by Katrina Rodabaugh
Abrams Books
$24.95, hardcover
buy now from Bookshop.org | Amazon
Katarina Rodabaugh's last book, Mending Matters, taught us how to extend the life of our clothes through detailed instruction on mending. Her latest book is so much more. In Make Thrift Mend, Katrina invites the reader into her personal practice. She teaches how she approaches her wardrobe and her thought process over the past several years, moving away from fast fashion through wearing clothes she has thrifted, remade and dyed, or sewn herself.
There are tutorials on sewing, from embroidering and embellishing to sewing two tops and a tote bag. Natural dyeing thrifted clothing is next. She dyes wool, linen, silk, and cotton, with flowers, onion skins, black walnut, and avocado. She closes the book with a section on mending, both darning and repair, on woven and knitted fabrics.
Through beautiful photography, thoughtful essays, and detailed instructions, Make Thrift Mend is an invitation to make sustainable fashion a larger part of your life. Get ready to remake and rethink your wardrobe.

JM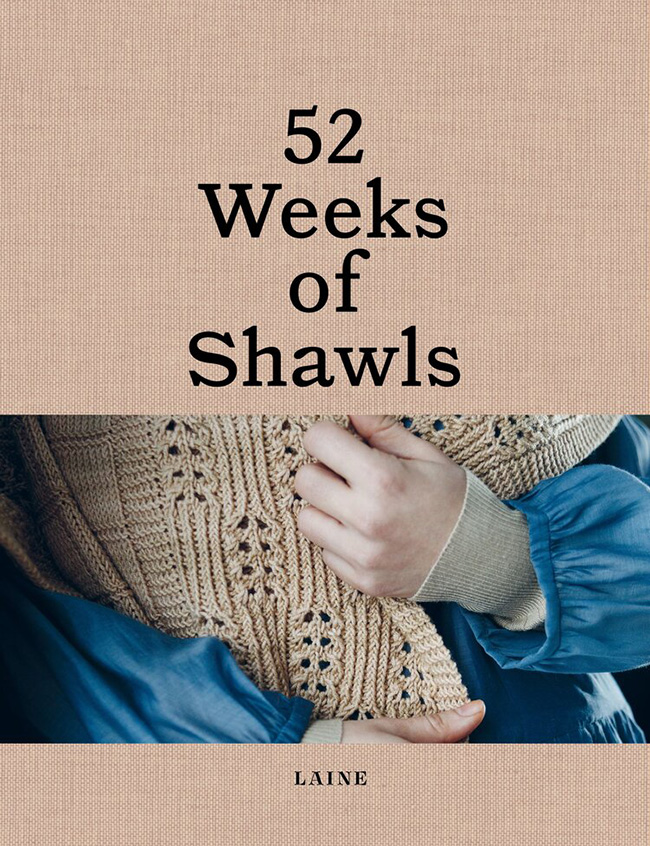 52 Weeks of Shawls
Laine Publishing
€ 39.90, hardcover
buy now from Laine

52 Weeks of Shawls really has something for every knitter. From an international pantheon of designers, there is lace, texture and color. There are designs I could knit while I watch tv or chat with friends, and designs beautifully complex enough that I would need near silence.
The book was made during the lockdown, so all of the shawls are shot on just two models, the photography and models are beautiful and really show the shawls well. The book has the same feel and creative aesthetic as Laine Magazine, wrapped in a gorgeous hardcover binding with a ribbon marker. You can go to the Laine website and learn more about the designers and read their introductions to their designs.
There are familiar designers in the book, like Stephen West, but the real joy for me, aside from planning new projects, was how many designers were new to me. I spent a lot of enjoyable time searching for them and their work online. Those are the shawls I want to knit first, and there are many. I think my first may be Ruf by Aud Martin, Älv by Lærke Bisschop-Larsen, or Windy Fields by Marjut Lund-Rahkola.
I can't wait to see all the beautiful versions of all of these shawls that will be knit over the summer.

JM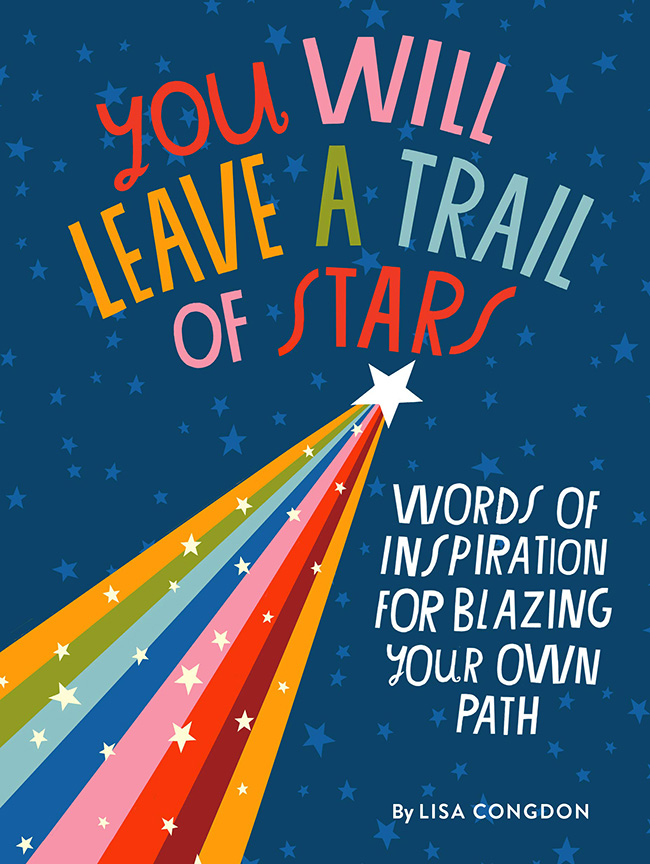 You Will Leave a Trail of Stars: Words of Inspiration for Blazing Your Own Path
by Lisa Congdon
Chronicle Books
$15.95, hardcover
buy now from Bookshop.org | Amazon
I really lost my creative umph over the last year or so. I am only slowly starting to make things just for pleasure again. For the first time I am finding I have to do it with real intention, planning and setting time aside.
I found Lisa Congdon's new book, You Will Leave a Trail of Stars, exactly what I needed while I go through this process. She is unquestionably creative, but can also effectively explain the process of being creative.
She is enthusiastic, and kind but employs a kick in the pants that I desperately needed.

JM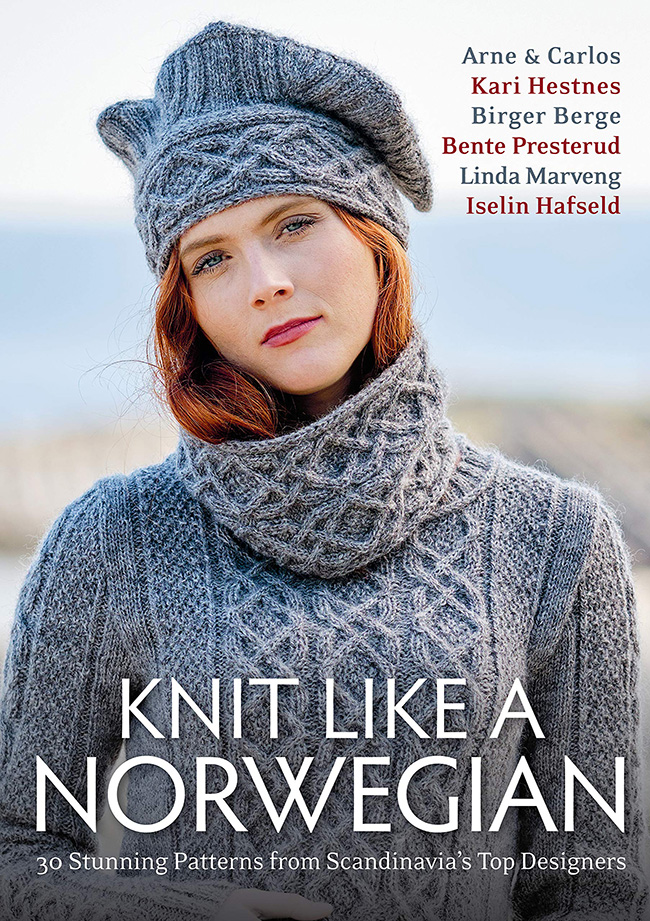 Knit like a Norwegian: 30 Stunning Patterns from Scandinavia's Top Designers
by Iselin Hafseld
Trafalgar Square Books
$24.95, hardcover
SR= 34-49"
buy now from Bookshop.org | Amazon
This is not a regular type of Scandinavian pattern book. The designs in this book are from six different Scandinavian designers that all have very different styles. What they do have in common is that, while they all are inspired by traditional patterns and motifs, not one uses them in a traditional way.
Arne and Carlos are the best known of the designers in North America. They swerve from traditional Scandinavian motifs in their designs by blowing them up large (Acanthus Cowl and Mittens) and using motifs with a lot space between them in a beautiful way in Jenny's Pullover and Stine's Pullover.
Kari Hestnes shows the most versatility of the designers. Her section opens with Winter Bride, a wedding top and full length skirt! She has colorful designs inspired by Frida Kahlo, and dying leaves, and two tonal Baroque inspired designs.
Birger Birge uses motifs in the closest to traditional way. His twist is to take motifs from something small like a mitten and use it on a sweater, like in the lovely Men's Snowtrack Pullover. He is very inspired by historic knits. His Snowtrack socks are one of my favorite patterns in the book: simple, classic, but an eye-catching design.
Bente Presterud's designs are inspired by traditional Scandinavian costume. She has knit, with great detail, tunics, long cardigans and even a dress with knitting mimicking woven design and embroidered panels. Each is a work of art.
Linda Marveng designs with texture. Her cabled garments are covered with thick and winding lines. She also has a textured asymmetrical skirt that doubles as a poncho that marvelously looks wonderful worn either way.
Iselin Hafseld works with texture combined with color changes for stunning effect. My favorite sweater in the book, the Hannah Pullover, changes color when you knit or purl in pattern. She has another when the large motif is purled against a stockinette background. She also works with varieties of sizes of cables for intense texture.
It was so interesting to see how each design interpreted traditional (or not) motifs, and how varied Scandinavian design styles are.

JM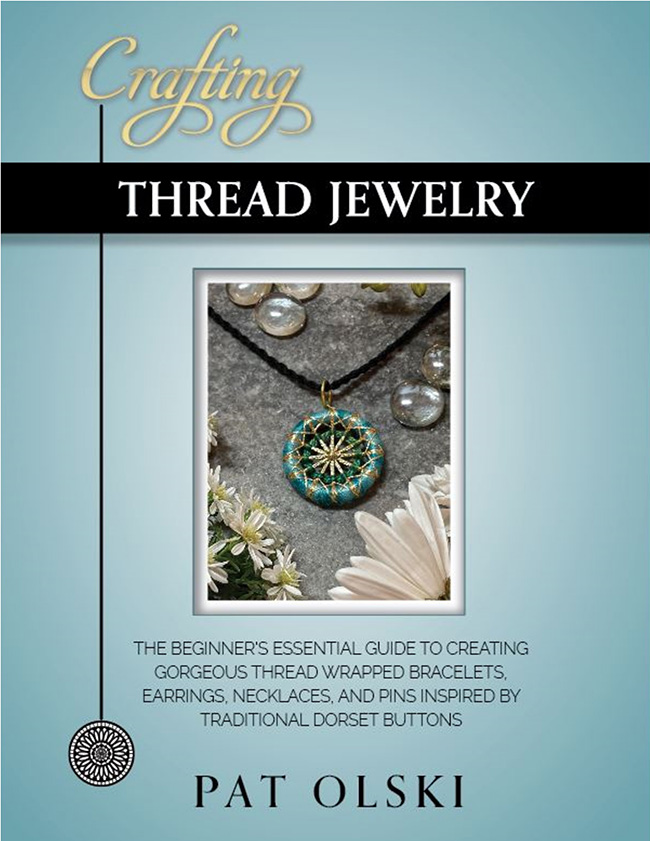 Crafting Thread Jewelry: The beginner's essential guide to creating gorgeous thread wrapped bracelets, earrings, necklaces and pins inspired by traditional Dorset buttons
by Pat Olski
$24.95
buy now from Bookshop.org | Amazon
This very clever book takes the basics of Dorset button making and makes simple jewelry. Dorset and Dorset-style buttons have been hot for the past year or so; every single online class I've seen has sold out right away. Even after you learn, you can only use so many buttons; thread jewelry seems like an excellent way to go. The projects are colorful and textured and all highlight the button element. All of the different types of earrings are my favorites.
The book is written and set up wonderfully for a beginner. You don't have to know how to make Dorset buttons to use this book; Pat will teach you, and teach you well.
The directions in the book are outstanding –  the type you usually only see in self published books. The illustrations are large with different steps rendered in different colors. She takes the time to repeat herself to make the directions clear. I have never made a Dorset button, and I understood the directions easily. They were easy to follow and they made logical sense, which doesn't always happen.
These are small and portable craft project great for when you need a little thread on the go fun.

JM