Snowball Lace Scarf, a free knitting pattern from Knitty.com. Free knitting pattern for a DETAILS HERE.
INTRODUCTION
Snowball Lace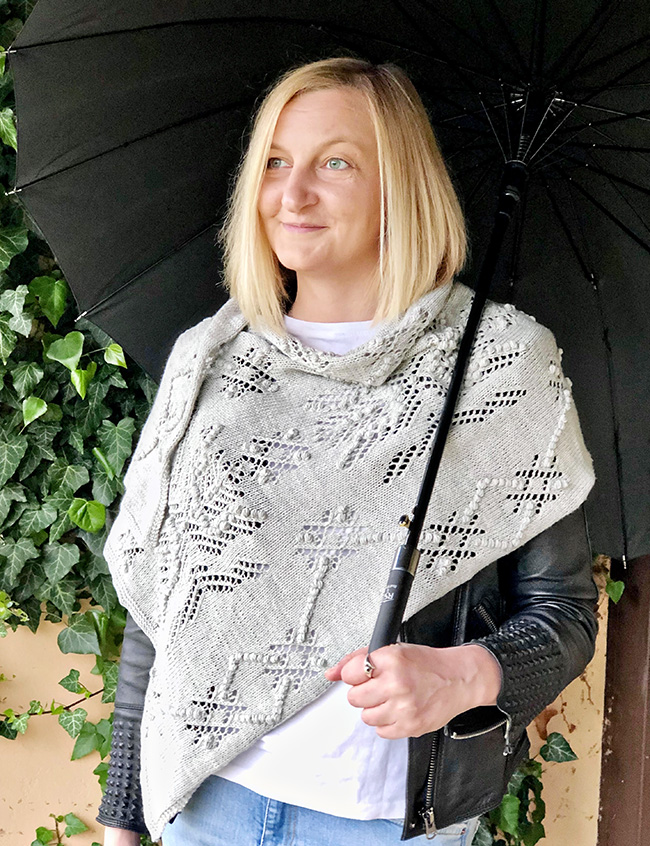 by Mari-Liis Hirv

Snowball Lace was inspired by the co-operation of our island winter and nature. Icy patterns designed by the sea and cold temperatures, fresh snow forming small snowball-like embellishments, and gentle breeze giving unique textures for nature's creation.
Whether you just tip your toes in lace knitting or have been lacing for some time DROPS Baby Merino is very nice to knit with and is perfect for lacy garments. It's soft and gentle but still gives the needed definition that lace patterns require. If you don't prefer the Estonian "nupp" stitch you can always replace them with beads.
Remember - we can knit anything two rows at a time.

model: Angela Simson

photos: Mari-Liis Hirv
FINISHED MEASUREMENTS
Width: 22.5 inches/57 cm
Length: 66 inches/168 cm
MATERIALS
Yarn


DROPS Baby Merino [100% Wool; 191 yd/175 m per 1.8 oz/50 g skein]; color: Grey mix 19; 5 skeins

Yarn Characteristics:
The sample shown uses a sport-weight 5-ply wool. The yarn is cable spun, which means that the cable as well as lace stitches will be clearly defined, and the result achieved will be neat and even.

Another yarn weight can work as well, producing a larger or smaller shawl depending on the thickness of the yarn you choose. If you're using another weight yarn, please refer to the yarn label for recommended needle size and swatch to achieve a solid but drapy fabric.

Recommended needle size
[always use a needle size that gives you the gauge listed below - every knitter's gauge is unique]


1 set US 2.5/3 mm needles

Notions


yarn needle



Optional (see Pattern Notes below): 193 beads per pattern repeat + additional 24 beads: size 6 beads for fingering and sportweight yarn; size 8 beads for laceweight yarn, plus crochet hook small enough to fit through the hole of the bead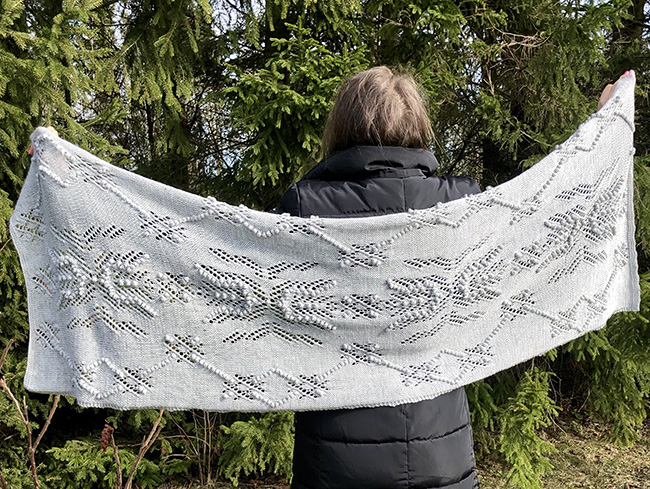 GAUGE
26 sts/32 rows = 4 inches/10 cm in stockinette stitch
Note: Gauge given is approximate. It is not critical to achieve given gauge for this project.
PATTERN NOTES
[Knitty's list of standard abbreviations and techniques can be found here.]

Kate Atherley's Wiseknit™ video tutorial column this issue is all about nupps!
Nupp stitch (option 1): Work (k1, yo, k1, yo, k1, yo, k1) into the stitch – 7 sts made from 1. On the following WS row, purl those 7 sts together.
Nupp stitch (option 2): Work (k1, yo, k1, yo, k1, yo, k1) into the stitch – 7 sts made from 1. Place those 7 sts back on the left-hand needle and knit all 7 sts together through the back loop. Put this st back on a left-hand needle and ktbl. On the following WS row, slip the nupp st, pick up the strand that runs between the nupp and the following stitch as if doing an M1L, and slip both that and the nupp back to the left-hand needle, making sure that the pick-up strand is twisted, and purl those 2 sts together. There's a video here.
Using beads in place of Nupps: The Nupp stitch can be replaced with beads. You'll need 116 beads per pattern repeat plus additional 24 beads. I recommend size 6 beads for fingering and sportweight yarn and size 8 beads for laceweight yarn. You'll also need a small crochet hook for placing the beads. I would recommend placing beads as you go with a crochet hook. Make sure your crochet hook is small enough to fit through the bead. When you're ready to put a bead in place, grab a bead with your crochet hook, catch the stitch where your bead will go with the hook, slip the stitch off the knitting needle, and bring through the bead. Now place the stitch back to your knitting needle and knit it through. In this case, work the WS rows as all purl, no special stitches are needed.
CHART
Note: WS rows are not shown. On WS rows, purl all chart stitches. On the row following a Nupp, you will need to work the Nupp stitches in a special manner. What you do depends on the method you used to make the Nupp. Refer to Pattern Notes for details.
Download chart here
DIRECTIONS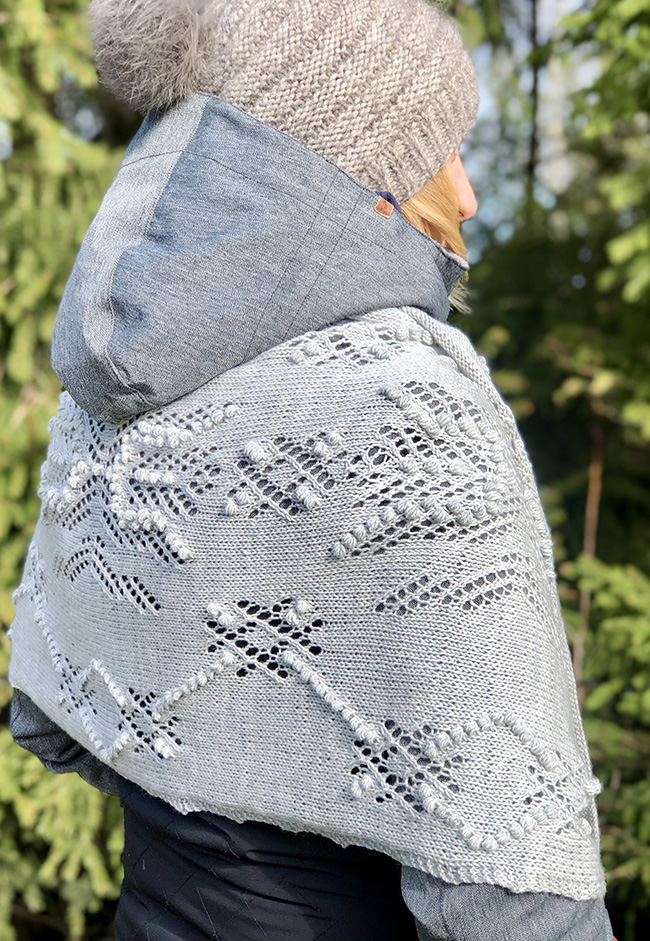 Using your preferred stretchy method, CO 109 sts.
Lower Edge
Rows 1- 6: Knit.
Row 7: Knit.
Row 8: K3, p to last 3 sts, k3.
Repeat Rows 7-8 two more times.
Body
Row 1 (RS): K3, work chart to last 3 sts, k3.
Row 2 and all following WS rows until stated otherwise: K3, work chart to last 3 sts, k3.
Note: All WS rows of the chart are purled. If you are working Nupps, when you encounter a Nupp created on the previous row, either work a p7tog OR follow the instructions for the second option.
Work through chart as set, working Rows 1-6 once, working Rows 7-104, 4 times in total, or until your piece is a little short of your desired finished length, then work Rows 105-120 once.
Upper Edge
Row 1: Knit.
Row 2: K3, p to last 3 sts, k3.
Repeat Rows 1-2 two more times.
Knit 6 rows.
Bind off as follows: K1, *k1, return the 2 sts to the left needle and work k2tog-tbl; repeat from * until all sts have been worked. Cut yarn and pull through final st to secure.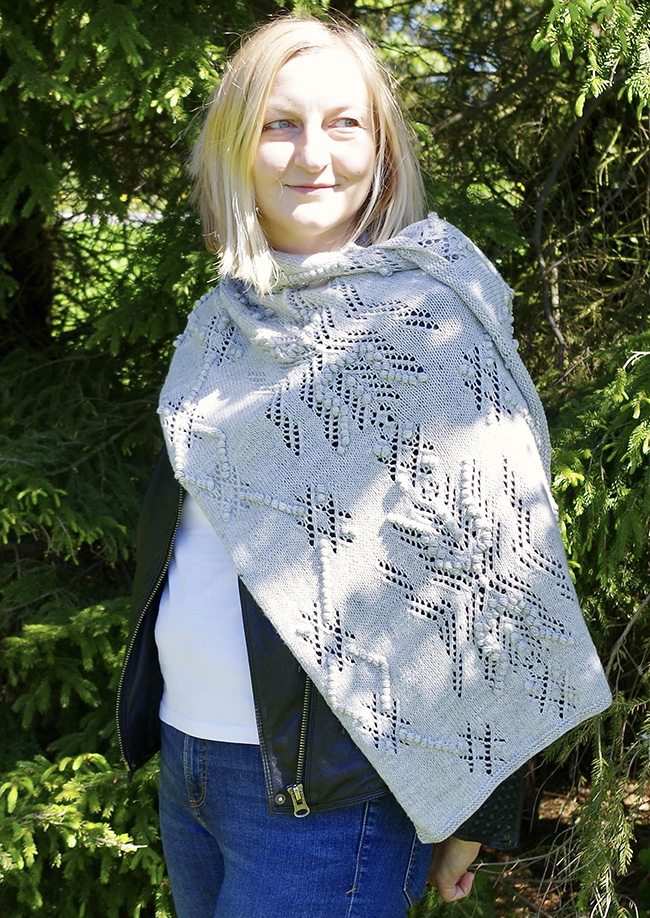 FINISHING
To block, soak piece in lukewarm water, with a bit of woolwash. Rinse as required and roll it in a towel to squeeze most of the moisture out. For straight edges, use blocking combs or wires, stretching the lace to open it out. Once dry, weave in ends.
ABOUT THE DESIGNER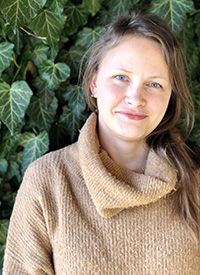 Mari-Liis' goal is to give knitters the necessary confidence to try even the most challenging knitting projects and make seemingly complicated knitting techniques as simple as possible. She also enjoys gardening and loves nature.
Visit her here.
Pattern & images © 2021 Mari-Liis Hirv