Knittyspin, a column on spinning for knitting by Jillian Moreno
SR [Finished chest measurement for sweaters] = the smallest chest measurement to the largest chest measurement we could find in the book. There may be only one pattern with the smallest or largest size, but it's in there. Books are softcover unless noted otherwise. All prices USD unless noted. We are provided with samples to review for free, and we do not publish reviews of products that do not perform well in our testing. We are not paid to review any product.
Browse the whole list of books reviewed this issue at Bookshop which gives 10% of their profits to independent bookstores across the US, and a 10% commission to Knitty for every purchase.
We also provide links to purchase on Amazon, and they give us a commission when you purchase as well. Thank you for supporting Knitty!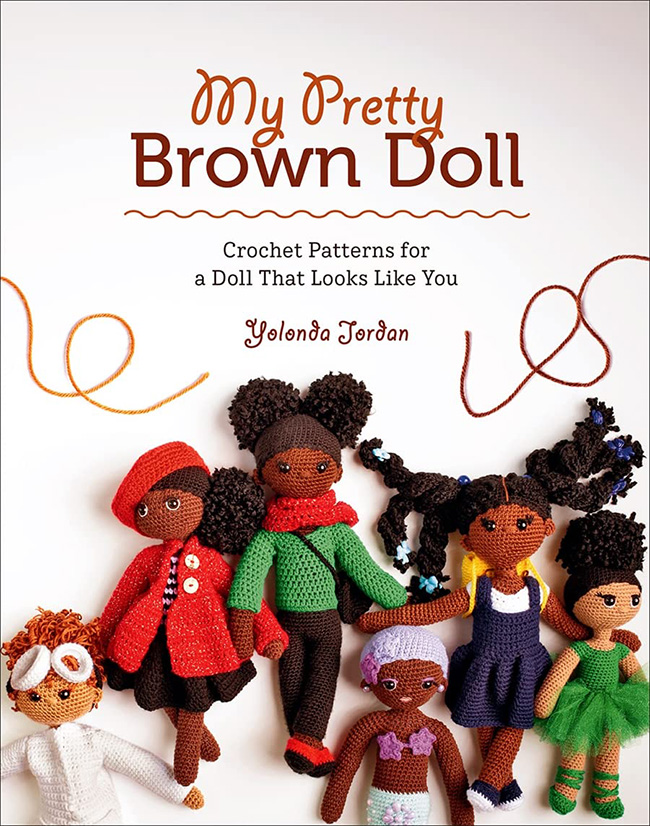 My Pretty Brown Doll: Crochet Patterns for a Doll That Looks Like You
by Yolonda Jordan
Abrams
$22.50

Buy now at Bookshop.org | Amazon
Yolonda Jordan has created a book that may seem simple, but is in fact groundbreaking. Black and Brown crafters now have a guide to make dolls that look like them and the people they love.
The dolls in this book have a wide range of Brown and Black skin tones, and entire mix and match wardrobe to choose from. Along with the variety in skin tones (shout out to Lion Brand Skein Tones yarn), the chapter creating textures hairstyles is outstanding: afro puff, pony tails and curls are all here with several variations.
As a craft book, My Pretty Brown Doll is also exceptional. The directions are simple and clear with lots of tips and large photos included in the how-to. Yolonda also makes dolls to sell and through that business she knows exactly what works and what doesn't and she shares it all here.
There is one base doll to make and the customization is all up to you. The wardrobe consists of basic clothes, a sweater, dresses, pants, a coat, a hat, and a scarf, these are also easy to customize. There are also outfits for a scientist, a ballerina, soccer and softball, and more fantastical fun, a fairy and a mermaid. If a child you love asks for a doll that is a scientist/mermaid/fairy with braids, you are covered.

JM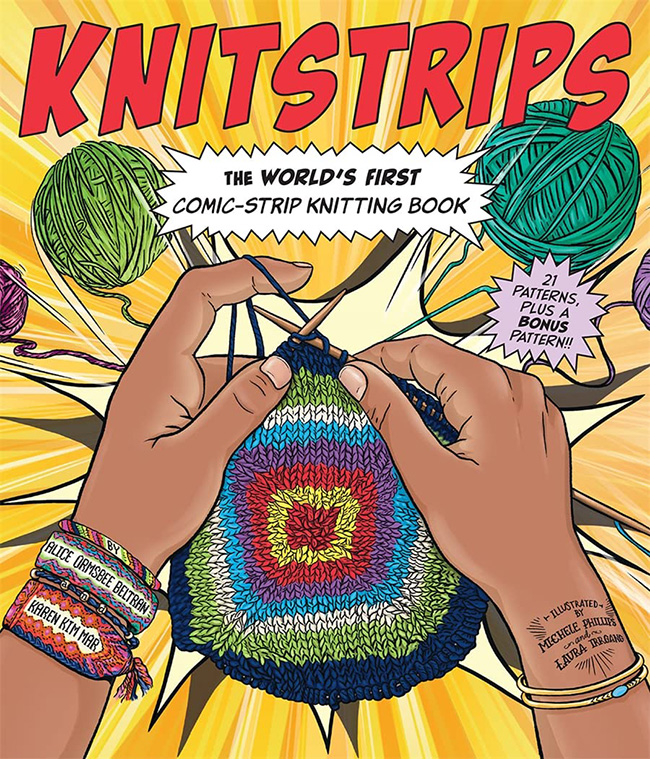 Knitstrips: The World's First Comic-Strip Knitting Book Paperback
by Alice Ormsbee Beltran and Karen Kim Mar
Abrams
$27.50
SR = Your size
Buy now at Bookshop.org | Amazon

Those of us who were knitting in 2003 vividly remember when Debbie Stoller's book, Stitch N' Bitch came out. It changed how so many makers thought about and approached knitting. Knitstrips is this generation's Stitch N' Bitch.
Knitstrips is set up like a comic book. Visual learners rejoice, there are copious illustrations and any text is presented in blocks. This is not a beginning knitting book and it doesn't teach you knit. Iit teaches you how to knit patterns customized to you.
This is a book for knitters who like to question and experiment, every pattern is full of choose your own adventure fun. You can choose your own gauge depending on the yarn you like, and the feel of the fabric, and your own size, with just a little (almost) pain-free math. Knitstrips encourages knitters to do their own thing, personalizing patterns in fit and look.
The patterns in the book and the techniques that go with them are divided into four chapters One More; Just One More – patterns that are on the simpler side; Focus Pocus are technique-based patterns; STASH for special skeins; and Bucket List are patterns that you dream about, with more complexity.
Don't make the mistake readers make by dismissing comic books and graphic novels. Don't think that this is fluff and not real knitting. This is a book filled with innovative patterns and great depth of technique and learning, all of which are presented in an extremely approachable way, with joy and inclusivity. Exactly what I want in my knitting.

JM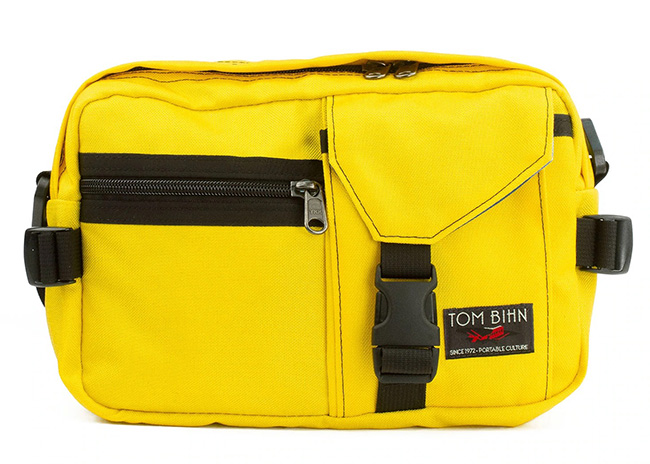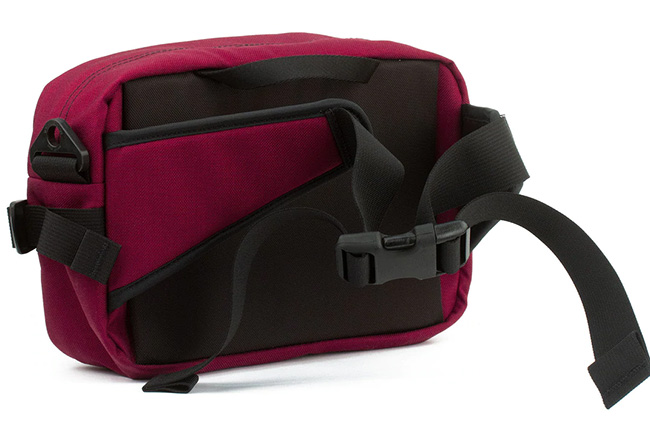 Le Petite Derriere
by Tom Bihn
Size: 11" (w) x 6.9" (h) x 4.7" (d) / 280mm (w) x 175mm (h) x 120mm (d)
Available in a variety of colors. Shown in Canary/Cobalt at top, Red Blend/Mountain Grey at bottom
$130
Buy now at Tom Bihn

Jillian: This bag is suspiciously small, and I'm not sure how I cram as much as I do in there. My big test carry for this bag was the Maryland Sheep and Wool Festival. I crammed all the things in there. It was heavy, but comfortable. For a saner yet still substantial carry for knitting, I would have a small project or partial project, socks or hat size, for spinning a Turkish spindle and a couple of ounces of fiber. Then I'd add in a small tool kit. If I left my crafting at that, I could fit a medium-sized wallet and a 10-ounce Yeti cup full of tea. Yep, that surprised and delighted me at MDSW – a good-sized cup of tea fits in my waist pack.
There are two extra pockets in the front for small things you need to access easily like your keys and phone. The waist belt fit my waist well and was even a little loose, but I ordered an extension so I can wear it across my body.
I thought this bag was going to be too small or uncomfy because of the shape and because it is more structured than a typical waist bag. I should have known better. Tom Bihn has never let me down, and this bag has become an everyday carry, with or without crafts along for the ride.

Amy: I took my Petite Derriere for a test to my first post-lockdown concert. I wanted to wear it crossbody, so I had the extender on it, and it fit my fat body with room to spare. I could wear it in front of my chest, if I wanted to go the cool route, or on my back, if I wanted more comfort. (A small pack laying on a large chest isn't comfortable for me, I learned.) I also carried the bag by the handle, which is attached to the top/back of the bag, and makes it easy to grab if you need to carry it off your body.

I found the bag light yet spacious, and had room for a small sock-sized knitting project in the main inner area of the bag as well as my wallet; my smartphone (in the front clippy pocket – lots of extra width in that pocket; the height fit an iPhone 13 perfectly), all sorts of female necessaries in the front zippy pocket, several masks in the inside back pocket that runs the width of the bag. There are, as we have come to love and appreciate, several o-rings where I could attach my house keys. I used the one inside the bag. I also like the cinch straps on either side of the bag, so you can tighten the bag when it's not carrying as much.
I can see this bag being perfect for walking the dog (treats, dog bags, etc will fit easily, as well as a small knitting project when you stop for a break). If you take out all the usual life necessaries, it will fit all necessary notions, circular needles/DPNs/crochet hooks, as well as the knitting/crochet project.

JM + AS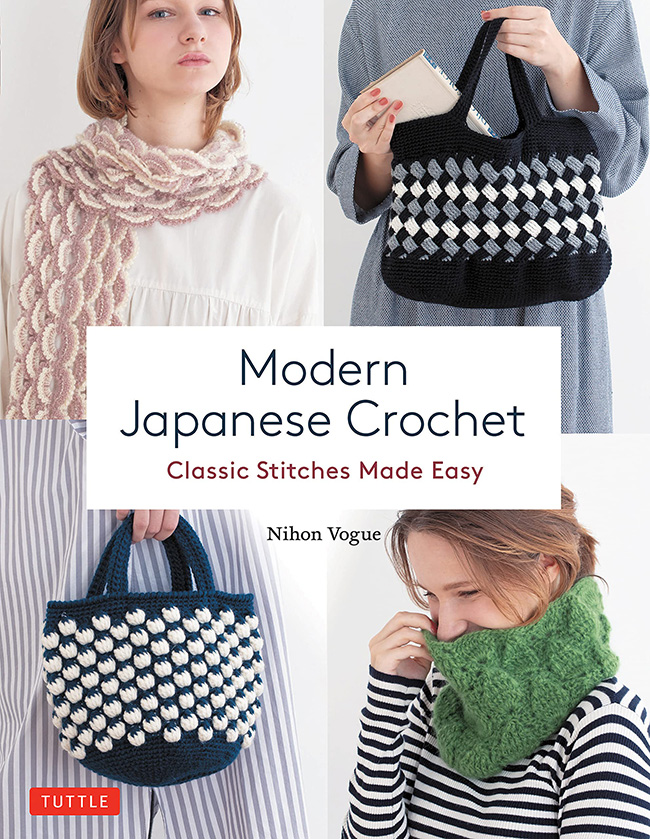 Modern Japanese Crochet: Classic Stitches Made Easy
by Nihon Vogue
$16.99
Buy now at Bookshop.org | Amazon

Perfect for spring and summer carry-along projects, this book is full of quick and cute crochet accessories. There are bags, cowls, shawls, scarves, and home décor. Each project is shown styled, but you are able to see them clearly. Each pattern is shown in alternative color combinations, either as a variation of the project or as a swatch. I love being able to see rather than imagine other colors.
The crochet stitches, if you are newish or need a reminder, are presented in progressive photos which makes them a snap to work.
The patterns are easy to follow but are not written out line by line. Tthey are all presented in charts and diagrams. The upside to working with patterns this way is you can see where you are and where you're going in the diagram, rather than just following along. It is very much a personal preference. If you are curious about how patterns like this would be to follow, these small and quick accessories are a great way to dip your toe in following pattern diagrams.

JM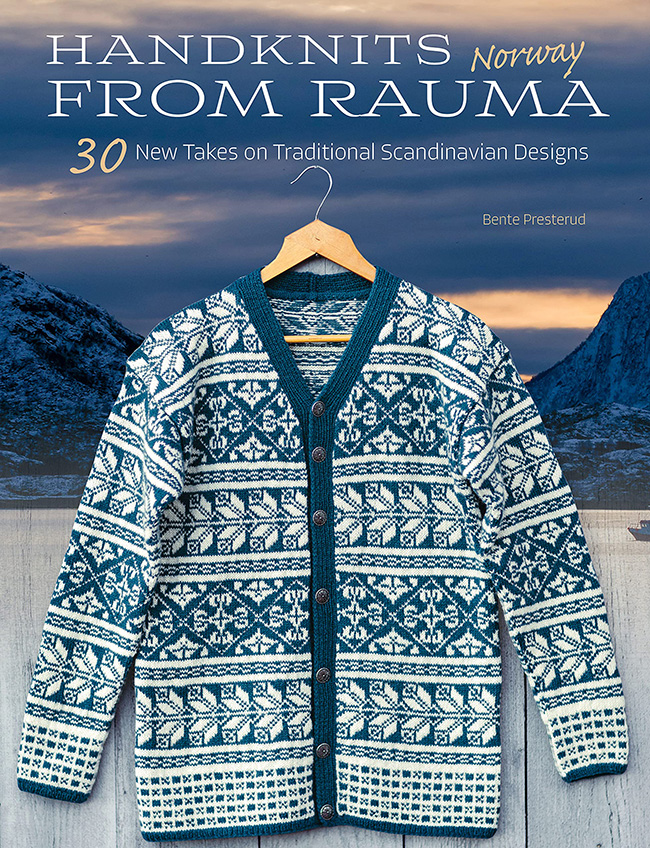 Handknits from Rauma, Norway: 30 New Takes on Traditional Norwegian Designs
by Bente Presterud
Trafalgar Square Books
$26.95, hardcover
SR=34- 54"
Buy now at Bookshop.org | Amazon

What Lopi yarn is to Iceland Rauma Garn is to Norway.
Bente Presterud took on the dauting task of selecting and reimagining nearly a century's worth of patterns for this book. The results are things you might expect like classic Norwegian-style colorwork sweaters for men and women updated in brighter colors.
There are surprising things too, like a dress(!) and a lot of textured patterns like brioche and cables. The pattern are grouped into chapters: Characteristically Norwegian; Rather Easy; Fitted; Stylized and a Bit Delicate; Cabled Favorites and Textures for Every Day; and Small and Cozy and Good.
I adore looking at vintage patterns, but don't like doing the work to update them to different yarns, and my size. I really enjoy that Bente included five Gems From the Archive patterns: each featuring a vintage Rauma Garn pattern, complete with photos, with the pattern updated for knitters today.

JM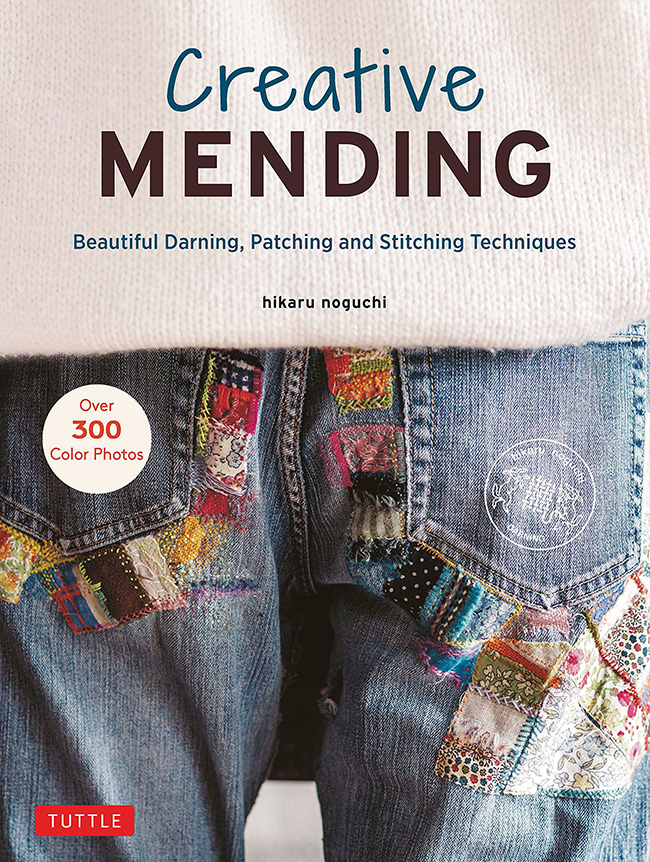 Creative Mending: Beautiful Darning, Patching and Stitching Techniques
by Hikaru Noguchi
Tuttle Publishing
$16.99, hardcover
Buy now at Bookshop.org | Amazon

Hikaru Noguchi is a world-renowned expert in mending, but what makes her work extraordinary to me is that her mends are also artful and beautiful. The placement of darns, mixture of texture and colors are unique and distinctive. This book is equal parts how-to darn and mend, and photo after photo glorious inspiration from Hikaru's mends.
Paging through this book is like walking through the best kind of cluttered (in the good way) shop or museum. There is so much to look at and soak in. It's very much like a British country garden – it looks wickedly spontaneous, but you know how much thought and planning and skill go into it.
There are 10 techniques (with variations) covered here, starting with a basic basket darn, moving to patching (from the inside and outside), repairs to inseams and underarms, repairing edges, darning sweaters (including felting), and darning large holes. The basic lessons open with a variety of examples of the darn or repair, moves into step-by-step technique in photography, then finished with more advanced techniques, if there are any.
I learned so much and kept coming back to the extensive examples of repairs. In these, along with several photos, she lists the damage, the threads used and just a sentence or two of how she did the repairs. Repairs are shown and taught on woven and knitted fabrics, in natural fibers.
The book closes with darning samplers based on material. They show a garment (socks, t-shirt, cashmere cardigan, jeans and a puffer vest) with multiple areas of damage and discuss how she did the repairs to each.

JM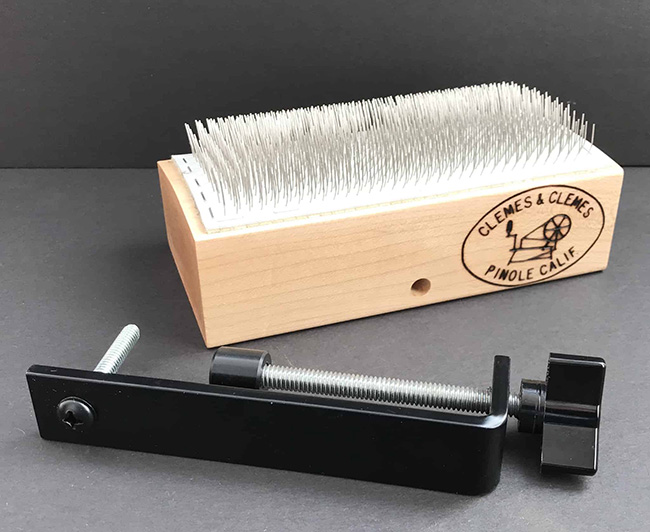 Lock Pop
by Clemes & Clemes
$120
Buy now at Clemes & Clemes

My new favorite fleece processing tool! Such a clever idea. Clamped to a table, I can use it to open locks, even one handed. Certainly, I can open locks much faster than I can with a flick card.
One of the genius things about this tool is that the action is reversed compared to a flick card. With a flick card your bring the tool to the lock, tapping it open and sometimes (most of the time) catching a knuckle or two along the way. With a Lock Pop, you bring the lock to the tool and have much more control over the opening process. You can see just how much the lock gets opened, and I have yet to make my knuckle bleed with my Lock Pop.
I use it before spinning from the lock, when the wind is blowing just right, and the moon is high I can get into a rhythm of dragging my lock through the Lock Pop with one hand and sliding it right into my spin without slowing down much. The wood is weighty, the clamp holds it firmly, and the angle is just right.
Mostly I use my Lock Pop to open locks before handcarding them or sending them through my drum carder. I will admit before this I took the lazy way and opened the locks with my hands by pulling them apart. I like the way of the Lock Pop so much better.

JM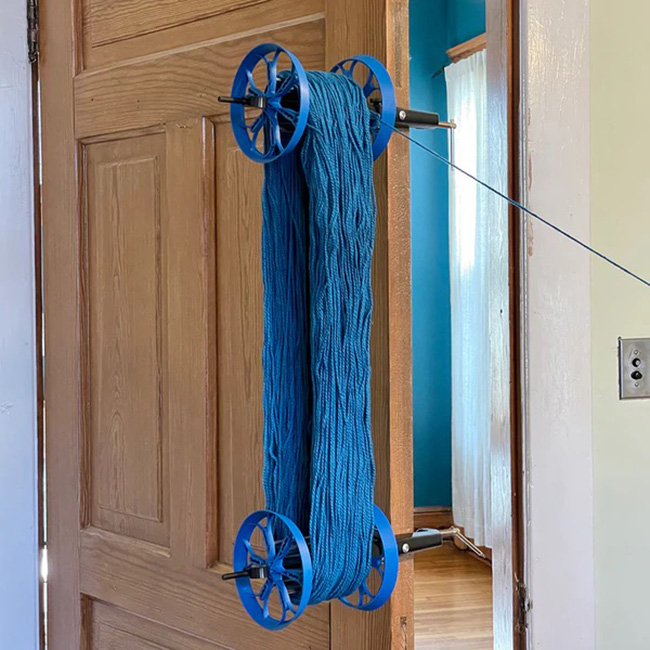 VersaSwift
by Akerworks
$182
Buy now at Akerworks

I like to have a rummage around in Adan Akerman's brain sometime. I can't believe what he comes up with. I'd long given up on the idea of a really portable swift, and then he comes up with this, the VersaSwift.
It's a riff on a squirrel cage swift, which is a vertically oriented swift with two 'cages' that look like big fat spinning wheel bobbins that move within the vertical frame to adjust for different skein lengths. Adan's brain said, 'why do we need a frame?' and the VersaSwift was born. The VersaSwift has two cages that clamp – to a door, a table, chairs, almost anything. Since the cages aren't impeded by a frame, the size range of skeins it can hold is almost infinite.
To make it more awesome, the cages are collapsible, and pack flat. The entire swift fits in a bag that's about laptop size.
The first time I used mine, I had a crazy set up. The swift was clamped to a table that's an oval, so it was at an angle. I also added a yardage counter to the mix, yarn ran through it on the way to my ball winder. The VersaSwift never faltered. I do, no matter what swift I'm using, run the yarn through a hand between the swift and the ballwinder, to keep the tension light so I don't stretch my yarn. I could have wound my cake without having my hand there, it moves so smoothly adding very little tension, but habits are habits.

JM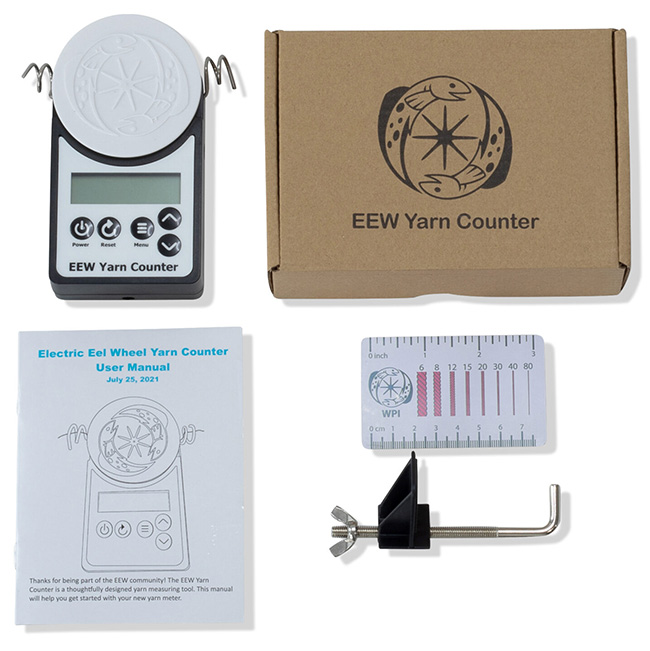 Yardage Counter
by Dreaming Robots
$65

Buy now at Dreaming Robots

An easy to use and affordable yardage counter with no math needed to get your yardage.
I do not want to think about the engineering it takes to make a yardage counter (or most things) my brain isn't wired that way. I watched the video on how to use it, put in my batteries, clamped it to the table, and it just worked. That is becoming a rarer thing these days, and I really appreciate it. It took me less than 15 minutes from opening to the box to using it successfully.
I did have yarn slip when I first started winding, so I wrapped my yarn around the whole circle instead of just across the top and it was fine. A smart thing you can use (but don't have to) is a setting for WPI to help calculate you yardage more accurately. I used it, set the WPI to the number closest to my yarn on the WPI gauge provided, and it gave me a little more yardage than my niddy noddy. No yardage counter is perfect or will give you absolutes; it's just too easy to accidentally stretch your yarn and have you yardage be off. Since I became a spinner that is a-ok with 'ish', I am a much happier spinner.
I still can't believe how easy this counter is to use.

JM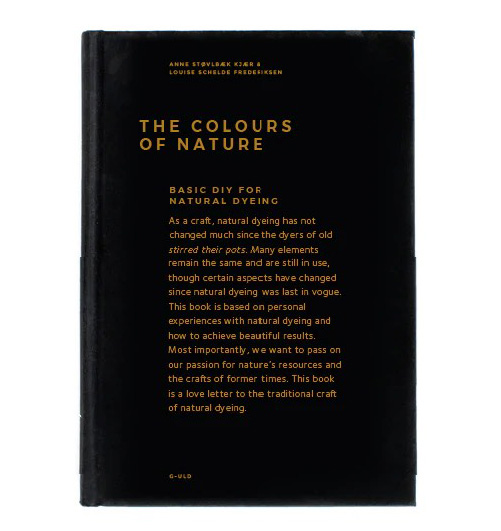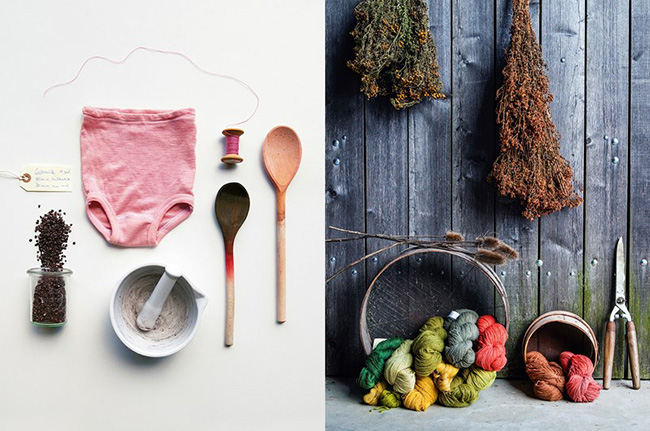 The Colours of Nature
by Anne Støvlbæk Kjær & Louise Schelde Frederiksen
G-ULD
$45, hardcover
Buy now at G-ULD

I will admit I get overwhelmed when I think about starting with natural dyes, outside of kitchen dyes and teas, but this book is so clear and concise that I feel I could jump in and dye without hesitation or confusion.
This beautiful book is aimed more for those taking their first steps in natural dyeing or anyone looking to fine tune their dyeing.
What makes this book so accessible is the paring down of information. Many dye books offer so many options that it's easy to get lost. Here things are perfectly pared down to a few basic plants and mordants that will get you a rainbow of colors.
The design of the book is stunning –  the photography and layout. The visuals are also pared down with the pages of inspiration featuring full-page pictures, and the pages with instruction, recipes and charts have lots of white space. For me it made it all so clear and easy to follow.
I highly recommend this book for anyone newly interested in natural dyeing, and anyone who collects textile books with great design.

JM

Vivian Høxbro's Knitting Handbook: 8 Schools of Modular Knitting
by Vivian Høxbro
Trafalgar Square Books
$31.95, hardcover
SR= 39-52"
Buy now at Bookshop.org | Amazon

Vivian Høxbro has been a favorite design of mine since Domino Knitting, not so much for her garment designs as for the variety of methods she uses. She keeps her patterns plain so her colors and techniques can stand out.
This book is an exciting workshop featuring eight different modular techniques. The set up of the book is perfect for how I like to learn. I'm very much a visual learner who likes to experiment a bit with a technique before I jump in to a big project.
Each one of the techniques, Stripes, Squares, Tri-Squares, Right Angles, Staircases, Zig Zag, Shells, and Circles are explained first in their own School, with good basic directions and step-by-step photography which results in a swatch. Then you are offered a small pattern to practice, or if you are feeling confident jump straight to a larger pattern, usually a sweater or wrap.
Instructions include choosing colors that work together and how to place then, as well as careful explanations for short rows, picking up stitching, and changing directions. All of these skills are essential for modular knitting.
I am very curious about modular knitting these days,who would want to knit in all directions? This book is going to perfectly scratch that itch.

JM