Knittyspin, a column on spinning for knitting by Jillian Moreno
Steam Heat
Steam is a spectacular way to quick finish, a way to change or enhance the preparation of commercial fiber, and a way to investigate mystery fibers.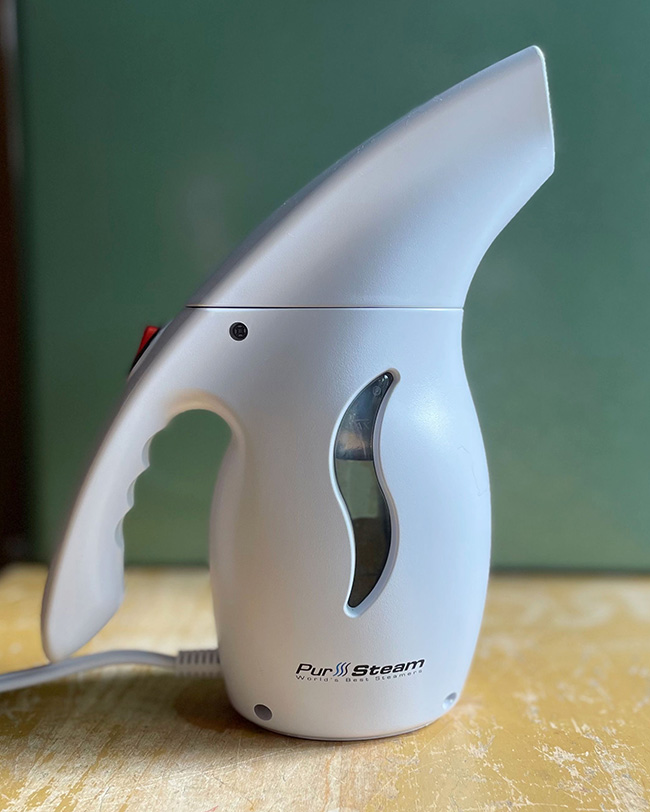 I use an inexpensive clothes steamer to steam my fiber and yarn

I use steam as a means to an end quite a bit. I use a travel clothes steamer. You could use a pot with a steam basket, but make sure the fiber or yarn isn't sitting in water.
As a finish, steam doesn't get into yarn or swatches as deeply as submerging it in water, but it's quick. The yarn or swatch dries faster, which is a bonus if you are at the sampling or swatching stage. As a finish, it doesn't disturb the surface of the yarn.
I use steam as a finish if I have a tender yarn or a yarn that has a high percentage of very fine wool, like a Merino/silk, to keep the surface as smooth possible. Sometimes even a snapped finish will cause some fuzzing.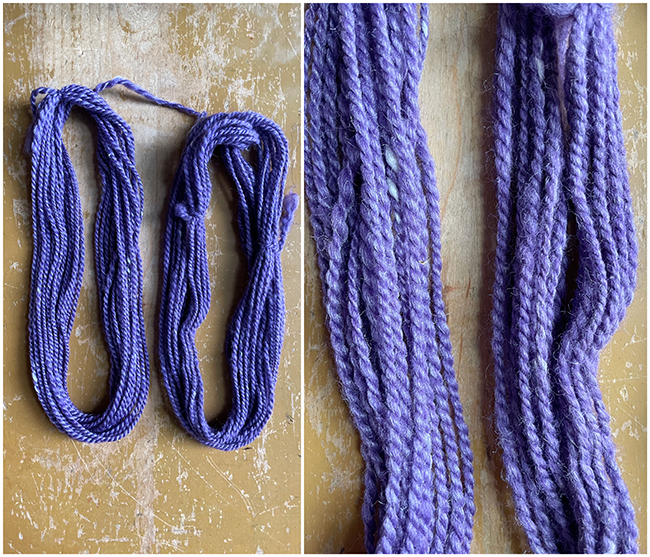 left: steaming, right: whacking
The two yarns in the photo above are the same except for their finish. The fiber is an 80/20 blend of Merino and silk, spun with a woolen draft, and plied to balance.
The steamed yarn on the left is smoother. I can even see some silk shine. The whacked yarn has a rougher surface, and if you look closely it looks a little fulled. If you could touch it, the whacked yarn feels denser, and doesn't have the same drape as the steamed yarn.
I use steam the most when I am sampling yarns. It allows a quick check to see how much a particular yarn might change in the finish. If the project is a big one, like a sweater, or uses a fiber that I know likes to change when it sits in hot water, like Polwarth, I do a full soaking finish, to I get closer to the yarn I want.

Steam is great to open up commercial fibers. I will steam fiber if it is compacted a little, and only after opening and fluffing it as much as I can. I won't use steam to try an open something that I suspect is felted, because it will just make it worse. Steam is especially good for batts that may have languished in your stash a little too long.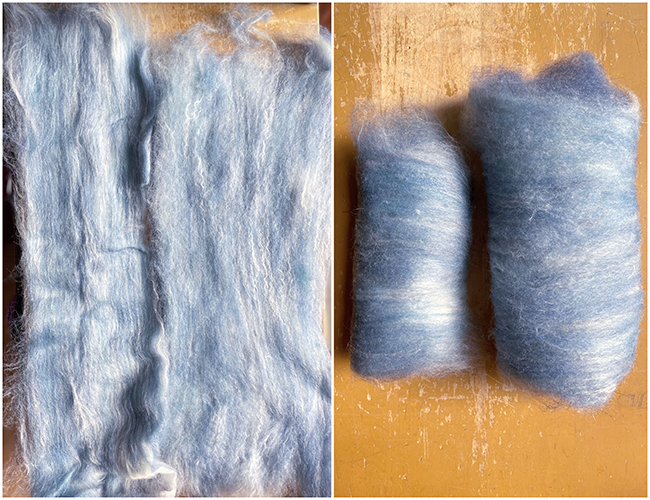 left: batt fresh from stash, right: batt after steaming

Above is a batt from Essential Fibers that has been marinating in my stash for 'a while'. I knew that batts pretty much deflate the longer that they are stored, but I was surprised to see how beautifully this batt revived with a little steam.
Steam will change the preparation of combed top. It's not woolen, but it's not really worsted anymore – it's much more lofty. If I want to make an airy yarn from commercial combed top, I will steam it to add in air and revive the crimp. Commercial top is made under enough tension that it stretches out the crimp of the fiber. After you spin it, the crimp will revive in the finish. How much depends on how you spun the yarn.
If you steam your fiber before you spin, it can really change. I like using a steamer rather than a pot of water because I feel like I have more control of the steam.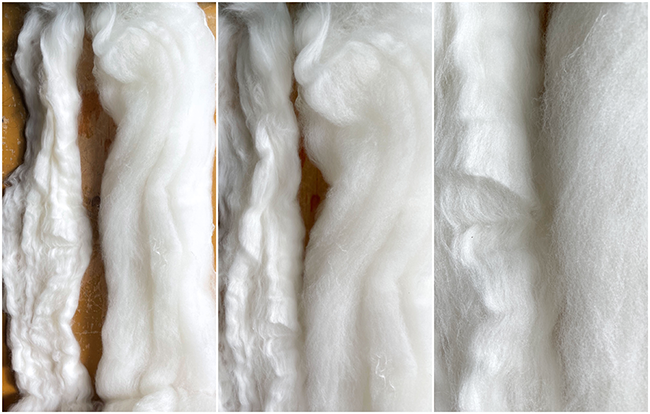 Merino top before and after steaming]

Look at the huge difference between commercial Merino top just out of the bag, and that same top after I steamed it for a bout 30 seconds! It seems like a different fiber.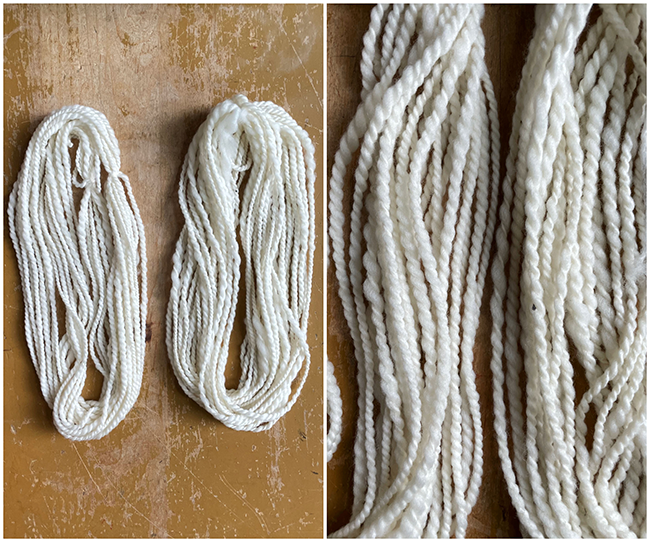 Yarns spun from Merino top before(left) and after(right) steaming
I like spinning steamed top. It's lofty and crimpy, and allows the fibers in a woolen draft, including longdraw, to catch each other easier. I spun both of these yarns with a sweeping longdraw. They aren't very consistent (I'm working on it!), but inconsistency aside, I can see that the yarn from the steamed fiber on the right looks loftier. It was also much easier to spin, and the yarn itself is lighter.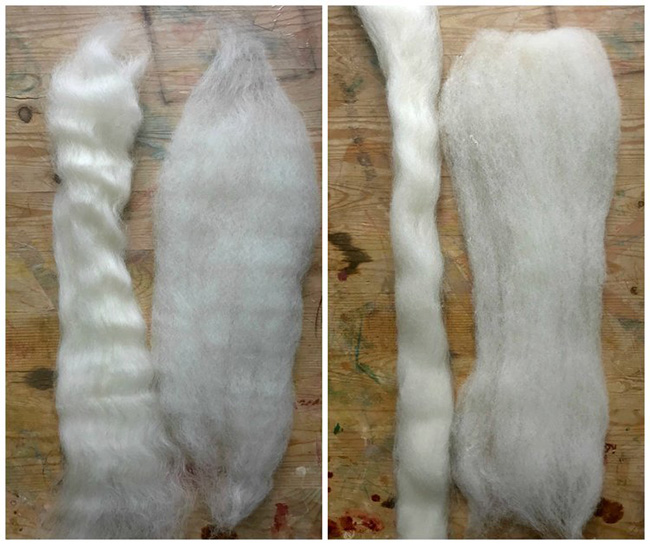 Mystery combed top before and after steaming

When I have a mystery fiber – a gift or I've lost the tag – I will steam the fiber to help identify what it is. I steam it to see how much the crimp changes and pull out a staple to see how long the fiber is. I usually can guess an 'ish'. A fine crimpy fiber, medium fiber, long wool, blends are a little harder. I can't get to the actual breed, but those two things – crimp and staple length – allow me to approach spinning a successful yarn with good information, rather than just jumping in.
The mystery fibers here are Corriedale on the left and Southdown on the right. Even in the photo, I can see how different the crimp is in these two fibers.

Give steaming a try in any or all of the ways I've listed. It's always fun to experiment, and you may find a technique that makes your spinning more fun.
ABOUT THE AUTHOR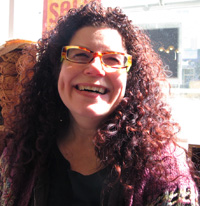 Jillian Moreno is the editor of Knittyspin and Catalyst for Knitty. She's the Developmental Editor for PLY Magazine and PLY Books. A couple years ago, she wrote the best-selling spinning bookYarnitecture: A Knitter's Guide to Spinning: Building Exactly the Yarn You Want. Now she's writing another spinning book and trying hard not to start weaving.
She lives in a house packed with fiber and books and has a hand spinning Patreon over here.
Pattern & images © 2022 Jillian Moreno. Contact Jillian