Floribundance, a free knitting pattern from Knitty.com.
INTRODUCTION
Floribundance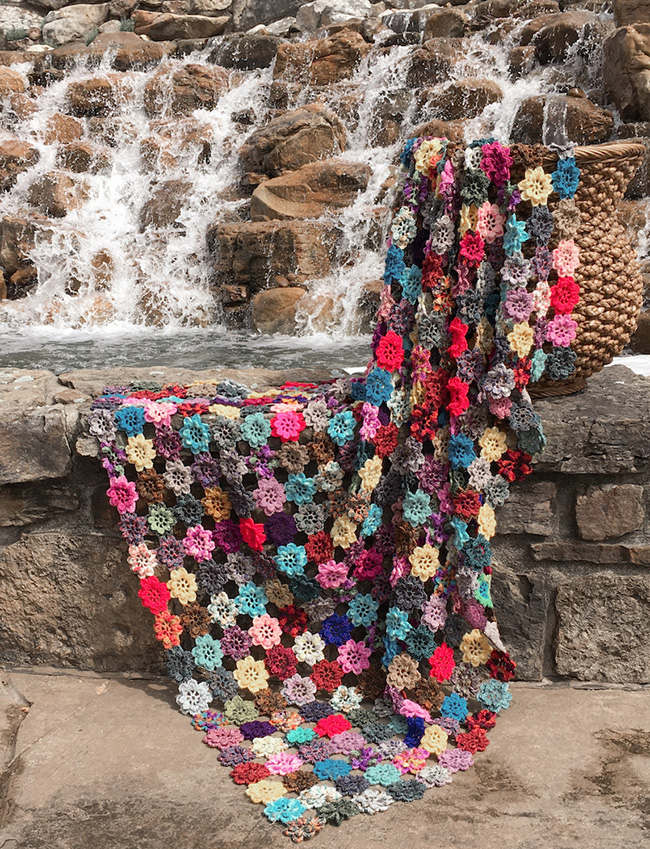 by Alexandra Davidoff

Floribundance is a reflection of all the sock-weight projects that I created over the years. It is made of 480 individually crocheted 3D flowers of fingering-weight yarns. The idea behind this design was to utilize a big portion of my precious leftovers – the small yarn balls that are remnants of the projects that I've worked on and loved.
Not a fan of fingering weight? No worries! Work the motifs in whatever leftovers you have, keeping in mind that the final dimensions of the blanket will change depending on the gauge you use. And whatever gauge you use, all your flowers should be in the same yarn weight.
480 flowers seems like a lot, but here is the way I made it. It took me a year, making at least 2 motifs while having my morning coffee and attaching them together as I finished them. This way I was fully enjoying working on my other projects and watching my Floribundance grow each morning. I hope you are inspired to make your own blankets and I can't wait to see them bloom!

photos: Alexandra Davidoff
FINISHED MEASUREMENTS
Width: 50 inches/127 cm
Length: 60 inches/152 cm
MATERIALS
Yarn


This project is designed to use leftover yarn. For the sample, one motif used approximately 12 yards/11 meters of fingering-weight yarn. To make the blanket as shown in the same gauge, you'll need approximately 5760 yards/5280 meters in total.

Yarn Characteristics


The sample shown uses 2-ply fingering-weight Merino Wool/ Nylon, Merino/Silk and Merino/Cotton blend yarns. Use whatever yarn you have on hand, ensuring all yarn used is the same weight/thickness.

Recommended hook size


US E-4/3.5mm hook

Notions


yarn needle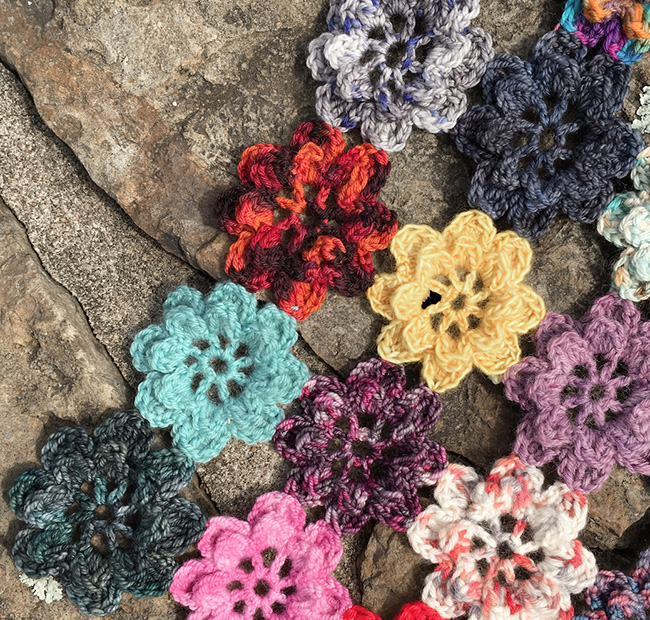 GAUGE
Based on sample shown using yarn and hook specified in Materials section. If using a different weight of yarn, please adjust hook size to create a solid but flexible fabric as shown in the image above.
Motif width: 2.5 inches/6.5cm
PATTERN NOTES
[Knitty's list of standard abbreviations and techniques can be found here.]
Each motif is constructed as 8-petal flower in 2 layers. Begin at a center, work top layer, then work the bottom layer. You can make it in one or more colors.
Sample shown is made from 480 flowers.
Video tutorial on how to crochet the flower block is here.
DIRECTIONS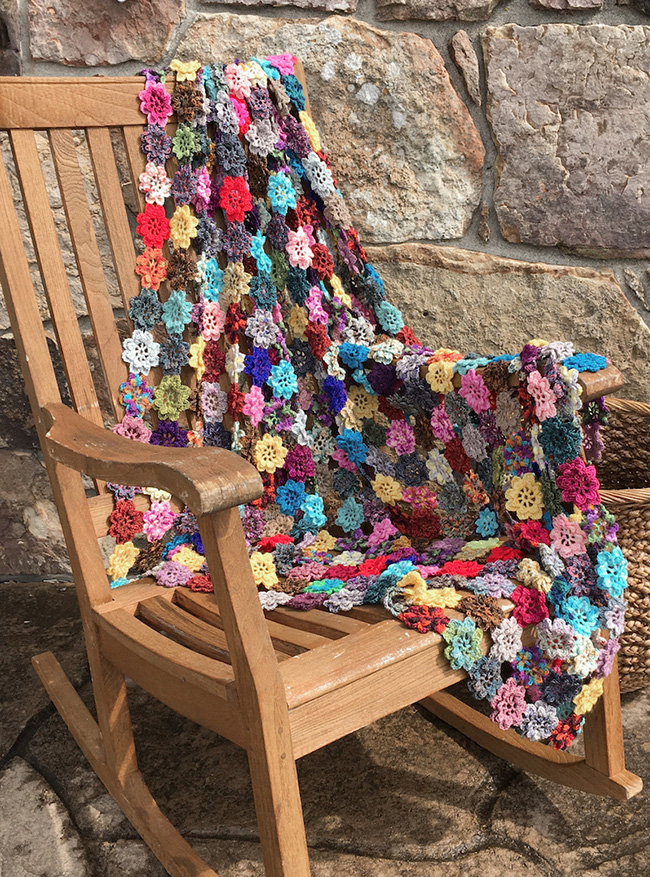 Flower
Beg at center, Ch 6, join with Sl St in first ch to form a ring.
Round 1 (RS): Ch 5 (counts as DC + 2 Ch sts), [DC into the ring, Ch 2] 7 times, join with Sl St into 3rd Ch of the Ch 5 at the beginning of the Rnd. Now you have 8 Ch-2 arches.
Round 2 (RS): Ch 1, work (SC, HDC, DC, TR, DC, HDC, SC) into each Ch-2 space. Sl St into Ch 1 in the beginning of Rnd 2.
Round 3 (WS): Turn work so that WS is facing. First locate the two strands that form the inverted "V" above the DC posts from Rnd 1 at beg of each petal. Ch1, insert hook under the right half of the first strand and into the left half of next strand and work Sl St. * Ch 3, work Sl St into next inverted "V" to the left; rep from * around. Sl St into Ch 1 in the beginning of Rnd 3.
Round 4 (RS): Turn work with RS facing you. Ch 1, work (SC, HDC, DC, 3 TR, DC, HDC, SC) in each of the 8 ch-3 spaces around. Join into the first Ch st and fasten off, leaving 8 inch/20 cm tail for seaming later.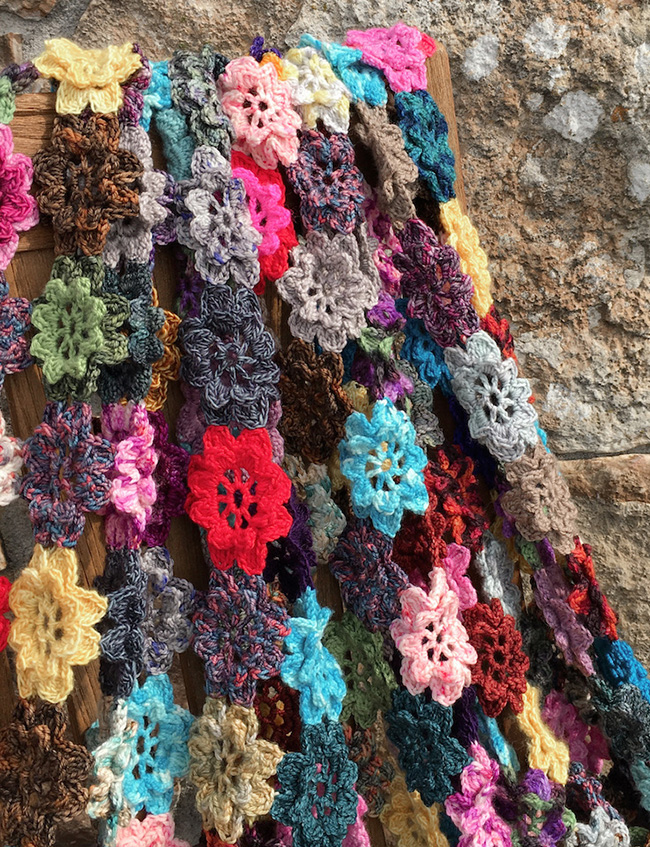 FINISHING
Wash or steam the flowers; do not press or flatten.
Arrange colors as desired with as much variation as possible.
You can connect the flowers together as you make them. Use the ending tail from each motif, or a new strand of yarn and weave to the tip of one outside petal. Secure neatly on the WS.
Join motifs in a 4 x 4 square, 16 motifs per square.
Sample was made with 30 squares, 5 sets of squares (20 motifs) across, and 6 sets of squares (24 motifs) long.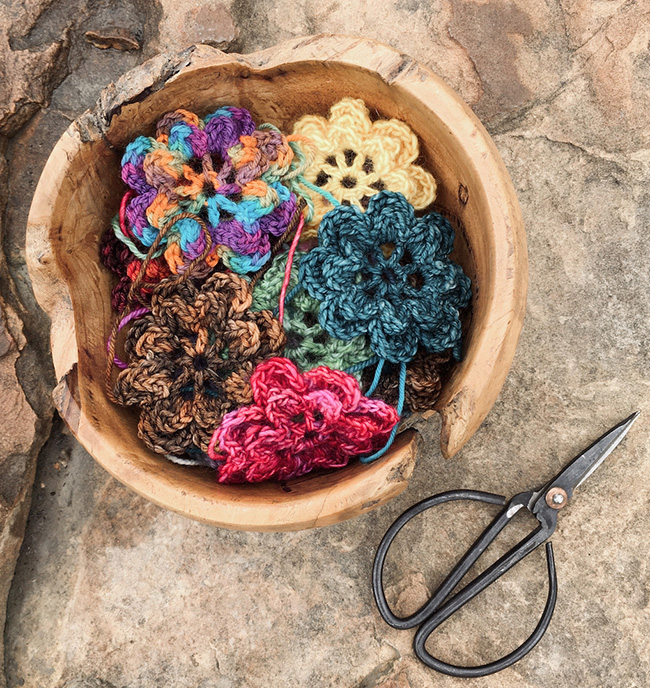 ABOUT THE DESIGNER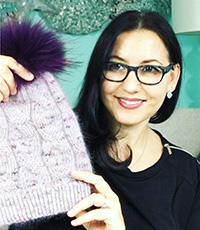 Artist and designer Alexandra Davidoff blends textures, colors, cultures and techniques to create unique pieces of wearable and decorative art. Her knitwear designs appear in Vogue Knitting, Noro magazines and books, Malabrigo books, Knitter's Magazine, Creative Knitting magazine, Designer Knitting magazine and 60 Quick Knits book. She works with a number of yarn companies and online websites, including Cascade Yarns, Knitting Fever, Lion Brand Yarn Co., Hedgehog Fibers, La Biene Aimee, Knitty, Annie's Crafts and Simplicity. Alexandra teaches knitting classes and workshops in United States and around the world. You can find her among the teachers at Vogue Knitting LIVE, STITCHES, Hill Country Weavers Retreat, Taos Wool Festival, and more.
Before becoming a knitwear designer, she designed garments and accessories for Coldwater Creek and Soft Surrounding. She got her Fashion Design degree from The Art Institute of Dallas. Alexandra lives and works in Dallas, Texas.
You can find Alexandra's design portfolio on Ravelry and much more at alexandradavidoff.com.
Pattern & images © 2022 Alexandra Davidoff