Feature: Cool stuff
Cool stuff
SR [Finished chest measurement for sweaters] = the smallest chest measurement to the largest chest measurement we could find in the book. There may be only one pattern with the smallest or largest size, but it's in there. Books are softcover unless noted otherwise. All prices USD unless noted. We are provided with samples to review for free, and we do not publish reviews of products that do not perform well in our testing. We are not paid to review any product.
NEW! Browse the whole list of books reviewed this issue at Bookshop which gives 10% of their profits to independent bookstores across the US, and a 10% commission to Knitty for every purchase.
If you're outside the US, we also provide links to purchase on Amazon, and they give us a commission when you purchase as well. Thank you for supporting Knitty!

Surprise reviews! (May 2021)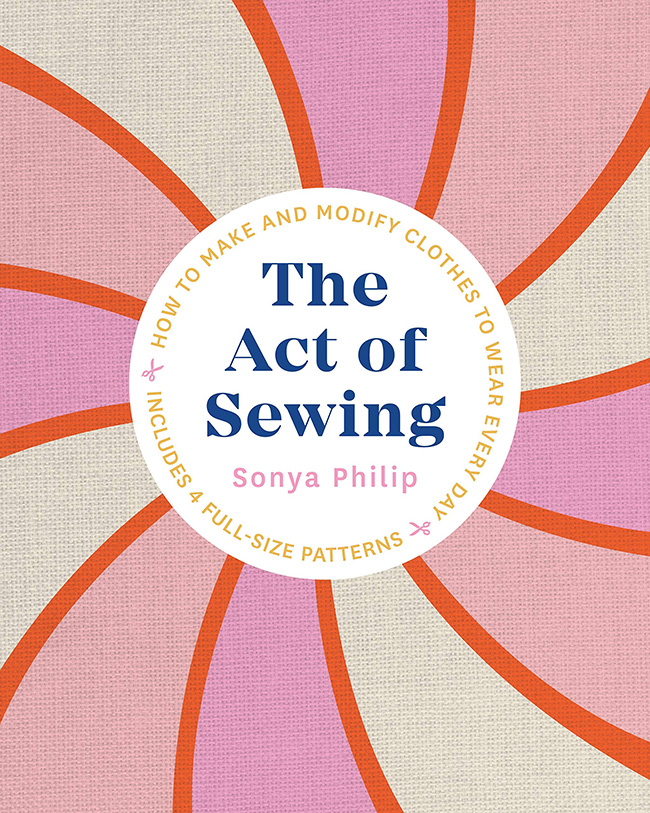 The Act of Sewing: How to Make and Modify Clothes to Wear Every Day
by Sonya Philip
Roost Books
$26.95
buy now from Bookshop.org | Amazon
All of us at Knitty are big fans of Sonya. We read everything she writes, delight in her Instagram and buy and sew her patterns (some of us buy more than sew). It is her joy and inclusiveness that draws me to her work. From her art project 100 Acts of Sewing, her patterns, Creative Bug classes, and column for Modern Daily Knitting, there is always delight, and the feeling that anyone can make their own clothes.
If you didn't grow up sewing, or had less than positive sewing experiences, the whole movement of sewing your own wardrobe can feel like a secret club. This book smashes that idea. Sonya walks you through the tools you need, how to sew four basic patterns (included, in sizes XS-5X), how to adapt the patterns to fit your body, and how to modify the patterns to suit your style. Each chapter opens with an essay by Sonya, letting you know that, yes in fact, you can do this, and what learning the chapter's particular skills will bring you as a sewist and a person wearing their own handmade clothes.
The four patterns are a top, a shirt, a skirt, and pants. They are different but similar to her 100 Acts of Sewing patterns. She discusses the differences on her Instagram. Fitting adaptations include adjusting length and width, fitting busts, shoulder adjustments, rise, and seat adjustments. There are many, many mods – including combining patterns – six different types of pockets, pleats, making a shirt into a jacket, changing necklines, different types of sleeves, and different waists, ties, and hems.
This book is as much about self-love and self-expression as it is about learning to sew your own pants with pockets.

JM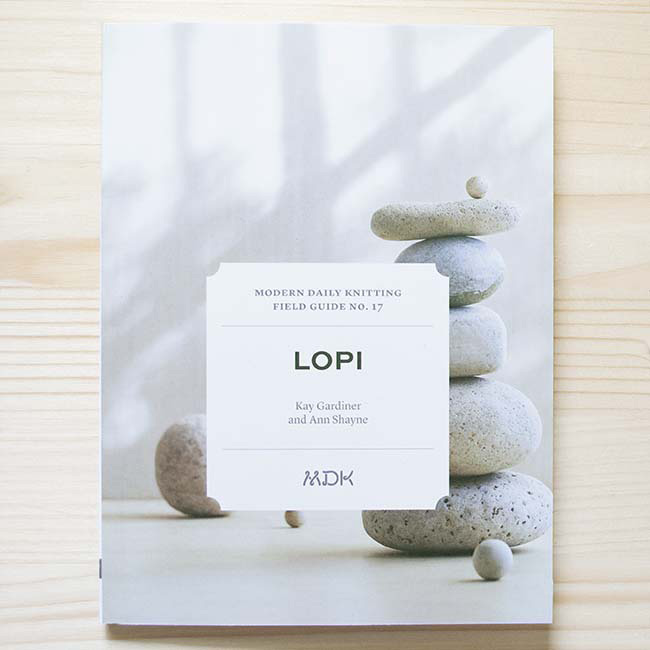 Modern Daily Knitting Field Guide No. 17: Lopi
by Kay Gardiner and Ann Shayne, with patterns by Mary Jane Mucklestone
$9.95-$15.95

buy now from Modern Daily Knitting
In the latest Modern Daily Knitting Field guide, we are treated to a quick trip to Iceland, wrapped in gorgeous colorwork by Mary Jane Mucklestone.
Mary Jane's designs (2 sweaters, a hat, mitten, and a scarf) are all knit from Léttlopi, a worsted weight yarn, that suggests a gauge of 4.5 stitches to the inch, and many knit it tighter. There is magic in all the Lopi yarns: thye are fuzzy and light, allowing them to be knit at looser gauges and still hold their shape. Mary Jane takes full advantage of this in her quick-to-knit and easy-to-` `wear designs.
She has developed five 6-stitch motifs that are a modern mix of traditional Scandinavian and Fair Isle designs. They can be used interchangeably in the pullover, hat, mittens, and scarf. MDK Field Guides are always fun and creative.
The standout pattern is the fifth pattern, Daytripper Cardigan, a sister to her wildly popular Stopover pullover. It's a thoroughly modern lopapeysa knit at an open gauge. You could knit it in a weekend. There has already been one Daytripper KAL, and if you are flummoxed for colors to chose for your own sweater, there are Daytripper coloring pages to print and play with color. Like I said, always fun.

JM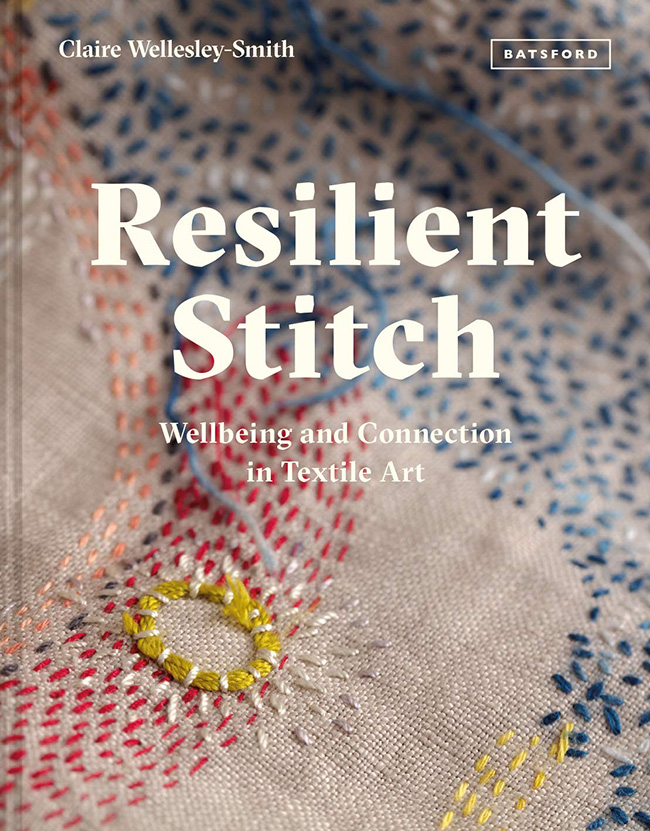 The Resilient Stitch: Well-Being and Connection in Textile Art
by Claire Wellesley-Smith
Batsford
$34.95, hardcover
buy now from Bookshop.org | Amazon
In The Resilient Stitch, Claire Wellesley-Smith builds on what she wrote about in her first book, Slow Stitch: the importance of sustainable cloth, stitch as meditation and self expression, and slowing down and connecting with our crafts.
She steps deeper into all of those things and brings in community, mental health, and the environment. She speaks deeply and personally on those topics, she documents her and other artists' work with community stitching, highlighting the reuse of fabric, people coming together, and mental respite. She outlines projects that can be done in community groups – patching, mending, and stitching to create simple and beautiful textile art.
Covid-19 crisis and first lockdowns happened as Claire was finishing this book. And she was able to add a post-script on The Bradford Covid-19 Stitch Journal Project. You can read about it more in depth on Claire's blog.
The book is filled with lovely and inspiring photos of the textile work of Claire, other textile artists, and different community groups. They show the beauty of giving used fabrics new life, simple stitches telling personal stories, and gathering and stitching with intention.
The Resilient Stitch is not a how-to stitch book; it's more a why and how we can help ourselves, our community, and our planet through stitching and stitching projects.

JM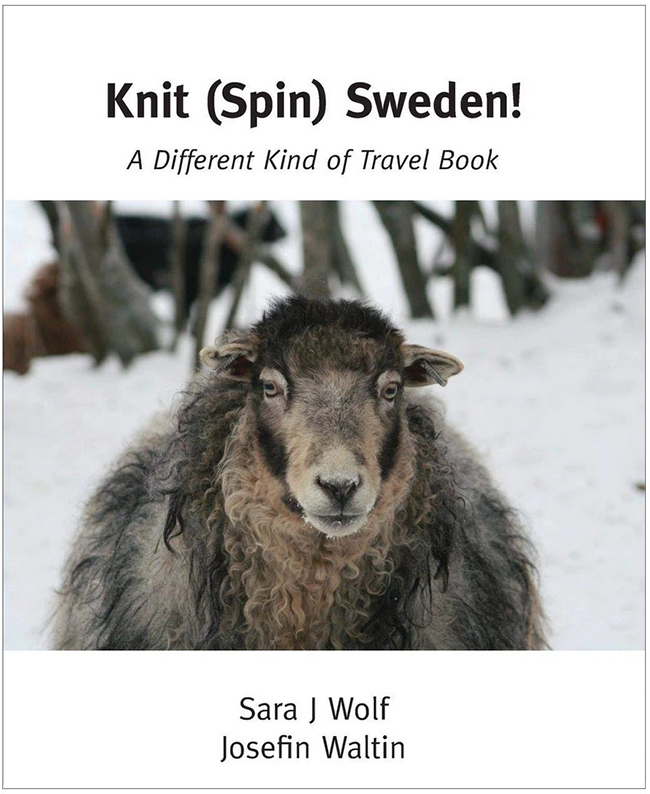 Knit (Spin) Sweden! : A Different Kind of Travel Book
by Sara J Wolf and Josefin Waltin
Cooperative Press
$29.95
SR=32-53"
buy now from Bookshop.org
Knit (Spin) Sweden is an explosion of information. Itook me days to read the whole thing, while plotting ways to get to Sweden.
This book is for the textile traveler, armchair or passport-carrying traveler.
It covers Swedish knitting history, visits current designers, and points you to yarn shops and museums that have knitting exhibits. There are 11 knitting patterns by the authors and some of the designers featured in the book. Sara Wolf approaches all of this with a passion that knitters know only too well. If you are visiting Sweden, this book needs to be in your planning arsenal. There is even a textile vocabulary glossary. If you aren't leaving your couch any time soon, she has provided information and links to buy Swedish yarns and support Swedish textile businesses.
Co-author Josefin Waltin brings spinning into the mix. I'd love to see this expanded into its own book (of course I would). Josefin educates us on a variety of Swedish sheep, including many conservation breeds. She discusses history, and the qualities of each breed's fleece. She spins the yarn, detailing the spins with enough technical information to understand, but not so much to make a knitter want to run for cover. The handspun yarns then are turned over to Sara who knits with them, and discusses how they knit, feel, and the type of knitted project suitable for each yarn.
This is an irresistible and useful book for knitters or spinners with wanderlust.

JM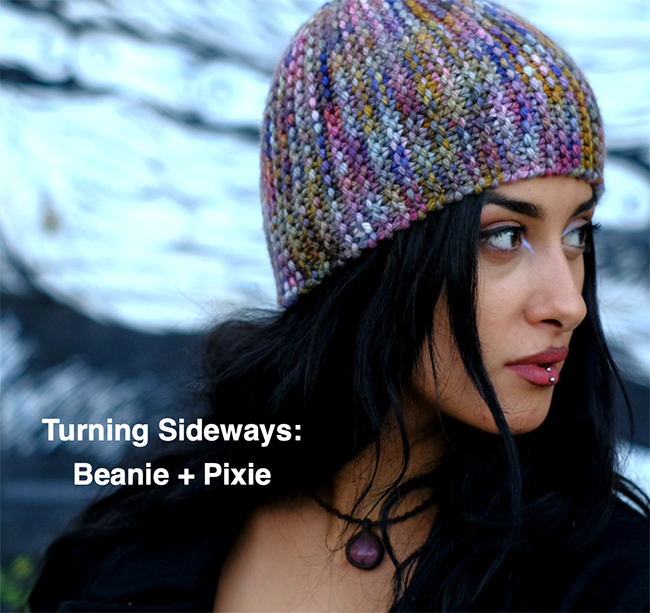 Turning Sideways Beanie + Pixie Class
by Woolly Wormhead
Includes 2 hours of professionally filmed and captioned videos + 42-page ebook (and more!)
The equvalent of a 6-hour in-person workshop
$60
sign up now from Woolly Wormhead
If you think you know how to make a garter stitch hat, think again. In the first few minutes of Woolly Wormhead's fantastic class, I could see that what I thought about hat construction was going to be upended.
I have knit Woolly's patterns before, but I just followed along, not really thinking about the why and how that was going on in the pattern; I just wanted a cool hat.
This class, which is like taking an all-day live class with Woolly, helped me see and really understand the method and thinking behind the sideways garter hat construction she is known for.
She gives you the basics of construction, and walks you through the math of both her Beanie and Pixie hats. The videos are amazingly clear (HD all the way), and she has so many samples that make it so easy to understand concepts. Including the math, which I usually run from.
The class videos are short – the longest is 8:21 – which makes the information easy to digest and easy to knit along with. There are 15-second replay and forward buttons (I used the replay a lot), excellent closed captions, the ability to change the presentation speed, and you can download the videos directly to your computer, tablet or phone.
Along with the class videos there are Key Skills videos for German Short Rows, Provisional Cast-On, and Grafting Garter Stitch. The German Short Rows videos are especially detailed, with separate videos for using, rescuing and grafting German Short Rows in garter stitch.
In addition to the videos, there is a 42-page ebook and full transcripts of all of the videos. She even offers a money-back guarantee.
This is an excellent class for anyone wanting to design your own sideways garter stitch Beanie or Pixie hat, or for anyone wanting to do a deeper dive into why and how of these hats' constructions.

JM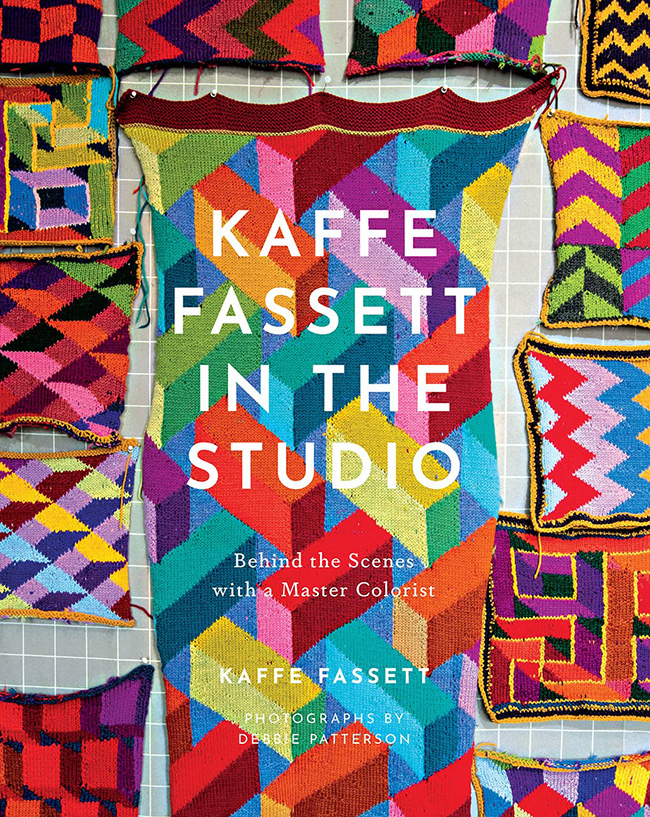 Kaffe Fassett in the Studio: Behind the Scenes with a Master Colorist
by Kaffe Fasset
Abrams
$40, hardcover
buy now at Bookshop.org | Amazon
Anyone that admires Kaffe Fassett has the same fantasy of knocking on his door and asking to snoop around his house and studio, just to soak it all up. This new book is the closest you will (probably) ever get. Kaffe throws open the doors and gives a curated tour of his house, his studio, and his process. The day I read this book, I did not move from the couch. The weather outside was having a spring snow tantrum, and basking in all the color was marvelous.
The visuals are everything you might want. His style is gorgeous layers and piles of interesting things, his own art, and color everywhere. It is exuberant, so full of life and creativity. Between the photography he tells stories. He talks about how he began, how and where he gets his inspiration. He showcases the people he couldn't do his work without. The book is broken down into three big parts and sections within those: Studio Home and Life: History of the London House and Studio, People, Daily Life, My Collections; Studio Work: Fabric Design, Patchwork, Needlepoint, Knitting, Painting; How To: Detailed Project Instructions.
There is a bit of everything; it's the only book that gathers all of his textile disciplines in one book. Reading about how he approaches color and the process of designing for each craft, how they are similar and how they differ is really intriguing and inspiring. Especially since you can study photographs and see exactly what he's talking about. There are nine patterns to make, three each in patchwork, needlepoint, and knitting.
Kaffe even answers a question I've always had – how does he get so much done? No phone, no computer, focus, and many helping hands.

JM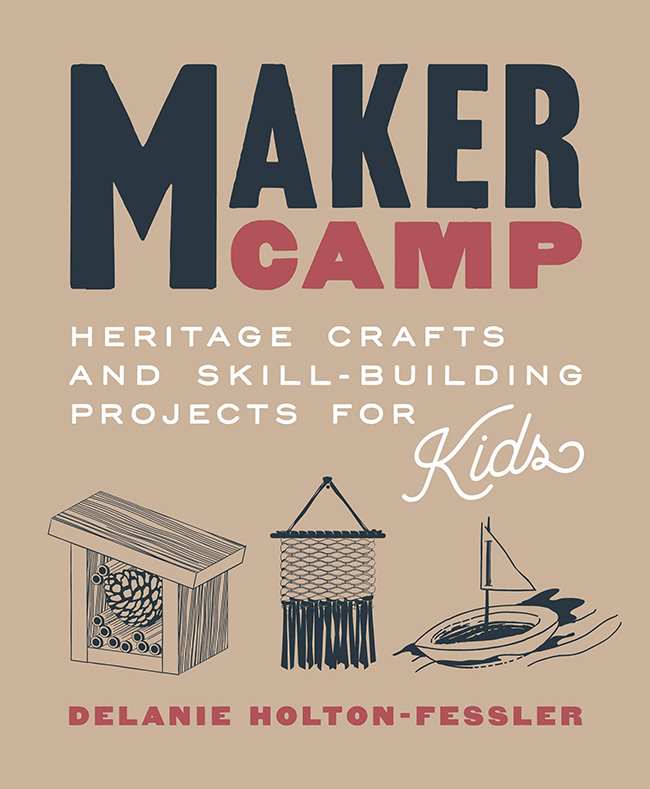 Maker Camp: Heritage Crafts and Skill-Building Projects for Kids
by Delanie Holton-Fessler
Roost Books
$19.95, hardcover
buy now at Bookshop.org | Amazon
I am always a little skeptical when a craft book for kids comes across my desk. They are usually too simplistic, written for a single age or skill set, or present an adult's idea of process and finished project. Most of the time, it's never clear who the book is written for – the kids themselves or an adult that going to make the crafting possible.
Maker Camp blew me away. It is full of the things I want in a kid's craft book, plus so many more great things that I never thought of.
The author, Delanie Holton-Fessler, has been a public school art teacher, she's a mom, and she owns The Craftsman & Apprentice, a heritage craft workshop. She knows what she's talking about and she obviously loves what she does.
This book is written for an adult, the adult that is going to help make these projects fun and meaningful for the kids they are crafting with. It's written with practicality and wisdom. Delanie shows you how to approach planning and setting up these projects and how to create a great and inspiring (and practical) maker space.
Each project is presented with add-ons for a range of ages and skills. That alone is worth buying the book. She talks through what to do when it's all going well, and what to do when it goes pear shaped. What questions to ask, how to help the kiddos problem solve, how to keep them engaged to finish. She teaches you how to teach them. It's so good.
The crafts in this book are broken out into four sections, Heritage Skills, like shelter building and fire making; Fiber Arts, like hand sewing a stuffie and natural dyes; Woodworking, building a tool box and a bee hotel; and Tinker, Build, and Play, making junk robots and tiny kites. There are 20 projects in total and each lists excellent general considerations (as well as project specifics) like time commitment and mess level.
This is a great book for anyone who has kids in their life who already love to make, and it's a great book to lure reluctant makers because it sets up everyone to succeed.

JM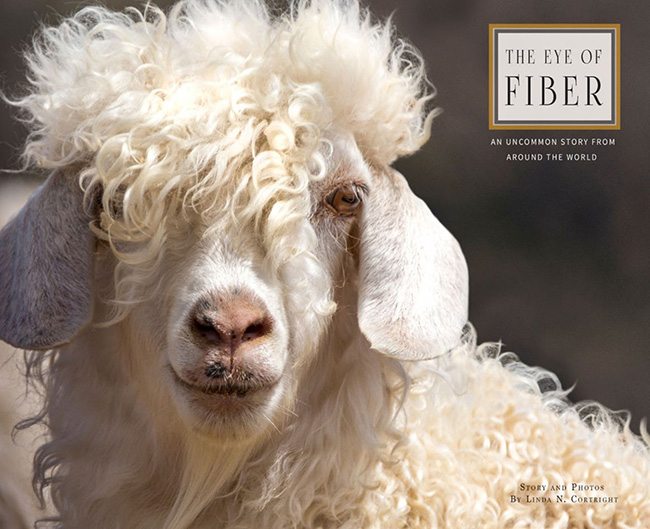 The Eye of Fiber: An Uncommon Story from Around the World
by Linda N. Cortright
Grumble Goat Press
$27.95
buy now at Wild Fibers

This is exactly the kind of armchair travel I need right now. Linda N. Cortright of Wild Fibers magazine has traveled the world for decades, honoring the animals and people that connect us in fiber in her magazine.
This book gathers photos and stories from the United States, Mongolia, Oman, Russia, Romania, Namibia, Peru, South Africa, and India, to show the people, animals and hard work that go into the raising animals for fiber. The essays are short but have a wealth of information about the history and work of fiber animals in different countries. Linda writes about traditions how they have faded in some places, and how they have been upheld in others. The size and layout of the book allows for the beautiful photographs to be large. They allowed me to see details, as I lingered to study them.
The Eye of Fiber is glorious celebration of the world of fiber and her people.
JM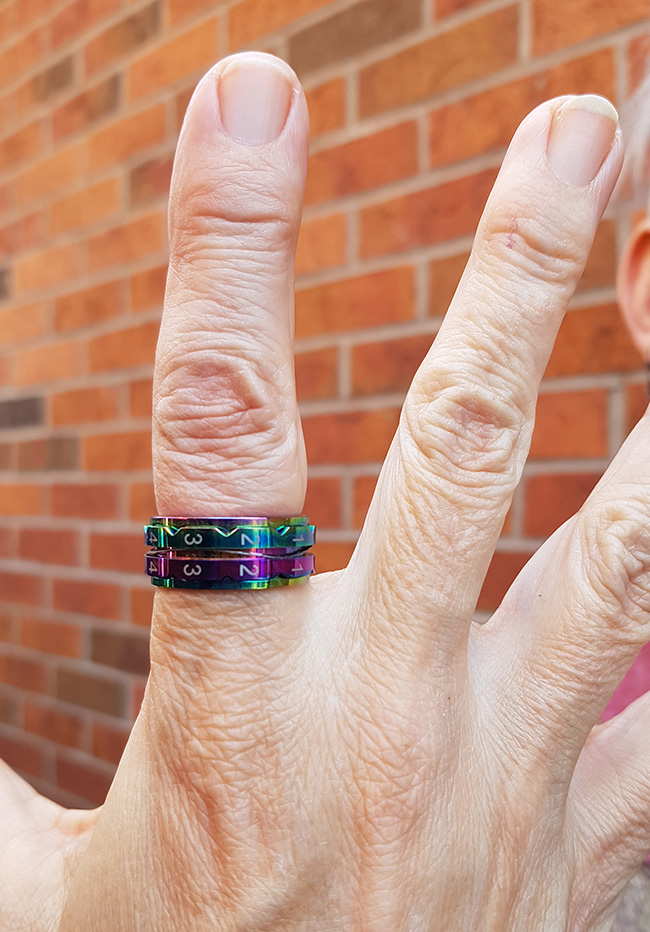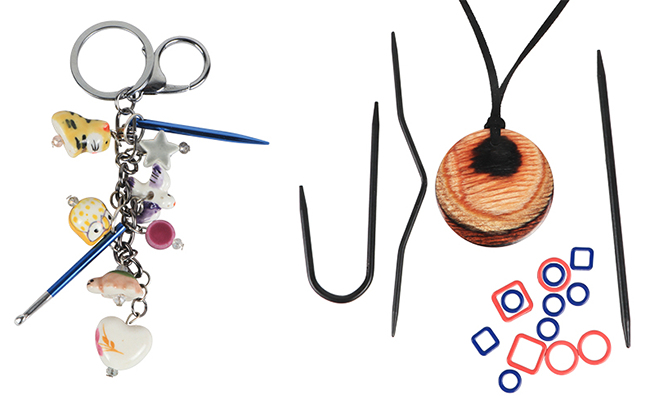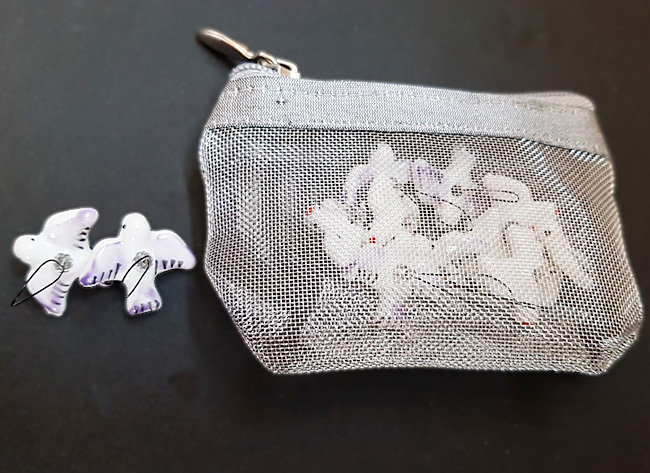 Knitting Tools
by Knitters Pride
Prices vary – check with your LYS

buy now from your Local Yarn Store

Rainbow Row Counter Ring (shown at top): I am someone who frequently has hashmarks wedged into the margins of a knitting pattern although I own at least two different means of keeping track of rows. The rainbow row counter ring might be something I'd wear just because it's attractive. Made from stainless steel, it has a rainbow anodized finish and features two bands of digits to track your knitting. All you need to do to keep count is to rotate one of the numbered bands; this means that it'll stay put when you want it to. They come in six sizes and are meant to be worn on your index finger or thumb. The size I tested was a 9, and it fit on my index finger as well as on my middle finger, albeit a bit more loosely. Definitely better than hashmarks in the margins!
Knitting Charms (shown 2nd row left): I have to say, I was charmed by this little knitting accessory. While they say you could use it as a key ring, I think it's best as something to hang from your knitting bag. The charms are porcelain and include a little knitting needle (which they call the Zing needle) and a crochet hook to help repair your knitting on the go. They come in three different themes: Passion (the one I tested), Happiness (lots of yellow smiley faces), and Friends (a different assortment of porcelain animals). This would make a nice unexpected gift for your knitting friend who has everything.
Magnetic Knitter's Necklace Kit (shown 2nd row right): This kit consists of a magnetic necklace, metal stitch markers, three types of cable needles (also metal), and a pouch in which to carry them. The necklace is a magnetized wood disc with an adjustable cord and has a groovy '70s vibe, which works for me. One would not look at it and say, "Hey, that's a knitting accessory!" The necklace acts as a waiting area for your cable needle as you're working. No more holding it in your mouth (guilty!) while working toward your next cable repeat. Just let it rest on your necklace until you need it. The stitch markers come in 4 different sizes (5 of each for a total of 20 markers), and I can see how it might be more convenient to have them on your necklace than in the bottom of your knitting bag. The necklace comes in two colourways: Natural Hues (which is what I tested) and Cherry Berry (which is, yes, red).
Zooni Stitch Markers (shown at bottom): "I have enough stitch markers," said no one ever. Stitch markers are one of those things where you don't realize how much you need them until you're using all the rings you wore that day as a substitute (yes, that was me). The Zooni stitch markers come in a pack of 12 in a little silver mesh zippered bag (so you can see what's inside). They're porcelain so there's a little bit of weight to them, which I actually liked when I used them, and the loops are big enough for up to size 17 needles. They come in different themes: Smileys, Gems, Skull Candy, Meow, Peace, and Blooming Blue. The Peace ones that I tested are little birds, which added just an extra bit of joy to my knitting. These are great if you want to add some personality to your stitch marker collection.

CBM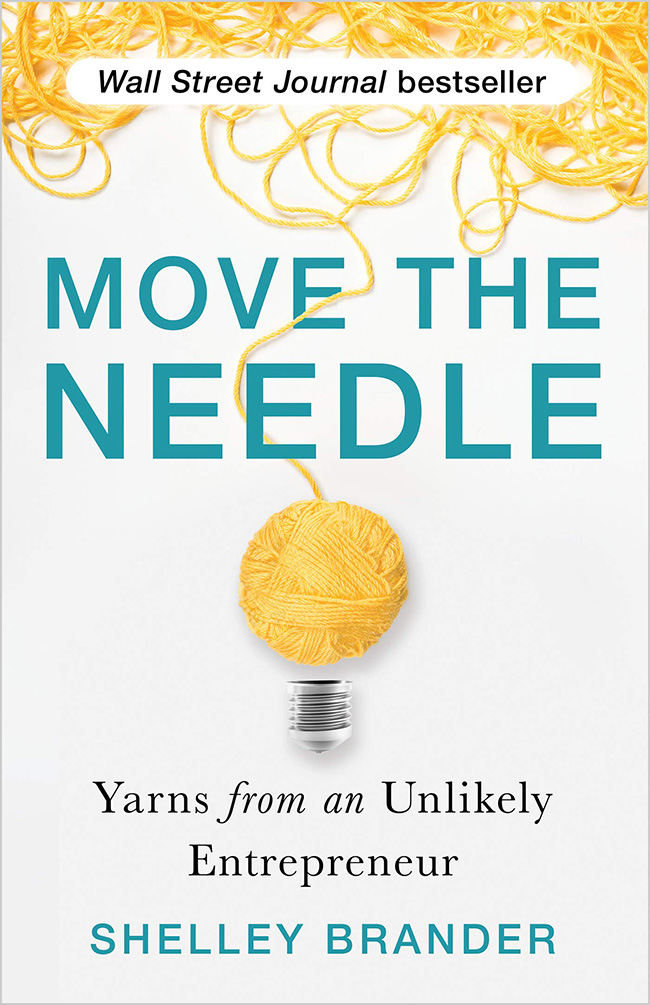 Move the Needle: Yarns from an Unlikely Entrepreneur
by Shelley Brander
Hay House
$24.99, hardcover
buy now at Bookshop.org | Amazon

Move the Needle is a combination of memoir and business book, by Knit Stars founder Shelley Brander. If you are dreaming about starting a knitting business, particularly a yarn shop, consider reading this book.
The book follows Shelley from her first job, through her first yarn shop, to the success of Knit Stars. She talks about the business and personal lessons she learned, the good and the bad.
I really appreciate that she doesn't entirely take the "go-girl follow your dream" approach to talking business; hers is more the" go-girl, if you are willing to work both smart and hard". She gives explicit advice on how to do both.
She doesn't shy away from talking about missteps and outright failures, about how hard it is to run a business and have a happy family. She also celebrates her successes, offers advice to budding entrepreneurs, and most importantly honors the people in her life. After all, you can't do something as big and successful as Knit Stars (or her shops) without excellent help and support.

JM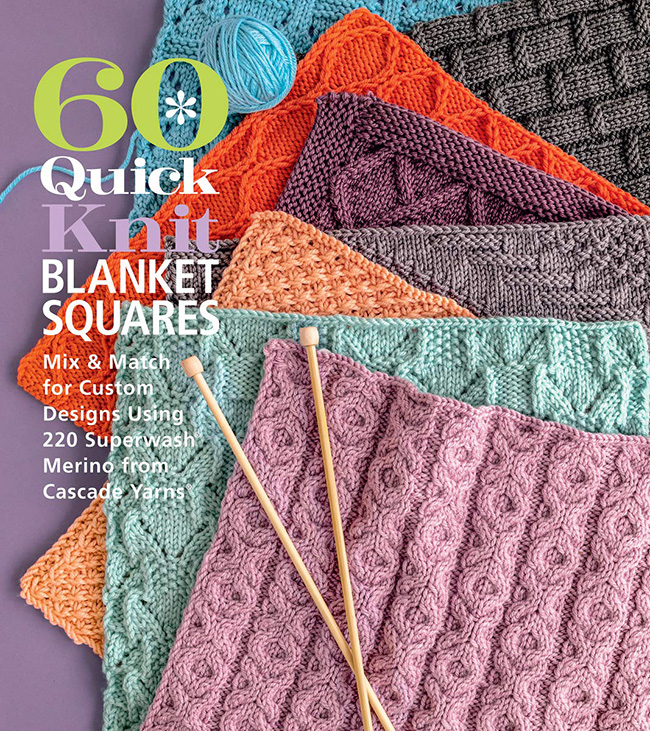 60 Quick Knit Blanket Squares: Mix & Match for Custom Designs Using 220 Superwash Merino from Cascade Yarns
by the Editors of Sixth & Spring Books
Sixth & Spring Books
$17.95
buy now at Bookshop.org | Amazon

The 60 Quick series from Sixth & Spring has become a staple in my library. 60 Quick Knit Blanket Square will happily join its siblings on my bookshelf. It's a handy book if you want to do what it was designed for, knit blankets or throws using squares written to make perfect 12" blocks that you can interchange to your heart's delight.
The gauges range from 17-22 stitches to 4", and the editors have done the math to get your square for you. Of course, you could switch to different-weight yarns to get different-sized squares. The stitch patterns are neatly arranged by stitch type: Knit and Purl, Lace, Cable, and Combos and Unique Stitches.
I see using this book for more; it's a handy stitch dictionary. It's easy to use these stitch patterns for wraps, scarves or cowls. What I really like is seeing a stitch pattern over 12". I get a much better idea of how it would look on a bigger canvas (like a sweater) than a regular stitch dictionary that offers 4" swatches.

JM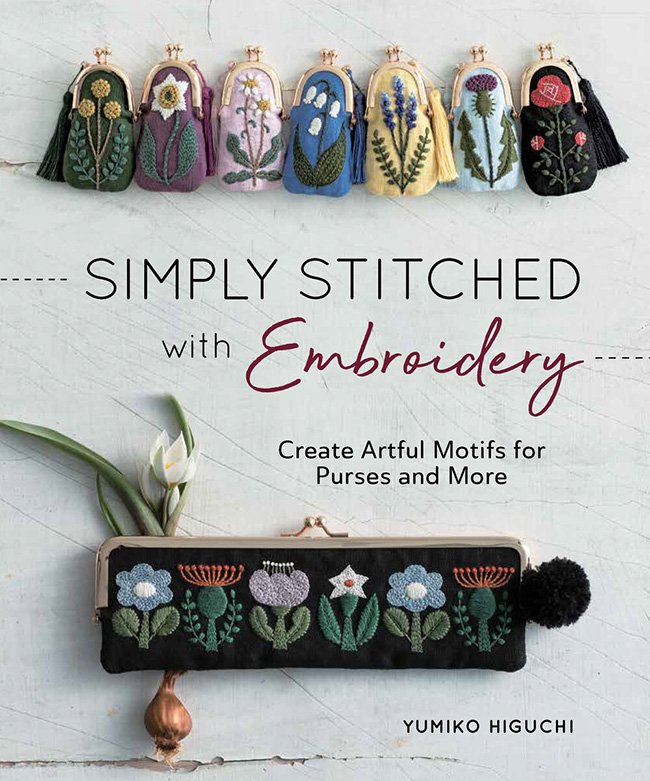 Simply Stitched with Embroidery: Create Artful Motifs for Purses and More
by Yumiko Higuchi
Zakka Workshop
$19.99
buy now at Zakka Workshop | Bookshop.org | Amazon
What is it about clasp a bag that is so alluring? Is it their plump bottoms or the snick of closing the clasp? I have been enamored with them since I was little. Combine the undeniable power of clasp bags with the stitch artistry of Yumiko Higuchi, and it makes a book that has me throwing my money.
The embroidery designs were enough to make me stalk this book, waiting impatiently for it to be published in English. They are bold, modern, and nature-inspired. There are flowers, animals and woodland scenes. They require only a few stitches, but need a little stitching experience.
There are 20 embroidery designs and 9 bags. The design templates are all full-size, including a pull-out sheet for larger motifs, are dark lined and easy to trace. The directions for constructing the bags are clear and easy to follow with a lot of step-by-step photographs and drawings. The assembly for the bags is all handsewn, so no machine is needed to indulge in bag-making. The publisher of this book, Zakka Workshop, sells clasp frames.
I know I will make at least one bag from this book, but the embroidery motifs will get a lot of use. I can already see flowers, feathers, mushrooms, and beets adorning my clothes.

JM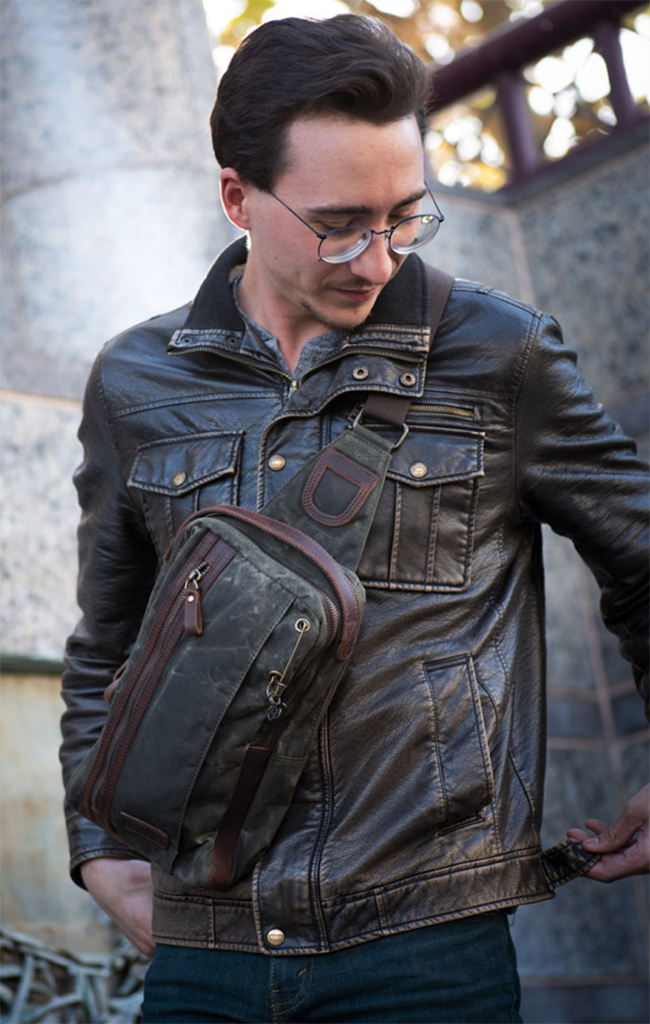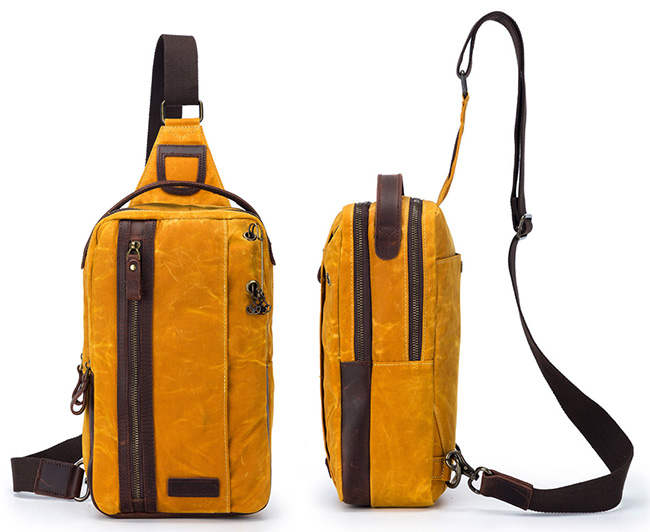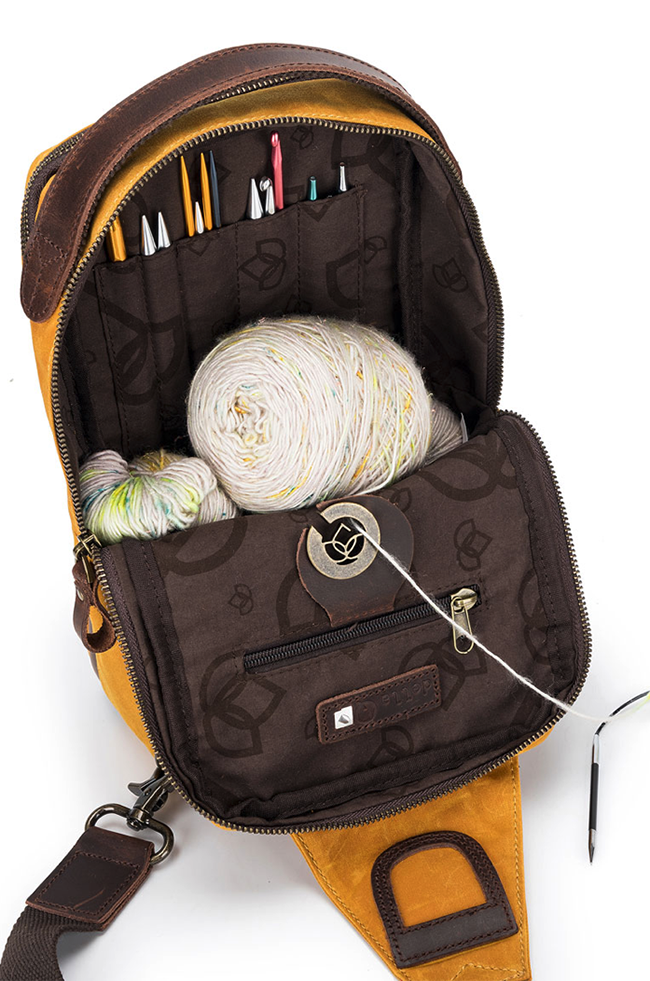 Maker's Mini Messenger
by Della Q
shown in Olive (top) Mustard (bottom)
also available in red and blue
8" wide x 14" tall x 4" deep
$85

buy now from Jimmy Beans Wool

Long-time Knitty readers know I'm a sucker for a good bag, and this one is mighty good. I love that it's a non-traditional shape, and though some might wear it around their waist, the strap is long enough to wear it cross body, which is my preference.
This bag is part of Della Q's new waxed canvas line, which features real, very sturdy leather on the trim. It has pockets. SO MANY WONDERFUL POCKETS! Let's go through it all.
There are two cavernous full-size compartments to the bag. The front compartment features a full-length zippered pocket on the outside as well as a kilt-style pin in its own dedicated spot, with three lotus stitch markers. Inside the front compartment, you have a gusseted phone pocket, and a flat one, side by side, and a full-width pocket opposite it. This might be the place you keep daily necessities like phone-keys-wallet, but it could easily hold a folded pattern, at least three skeins of sock yarn and all sorts of notions. The lining fabric is matte brown and feels like cotton.
The back compartment is shown in the last picture above – and you can see all the storage options. The built in yarn guide is handy, and if you fold the flap down as shown, you need not worry about the zipper catching your yarn. It's a pretty clever design. Oh...look at the dellaQ logo panel in that same shot. See the shiny silver thing next to the Q? It's a little yarn cutter! Really!
On the outside back of the bag, there's a near full height slip-in pocket with a snap at the top, and a choice of two d-rings so you can clip the shoulder/waist strap to the side of your choice. There's a leather strap at the top of the bag, so you can carry it without the shoulder strap, if you prefer. This bag will gleefully overwhelm you with customization options.
I give this bag a whole bunch of thumbs up. It's fabulous.

AS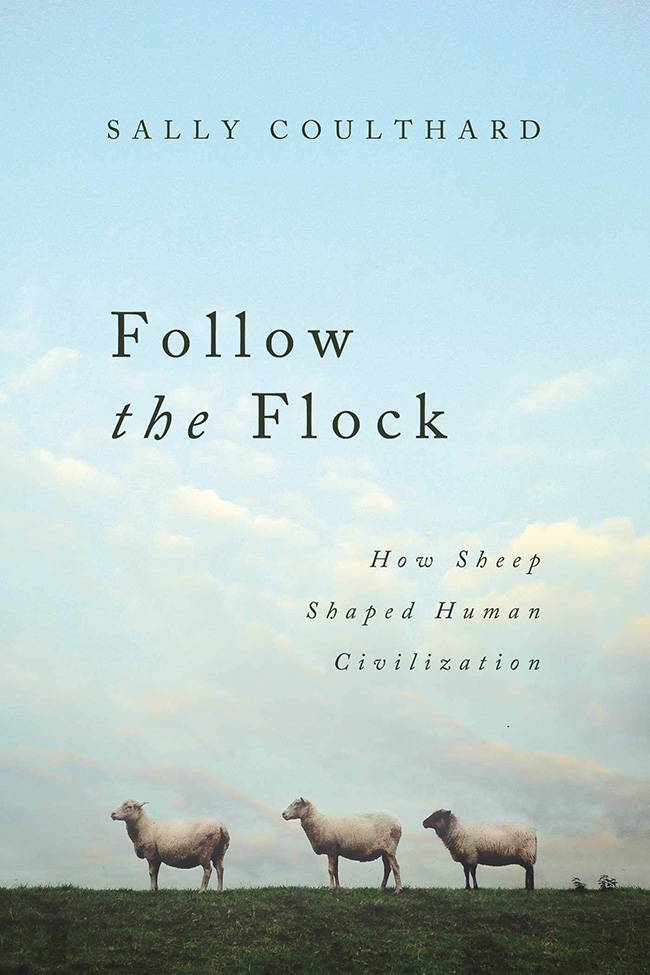 Follow the Flock: How Sheep Shaped Human Civilization
by Sally Coulthard
Pegasus Books
$27.95, hardcover
buy now at Bookshop.org | Amazon
This is the American printing of the British book, A Short History of the World According to Sheep. The inside is the same; they just changed the title and the cover.
I wish all history could be presented in this book's great combination of nerd-level research and breezy, engaging style. Also all history needs to have sheep and wool, they really do make the world go round. This book is packed with world history, folk tales, science, and social history from a sheepcentric point of view. It spans time from the first Neolithic shepherds to modern day. The book is illustrated with wonderful, wooly woodcuts.
The author does not claim to be an expert shepherd or crafts person, so don't expect that sort of detail. But she clearly has a deep interest in her subject and a marvelous way of presenting woolen history. This book was one of my favorite reads of 2020.

JM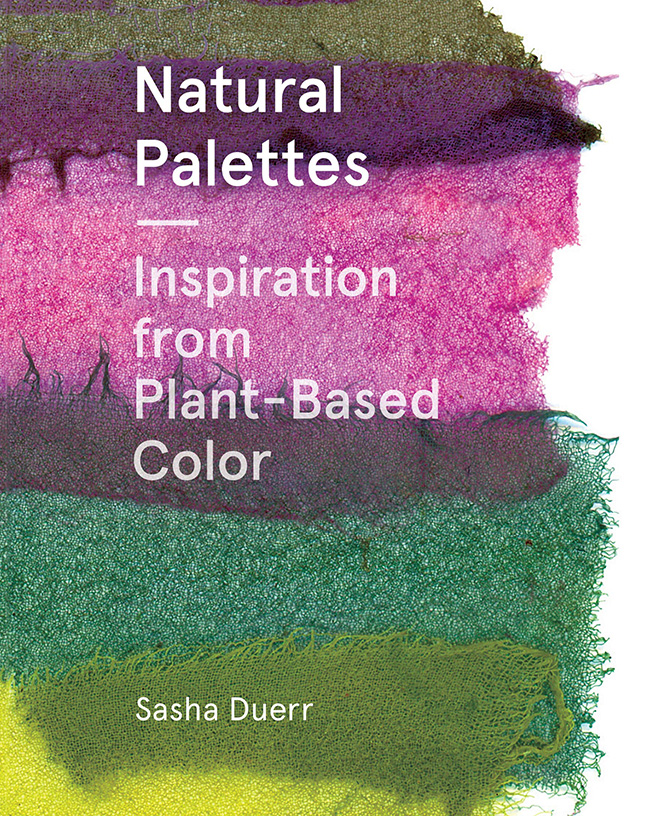 Natural Palettes: Inspiration from Plant-Based Color
by Sasha Duerr
Princeton Architectural Press
$29.95
buy now at Bookshop.org | Amazon
There is something so accessible about how Sasha Duerr teaches natural dyeing. She speaks plainly, gives you the information you need to create color safely, and then encourages you to do your own experimenting. She works with a deep awareness of the seasons and has an enthusiasm for local palettes. There is such an openness to her style, I feel like I am following her daily work and passions. There are just a few essays in this book and they give such a good sense of her as a dyer.
This book is a color-chip bible based on 25 distinct palettes, like Good Things Come in Trees, Compost Colors, Pollinator Palette, Saltwater Colors, and Urban Forage is the New Black.
Within each of these palettes, there are 5-6 distinct materials. For example, the Compost Colors palette has avocado pits, golden onion skins, carrots tops, pomegranate rinds, mandarin peels, and black bean water. She then dyes silk with each material four different ways, with no mordant, with alum, with iron, and with a combination of alum and iron. The result is a book with 500 natural color swatches.
I can hear some of your questions. The dyes are only shown on silk, and yes, some of the dyes are fugitive (non-permanent). Sasha has said the fugitive nature of some natural dyes is part of their beauty.
You can work through this book or choose your own adventure while watching your colors tumble from slight to bold by just changing one element.
JM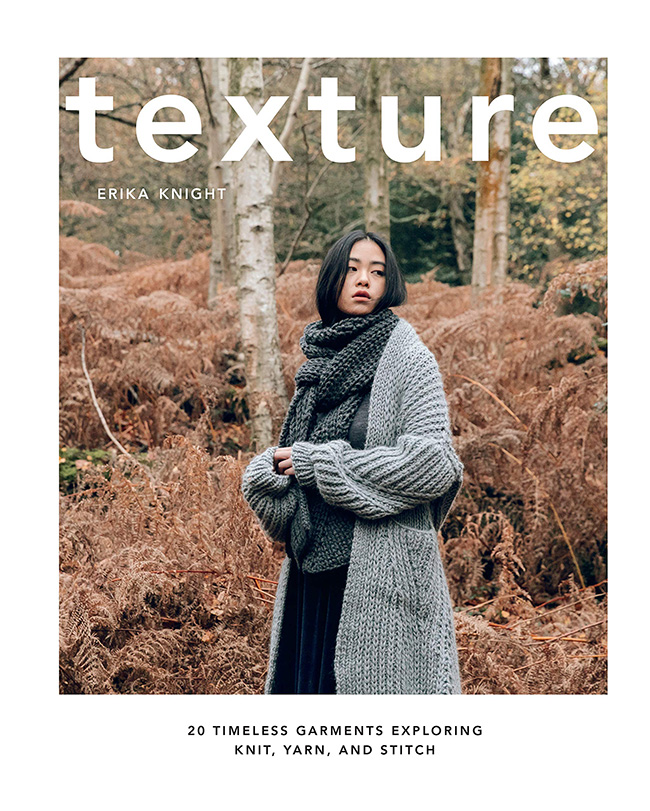 Texture: 20 Timeless Garments Exploring Knit, Yarn, and Stitch
by Erika Knight
Roost Books
$27.95, hardcover
SR=37-58"
buy now at Bookshop.org | Amazon

It's exciting to see a new collection from Erika Knight, especially texture, which I love. It's rare for a designer to work for so many years and still produce fresh and interesting patterns, but these are both.
The textures in these patterns are inspired by different landscapes: city, country and coast. The projects show her interpretation of grates, branches, seaweed, and even the gathering of debris on a city street. The collection has 16 garments and 4 accessories. The textures used on the sweaters are abundant, deep and frequently assorted. In several you can see the influence of Erika's punk heart in the asymmetry, dropped stitches and freeform knitting.
The patterns for the projects are all written out; there are no charts. If you want charts, you can download them from the publisher. An interesting editorial choice, but not one I like.
Erika also writes about yarn and fibers, size and ease, substituting yarns (including WPI), how to care for your knits, and the importance of slow clothing.
The photography and design of the book is beautiful, evocative of the textures presented.
If you are a fan of Erika Knight's bold and modern style, you will love this book.

JM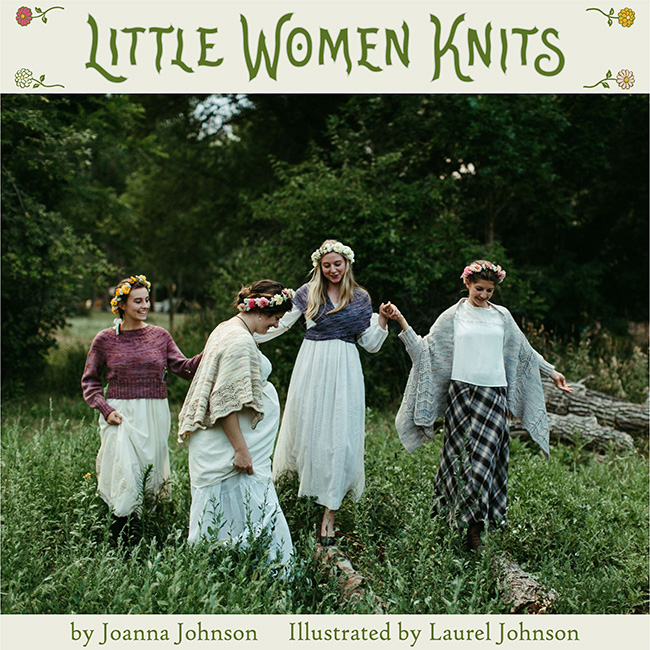 Little Women Knits
by Joanna Johnson
Slate Falls Press
$15.95
SR=32-66"
buy now at Amazon
These 10 patterns are perfectly matched to the story Little Women and the characters. The sweater, socks, two scarves, mittens, four shawls and very sweet baby hat and sweater set, are clearly designed by someone who knows the book well, and translates its sentiment to her designs. There is a bit of lace, a bit of texture, and a bit of colorwork that evoke the mid-1800s, but look lovely worn with jeans.
The photography captures the mood of the book, the beautiful connection between women, no matter their age. The designs in the book were a collaboration between Joanna and Rachel of Six and Seven Fiber. Rachel created a custom color range just for this book.

JM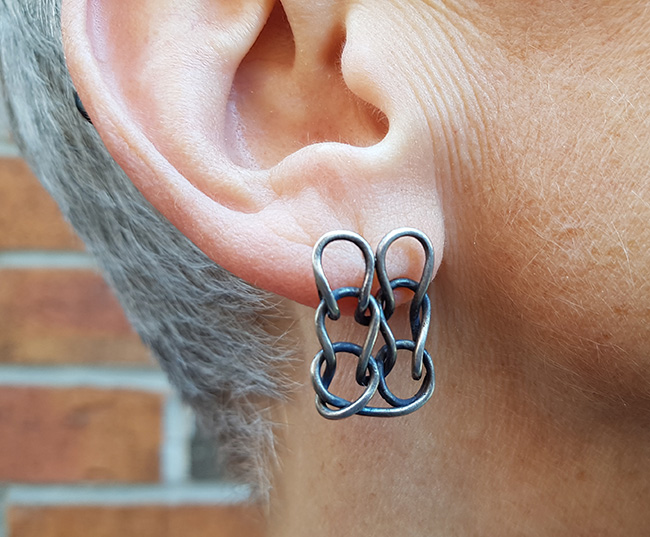 K2 Posts
by Emily Blodgett-Panos
3/4" wide by 1" tall by 1/8" thick
$125
buy now from Emily Blodgett-Panos
Oh, I love earrings, and I love knitting, but my general aesthetic is not what one would call "cutesy," so these earrings are right up my alley. Emily Blodgett-Panos has crafted these earrings in sterling silver, and the knit stitches are attractive with a touch of tough. The weight of them was pleasant, and I didn't find them prone to swinging about because the post keeps them secure.
From the other jewelry on her site, it's clear to see that she's passionate about both knitting and metalsmithing.

CBM