Feature: Knittyspin
INTRODUCTION
Knittyspin
Planning for a Project – The Beginning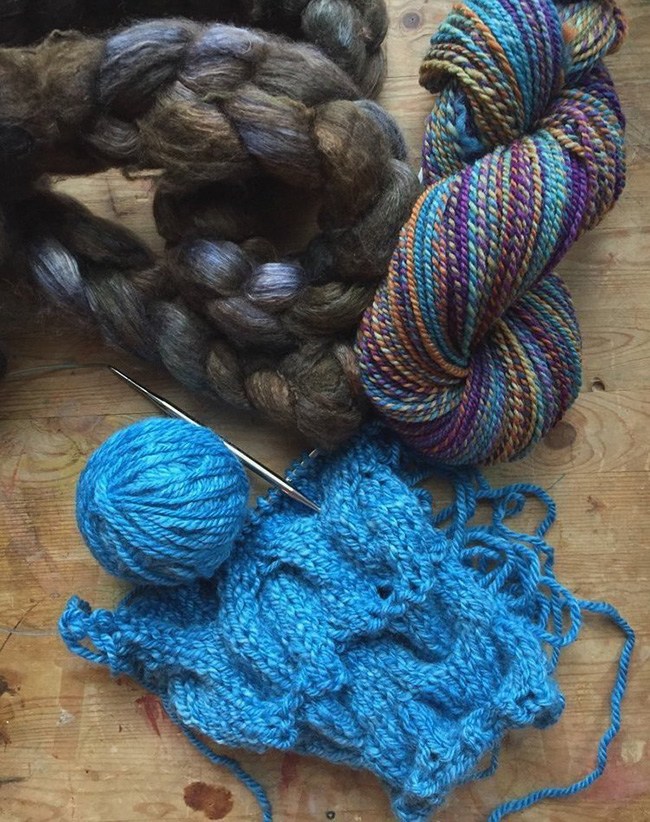 I try to do some detailed planning before I start a project
Lately, I have had lots of people ask me about spinning for a knitting project. You can always just spin and find a project to match your finished yarn; I do that a lot. The questions I get the most are about spinning for projects that call for a specific yarn.
I'm going to work through the planning stages of a project over the next few issues. I'll show you what I think about approaching a pattern spin. I had a lot of missteps in spinning for knitting patterns until I started doing a little more planning before I started spinning, or even sampling.
Basic Steps for Spinning for a Project
This is the order I spin for a project. You might notice there are few extra steps between choosing a project and sampling yarn. I have found these three steps to be critical to knowing the yarn I need, and my being happy with a project. This bit of extra thinking at the beginning cuts down on the number of samples I do too.
Choose a project
Evaluate the pattern for you

Deconstruct commercial yarn suggested
Outline a handspun yarn that's a good match for you
Sample your yarn
Evaluate your yarn and swatch
Repeat if necessary, making and recording changes until happy with outcome
Spin all singles (with consistency checks)
Ply
Finish
Knit
Before you even start ask yourself this: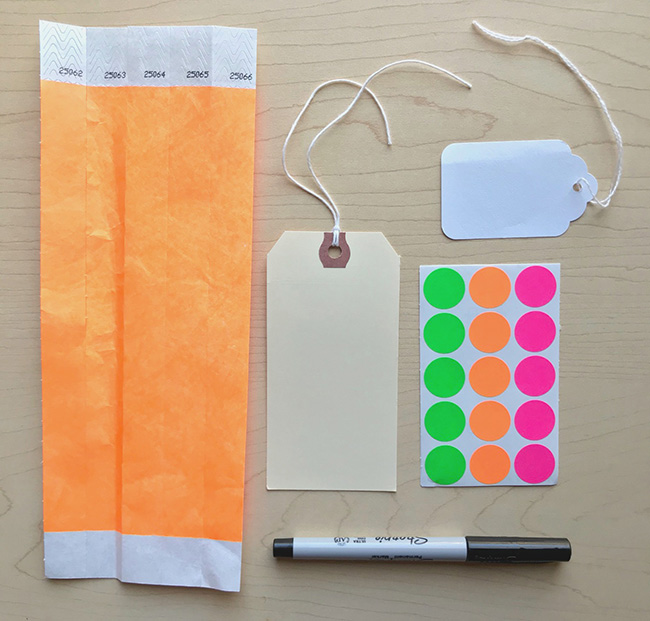 I will not spin without my tags to help keep track of everything
How will you keep track of this project? This might be the most personal question you answer in all of spinning. Do you have a way to keep track? It can be an elaborate system with spreadsheets and sketches, or it can be a series of quick notes, and tags attached to samples.
Another question that goes with this: how will you store this project? Knitting is easy, and we all have many project bags and a system of keeping track while knitting our pattern. Do you have something similar for your spinning projects? I never stick to one project when it comes to spinning, so I have a ways to store my fiber, project notes, samples, and storage bobbins full of yarn in one place so when I'm ready to work I have it all together. Ziploc bags and tags of many sizes are my friends, and so are banker's boxes. Office and kitchen supplies are my organizing best friends.
Choose a pattern and evaluate it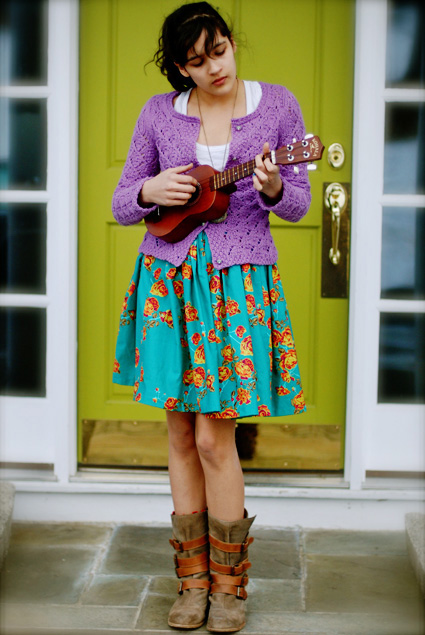 I have loved this pattern since it came out, but really want it in wool
Choosing a pattern you want to spin for is easy. Look for something you love, would wear a lot, and can make extra special with handspun yarn.
The pattern I chose for this series is Que Sera by Kirsten Kapur from Knitty Spring Summer 2010. I have loved this pattern since it came out. I may have even bought the yarn for it – more than a decade ago. It's not a quick and easy knit but I think it's a sweater I would wear a lot, and I think it would be spectacular in handspun.
How do I evaluate a pattern?
I fall in love with it; do some cooing and dreaming of how cute I will look and feel. Then I ask myself a whole bunch of questions.
Look at the photos in the pattern in detail and see how it's built. Think about (and maybe write down) what specific details make up this pattern, what makes it really sing for you, and what (if any) changes will you make.
Here's the list I think about. Not all patterns have or need all of these things. You can add any other specifics to your list.
Shape
Drape
Elasticity
Stitch Definition
Texture
Durability
Will it touch skin and where
Color
Measurements
Weight in my size with yarn called or commercial sub yarn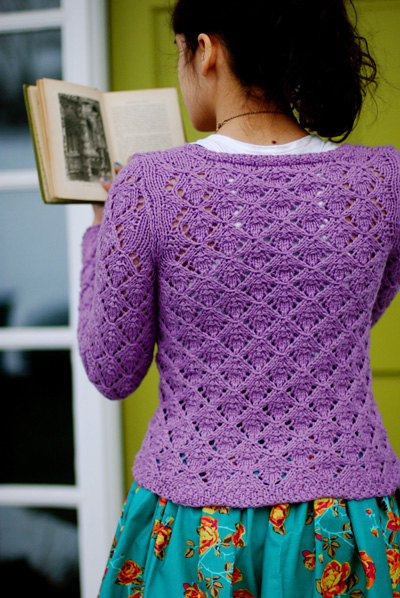 It looks curvy, but it's knit straight

Here are my answers for this pattern. They are quick; I try not to overthink it all (no snorting, please).
Shape: Hip length, long sleeved, scoop neck. It looks fitted through the waist, but it's not. Looking at the schematic (yay for schematics!) the shape is straight. The fitted look is due to amount of ease and stretchiness of lace.

Drape: more in the stitch pattern than the yarn

Elasticity: enough to hold lace stitches, not compress them

Stitch Definition: overall lace stitches, very open

Texture: lace

Durability: I will wear this a lot, I don't want it to pill

Will it touch skin and where: 3+-season sweater. It will touch arms and chest.

Color: solid

Size and Measurements: I am debating between the 41.75 and 44.25. My bust is 43, and my shoulder width is 15. Given the inherent stretch in lace, I will likely go for the 41.75 size.

Weight in my size with pattern yarn: 1,200 yards for my size, which weighs 29 ounces in the yarn called for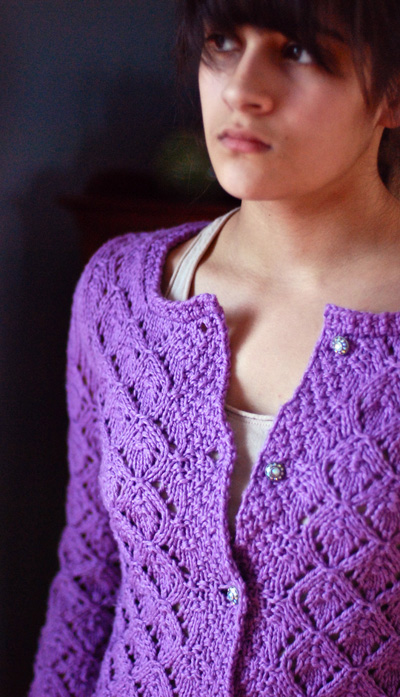 This sweater is going to touch my skin, so I want the yarn to be reasonably soft

The things I really love about this pattern:
All-over defined lace
Thicker-than-usual yarn for a lace pattern
Bold color
Changes I want to make:
Wool, not cotton
Lighter
Semi-sold bold color or grey
Shorten to closer to waist length
Maybe a little swing, a little extra drape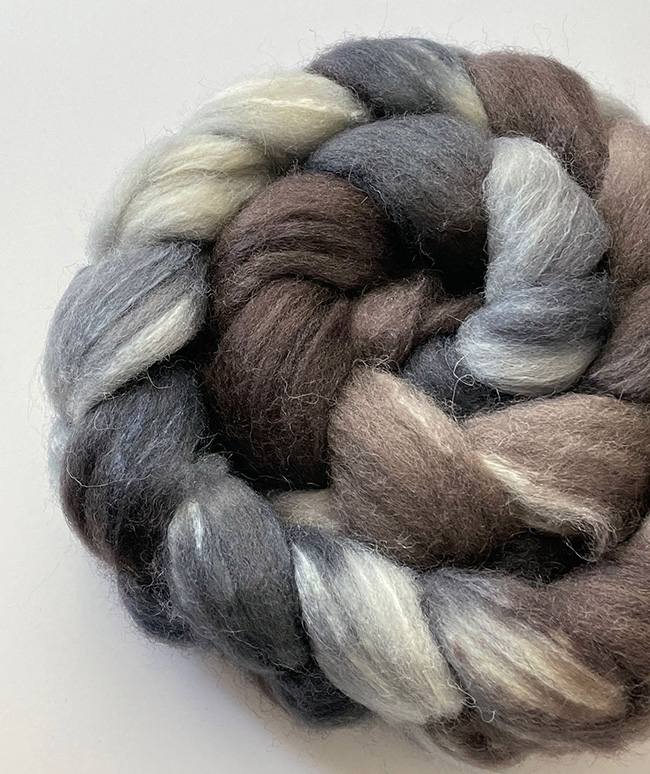 Do I want a bright sweater or a grey sweater? This Into the Whirled Shetland/silk is gorgeous.
I also take a quick peek at the yarn used in the pattern. I pay close attention to what I can figure out about its construction.
The yarn used here is Blue Sky Fiber Organic Cotton Worsted.
Here are some yarn facts. I don't have the yarn, but have touched it before. The info is from the Blue Sky website and from photos on the website. I love the zooming option!
Fiber: 100% Certified Organic Cotton
Weight: 100g /150yds / 137m: 43 yards per ounce, 688 yards per pound
Gauge: 4-5 sts per inch/2.5cm
WPI (estimate): 9-12
Ply, number and style: 2-ply, loosely plied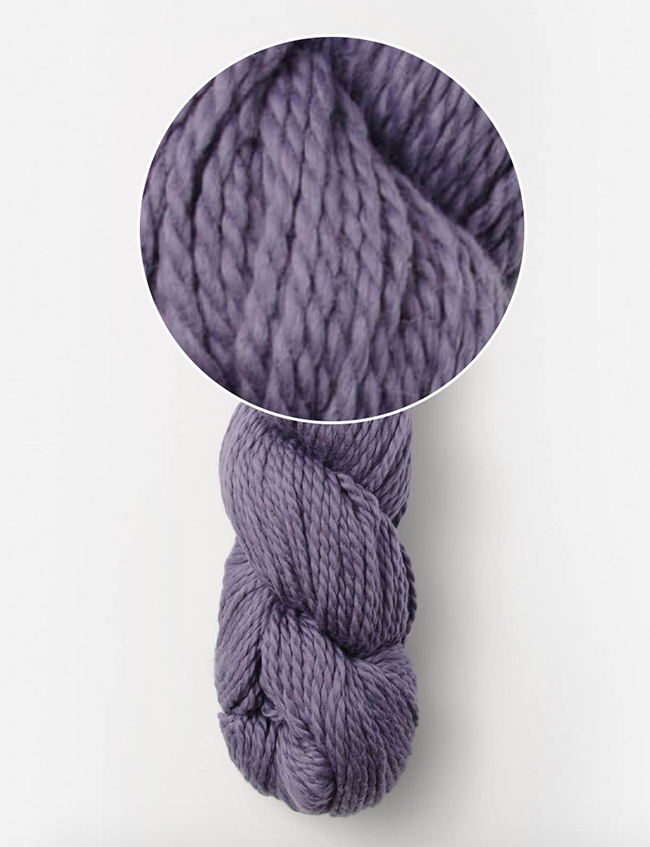 Here's a photo of the organic cotton from the Blue Sky website
This info tells me some important things about the sweater in the picture and the yarn it was knit from.
The sweater is heavy, cotton at that size – worsted to aran – is heavy.
They did compensate for the weight a bit when making the yarn by having a looser ply twist. A looser twist makes a lighter yarn.
Since I have touched this yarn before, I know it is very soft, excellent for next to the skin wear. A 2-ply yarn is great for lace because it helps keep the holes open, and the decreases don't stack up in a bulky way.
The yarn is very smooth, there is no fuzz to deter from the lace stitch.
Cotton takes color intensely and gives no shine (unless it's mercerized).
These notes will help me a lot when I have to make yarn construction decisions. In the First Fall issue I will be using these notes to build a yarn that I want to sample for this project.