Feature: Cool stuff
Cool stuff
SR [Finished chest measurement for sweaters] = the smallest chest measurement to the largest chest measurement we could find in the book. There may be only one pattern with the smallest or largest size, but it's in there. Books are softcover unless noted otherwise. All prices USD unless noted.
When you click on an Amazon affiliate link below and make a purchase, you're supporting Knitty. We thank you!
Jump to...Other Crafty Things

Knitting + crochet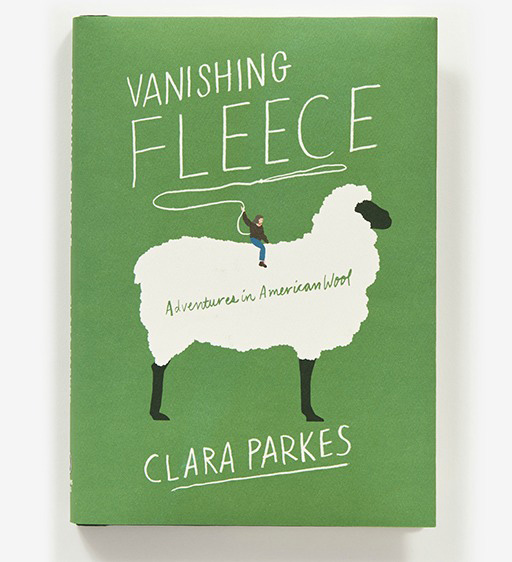 Vanishing Fleece: Adventure in American Wool
by Clara Parkes
Abrams
$23.00, hardcover
Buy now at Amazon
This latest from Clara Parkes is not just for spinners, knitters or anyone that makes or uses yarn on a regular basis. It tells interesting tales for anyone that is interested in US agriculture or manufacturing, and anyone that ever wears wool. Clara documents her adventures with a 676-pound bale of the finest grown US Saxon Merino. She travels around America having it washed, spun into yarn at four different mills and dyed by different dyers. We're lucky enough to go along for the ride.
Along the way we meet farmers, mill owners, and dyers. We get history lessons on sheep and mills, and wool in the United States. We learn how farmers, mills and dyers work today, and their struggle due to the world's fascination with disposable fashion. Clara's process follows making yarn on a medium scale, not fleeces in a bathtub or a reproducible wholesale yarn line. She is curious, tenacious, and not afraid to ask questions or make mistakes.
In this book, Clara shows her passion. She is a wool warrior, an advocate for the wool industry, and every business and person that makes it run. She honors the complex story of wool in America, and with her avid and steadfast commitment to the animals and people, she may just help turn the tide of this lagging industry.
This book is an adventure, but it is also educational and an important and eye-opening look into the current wool industry. Clara gives us a peek into how wool can become robust again in the United States, by buying, using and wearing wool with intention.

JM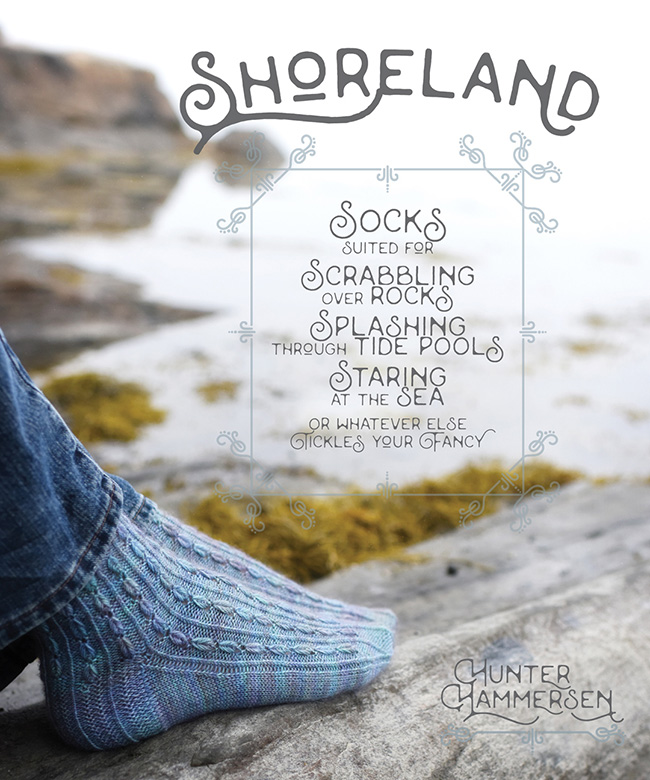 Shoreland: Socks Suited for Scrabbling Over Rocks, Splashing Through Tide Pools, Staring at the Sea, or What Ever Else Tickles Your Fancy
by Hunter Hammersen
Pantsville Press
$21.95 , ebook
$21.90, paper book, plus e-book
Buy now at Amazon

This book has seven new sock patterns inspired by Hunter Hammersen's move close to the ocean. They reflect the water, shore and the things found there: seaweed, nets, and all kinds of patterns. The sock designs are detailed and finely wrought. She has a magic way with yarn. The socks I knit from her patterns never look like they are made from the same yarn, How does she do that?

The socks have twists, texture and just the right amount of lace. The patterns are easy to read and easy to follow, many have guidance on adjusting or continuing stitch patterns. All of the patterns are top-down, written for two weights of yarn and three sizes, and use wonderfully large charts. My favorite pair of socks, Affixed (the cover pair), has a dip stitch that mimics the airpods on kelp. Dip stitches have always eluded me, and they must be tricky to other folks, since she shows the stitch done in step-by-step photos. This a designer that really wants knitters to have a good experience making her socks.
The beautiful photography, shot at the shore, of course, shows all the angles of the socks, not just the top like some other books. You get a good crispy shot of the gorgeous top of the foot, the gusset and the heel. You can see that all of these socks actually fit. For each sock, there is also a lovely watercolor illustration of the yarn used. Hunter really goes the extra mile when making a book.
The paper book is clearly made by a book lover. The paper is heavy and the cover is textured with just a bit of foil that glints like the light on the water. Inside the front cover is a chart for sock size suggestions and a place to write the measurements of your favorite sock recipients. Inside the back cover is a Kitchner stitch cheat sheet, a back-up needle gauge and a code to download an e-copy of the book. The book is bound in a way that it can be made to lay flat without the pages coming loose.
Sock fanciers come on in; the water is more than fine!

JM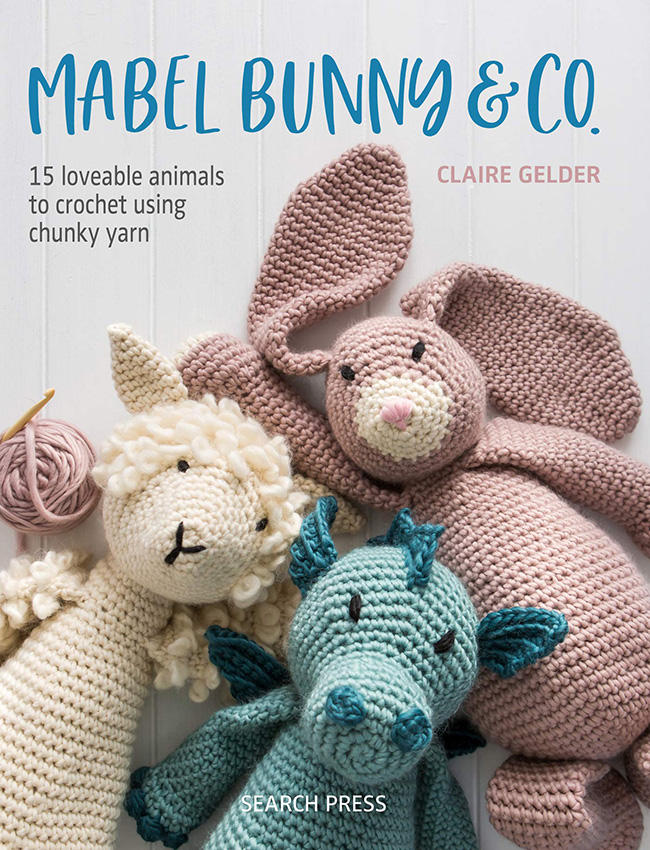 Mabel Bunny & Co.: 15 Loveable Animals to Crochet Using Chunky Yarn 
by Claire Gelder 
Search Press
$19.95
Buy now at Amazon

I am barely a crocheter, but I am wholly smitten with this book. This book answers the question, what happens if you crochet animals with big yarn? The answers is adorable, cuddle-sized, animals. The critters look like large scale amigurumi, happy, friendly friends. Using chunky yarn and a US 11 hook, you can make any one of the 15 animals in a night or two. The book opens with a how-to on he crochet stitches needed for the animals and techniques on how to assemble your parts.
The animals, a bunny, lamb, dragon, octopus, puppy, and many others range between 25-27" tall, a perfect armful. The bunny, octopus and koala all have babies that are about half the size, and use the same pattern with smaller yarn and a finer hook. The patterns are very straightforward, and are worked in pieces to be later sewn together. The photography helpfully shows any bits you might like to see up close before making, like toes, ears, tails, and any special stitches.
Grab this book, yarn and hook and you'll soon have a flock of animal friends to keep or give away to anyone that needs a snuggle.
JM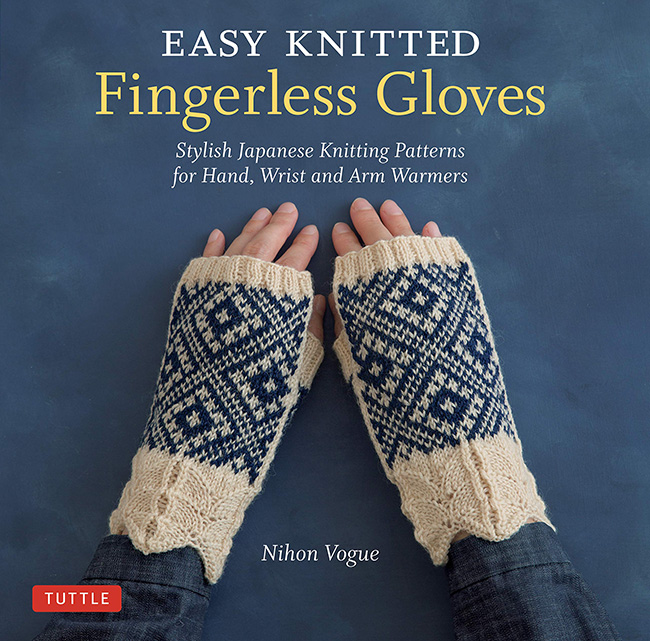 Easy Knitted Fingerless Gloves: Stylish Japanese Knitting Patterns for Hand, Wrist and Arm Warmers 
Nihon Vogue, Cassandra Harada (Translator)
$12.99
Buy now at Amazon

Mitts are one of my favorite weekend projects, and as a gift I've found an easy-to- knit pair of mitts garners more oohs than an easy-to-knit scarf.
The fingerless gloves here are yummy. There are wonderful combinations of colorwork and lace or texture, bold colors, deep texture, and none are too difficult to work. The structure are easy, almost all have an afterthought thumb, and anything even slightly challenging is in the stitch and color patterns.
The patterns are written in the style of Japanese patterns, based on working from an enlarged schematic with stitch counts and notes on it. There is a very good explanation of how to work this style of pattern before the pattern section. When I first looked, it was daunting, but I stuck with it, working through a pattern I knew more or less how to knit. The pattern style quickly made sense, and was very logical. The designs had me instantly figuring out easy-to-find yarn substitutions, and figuring out the order I want to knit most of the mitts in book. I'm not great at colorwork knitting, but these small amounts of Fair Isle, color blocking, intarsia, and Scandinavian style colorwork don't seem intimidating at all.

JM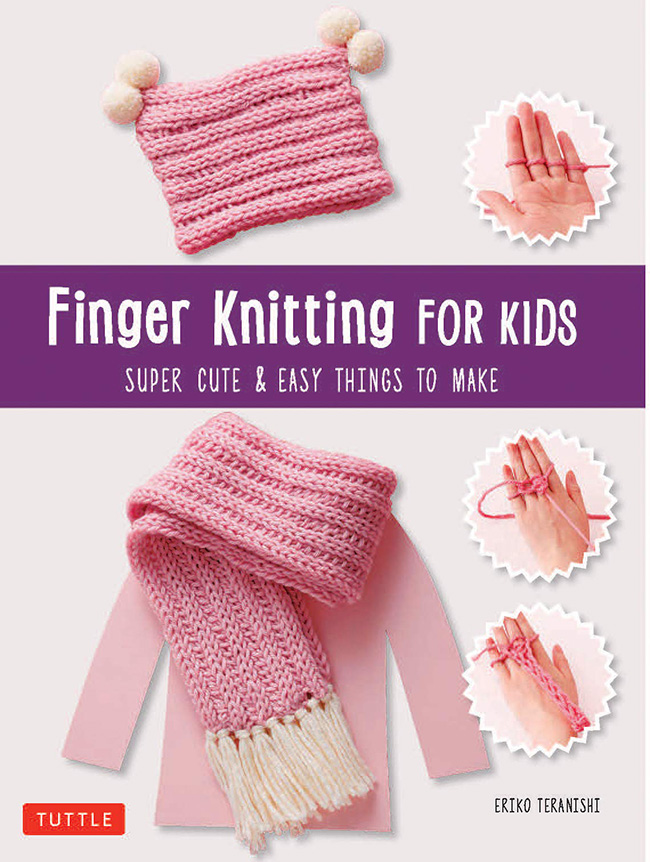 Finger Knitting for Kids: Super Cute & Easy Things to Make 
by Eriko Teranishi 
Tuttle Publishing
$10.99
Buy now at Amazon

When my kids were little this time of year (grey North American winter) was always craft season. We would try out all kinds of things, and always yarn and fiber crafts. We did some finger knitting, but I wish I had this book then. Finger knitting is the perfect craft to turn kids you know and love loose in your your stash and watch them get excited about yarn and making things.
This book has great step-by-step photo how tos that lots of kids could follow without reading the text. Using just their hands and yarn, anyone can make scarves, scrunchies, hats, purses and a blanket. All are based on making long, finger-knitted strands and sewing them together. Younger children may need help with the sewing bit, but will have no problem with the knitting.
Seeing you cozied up with your knitting may bring out the need for crafting in kids, and this book is a great companion for the car rides and visiting that comes with winter breaks.This book is fun for kids and grownups; everyone will be bedecked in finger-knitted scarves before winter's end.

JM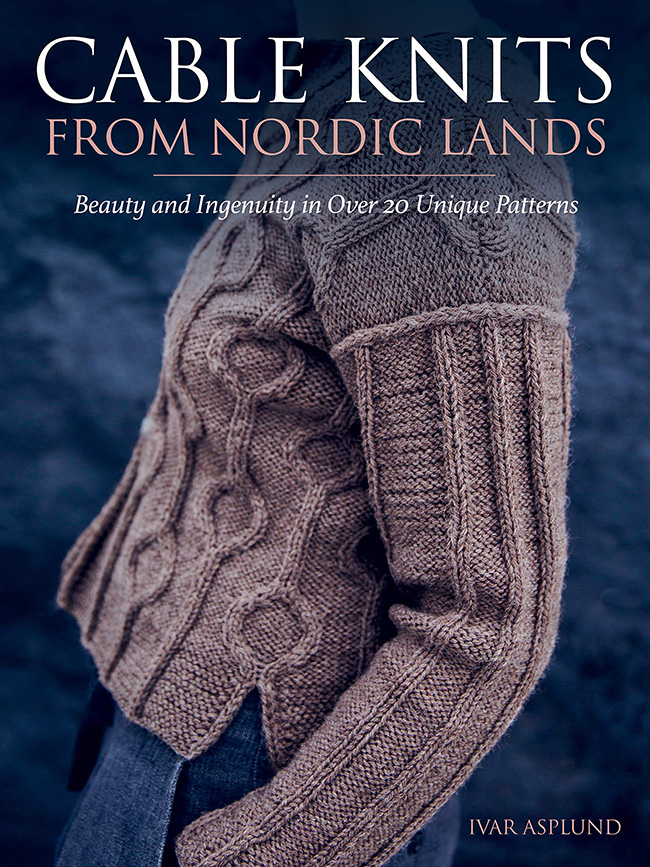 Cable Knits from Nordic Lands: Knitting Beauty and Ingenuity in Over 20 Unique Patterns 
by Ivar Asplund 
Trafalgar Books
$24.95, hardcover; $17.53 paperback
SR= 34"-44"
Buy now at Amazon

Ivar Asplund learned to knit from his grandmother when he was five, and designed and knit his first sweater in middle school. This book explores the love of cables he and his grandmother share.
This book has 20 deeply textured knits, starting the cables slowly with wrist warmers, hats and scarves leading to sweaters lightly or lavishly covered in twists and turns. Some design have one chart, the most complex has ten. There patterns for both adults and children. Many show Ivar's particular skill of combining different stitches. He utilizes cables, twisted stitches, and open space in unique ways. Helping to encourage fellow cable-lovers in their own design work, there is a stitch dictionary of cabled stitches and unique cable stitch combinations, all isolated and ready to be inserted into any design you can dream up.
Three standouts for me are the cover sweater –  Wrought Iron Cardigan, the child's Arrow Sweater, and the bulky knit Harmony Cardigan.

JM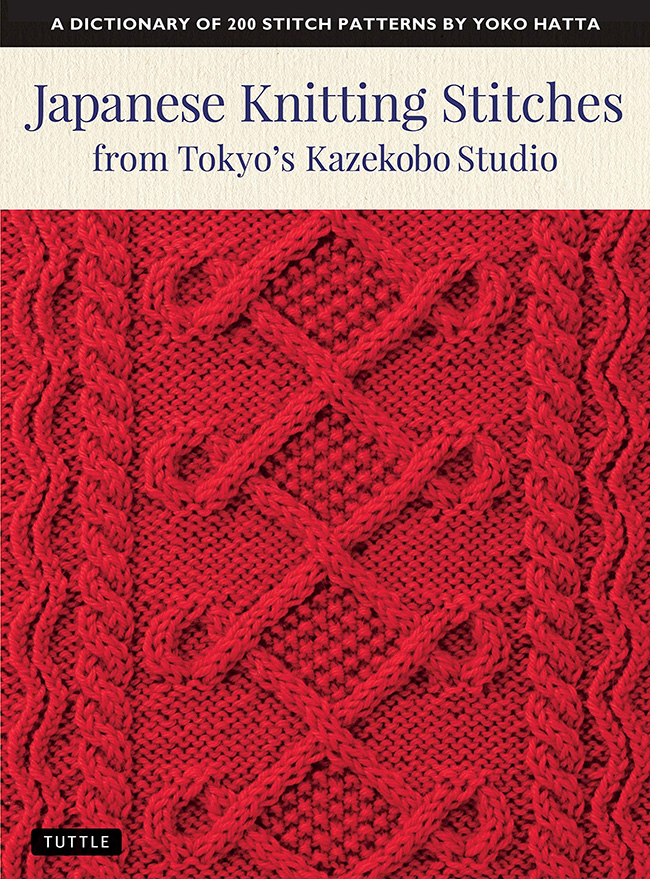 Japanese Knitting Stitches from Tokyo's Kazekobo Studio: A Dictionary of 200 Stitch Patterns
by Yoko Hatta
Tuttle Publishing
$18.99
Buy now at Amazon
Another splendid stitch dictionary for your collection, this time from superstar Japanese designer Yoko Hatta. This is a translation of a book originally published in Japanese in 2012.
It's filled with 200 different stitch patterns. There is lots of lace, cable and texture stitches, and some gorgeous comingling of the two.
It starts the same as most stitch dictionaries, a little knit and purl, some seed stitch, but the patterns evolve quickly into pattern that look familiar but are somehow elevated. Stitches are shifted , and combined in creative ways. I noticed in the back that she lists her inspirations – Barbara Walker, Sharon Miller, and Gladys Thompson – the same ones we all have, yet somehow she sees something different in their work.
This is a perfect book to pair with a treasured deep-stash skein to make something beautiful just for yourself.
JM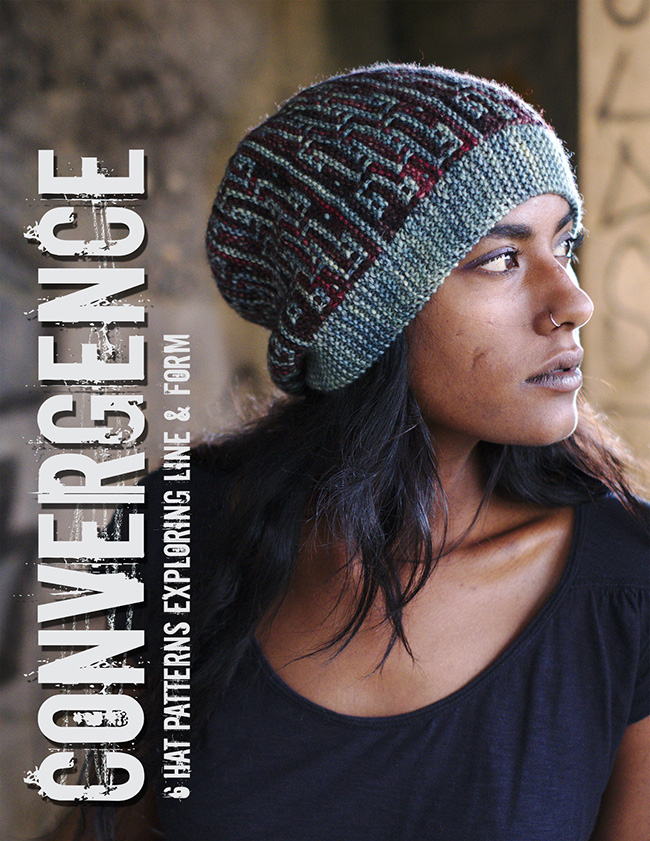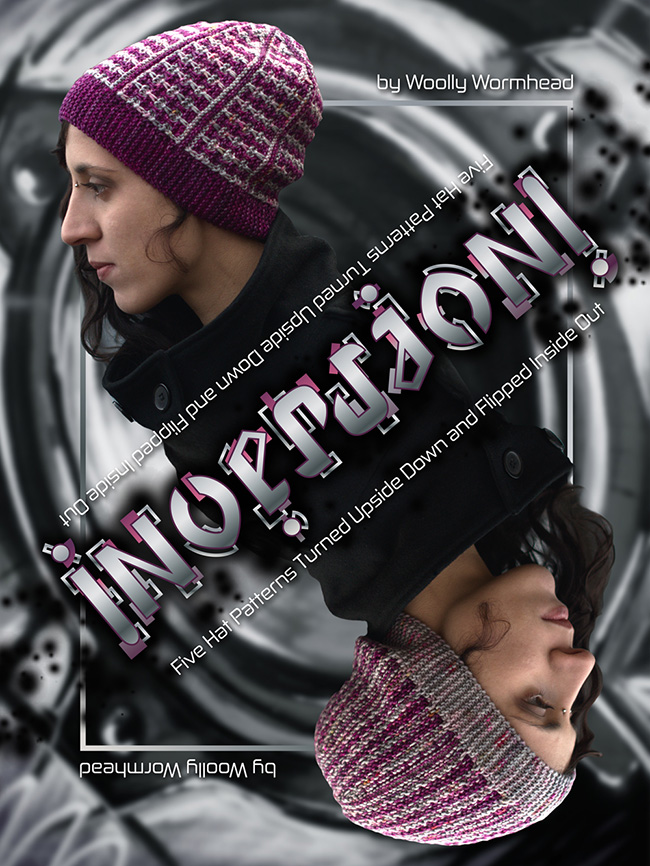 Convergence: 6 Hat patterns exploring line & form
Inversion: 5 Hat patterns turned upside down and inside out
by Woolly Wormhead
PDF download €14, each

Buy now at Woolly Wormhead

Wooly Wormhead, goddess of the innovative hat, has released two books recently. The hats in both books are constructed, on a basic level, the same way: knit sideways, allowing the knitter to adjust the size by adding or removing panels, and there are always instructions on how to lengthen the hat.

Both books start with photo tutorials on techniques used in the hats. These photos are up close and personal. You can clearly see the steps needed to do the technique. Having these tutorial photos in black and white is so smart for two reasons – the black and white allows you to focus on the technique without the yarn being distracting; and wow, when the color photos of the hats appear, they just explode with life.
Convergence is Woolly's exploration of mosaic knitting. This is a collection of six hats with stitches that bend and skim the knitted fabric. Mosaic stitches can sometimes look staid, usually done in two highly contrasting solid colors, marching across the fabric. In Woolly's hands, and her choices of yarns and colors , the mosaics twist, and shimmy. She uses semi-solid and painted yarns, frequently choosing colors that are tonal rather than contrasting, and the effect is magic. The title, Convergence, comes from how the patterns beautifully flow together at the top of the hats.
Inversion broke my brain a little bit. Two things are going on simultaneously in the two-color hats for this collection. The stitches move across rows reversing colors – slip stitches, dip stitches, and dropped stitches – a variety of manipulated stitches that move out from the flat plane of knitting. They sit on top of the row instead of within it, giving great movement and texture. The hats are fully reversible. Boom. That was my brain. To show off the the difference of texture from the right and wrong sides of the knitting (and because it looks cool), the yarn colors are reversed for the wrong-side hats. Have you read The City & The City by China Miéville, about two different cities that exist in the same spot? These hats are like that, only knitting.

JM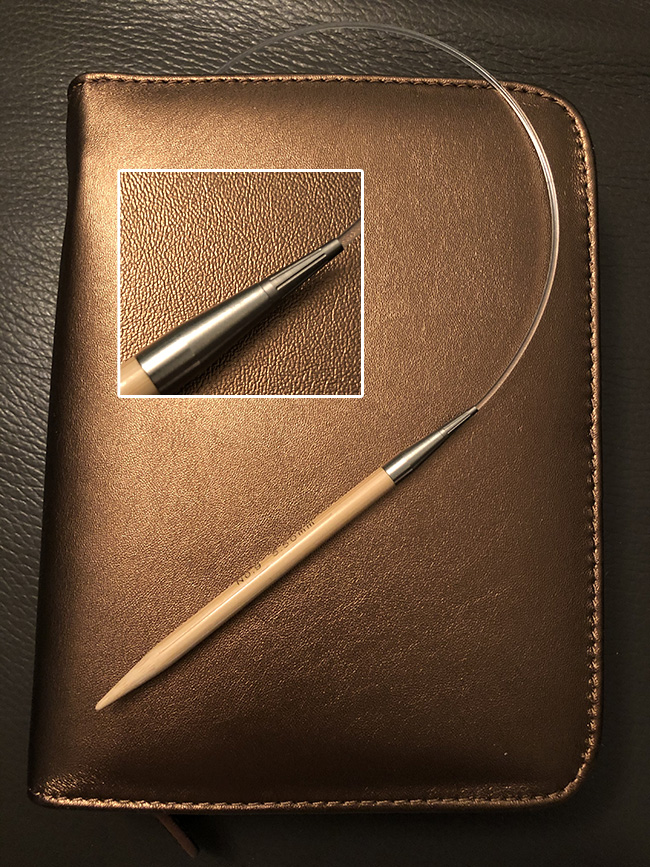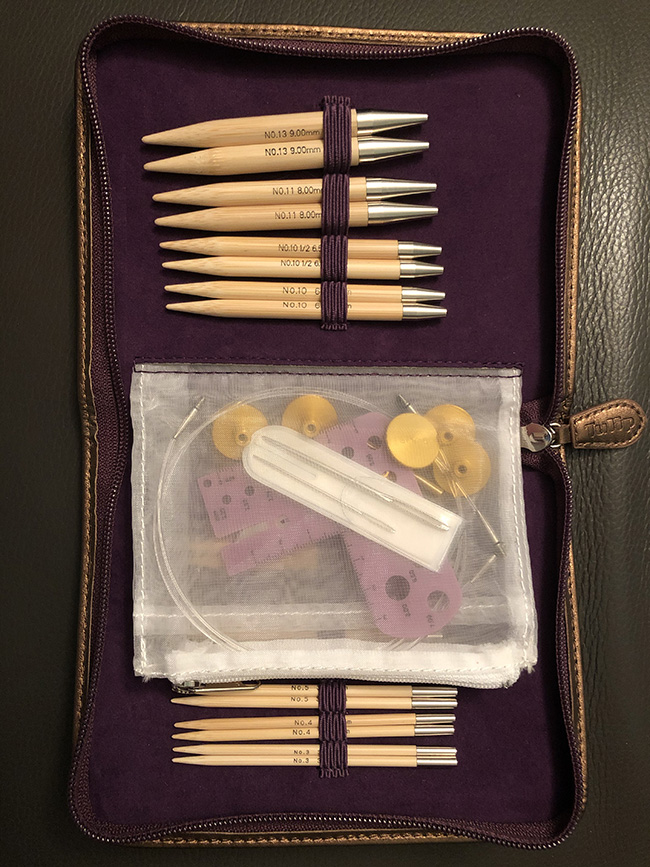 Carry C Interchangeable Bamboo Needle Set
by Tulip
Price varies by retailer
Buy now at Amazon
Includes:
11 pairs of bamboo needle tips in US 3, 4, 5, 6, 7, 8, 9, 10, 10.5, 11, 13/3.25, 3.5, 3.75, 4.25, 4.5, 5, 5.5, 6, 6.5, 8 and 9 mm
3 cables: 16, 24, 32" long
6 cable stoppers
2 yarn needles
1 needle gauge (with built in yarn cutter!)
lovely bronze case (7 x 6")
I have tested a lot of interchangeable needle sets over the years, and I have my favorites. But I kept hearing about this set from the Japanese company, Tulip, in hushed tones of reverence, so when I had the chance to test them, I was pretty excited.
These are bamboo, which works brilliantly with slippery yarns, and as a non-wool knitter, most of the yarns I use are pretty slippery. So that's a mark in the WIN column right off the bat. The set is comprehensive, going from a US 3-13 (or 3.25-9 mm), which covers pretty much everything I'd ever knit. Another WIN. The cables are flexible, rotate when attached to a needle, and require nothing but your own hands to attach them. There's a tiny rubber o-ring inside that keeps the cable firmly attached to the needle, no matter how much you twist your knitting as you work. I knit a hat on the shortest cable and there was much smooshing and pushing and the cable never even slightly loosened while working. And yet, it was easy to undo when I was finished. The grooves on the cable connector are really helpful. SUPER BIG WIN WIN WIN.
The needles (without cable) are just under 5" long, and that works really well for small circumference things like a hat. I would like an extra half-inch on the needles because of the way I hold them (I'm a thrower), but I didn't find this to be a huge problem. So let's call this one a tie. The tips are pointy, but not super pointy, and the bamboo is polished to a smooth finish. The connection between bamboo, connector and cable is really smooth and never caught up my work as I pushed it from the needle to the cable. The case is adorable, compact (the size of an old-skool paperback), well designed and sturdy. Needles have their own elastic straps to nestle in, and the rest of the notions sit in a zippered pouch in the center. The needle gauge is also a knitting gauge and a ruler and even a yarn cutter, all in a nice bit of purple plastic. There's also a gold-colored adapter to attach two cables together if you need a different cable length. Extra needles are sold separately, as are cables.
The aforementioned hat I knit was in baby llama yarn, and it was impossible to manage on my usual metal interchangeables, sliding all over the place despite its woolliness. These bamboo needles made the knitting a pleasure. I really like this set and it's now at the top of my list.

AS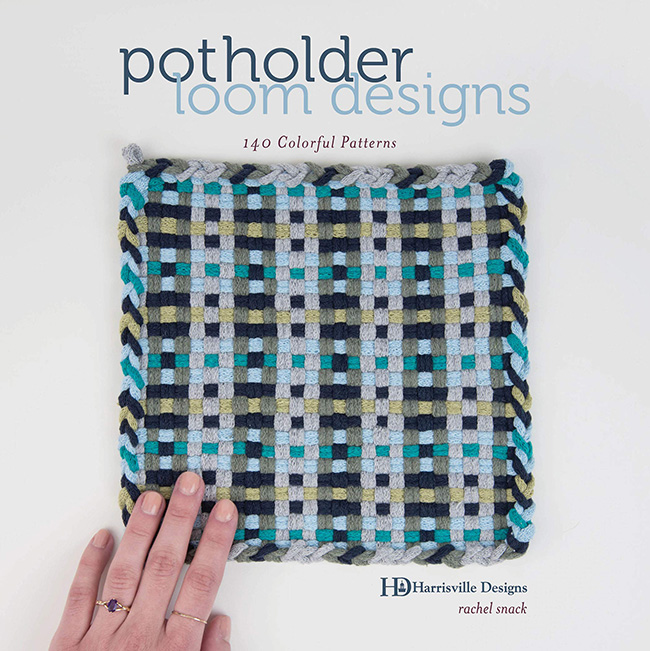 Potholder Loom Designs: 140 Colorful Patterns 
by Harrisville Designs, Rachel Snack
Schiffer Publishing
$16.99
Buy now at Amazon

If you have fallen down the potholder loom rabbit hole, or want to, this book from Harrisville Designs is a perfect companion. Potholders are quick and easy, plus a wonderful way to get kids or craft reluctant adults into fiber crafting. Harrisville makes a great loom and sells kits of the dyed loops used in this book.

The book starts with basic how to on best potholder weaving practices. But really, it's the friend you need to make sure that not every potholder you make looks the same. Rachel Snack and the fine folks at Harrisville have done all of the color swatching for you. There are 140 different designs you can make using one of the two sizes of Harrisville potholder looms. The designs range from simple two color designs to complex – how did they figure this out? – multi-color designs.

After doing a few following along with the book's recipes, it's easy to see how to freestyle designs on your own. I don't know about you, but I'm always looking for easy ways to play with color, and a potholder loom along with this book may be my next fiber toy. Who needs a colorful potholder?

JM