Magical Mittens, a free knitting pattern from Knitty.com. Free knitting pattern for a pair of striped, fuzzy mittens knit in bulky yarn, with a sweet button closure.
INTRODUCTION
Fogski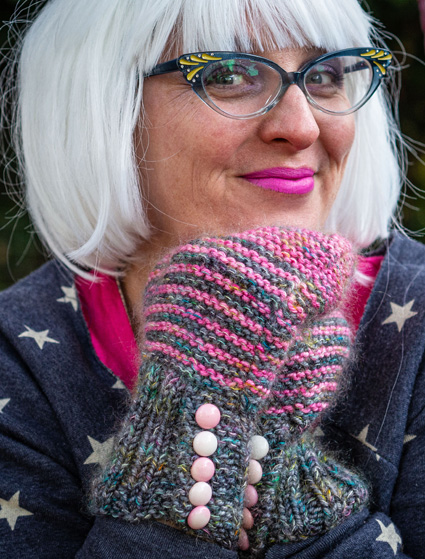 by Shannon Squire

When you add a silk mohair lace weight to your favorite bulky yarn you get knitterly joy. The simple structure of the mittens is elevated with the fuzzy softness of the Fairy Floss, making these mittens fit for a magical creature. Add some kicky buttons (and, if you're like me, a wig from your kiddo's Halloween costume), and the fun factor is raised even more!
(For those poor unfortunate souls who cannot do mohair, these mittens are equally fabulous in a single strand of Bulky yarn).

model: Shannon Squire

photos: Stefan Lombard
FINISHED MEASUREMENTS
Circumference: 7.5[8.5, 9.5] inches/ 19[21.5, 24] cm
Mitten Length including Cuff: 10[10.5, 11] inches/ 25[26.5, 28] cm – adjustable to fit
Choose a size approximately .5-1 inch/1-2.5cm larger than your actual hand measurement.
MATERIALS
Yarn
Knitted Wit Bulky [100% merino wool; 130yd/103m per 113g skein];


[MC] Grey Wolf; 1 skein


[CC] Blush; 1 skein

Held together with:


Knitted Wit Fairy Floss [72% mohair, 28% silk; 459yd/420m per 50g skein]; color: Unicorn Giggles; 1 skein

Recommended needle size
[always use a needle size that gives you the gauge listed below - every knitter's gauge is unique]


US #9/5.5mm needles for small circumference in the round: traditional or flexible DPNs, 1 long or 2 short circulars, as you prefer

Notions


a single DPN or short circular needle in the same size for joining the button section


yarn needle


stitch markers


stitch holders or waste yarn


10 half-inch/1 mm buttons
GAUGE
16 sts/32 rounds= 4 inches/10 cm in garter stitch with both yarns held together.
PATTERN NOTES
[Knitty's list of standard abbreviations and techniques can be found here.]
In order to achieve maximum fun and minimum tangle factor for this pattern, I highly recommend winding the Fairy Floss together with each skein of Bulky prior to knitting. You'll still need to pay attention to tangles as you go, but this considerably lessens the possibility of a frustrating mess.
When changing colors in the striped section, don't cut yarn; carry yarn up the side.
Techniques:
DIRECTIONS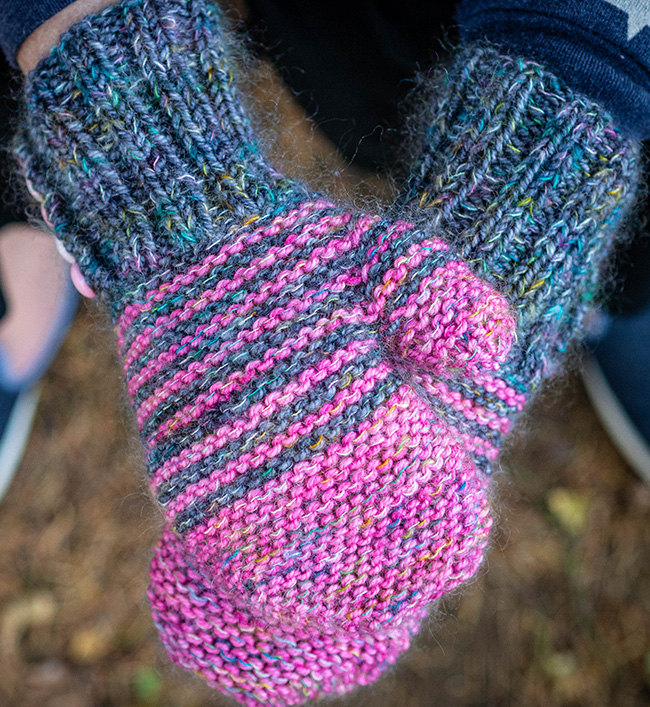 Cuff - Both Mittens
Using Long Tail method and MC, cast on 36[40, 44] sts. Do not join, this first section is worked flat. If you're using DPNs, you can work back and forth on two; place a stopper on the end so that you don't lose stitches.
Row 1 [RS]: K5, (k2, p2) to last 7 sts, k7.
Row 2 [WS]: K5, (p2, k2) to last 7 sts, p2, k5.
Row 3: K2, yo, k2tog, k1, (k2, p2) to last 7 sts, k7.
Row 4: K5, (p2, k2) to last 7 sts, p2, k5
Work Rows 1-5 4 times total; work Rows 1-2 once more.
Joining Together
Left Mitten only: Transfer 5 sts from end of row to the spare needle, and hold behind beginning of row.
Right Mitten only: Transfer 5 sts from end of row to the spare needle, and hold in front of the beginning of row.
Work across the sts as follows: Knit one stitch from the front needle together with one from the back needle, five times. 31[35, 39] stitches, and this position in the new start of round.
Continuing Mitten (Garter Stitch Color Striping Sequence)
Round 1: With MC, K to end.
Round 2: With MC, P to end.
Round 3: With CC, K to end.
Round 4: With CC, P to end.
Work Rounds 1-4 once, then work Rounds 1-2 once more.
Thumb Gusset Increasing
Round 1: With CC, K 15[17, 19] , pm, k1, pm, k to end.
Round 2: With CC, P to end.
Round 3: With MC, K to m, sm, m1r, k to m, m1l, sm, k to end. 2 sts increased.
Round 4: With MC, P to end.
Round 5: With CC, K to m, sm, m1r, k to m, m1l, sm, k to end. 2 sts increased.
Round 6: With CC, P to end.
Repeat Rounds 3-6 1[2, 2] more times, then work Rounds 3-4 1[0, 1] more time. 11[13, 15] sts between markers.
Work two more rounds in garter stitch color striping sequence without increasing.
Separate Thumb Sts
Next Round: Continuing in Garter Stitch Color Striping Sequence established above, knit to marker, remove marker, place all thumb stitches on waste yarn, remove next marker, and knit to end. You are now knitting in the round once more, and working on your hand stitches only. 30[34, 38] sts.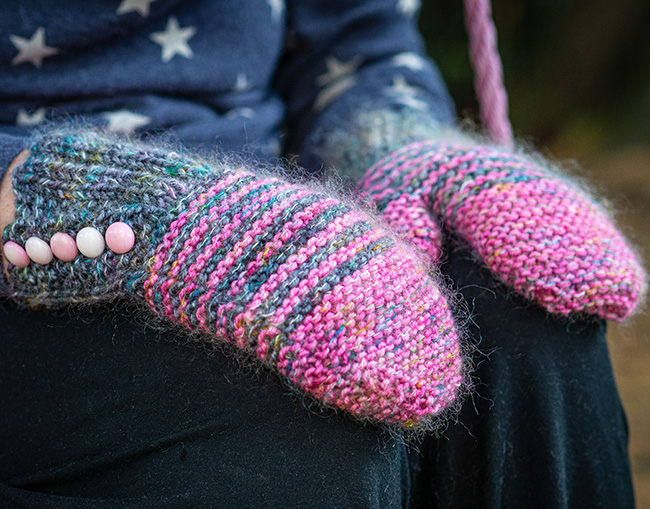 Hand
Work in Garter Stitch Color Striping Sequence until you have 5 [7, 7] stripes in CC, then cut MC and work the rest of the hand in CC only.
Work in Garter Stitch in CC only until mitt is approximately 9[9.5, 10] inches/ 23[24, 25] cm from cast on edge, or until you are at the tip of your pinkie.
Closure
Round 1: [K1, k2tog, k 9[11, 13] , ssk, k1] twice. 26[30, 34] sts.
Round 2: P to end.
Round 3: [K1, k2tog, k 7[9, 11] , ssk, k1] twice. 22[26, 30] sts.
Round 4: P to end.
Round 5: [K1, k2tog, k 5[7, 9] , ssk, k1] twice. 18[22, 26] sts.
Round 6: P to end.
Round 7: [K1, k2tog, k 3[5, 7] , ssk, k1] twice. 14[18, 22] sts.
Round 8: P to end.
Round 9: [K1, k2tog, k 1[3, 5] , ssk, k1] twice. 10[14, 18] sts.
Round 10: P to end.
Size Large ONLY:
Round 11: [K1, k2tog, k3, ssk, k1] twice. 14 sts.
Round 12: P to end.
Use Kitchener stitch to close top.
Thumb
Return held sts on needles, removing scrap yarn and arranging thumb sts evenly on needles. Join CC and knit across the held sts; pick up and knit 1 st where base of thumb joins hand. Join for working in the round in the round. 12[14, 16] sts.
Work in garter stitch until mitten is just to the tip of the thumb.
Next Round: K2tog 6[7, 8] times. 6[7, 8] sts rem.
Break yarn, leaving a 6 inch/15 cm tail. Thread the tail through a yarn needle, then run it through the remaining stitches. Tighten and weave in end, clipping it close to fabric.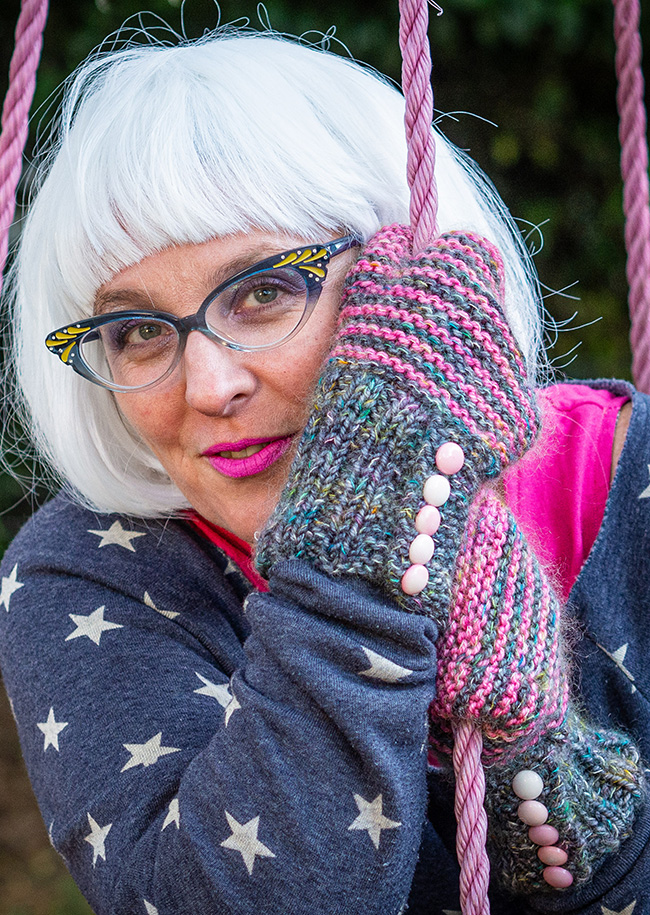 FINISHING
Weave in ends, using the tail at the base of the thumb to close up the holes there. Handwash, roll in a towel to wring the moisture out and lay flat to dry. Sew five 0.5 inch/1.25 cm buttons on each mitten cuff, using photos as a guide.
ABOUT THE DESIGNER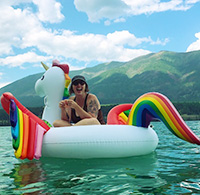 Like many of us, knitting is Shannon's happy place, and she always has way too many socks on the needles. She's been designing hand-knitting patterns since 2010, and strives for enjoyment in her designs, above all else. She thoroughly enjoys the designing, and she wants you to thoroughly enjoy the making.
She also enjoys traveling with her family; chasing after her fabulous kiddos; and spending time in comfy clothes at home. She loves making above all else, and her non-knitting crafty endeavors (constantly in flux) include sewing, doodling, baking sourdough, and, much to her husband's dismay, dabbling in fermentation.
Find her on Ravelry.
Pattern & images © 2019 Shannon Squire.