#hashtagcowl, a free knitting pattern from Knitty.com. Free knitting pattern for a super bulky colorwork cowl.
INTRODUCTION
#hashtagcowl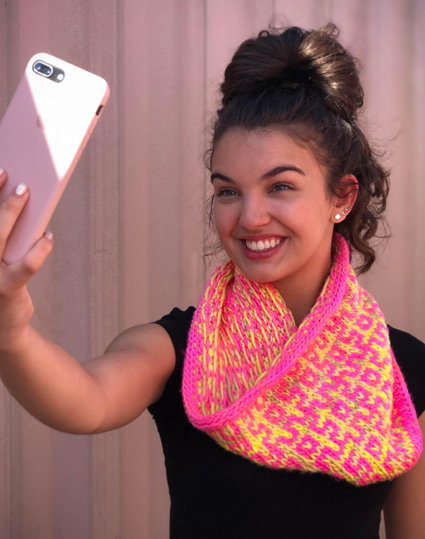 by Tanis Gray

In a world gone crazy with hashtags and selfies, this stranded colorwork cowl is a social media addict's best accessory.
Super bulky yarn makes for a quick knit and an ideal first project, which means you can get back to instagramming your curated lifestyle in no time. Worked from the bottom up in the round, this cowl has an I-cord cast on worked first, the work is joined into the round, then the Fair Isle chart is begun.
Due to the large pattern repeat, it can be helpful to subdivide the chart and add in more stitch markers, making it easier to keep your place.
Want a taller cowl? Simply add more repeats! The I-cord bind off is worked after completion of the chart to mimic the cast on edge. Get knitting and watch those "likes" pile up!

model: Anna Maria

photos: Tanis Gray
FINISHED MEASUREMENTS
Circumference: 32 inches/81 cm
Length: 11 inches/28 cm
MATERIALS
Yarn
The Lemonade Shop Super Bulky [80% superwash merino, 20% nylon; 75yd/69m per 100g skein];


[MC] Ethel; 2 skeins


[CC] Atomic Banana; 2 skeins

Recommended needle size
[always use a needle size that gives you the gauge listed below - every knitter's gauge is unique]


1 US #11/8mm circular needle, 24 inch/60 cm long

Notions


stitch markers


tapestry needle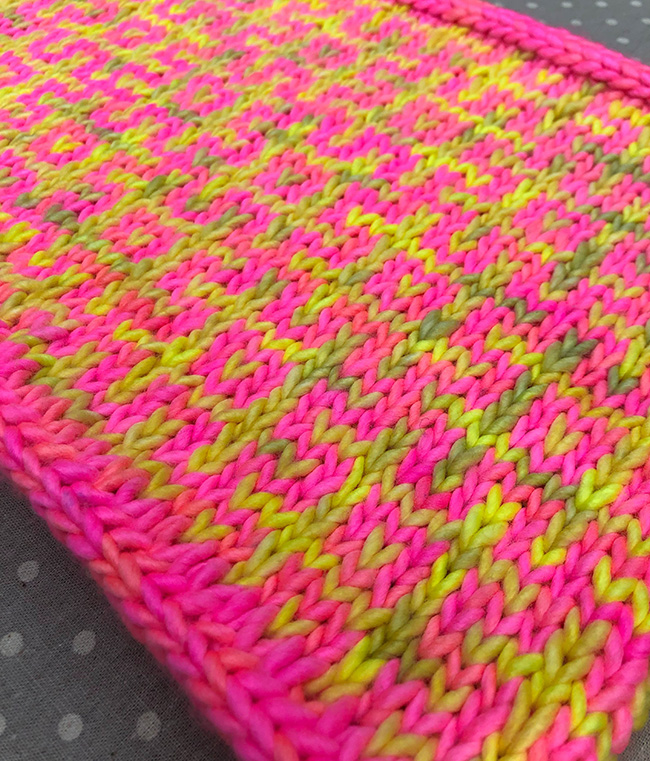 GAUGE
13 sts/14 rounds = 4 inches/10 cm in pattern stitch after blocking
PATTERN NOTES
[Knitty's list of standard abbreviations and techniques can be found here.]
It may be helpful to place a marker between each chart repeat to stay on track.
Stranded colorwork (Fair Isle): here and here.
I-Cord Cast On,:
Use the cable method to CO 4 sts.
Row 1 [RS]: K4. Slip these sts back to left needle.
All rows [RS]: Kfb, k3. Return last 4 sts worked to left needle. Repeat until you have 105 sts. Slip the last 4 sts back to the left needle, k2tog twice, slip the last 2 sts back to the left needle, k2tog. 102 sts rem.
I-Cord Bind Off:
Use the cable method to CO 3 stitches.
Every row: K2, k2tog-tbl. Slip the three sts just worked back to the left needle, and repeat, until only the 3 stitches of the i-cord remain.
Return these 3 sts to the left needle, k2tog, k1. Return the last 2 sts to the left needle and k2tog-tbl. Cut yarn and pull through final st to secure.
CHARTS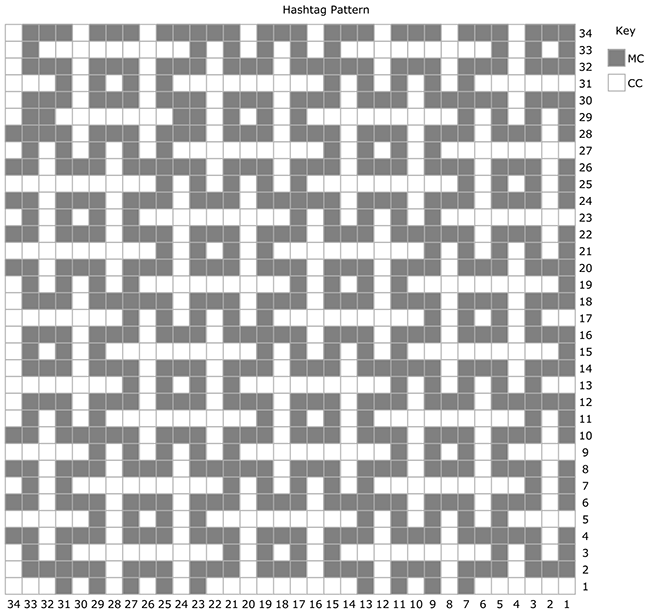 DIRECTIONS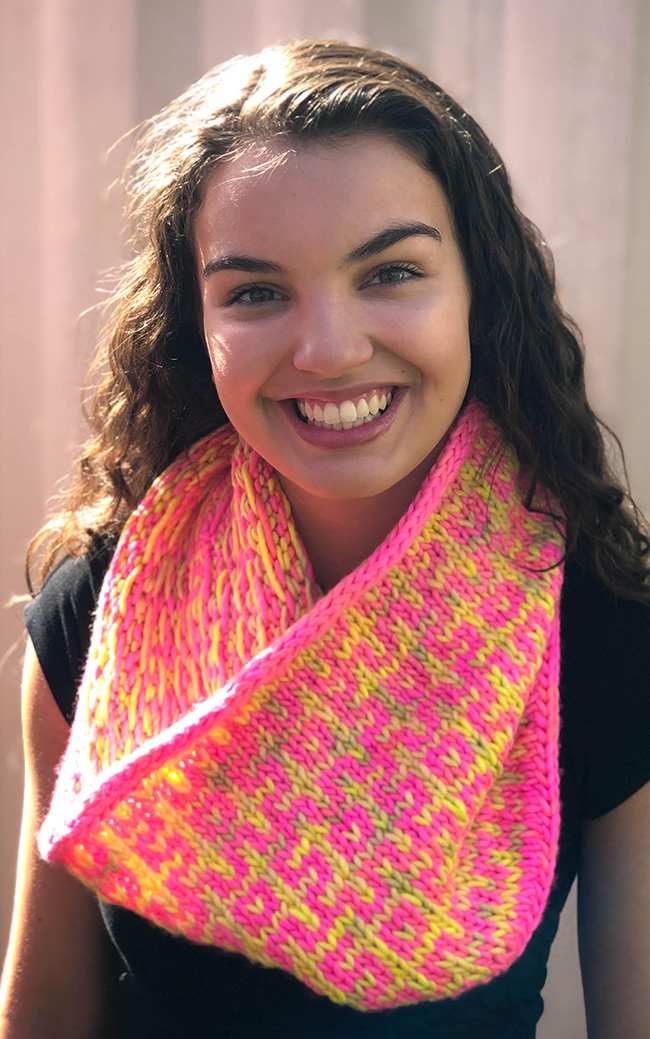 Cowl
With MC, work I-cord CO for 102 sts. Place marker and join for working in the round.
Join CC.
Pattern round: Work Hashtag Pattern 3 times around.
Work as set until Chart is complete.
With MC, work I-cord BO.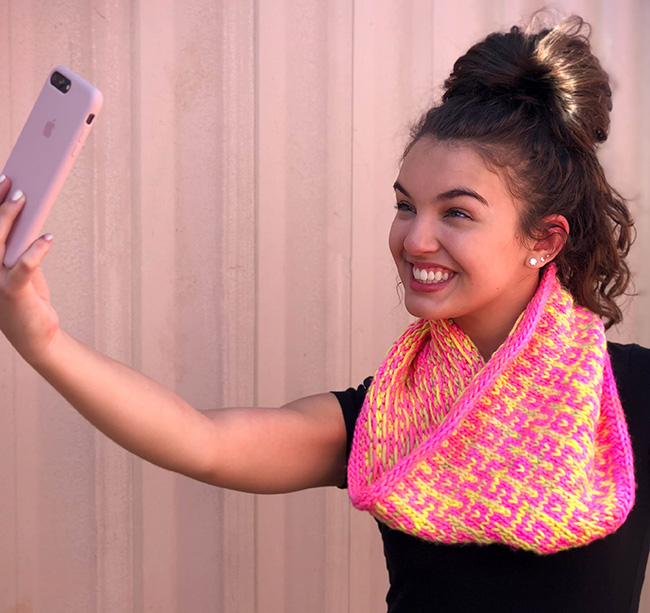 FINISHING
Weave in all loose ends with tapestry needle.
Soak the finished cowl in cool water with a wool wash of your choice and either a glug of white vinegar or a color catcher sheet (found in the laundry aisle at your local big box store) to discourage color run off and bleeding. After 15 minutes under water, knead out the excess water and lay flat on a towel. Roll the towel up in a tube and stand on it, squeezing out as much of the excess water as possible. Lay flat on a blocking board, a towel, or plastic sheeting with a fan on it. Due to the double-thick nature of stranded colorwork, the cowl may need a day on one side to dry, then a day on the other side. Always feel the inside strands of the cowl to be certain it has dried completely through. Snap away and be sure to post!
ABOUT THE DESIGNER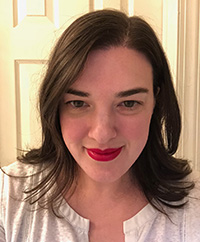 Tanis Gray lives in the DC Metro area with her mechanical engineer husband and 2 young children. She teaches all over the world and frequently at her LYS.
Tanis is the author of 10 published knitting books, including Knitting Magic: The Official Harry Potter Knitting Pattern Book, and over 500 published knitting designs, has three Fair Isle classes on Bluprint and is a regularly featured guest on Knitting Daily TV. When she's not knitting or ferrying her children back and forth, she can be found in the garden, hiking, making messes in the kitchen, or at her sewing machine.
Read more at tanisknits.com.
Pattern & images © 2019 Tanis Gray.