Pic N Mix, a free knitting pattern from Knitty.com. Free knitting pattern for a Fair Isle cowl.
INTRODUCTION
Pic N Mix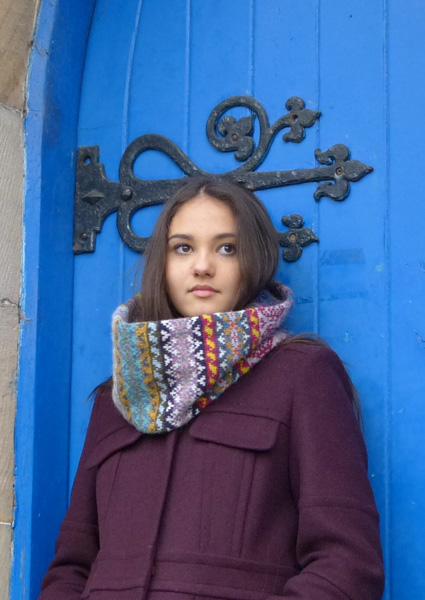 by Clare Hutchinson

I've noticed a lot of knitters are nervous about choosing colors themselves. This pattern was designed to allow knitters complete freedom.
Each time you knit a repeat you can choose a different selection of colors. Be bold, be experimental, have fun and don't rip it back if you think it's not working! If you have a palette of colors that look nice all together then your finished cowl will look lovely, even if some of the individual combinations don't quite hit the mark. This makes it ideal as a swatching project or just as a tool to explore color combinations. The Miniballs are perfect for this, a Shetland-type yarn spun in Scotland that is perfect for colorwork and available in loads of colors. However, you can also use scraps of fingering weight yarn as you don't need much of each color.
This cowl is knitted in the round as a tube and the ends seamed or grafted. The same motif is repeated throughout with different color combinations.

model: Nina Kacmarska

photos: Clare Hutchinson
FINISHED MEASUREMENTS
Width: 6.5 inches/17 cm
Circumference: 33 inches/84 cm (adjustable)
MATERIALS
Yarn


Wee County Yarns Miniballs [100% wool; 55yd/50m per 10g skein]; 15 skeins
Note: 15 colors are used in the cowl, one Miniball of each color: Frost, Cumin, Blueprint, Cream, Lavish, Jade, Loden, Orchid, Pistachio, Silver, Seaholly, Marble Gemstone, Med Grey, Blueberry and Jaffa
You can use more, or fewer colors as you like. The cowl as shown used approximately 550yd/500m of yarn in total. You can also use leftovers from other projects. As long as you like the overall effect of the colors your cowl will turn out beautifully.
Recommended needle size
[always use a needle size that gives you the gauge listed below - every knitter's gauge is unique]


US #3/3.25mm circular needle, 16 inch/40cm long


spare 3.25mm needle for grafting


crochet hook for provisional cast on

Notions


stitch marker


yarn needle


waste yarn (optional)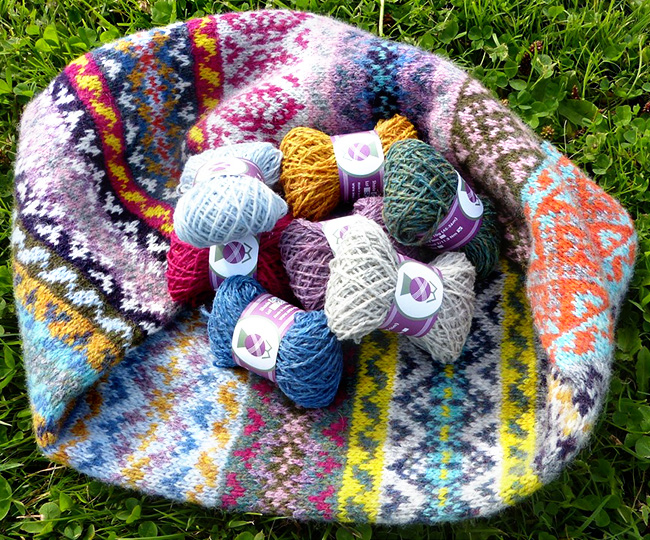 GAUGE
30 sts/ 29 rounds = 4 inches/10 cm in stranded stockinette stitch, after blocking
28 sts/40 rounds = 4 inches/10 cm in single-color stockinette stitch, after blocking
PATTERN NOTES
[Knitty's list of standard abbreviations and techniques can be found here.]
The sample as shown was worked with a Provisional cast on edge, and the final stitches were joined to the cast on with Kitchener stitch. If you prefer, work a standard CO and BO, and seam the two edges together.

When changing color, the ends can be simply knotted and left on the inside. If you wish to knit them in, you can, but they will be perfectly fine with just a knot.
A Note On Color Choices
I repeated the colors of the peerie motif (rounds 1-5) to create matching bands around the larger motif, but you can have a separate color scheme for all the peerie motifs if you prefer. Sometimes I used the same colors in the peerie and main motifs, sometimes I had totally different ones.
When choosing your colors for each motif, there are some things to bear in mind. This article has helpful information on how to put colors together.
Contrast: Ensure that the two colors you will be using in the same round have sufficient contrast, otherwise the pattern won't be visible. However, colors used in adjacent rounds can be very similar. In fact, a subtle gradient of three tones of the same shade as the foreground colors and two tones of the contrasting background color can create some of the nicest combinations.
The main motif lends itself well to three foreground colors and two background colors. Try rounds 7-9 in first foreground color, 10-12 in second foreground color, 13-15 in third foreground color, 16-18 in second foreground color and 19-21 in first foreground color. It's quite effective to change background color at a different round to the foreground changes – it causes a more subtle effect. Changing them both together can give more of a stripy look. Try changing the background at rounds 11 and 17.
But the point is to try all sorts of options. How about a single round of bright color in the middle (round 14)? Or use only two colors throughout? Or change the background three times but keep the foreground the same?
Techniques:
CHARTS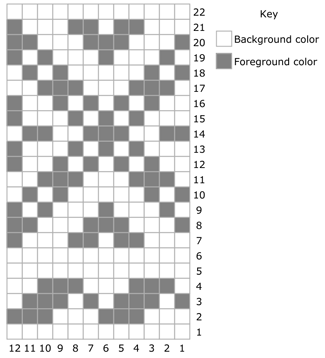 DIRECTIONS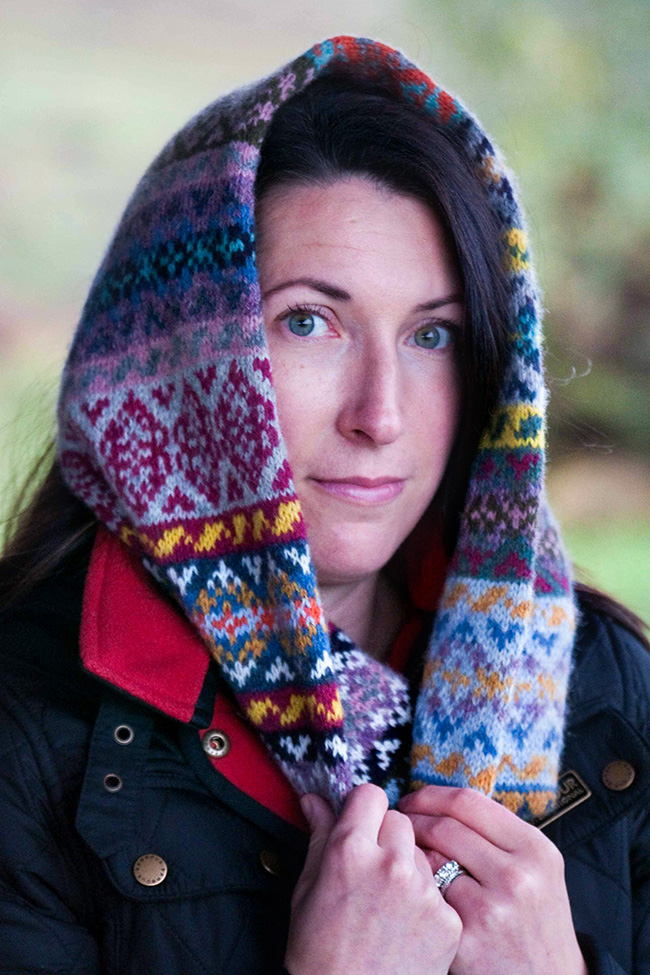 From your color palette select 2, 3, 4 or 5 colors to use for your first motif.
Using a provisional method, CO 108 sts. Join your starting background color, place marker and join for working in the round.
Round 1: Work chart 9 times around.
Continue, working from chart, changing color where required, until you have completed the chart 11 times, or cowl is desired length.
When your cowl is the desired length, unpick the provisional cast on and transfer to another needle then graft the top and the bottom together using either the first or the last background color, being careful to line up the columns of stitches.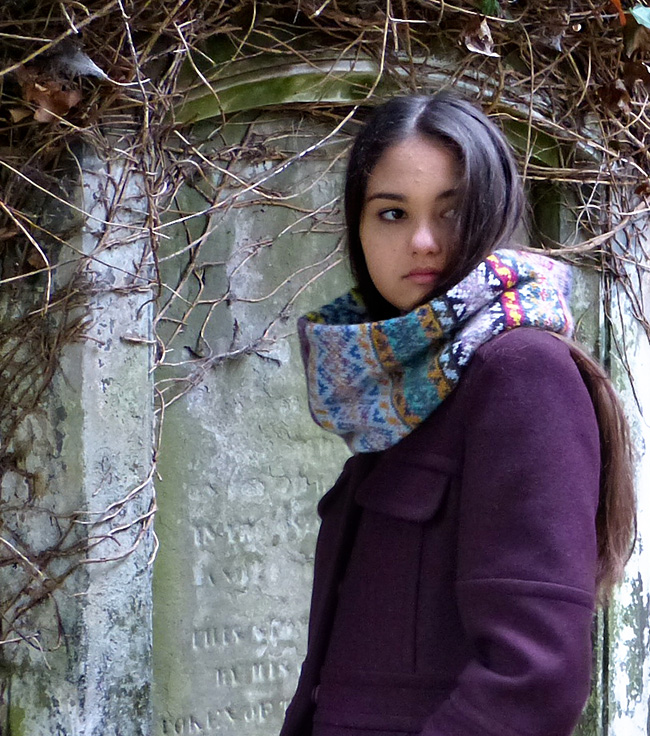 FINISHING
Once the cowl is seamed or grafted together, you can place all the ends to the inside of the tube, wash the cowl and lay flat to dry. If you have used the Miniballs specified, the yarn has been taken directly from the cone. Washing twice with hot, soapy water will make the yarn bloom and soften beautifully. It will also even out your stitches dramatically – the transformation is quite magic!
ABOUT THE DESIGNER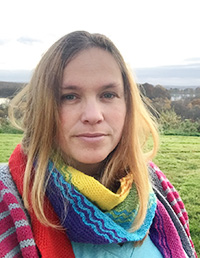 Clare Hutchinson lives in Central Scotland in 'The Wee County' of Clackmannanshire – the smallest county with the longest name.
Find her on Ravelry.
Pattern & images © 2019 Clare Hutchinson.