Feature: Knittyspin
INTRODUCTION
Knittyspin
How to Build Your Project Yarn
We are still on our road trip to spinning for a pattern. Today's stop is about building your project yarn.
In the Spring+Summer '21 issue, I walked through how I study and deconstruct a pattern and the commercial yarn it calls for. I use a bunch of questions to help zero in on the yarn I want to make that suits the pattern and me.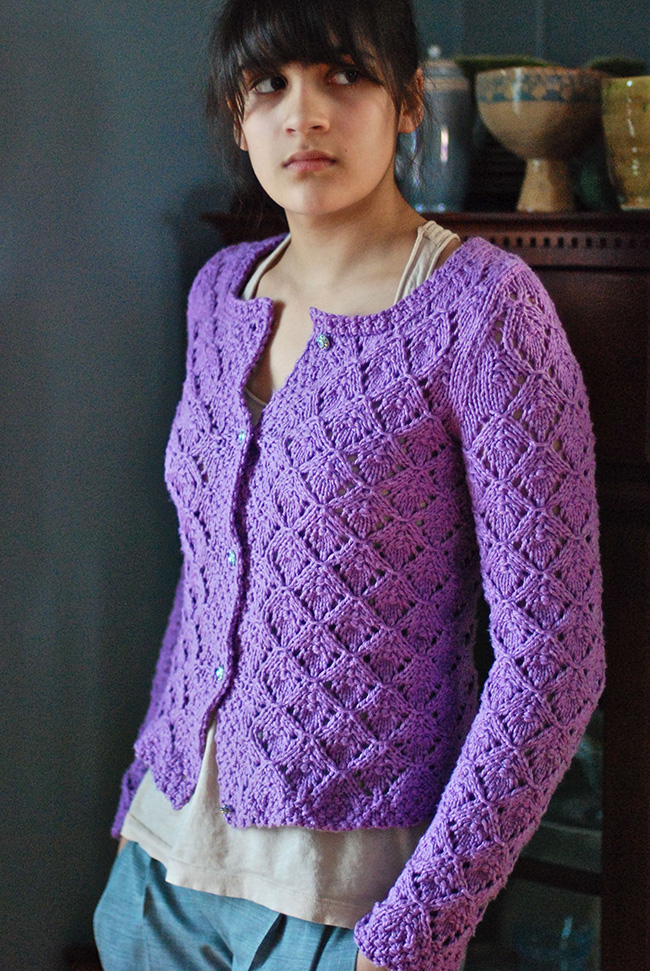 Que Sera is lacy perfection
My pattern is Que Sera by Kirsten Kapur.
When I broke down the pattern and the commercial yarn it called for, I came up with these details about my version of the sweater that I want to spin for.
The things I really love about this pattern:
All-over defined lace
Thicker-than-usual yarn for a lace pattern
Bold color
Changes I want to make:
Wool, not cotton
Lighter
Semi-sold bold color or grey
Shorten to closer to waist length
Maybe a little swing, a little extra drape
Facts about the commercial yarn the pattern uses:
Fiber: 100% Certified Organic Cotton
Weight: 100g /150yds / 137m: 43 yards per ounce, 688 yards per pound
Gauge: 4-5 sts per inch/2.5cm
WPI (estimate): 9-12
Ply, number and style: 2-ply, loosely plied
My next step is to outline a yarn that's a good match for the sweater and how I want to wear it. I get to use my spinning superpower of building a yarn that looks and acts like I want it to.
I'm looking for a list of yarn components to use for sampling.
I know I need a finished WPI that will knit to a gauge of 4-5 stitches to the inch in stockinette, so around 9-12WPI. That is the most straightforward part, and I pulled it from the commercial yarn used for the sweater.
I want my yarn to be:
Light
Soft
Good for lace, with smooth stitch definition

What is wonderful and can be confusing about spinning a yarn for a project is that there are many ways to make a particular yarn. If I gave that list of wants to three different spinners, they would arrive at a yarn with those characteristics in three different ways. The choices are all yours.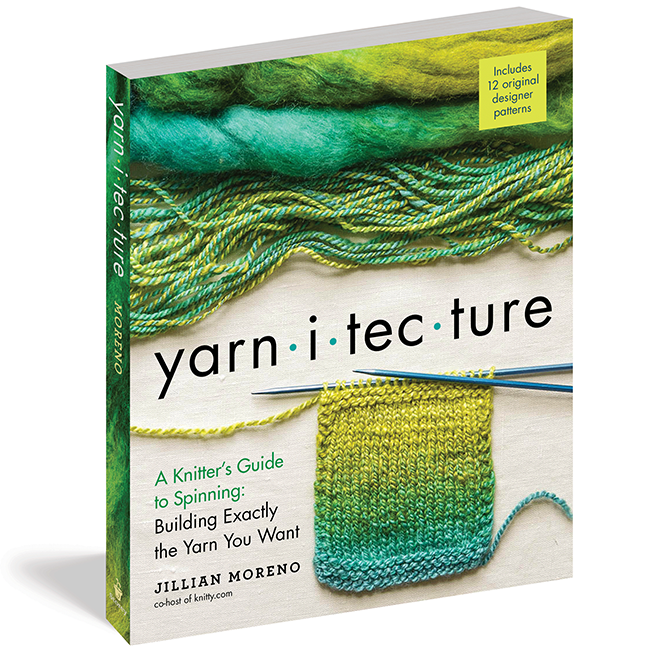 Need a refresher on how yarn construction affects your knitting? I wrote a book on that!
I list my design elements and where in my yarn's construction I can achieve each idea. If this is new to you, or you need a refresher on the elements to build a yarn, may I suggest my book Yarnitecture?

Lighter yarn:
Fiber
Preparation
Draft
Ply
Soft yarn:
Good lace stitch definition:
Preparation
Draft
Ply
Finish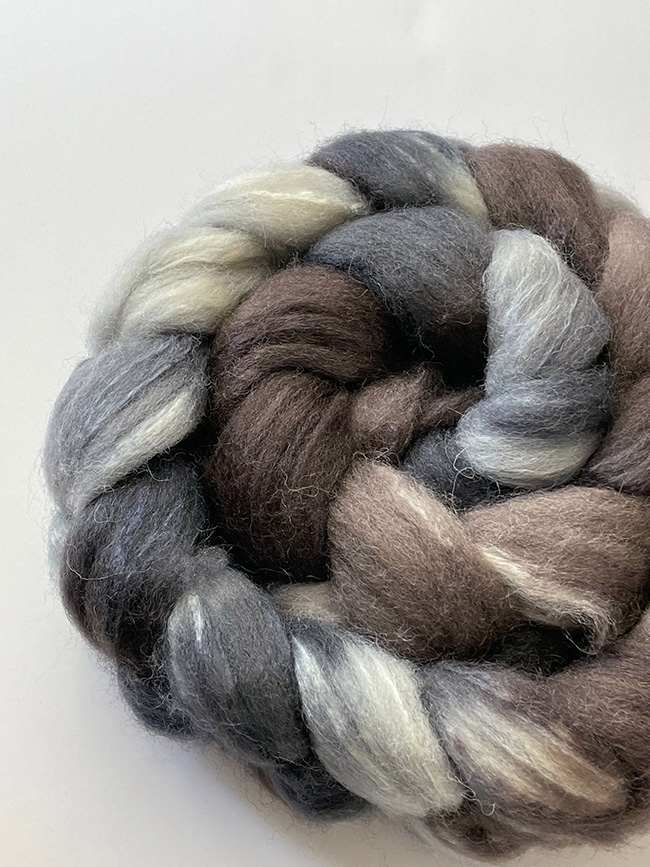 I wanted to use this fiber from Into the Whirled, but it stripes too much for the lace
Then I dig deeper and list how I can make each element happen through the components of yarn construction. There is almost always more than one way to get there.
Lighter yarn
Fiber
Preparation
Draft
Ply
Soft yarn
Fiber

Fine to finer medium could add silk


• Draft
Good lace stitch definition
Preparation
Draft
Ply
Finish
Notice that several of these things are at odds with each other. For example, if I want a light yarn, it's all about woolen prep and draft, but if I want a smooth yarn for crisper lace stitch definition, worsted prep and draft are the way to go.
At this point I have do some give and take when planning my yarn.
Because I'll first sample and swatch this yarn before launching into my project, I can always go readjust it if I don't like some element. I'm looking for a starting point, not perfection.
For my first sampling I am going to make a yarn with these characteristics
Fiber: wool blend
Preparation: woolen
Draft: worsted
Ply: 2-ply with lighter twist
Finish: snap

Here is my thinking and possible changes I may make along the sampling road.
Fiber: I know I want wool rather than the cotton the pattern calls for. Fine to medium is soft, and I want to add a little silk for some drape and shine. It will add a little weight, but it's worth it to me.
I know I'm not going to use Merino, because at lighter twists it will pill easily.
Right now my fiber crush is Shetland, so I will hunt a Shetland/silk blend to sample.
I do have a beautiful Into the Whirled braid in greys and browns that is Shetland/silk, but when sampling it for something else I noticed that it stripes, which I don't want for this sweater. Plus. it's not the preparation I want.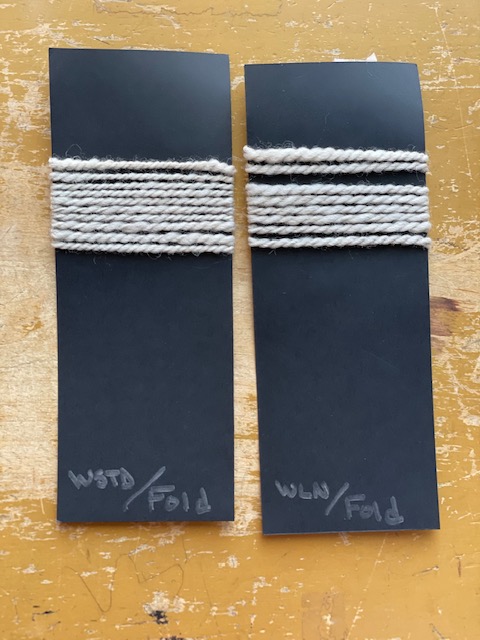 Worsted and woolen drafting from the fold

Preparation and Draft: I am going back and forth here. I want light and I want smooth, and the crux of that for me is in prep and draft. I am going to start with a woolen prep and a worsted draft. Woolen prep will make the yarn lighter overall. A worsted draft will smooth everything out, reducing the fuzzy the woolen prep, making it less tickly on my skin and helping to make the stitches crisp.
I am worried about two things with a worsted draft on woolen prep: it's harder for me to keep it consistent size wise, so that steers me away from spinning a singles. Worsted is not my favorite draft, and I tend to over twist it. I will have to pay closer attention as I spin and check my grist regularly. This will be a listen-to-an-audiobook spin rather than a watch-tv-spin.
I'm going to be a little tricky with my preparation. Rather than using a commercial or a handcarded roving from fleece, I am going to manipulate combed top. It will add a bit of be a bit smoother as well as be airy. I'm going to sample both handcarded rolags and spinning from the fold.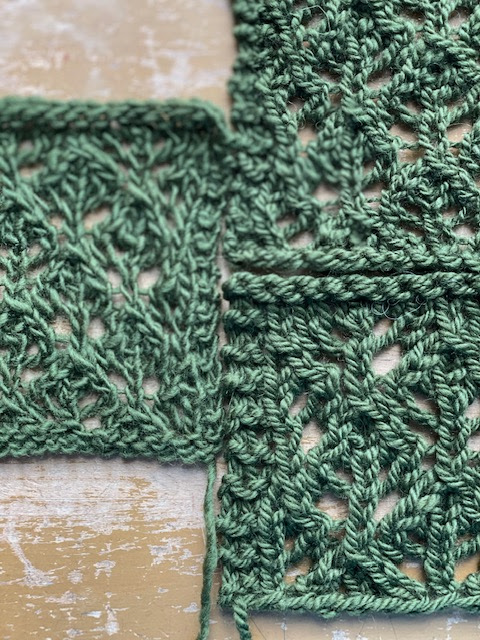 Clockwise from left: singles, 2-ply and 3-ply lace,
Ply: 2-ply for lace love with maybe a little less ply twist for drape. I'm going with a 2-ply since I don't think I can spin a consistent worsted weight singles for a whole sweater.
Finish: Snap. I want wet this yarn more throughly than steaming, and get that ply twist shimmying around with a few good snaps. Whacking, fulling or menacing will change the surface and grist of the yarn and I know I don't want that for this project.
How will you build your project yarn?
In our Deep Fall issue I'm going to talk about how to get to this yarn by using your default yarn.